8 Best Rooftop Tents for Outdoor Adventure
Car and SUV camping took on a new dimension with the advent of rooftop tents. Famously easy to set up (all you need to do is attach the tent to your car roof rack), these roof pods and canopies deliver ample amounts of ground clearance and prime weather resistance. Plus, who doesn't want to be a little closer to the stars?
Meanwhile, rooftop tents represent a growing sector and an increasingly affordable one too. Indeed, what was once a luxury item is now more popular and accessible than ever before. That gives all the rooftop campers out there plenty of options to choose from, which isn't even to mention accessories and add-ons.
Of course, not every soft or hardshell rooftop tent is created equal. On a related note, the last thing you want to do is head into the wilderness with a crappy car tent. Enter our list of the best rooftop tents. Don't leave home without one.
Key Considerations for Choosing the Best Rooftop Tents
Even the best rooftop tents aren't as simple as first meets the eye. Here are some key things to consider before throwing down your hard-earned buck:
Storage capacity – For obvious reasons, you'll want to make sure your tent can fit all the rooftop campers in your party. Rooftop tents also take up serious real estate, leaving little room for things like cargo boxes or other equipment. Plan accordingly.
Weight – Rooftop tents (hardshell ones, in particular) tend to weigh more than traditional counterparts, so make sure your car roof rack can handle the extra load. If it can't, you might have to bring in a stronger rack (or buy an SUV).
Cost – Even as this niche sector continues to grow, better models will come at a higher price.
Hardshell vs. Softshell
Softshell vs hardshell rooftop tent? That is the question. It's also one last thing to consider. Both can be easy to set up, though not as easy as say a pop-up tent. Softshells are more traditional and affordable. Hardshells are generally sturdier and more expensive. The choice is yours.
Can Any Car Take a Rooftop Tent?
The basic rule of thumb is that you shouldn't use a rooftop tent when your vehicle has a rooftop load limit of under 165 lbs. Naturally, truck and SUV camping won't be an issue. By contrast, cars, sedans, and hatchbacks might present some hurdles. Presuming your car can carry the load, make sure there's a raised roof rack on top of it.
The Best Rooftop Tents
There are more roof pods and rooftop tents for sale than ever before, but not every single one is a winner. Let's separate the best from the rest.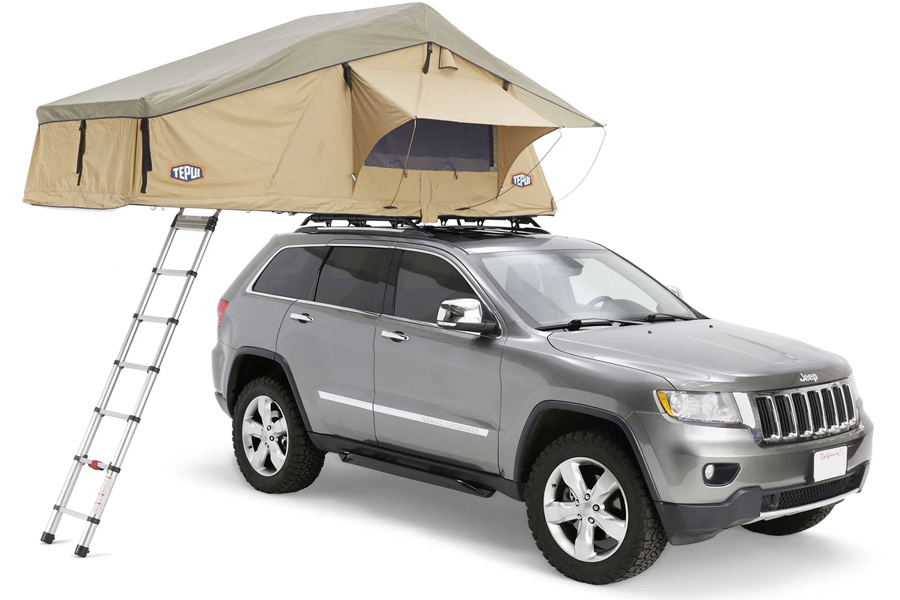 ---
Featured Video from Man of Many
---
1. Tepui Autana 3
Tepui makes some of the best rooftop tents in the game and the Autana 3 is certainly no exception. Dependable all year round, it can hold up to 3 people at a time. One of its biggest selling-points is an extended private canopy entrance with removable annex, which gives off a luxurious vibe. Mesh panels deliver optimal ventilation while large internal pockets open up plenty of extra storage room. This rooftop tent is for sale at a higher price point, but if you have the cash to spare and a trusty SUV, we say go for it.
Accommodates: 3 adults
Total Weight: 166 lbs
Material: poly-cotton blend
Benefits: consistent weather resistance, private canopy entrance, spacious layout, internal storage space, mesh panels, quality construction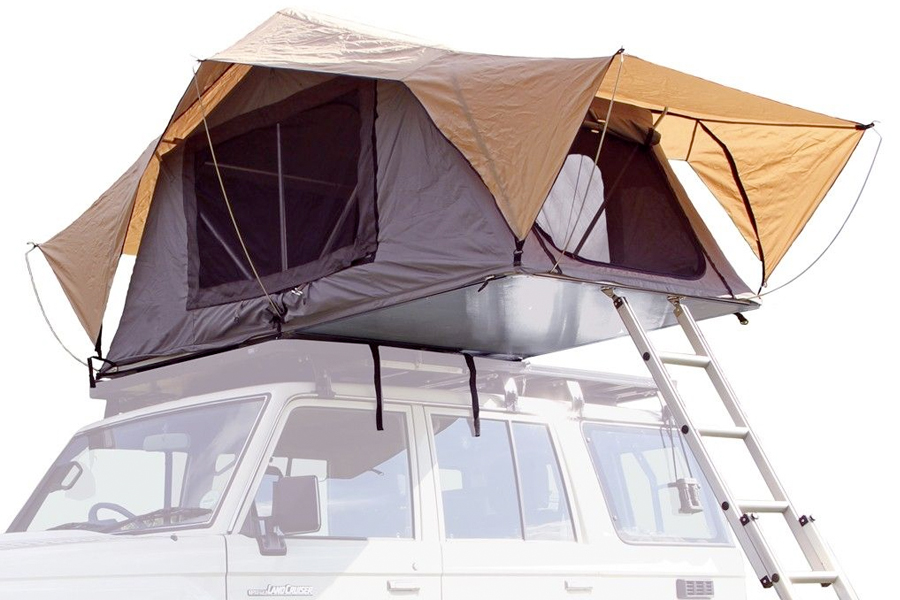 2. Front Runner Roof Top Tent
A front runner indeed, this breathable rooftop tent weighs in at just 93 lbs. However, don't take that lightweight construction to mean the tent is anything short of durable. Made of waterproof Oxford tent fabric, it strikes a deft balance between robust strength and environmental comfort. A quick-release mechanism gives it some pop-up tent-like appeal.
Accommodates: 2 adults
Total Weight: 93 lb.
Material: Oxford tent fabric
Benefits: quality materials, ideal ventilation, handy features, prime durability, lightweight construction, quick to set-up or dismantle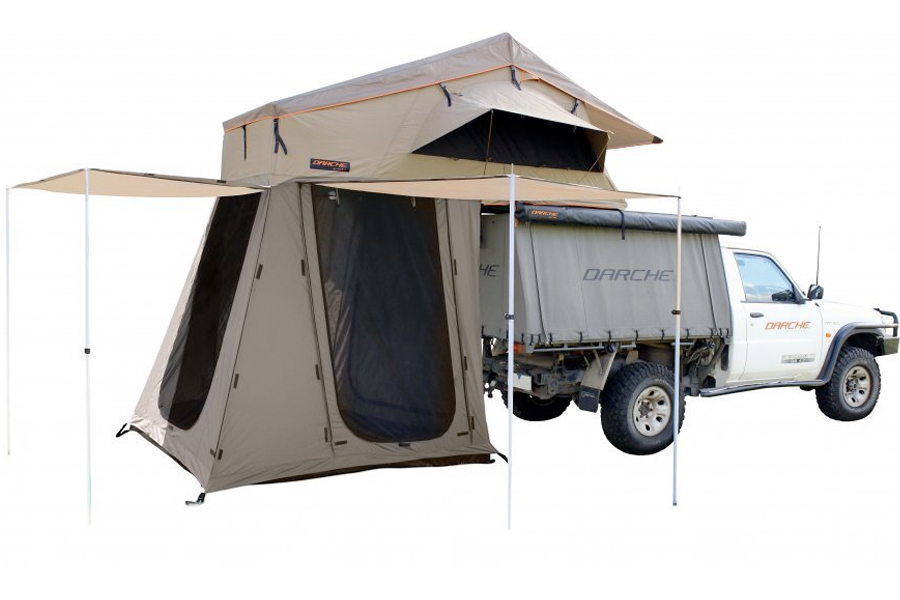 3. Darche Hi-View 1400 Gen 2 with Annex
One of the best rooftop tents in Australia, the Darche Hi-View 1400 Gen 2 wraps luxury, breathability, and durability into one choice package. Constructed from a 260gsm poly/cotton ripstop canvas, it features a large full-width window and swanky sky roof. That's not to mention the pop-up tent-style 3-way annex, with access points at the rear of the vehicle.
Accommodates: 2 adults
Total Weight: 143 lbs (including annex)
Material: poly/cotton blend
Benefits: quality construction, sky roof, annex, best-in-class ventilation
Buy it here(US) 11 Best Rooftop Bars in Brisbane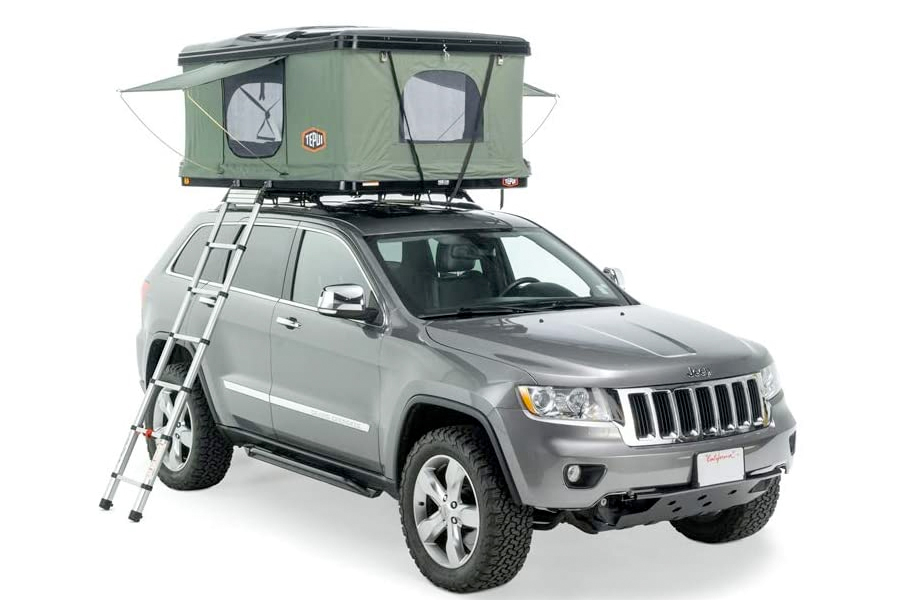 4. Tepui Hybox
When is a tent so much more than a tent? When it's the Tepui Hybox, which doubles as a standard cargo box after a few modifications. That makes it a truly versatile piece of camping gear, which can accommodate two adults when in rooftop mode. Sealing the deal is sturdy hardshell tent construction.
Accommodates: 2 adults
Total Weight: 175 lb.
Material: ABS, cotton/polyester blend
Benefits: easy to set up, versatile, usable during all seasons, all-around great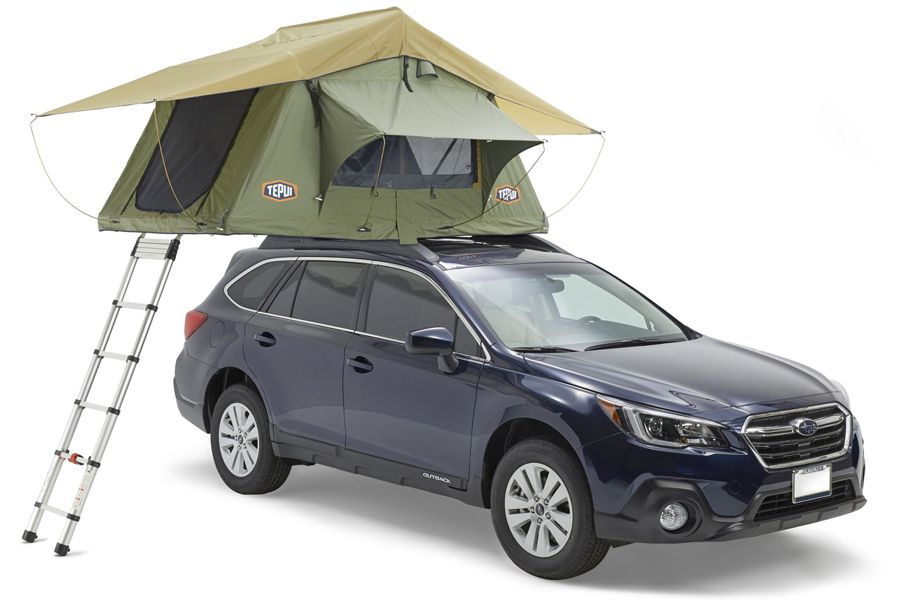 5. Tepui Kukenam Sky 3
Featuring a spacious A-frame design, the Kukenam Sky 3 offers enough room for you and up to two others to sit upright and enjoy yourself. On a similarly convenient note, Tepui's rooftop tent comes with an 8'6″ telescoping ladder, making entry and exit a breeze. Also included with purchase is a 2.5″ high-density foam mattress of considerable comfort and quality. Put it all together and you get a truck or SUV camping dream come true.
Accommodates: 3 adults
Total Weight: 125 lb.
Material: poly/cotton blend
Benefits: luxurious vibe, telescopic ladder, foam mattress, sky panels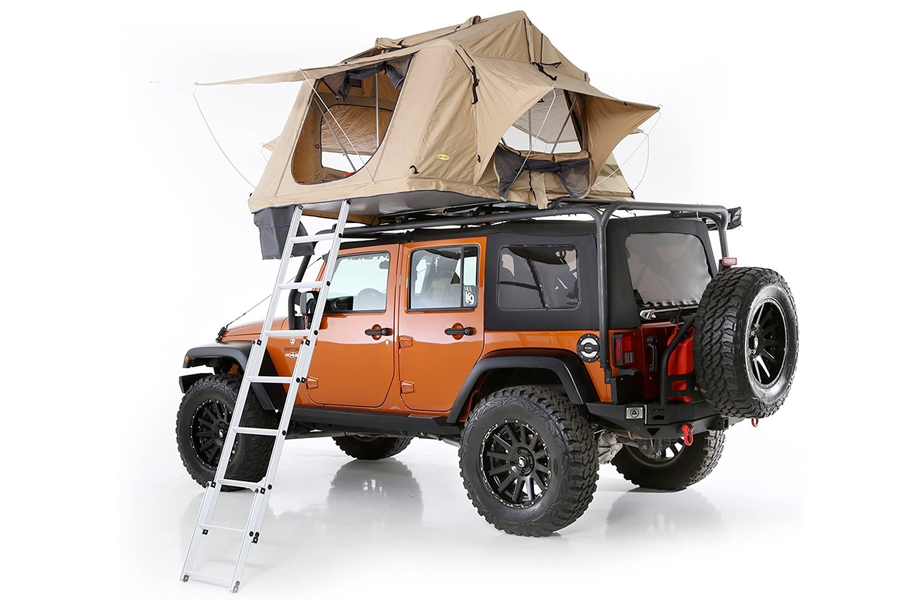 6. Smittybilt Overlander
Ideal for Jeep Wranglers, but compatible with a wide variety of car roof racks, the Smittybilt Overlander occupies the squarely affordable end of the spectrum. It's relatively lightweight, built to last, and further bolstered by a host of terrific features. That includes LED strips, side windows with mosquito netting, a telescopic ladder, a sunroof, and more. Upgrade to the XL version to accommodate a few extra rooftop campers.
Accommodates: 2-3 adults
Total Weight: 142 lbs
Material: ripstop polyester with polyurethane treatment
Benefits: waterproof construction, great features, unbeatable price point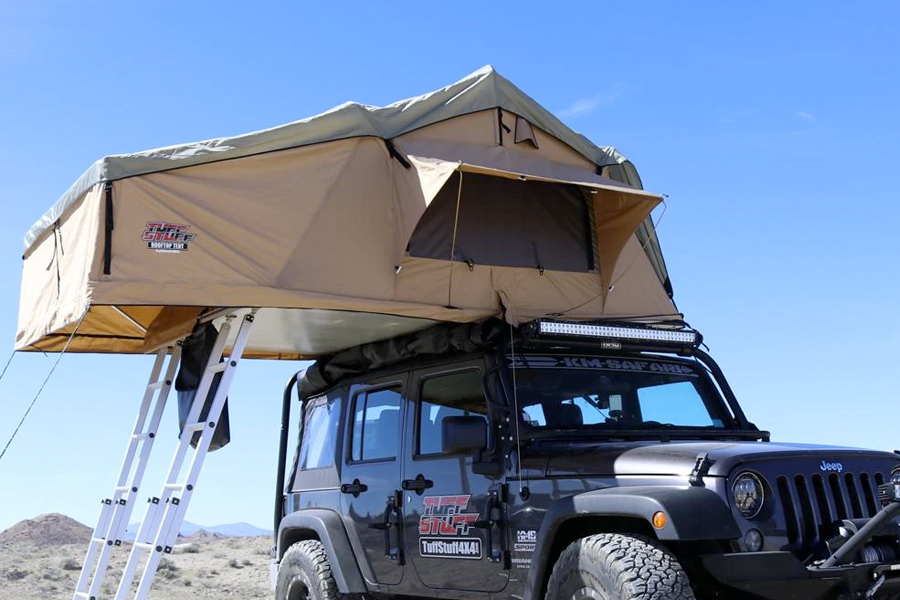 7. Tuff Stuff Ranger Overland
No one argues with extra room and this rooftop tent duly abides, offering an annex space with purchase. That means you can either fit more people inside the tent or convert the extra space into a makeshift kitchen or living room. Throw in quality materials and an affordable price point and there's nothing not to love about this acclaimed car tent. Well, almost nothing, as some owners have reported occasional zipper issues.
Accommodates: 2 adults in the main tent, plus others in the annex
Total Weight: 132 lb.
Material: cotton/polyester blend
Benefits: easy to set up, extra space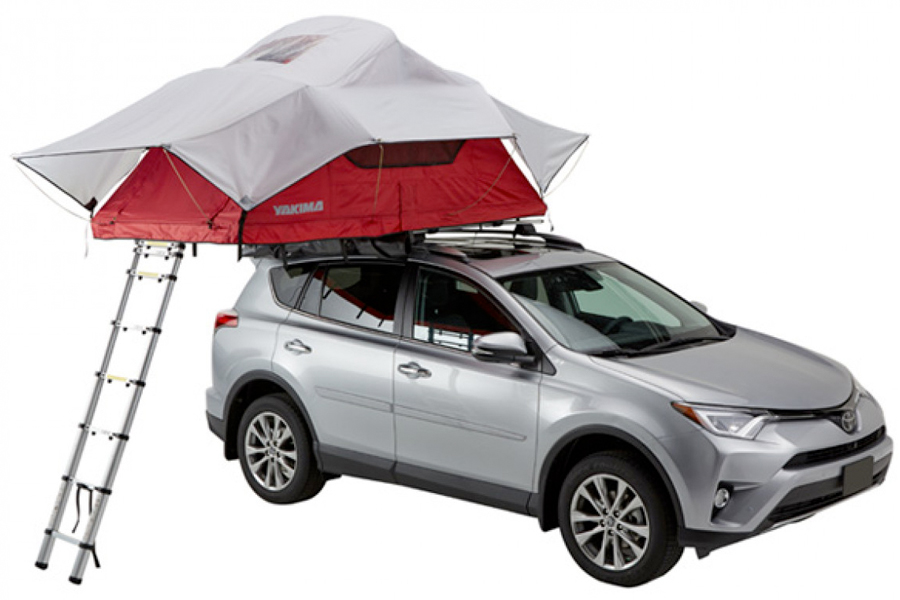 8. Yakima Skyrise
Three's never a crowd when you're rolling with the Yakima Skyrise. Despite its purposefully lean profile (which comes at a relatively lean price), the rooftop tent fits up to three people at a time. A mesh sunroof delivers proper ventilation and prime nighttime views, while a waterproof rainfly and double-layer windows will keep foul weather at bay. You can also bring in other accessories from the brand, including an annex room.
Accommodates: 3 medium-sized rooftop campers
Total Weight: 115 lb.
Material: nylon
Benefits: terrific ventilation and weather-resistance, compatibility with other Yakima products
General FAQ
Are roof top tents worth it?
While costlier than traditional counterparts, the best rooftop tents are easy to set up and packed with choice features. They also offer impressive ground clearance, prime weather resistance, and the ability to set up camp wherever you park. We say it's worth it!
Are roof top tents waterproof?
We can't vouch for every rooftop tent in existence, but the ones from brands like Tepui and Smittybilt are constructed from waterproof materials.
What is the cheapest roof top tent?
On our list of the best rooftop tents, the cheapest one is the Smittybilt Overlander, which costs as little as US$854.
How much are roof top tents?
The price of a quality rooftop tent can range drastically, depending on factors such as size and materials. Generally speaking, they can go as low as $850 and as high as $5,000. Most fall within the $1,000-$2,000 range.
You'll also like:
12 Best Adventure Blogs
18 Best Beach Camping Spots in NSW
15 Best Beach Camping Spots in Victoria
---
Featured Video from Man of Many