Exclusive Interview with Aus Geo + Bremont Adventurer of the Year Michael Smith
We recently spoke with Michael Smith, the Australian What is a Moonphase Watch & How Does it Work? who last year became the first person to solo circumnavigate the world in a single engine flying boat when he touched down in Melbourne in November 2015 after seven months in the air.
Inspired by the Qantas flying boats of the 1930s, Michael initially planned to retrace the same historic route from Australia to England in his custom-built Searey aircraft he named 'Southern Sun'. An avid cinema fan and owner of the Sun Theatre in Melbourne, he wanted to use the trip as a chance to sample local cinema from around the world.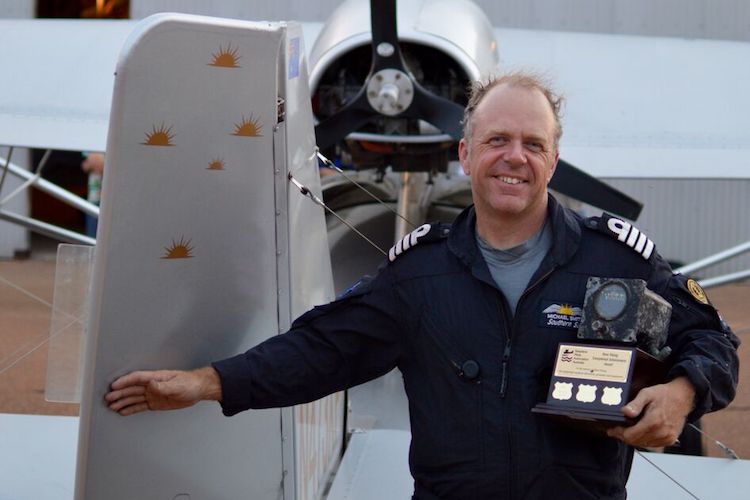 Yet, when he arrived in England, he decided to push ahead with the return leg and making history in the process. Thanks to his achievements, Michael was named Adventurer of the Year in the 2016 Australian Geographic Society Awards, in partnership with Bremont Watch Company, the British aviation-themed watchmakers.
He was awarded with the Bremont Supermarine S500, the company's first marine watch and one which draws on Bremont's strong aviation roots. Created to fulfill the desire of Bremont founders Nick and Giles English to build an "amphibious watch", the Supermarine S500 is a fitting prize for a man who circumnavigated the world in a flying boat.
How does it feel to be named Australian Geographic's Adventurer of the Year?
Magnificent! It came as a complete surprise, and to be included in that list of amazing adventurers, many of whom inspired me as a teenager, felt very special.
Were you always adventurous from a young age?
Yes, but at a simpler level. I started sailing when I was 8 and as a teenager I loved to go out alone in my dinghy to sail across the bay or lake, exploring through the mangroves and returning at dusk. I also enjoy walking and cross-country skiing, as well as adventure travel, for example heading down to Antarctica, but last year's flight is really the first major expedition I've undertaken.
What did it feel like when you finally touched back down in Australia?
Relief! I strangely worried that whole last leg – 10 hours over the water – that something may go wrong and leave me not finishing the trip. So I was both elated and relieved. Ironically, the next day, two hours into the flight heading south, the plane had a electrical failure that meant I had to make a diversionary landing – so imagine how lucky I felt that was! Luckily it was fixed within the day and back on my way, but a day earlier would have been a much wetter result.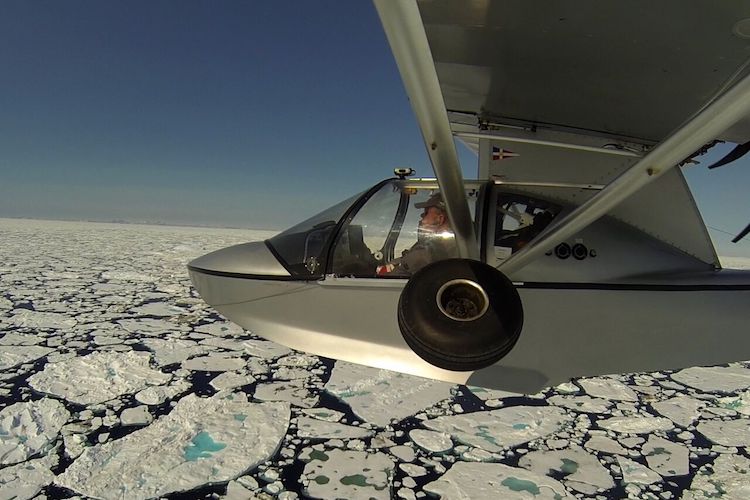 What was the inspiration behind the name of your plane 'Southern Sun'?
My family own the Sun Theatre in Melbourne, which has a historic and iconic Sun neon sign on the roof. Some years ago I created a logo taking the Southern Cross constellation, as used on the Australian flag, but replaced the starts with half sun logos, creating the "Southern Sun". I've used it on a few boats, and now my flying boat!
What made you decide to circumnavigate the globe once you got to London?
I've wanted to sail around the world since I was 15. Once I'd made it to London and the plane had performed so well, I thought this was my chance to keep going and finally do a circumnavigation in a boat.
What was the most challenging aspect of the journey?
Making it across the Pacific. I couldn't fly the usual route from San Francisco to Hawaii then across the tropical islands as I couldn't fly that far. So I had to head up to Alaska and follow the remote and even uninhabited islands of the Aleutians towards Russia and down through Japan. My longest flight was a 23-hour flight, with 14 hours at night and only 1500′ above the ocean due to the ice level… That was a pretty tough flight.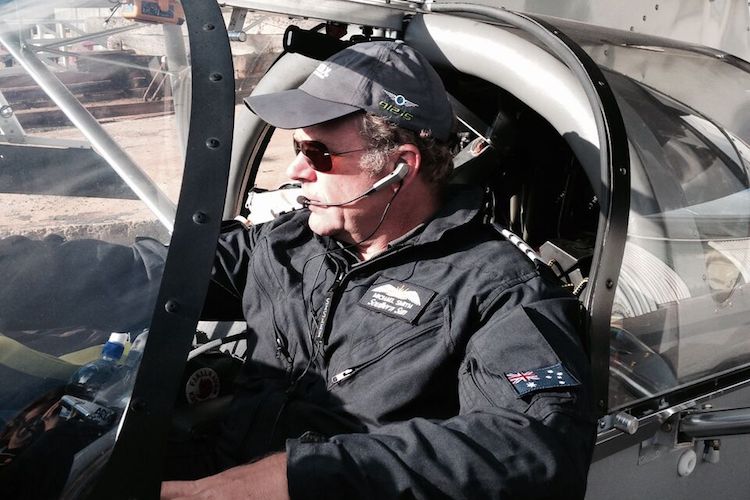 How important is timing when undertaking a voyage such as this?
Very. Throughout a flight timing is a critical part of planning. Fuel burn and time are interrelated, so I am constantly checking my watch. On the hour I would transfer fuel and feed my body. I worked out that rather than eat lunch I ate small amounts every hour to keep my energy levels consistent.
Were there any close calls?
Afraid so, weather related difficulties are always demanding and one of them came way too close for comfort. After several hours crossing the ocean from Greenland I came in to Canada with fog below me and clouds above me. The further I went, the clouds got closer until I was in complete cloud and lost control of the plane. I thought it was all over as I was falling towards the ground and then luckily I caught a glimpse of the sun through the cloud, like the spot of light at the end of a tunnel, which gave me the reference I needed to get back into level flight and thankfully be here to talk about my trip today.
Did you end up getting a chance to study cinema along the way?
Yes, I visited 70 cinemas and built a fantastic database for my research into the Perceived Value of Cinema to the Community. I was able to use this to complete my MBA a few months after returning home, and even got a High Distinction!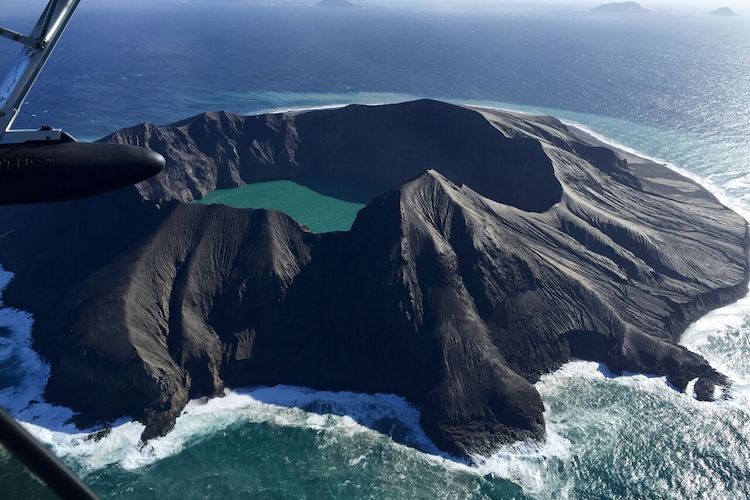 What was your favourite cinema and movie you watched while travelling?
I loved the drive-in I stumbled across in Ahmedabad in India. You could sit on the grass down the front, or on rows of concrete seats like you'd have at a sports field, or in your car, or even in a stadium style seating above the projection box. It was a balmy night and thousands of people were there. It was just magical. The film there was the funniest I saw on the trip, in fact I saw it a few times across the sub-continent – GABBAR, the story of a man's man, University lecturer by day, fight of injustice and corruption at night, ladies loved him, men wanted to be him… Kind of Chuck Norris meets Mr Chips – bizarre.
Have you managed to put your Bremont Watch to good use?
Ah yes, it looks wonderful, and so appropriate that I was awarded a Supermarine watch for flying around the world in a seaplane. I've found the rotating bezel works really well as a flight timer, I can turn it to match the minute hand as I'm just lining up to take off, and be able to see how long I've been flying, or use it to calculate ETA's. I've never had a watch with the day on it before, and I was always hopeless at remembering what day it was, so my wife will be happy I stop asking that… Plus it looks pretty darned cool. Being both British and Australian – the British story I just love and literally just looking at it makes me feel proud.
Have you planned your next adventure?
Ah, I have a few ideas, but with a book deal and doco coming out about the trip next year, I suspect I'll be flying around a fair bit to talk about last year's trip – which is fine, I love flying Southern Sun around and to tell the tale of a journey is relive it another time.