2023 Tesla Model Y Performance Review: Best EV All-Rounder
Someone once told me that a Tesla is for someone who hates driving but really likes their mobile phone. That doesn't make a car 'good' or 'bad' in the mind of someone who reviews cars for a living, so why was I utterly pessimistic before getting behind the wheel of a Tesla Model Y Performance?
From DogeCoin to stock-pumping and political opinions, their CEO's marketing antics really get under people's skin. Fortunately, you forget about all this when you actually drive a Tesla, because they're really quite good.
Tesla loaned me a top-of-the-range Model Y Performance for three days for this review. It's priced from AUD$91,400 plus on road-costs which works out to be just under AUD$100,000 drive-away for most postcodes. It's a dual-motor electric vehicle with 514 kilometres of range that's capable of sprinting from 0-100km/h in 3.7 seconds. On paper, it competes with cars like the Kia EV6 GT (AUD$99,590 plus on-road costs) although in many ways I believe it occupies its own segment.
| | | |
| --- | --- | --- |
| Pros | Cons | Verdict |
| Ticks all the boxes from range to interior space and now speed thanks to a 393kW dual-motor set-up. It's so easy to drive and operate, I'd go so far as to call it the iPhone of cars. | With a price of AUD$91,400 plus on-road costs, the ride is still a little unrefined compared to the German opponents. The same goes for the interior that's shared with the AUD$65,400 base-model and is minimalist, but not particularly luxurious. | If you want a do-everything family SUV with all the tech, space, and speed you could ask for check out the Tesla Model Y Performance. |
RELATED: 2024 Tesla Model 3 Revealed With More Range and Tech.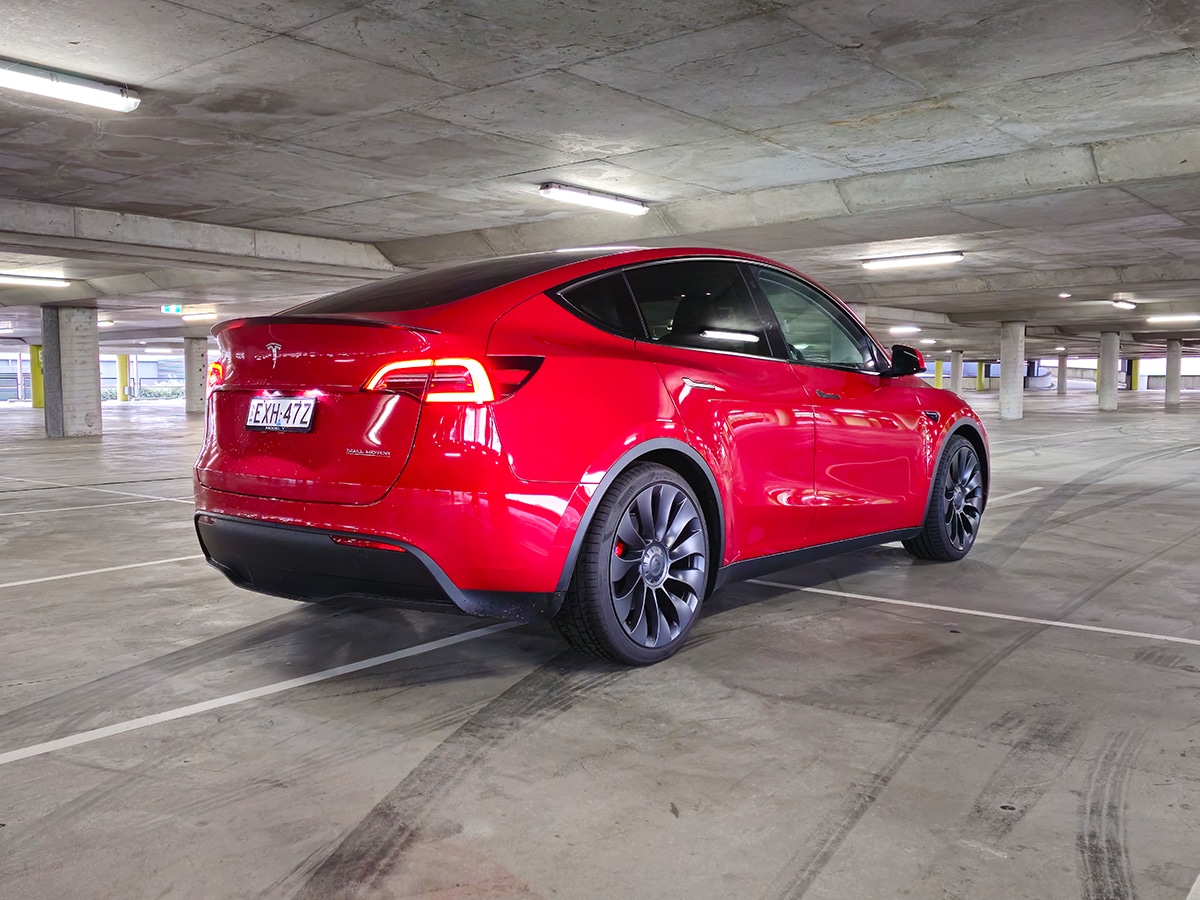 Price
The Tesla Model Y Performance is priced from AUD$91,400 plus on road-costs making it the most expensive Tesla you can currently buy in Australia. Complete pricing for the line-up looks like this:
Tesla Model Y: AU$65,400 plus on-road costs
Tesla Model Y Long Range: AU$78,400 plus on-road costs
Tesla Model Y Performance: AU$91,400 plus on-road costs
It occupies an interesting segment in the Australian electric vehicle market because it undercuts several German brands, but is considerably more expensive than the popular Chinese-owned EVs like the MG 4, BYD Atto 3, and GWM Haval Ora. It sits alongside its Chinese-made stable-mates in the Volvo C40 Recharge (from AUD$75,990 before on-road costs) and BMW iX3 M Sport (from AUD$89,100 before on-road costs).
The Tesla Model Y Performance we're driving is more expensive again and competes head-to-head with the sportier Kia EV6 GT (AUD$99,590 plus on-road costs).
Our test car was fitted with the Red Multi-Coat paint option (AUD$2,400) and Full Self-Driving Capability (AUD$10,100), however, it's worth noting that FSD was disabled during our test drive. After configuring our car online through the Tesla website, it appears there are currently no delays on the Tesla Model Y Performance and our delivery was estimated between October – December of this year.
---
Featured Video from Man of Many
---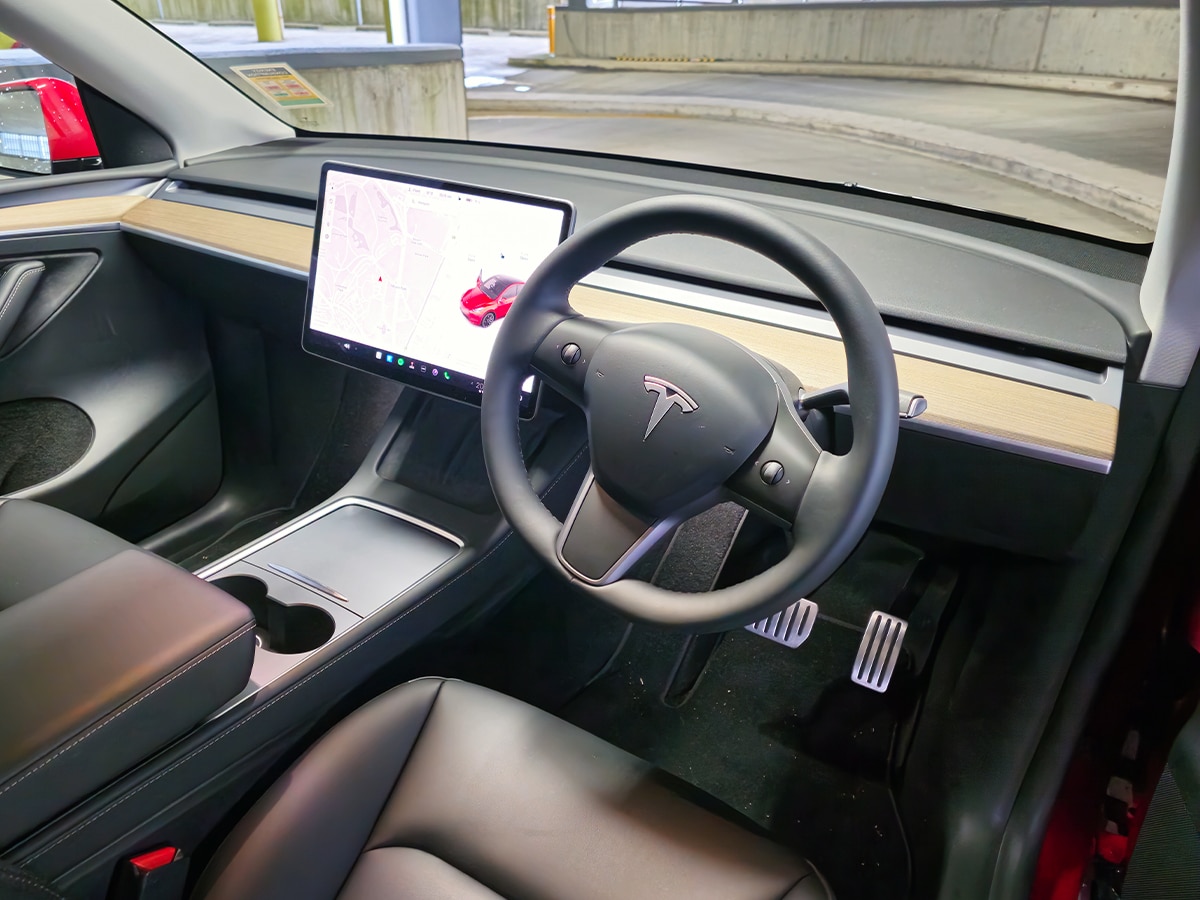 Interior and Comfort
Some call it minimalist, others call it cost-cutting, but the interior of the Tesla Model Y Performance is undoubtedly simple and easy to navigate. I wouldn't go so far as to call the Model Y 'luxurious' as the materials are noticeably made to keep the costs down, however, everything you touch, lean against, and move on a day-to-day basis feels solid. Particularly the drive mode selector stalk, indicator, and steering wheel which is the right size and has good weight and thickness.
Seats are heated front and rear, adjustable up front, and comfortable. Look elsewhere and you undercover harder materials, a few awkward gaps, and areas that need improving such as the sun visors, roof headlining, and door panels that flex when you close the door. You're reminded the price increase over the base Model Y doesn't get you a nicer interior, what you're paying for is the performance.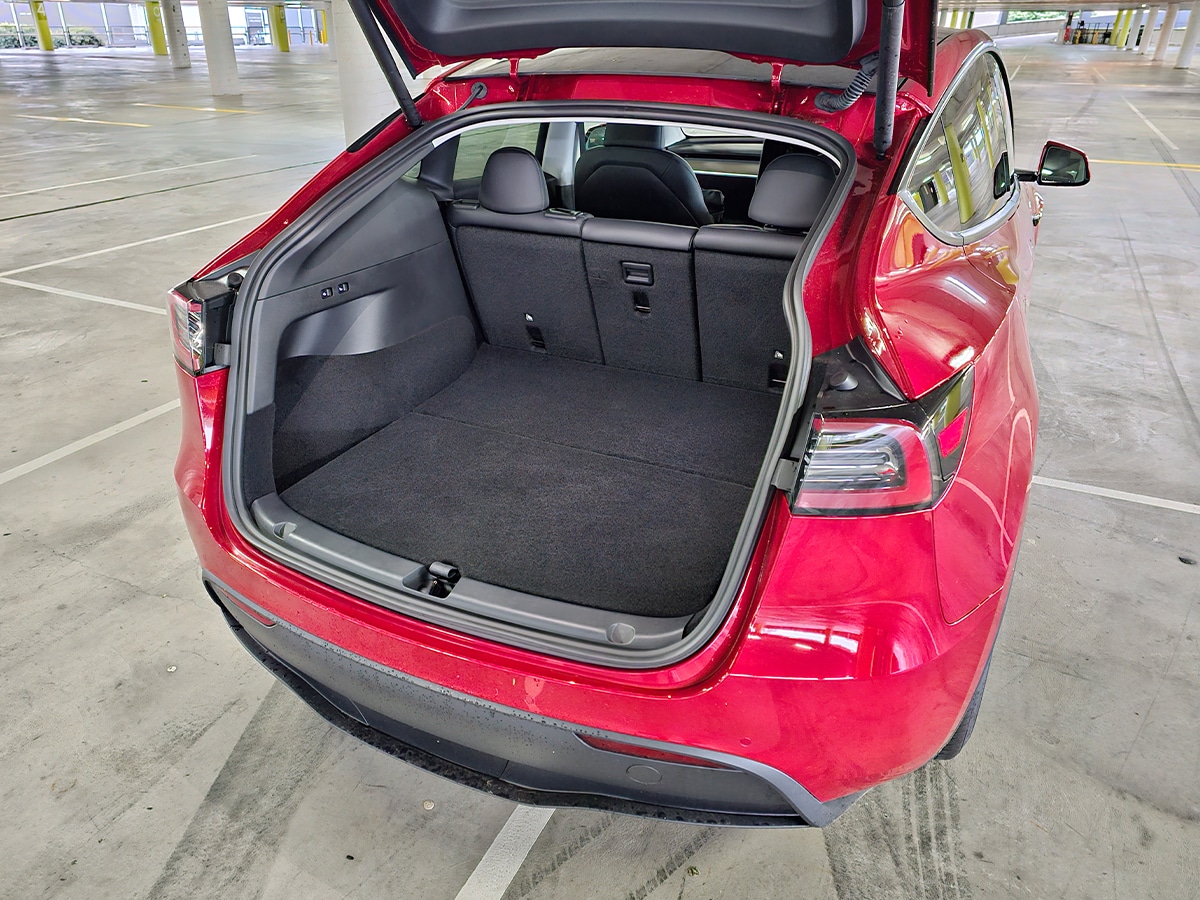 Finally, there needs to be a special mention of the enormous amount of boot space you get thanks to the completely flat floor. In the Model Y, you're looking at 854 litres of storage above and below the boot floor which notably misses out on any spare tire or tire repair kit. That compares to the BMW iX3 which has 510 litres of space and the Kia EV6 which has 480 litres.
Infotainment
Once you're sitting in the Tesla Model Y there's a massive elephant in the room in the form of a 15-inch centre touchscreen. There's no Apple CarPlay or Android Auto to be found here. However, the native system does a great job of filling in the gaps by connecting itself to the internet and streaming through individual apps like Spotify after you've set up your Tesla account.
I do wish it had Waze, but you can chuck your phone on the wireless charger or secure it in a phone cradle like this one I found on Amazon.
Everything is configured through the screen, including climate, navigation, and even the speedometer which is nestled in its top right corner. It's worth noting that to get the majority of the features, such as Live Traffic Visualisation, Satellite-View Maps, Video Streaming, Music Streaming, and Internet Browsing, you'll have to pay a monthly subscription fee of AUD$10 for the 'Premium' subscription.
The steering wheel is home to the only physical buttons inside the car and each side can control different features depending on what mode is selected. For example, the left scroll wheel controls the volume by scrolling, but also the next song, station, or favourite. It also sets the position of the exterior mirrors and steering wheel when you first get behind the wheel. The right wheel can be pressed to initiate a voice command and adjust your set speed and distance when using Traffic-Aware Cruise Control.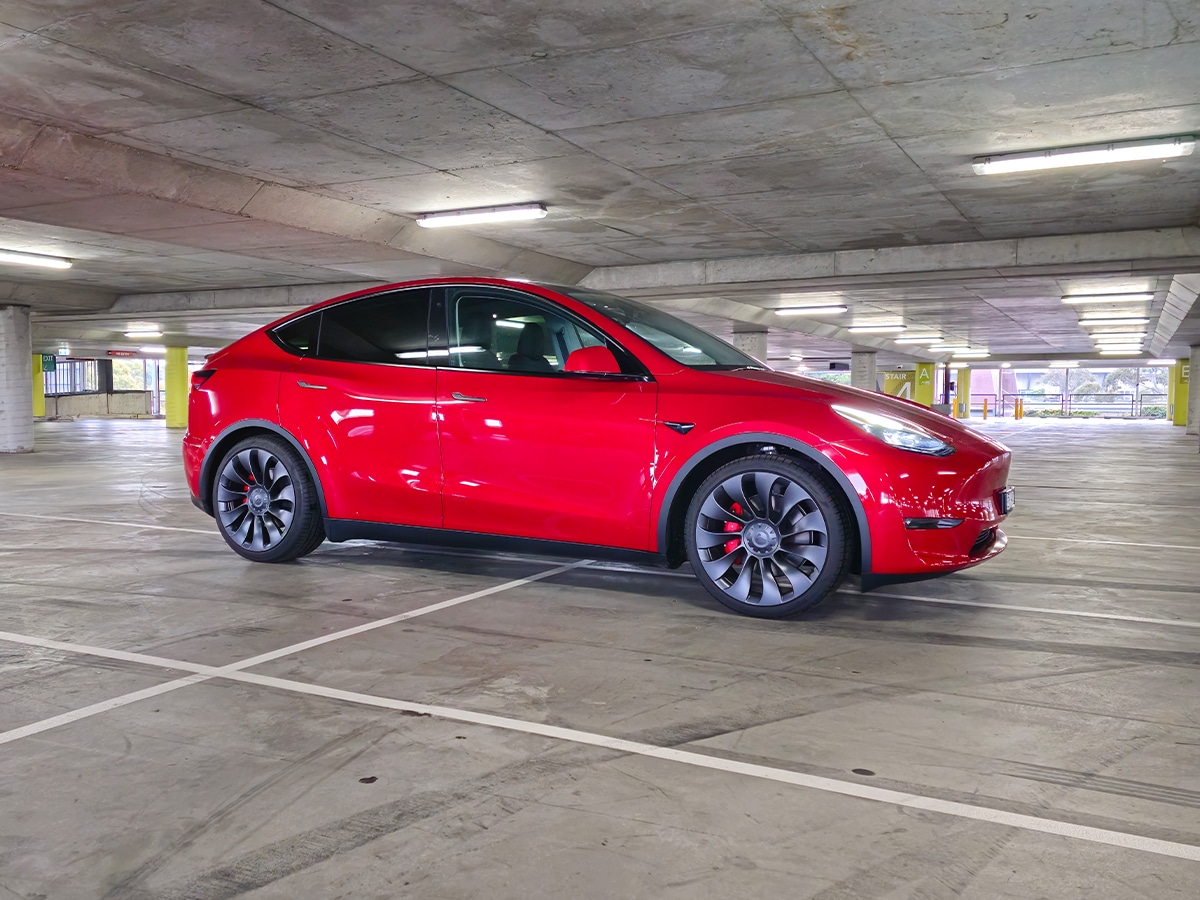 Motors and Range
Dual-motor electric vehicles are generally pretty quick, but the Tesla Model Y is on another level. I'm not sure how often you'd want to use the full 393kW of estimated power or 690Nm of all-wheel-drive torque as it's pretty brutal in its delivery, but it's always a nice thing to have under your right foot for quick manoeuvres.
Granted, it's not the fastest EV I've driven, but anything hovering around the four-second mark for the 0-100km/h sprint is enough to scare a few passengers. The official 0-100km/h time is 3.7 seconds with a 1-foot rollout.
Key details
2023 Tesla Model Y Performance
Motor configuration
Dual electric motors
Power
393kW (est.)
Torque
690Nm (est.)
Drive type
All-wheel-drive
Transmission
Single-speed
Power-to-weight ratio
197kW/t
Weight
1997kg
Spare tyre
None
Tow rating
1600kg braked
750kg unbraked
Turning circle
12.1m
While it doesn't get a local suspension tune like the Kia EV6, the Australian-delivered Tesla Model Y receives the softest of the two suspension tunes available globally. This is a performance-focused electric vehicle, but it rides comfortably on city streets and only the 21-inch wheels fall victim to sharp-edged potholes.
Push the Tesla Model Y through a few corners and you can even have a little bit of fun, minus the soundtrack of an internal combustion engine. It's hard to mask the two-tonne weight, but it's kept down low in the floor and the steering feedback, weight, and sharpness are all spot on.
It's a great car to drive at 6-tenths, but I fear any further would push the limits of a vehicle this heavy and your passengers who are almost at peak motion sickness by now thanks to a complete lack of sound.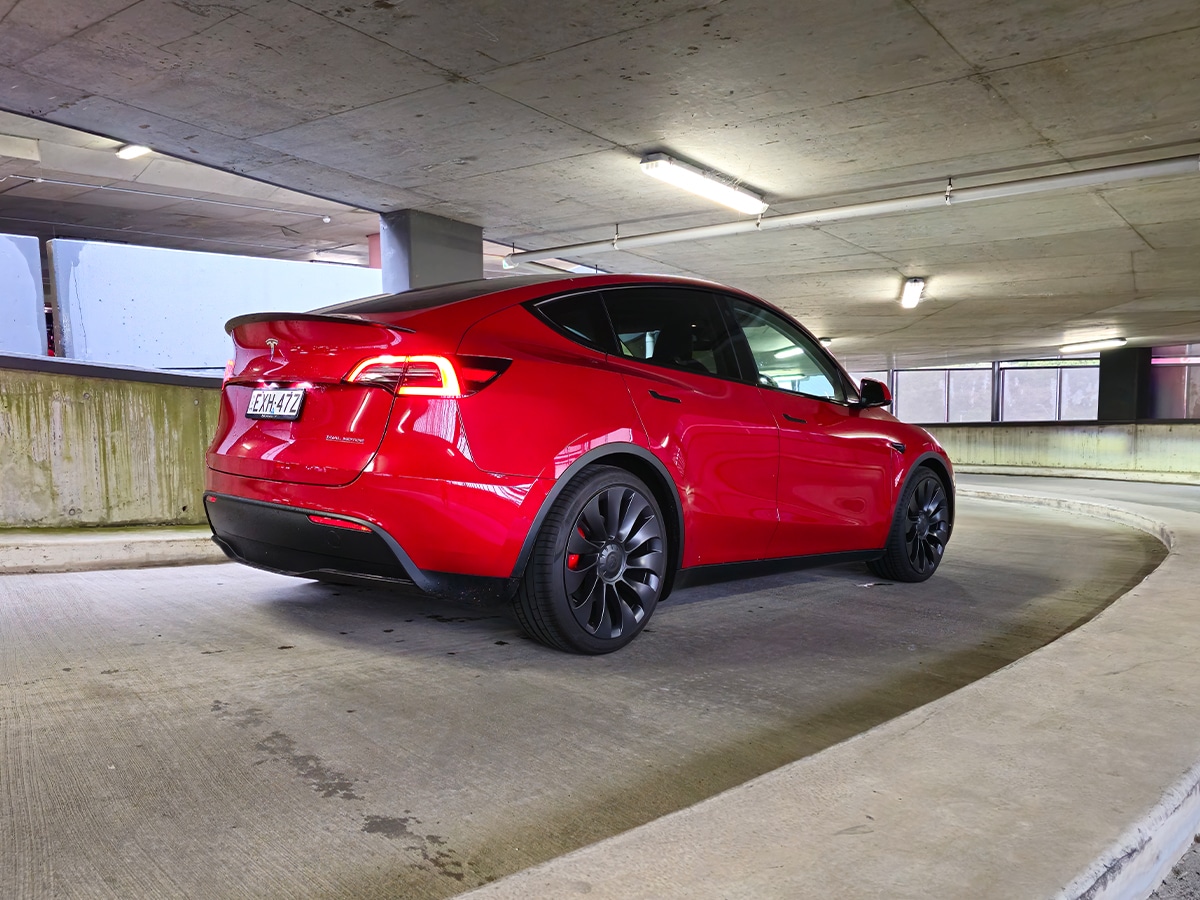 Safety and Driver Assistance Features
The Tesla Model Y is one of the safest cars on Australian roads, scoring a full five stars from ANCAP's 2022 testing regime. Most notably, it scored 97 per cent for Adult Occupant Protection, 89 per cent for Child Occupant Protection, 82 per cent for Vulnerable Road User Protection, and 98 per cent for Safety Assist.
As standard, the Model Y gets features such as traffic-aware cruise control, lane-keeping assist, blind spot monitoring, rear cross-traffic alert, and autonomous emergency braking. From there you can add a host of optional software features through packages:
Enhanced Autopilot (AUD$5,100) adds:
Navigate on Autopilot
Auto Lane Change
Autopark
Summon
Smart Summon
Full Self-Driving Capability (AUD$10,100) adds:
All functionality of Basic Autopilot and Enhanced Autopilot
Traffic Light and Stop Sign Control
It's worth noting that Australian rules mean you cannot use FSD on roads without having your hands on the wheel. Don't let the name confuse you, we're still a long way from autonomous vehicles Down Under.
Warranty and Servicing in Australia
Warranty
4 years or 80,000 km
Service intervals
12-month tyre rotation
2-year cabin filter replacement
3-year HEPA filter replacement
4-year A/C system service
Servicing costs
N/A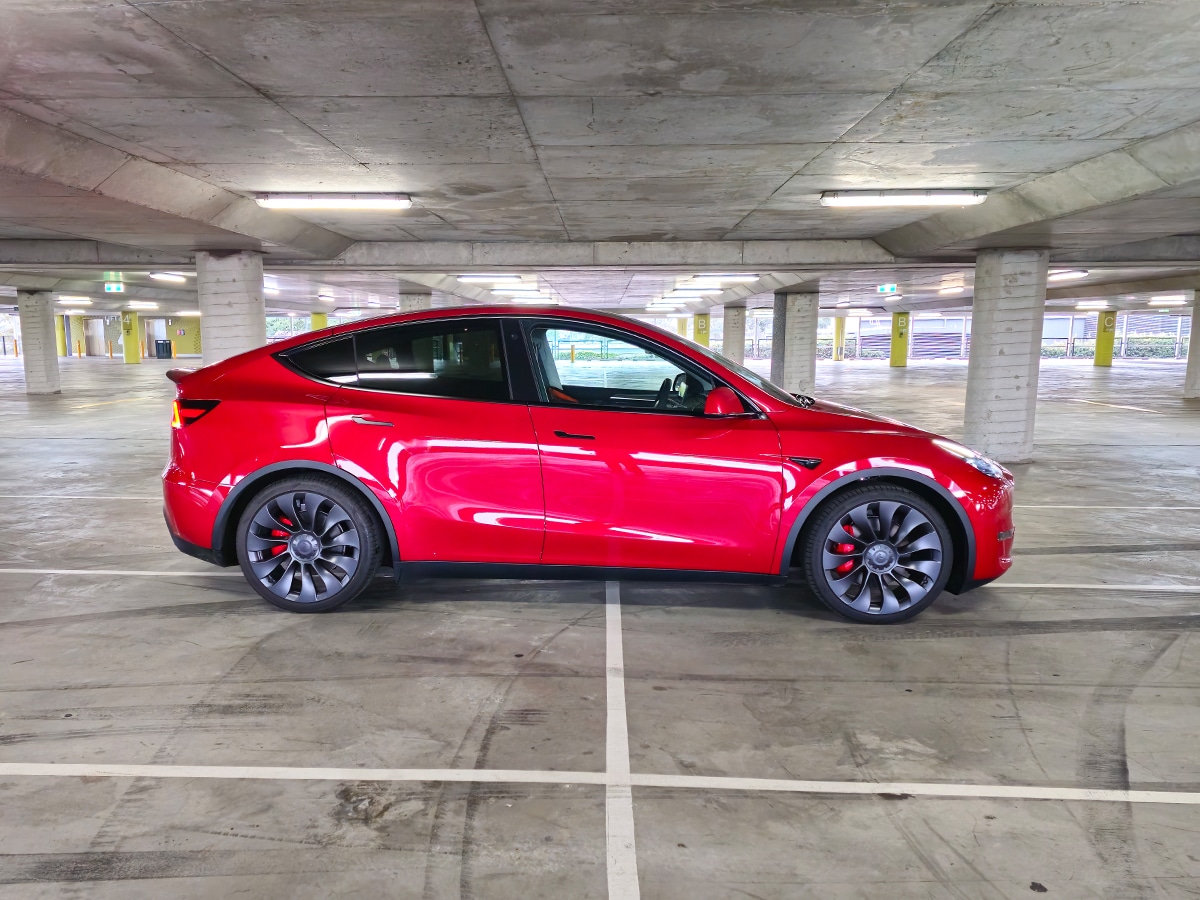 Verdict
Tesla has figured out how to boil down the experience of driving to the bare bones and created a car that's so easy to operate it feels like a piece of technology more than a car with four wheels. This isn't going to suit everyone and the simplicity can be hard to get your head around when you look at the AUD$91,400 price tag.
That is the only issue I have with the Model Y Performance. There isn't enough here to separate itself from the rest of the Tesla Model Y line-up. If you're desperate for the increased straight-line performance knock yourself out, but we'd be going for a Model Y Long Range and putting extra cash towards a home-charging set-up to avoid the terrible public charging network.
If you love your mobile phone but don't really enjoy driving all that much, get yourself a Tesla Model Y. If you enjoy driving and want a giggle-inducing electric vehicle, get yourself a Tesla Model Y Performance.
You'll also like:
---
Featured Video from Man of Many