Holy Shift Turns a Suzuki Omni into a Battle Van
The Suzuki Omni may not strike you as a battle-hardened veteran of adventurous campaigns, but that's only because you haven't seen the Suzuki Omni Battle Van by Holy Shift. This is one rugged looking van that is ready for any quest you might be going on.
You'll also like:
Brubaker Box Minivan Redefines the Party Van
Mercedes Benz Gets into Van Life with the Metris Weekender
Exclusive Outfitters Custom Builds Your Dream Sprinter Van
Holy Shift is based out of India where the Suzuki Omni is pretty popular. The customiser took one of these vans and completely stripped it down before adding a new suspension as well as a new rear axle. The new rear axle was sourced from a Suzuki Gypsy, making it more capable of taking on 4X4 applications. The transmission was also replaced. With that much work being done, they went ahead and added in a new engine as well—a smart move since the original engine was a tiny 800cc motor. In the place of that small engine, Holy Shift put in a 1,000cc four-cylinder engine from a Suzuki Samurai, giving the battle van a bit more to work with. Knobby Maxxis Trepador tires were put on the wheels and the wheel arches were cut out and treated with bespoke step pieces to create more space. A roll cage was installed. Holy Shift also slapped on a bulbar for good measure and lifted the whole affair for extra ground clearance. A roof rack with an LED strip and metal plates provides storage for all your gear. There are also plenty of Jerry cans for extra fuel or water. Six amber lights illuminate the road.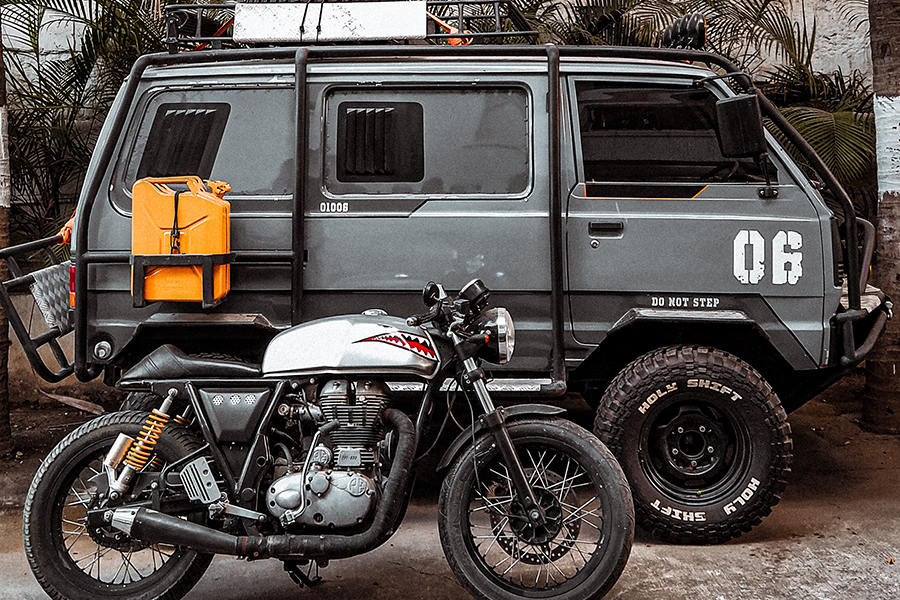 Speaking on the experience of driving the Omni Battle Van, Pranav from Holy Shift Garage said, "Driving it is a mixture of emotions, fear of death and also a sense of accomplishing something unique." That statement's not too hard to imagine. The Omni Battle Van is certainly unique, and it looks like it is ready to go anywhere.
You'll also like:
Brubaker Box Minivan Redefines the Party Van
Mercedes Benz Gets into Van Life with the Metris Weekender
Exclusive Outfitters Custom Builds Your Dream Sprinter Van