This Six Wheel Jeep Gladiator Rubicon Cops a Corvette Engine
So Flo Jeeps out of, you guessed it, South Florida has a Jeep Gladiator Rubicon for sale. Not that interesting you say? Well, this Jeep is completely different from any other Jeep you've seen. Not only is this Gladiator equipped with a Corvette engine, it's also a 6X6.
You'll also like:
2021 Ram 1500 Rebel TRX is Ready for a Fight
Is Land Rover's New Defender Too Luxurious to be an Off-Roader?
Twisted Auto Slaps a V8 in the Defender Stage One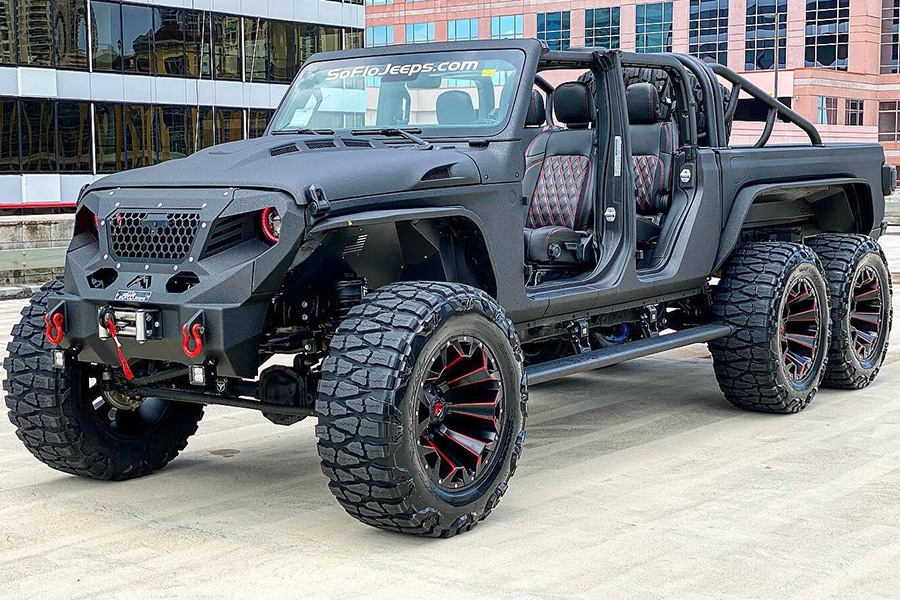 To build the Jeep, So Flo starts by cutting apart a Gladiator so that they can extend the frame to accommodate an extra axle. The new drivetrain includes a nine-inch differential equipped with a Detroit True Track Locker. With the axle on and the longer frame, So Flo moves on to a five-inch lift to bring the suspension travel up to 14 inches for each axle. With six wheels, control needed to be addressed, so So Flo added a Falcon Steering Stabiliser. For power, the Gladiator is outfitted with an engine capable of 300 horsepower and a towing capacity of 12,000 lb-ft of tow capacity. If that's not enough power, you can upgrade to an LS3 6.2L engine (for an upgrade cost of USD$30,000). The six wheels come shod in 38 inch Patagonia tires.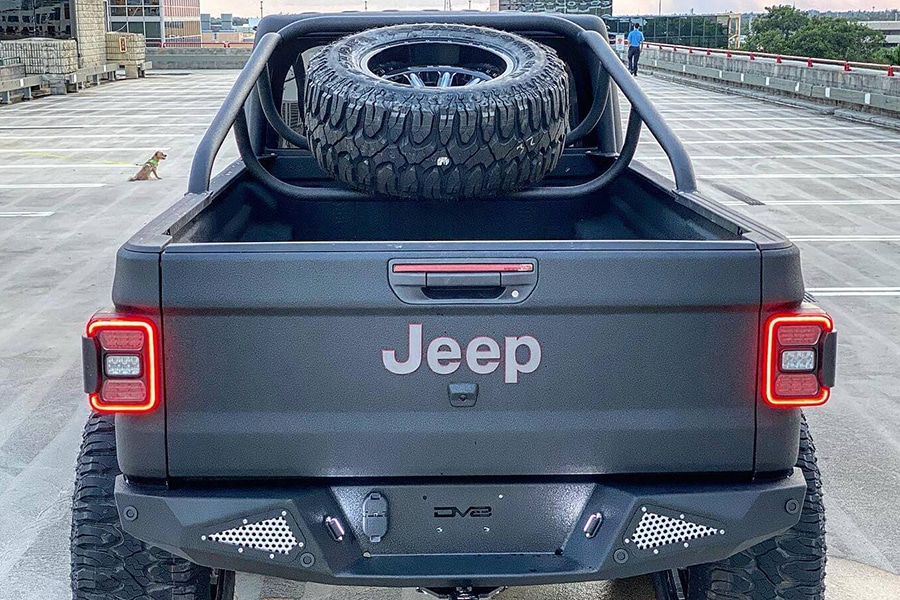 Aside from performance and extra wheels, So Flo also worked on the Gladiator's appearance, making it more aggressive and downright sinister. For the front end, So Flo added what they call a "Grumper," which combines the grill and the bumper into one piece. The Grumper gives the Gladiator a longer snout, making this rig look more like a dragon stepping into the coliseum rather than a gladiator. The large hood is made of fibreglass and adds to the intimidation factor. The bed of the truck is treated with a three-part epoxy that is made with Kevlar fibre for better protection. The interior—which is also the exterior given the open-air design—features hand-stitched, marine-grade leather. The doors are still removable and the roof comes off easily. Power side steps descend to help give easier access to the behemoth.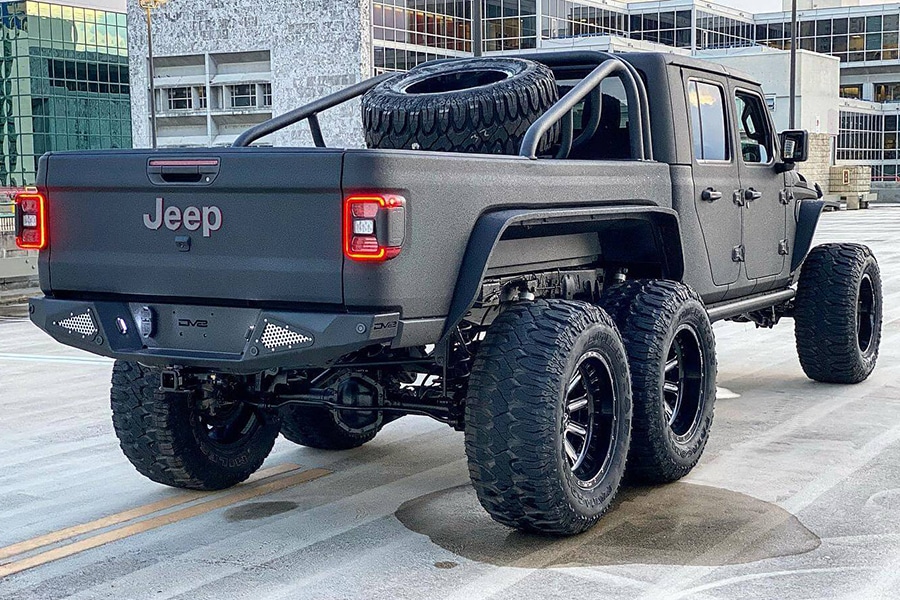 Now that you find this posting a bit more interesting, you'll want to know what it will cost you to get a 6X6 2020 Jeep Gladiator Rubicon from So Flo Jeeps. That would be a starting price of USd$140,000 for the gas version and USD$150,000 for the diesel.
You'll also like:
2021 Ram 1500 Rebel TRX is Ready for a Fight
Is Land Rover's New Defender Too Luxurious to be an Off-Roader?
Twisted Auto Slaps a V8 in the Defender Stage One