Raymond Weil's Freelancer Skeleton Has Just Raised The Bar on Affordable Swiss Luxury
In Partnership with Raymond Weil.
Raymond Weil is no small name in the grand scheme of Swiss horology. Since 1976, when the company's founder launched his eponymous maison, it has consistently delivered a broad selection of finely crafted timepieces at accessible prices. This reputation—they are, after all, a household name, and not uncommon—is one that's been hard earned, and in a relatively short space of time (remembering that most major Swiss maisons date back well into the 19th century).
One might be inclined to compare a brand as widely known as Raymond Weil with, say, Omega or Breitling (both great producers in their own right), but what remains largely unrecognised is the fact that Raymond Weil is still a family-owned affair.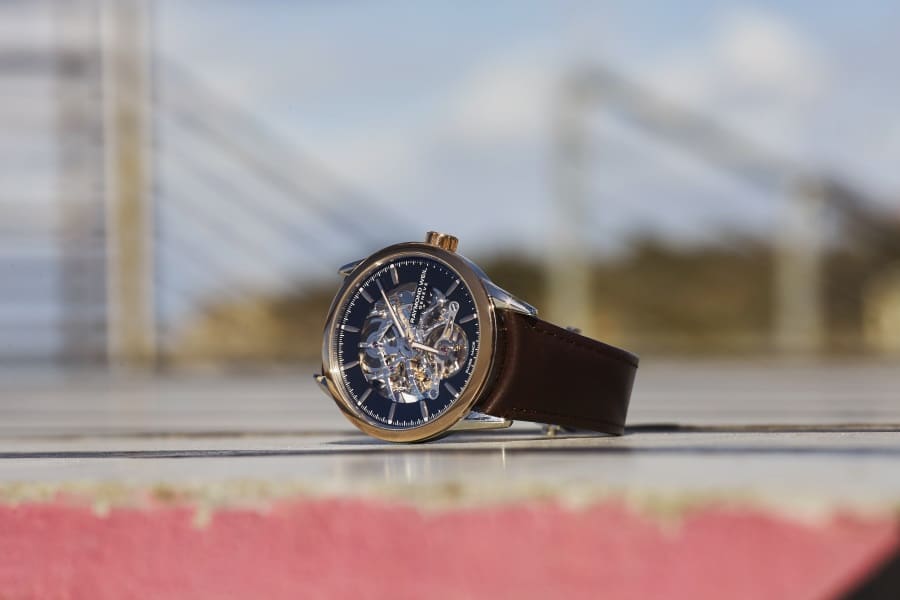 Yes, while other huge houses of horology have been gobbled up by multinational luxury brands, Raymond Weil has remained independent, and is better compared with the likes of H. Moser & Cie, or Franck Muller: houses known for their quality (and hefty price tags), sure, but hardly their ability to produce high-end pieces at any notable volume (yes, pedants will suggest that Rolex is independently owned too, but greater pedants will know that they are essentially a not-for-profit).
The true enduring quality of Raymond Weil is the fact that it remains stoic as an independent company, and one which has, for nearly fifty years, managed to innovate their product further and further. Born of the infamous "quartz crisis", which nearly collapsed the entire Swiss watchmaking industry, the company's founder, Raymond Weil, set on a mission to have his own maison, and to control his career's destiny (any employment in the industry by that stage was far from a concrete affair).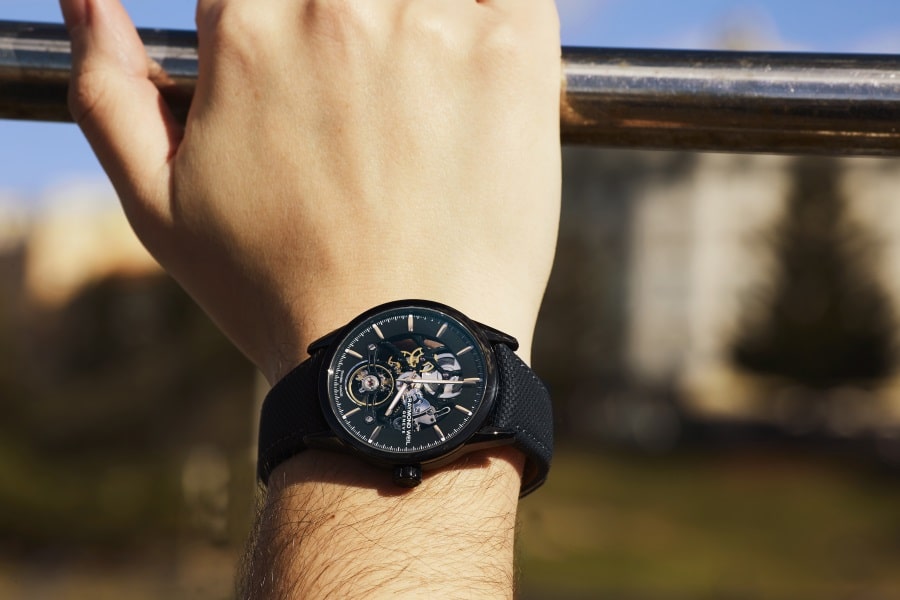 A prolific patron of the arts himself, the entrepreneurial horologist dedicated his life to creating timepieces that reflected his undying love of creative pursuits. In his own words, Weil believed that music and art, to his enterprise, was what thought is to humankind: an inexhaustible source of inspiration and creativity.
Now, with Olivier Bernheim at the helm as President (Raymond's son in law), and Elie Bernheim (his grandson) as CEO, Raymond Weil has proudly announced its first in-house movement: the Calibre RW1212. An automatic movement that came from the company's long-term collaboration with movement manufacturer Sellita, there's only one logical thing to do with an announcement of this gravity: show it off.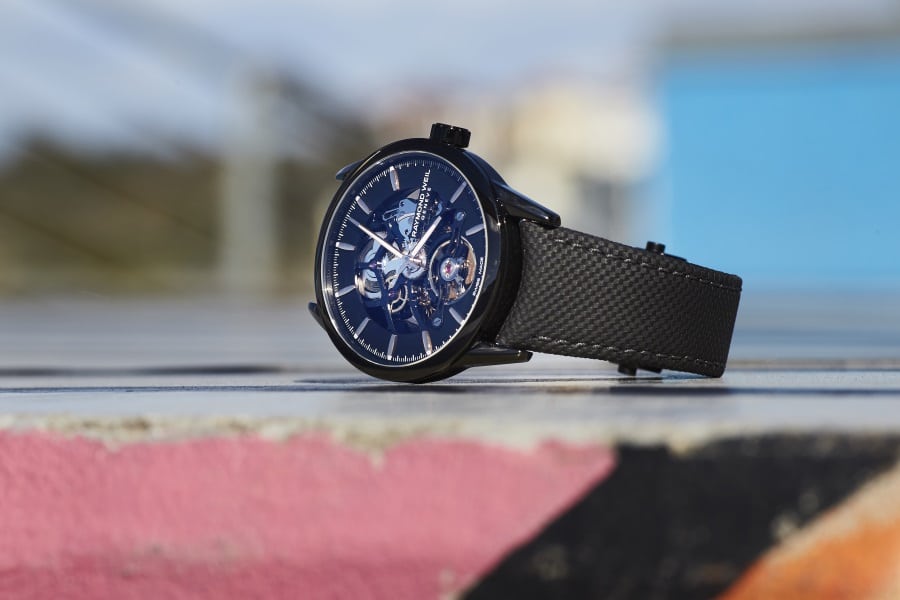 To show the intricate, inner workings of the new movement, Raymond Weil has installed it in their striking new wristwatch: The Freelancer Skeleton. The Freelancer range (named as a respectful nod to the founder's fierce desire to remain independent), has been a favourite amongst customers since it was first released in 2007. Previously simple in design and diverse in execution (there are over 36 Freelancer examples currently in production, from time-only models to chronographs, as well as limited releases), the Freelancer RW1212 has been designed to flaunt the maison's new movement.
And flaunt it it does.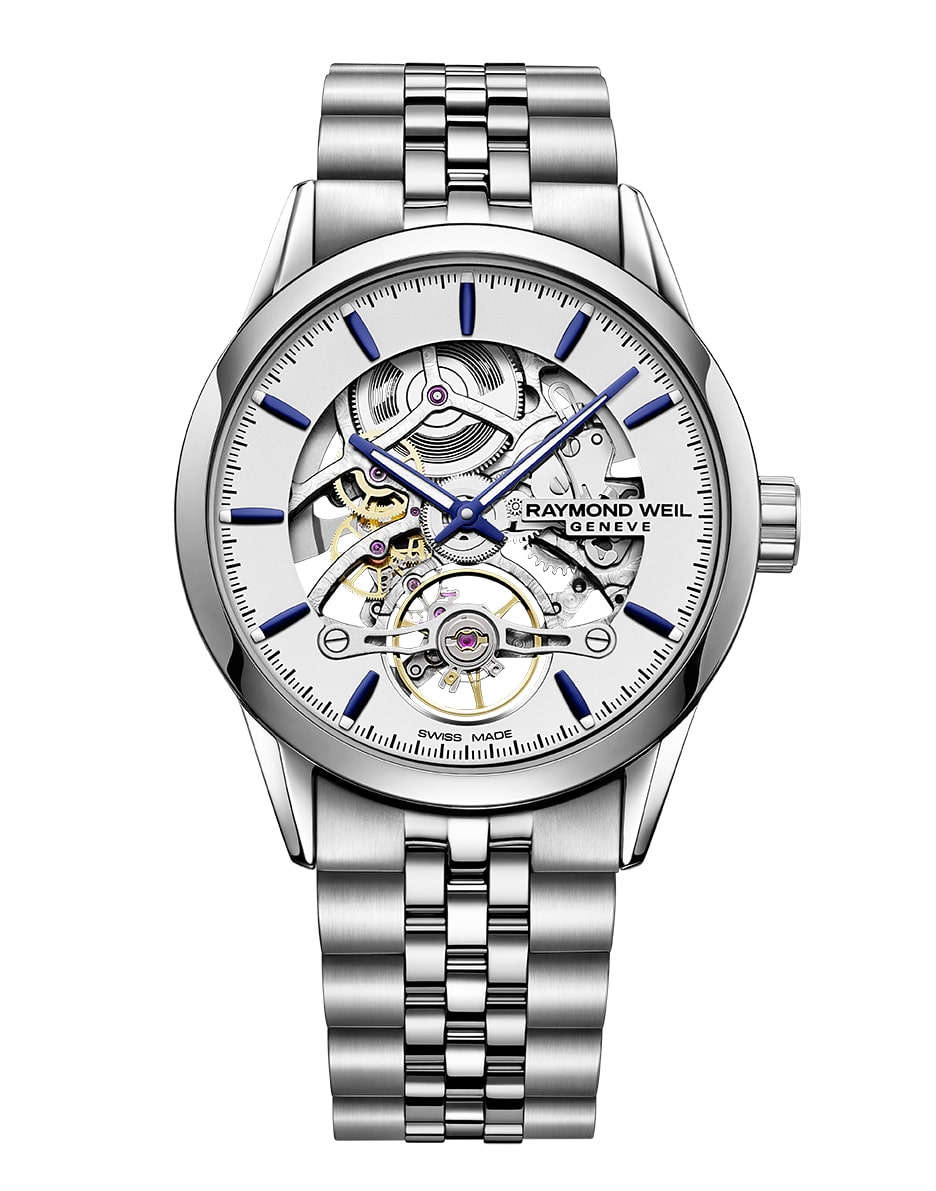 Eschewing anything so fandangled as a second-hand, even, the simplicity of the two-arm dial allows the eye to be drawn through the beautiful mechanics of the watch. The balance wheel still sits proudly at the 6 o'clock position, but doesn't draw the entirety of the attention as with previous models. Here, the salient visual feature of the timepiece is the very thing itself, as a whole.
Offered up in three colour schemes: a rose gold and stainless two-toned case with brown leather is classic and elegant. A stainless steel case with bracelet and blue indexes (and hands) is very clean and modern (the 42mm case size makes it not too blingy, but rather, just the right level of flash). Perhaps the most striking, however, is the black PVD plated version, with matching black leather. This ultra-modern and masculine look can be worn with (and to) just about anything.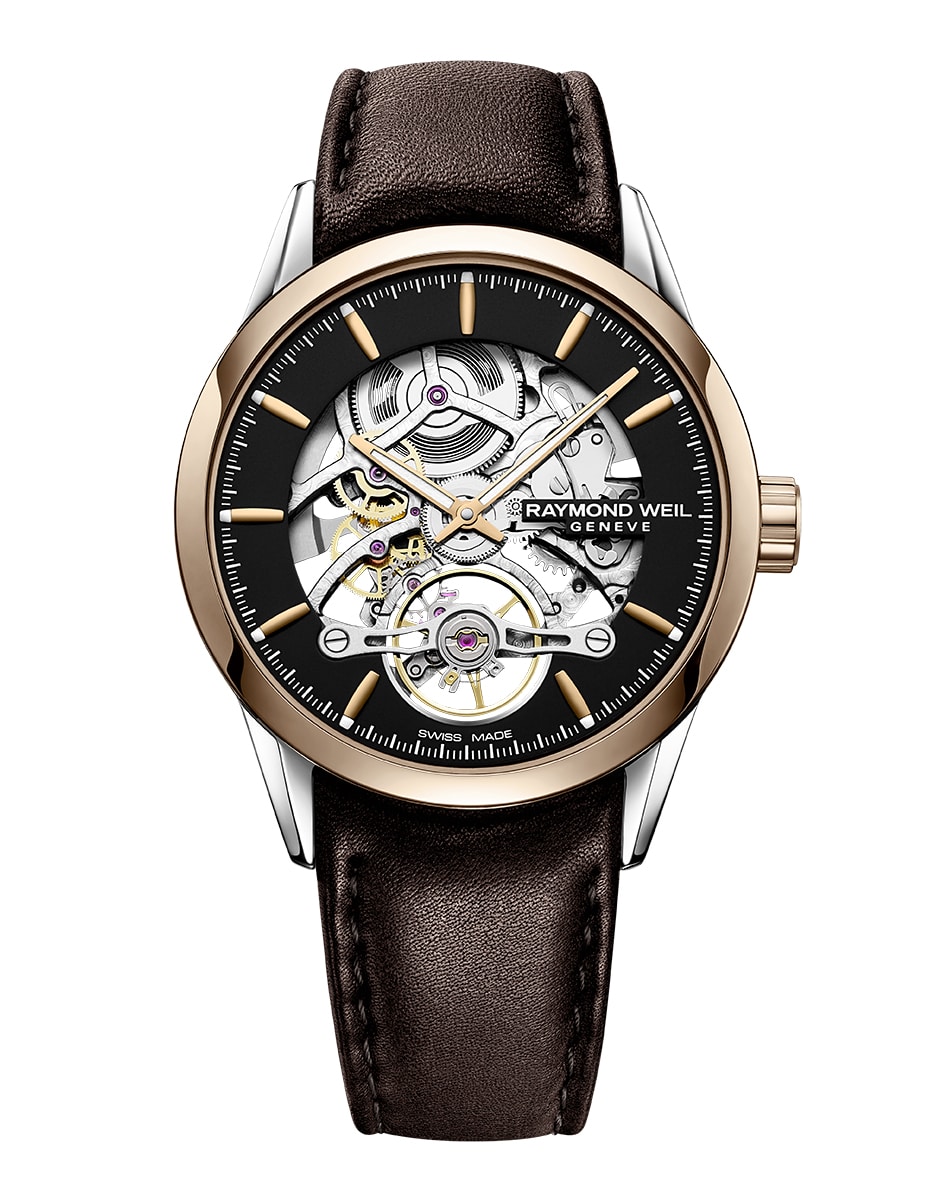 The Freelancer RW1212 is water resistant to 100 metres, more than you'd ever need (or expect) from a watch this handsome, but handy nonetheless. It's also further testament to the build quality that has solidified Raymond Weil as a small giant in a very competitive field of Swiss monsters.
And while we're on aesthetics, one of the most noticeable differences between this in-house Calibre 1212 movement, and the previous automatic movements from Sellita is just how elegant it is. The people at Sellita make a great movement, of this there's little denying. But the RW Calibre 1212 is better looking. The Raymond Weil engraving on the oscillating weight, which has been skeletonised, is a charming touch, making the watch even more transparent, and just lovely to look at. This is a new and exciting feature and one we can only hope to see more of, from Raymond Weil.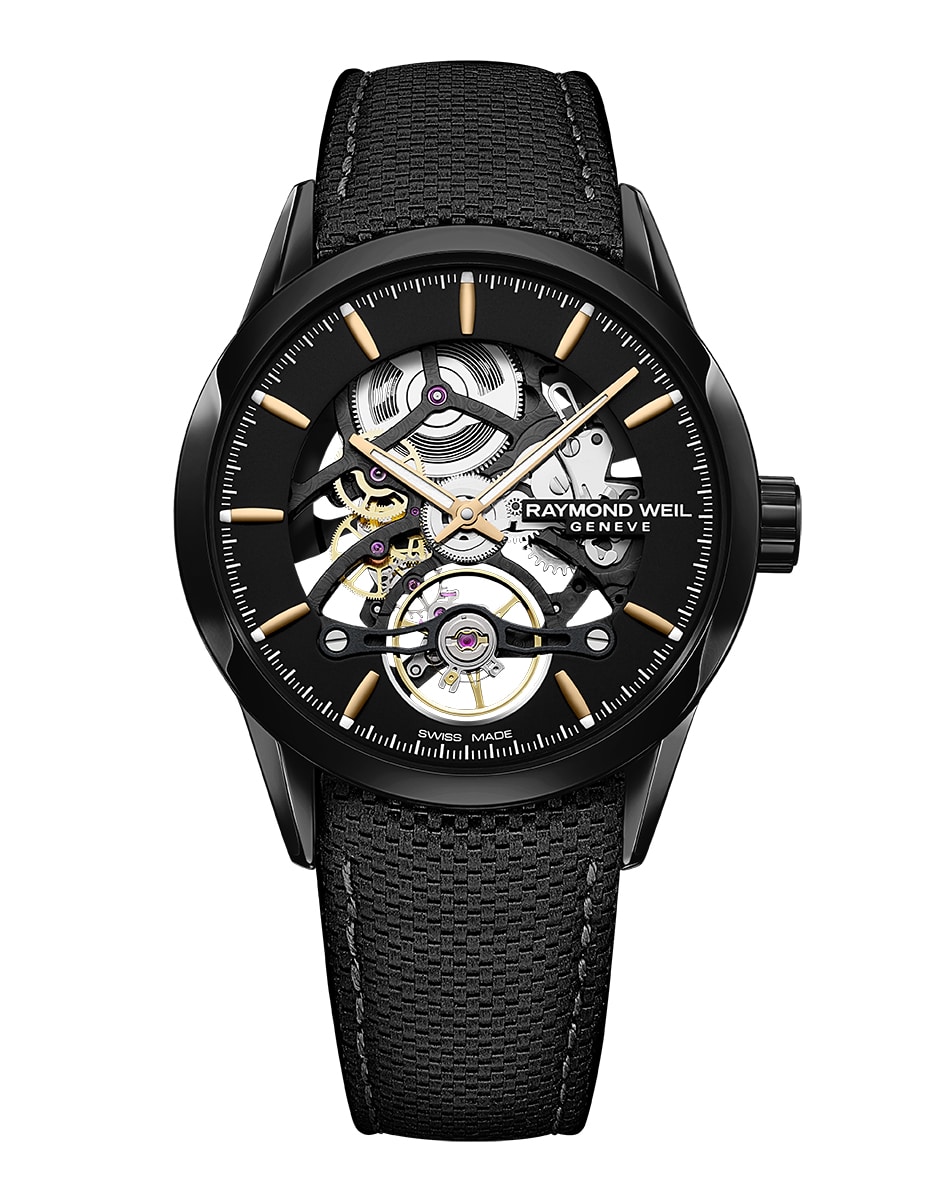 The Calibre RW1212 movement beats at a frequency of 28,800 vibrations per hour, and boasts a 38 hour power reserve; in short: it has the brains to match its beauty, and given the pedigree, this is unsurprising.
For over 40 years, Swiss watch companies have been bought, traded, sold, and closed; had their branding changed—had their identity changed—you name it.
Raymond Weil has not just managed to stay its ground (and indeed, it's course), it continues to pull rabbits like this out of the hat, and prove that independent maisons can not just keep up with the multinationals; they can innovate, be original; go above and beyond their own commonness.
And still come in at a reasonable price: $3,995 for the Steel and the Steel & Rose Gold on Leather variants, or $4,150 for the Black PVD edition.
If music and art provide inspiration to the small empire of Raymond Weil, then the delicate skeleton that sits within the Freelancer RW1212 is a carefully crafted symphony; an oil painting; something that has taken the other masters over a century to refine, but Raymond Weil less than half of one.