What is Heardle? How to Play the Viral Music Game 
We all know and love the daily word game Wordle, but have you heard of its spin-off music version Heardle (yes, spelt like that and not like Hurdle)? If words aren't your thing or you're the go-to person in your gang who everyone turns to for modern music trivia help, the Heardle music game might just be your new best friend. Whether you're guessing a One Direction Heardle or drilling down on a Harry Styles Heardle (we're sensing a theme), the viral music game is captivating the internet, and for good reason. It's pretty bloody addictive. Don't say we didn't warn ya! Here's everything you need to know about the Heardle music game, including the rules, history, how to play via the Heardle app and more!
RELATED: What is Wordle: Tips, Start Words, How to Win
What is Heardle?
Heardle is a relatively new music game you can play via a website app where you listen to the introduction of a song, with the goal of the game to guess the artist and title in as few turns as possible. The song tracks are from a pool of most-streamed songs in the last 10 years.  You get six guesses, and with every skipped or incorrect guess, you unlock more of the song to listen to – all the way up to 16 seconds of the song's introduction. However, you want to guess the song much quicker – ideally from the first one second of the song. Easy enough, right?
"A respectful homage to Wordle, with a musical twist. Each Heardle is semi-randomly plucked from a long list of popularly streamed artists. Much love, and all relevant copyright, to those featured. Heardle was made for a small group of friends, then somehow gained millions of players overnight. Please be kind."
The Heardle game songs are chosen at random from a large pool of musicians and songs, and you can only guess one song once a day – pretty much the same as Wordle which only allows you to guess one word a day.  Once you think you know the name of the song, you can type it into the answer bar.  The Heardle game does give a little bit of help by auto-filling the songs it could possibly be as you type. If the name of the song you're thinking it is doesn't pop up, then it's incorrect because it's not in the Heardle music game system.  The Heardle app keeps track of how many games you've played, your wins and streaks, and also allows you to post your results on social media.
Importantly, Heardle requires a little bit more prior knowledge than its word-based counterpart. If you know your music well and have a vast memory across genres, this handy little game is a great way to kill some time and keep the brain cells active, particularly if you play an instrument. This form of musical trivia is terrific for helping tune your ear, and training your brain to recognise simple tunes immediately.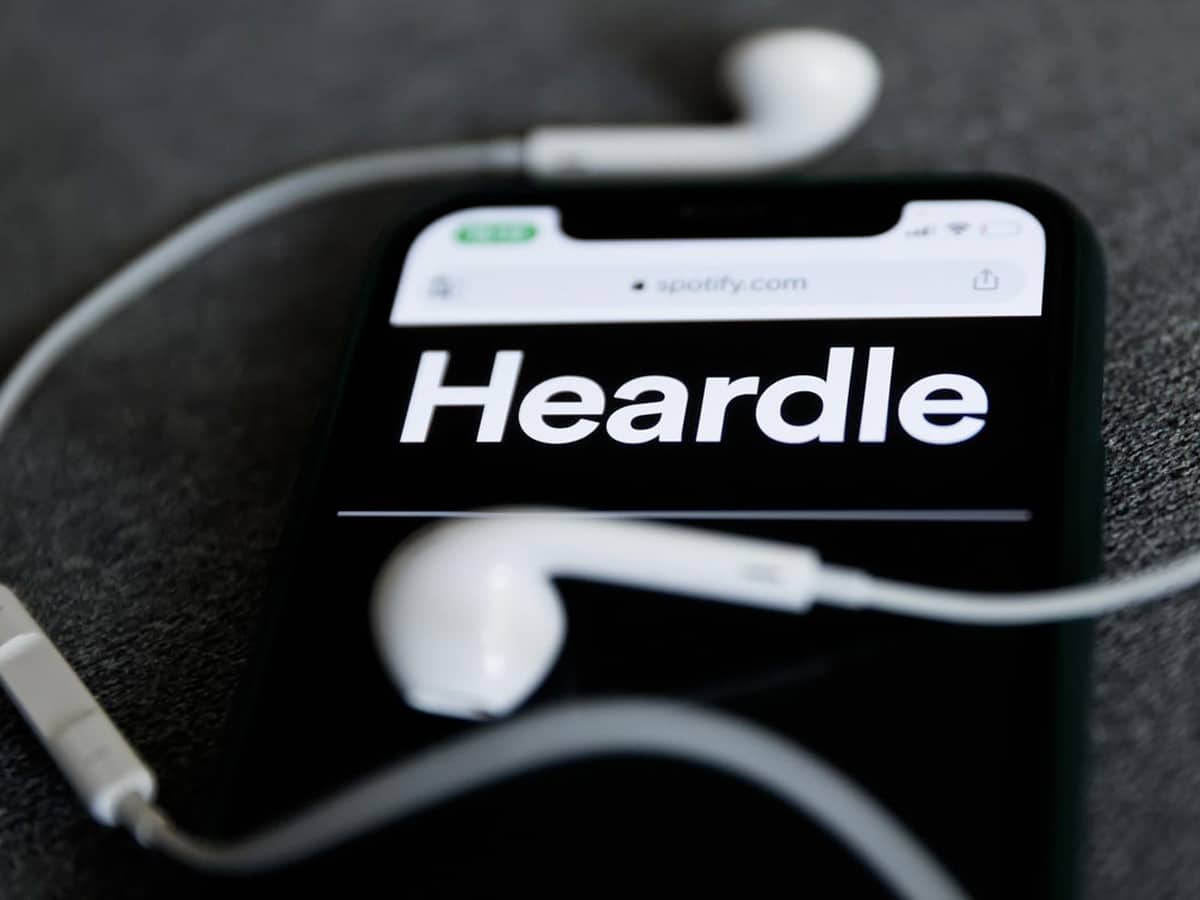 How to Play Heardle
If you are looking to take the leap and embrace your next great internet addiction, playing Heardle is relatively straightforward. The app and game integrate with Spotify, giving you access to a massive array of music, which can be a benefit or challenge depending on your music tastes and knowledge. Here, we've put together a guide on how to play Heardle, covering everything from rules to colours and how to find the app.
Heardle Rules
The Heardle music game is only available via the official website, and there's no app to download for it. The website posts a new song every day at midnight (US time), so everyone predicts the same song each day.
To start the game, you press the Play button. It'll give you one second of the introduction of the song.
Using the search section, type the song you think it is. If you don't know, you can press Skip to unlock more of the song. Or, if you take a stab but guess incorrectly, you'll still progress and unlock more of the song.
In the second attempt you hear two seconds, then four seconds, seven seconds, then 11 seconds and finally 16 seconds to guess the song.
If on the sixth guess you still don't know the answer, then you've technically lost the game.
At the end of the game, you can select Share to copy an emoji representation of your results to your clipboard. You can share with your friends through social media like Twitter and Facebook, or other platforms like WhatsApp or Discord. There's currently no option to share on Instagram.
What Do the Colours Mean at the End of the Game?
The red squares are incorrect guesses, dark grey squares are your skips, green is the correct guess, and white is unused guesses. This means you can share your results with others without spoiling the answer, very much like Wordle.
Downloading the Heardle App
There is no Heardle app to download, you can only play via the website (heardle.app). You can play the Heardle game via your phone's internet browser, or via a tablet or laptop/computer.
History of Heardle
The viral Heardle music game is one of several spin-off games inspired by the popular word game Wordle, which was created by Josh Wardle. It was launched in February 2022 by a London-based web and app designer, but their true identity has never been revealed. Originally, Heardle was run on the online audio and music sharing platform Soundcloud.
Spotify Buys Heardle
Similar to how the New York Times' acquired Wordle in January 2022, music streaming giant Spotify bought Heardle for an undisclosed sum in July 2022. It was rebranded and made to run on Spotify rather than Soundcloud. Other than that, the playing experience remains the same, and it's free for all users. Spotify says it's looking to integrate Heardle and other interactive experiences into the Spotify app at some point down the line, but for now it remains as a standalone website application.
Is Heardle Linked to Wordle?
Heardle is not linked to or associated with Wordle in any way other than being inspired by the concept. The Heardle music game is similar in the fact you get six attempts to guess the song, but it also allows you to skip a turn, which the Wordle app doesn't.
Also with Wordle, you only get nearer to the answer by guessing a word and seeing what letters are or aren't in the correct spot, but when guessing a song on the Heardle app, hearing a new piece of the song will give you more information regardless of if you've made a guess or not.
Heardle General FAQs
Is Heardle only once a day?
Heardle is only once a day and is released at midnight in the US and everybody around the world guesses the same track each day. The website gives you a timer countdown of how long you need to wait until the next Heardle Today song is released.
What are the rules of Heardle?
The rules of the Heardle music game are simple. To start the game, you press the Play button. You'll hear one second of the introduction of the song you're trying to guess. Using the search section, type the song you think it is. If you don't know the song, you can Skip or take a guess anyway. You can skip five times, and if on the sixth guess you still don't know the answer, then the game is over.
Is there a Heardle Unlimited?
There isn't an official Heardle Unlimited (like there's a 'Wordle Unlimited version allowing you to play multiple rounds of Wordle per day), but there is a heardlegame.co/heardle-unlimited website which isn't actually affiliated with the original Heardle game app. However, this website does give you the option to play as many rounds of Heardle as you want, and also gives you different Heardle themes to play, like Heardle 90s, TayHeardle (Taylor Swift Heardle), Harry Styles Heardle and more.