INTERVIEW: Fall Guys: Ultimate Knockout Brings Life to Gaming
Since launching in early August, Fall Guys: Ultimate Knockout has raced to the top of the charts and become the most-watched game on Twitch, beating out heavy-hitters like Call of Duty and Fortnite. It's an impressive feat for Mediatonic, the UK-based indie developer who set out to make a colourful and accessible game for people who typically don't do multiplayer.
With plans to support Fall Guys with new content for years to come, it looks as though their interactive game show/battle royale will remain a staple of the gaming scene for the foreseeable future. The team is even leveraging the success to raise money for charity, with an online auction that's seeing brands bid for the opportunity to get a themed outfit added to the game.
So what's the story behind the game and where is it going? We were lucky enough to chat with Fall Guys Lead Designer Joe Walsh and Senior Level Designer Megan Ralph to talk inspiration, success and what to expect from the future of their interactive game show. Here's what they had to say:
You'll also like:
It's-a-Me! TAG Heuer Unveils $3,100 Super Mario Smartwatch
Call of Duty Black Ops: Cold War Confirmed with New Trailer
Xbox Joins the Gucci Gang

For anyone who missed the hype, can you give us the pitch for Fall Guys: Ultimate Knockout?
Joe: It's the greatest ultimate knockout game the world has ever seen. Each match, we take 60 stumbly, bumbly characters and send them down obstacle courses that they are in no way prepared to complete. The game is all about slapstick comedy and pure competitive chaos, but on a higher scale than what you've seen before.
Where did you draw inspiration for the obstacle courses and colourful tone?
Joe: We initially started looking at Japanese game show Takeshi's Castle because it's the funniest and most chaotic, and in many ways, it's the original battle royale. It takes these middle-aged Japanese businessmen and throws them down a ridiculous obstacle course full of fake doors and giant boulders, witling them down to one or zero in most cases. We realised this formula would mesh perfectly with a series of Mario Party-like mini-games.
But we also looked at Total Wipeout, which is another classic. That game show had really great obstacles like fast treadmills and spinning platforms which are fine-tuned for comedy.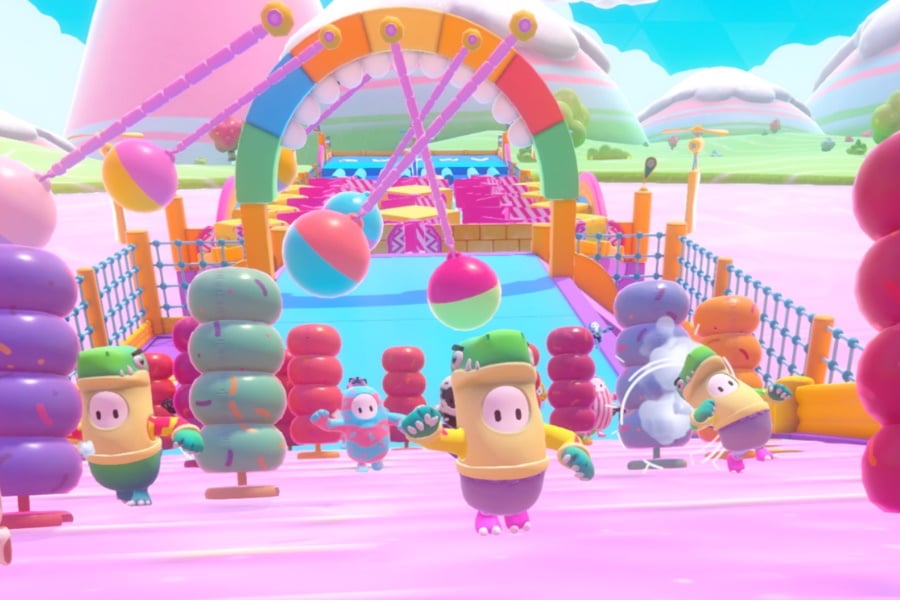 Fall Guys has sold over 2 million copies on PC and amassed 8 million players on PlayStation 4. Why do you think it's so popular?
Joe: Fall Guys is a breath of colourful fresh air in what's currently a quite miserable world. Not only is there a lot going on outside to be quite sad about but we're also coming off the back of some quite dark, gritty single-player games and I think people are ready for something joyous that doesn't take itself too seriously.
Megan: Visually, Fall Guys is so different from everything else on the market. If you look at the multiplayer space, it made a lot of sense to release a competitive game for people who don't like shooters. I think that is something that's been sorely needed for quite some time.
How has the success affected your plans for DLC and the future of Fall Guys?
Megan: We have to start adding new content. We currently have 25 courses which might seem like a lot, but people are playing the game a lot more than we expected. We've seen some numbers suggest seven-hour play sessions, so they're getting through all of the content very quickly. We need to start adding new content, so people don't grow tired of what's currently on offer.
Joe: We are still committed to seasonal updates. Fall Guys is inspired by game shows, and they air on TV in a seasonal format, so this approach seemed like the perfect fit. Pretty soon we will be releasing a whole bunch of new levels featuring cool new mechanics. We are currently building the roadmap of plans, and pretty soon we will be sharing it with players. We hope people will continue playing Fall Guys for years to come, and seasonal content is the key.
Any plans to bring Fall Guys to Xbox One, Switch and the upcoming next-generation consoles?
Joe: It's definitely something we're talking about as a team. The thing about Fall Guys: Ultimate Knockout is that it's designed to be accessible and bring a new type of player to the multiplayer space. Part of that journey is to make it available to as many people as possible.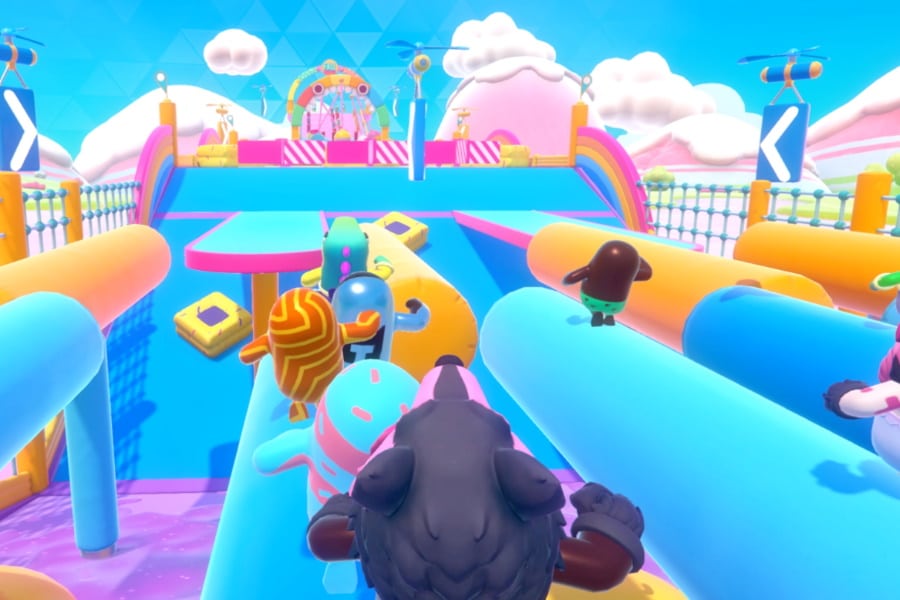 Can you talk about how Fall Guys wound up launching on PS4 as part of PlayStation Plus?
Joe: We're a studio that no one has heard of with a new IP; we needed an influx of players to be successful. It wasn't a matter of selling the most copies. Without people playing, Fall Guys just doesn't work.
Early on we dreamed of having Fall Guys as part of PS Plus, and almost as soon as we started talking, Sony suggested that it would be a good fit. You can't put a price on what that means for the game. The amount of players we got from PS Plus has been unbelievable, and now more people can enjoy it.
The official Fall Guys Twitter account has over 1.1 million followers. How is social media influencing the game?
Joe: People are responding really well to us having genuine and open discussions about the game. We're a small team up against some big competitors, and we will get things wrong. We're figuring a lot of it out as we go and a big part of that is engaging the gaming community, hearing their feedback and making sure that they know we are listening.
Megan: Most people don't realise that it's just one guy who runs our social media and community management, and so much of his personality comes out in his Tweets. He was the perfect fit for the Fall Guys brand, and we let him run free, and it feels as though our social media is becoming just as viral as the game.
Speaking of social media, can you tell us about the Twitter Battle of the Brands charity auction?
Joe: Brands like KFC, Walmart and Chuck E. Cheese have all expressed interest in being involved with the game. So we thought it might be nice to turn this interest into something positive and see if those brands are willing to put their money where their mouth is.
SpecialEffect is a charity that helps people with physical disabilities get into gaming. They have found things quite difficult during lockdown because they run social events and meetups to raise funds and they haven't been able to do that. Battle of the Brands is an exciting opportunity for us to help them out and also do something fun.
Note: at the time of writing a brand named Tushy is the highest bidder, pledging over $420K. The company specialises in 'modern bidets' and aims to get a costume in Fall Guys that reads: "Ask me about my butthole."
Outside of the charity auction, Do you have a dream brand or gaming partnership you would like to see in Fall Guys?
Joe: Lots of game studios have been reaching out, saying congratulations and being very supportive. There are some great chaotic indie games that the team play that would make for great fits.
Megan: There was some flirting online between us and CD Projekt Red, the studio behind Cyberpunk 2077 and The Witcher. I found the potential behind that to be really exciting.
Joe: It blows our minds. We're still a small studio with a small team, and it feels like celebrities now know we exist. It's really cool.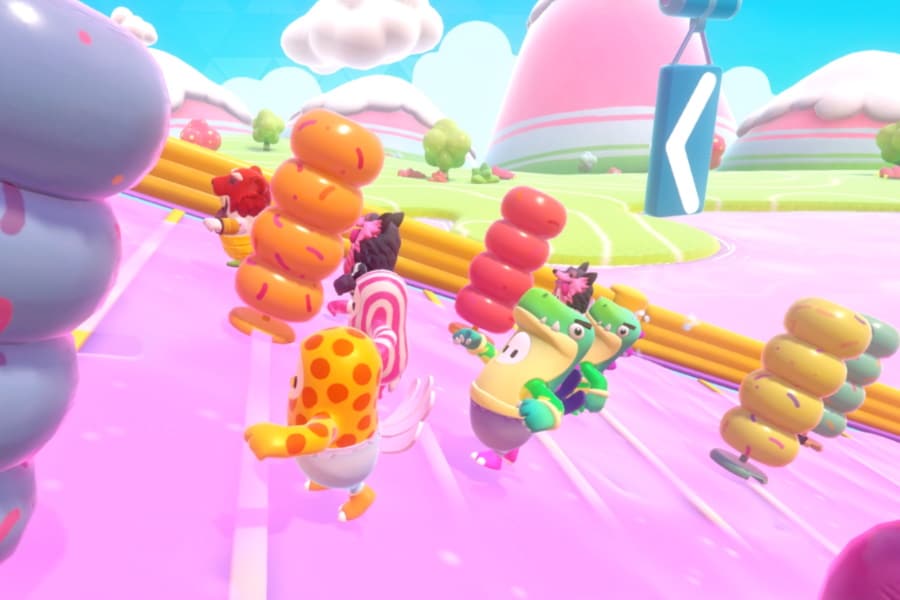 What are your favourite Fall Guys rounds or games?
Megan: The answer to this changes so often, but I love watching Hex-A-Gone because people have gotten so good at it. Recently we followed Twitch streamer Tim the Tat Man on his journey to win a crown, and some of his fails have been amazing.
Joe: Same for me. Hex-A-Gone is currently my favourite. I've got my strategies down pat. But tomorrow it will probably be something different.
If Fall Guys: Ultimate Knockout were to become a game show in the real world, who would you want to host?
Joe: Jack Black would do a great job. I think he's got the right attitude to suit the Fall Guys tone.
Megan: It would have to be someone incredible, like Morgan Freeman. His seriousness would be hilarious.
Joe: We joked about doing a David Attenborough documentary-like trailer early on. I guess now we could use all of the Fall Guys money to lock him in for maybe an hour.
Fall Guys: Ultimate Knockout is available now on PC and PlayStation 4 to purchase and is included in the PS Plus August 2020 lineup.
You'll also like:
Play GameCube Classic 'Super Smash Bros. Melee' Online
Call of Duty Black Ops: Cold War Confirmed with New Trailer
Roccat Kone Pro Air Review: A Solid Gaming Mouse With One Major Omission
Don't count us out. We see that $420,069…and raise 69 cents. $420,069.69 and a Peach Guy pic.twitter.com/irzvVx9rvW

— TUSHY Bidet (@hellotushy) August 19, 2020