Roccat Kone Pro Air Review: Wireless and Weightless
Roccat Kone Pro Air upgrades the existing Kone line of gaming mice with a new design and new technology under the hood. The results make this impressive mouse a keeper. We were introduced to Roccat by way of their Magma keyboard. This wallet-friendly keyboard offers premium performance and holds its own against heavyweights. So, expectations were high. However, go hands-on with the new Kone Pro Air mouse, and you quickly realise the hefty price tag doesn't cater to all the features you would expect of a premium mouse. Like, where's the DPI switch?
You'll also like:
NBA 2K22 Review: The Best in Franchise History
Corsair Virtuoso RGB Wireless XT Headset Review
HyperX QuadCast S Microphone Review
| What We Love | What We'd Change |
| --- | --- |
| Comfortable to use | Price is particularly high |
| Impeccable wireless connection | No DPI button on top |
| Long battery life | Basic appearance |
| Subtle RGB lighting | |

Roccat Kone Pro Air Design
Roccat tones down the gaminess with its Kone Pro Air by keeping RGB lighting effects to a minimum. In doing so, they've designed a mouse that looks professional but also basic, which is detrimental to the impressive performance and premium price tag.
The left and right click buttons are transparent with a nice honeycomb pattern that's illuminated by the lighting effects terminating from within. The lighting is subtle, which adds to the overall sleekness of the Kone Pro Air, but when forking out upwards of $190, you may expect a bit more bang for your buck. Besides, frosted tips were so 2000s.
The ergonomic shell is built with smooth plastic and a ribbed pattern on both sides, which doesn't offer much grip, but the mouse isn't slippery in any way that would disrupt use. The mouse is also comfortable and should suit most hand sizes.
Kone Pro Air has two additional programmable buttons above the thumb rest but no DPI cycle button. If gaming were a religion, this would be blasphemy. The DPI cycle button is essential to some, and it's bizarre that such a premium mouse doesn't have one.
Roccat compensates by adding a hidden profile button underneath and by the power switch for cycling DPI settings, so long as you've saved custom profiles from a PC. There's also a slot underneath for housing the Bluetooth dongle, so you don't have to worry about losing it when using one of the alternative connection types.
The wireless mouse is incredibly lightweight, coming in at just 75 grams. There's no need for batteries with this baby. An accompanying USB Type-C charging cable inserts into the front of the mouse, topping up the lengthy battery, and the mouse can continue to be used when connected.
Design-wise, Roccat Kone Pro Air is a great all-rounder. It should satisfy the needs of those who want a mouse that easily transitions from work to play. However, the lack of a DPI button may infuriate some, and there are not many lighting effects if you want to add colour to your setup.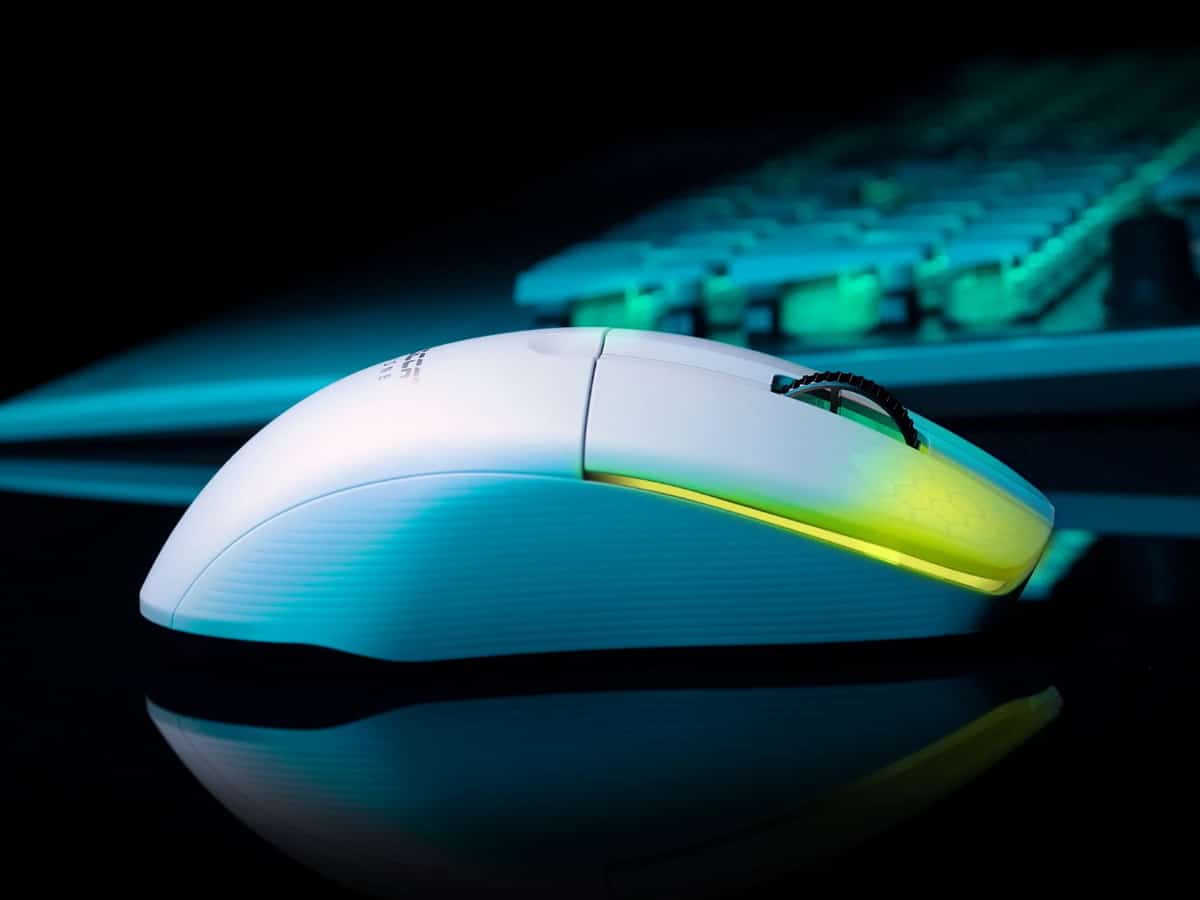 Roccat Kone Pro Air Specifications
Orientation: Right-handed
Weight: 75 grams
Dimensions: 125.6mm x 72mm x 40mm
Buttons: 6
Colour choices: Ash Black, Arctic White
Sensor: Roccat Owl-Eye
DPI: 19,000
IPS: Up to 400 per second
Acceleration: Up to 50G
Clicks: Rated to 100 million
Connectivity: Wireless (2.4GHz, Bluetooth), wired (USB Type-C)
Switch: Titan Switch Optical
Feet: Heat-treated PTFE glides
Cable length: 180cm
Battery life: Rated up to 100 hours (without RGB)
Price: RRP $189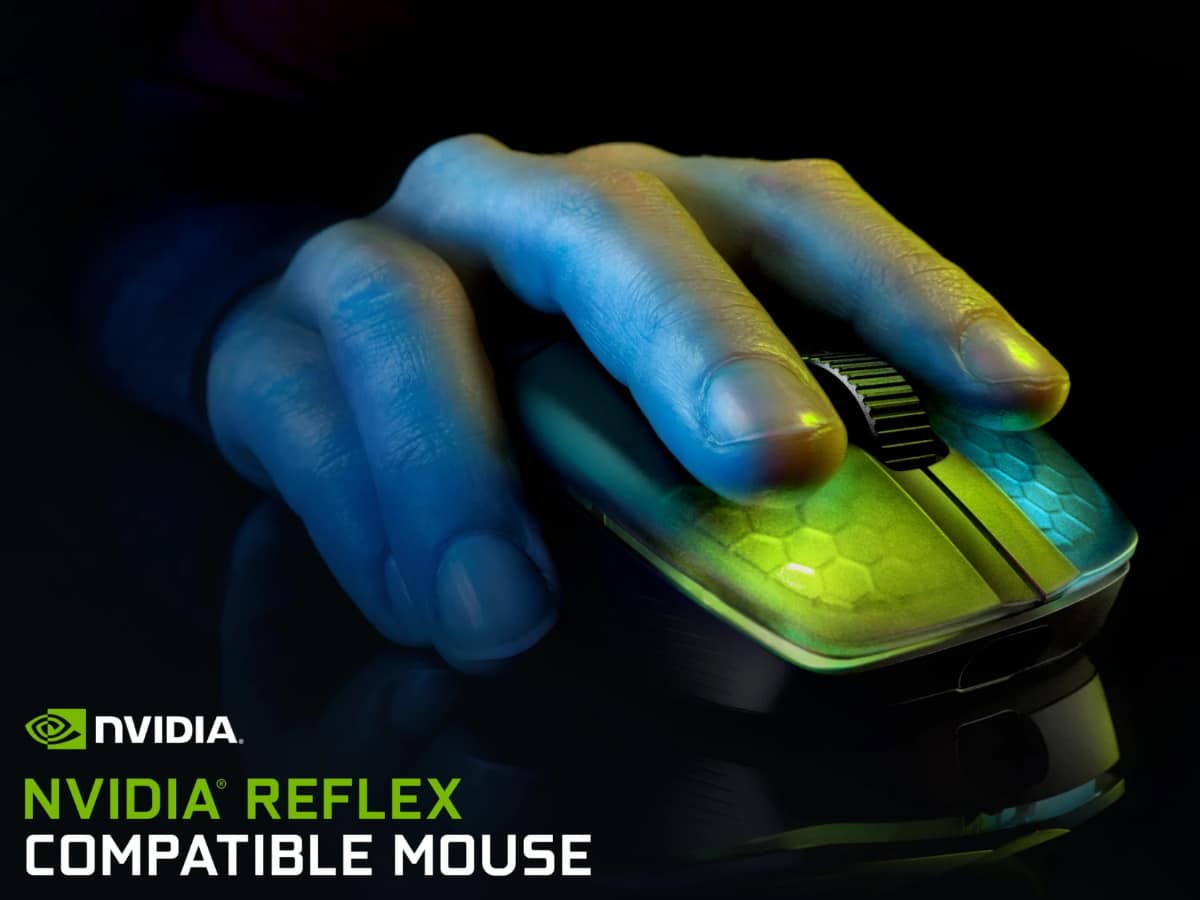 Roccat Kone Pro Air Performance
Roccat's Kone Pro Air offers awesome performance straight out of the box. There were no drivers to install, and the mouse arrived partially charged. Still, I topped up the battery to test out Roccat's claim of 100 hours battery life between charges. Over 8 or so days, I haven't yet had to recharge the mouse, which is a promising sign. Roccat says ten minutes of charging provides five hours of gaming, which is a pretty sweet deal.
Users have a choice of three connection types: Bluetooth, WiFi and wired. WiFi is the preferred wireless option for gaming, but Bluetooth is universal, so there's an option to suit every setup.
During use, the clicks are satisfying, and the scroll wheel feels like it's reasonable quality. The heat-treated glide pads underneath offer smooth performance across a mouse pad and harder surfaces.
Roccat equips Kone Pro Air with its own proprietary Owl-Eye sensor, which tracks up to 19,000 DPI and felt accurate when tested across a few FPS and RTS titles. In addition, the onboard Titan Optical switches are rated to an impressive 100 million clicks. That's 20 million more than SteelSeries Rival 5, which was the last gaming mouse I reviewed.
The lack of onboard DPI options is frustrating, but pair the Kone Pro Air with Roccat's free Swarm software, and you're given further opportunities to fine-tune scroll speed and sensitivity. You can also play around with the RGB colours and patterns and save up to five profiles which can then be selected via the discreet button on the underside of the Kone Pro Air.
Swarm will also give you specifics on the remaining battery life and allow you to display a percentage on the Windows taskbar. Swarm is compatible with a wide range of Roccat peripherals but is only supported by Windows in its current state.
Performance-wise, Roccat's Kone Pro Air is everything you want from a wireless mouse—lag-free, comfortable performance with plenty of options to personalise. But, again, it's just a shame that you have to flip the mouse upside down to find the button which manages sensitivity.

Kone Pro Air – The Verdict
Upgrade your gaming setup with a Roccat Kone Pro Air and you won't be disappointed. It may not stand out from the competition feature-wise or visually. Still, it takes care of business—ordinary business and the guns-blazing kind. Switching sensor speeds is more complicated than it should be. But apart from that one strange design choice, Kone Pro Air delivers.
The Roccat Kone Pro Air is available now in your choice of Ash Black and Arctic White colourways.
The writer received a mouse for review courtesy of the brand
You'll also like:
NBA 2K22 Review: The Best in Franchise History
Corsair Virtuoso RGB Wireless XT Headset Review
HyperX QuadCast S Microphone Review