SteelSeries Rival 5 Review: Remarkable in the Right Hands
The SteelSeries Rival 5 gaming mouse is a sleek and sophisticated all-rounder ideal for anyone looking to elevate their setup no matter their genres of choice. With a comfortable design and nine programmable buttons, you should have no trouble jumping from FPS to battle royale to MOBA and back again. Priced at AUD$119, Rival 5 occupies a mid-range price point but offers the look, feel and performance of a high-end peripheral. Unfortunately, there are just a few odd design choices holding this gaming mouse back from scoring top marks.
You'll Also Like:
SteelSeries Prime Line is Co-designed by Pro Gamers
EPOS B20 is the Studio Quality Streaming Microphone to Rival All
Get Nostalgic with the All-New Atari VCS Hybrid Platform
SteelSeries Rival 5 Design
Rival 5 is a right-handed gaming mouse with a minimalist design. If it wasn't for the programmable LED lighting, the Rival 5 could pass for a standard desktop mouse at a glance. There are four buttons and a silver paddle on the left side by your thumb. Technically, there are four separate buttons, but the longer one at the top of the configuration can be flicked down or up for two different functions. SteelSeries calls it 'five buttons', so we'll stick with that.
On top and at the front, you're looking at the standard left and right-click buttons with a clickable scroll wheel in the centre. A DPI button above the wheel allows adjustments to mouse sensitivity on the fly, and it's positioned far enough back that it won't be pressed by accident. The side buttons take some getting used to, and some practice is required before you will be hitting the desired one each time.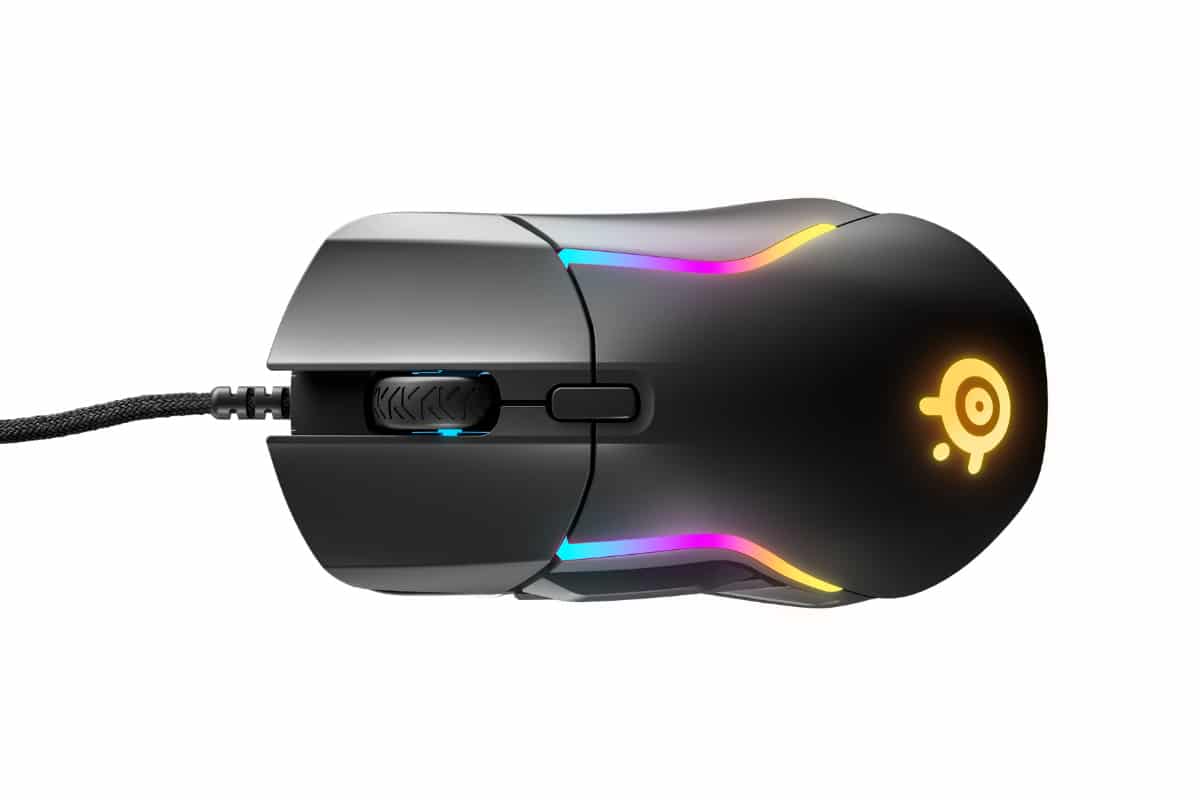 We found the silver paddle problematic as it's positioned too far forward for your thumb. The paddle offers some serious potential, but you will need large hands to make good use of it. The mouse itself features soft-touch plastic and is incredibly lightweight at just 85 grams. The mouse doesn't feature adjustable weights or weights of any kind. So those who prefer a weighted mouse should look elsewhere.
It's impossible to find a gaming peripheral without RGB lighting, and Rival 5 is no exception. Two curving lines of light are running parallel along the sides of the SteelSeries Rival 5 and from either side of the scroll wheel. There's also an illuminated SteelSeries logo at the rear. All colours and lighting effects can be customised via the accompanying software. More on that later.
My only issue with the LEDs is their positioning. When in use, your hand covers all of the lighting, wasting its eye-catching potential. We would have preferred the lights to be positioned around the base to enjoy the effects while the mouse is in use like we can when using an RGB keyboard.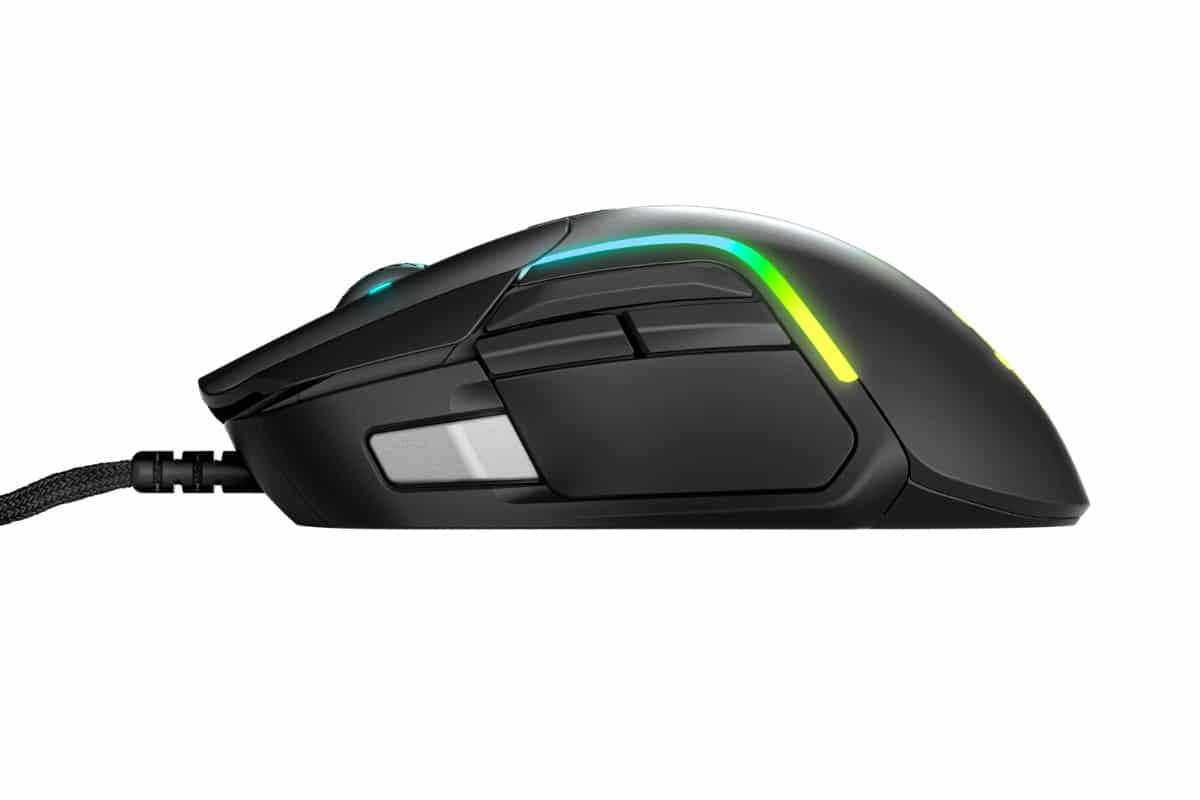 ---
Featured Video from Man of Many
---
SteelSeries Rival 5 Specifications
Weight: 85 grams
Dimensions: 12.9cm x 6.8cm x 4.3cm
Buttons: 9
Sensor: TrueMove Air
Max DPI: 18,000
IPS: 400
Clicks: Rated to 80 million
RGB Customisation: 10 zones
Cable length: 200cm / 2m
Orientation: Right-handed
Price: RRP $119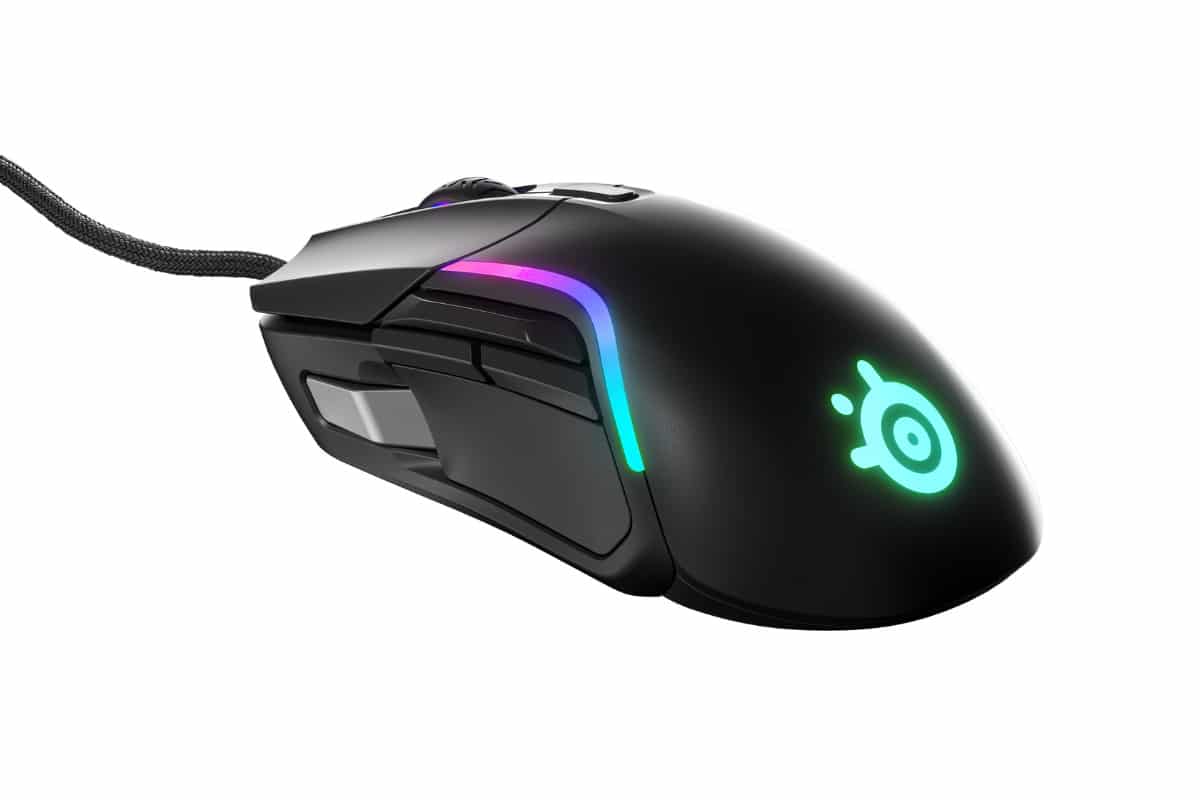 SteelSeries Rival 5 Performance
We tested the Rival 5 across games including Apex Legends, Warframe and Path of Exile to get a feel for performance in the different genres. Rival 5 felt responsive and accurate for the shooters, with a quick press of the DPI button early on to better accommodate the sudden movement and aiming required. The SteelSeries mouse is rated to 18,000 DPI but our smallish monitors did not come anywhere close to this.
The c-shaped glide pads on the bottom make for quick yet smooth and well-defined movement. Rival 5 is also dust and water-resistant and rated to 80 million clicks. Good luck testing that out!
For the action RPG Path of Exile, we had an excellent opportunity to test out the side mouse buttons by designating them hotkeys for frequently used items like health flasks and the additional skills unlocked as we progressed. Like we mentioned earlier, these side buttons take some getting used to, and even after hours of use, we still managed to confuse the buttons within their close arrangement, often pressing the wrong one by mistake. We never could get a good reach on the silver paddle. Not without awkwardly holding the mouse, we had to abandon it, favouring the other side buttons instead. The good news is that the Rival 5 performs exceptionally well in every other aspect and remains comfortable even after long periods of use.

Personalise with SteelSeries GG App
Your sleek new gaming mouse will be accompanied by a leaflet advising you to download the SteelSeries GG suite, which is free, easy to use software for refining mouse sensitivity and personalising that alluring RGB lighting. The GG app encourages you to tweak sensitivity and acceleration while reprogramming buttons to suit specific games and store these settings as custom profiles. The same goes for the RGB lighting with ten zones to be customised for colour and effect. SteelSeries also hosts monthly prize draws and offers free content for online games to keep you coming back to the GG app even when not customising the mouse.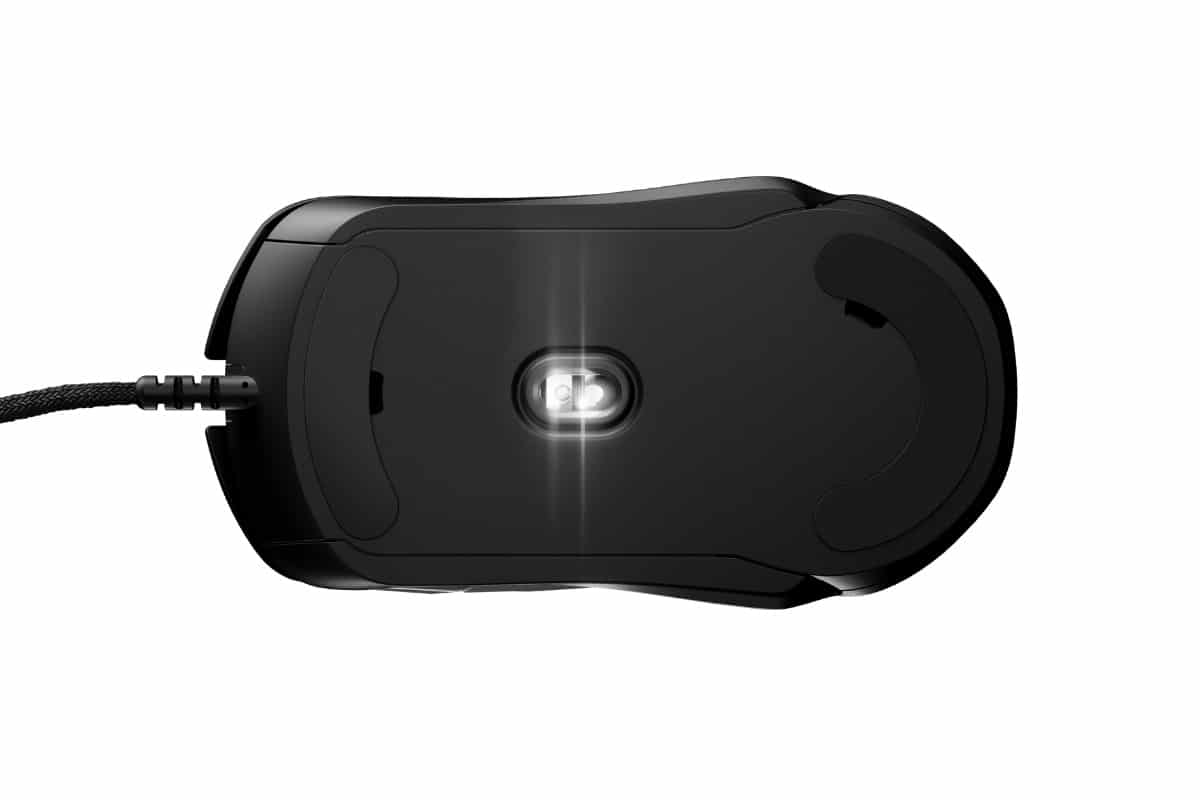 SteelSeries Rival 5 Verdict
You'd be hard done by finding another gaming mouse that ticks as many boxes as the SteelSeries Rival 5. Stylish, sophisticated and with impeccable performance, this mouse is a cut above the rest. Its faults are only surface level and will unlikely affect those with large hands. It is unfortunate that the lighting effects are obscured by the hand, but it may be an unfair criticism seeing as almost every gaming mouse suffers a similar fate.
Even so, Rival 5 is highly recommended for anyone looking for a reliable, reasonably priced gaming mouse to lift their desktop to the next level. The SteelSeries Rival 5 gaming mouse is available now from all good gaming and tech retailers.
The writer received a Rival 5 courtesy of SteelSeries for the purpose of review
You'll Also Like:
SteelSeries Prime Line is Co-designed by Pro Gamers
EPOS B20 is the Studio Quality Streaming Microphone to Rival All
Get Nostalgic with the All-New Atari VCS Hybrid Platform
General FAQ
Is the SteelSeries Rival 5 worth it?
The SteelSeries Rival 5 is a stylish, high-quality gaming mouse that offers impeccable performance. It's a great option from the mid-range price point. Although, you will need long fingers to make use of the silver thumb paddle.
Is SteelSeries a good brand?
Absolutely! The Danish brand crafts high-quality gaming accessories/ peripherals for pro gamers and those looking to take their skills to the next level. Across headphones, keyboards, gaming mice and more, SteelSeries makes excellent gear and online reviews support that fact.
What brand of gaming gear does Faze Clan use?
FaZe Clan are sponsored by SteelSeries and so the leading esports organisation use SteelSeries gear and dominate in games like CS Go, Rocket League and Rainbow Six. Members even contributed to aspects of the new SteelSeries Prime line of premium headsets and gaming mice.
---
Featured Video from Man of Many