Roccat Magma Gaming Keyboard Review: Shining Bright
There's nothing subtle about the Roccat Magma. This eye-catching gaming keyboard gets in your face with its over the top illumination but surprises with its high-quality feel and functions. Most gamers prefer mechanical, but this membrane keyboard ticks all essential boxes and achieves this while carrying a price tag under $100. So let's take a closer look.
You'll also like:
SteelSeries Rival 5 Review: Remarkable in the Right Hands
BMW's Futuristic Gaming Chair Has Air-Con & Gives Massages
LEGO Seinfeld Set is 1,326 Pieces of '90s TV Nostalgia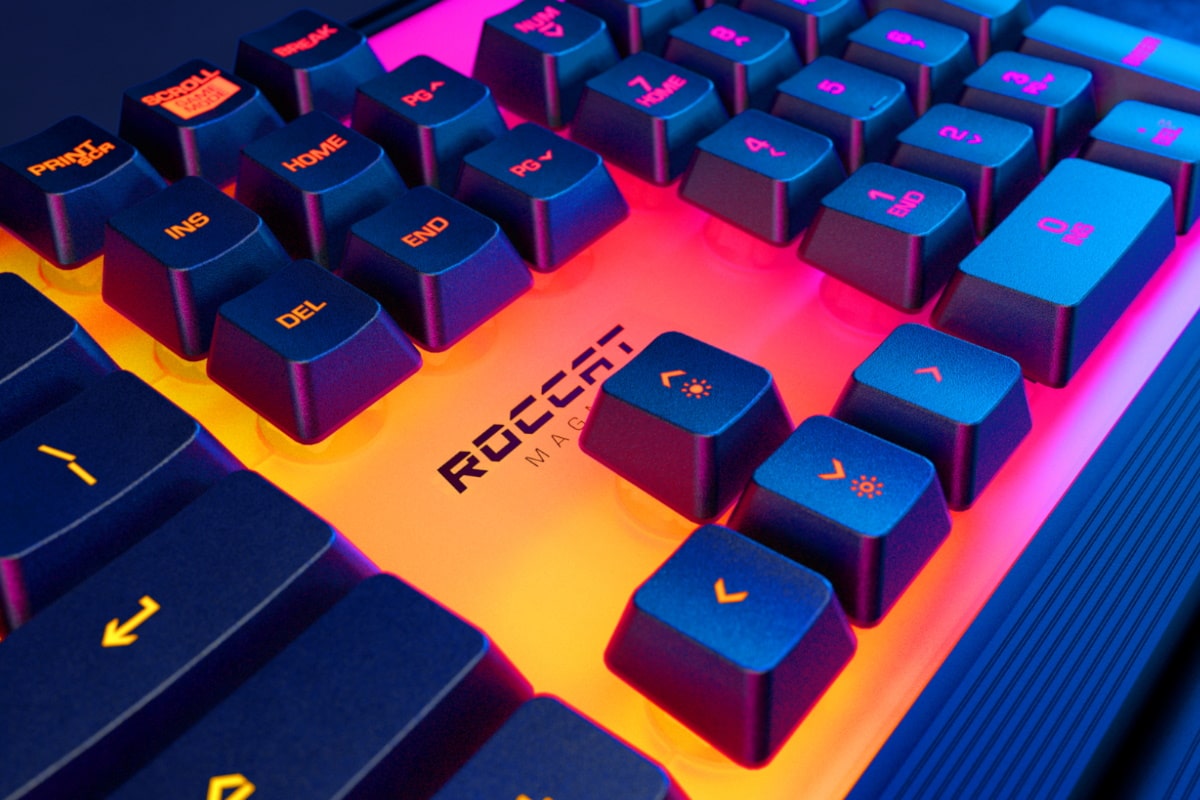 Roccat Magma Design
Roccat Magma is a full-size gaming keyboard with a sturdy build and striking design. The keycaps are smooth and a delight to touch. Technically, the keyboard is matte black, but around 90% of the top plate is reserved for RGB lighting, making this keyboard a colourful experience.
Where most gaming keyboards provide lighting under the keys, Magma's lighting effects cover the entire board minus the black bezel. The RGB lighting is the most appealing aspect of the design, and it's most unsavoury. Though, it's all a matter of perspective.
The keyboard has five lighting zones with 2 LEDs in each. The semi-transparent top plate provides plenty of illumination with four brightness levels, and the lighting can be switched off. The downside of the top plate is that you're stuck with a dull white colour without illumination, and it doesn't present well. However, the reduced black surface means it's harder to see dust building between keys.
The bottom bezel and detachable palm wrist feature nice retro ridges for additional grip. The palm rest clips into place with two prongs that feel flimsy. Once attached, keep it that way. Two standard legs on the back raise the keyboard to a more ergonomic position.
The F5 to F12 keys dual function as media controls. Hold down the FN key and press the desired F key, which possess two icons each. The up and down arrow keys change RGB brightness. Also, the lettering is centred instead of aligned to the left, which is a nice touch.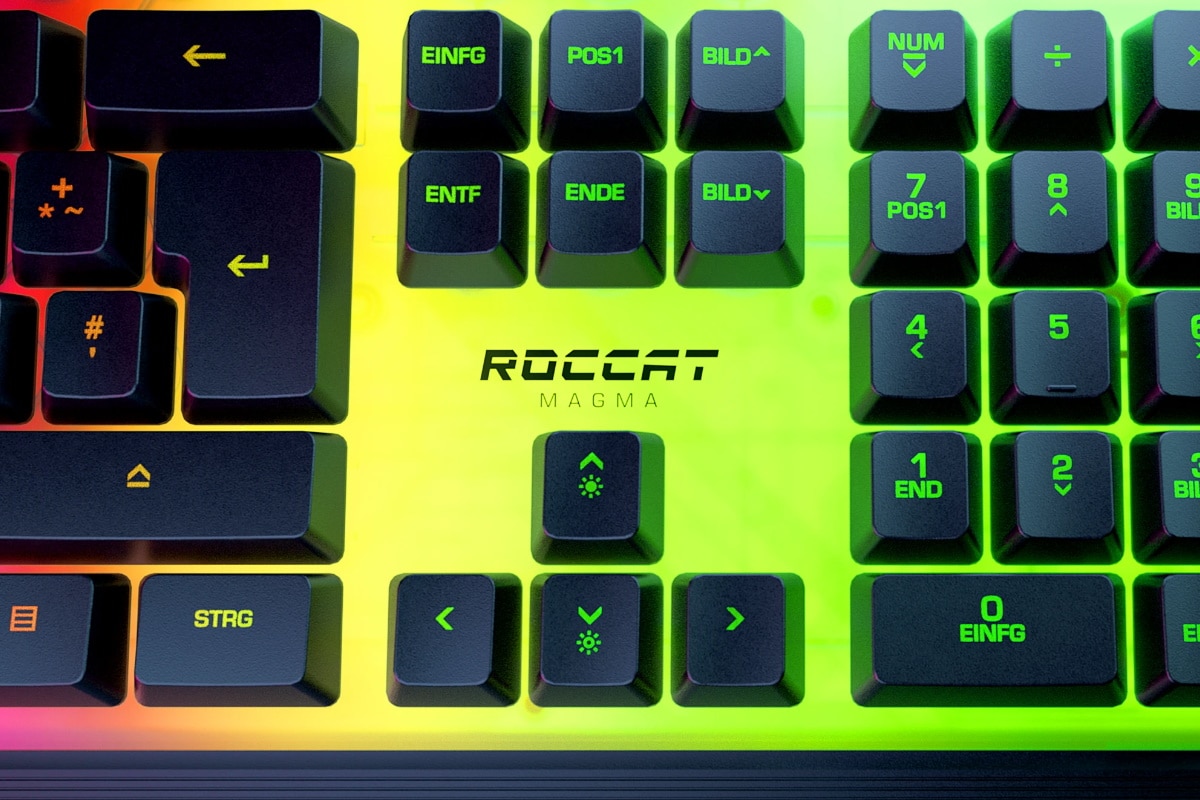 German model pictured above
Roccat Magma Specs
Keyboard type: Membrane
Connectivity: Wired
Weight: 870 grams
Dimensions: 452mm x 157mm x 39mm
Lighting zones: 5
Media keys: Dual function
Cable length: 1.8m
Palm rest: Detachable
Price: RRP AU $99.95
Compatibility: Windows 7, 8, 10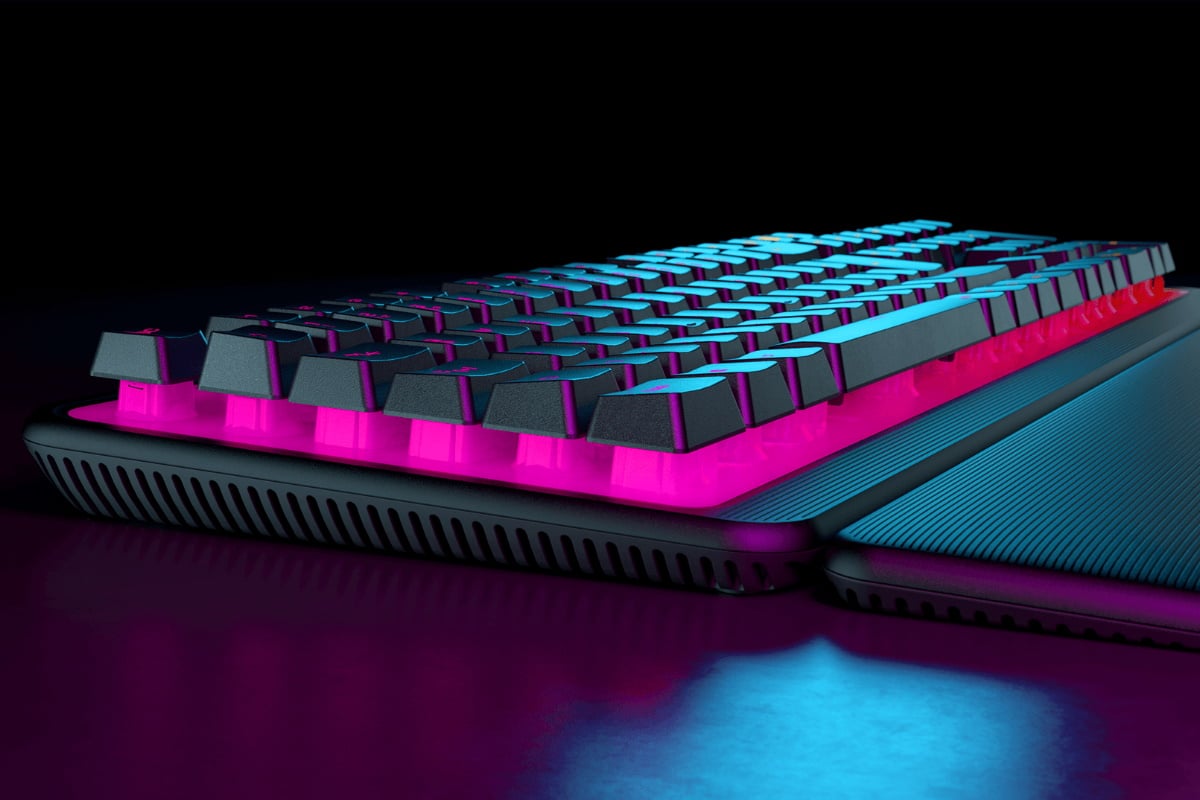 Roccat Magma Performance
Roccat Magma is a pleasure to use for both work and play. The keyboard features membrane keys, not mechanical ones, but there's still a feel of quality with its keystrokes. The keys are raised high, which may dissuade competitive gamers. The longer key travel and extra ounce of pressure required likely won't impact performance during intense gaming sessions. But you certainly wouldn't want to lose a game because of your keyboard. It's just something to consider.
The plus side of the keyboard design is the quieter keystrokes. The keys are far from silent but more subtle than many other keyboards, which is beneficial when using the keyboard for work or chatting with teammates via a headset.
Pressing the Scroll key switches Roccat Magma to Game Mode, which locks down keys that could affect performance. Caps lock is turned off, so you won't accidentally message mates in all caps unless you want to. Roccat built its budget-friendly board with a 26-key roll over, so there shouldn't be any instances of keyboard ghosting.
Download the Roccat Swarm app, and you score access to loads of additional features, including RGB customisation, key mapping and sound effects. Yes, keyboard sounds. Regarding the lighting effects, use the Swarm software, and you're free to play around with the five lighting zones and customise for colour and effect till your heart's content.
The key assignment function is a must use. You can change multimedia controls, internet, operating system and Magma Game Mode accessibility to suit personal preferences. In most cases, I imagine this approach to be favourable over whipping out the instruction book and learning basic functions all over again.
Finally, the keyboard sound effects are gimmicky. You can assign sounds to keys, so every stroke makes the keyboard sound like a typewriter or a sci-fi ray gun, among other sounds. Roccat Magma does not have speakers. The sounds come from the PC in use. In all, Swarm offers up to five profiles for storing lighting, custom keymaps and unnecessary sounds.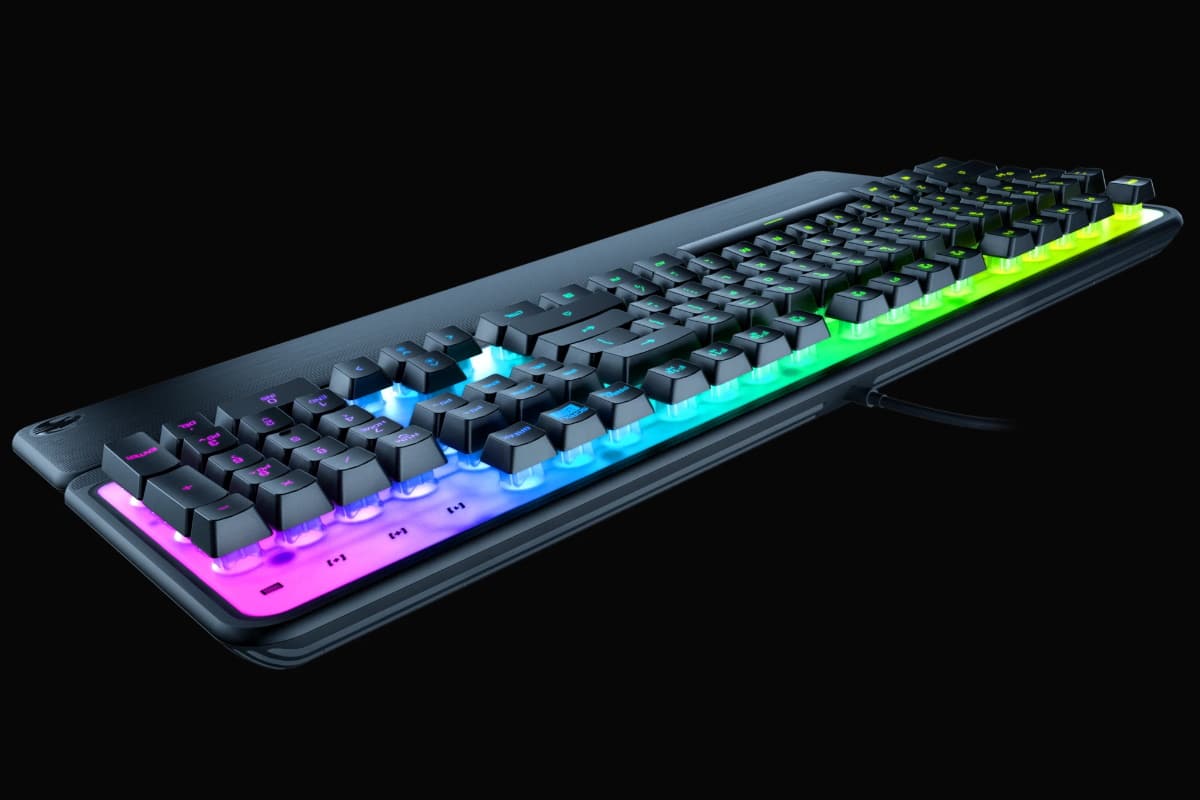 Roccat Magma – The Verdict
Roccat Magma is a must-have for anyone gaming on a budget or looking to test the waters with RGB peripherals. It's responsive, quiet and possesses a surprisingly high quality that shines as bright as the abundant lighting effects. While over the top RGB lighting won't be for everyone, it's easy to grow accustomed to the colours, which will surely enhance the appearance of any desktop. Overall, Magma is a great keyboard and solid addition to the Roccat catalogue, even if the gaming brand's emblem does look suspiciously similar to the Thundercats logo (you can't unsee it).
The writer received a keyboard for review courtesy of the brand
You'll also like:
SteelSeries Rival 5 Review: Remarkable in the Right Hands
BMW's Futuristic Gaming Chair Has Air-Con & Gives Massages
LEGO Seinfeld Set is 1,326 Pieces of '90s TV Nostalgia
General FAQ
Is Roccat Magma a good keyboard?
Absolutely. Roccat Magma is a responsive and quiet to use keyboard that possesses surprisingly high quality for under AU $100. Ultimately, the quality shines as bright as the abundant lighting effects.
Is Roccat Magma a mechanical keyboard?
Roccat Magma is a full-sized RGB gaming keyboard with a quality look and feel. It's a non-mechanical keyboard relying on a membrane design instead. Still, we think you will be surprised by the results.
Are Roccat keyboards good for gaming?
Roccat keyboards provide high-quality gaming with quiet keystrokes and great tactile feedback. At the high end, the Vulcan keyboards are suitable options for anyone ready to take their gaming pro. For those looking to test the waters of RGB gaming, the Roccat Magma has the feel and performance of an expensive keyboard for a budget-friendly price.