16 Best Suit Shops & Tailors in Melbourne
In Melbourne, buying a made-to-measure or bespoke men's suit is more than a fashion statement, it's a way of life. The experts know as much, but do you? Are you merely grabbing the first suit you see and making do with those loose sleeves, or getting it tailor made? In other words, are you just wearing a suit, or owning one? And we don't mean owning in the mere sense that you paid for it. You own it on that grand scale where the suit matches more than just your physical contours and says something about who you are. Don't waste your time in generic department stores. Instead, go to one of the best tailors and bespoke Suit Shops in Melbourne. You can thank us later.
You'll also like:
Made to Measure – Man of Many's Guide to Buying a Tailored Suit
Know The Difference Between an American, British and European Cut Suit
13 Best Tailors and Bespoke Suit Shops in Adelaide
Here's a list of the 17 best suit shops and tailors in Melbourne: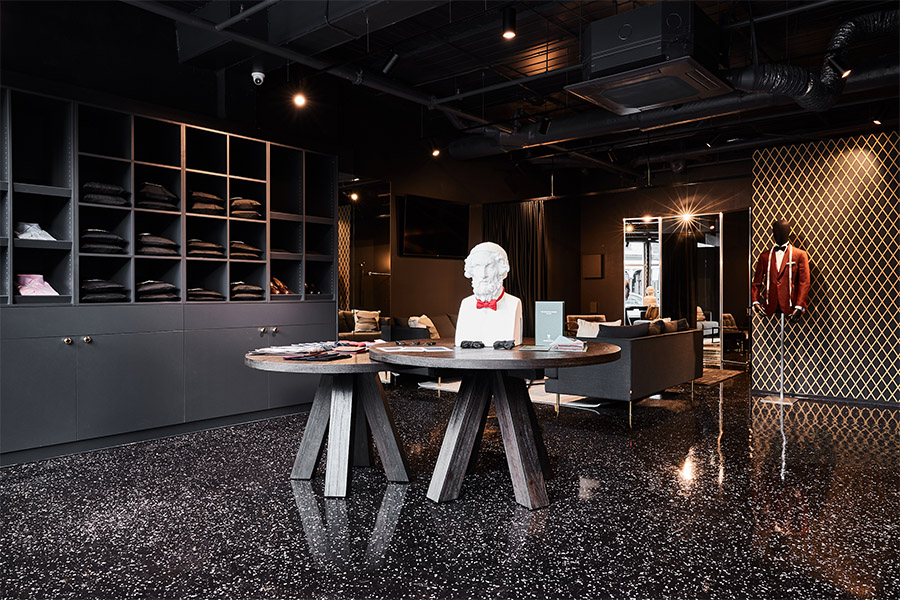 1. The Bespoke Corner
Defined by their skill and expertise, the boys at Bespoke Corner should be your go-to when you decide to buy your first tailored suit. The Bespoke Corner garnered its reputation from a profoundly successful Sydney Store. By focusing on building a relationship between the tailor and client, The Bespoke Corner ensures that your first-time will exceed all expectations. The service comes with a premium price tag, but don't let that sway you, the quality and experiance you recieve are second to none.
Address: 24 Toorak Rd, South Yarra VIC 3141, Australia
Phone: +61 3 8375 7042
Hours: Tue-Wed & Fri 9am-6pm, Thu 9am-6am, Sat 9am-5pm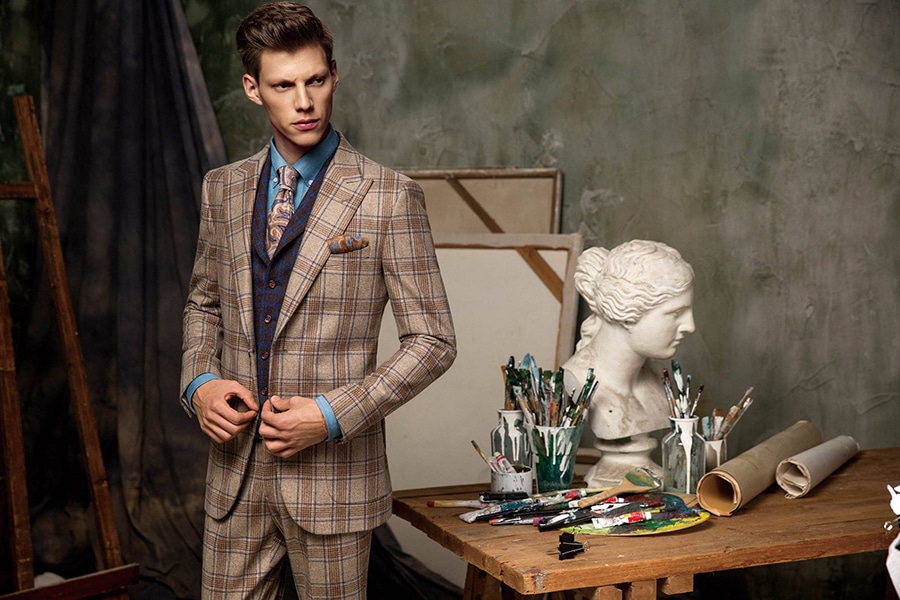 2. Germanicos Bespoke Tailors
Germanicos Bespoke Tailors has been offering some of the most stylish bespoke suits Melbourne has to offer since 1999. As one of the few true bespoke tailors left in Melbourne, Germanicos is renowned for producing the best fitting suits in town – which is precisely what you want in a tailor. Couple this with Australia's largest range of luxurious European cloth from Italy, England and France and you've got a divine range of styles perfect for any modern Melbourne man. Hugh Jackman, Ronan Keating and Ruby Rose have all shopped here so you know you'll be treated to the full star experience.
Address: 550 Lonsdale St, Melbourne VIC 3000
Phone: 1300 824 567
Hours: Mon-Fri 9am-5:30pm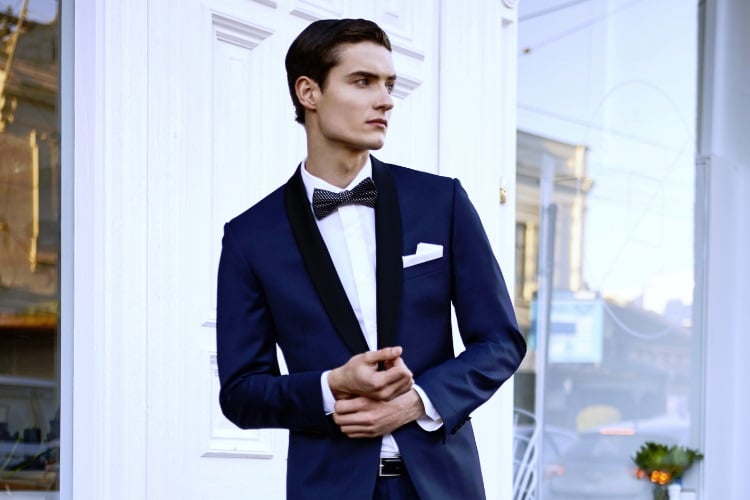 3. Arthur Galan AG
Launched in 1998, Arthur Galan AG is featured constantly in GQ Australia and with good reason. The name alone is synonymous with the utmost tier of quality and skill. In other words, walk into this Melbourne tailored suit operation and put yourself in the best hands. You'll soon be sporting the finest fabrics along with tons of modern style. Heads will turn, including your own every time you walk by a mirror and ask yourself: "How did I not know I could look this good?!"
Address: South Yarra 568 Chapel street, South Yarra
Phone: 03 9827 7222
Hours: Mon-Thu & Sat 10am-6pm, Fri 10am-8pm, Sun 11am-5pm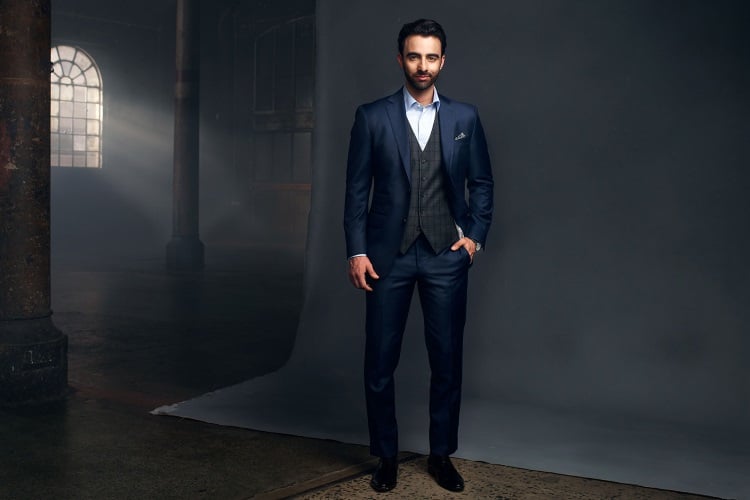 4. George & King
If you've discovered it's nearly impossible to find a perfect suit right off the rack, George & King definitely feels your pain. They too were underwhelmed by the pre-ordained suit selection at any given retailer, and so in 2012 they took things into their own hands. Accordingly, the George & King suit shop in Melbourne pairs convenience and customisation to stunning effect. Their suits are affordable and fitted to align with both your unique body and personal style. Every customer has access to his own Style Concierge, and that concierge won't stop until the customer is touting a perfect fit of the finest materials. For those seeking an approachable Melbourne tailored suit experience, look no further.
Address: 416/220 Collins St, Melbourne VIC 3000
Phone: 1300 179 133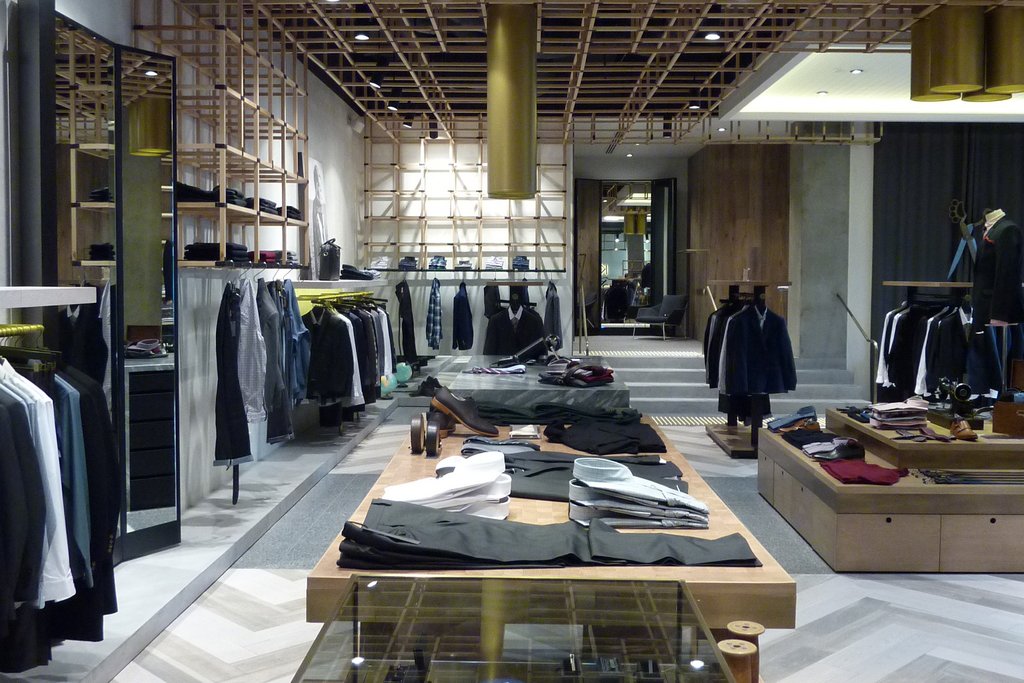 5. Joe Black
Meet Joe Black (sorry, had to do it–you movie buffs know what we're talking about). His legend goes back to the frontier days before New Zealand had electricity, when he and his clan first settled. Joe made his way by tailoring a motley crew of rugged pioneers who seemed well beyond taming. But tame them he did, or at the very least he dressed them well. They say Joe could measure a man on sight alone and that his wit was as quick as his stitch. At this suit shop in Melbourne, the legend lives on.
Address: 235 Queen St., Melbourne 3000
Phone: (03) 9670 2488
Hours: Mon-Fri 10am-6pm, Sat-Sun 10am-5pm
Address: St James, Shop 2, 535 Bourke street Melbourne CBD
Phone: (03) 9643 2561
Hours: Mon-Wed & Sun 9:30am-7pm, Thu-Fri 9:30am-9pm, Sat 9am-7pm
Address: Little Collins street, 149 Little Collins street Melbourne
Phone: (03) 9662 2379
Hours: Mon-Wed & Sat 10am-6pm, Thu-Fri 10am-8pm, Sun 10am-5pm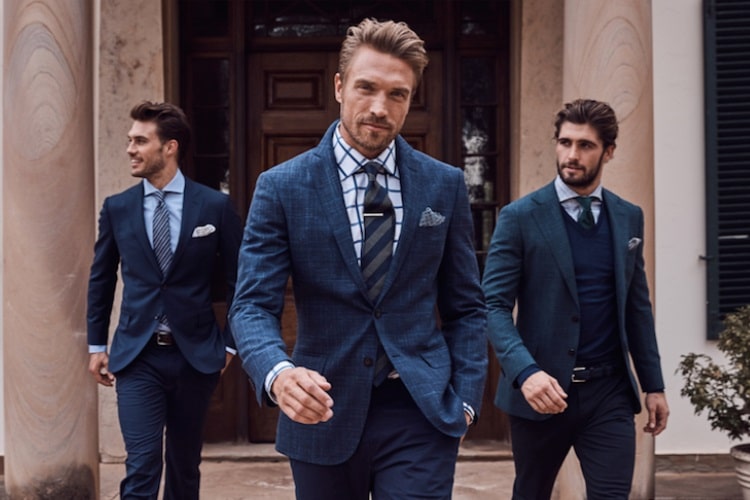 6. M.J. Bale
Founded in 2009 by Matt Jensen, Australian menswear brand and Melbourne suit shop M.J. Brand straddles the full garment spectrum. Hence, visiting their store is kind of like going to some sort of fashion-centric Disneyland for adults. The brand is absolutely committed to delivering classic style underscored by masculine allure. Walk into their store a boy, and walk out a gentleman.
Address: 27 George Parade, Melbourne VIC 3000
Phone: 03 9662 4589
Hours: Mon-Thu 9am-6pm, Fri 9am-7pm, Sat 10am-4pm
Address: Myer Melbourne, 314-336 Bourke Street, Melbourne VIC 3000
Phone: 03 9654 2692
Hours: Mon-Wed & Sat 9:30am-7pm, Thu-Fri 9:30am-9pm, Sun 10am-7pm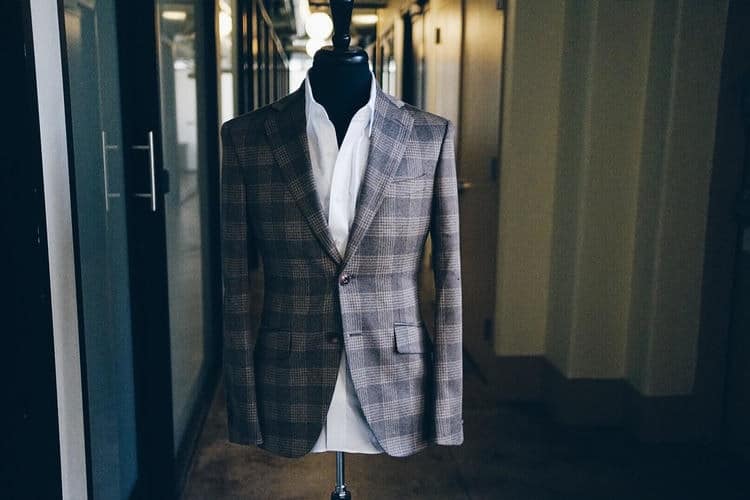 7. Ian Rios New York
Just because you live in Melbourne doesn't mean you can't get a taste of high New York fashion. Check out Ian Rios, a menswear guru with professional tailors located in Melbourne who will come right to your home or office. These pros have a veritable eye for personal style and an array of premium fabrics at their disposal. Book an appointment and discover yourself today.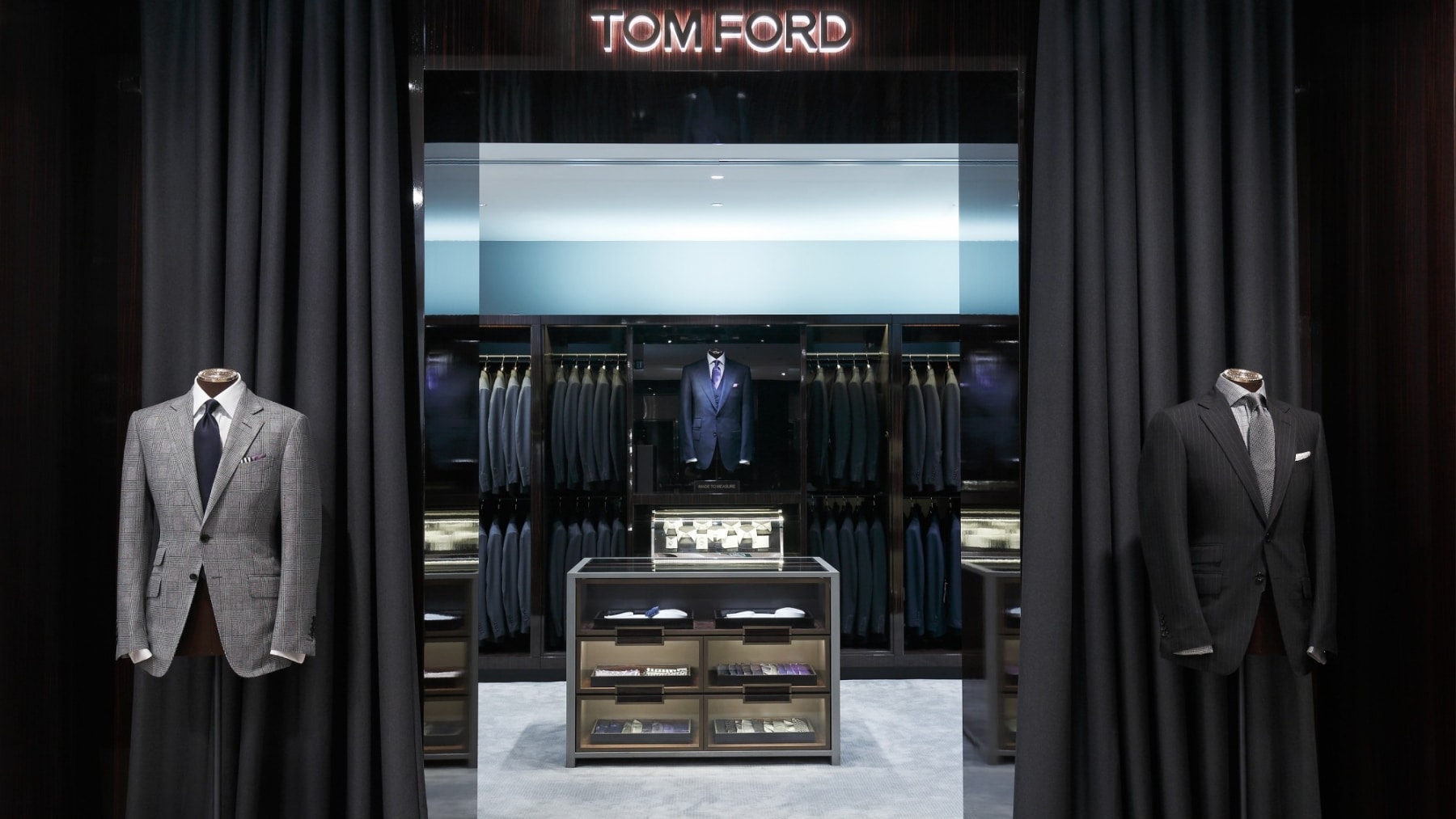 8. Harrolds
If you don't know the name Harrolds then you simply aren't living. The high-end department store is anything but generic and carries all the best brands. Walk into the Melbourne suit shop and meet with the city's best tailors. They'll drape you in elegant style and modern designs from the world's biggest names. You will never settle for anything less afterward.
Address: Melbourne Luxury Department Store, 101 Collins Street Melbourne
Phone: 03 8660 7888
Hours: Mon-Thu 10am-6:30pm, Fri 10am-7:30pm, Sat 10am-6pm, Sun 12pm-6pm
Address: Crown Entertainment Complex, lower ground 8 Whiteman Street Southbank
Hours: Mon-Sun 11am-8pm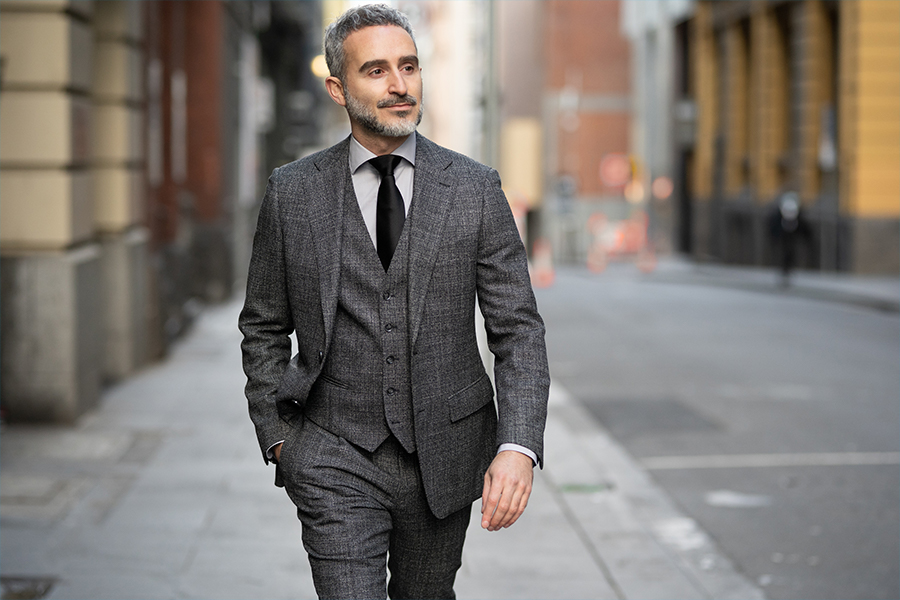 9. Godwin Charli
The brainchild of former career corporate Godwin Hili, this Melbourne institution offers a range of menswear options ideal for the everyday dandy. The lifestyle collections include unstructured smart jackets made from textured wools, cottons, and knitted varieties from England and Italy, along with formalwear and winter fashion staples. There is a distinct air nod to Neapolitan and British tailoring at Godwin Charli, with the theme carried through to trouser options that feature a signature dress chino and pleated/cuffed wool design. According to Hili "It's all about carrying an effortless look with just enough charm and presence to make people notice". If you are after a premium made-to-measure experience, Godwin also has you covered. The tailor curates a fine selection of fabrics, before engaging in a series of Fit Profile assessments to ensure you walk away with a suit that not only matches your style but also your figure. Aside from being one of the best men's suits stores in Melbourne, Godwin Charli is also home to a vast array of fine womenswear and full-season collections.
Address: Level 2/165 Flinders Ln, Melbourne VIC 3000
Phone: 0429 539 823
Hours: Mon-Fri 10am-6pm, Sat 10am-5pm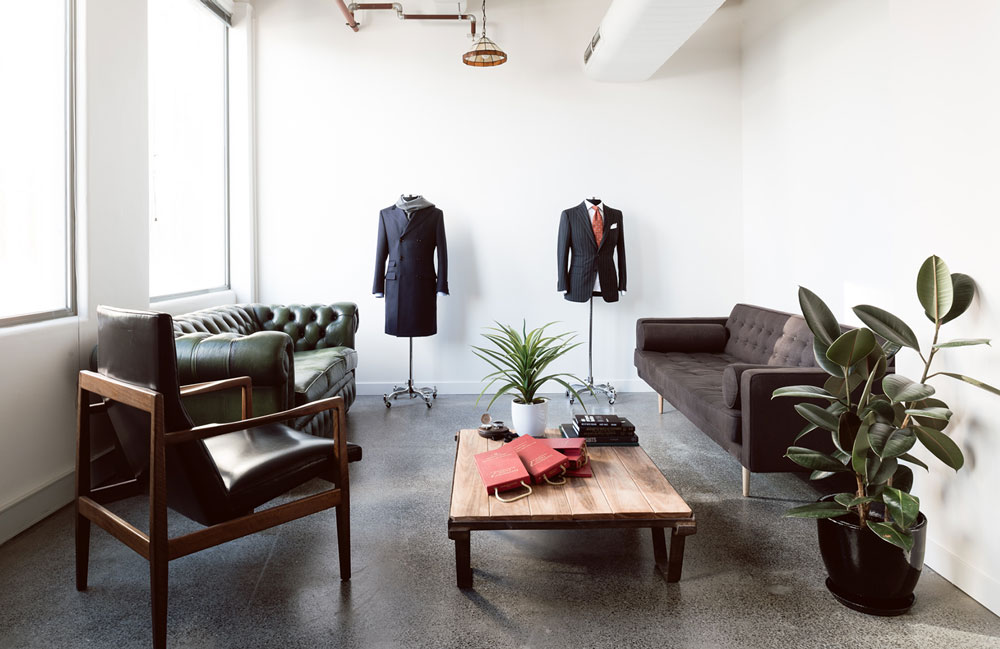 10. Oscar Hunt Tailors
With showrooms in both Melbourne and Sydney, Oscar Hunt has become a premier destination thanks to their exceptional customer service and remarkably made-to-measure suits. The company goes the extra mile to nurture relationships between the tailor and client, and in addition to suits they also offer tailored shirts and overcoats. Their fabrics are top-notch and inspired by seasonal trends. Their methods and cuts are unmistakable. Go here to add an extra helping of customisation to that customisation.
Address: Level 3 / 43 Hardware Lane, Melbourne
Phone: 03 9670 6303
Hours: Tue 9:30am-6:30pm, Wed-Fri 8:30am-6:30pm, Sat 9am-6pm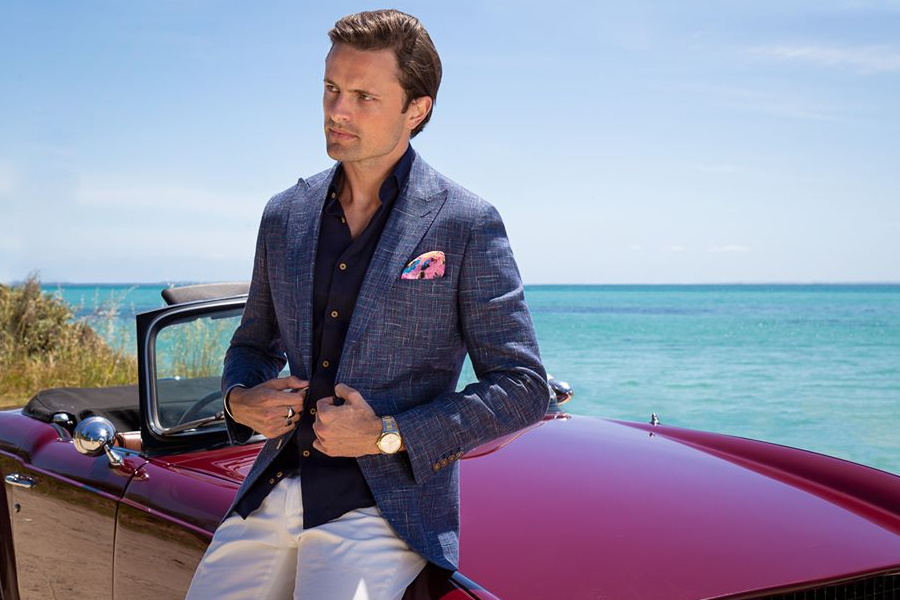 11. Peter Jackson
Long before the filmmaker, there was a brilliant Aussie garment maker named Peter Jackson. He started by selling handcrafted ties in a Melbourne barbershop in 1948 run by him and his siblings. As the ties began outpacing the haircuts, a fashion icon was born. Here we are decades later and Peter Jackson is still a world-class menswear champion. The brand consistently upends conventions and expectations to remain on the cutting edge of fashion and design. The best part is that the innovative Melbourne suit shop keeps the process entirely affordable while nevertheless providing the finest textiles along with timeless expertise. Go here for some of the best made-to-measure men's suits Melbourne can muster, hands down.
Address: 420 Bourke Street Melbourne
Phone: +61 3 9670 9132
Hours: Mon-Fri 9am-6pm, Sat 9am-5pm
Address: 177 Little Collins St, Melbourne VIC 3000, Australia
Phone: +61 3 9639 6910
Hours: Mon-Fri 9:30am-6pm, Sat 10am-5pm
Address: Emporium Melbourne, 295 Lonsdale St, Melbourne VIC 3000, Australia
Phone: +61 3 9650 1081
Hours: Mon-Wed & Sat 10am-6pm, Thu-Fri 10am-9pm, Sun 10am-5pm
Address: Galleria Shopping Centre Corner Little Collins St &, 131 Elizabeth St, Melbourne VIC 3000, Australia – Phone: +61 3 9670 9131
Hours: Mon-Wed 9am-6pm, Thu-Fri 9am-7pm, Sat-Sun 10am-5pm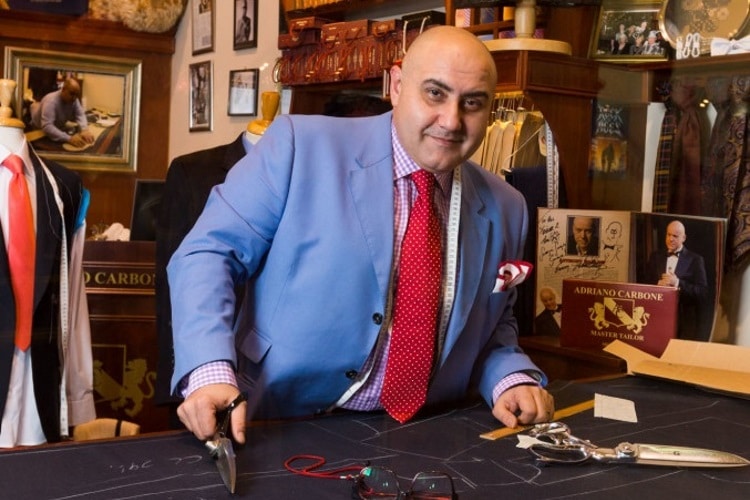 12. Adriano Carbone
Along with his wife Maria, master tailor, Adriano Carbone offers the kind of hands-on service you're more likely to hear about in closed circles than discover for yourself. This friendly and brilliant Italian comes from a long line of tailors and has a legion of loyal customers. If you want a little old-school charm and an extra personal touch from your Melbourne tailored suit shop, this is the one for you.
Address: 100 Elizabeth St, Melbourne VIC 3000
Phone: 03 9600 2422
Hours: Mon-Fri 10am-5pm, Sat 10am-3pm

13. InStitchu
If Adriano Carbone is the epitome of old school, then InStitchu is 100% new school by contrast. The retailer allows you to do it all online, meaning the measurements, fabrics, ordering–all of it. Of course if you're craving a little human interaction you can visit one of their showrooms instead. Like the true 21st century company that they are, InStitchu leaves the power to choose squarely in your hands.
Address: Mitchell House, Level 3/358 Lonsdale St, Melbourne VIC 3000
Phone: +61 3 9600 3568
Hours: Mon-Fri 9am-7pm, Sat 9am-5:30pm, Sun 10am-4pm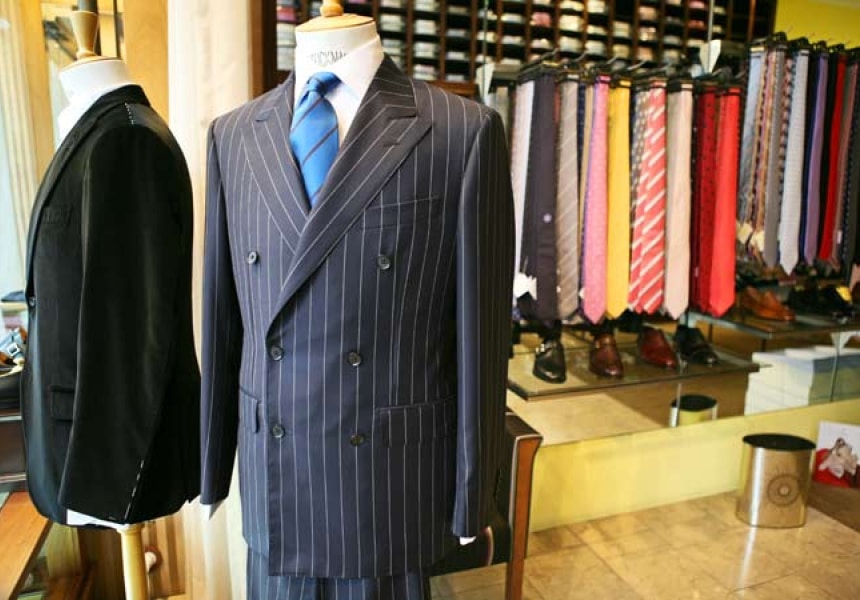 14. American Tailors
Located in the heart of Melbourne, American Tailors offers hand-made Italian suits and a made-to-measure service that's second to none. The vibe here is classic and free of gimmick. Walk-in and put yourself in the hands of a pro, and know you're getting a spectacular garment in return.
Address: 68 Bourke St Melbourne, Victoria, Australia 3000
Phone: +61 3 9662 1273
Hours: Mon-Fri 9am-6pm, Sat-Sun 10am-4pm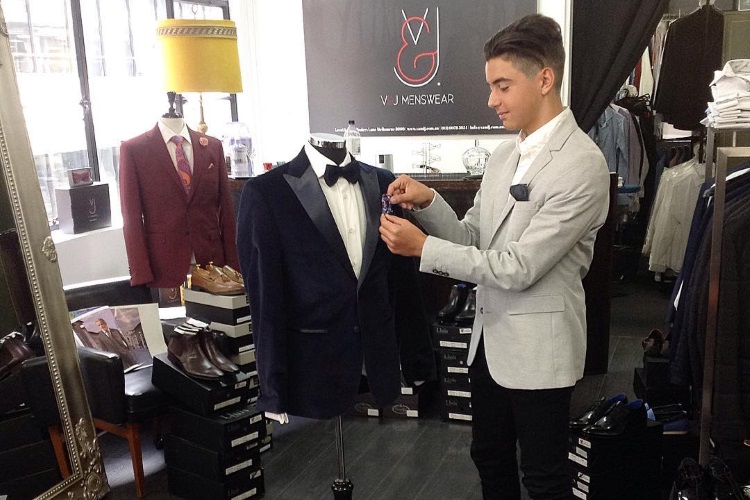 15. V & J Menswear
This Melbourne bespoke suit shop values customised style above all else. They know that every customer is an individual and that as an individual they have a distinct mode of self-expression. That's why the retailer provides completely attentive service and some of the most stunning tailored suits Melbourne has to offer. At the end of the day, the tailored suit is all about you–come here and you'll never forget this essential fact.
Address: Level 3/ 289 (Carlow house), Flinders Lane, Melbourne
Phone: +61 3 9078 5054
Hours: Mon-Wed 10am-6pm, Thu-Fri 10am-8pm, Sat 10am-5pm, Sun 12pm-5pm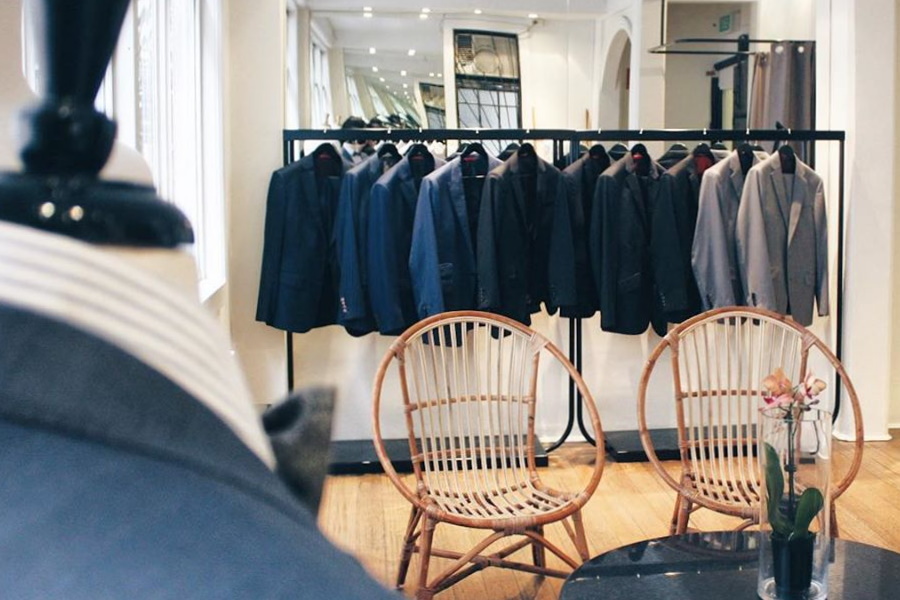 16. Joe Button
This award-winning tailor specialises in affordable garments for both men and women alike, with each item custom made to suit personal preferences so no two pieces of clothing are ever the same. Joe Button prides itself on sourcing fabrics exclusively from the best mills in Europe while cutting out the middleman, so that high-quality custom-fitted clothing is accessible to customers from all walks of life.
Address: Level 1, 34-36 Block Place, VIC, 3000
Phone: (03) 9005 6326
Hours: Mon-Fri 10.00am-6.00pm, Sat 9.00am-4.00pm
You'll also like:
Made to Measure – Man of Many's Guide to Buying a Tailored Suit
Know The Difference Between an American, British and European Cut Suit
13 Best Tailors and Bespoke Suit Shops in Adelaide
General FAQs
How much does a tailored suit cost in Australia?
For a tailored suit, expect to pay a fair amount. On the lower end of the spectrum, you could pick up a tailored suit for around $900, however, the more premium offerings generally go for in excess of $2,000.
What is the best men's suit store in Melbourne?
According to Google Reviews, the highest-rated men's suit store in Melbourne is Joe Buttons.
Are tailored suits worth it?
When it comes to suiting, it pays to go bespoke. Everyone's body proportions are different and as such, not every 'off the rack; suit with fit you. A tailored suit accentuates the positive aspects of your figure while making you appear more svelt and sharp.