Is Micrashell the Future of COVID-Safe Clubbing?
When personal protective equipment (PPE) just isn't going to cut it in the new normal, you need a COVID-Safe suit to take yourself out to the club (when they finally open), and the best COVDI-Safe suit is the Micrashell. Looking like something out of Ridley Scott's Alien prequel Prometheus, the Micrashell is a suit that allows you to safely socialise in times of pandemic. Sounds simple right? Well just take a look at it.
Born out of the need for a socially responsible solution for individuals to interact safely within close proximity, the specifically designed suit is here to bring back your social life. Suitable for the nightlife, live events and even just a late-night walk in the park, the Micrashell is a virus-shielded, easy to control, fun to wear, disinfectable, and fast deploying PPE that allows socialising without distancing.
You'll also like:
Guy Builds Gun That Shoots Masks onto People's Faces
50 Places You Can Buy Face Masks in Australia
New Balance Redirects Production to Make Face Masks
Designed by LA-based creative studio Production Club, the Micrashell is a unique solution to the current pandemic. The group is aiming to preserve "the essential need for real, in-person connection– one that cannot be substituted with video chat services and virtual raves".
"The Micrashell is a virus-shielded, easy-to-control, fun to wear, disinfectable, fast-to-deploy suit that allows socialising without distancing. Offering relief for industries dependent on social interaction in close proximity, the suit is intended to be a pragmatic yet design-forward solution for this pandemic and others to come."
Featuring an air-tight top suit combined with a hard helmet made of tactical, high-performance cut resistant fabric, each part is developed for durability, endurance and easy disinfecting procedures. Crafted from a material based on UHMWPE fabrics and lightweight film composite, the suit sports sewed patterns and ornaments as well as Cordura inserts for a bit of extra customisation.
This self-described hazmat suit offshoot is powered by two lithium-ion cell battery systems for uninterrupted active operation and is easy to charge and swap when you're out of juice. Anyone familiar with e-cigarettes will be familiar with the 18650 batteries used in the Micrashell. Friendly PSA to always remember battery safety!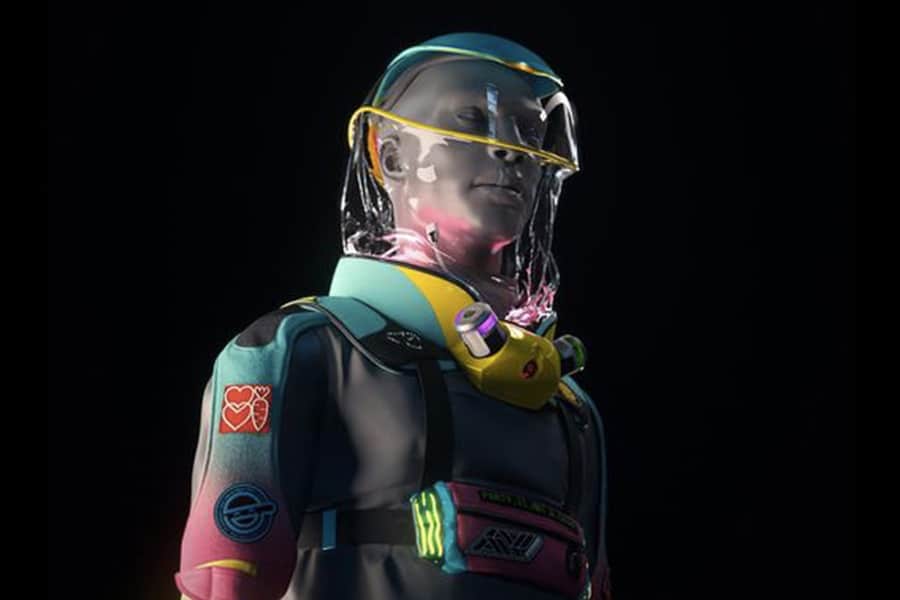 Speaking of e-cigarettes, the suit even comes with its own supply system for when it's time to drink or vape. The supply system is based on proprietary canisters that magnetically snap into place, avoiding the need to remove any part of the suit. The included depictions of the prototype suit showoff the added N95 particulate filter & suction system, combined with an air ejection system. Plus, if you thought clubs were too dark, then you can light them up with the added RGB LED Strips across the suit.
Controlling all the functionality of the suit will be your smartphone, easily accessible within the cell link pouch. Providing both data and power, the suit is controlled via the companion app to activate lighting, animations, music tools and even a personal camera.
Speaking with NME, CCO and Head of Inventions Miguel Risueño shared some thoughts about the "ambitious" concept behind the suit, noting the team "will encounter a lot of challenges". "The concept behind the suit is very ambitious, and thus, we will encounter a lot of challenges, which is normal when you are trying to create something innovative. Cleaning will be a time-consuming task — as many other things are — but that's why trained people should take care of it, which is what is happening in other industries using PPE, such as research labs or healthcare providers."
With the creative studio "still immersed in the prototyping process," no pricing or availability has been revealed for the Micrashell, but it appears this won't be a personal purchase. Once the suit is ready, the goal "is to follow a business-to-business model where venue owners or promoters buy and handle the suits, as they would be the ones directly benefiting from the increased venue capacity. Additionally, each venue has more purchasing power and ability to handle, sterilise and distribute the suits."
Miguel is hopeful to have the Micrashell ready for the next pandemic, toxically polluted city or unexpected event where it could be needed, with his sights set on the possibility of "a party on the moon with a few tweaks!" "The alternative right now is to go to socially distanced parties or to party through your computer or phone screen, and both of those feel actually way more dystopian and cyberpunk for me. But there's hope."
You'll also like:
Guy Builds Gun That Shoots Masks onto People's Faces
50 Places You Can Buy Face Masks in Australia
New Balance Redirects Production to Make Face Masks