What is Selvedge Denim and Why Should I Buy it?
Although denim jeans have been on regular rotation in most men's wardrobes since their invention in the 19th century, your go-to pair of today is likely different to the staple pieces of selvedge denim sported by men just a couple of generations ago.
Raw denim aficionados will likely have heard the word 'selvedge' tossed around more than a few times; selvedge refers to the way in which the fabric has been woven. Derived from the term 'self-edge denim', selvedge denim is easily identifiable by the coloured (generally red or orange) lines which run along the edge of the outseam.
You'll also like:
14 Best Japanese Denim Brands
24 Best White T-Shirts for Men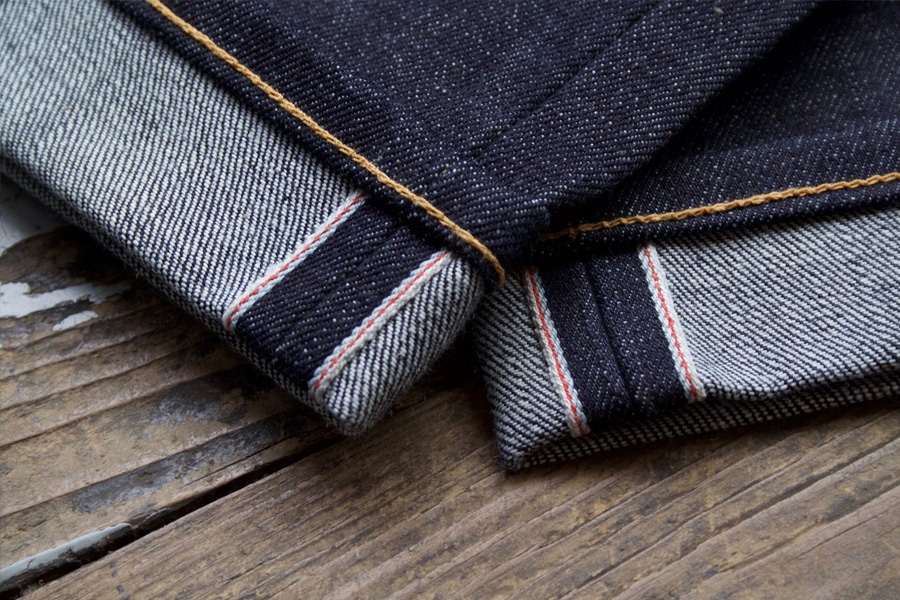 What is Selvedge Denim?
Prior to the 1950s, denim was made on shuttle looms; a weaving textile loom that utilises a mechanism called a shuttle to pass the yarns back and forth between both sides of the loom to produce tightly woven strips of heavy fabric. The edges of these fabric strips seal themselves with a tightly woven finish, resulting in self-edge or selvedge denim.

As the demand for jeans increased in the 1950s, denim companies began using denim manufactured on projectile looms. Projectile looms can create a greater amount of fabric at a cheaper price than shuttle looms, and are responsible for most denim jeans created today. Projectile looms create denim with unfinished or overlocked edges, leaving the fabric vulnerable to fraying and unravelling; something which doesn't occur in selvedge denim jeans.
What's the Difference Between Raw and Selvedge Denim?
Raw and selvedge denim are often used interchangeably, however this is a common misconception. Raw denim simply refers to denim which has not been prewashed, whilst selvedge relates to the edge of the denim. As selvedge jeans are typically made with unwashed denim fabric, it's common to find raw selvedge denim jeans; however, you also can find pre-washed selvedge jeans. Raw denim jeans are readily available on the market and are often made in a projectile loom, and are hence not selvedge jeans.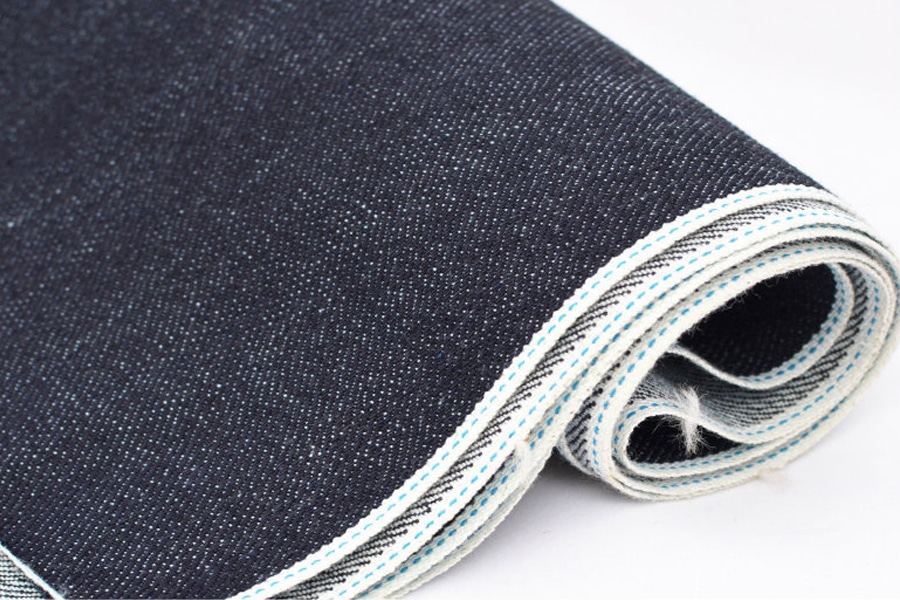 What is so Special About Selvedge Denim?
The cyclical nature of fashion has seen selvedge denim re-emerge as a popular garment. A key factor in the allure of vintage denim is the uniqueness present in each piece; the variations in fabric are representative of the multifactorial process (spinning, dyeing, weaving, and sewing) and time period in which the denim was created.

Although modern technology is now able to replicate variations in dye and weaving, selvedge denim remains only attainable through the use of a shuttle loom. This provides each pair of selvedge jeans with a heritage appeal, with many wearers choosing to cuff the jeans to show off the signature coloured thread.
Is Selvedge Denim Worth it?
Selvedge denim isn't cheap. Most selvedge jeans retail at around $300-500, however, there are some options starting at the $150-200 price point.

So why splash out for a pair of selvedge jeans over the myriad of $50-and-under pairs the rise of fast fashion has bestowed upon us? Sometimes the old adage 'you get what you pay for' does actually ring true, with the cost of selvedge denim reflecting the time and care which goes into the creation of selvedge fabric and the resultant durability of the garment.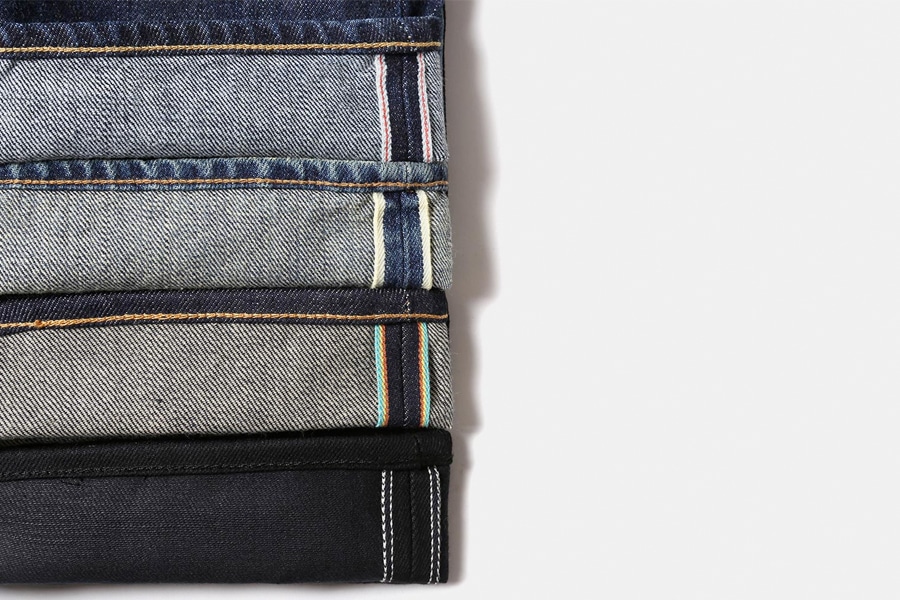 Whilst you'll have to front a higher cost for selvedge denim, they can be considered an investment piece, with good quality raw selvedge denim lasting several years or even up to a decade! Higher priced selvedge denim jeans tend to be made locally in Australia or come from the US or Japan (arguably the leaders in selvedge denim today), whilst lower-cost options are generally produced in China.

Good quality selvedge denim stands out in a sea of fast fashion options, with the former retaining their shape better than standard denim and thus lasting longer.
How to Wear Selvedge Denim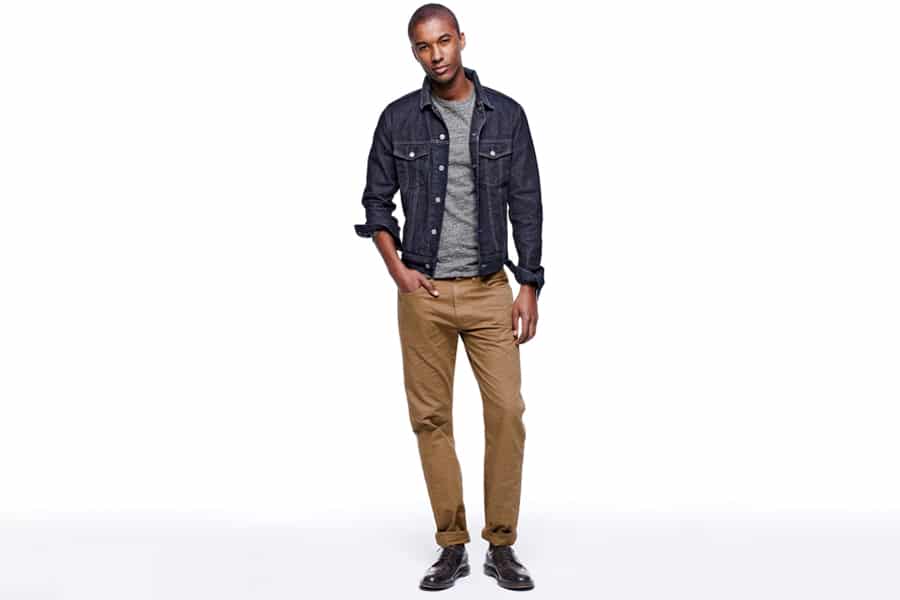 Selvedge denim jacket with chinos
Ditch your traditional blazer for a dark-wash selvedge denim jacket. Team it with camel, mustard or khaki chinos and a crisp white t-shirt or patterned dress shirt for an elevated street style or casual office look.
Double denim
Go all out with a double denim fit with a selvedge denim trucker jacket and jeans. Either opt for slightly different shades of dark on dark denim or abide by the cardinal rule with two-toned denim; lighter wash on top, darker on the bottom. Break up the former look with a fitted sweater in rust orange or baby blue, and keep things simple with a white t-shirt for the latter.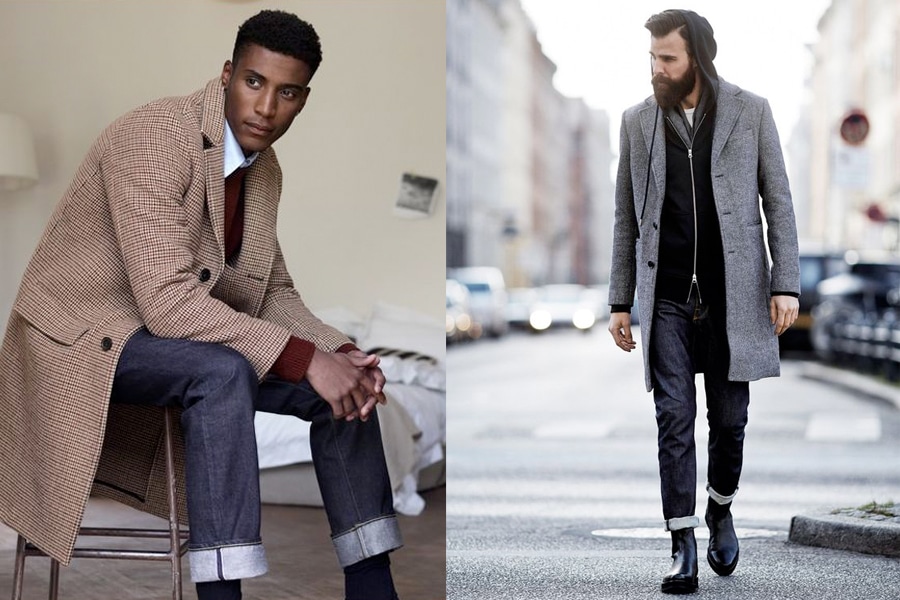 Selvedge jeans with structured coat
A single-breasted structured overcoat worn over slim-cut selvedge jeans makes for a flattering, casual look. Navy or grey are always versatile options, however, a camel coloured coat makes for a good statement piece. Wear unbuttoned over a turtleneck or sweater, or if you're game; a hoodie.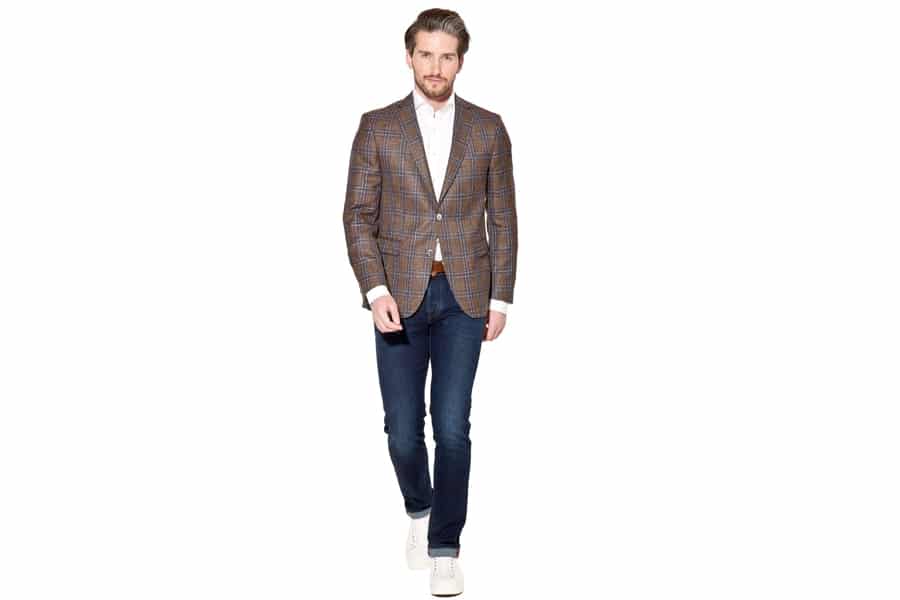 Selvedge jeans with blazer
For a semi-casual look perfect for afternoon drinks and casual dinners, pair selvedge jeans with a blazer. When pairing jeans with a blazer, it's best to opt for slim-cut jeans in a darker shade like navy or indigo for more formal occasions, or in a lighter wash for a daytime feel. Select a blazer in tweed, houndstooth, navy, or grey and keep it fitted to maintain a streamlined silhouette. Finish the look off with an open-collar button-down oxford shirt.
Our Top Selvedge Denim Picks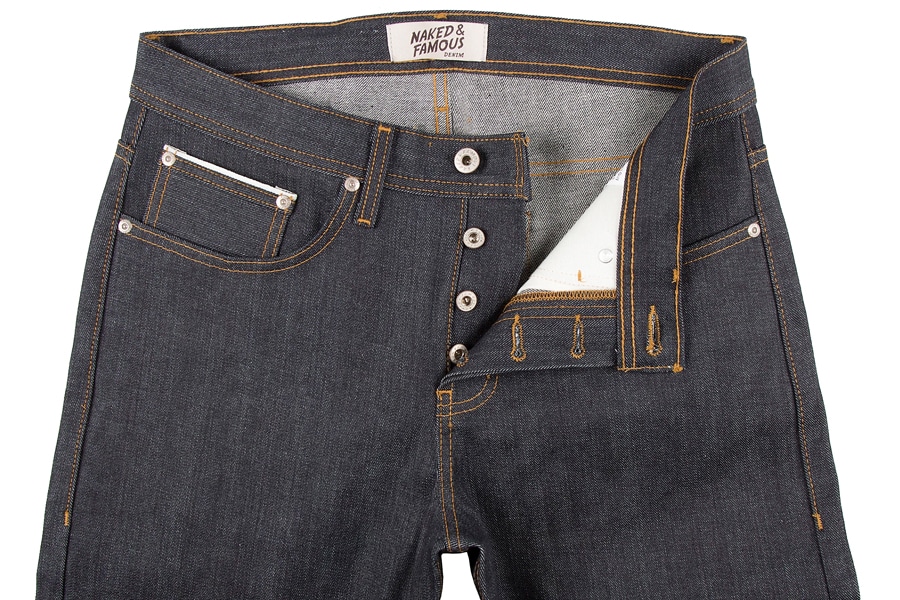 Naked and Famous Denim Left Hand Twill Selvedge

Naked and Famous Denim Super Skinny Guy Right Rand Twill (Indigo)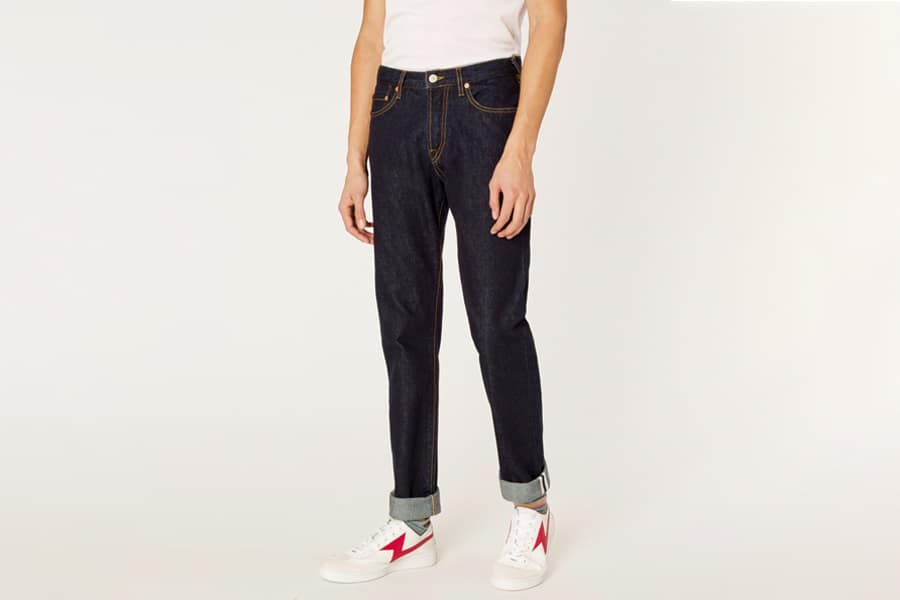 PS Paul Smith Tapered-Fit 13oz 'Pink Selvedge' Indigo Denim Jeans

LEVIS VINTAGE 1953 – Type 11 Jacket

Mr P – Selvedge Denim Jacket

Tom Ford – Slim-Fit Selvedge Denim Jacket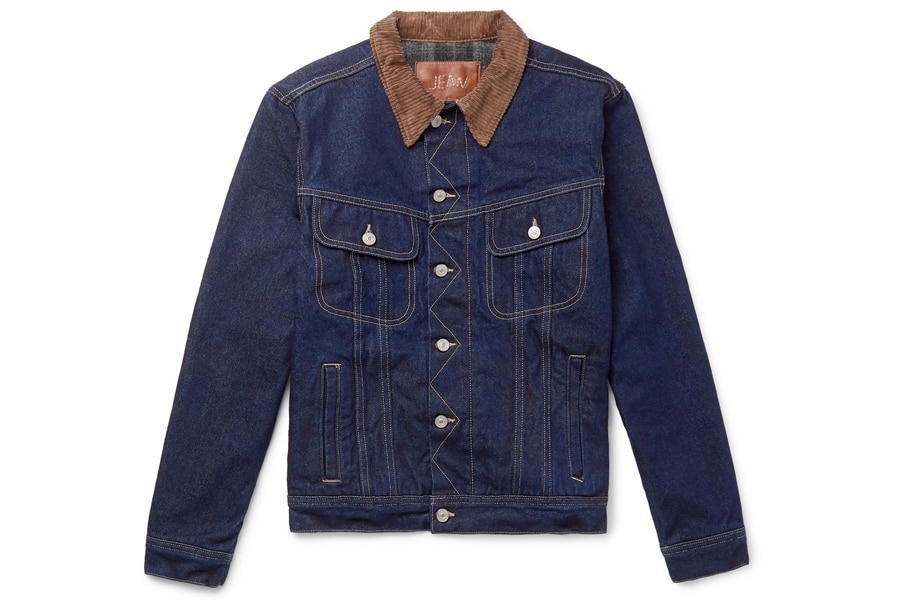 KINGSMAN – Jean Shop Tequila's Statesman Slim-Fit Blanket-Lined Selvedge Denim Jacket
You'll also like:
14 Best Japanese Denim Brands
Style Guide: How to Dress like Jason Momoa
General FAQ
What is selvedge denim?
The selvedge is the tightly woven band on the edges of the denim fabric, which prevents the denim from unravelling and presents a nice finished look.
Is selvedge denim better?
Selvedge denim is known to fade better than non selvedge denim. The shuttle looms used to make selvedge denim put less tension on the yarn.