We Tried Golden Goose's Co-Creation Experience: The Epitome of Luxury Personalisation
Italian fashion powerhouse, Golden Goose, is known for its boundary-pushing designs, with its iconic distressed handmade sneakers adored by streetwear enthusiasts, style-conscious individuals, and celebrities worldwide. This Venice-based brand has built a reputation around celebrating imperfections, authenticity, and the spirit of unapologetic adventure. Whether it's sneakers, jeans, or leather jackets, Golden Goose encourages wearers to create lasting memories with their GG pieces. It's no surprise, then, that Golden Goose's Co-Creation experience seamlessly aligns with the brand's ethos.
To see why their Co-Creation is an experience unlike any other, the Golden Goose team invited us to try it out for ourselves. Here is how it all went down.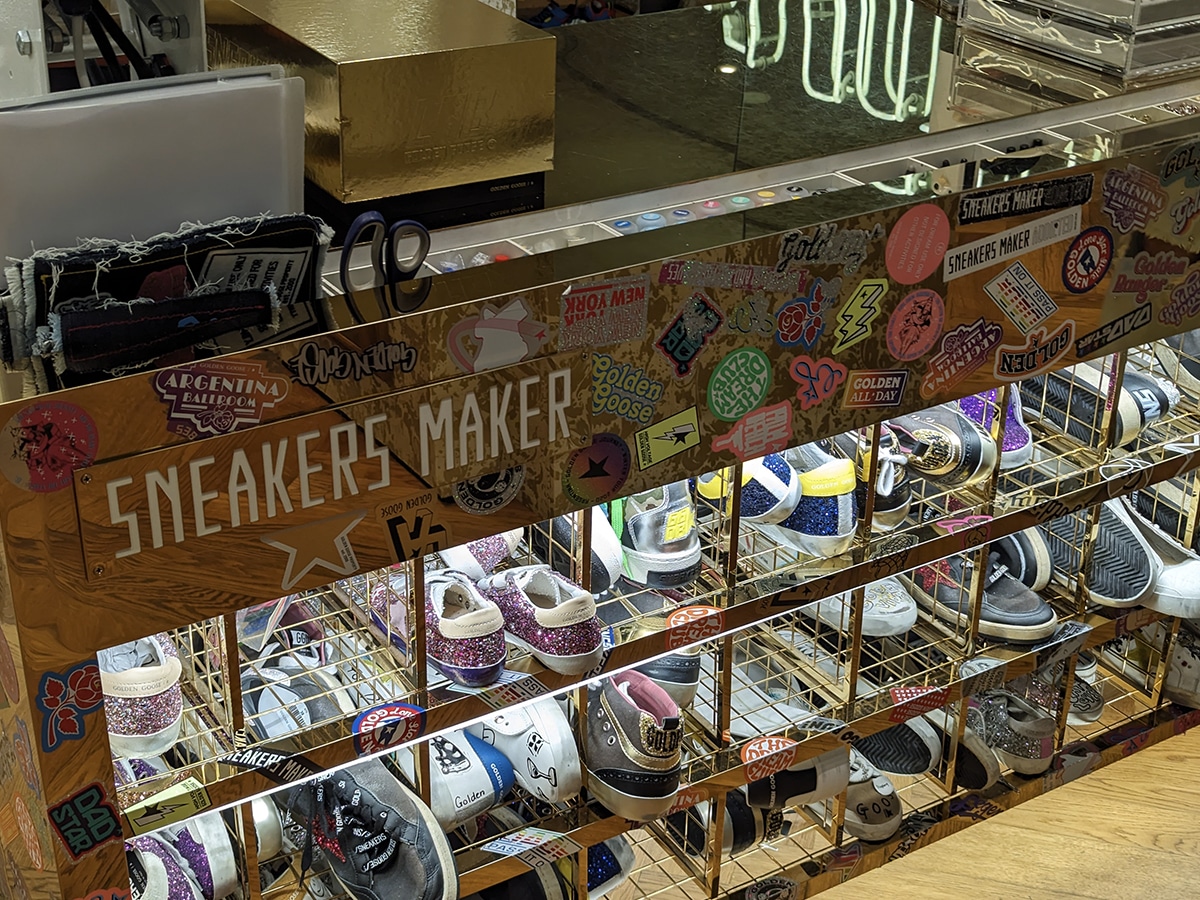 Firstly, What is the Golden Goose Co-Creation Experience?
The Golden Goose co-creation experience is your passport to personalising and customising any Golden Goose item to reflect your unique style. What we love about it is that it's not just a way to personalise your chosen piece with a simple name or initials like many other brands, instead you get the opportunity to be really creative and let your own personality shine through. Essentially, you step into the role of a designer, collaborating with a skilled artist, or what Golden Goose aptly calls "Sneakers Makers," to bring your vision to life, resulting in a one-of-a-kind masterpiece.
And you can rest assured, you're in capable hands. Each Sneakers Maker undergoes a rigorous selection process, showcasing their portfolio of work before embarking on an extensive in-house training program, ensuring consistent world-class service for every co-creation appointment.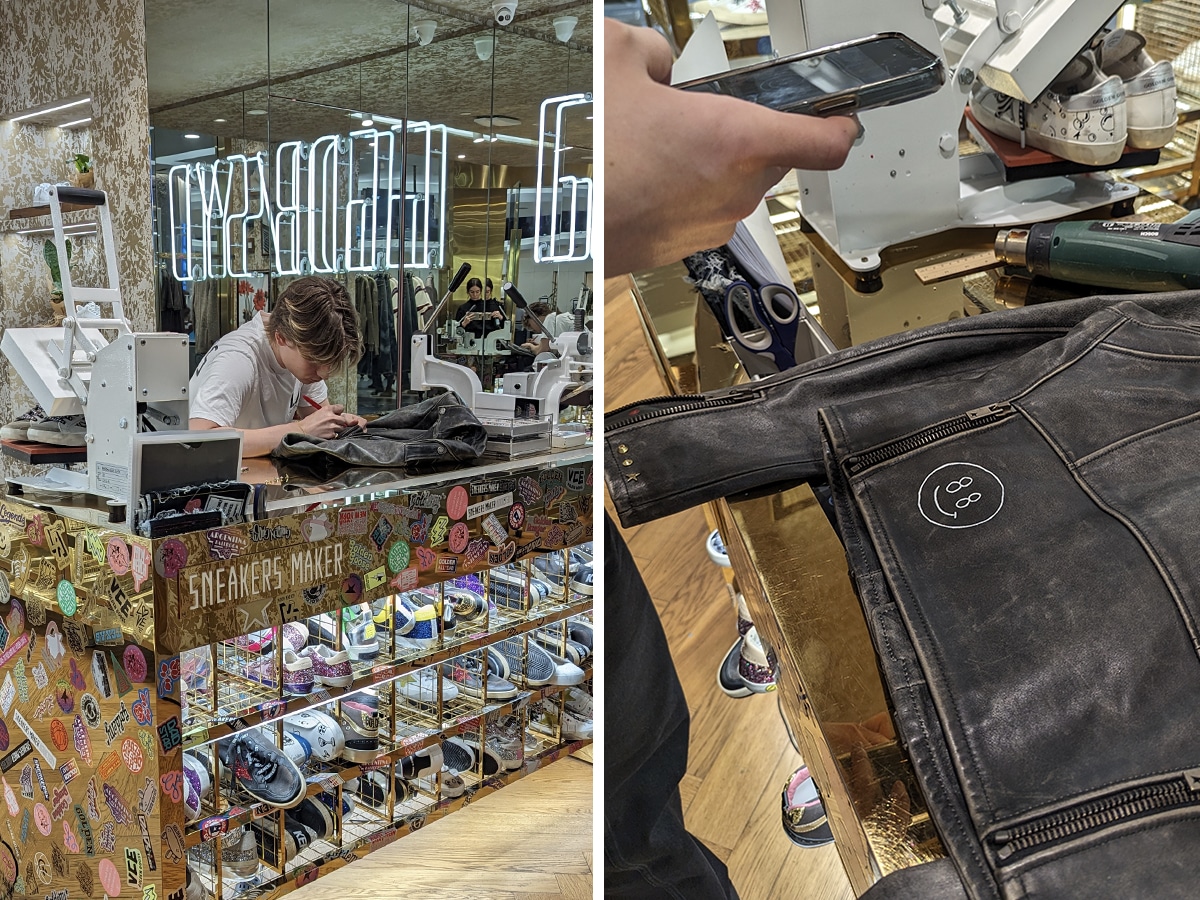 How Does Golden Goose Co-Creation Work?
Step 1: Schedule an Appointment
Starting your co-creation journey is as straightforward as booking an appointment. Spontaneous visits won't suffice, so it's best to plan ahead. Reservations can be made through the Golden Goose Passport App or by contacting your preferred store directly. In Australia, the Co-Creation experience is available at select locations: Westfield Bondi Junction, Westfield Sydney, Chadstone Shopping Centre, and the flagship Golden Goose store in Melbourne.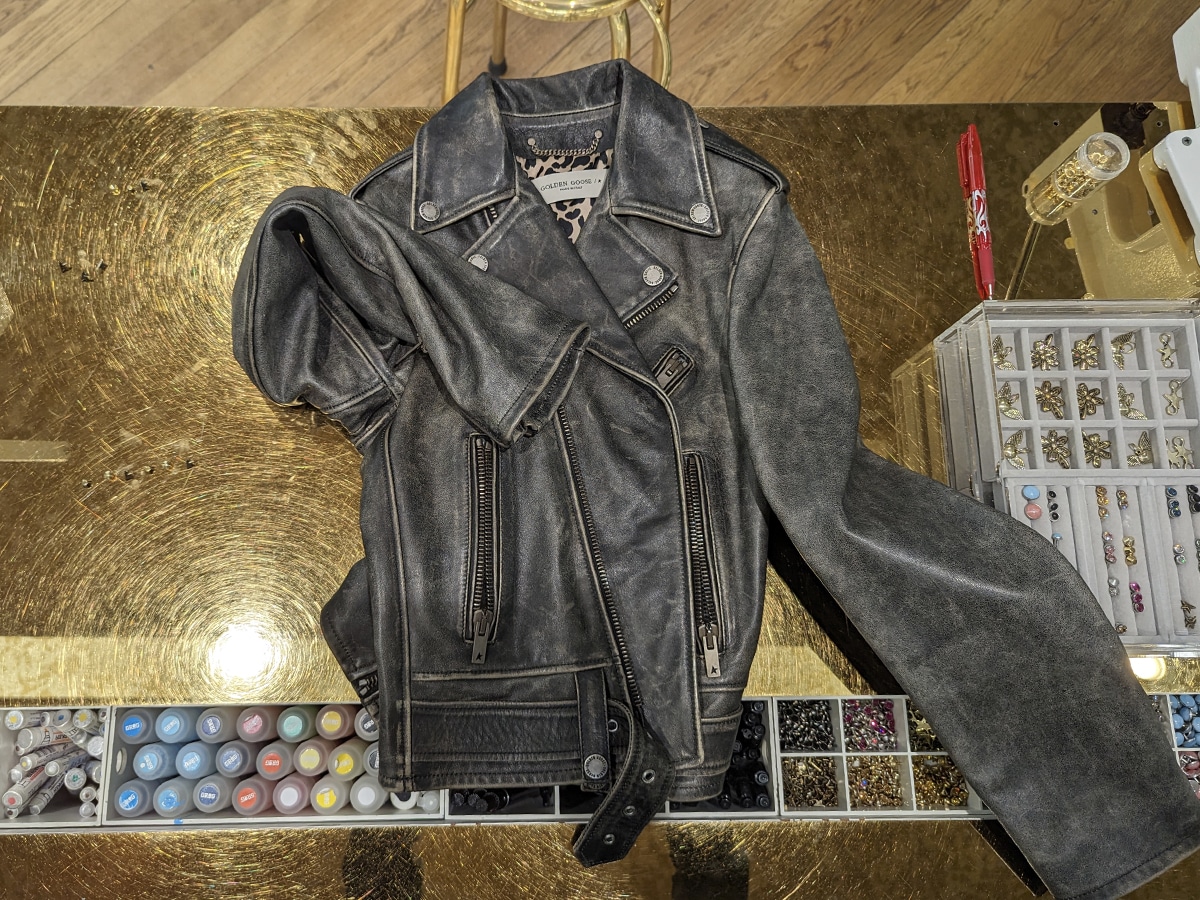 Step 2: Select Your Golden Goose Piece
Once your appointment is secured, it's time to choose your canvas for creativity. While the iconic Golden Goose sneakers are one of the most popular options, the co-creation extends to a variety of items from their collection, including bags, belts, denims, and more. We opted for a timeless black leather jacket—a wardrobe staple. Specifically, the Golden Goose Biker jacket, with its signature distressed look, might possibly be one of the coolest leather jackets on the market. And after adding your own personal touch, it promises to be a conversation starter and a guaranteed, one-of-a-kind piece that will last decades to come.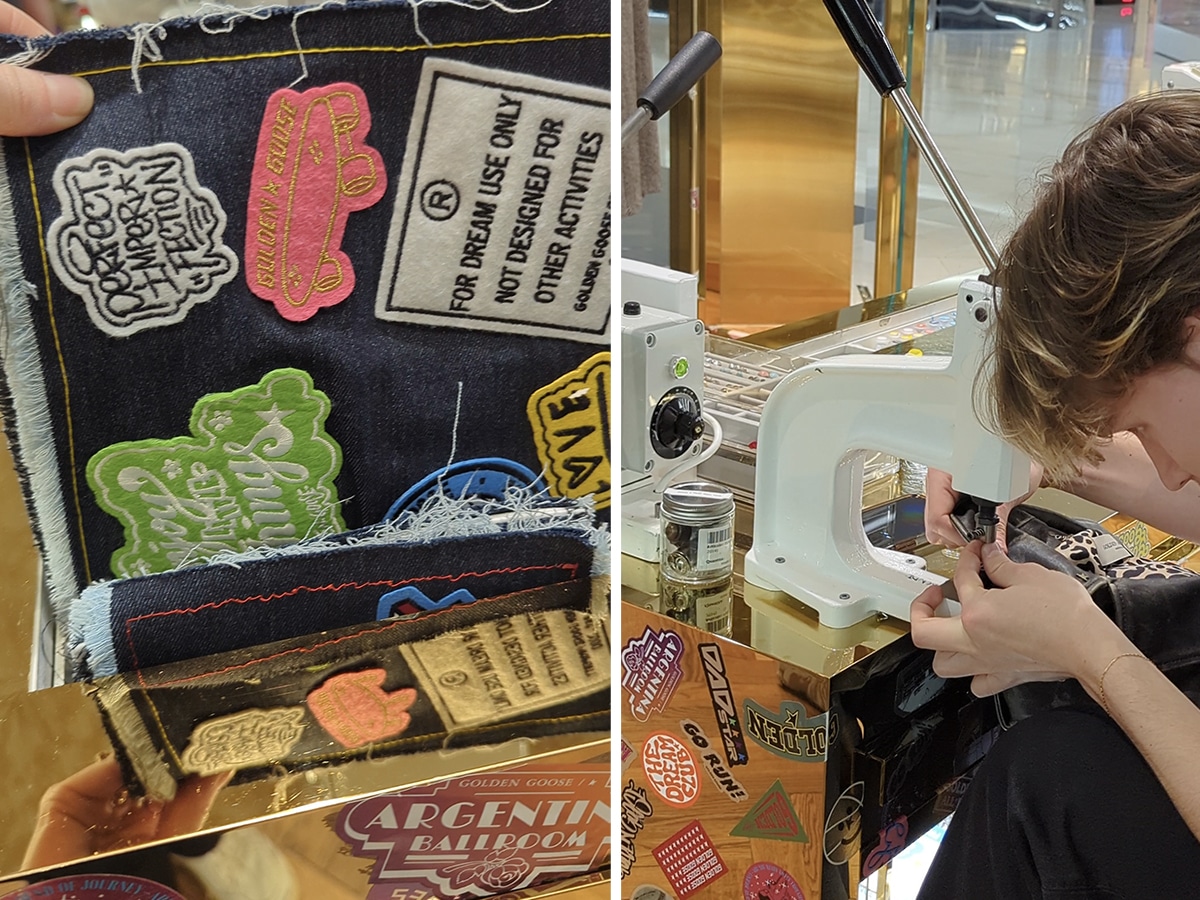 Step 3: Get Creative
Now the fun really begins, and trust us, preparation is key! We'd definitely recommend going in with a bit of an idea of what you want so that you don't just show up and have no clue what you want to do. Not only will you save time on the day, but you will also almost certainly walk away with a more satisfying outcome. Collect photos, designs, and inspiration for your chosen item. Also consider placement and size, as these are all questions your assigned Sneakers Maker will ask you.
Personally, we curated an Instagram board with designs and ideas for easy reference on the day. The Golden Goose Instagram page is also a treasure trove of inspiration, showcasing co-creation items, offering insight into the possibilities, and giving a glimpse of what your potential unique piece may look like. However, keep some room for spontaneity. Part of the excitement is discovering the myriad of co-creation possibilities with your Sneakers Maker, from studs, charms and tape, to design drawings, handwritten messages, and embroidered patches,—your imagination is the only limit.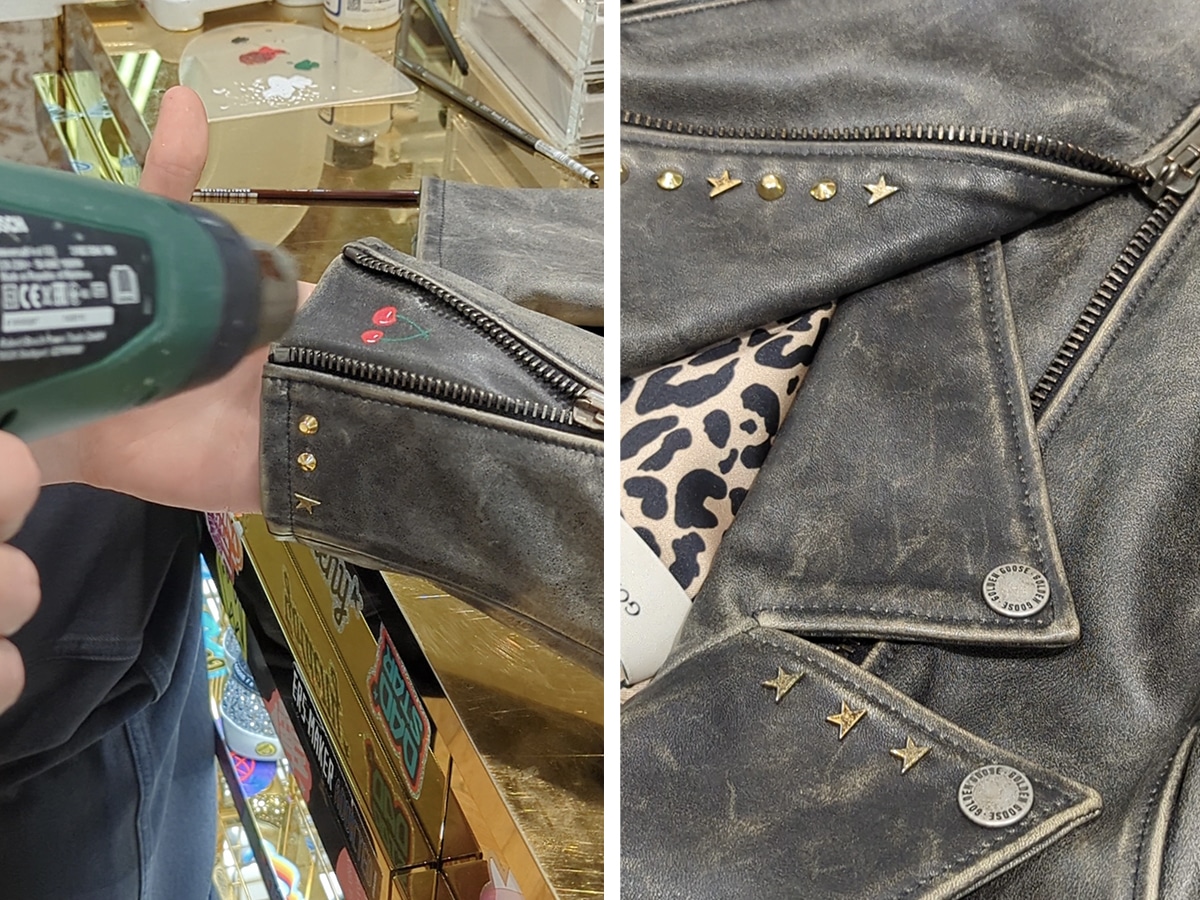 Step 4: Let the Co-Creation Begin
Finally, the big day arrives, filled with anticipation and a head buzzing with creative ideas. You are greeted by the friendly store staff and soon your Co-Creation experience will begin. The best way to describe it is that it's like a design consultation. Your experienced Sneakers Maker guides you through the process, attentively listening to your ideas and offering suggestions to elevate your design.
The co-creation station is almost like a library of design possibilities. Flip through design books, explore the studs and charms section, and peruse existing embroidered patches. It really is a thrilling experience, and we couldn't help but feel like a kid in a candy store.
Once you and your Sneakers Maker have finalised your design, the personalisation begins. In our case, Henry, our Sneakers Maker at the Golden Goose store in Westfield Bondi Junction, brought our vision to life. He meticulously hand-drew the designs, ensuring sizing and placement met our expectations. We opted for studs on the collar and cuffs, a golden 1of1 foil stamp, and two hand-drawn paintings (a smiley face on the back with the number 88 as the eyes and cherries on the sleeve in the zip compartment), all secured to the leather jacket in a manner that guarantees durability, even against the elements.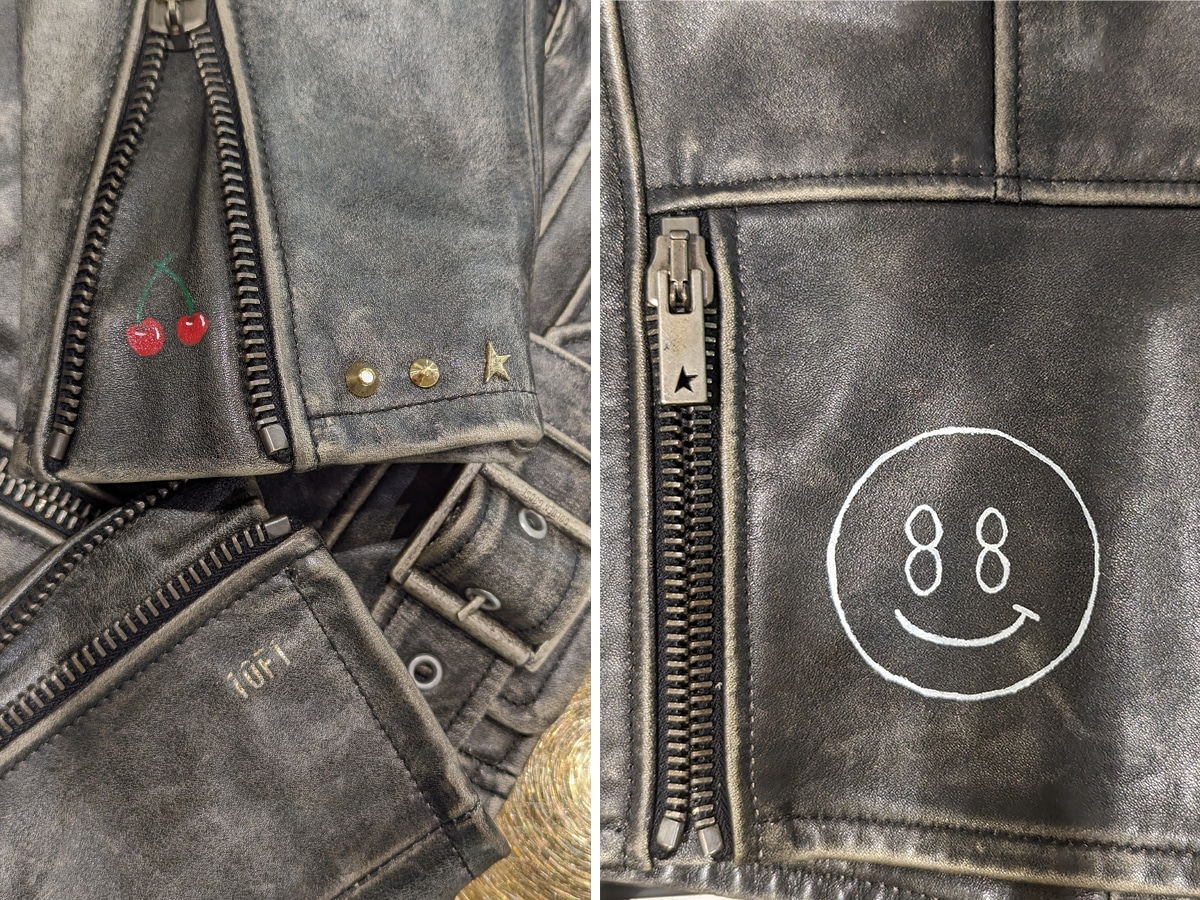 The End Result
The end result exceeded our expectations, and the sense of co-creating a one-of-a-kind luxury item—one that might accompany you for a lifetime—is the best, most remarkable feeling. This experience also makes for a perfect gift, whether you co-create an item before gifting it, or simply gift the co-creation experience itself. It's an unparalleled and unique adventure that we can't recommend enough.
The author of this article, Denise Barnes, was invited to experience a complimentary Golden Goose co-creation for the purpose of a hands-on review.