The Timeless Art of Corum Watches
When it comes to most timepieces, small details amount to big differences between brands. Not so with Corum. The Swiss watchmaker takes an approach to design and manufacturing that can aptly be described as avant garde or even revolutionary. Put simply: Corum makes watches like no other brand on the planet.
Corum first launched in 1955 in the mountainous town of La Chaux-de-Fonds, a place known primarily for hosting a slew of Swiss watch manufacturers. Flanked by legions of competitors, Corum must have known right off the bat that in order to stand out they needed a product like no other. Their mission was accomplished as early as 1958 with the debut of the Chinese Hat watch. Featuring an unmistakable pyramid shaped bezel designed after the head covers worn in China at the time, the Chinese Hat watch inspired not just public interest but a signature, experimental aesthetic that redefined what a sophisticated timepiece could look like.

Next up came the Admiral's Cup watch, which hosted an unmistakable square case and a sailboat on the back. That was followed by more experimental and innovative forays into the possibilities of material and design such as the 1964 Gold Coin watch and the 1976 Rolls Royce watch and then the benchmark Golden Bridge watch of 1980. Each iconic instalment by Corum essentially challenged all notions of what a refined timepiece could look like.

To this day Corum brings an indisputable outside-the-box mentality to every aspect of the process, and they're as committed as ever to bold innovation. Their watches are still heralded as triumphs of aesthetic brilliance and technical prowess. Wildly popular collections like the Admiral's Cup get upgraded and renewed on a frequent basis to worldwide acclaim. In essence, Corum never lost its innate sense of creative style and as such they never lost their following.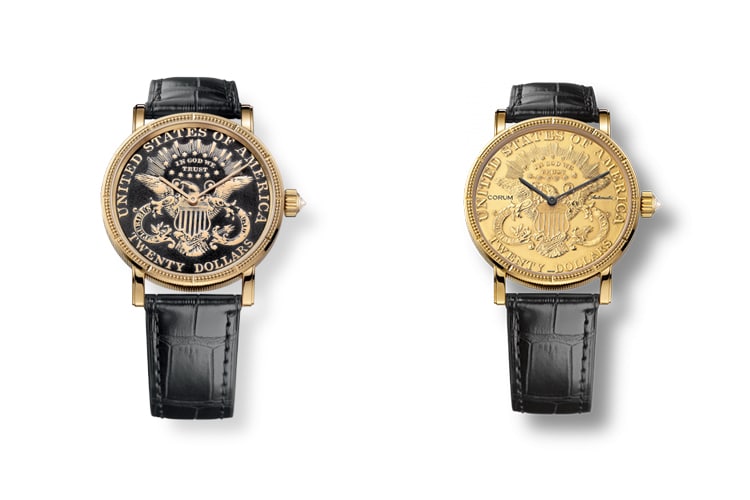 As lovers of all gear and especially gear that makes a big statement, we here at Man of Many are naturally quite familiar with Corum. Being major fans of the brand we'd like to share some of our favourites among Corum's latest releases.
2016 Golden Bridge Collection
Corum's most iconic collection (which is saying a lot) was born of sheer brilliance and a heroic determination to challenge convention. Taking the bulk of credit for all that genius is conceptual mastermind Vincent Calabrese, who set out to design a watch as revolutionary on the inside as it was on the outside. The result of his fearless creativity was an immaculate timepiece that somehow simultaneously exuded the best of minimalism and opulence, implementing top-shelf engineering and stripping away excessive features at the same time. The Golden Bridge Collection doesn't say "less is more" as much as it says "less is way, way, way more".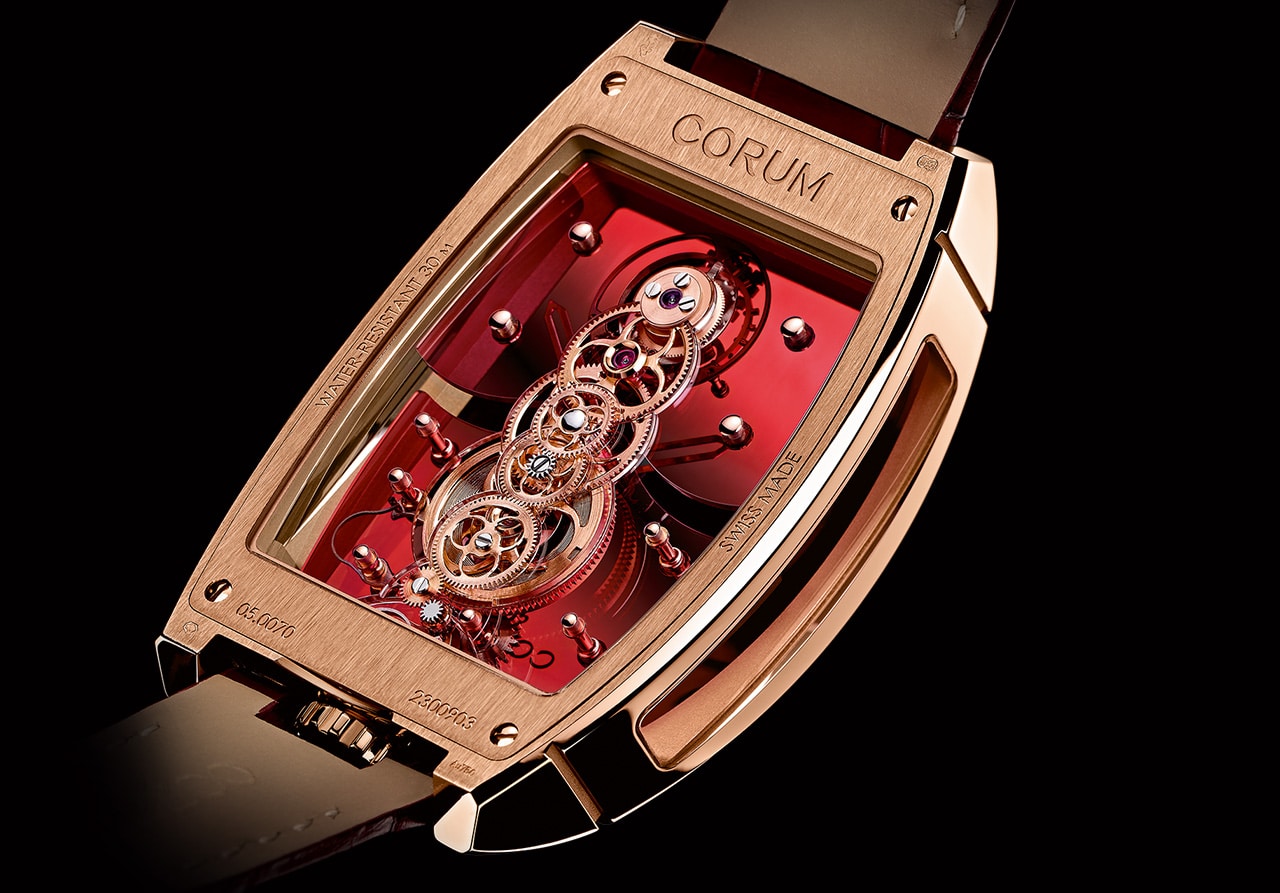 The original 1980 Golden Bridge watch is as eye-popping today as it was almost 40 years ago and the newer models are equally stunning. A radical mainstay of the timepiece includes the first-and-only hand-engraved baguette movement that uses linear gear trains isolated within a transparent exterior. Part of such innovative design was Calabrese's central idea that the case "shouldn't represent the coffin for the movement" and that there should be as few links as possible between the movement and its border. Hence the movement is attached only at the 12 and 6 o'clock position and otherwise left to float visibly in the middle. There are no dial markers and yet that only adds to the collection's charm and elegance. Each watch in the collection remains functional and precise but gets elevated through design to represent the possibilities of "gear as statement" to its fullest potential. The Golden Bridge Collection was extraordinary upon its release and remains extraordinary with each new instalment.

Bubble Collection
The Bubble Collection finds Corum in what might be considered a more playful mood. That equates to watches that are slightly more accessible but no less singular. Most of the pieces employ somewhat familiar features such as automatic movement and a stainless steel case. However, giving each watch its striking edge are mind-blowing visuals on the dial and then the use of domed sapphire crystal glass, which results in a "bubble" effect. And again, while the collection might exhibit Corum in its loosest state of mind, at no point does that mean sparing technical excellence or offering a timepiece that could come from any other brand.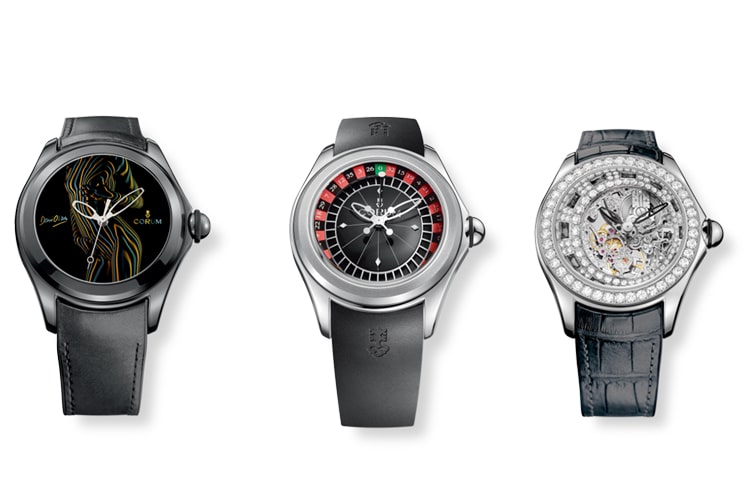 Admiral's Cup Collection
Since its head-turning, square-faced debut in 1960, the Admiral's Cup collection has been streamlined to represent Corum's "sport-chic" entry. That amounts to a timepiece that's both tirelessly fashionable and timelessly functional. Featuring a round bezel and plenty of sturdy engineering, the Admiral's Cup Collection is the perfect companion gear to the next sailboat race at the Hamptons or something like the Sydney Racing Carnival. Some entries emphasise a globetrotting theme by including Corum's famous coloured flags on the dial along with a worldtimer. Other selections focus on functional specs like chronograph movement and NATO straps, while yet other entries go heavy on high fashion by way of rose-gold diamond-studded bezels and mother of pearl dials. No matter which timepiece you choose from this collection, rest assured you're strapping one of the greatest watches and brands in the world around your wrist.