18 Best American Watch Brands
It wasn't too long ago that a list of the top American watch brands might have included just a handful of names. However, that's all continuing to change as more and more companies enter the fold, bringing exceptional designs and quality mechanics along with them. Are we in European territory just yet? Not even close. But let's give it another decade and see what happens to the list of the world's best watches.
Meanwhile, American-made watches have more history behind them than first meets the eye. In fact, there was once a time when the best American watch brands were giving European counterparts a run for their money. Perhaps these new US watch brands can help a once-dominant industry reclaim its former glory.
Of course, we're not ready to shout "don't call it a comeback!" from the rooftops just yet. After all, even the tippy-top American watch brands don't carry the same recognition factor as names like Rolex, TAG Heuer, IWC, Officine Panerai, and so on. But don't take that to mean you won't find the same tier of quality—you just might have to look a little harder. To get you started, here are 19 of the best American watch brands.
The Difference Between US and Swiss Watches
We know, we know: just get to the best American watch brands already! To which we might respond: you're welcome to scroll down, buddy! For everyone else: a brief history lesson, and we say that because the main difference between US and Swiss watchmaking does indeed boil down to history.
You see, by the end of the 19th century, the US was at the forefront of global watchmaking. Whereas all the big European players were sourcing their parts from various manufacturers, top American brand Waltham Watch Company manufactured everything in-house, using specific machines to perform specific functions. It was quite a revolutionary development, to say the least.
Even before that, US watchmaking was considered to be ahead of the curve, so much so that Swiss engineer Jacques David visited America in 1870 to spy on the industry. Upon his return, David reported that the Americans were way ahead of the Swiss when it came to mass production, in particular. He and his cohorts wasted no time in implementing the tricks he'd picked up while abroad.
Despite Switzerland's progress and subsequent ascent, American watchmakers continued to innovate and dominate through the first half of the 20th century. Then the US entered WWII and its watch factory machines were forced to pivot, making artillery shells and military instruments instead of timepiece components. In turn, the entire American watch industry collapsed.
Being a neutral territory, Switzerland wasn't about to let a little global warfare get in its way. As such, Swiss watch brands surged ahead with their innovations and developments. These same brands were also free to export their watches, having been granted permission to do so by the Nazi government.
Barring a few heritage brands, the American watch industry was all but extinct by the end of the 20th century. Yet from the ashes of history has come a slate of new players, many of whom are putting American-made watches back on the map. And that's where we are today.
Best American Watch Brands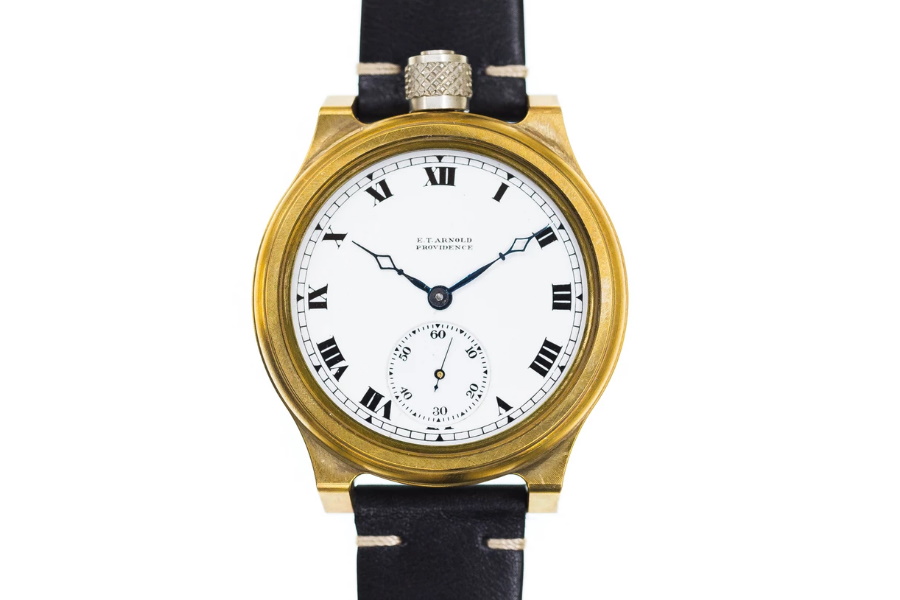 1. Vortic Watches
What do you get when you combine modern 3D printing technology with vintage American designs? Vortic Watches, that's what. Not only do they deliver a slate of classical, ready-made stunners, but they'll even convert your old pocket watch into a unique original. It all goes down in the brand's home town of Fort Collins, Colorado.
Man of Many Recommends: The Springfield 204 (46mm)
Diameter: 46 mm
Water Resistance: 1 ATM
Price: US$2,295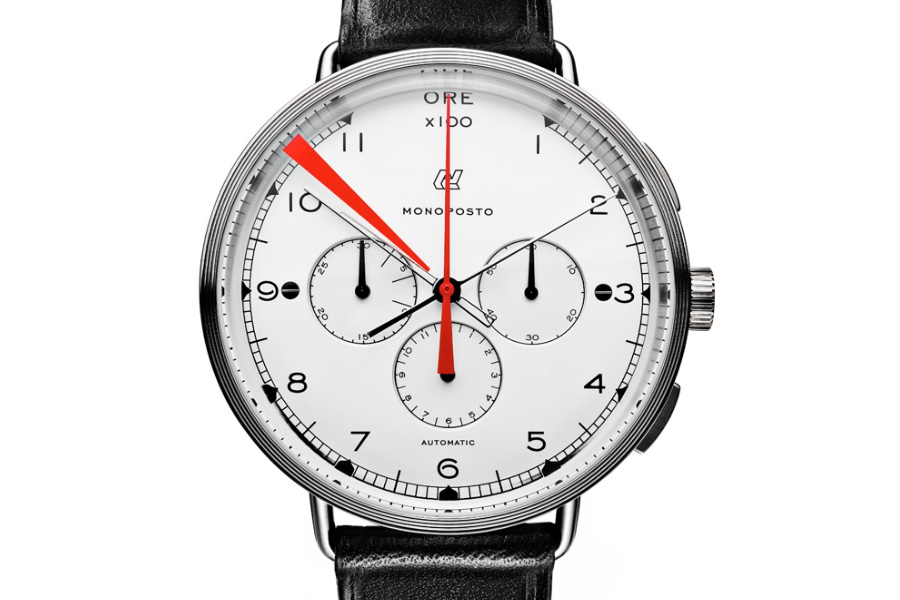 2. Autodromo
Like a number of European counterparts, Autodromo bridges the gap between motorsport and horology. Unlike a number of European counterparts, these watches are gimmick-free and affordable. Influenced by 1960s and 1970s dashboard gauges, each one sticks to the basics to superb effect. Opt for a quartz-powered model and you'll get a signature timepiece for under $1000.
Man of Many Recommends: Monoposto Automatic Chronograph Silver Dial
Diameter: 40 mm
Water Resistance: 5 ATM
Price: US$695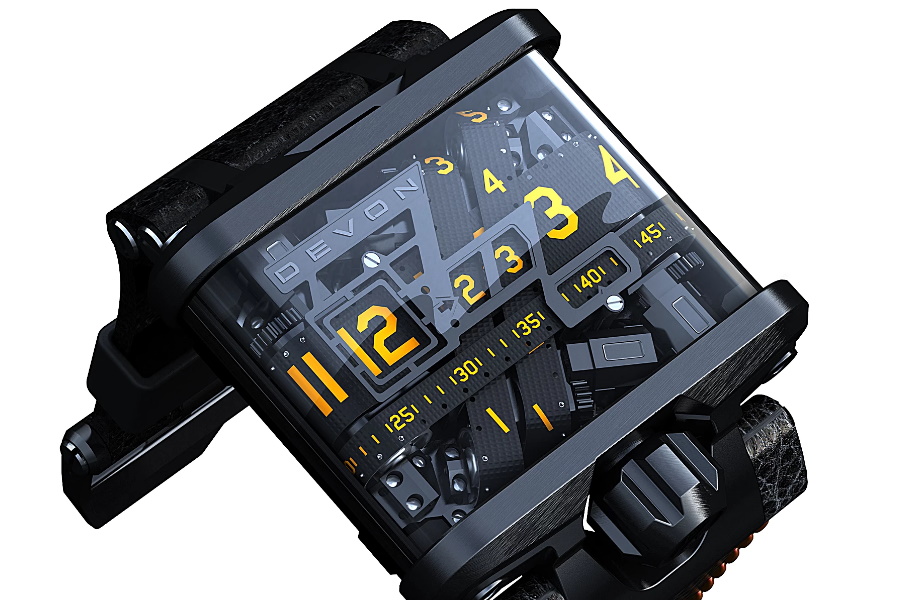 3. Devon
If absolute distinction is your thing, then Devon is your American watch brand. Occupying the higher end of the spectrum, this US-based manufacturer gets downright avant-garde in terms of form and function alike. In fact, the brand doesn't even refer to some of its own products as "watches," calling them "time belts" instead. Accordingly, models like the Tread 1D look and operate like micro-sized conveyer belts. Things only get funkier from there.
Man of Many Recommends: Tread 1
Diameter: 53.3 mm (Tread 1F)
Price: US$19,950 (Tread 1F)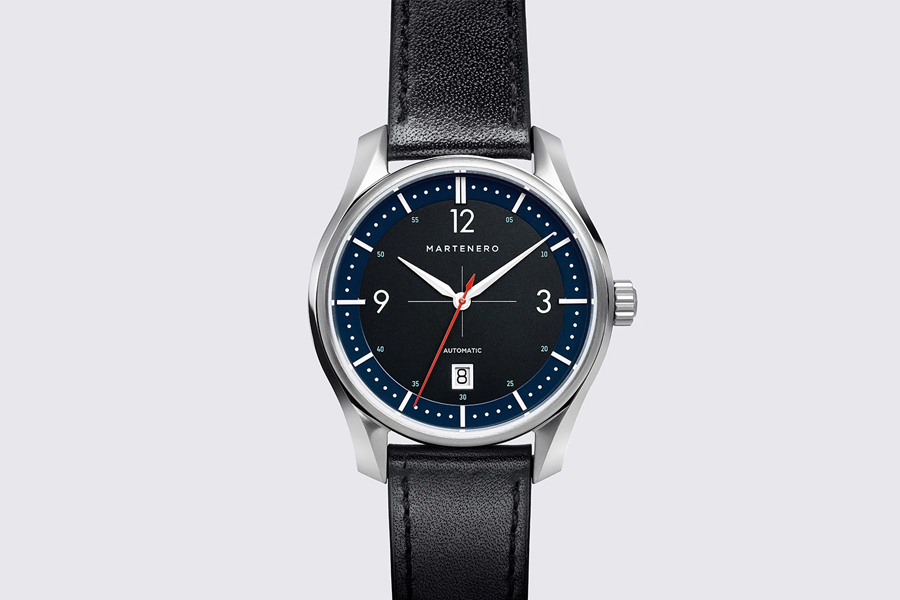 4. Martenero
Martenero founder John Tarantino left his post in real estate to launch this top American watch brand in 2014. Thanks to the crowd-funding platform SeedInvest, Tarantino was able to secure the capital he needed. Jump ahead five years and the brand is still going strong by way of its minimalist designs and affordable prices. Classic!
Man of Many Recommends: Kerrison Black
Diameter: 42 or 38 mm
Water Resistance: 5 ATM
Price: US$595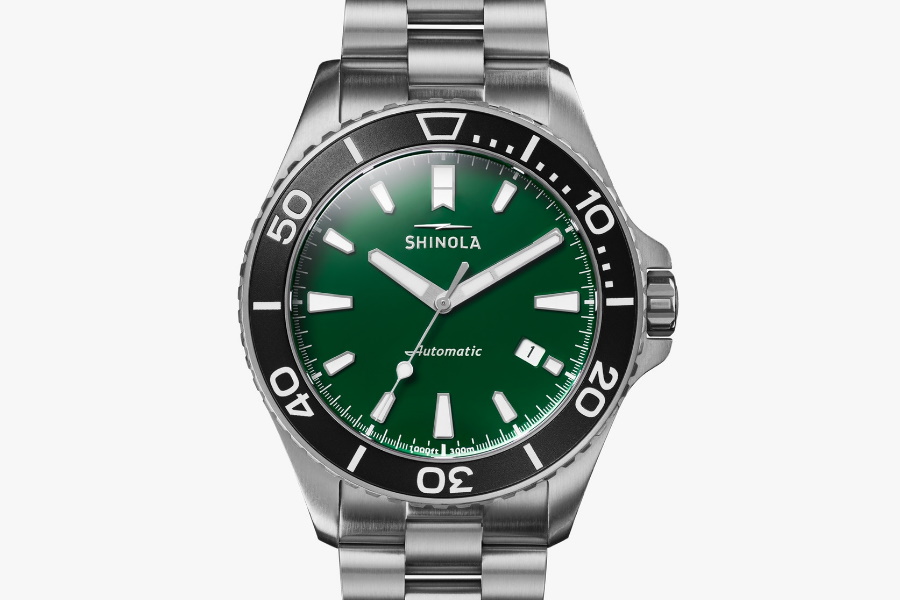 5. Shinola Watches
We love pretty much everything from Shinola and the brand's timepieces are no exception. If you're looking for Detroit-made American watches, this is technically where you'll find them. However, it should also be noted that despite having a factory in Detroit, Shinola (infamously) sources parts from Europe and Asia. Nevertheless, the brand has played a vital role in rejuvenating Detroit and that's no small accomplishment. Plus, who can argue with Shinola's clean designs and affordable price tags?
Man of Many Recommends: The Lake Ontario Monster Automatic 43mm
Diameter: 43 mm
Water Resistance: 30 ATM
Price: US$1,450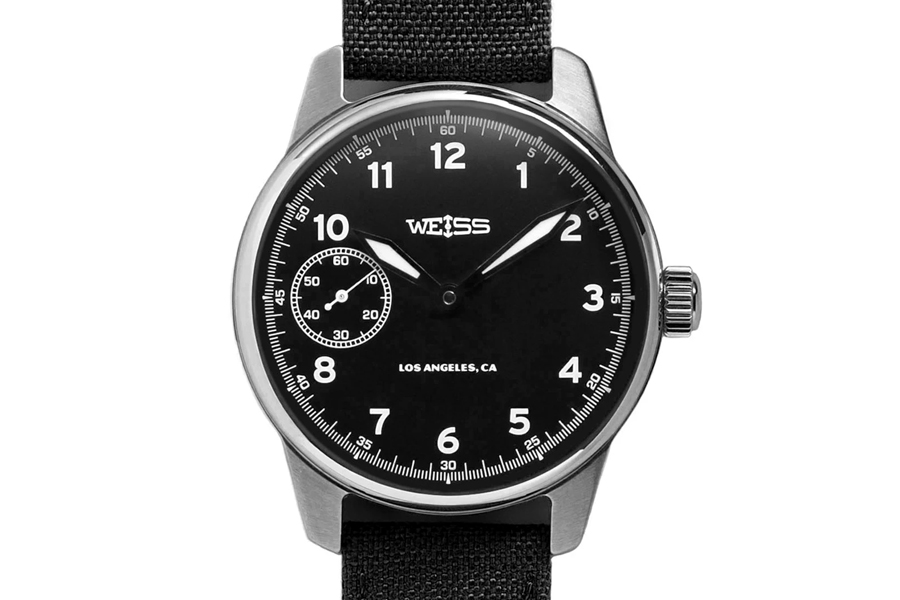 6. Weiss Watch Company
The American horological tradition lives and breathes at Weiss Watch Company, where exceptional field watches are made by hand. Picking up where its historic predecessors left off, the brand utilises premium materials and old industry methods. From the 316L stainless steel cases to the solid brass dials to the domes of sapphire crystal, these American mechanical watches emanate with pure craftsmanship.
Man of Many Recommends: 42mm American Issue Field Watch Black Dial on Black Cordura
Diameter: 42 mm
Water Resistance: 10 ATM
Price: US$2,400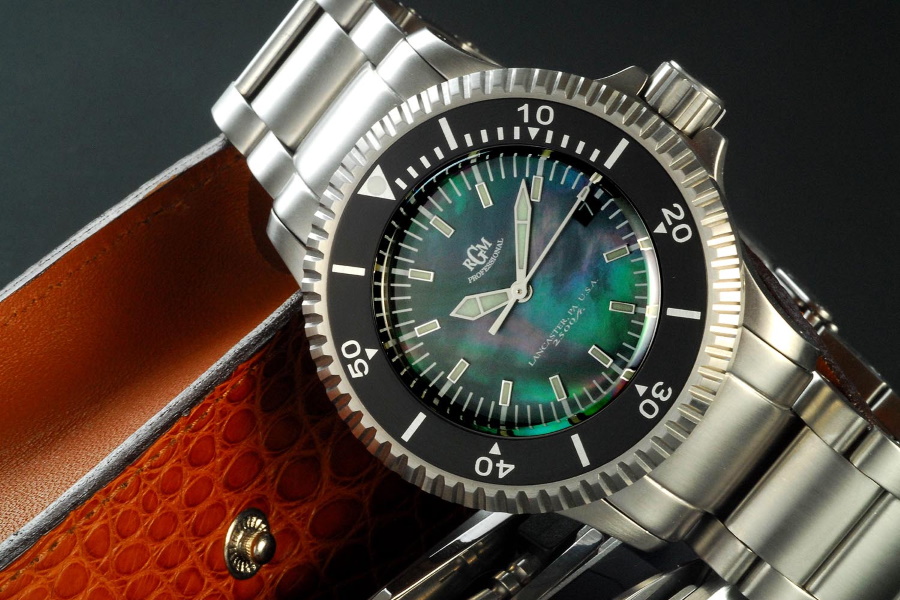 7. RGM
One of the best American automatic watch brands you can buy, RGM first launched in 1992. That makes it a groundbreaking company of sorts, which emerged when there were no other start-ups around. Founder Roland G. Murphy injects his passion into every model and it shows. For prime movements and bold but classical designs, look no further.
Man of Many Recommends: Model 300 Professional Diver
Diameter: 43.5 mm X 17.0mm
Water Resistance: to 2500 feet
Price: US$3700 and up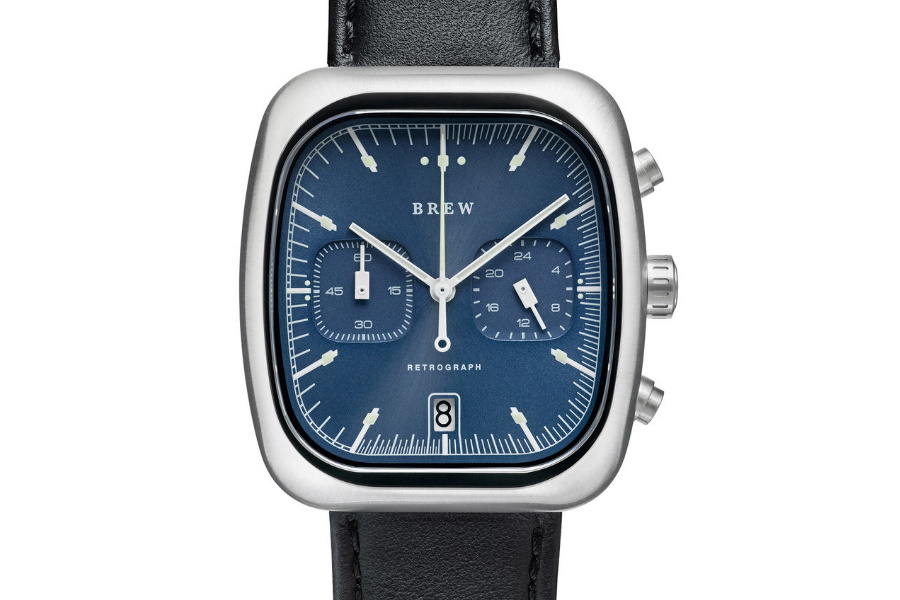 8. Brew Watch Co.
Inspired by espresso machines and coffee breaks, former Movado intern Jonathan Ferrer launched his new microbrand on Kickstarter in 2015. Two years later, he began shipping his first units. However, it wasn't until the release of the Retrograph collection that Brew Watch Co. really began to shine. Each rectangular model is powered by Seiko meca-quartz movement and-assembled by Ferrer in his Brooklyn studio.
Man of Many Recommends: Retrograph Cobalt
Diameter: 38 mm x 41.5 mm
Water Resistance: 5 ATM
Price: US$350
9. Kobold Watches
Kobold Watches is an American brand that Aussies will love. Taking his penchant for adventure to extremes, founder Mike Kobold and his wife wore his watches on a climb up Mt. Everest. It was both a product test and money-raising campaign for the Navy Seals Fund, which shows you where Kobold's heart is at. That these classic American watches are durable basically goes without saying. They're also quite affordable.
Man of Many Recommends: Sir Ernest Shackleton
Price: US$3,650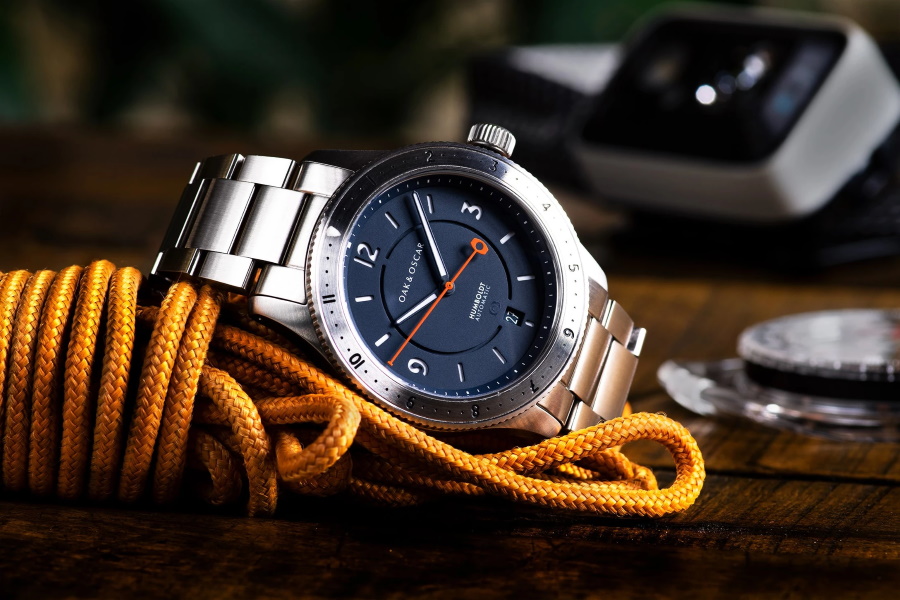 10. Oak & Oscar
Pairing his love of barrel-aged bourbon with a devotion to his dog (named Oscar), Chase Fancher left his job in real estate to found one of the best American watch brands. That was 2015 and This Blacked-Out Custom Rolex Datejust II is Truly MAD has been killing it in the time since. There might be Swiss-made movements under the skin, but the brand's signature designs clearly hail from the American tradition.
Man of Many Recommends: The Humboldt
Diameter: 40 mm
Water Resistance: 20 ATM
Price: US$1,750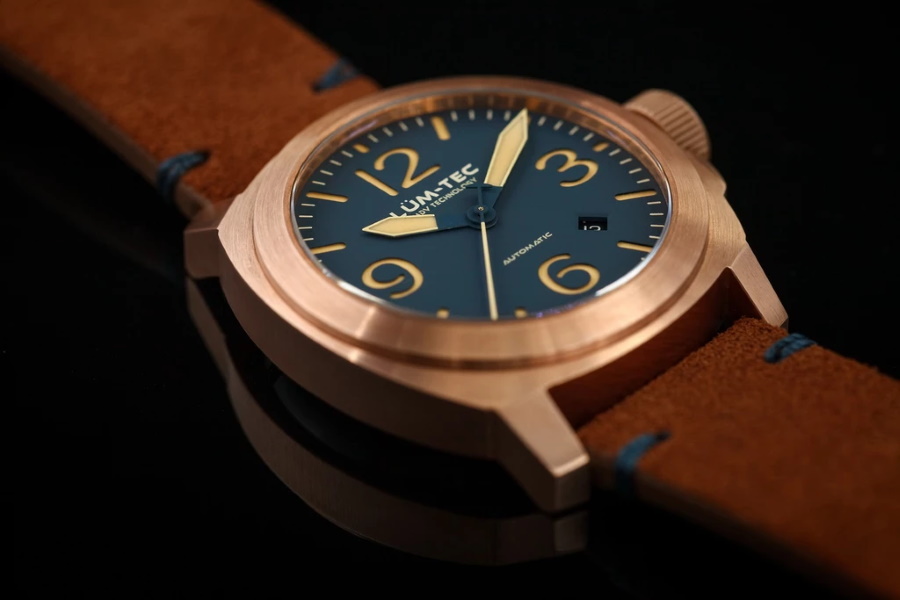 11. Lüm-Tec
True to their name, Lüm-Tec watches pack bright dials and steadfast mechanics into cases of surgical-grade stainless steel. This family-run operation is a subsidiary of Wiegand Custom Watch, LLC, which has been hand-crafting watches out of Ohio for over a decade. Buy with confidence!
Man of Many Recommends: M84 Bronze
Diameter: 44 mm
Water Resistance: 20 ATM
Price: US$1,095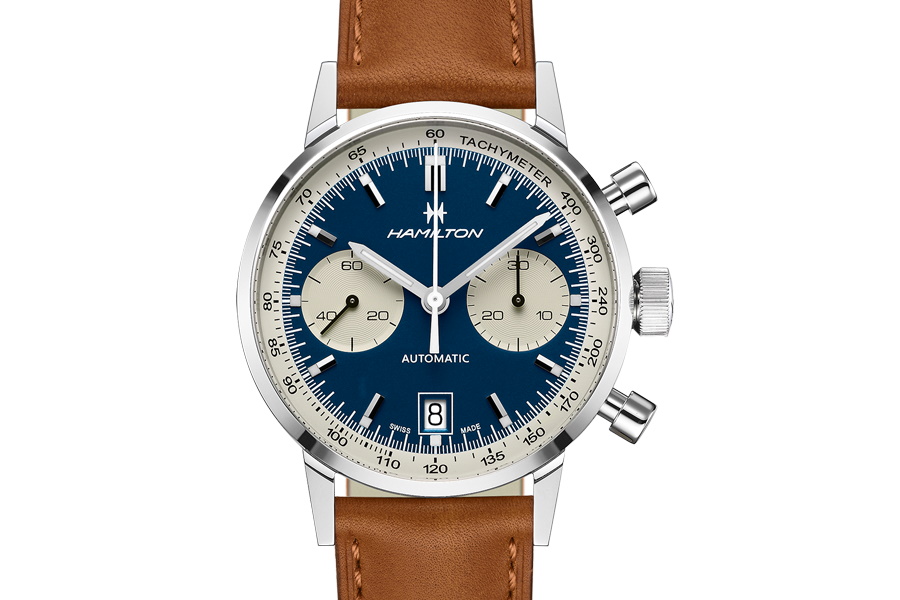 12. Hamilton
Despite its American name and origins, Hamilton is Swiss-owned and Swiss-made. Nevertheless, the "born in Pennsylvania" vibe persists. Speaking of which, the brand goes all the way back to 1892, when watchmaking was integral to the American tradition. Nowadays, each model represents a balancing act between Swiss mechanics and the American spirit and that definitely works for us.
Man of Many Recommends: American Classic Intra-Matic Auto Chrono
Diameter: 40 mm
Water Resistance: 10 ATM
Price: US$2,195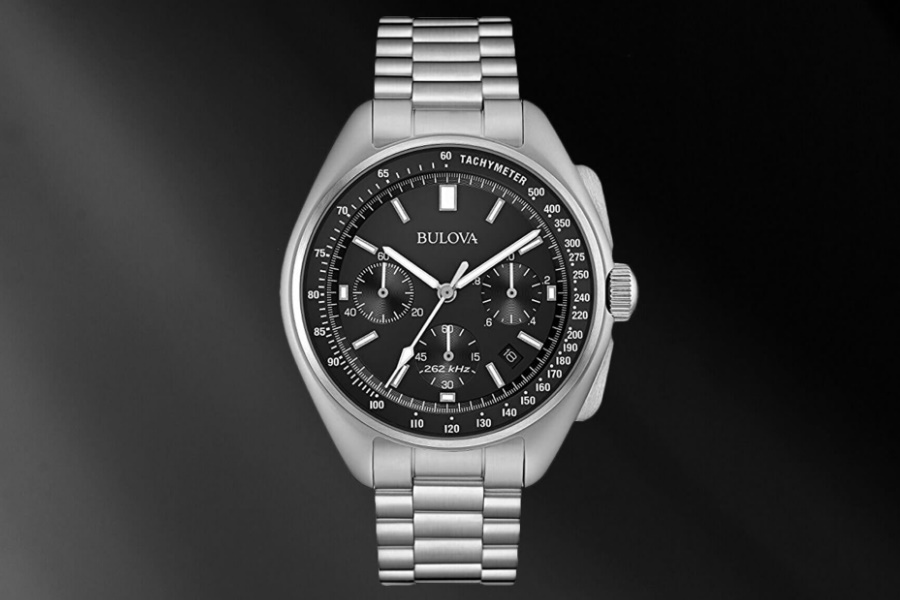 13. Bulova
A number of the best American watch brands popped up over the last decade or two, but not Bulova. Founded in 1875, it was an early pioneer of tuning-fork technology, among other things. Currently owned by Japan's Citizen Watch Co., the brand remains nevertheless driven by its original core principles of American craftsmanship and innovation.
Man of Many Recommends: 96B251 Special Edition Lunar Pilot Chronograph Watch
Diameter: 45 mm
Water Resistance: 3 ATM
Price: US$675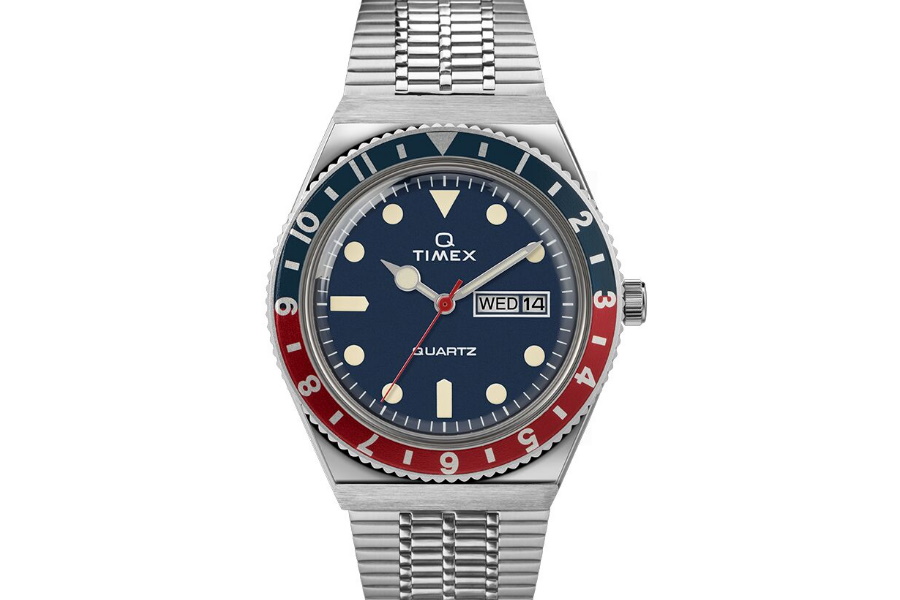 14. Timex
While on the subject of heritage brands, this list wouldn't be complete without Timex. What began as the Waterbury Clock Company in 1854 went on to become one of the most iconic and powerful watch conglomerates in the world. To this day, these affordable American watches take a licking and keep on ticking. Fun fact: the name "Timex" was derived as a portmanteau of Time Magazine and Kleenex tissues.
Man of Many Recommends: Q Timex Reissue 38mm Stainless Steel Bracelet Watch
Diameter: 38 mm
Water Resistance: 5 ATM
Price: US$179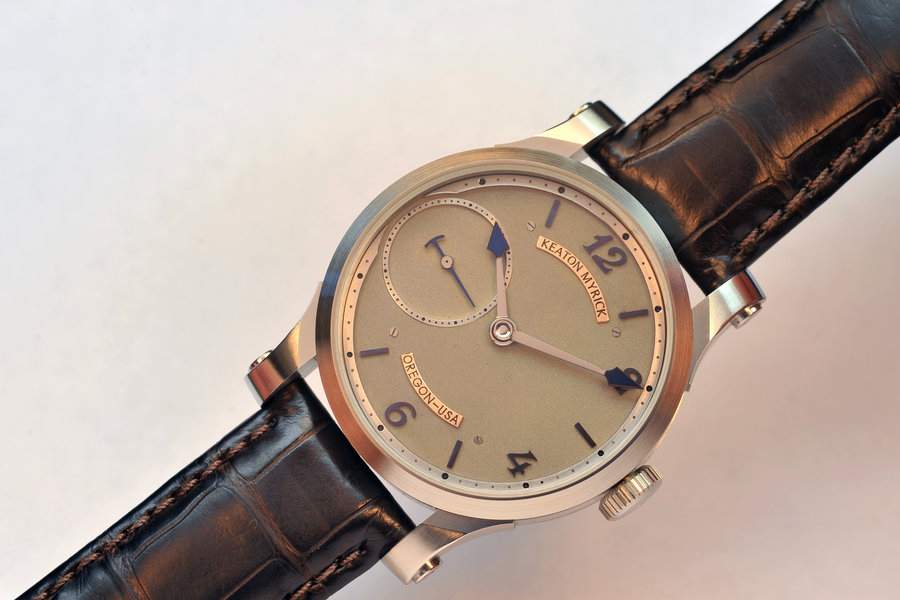 15. Keaton Myrick
Independent watchmaker Keaton Myrick is a quintessential American craftsmen, who lives and works in Portland, Oregon. His hand-crafted mechanisms and timepieces are quite simply the stuff of legend. Take the Caliber 29.30 for example, which is designed, manufactured, and finished in-house. This is what horological dreams are made of.
Man of Many Recommends: Caliber 29.30
Diameter: 42 mm
Price: US$21,500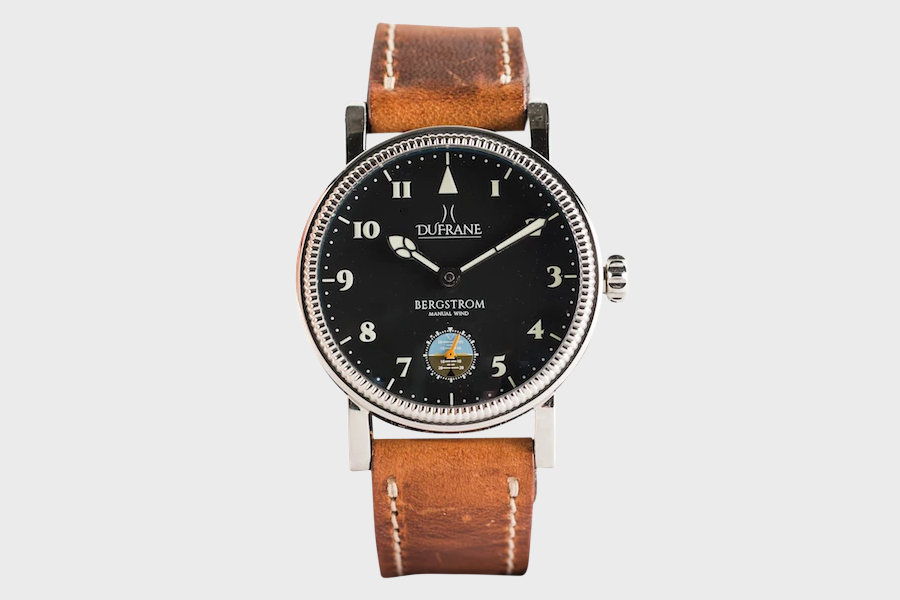 16. DuFrane
Austin-based Dufrane Watches prides itself on delivering an extra tier of aesthetic distinction, all while retaining a completely approachable edge. To that end, models like The Barton Springs 656 or Bergstrom Cinq strike a masterful balance between eye-popping uniqueness and seamless versatility.
Man of Many Recommends: Bergstrom Cinq
Diameter: 41.5 mm (no crown), 44.5 mm (with crown)
Water Resistance: 5 ATM
Price: US$1,299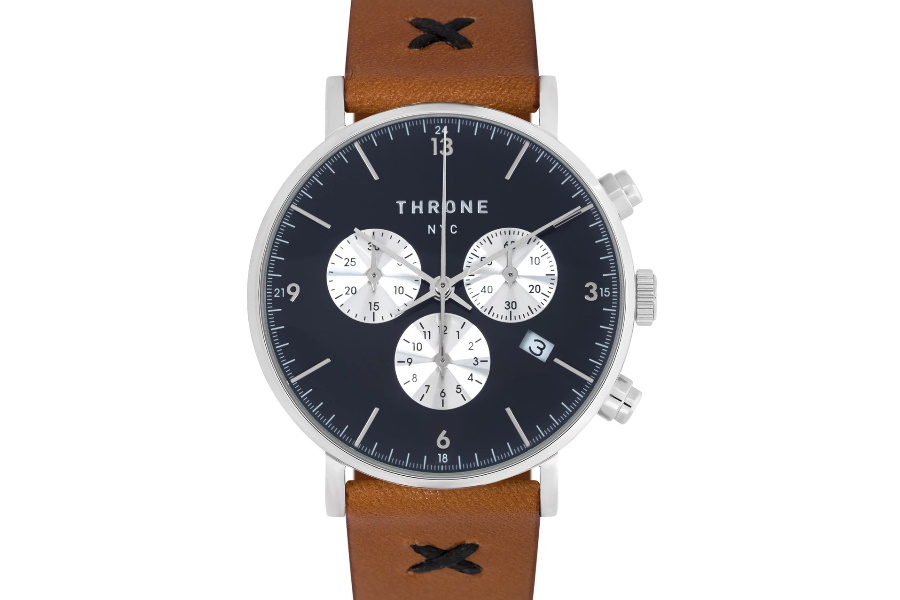 17. Throne
Picture some dudes hand-making quality watch bands in a small East Village apartment in 2013 and you have a good idea of how Throne began. Experiencing a surge in demand, they relocated to a workshop and soon churned out their inaugural timepiece to massive success. Things have only improved in the time since, making this boutique operation one of the best American watch brands you can find. Throne is an American watch company to definitely keep your eye on.
Man of Many Recommends: Ramble 2.0
Diameter: 40 mm
Water Resistance: 5 ATM
Price: US$295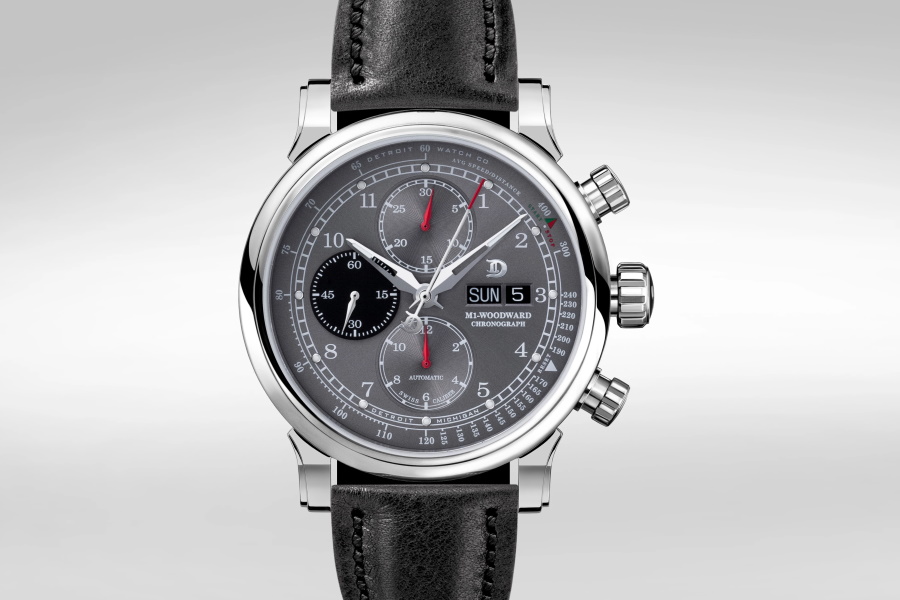 18. Detroit Watch Company
Will Detroit become a hub of American watchmaking in the near future? It's not beyond the realm of possibility, thanks to brands like this one. Indeed, Detroit Watch Company infuses every model with the spirit of the city itself, which is also where assembly takes place.
Man of Many Recommends: 44mm M1-Woodward® Sunburst Gray Dial
Diameter: 44 mm
Water Resistance: 5 ATM
Price: US$1,895
You might also like:
100 Best Watches Under $1,000
40 Best Minimalist Watches for Men
21 Best Watch Blogs
General FAQ
What watch brands are made in the USA?
A few great american watch brands are Weiss Watch Company, Shinola Watches, Vortic Watches, and RGM.
Is Timex American made?
Timex is headquartered in Connecticut and the 'American Documents' collection is assembled in America using a Swiss-made movement.