Legendary Swiss watchmaker TAG Heuer was built in 1860 on the respective pillars of family leadership and technical innovation. After setting up shop on his family farm, founder Edouard Heuer wasted little time in manifesting both these pursuits. In 1882, he patented his first chronograph. Just a few years later, he improved upon the "oscillating pinion" of a stopwatch, which starts and stops the chronograph at the push of a button. Mechanical chronograph makers are still using Heuer's oscillating pinion to this day.
As the world advanced into the early 20th century, so too did TAG Heuer. Precision and accuracy were fundamental to athletics and military operations alike, and the watchmaker straddled each of these worlds with seamless panache. For starters, they continued to improve upon the design and performance of their iconic stopwatches. They also revolutionised dashboard instruments aboard aircraft and automobiles, which would become a massive part of the brand's ongoing identity.
Over the subsequent decades, TAG Heuer moved further into wristwear without losing their core focus on innovation, precision, and family leadership. In 1949, they introduced the Solanar, a wristwatch that could track the phases of the moon and timing of the tides. It quickly became an indispensable resource amongst hunters, sailors, and fishermen.
All the while, the brand kept innovating. In 1957, they developed an entirely new type of stopwatch, which featured interchangeable rings. Each ring employed a different colour so that the owner could swap it in or out based on the timing of specific events.
Precision. Innovation. Family leadership. One year later, Jack Heuer would take the helm and retain these founding principles, simultaneously ushering in a new era. The world of watchmaking hasn't been the same ever since.
The 1963 TAG Heuer Carrera Chronograph
To this day, TAG Heuer remains synonymous with two uniquely exciting worlds: horology and motorsport. Nowhere is that more palpable than through the brand's coveted Carrera Series. Derived from the Spanish word for "race" (or "career"), the signature watch first launched in 1963 from the mind of Jack Heuer himself. It paid direct tribute to the Carrera Panamericana, which ran from 1950 to 1954 and became known as world history's most dangerous race.
When crafting the first Carrera, Heuer drew inspiration from the instrument panels of professional racing cars. An obsession with modern architecture and design also came into play. Ultimately, Heuer aimed to achieve the ideal balance of purity, simplicity, and performance. Poring over every detail, he incorporated 1/5 second demarcations upon the newly developed outer crystal ring. When paired with recessed recording dials, it generated an enhanced tier of legibility and 3-dimensional depth.
A masterpiece of precision, the original Carrera was also quite stylish. It's only become more so in the time since, as TAG Heuer incorporates new details and mechanics while staying true to the initial design language. The series now divides itself into two unique collections: Chrono Sport and Chronograph. On the watchmaker's 160th anniversary, they've introduced stunning new models into both respective families. These might very well be TAG Heuer's most advanced timepieces to date and that's saying a lot, given the brand's esteemed history.
TAG Heuer Carrera Chrono Sport Calibre HEUER02 Automatic 44mm
Equal parts bold and sophisticated, the new Carrera Chrono Sport brings impeccable heritage into modern terrain. Whether you're speeding around the race track or hitting up the nearest lounge, this watch completely delivers on all fronts. Amongst the four new models, one premium iteration stands out from the pack. It places 18K 5N rose gold accents within a black brushed framework and sets a new standard for masculine luxury.
Precision and performance are at the heart of this range and that's why it's one of the few watches actually worn by racing pros. With elongated parallel lugs, new pushers, and a metal crown, the model is more resilient than ever before. Under the skin is Heuer 02 calibre with an automatic column-wheel chronograph function. Bearing the benchmarks of exacting quality, the automatic movement produces an 80-hour power reserve.
Sporty in essence perhaps, but the new Carrera Chrono Sport also makes for a glorious sight. Heuer's original intent of clean simplicity is on full display and it renders a powerful impression. There's something so quintessential about the graceful interplay between the stainless steel case, ceramic fixed bezel, and symmetrical dial face.
TAG Heuer's latest is also legible on the grandest of scales. Thanks to refined indices and hands, the dial face catches the light with newfound precision, offering improved readability at breakneck speeds. The domed and beveled crystal sapphire features double anti-reflective treatment, which likewise improves legibility. Everything coalesces with absolute harmony. Your heart beats a little faster just by looking at this piece.
Case: Steel Fine-Brushed/Polished
Bezel: Fixed Bezel Ceramic
Case back: Sapphire – Steel
Crown: Black PVD coated steel
Diameter: Ø 44mm
Water Resistance: 100m
Movement: Automatic chronograph
Band: Steel Fine-Brushed/Polished or Black Alligator Leather
TAG Heuer Carrera Chronograph Calibre HEUER02 Automatic 42mm
Paring the mighty Carrera down to its purest form, the new Chronograph Collection serves up a masterclass in minimalism. While true to its core aesthetic, the latest model employs new finishes and lugs, two steel push buttons, and a metal crown. Luxurious at first sight, the watch nevertheless retains its sporty underpinnings.
Like the Chrono Sport, the new Carrera Chronograph comes powered by in-house movement with an 80-hour power reserve. Both collections also feature lume on the hands and markers, which takes on a vibrant green glow when the lights go out.
The updated Chronograph range consists of four models, including two prestige entries. One features a sunray-brushed dial of pure anthracite, while the other employs luxurious rose gold accents. Both are presented on premium alligator straps, cranking up the elegance factor. Sporty dress watches simply don't get any better than this.
Case: Steel Fine-Brushed/Polished
Bezel: Fixed Bezel Steel
Case back: Steel
Crown: Black PVD coated steel
Diameter: Ø 42mm
Water Resistance: 100m
Movement: Automatic chronograph
Band: Steel Fine-Brushed/Polished or Alligator Leather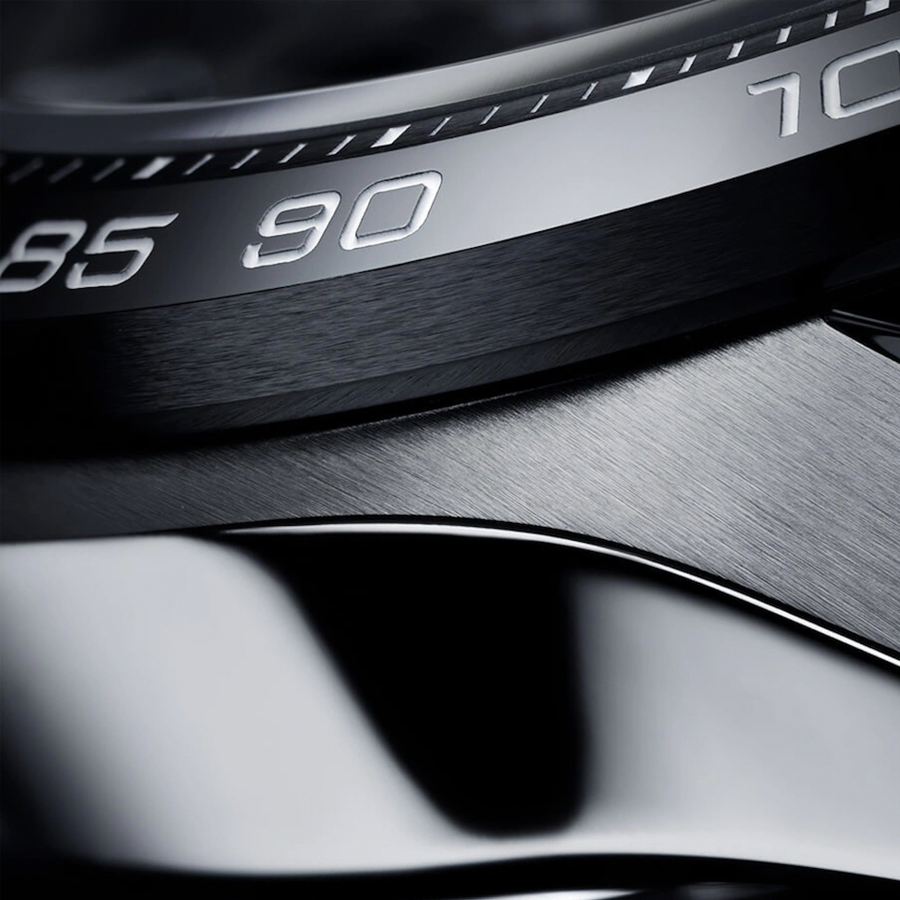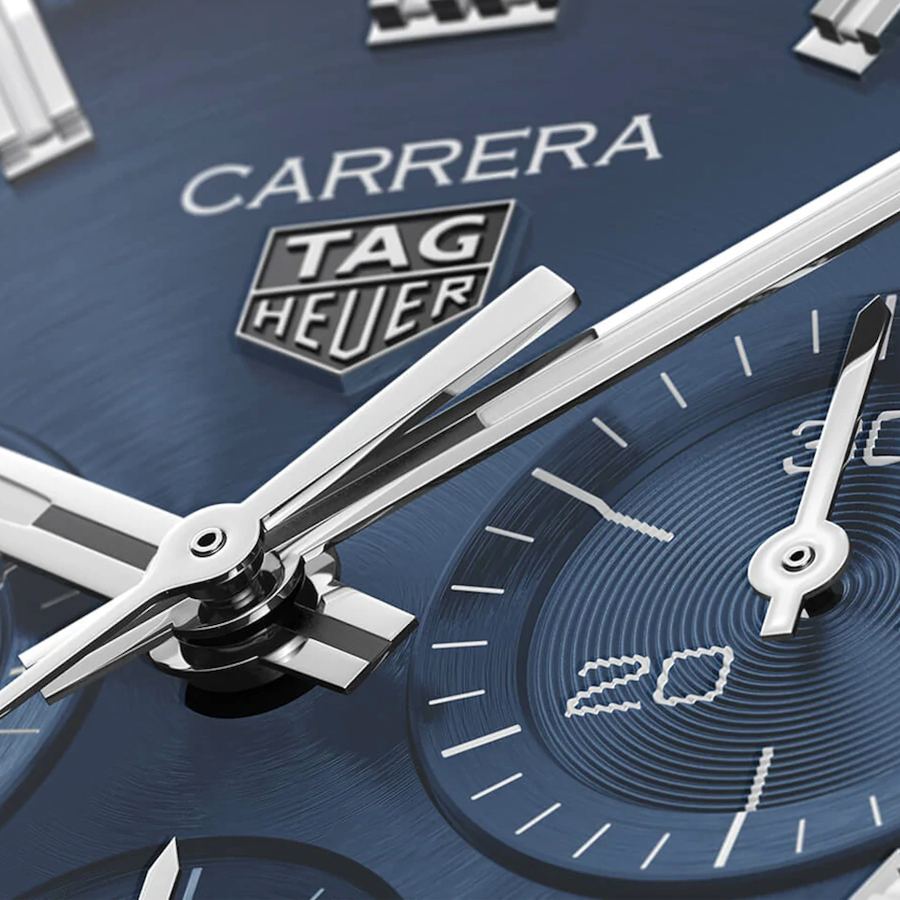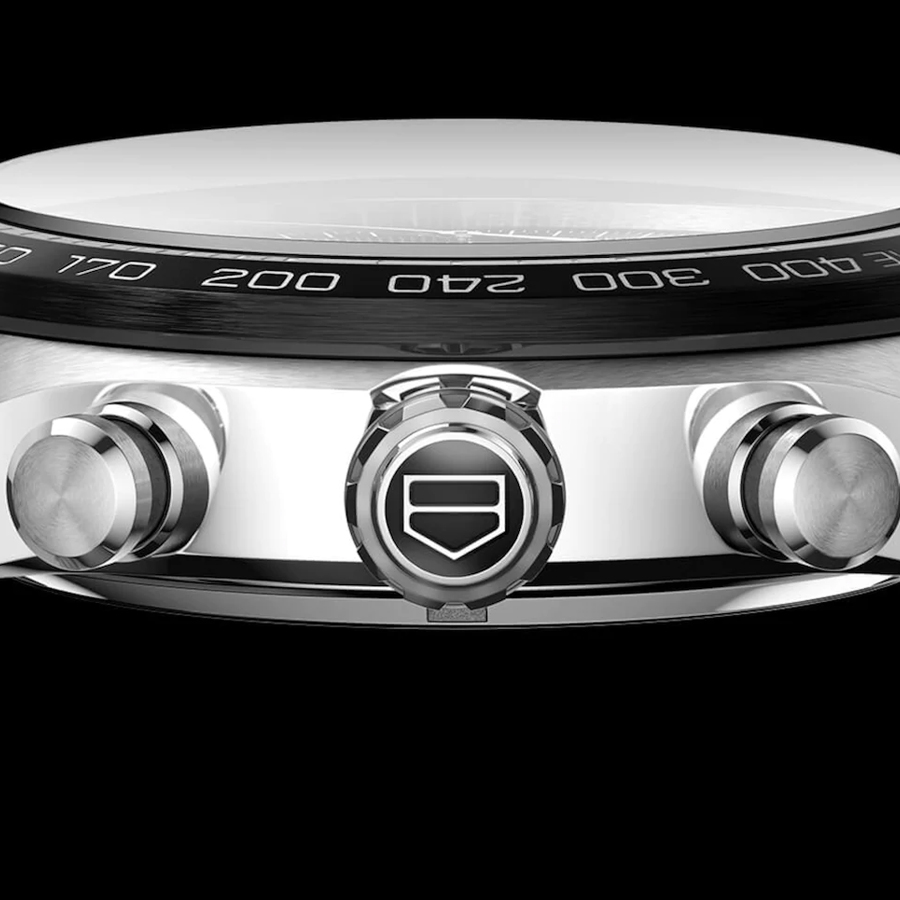 TAG Heuer was founded on the spirit of innovation and it continues to push boundaries, one choice detail at a time. With the new Carrera, the brand takes measured strides so as not to upset the family's core design. Touting new finishes, steel pushers, and enhanced markers (amongst other things), the range reinforces foundational values even as it breaks new ground. Each watch is nothing if not a living testament to the ongoing allure of precision, symmetry, and purity.
Whereas other racing-inspired watches resort to gimmickry, the Carrera actively avoids it. By staying true to the range's very essence, TAG Heuer has perfected the art of sporty wristwear. In the process, they've also created one of the world's best dress watches. There's no place you can't take this timepiece and that's part of its appeal.
It's all par for the course over at TAG Heuer. Since 1860, the brand has refused to rest on their proverbial laurels. Every heritage release is purposefully designed to carry the torch forward without forgetting the past. One can draw a direct line from the new Carreras all the way back to Edouard Heuer's earliest patents. The DNA of this iconic Swiss watchmaker is truly second to none.
On their 160th anniversary, TAG Heuer has released their most advanced watch yet. Choose between four new Carrera Chrono Sports or four new Carrera Chronographs. Available now, both collections strike a prime balance between luxury and performance. Our personal favourite might very well be the Black and Rose Gold Chrono Sport. A brilliant study in contrasts, it delivers everything a modern man wants out of a Swiss watch.
No matter where you land, expect uncluttered layouts, premium materials, and timeless design. Powering each watch is stellar in-house movement, the kind of which can only come about through centuries of experience. However, don't you dare mistake this brand for an archetypal old-timer. Despite their distinguished history, TAG Heuer continues to prove themselves young at heart.