Melbourne is in the middle of its summer and despite its well-known temperamental weather, the sunny days are more consistent. So why not enjoy the longer days and summery nights? It's always better coupled with a view of the creative Melbourne cityscape.
RELATED: 20 Best Rooftop Bars in Sydney
Alumbra
In Docklands at the end of the Central Pier sat an old warehouse, which has been given new life. Transformed into a luxurious penthouse-like bar with a waterfront, Alumbra is now a go to destination on Saturday nights and all day Sunday. Inspired by New York City, the interior is reminiscent of the vivid neon lights that are quite prevalent in NYC clubs. The Sunday food menu gives off a NYC feel with many of its selections inspired from famous NYC Street eats. Follow this with a stroll along the pier with The Wall Street Bailout or a Central Park Walk cocktail and enjoy the sights of Docklands and the sounds from the DJ.
Shed 9, Central Pier, 161 Harbour Esplanade, Docklands
Bomba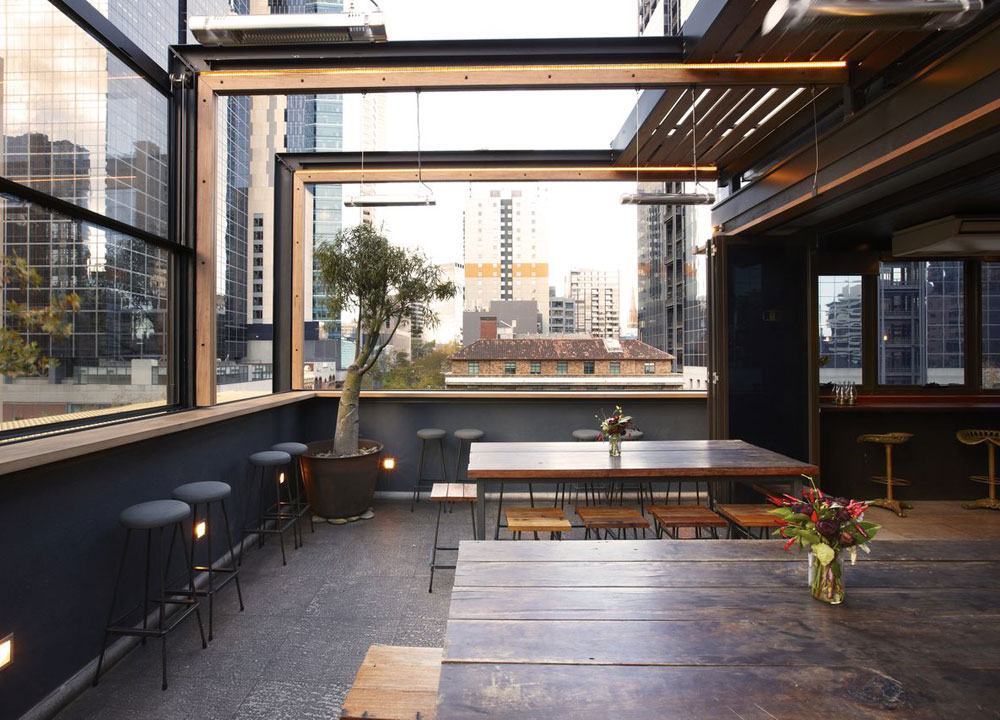 Grab some friends and let's rumba at Bomba! Enjoy some truly fingerlicking flavours from the Spanish tapas. After satisfying your taste buds and cleaning those fingers, quench that thirst with a tremendous picking of drinks – ranging from beer, cider, gin, rum, whiskey and vermouth. If you and your friends would like to indulge a little further, a fancy cocktail may fulfill that indulgence. Everyone needs to enjoy this view with their friends, so why not pair up your drinks with some delicious bar snacks. The cheesy croquettes, chorizo sliders and eggplant chips are the picks from the bunch. A retractable roof is waiting in the wings if the spontaneous Melbournian weather decides to change its colours.
103 Lonsdale Street, Melbourne
Campari House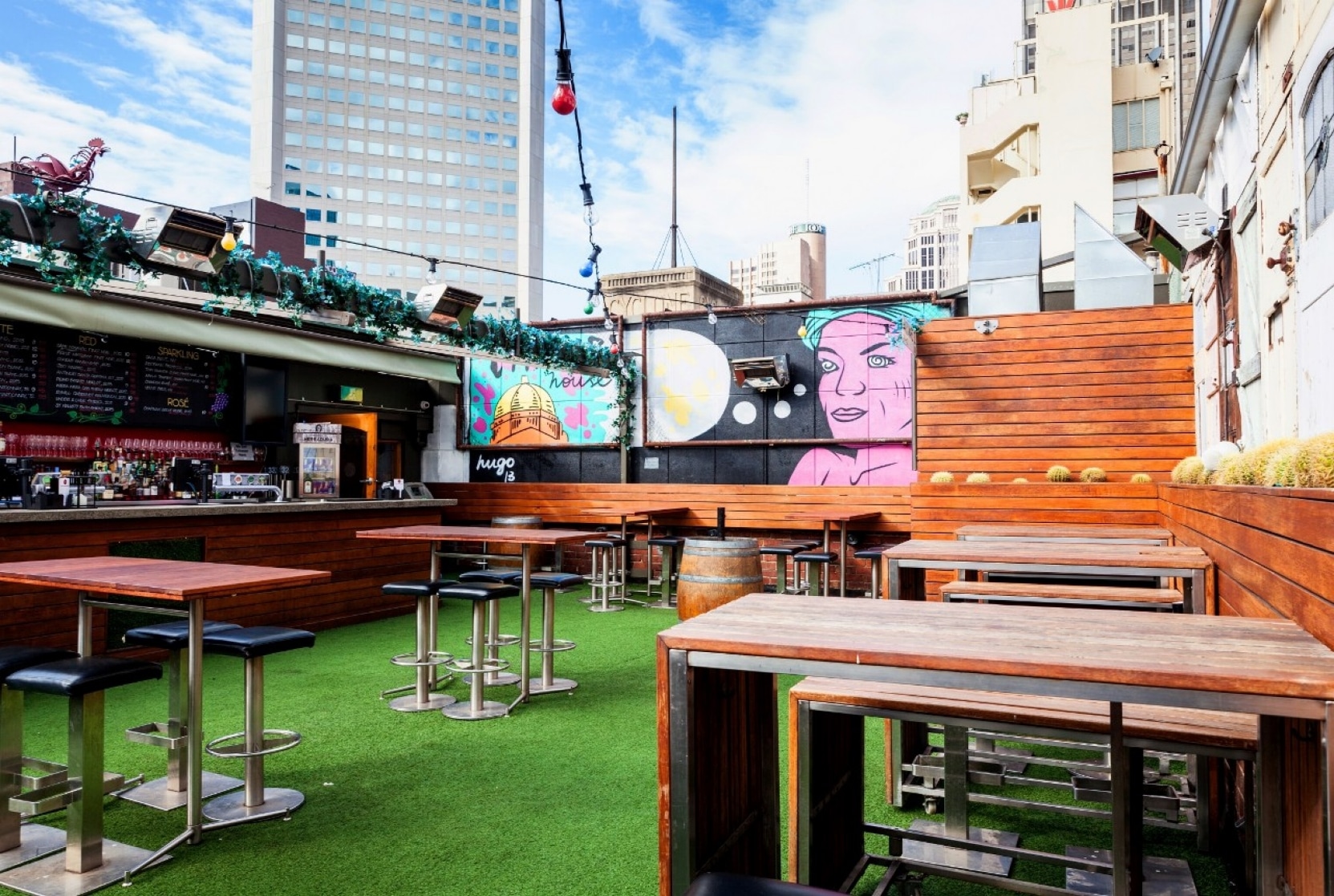 Campari's rooftop is perfect for those casual and spontaneous get togethers. Their easy-to-eat (and share) signature pizzas leave customers wanting more; in particular, the Italian sausage smoked mozzarella being a personal favourite. So grab a slice, a seat and soak up the serene setting and a stunning sight of Melbourne's CBD.
23-25 Hardware Lane, Melbourne
Captain Baxter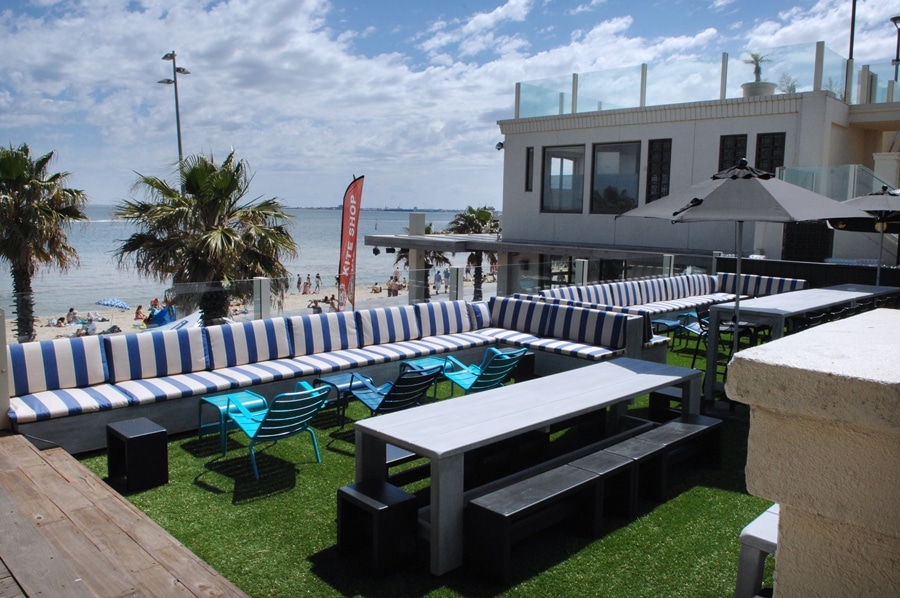 Aye Aye Captain Baxter! All aboard this delightful spot that is nestled next to the St Kilda sea baths. Baxter epitomises the phrase 'the bigger, the better' with its large setting and extensive menus. Drink a jug of the South Beach Cooler with your mates as you gaze into Port Phillip Bay. If you fancy yourself something special or maybe just want an additional contributor to tomorrow's hangover headache, try the Mango Melba and Pornstar Martini. A different type of headache awaits as you open their comprehensive food menu. Indecisiveness is inevitable (even for the strong-minded). The crumbed pork tonkatsu, Japanese pancake and pork buns are must haves on your order list, leaving your stomach in a satisfying food coma.
St Kilda Sea Baths, 10-18 Jacka Boulevard, St Kilda
Easey's
Jimmy Hurlston spent three years eating burgers daily, and 3000 burgers later, he has created a burger kingdom. There is no place more hip than this burger joint. Sitting five storeys high, fixed to the roof, is a train carriage. However, this is not your regular carriage. This is where graffiti on a train, usually met with negativity, is thrown into the spotlight and is greatly received by the public. Think Hosier Lane in a train carriage. Food wise, you'll only find burgers here – so if you're thinking about a cheat day, it's easy with Easey's. The one thing that isn't easy is getting a seat in the Hitachi train carriage, so make sure you book your seat! The burger menu, created by the burger enthusiast himself, is simple, yet exceptionally scrumptious as the burger melts in your mouth. The Too Ease or Easey Cheesy burgers are my personal picks. Sometimes simple is best, but it ain't easy being cheesy.
48 Easey Street, Collingwood
The Emerson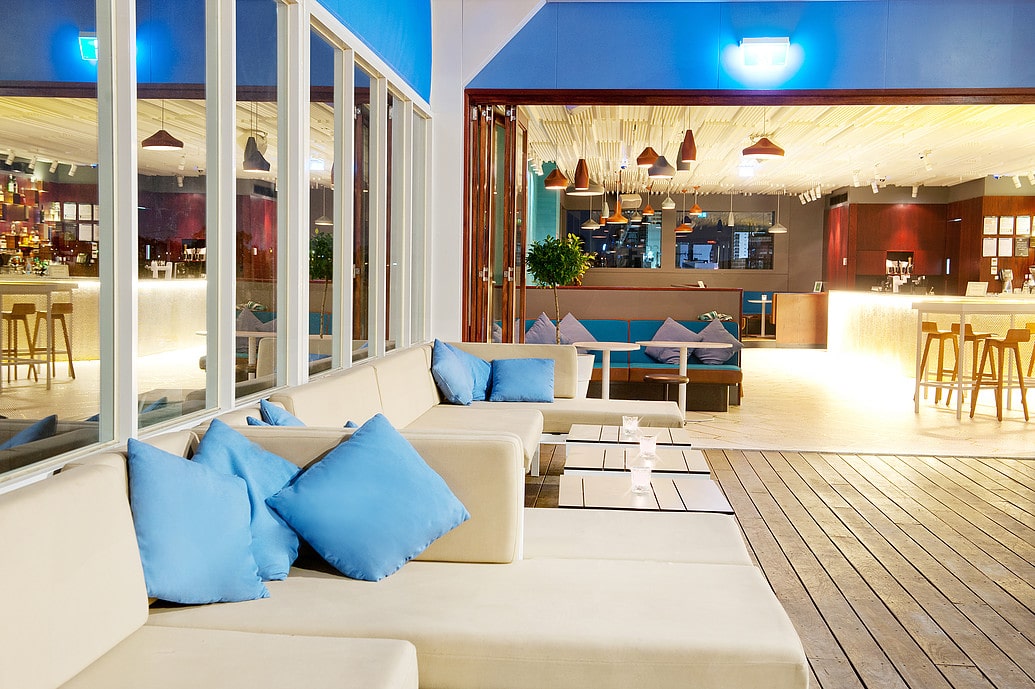 Whether it's with your friends and having 99-pomegranate problems, or you're having a romantic rendezvous on the rooftop, immerse yourself in the elegant ambience of The Emerson with a grand view of the South Yarra. Don't forget to snack on the four P's – poached prawn roll, pork and cape sausage roll, prawns, avocado and fennel salsa and the pulled pork bao. Your belly will definitely be filled with pleasure.
143/145 Commercial Rd, South Yarra
Ferdydurke
Let's be frank, it is hotdog heaven here. The Polish Royale is the personal preference. The comprehensive cocktail list will give you some complicated choices, but it is advised you come thirsty and have a cocktail tasting experiment. A hotdog and cocktail combo may seem a bit unconventional, but be open to it, because Ferdydurke has a knack of pulling off the uncanny.
31 Tattersalls Lane, Melbourne
Goldilocks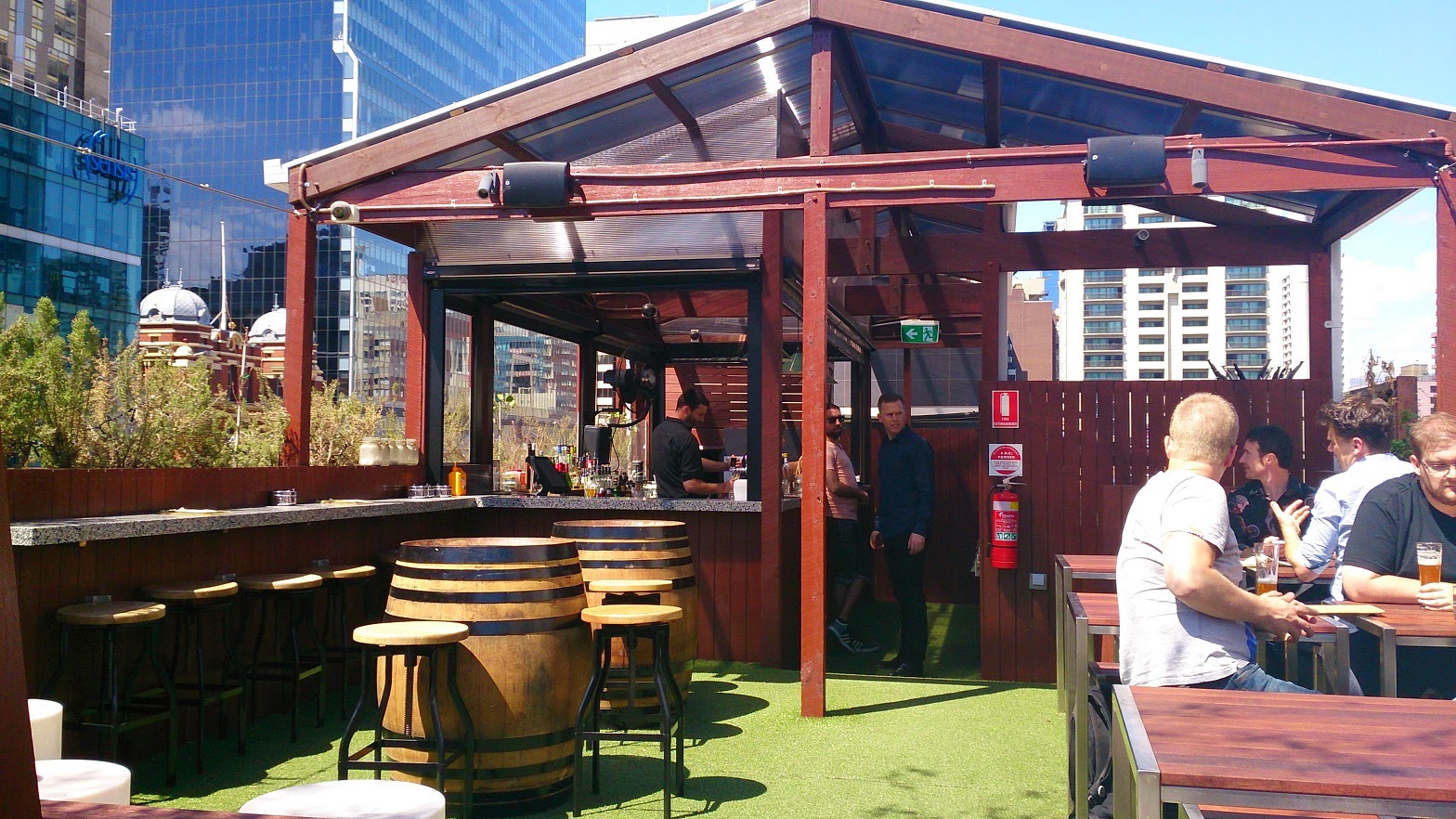 Hiding upstairs from the Noodle Kingdom lays Goldilocks. But not in one of the bears' beds. Goldilocks replaces her porridge with the best cheese platter Melbourne has on offer, accompanied by a stellar cocktail menu. Eat and drink the night away whilst enjoying the garden-esque ambience on the rooftop concealed away from the crowds. I've got a feeling that this place will be 'just right' for everyone.
Level 4, 264 Swanson Street, Melbourne
The Local Taphouse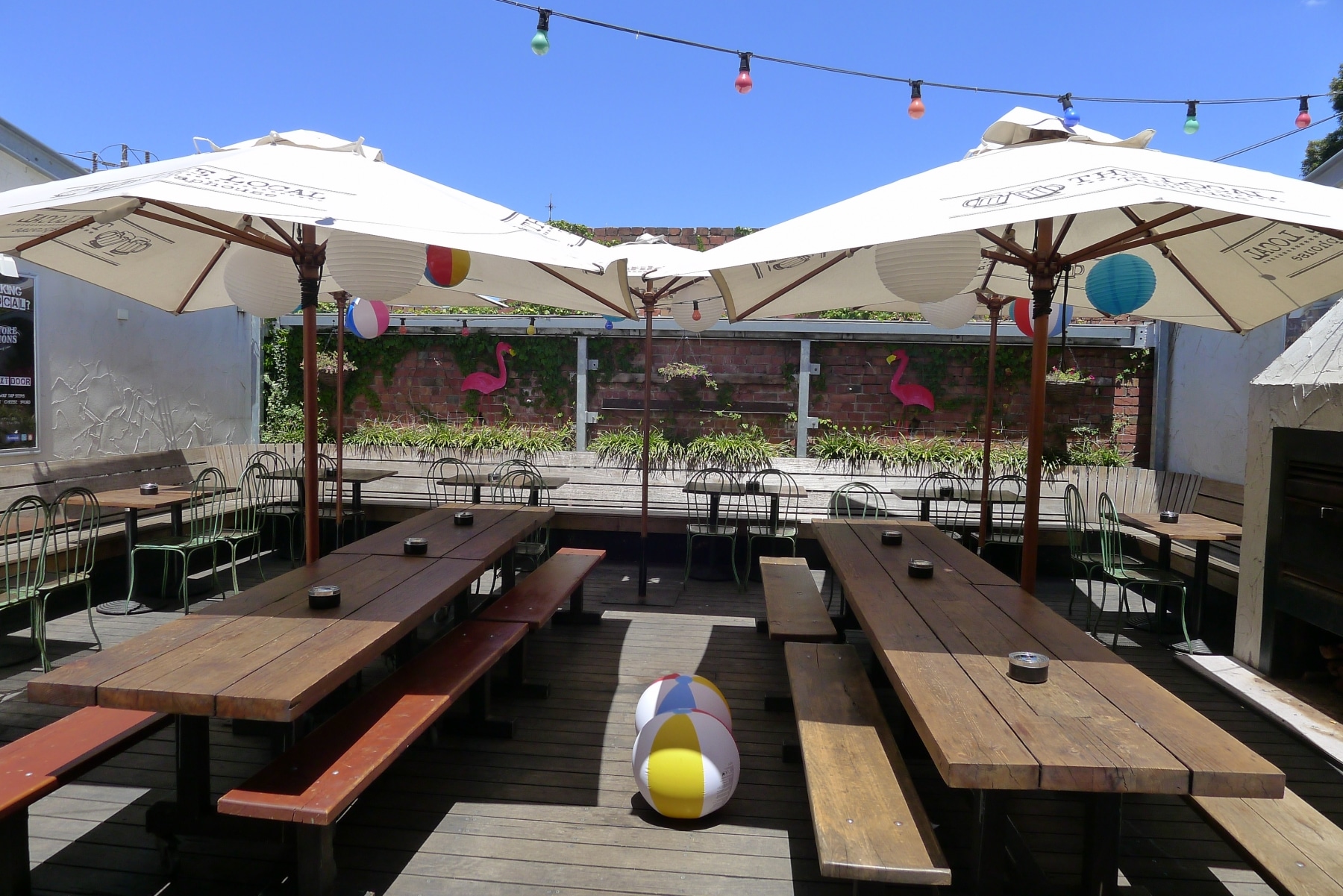 If Sydney has a place for beer enthusiasts, Melbourne most definitely must have one. Similar to Sydney's Local Taphouse, the brother in Melbourne has the same ideals. Like Sydney, all the dishes are designed to match specific brews. They are clearly the beer belly brothers. Hands down the best beer in town.
184 Carlisle St, St Kilda East
Loop Roof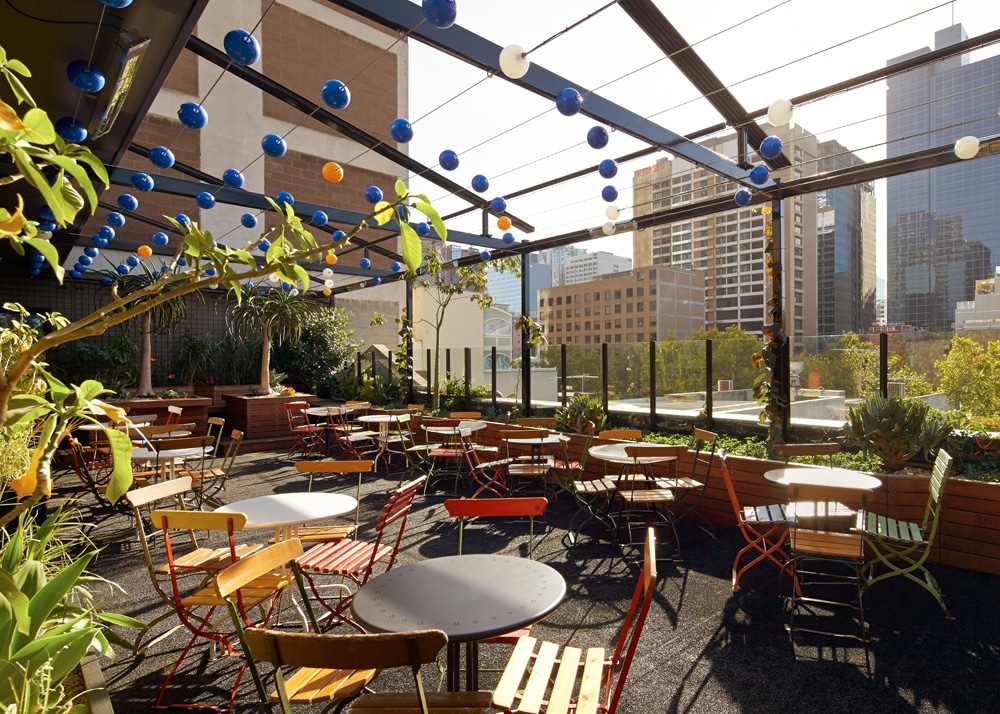 First in, best dressed for this one. This bar is built like a bomb shelter, with a four-section awning retractable system in preparation for any of Melbourne's four changing seasons in the one day. Gas heaters are ready for winter and a misting system for summer. Once you are able to hold down a spot, share a Sloe Lorris jug with your friends and be sure to stuff your stomachs with the pulled pork sliders and chilli squid
23 Meyers Place, Melbourne
RELATED: 20 Best Rooftop Bars in Sydney
RELATED: The World's Best Rooftop Bars
Madame Brussels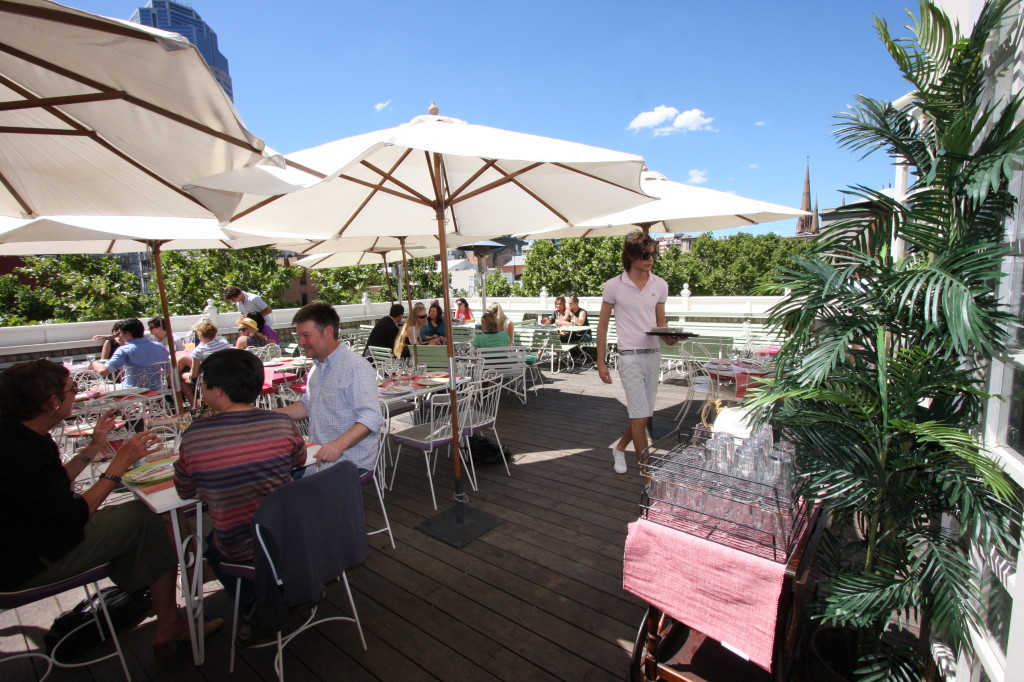 With the Australian Open tennis tournament just around the corner, a round of 'doubles' is the perfect pregame. 'Doubles' in Madame Brussels' vocabulary means a large cocktail jug. So, are you game? If you are, serve yourself a jug of Love Juice and snack on their famous poached chook, chive and mayo toasted sandwiches. Now that's an ace choice.
57-59 Bourke Street, Melbourne
Naked in the Sky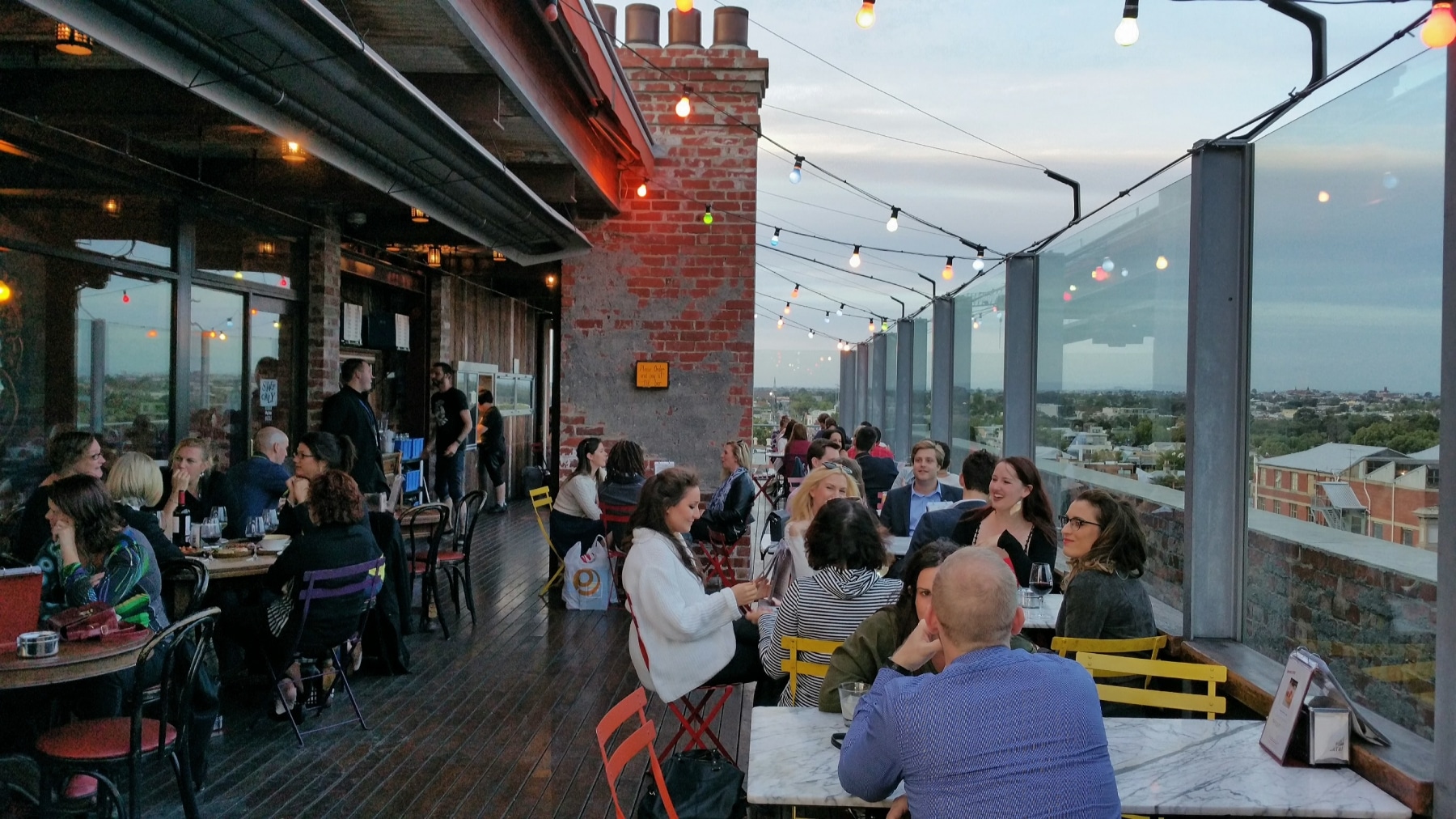 This is Fitzroy's favourite bar. Sit on the rooftop with a naked infused vodka in one hand whilst taking a picture of the perfect panorama of North Melbourne with the other. Resist the urge of using Mayfair or Valencia and post this 'naked' photo onto your Instagram. Let your audience appreciate the natural and #nofilter feeling.
285 Brunswick St, Fitzroy
The Palmz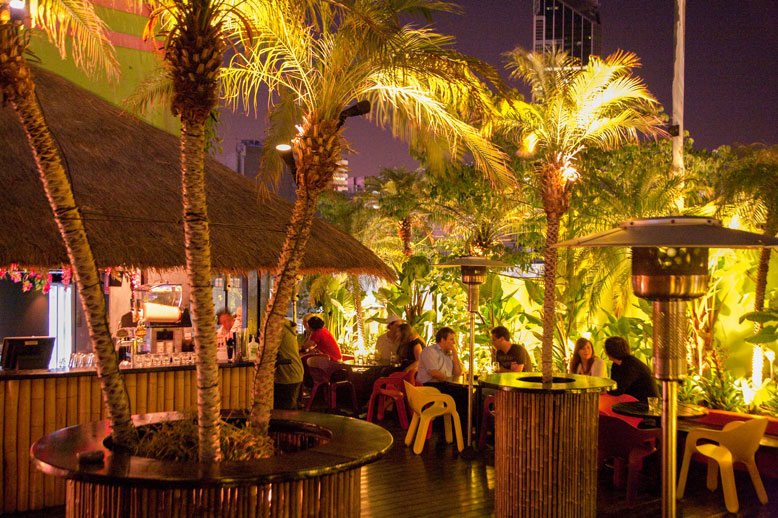 The name pretty much sums up what you'll be greeted with as you enter the Palmz Deck. This secluded spot is surrounded by tropical flora with the bar positioned under a thatched roof. With its funky yet uber-relaxing atmosphere, it almost feels like you're on a deserted island but with a beautiful sight of Melbourne. This fantasy 'island' also comes with it's own retractable roof to combat the well-known temperamental Melbournian weather so rest assured, it will always be evergreen here.
193 Bourke Street, Melbourne
Rooftop Bar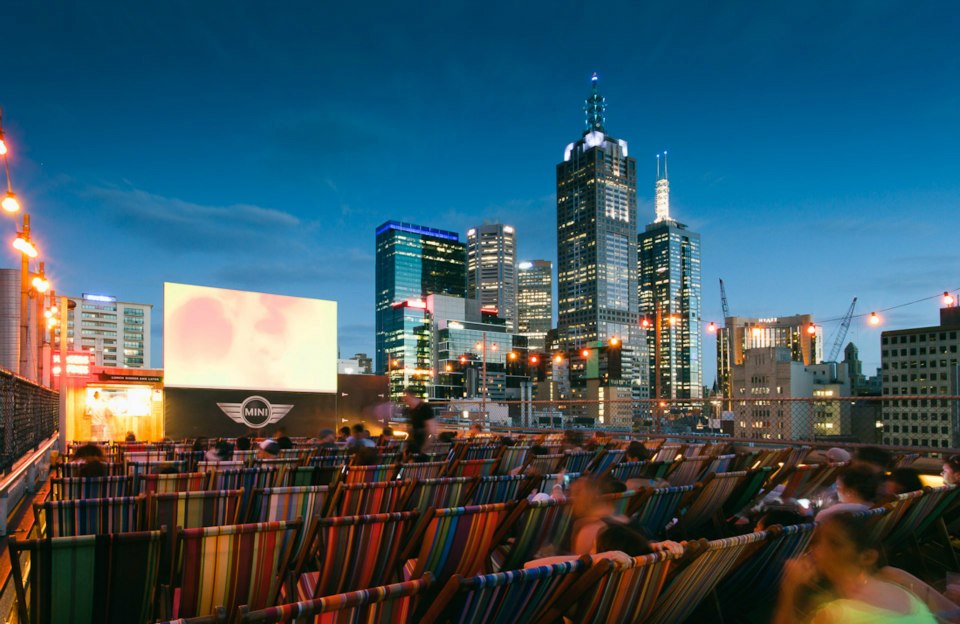 Rooftop Bar sits on top as Melbourne's most popular rooftop bar, despite the seven sets of stairs that welcome you as you enter. As agreed by most Melbournians, the bounty for enduring this stair workout is endless. If you're here for the Rooftop Cinema, don't forget to book, or you'll be left disappointed after conquering the stair challenge. Being the best means you're going to be packed to the brim, so if you don't mind the crowds, enjoy the sunset with a spectacular view of Melbourne CBD with a cold serving of beer and burger.
252 Swanston St, Melbourne
Sahara
Sitting above the hustle and bustle of Swanston Street, the Sahara rooftop (known as Souk's Hideout) showcases the stunning sights of Melbourne's relatively unknown skyscrapers. Escape the Swanston swarm, with some Sahara shisha and a Moroccan meal. The chicken tagine is the pick of the bunch.
1/301 Swanston Street, Melbourne
Siglo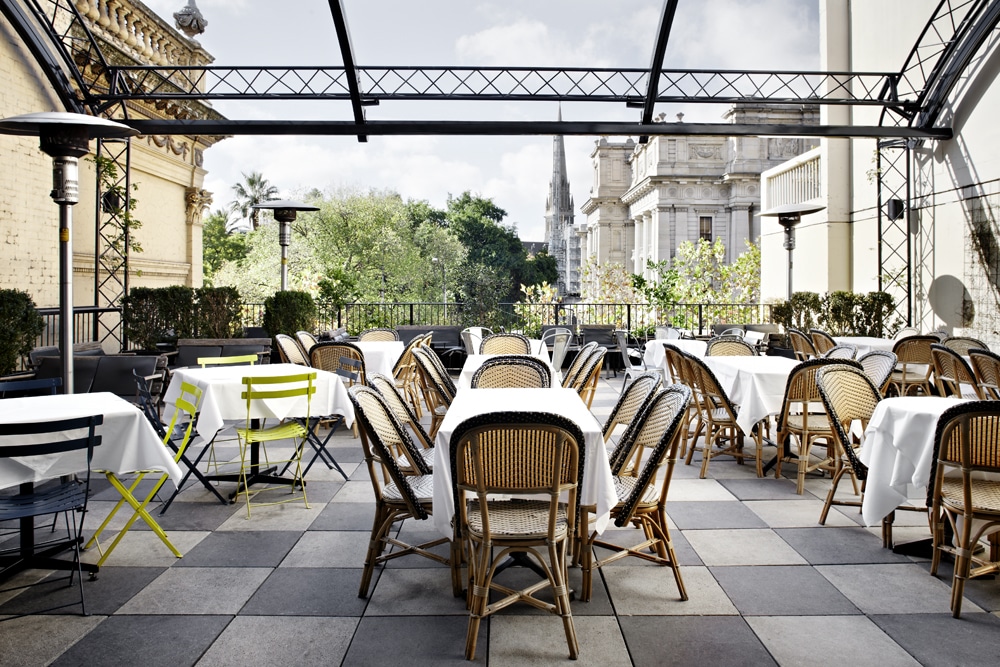 Situated on Spring Street, Siglo is the pinnacle of sophistication. The glorious nursery of greens surrounds the wooden booths and seating areas. The uninterrupted view of St Patrick's Cathedral and Parliament House is serene and soothing and is accompanied by an invigorating atmosphere.
 2/161 Spring St, Melbourne
Transit Rooftop Bar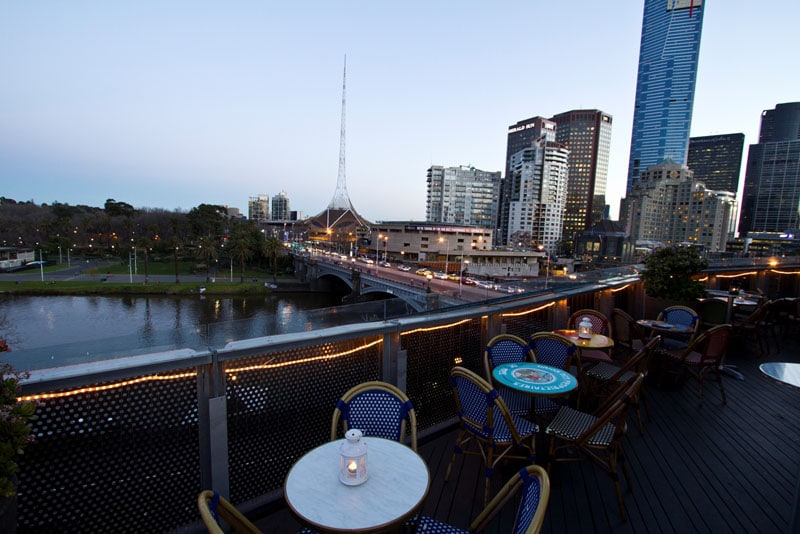 Sitting on top of the Transport Hotel in Melbourne's Federation Square, this bar will transport you from reality to fantasy with its expansive, eye-catching views of the MCG, Southbank, Botanical Gardens, Yarra River and the Melbourne Art Centre Precinct. Relax above the crowds and under the stars overlooking Melbourne's amazing landscape with cocktail.
Level 2, Transport Hotel Federation Square, Corner Flinders Street &, Swanston St, Melbourne
Uncle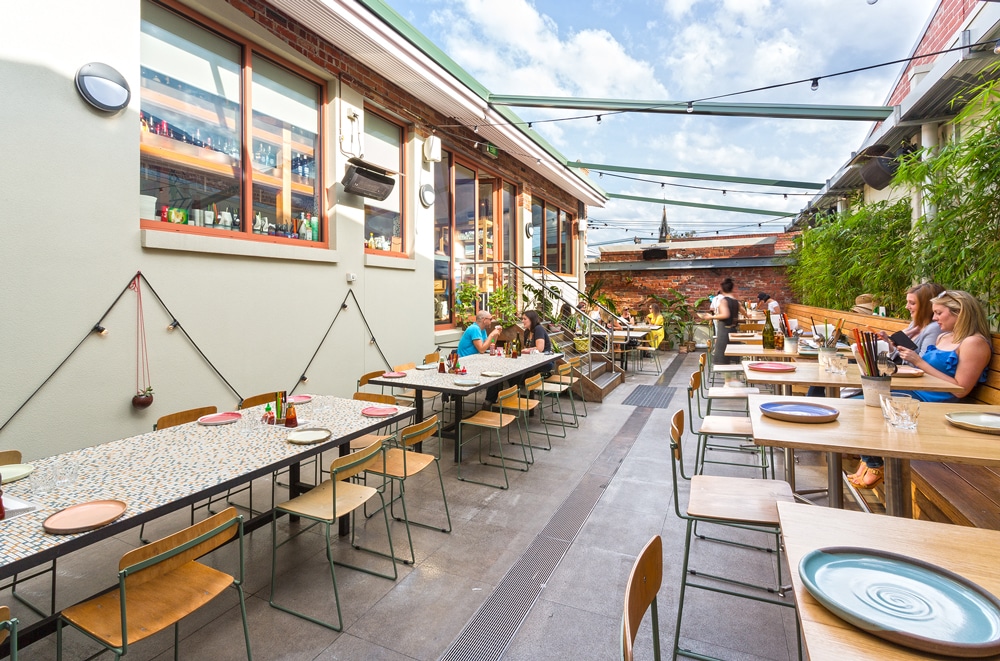 When I'm away from home and my mum's cooking, the Uncle steps in. The colourful Vietnamese conical hat-inspired lighting above the bar is a unique homage to my cultural roots and is the focal point in this already quirky interior. Growing up eating traditional Vietnamese cuisine has turned me into a tough critic and I've found Uncle to be the perfect super-sub to my mum's cooking. Pho is a big deal when it comes to Vietnamese cuisine so it is an undisputed must-have. Add the chicken tenderloin steamed bao and condensed milk fried ice cream to the list too. After satisfying your stomach, sit back and unwind on the rooftop with a Ho Chi Mama cocktail.
188 Carlisle St, Melbourne
Upside Rooftop Bar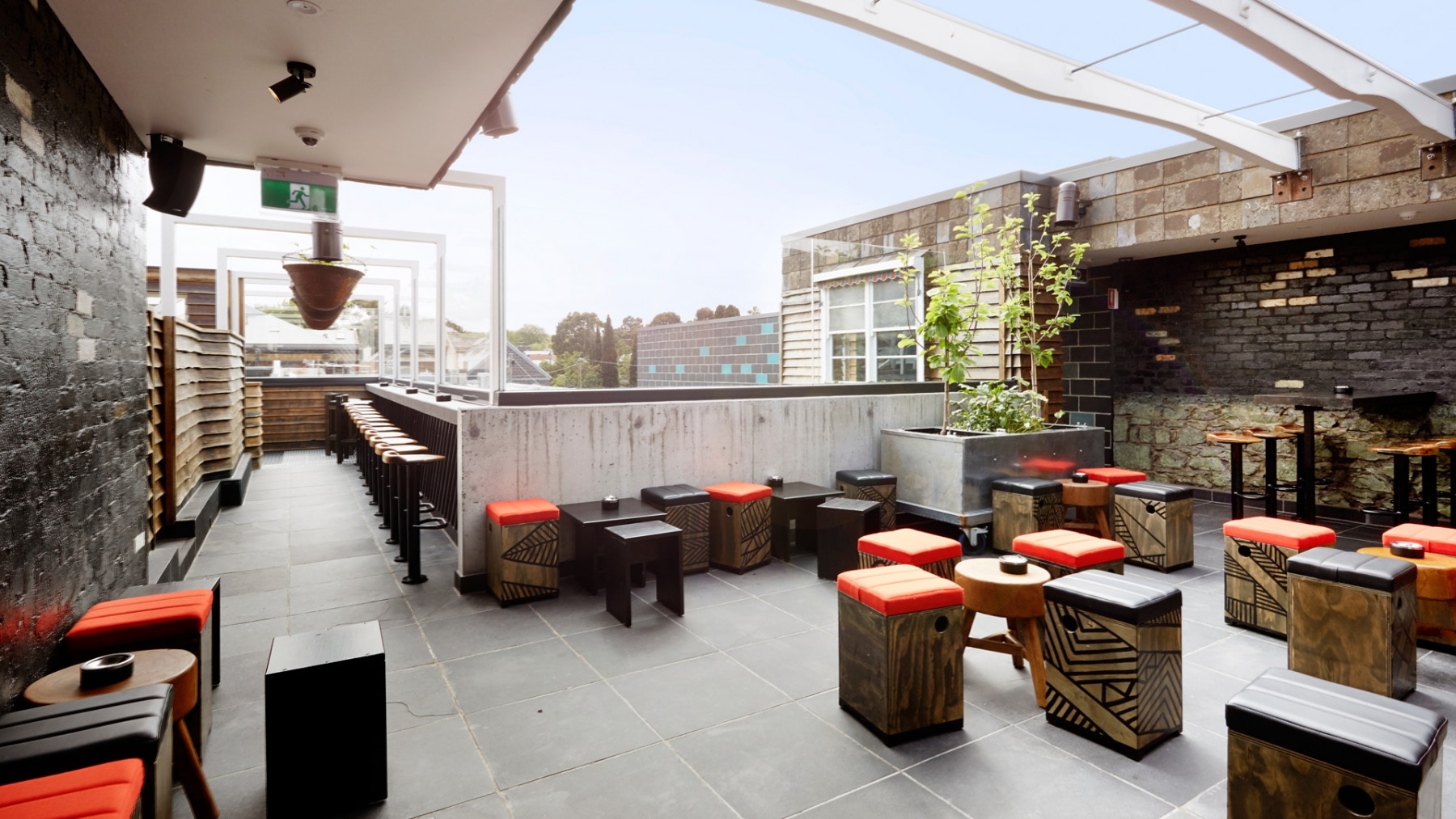 It's one for the Fitzroy locals, and its rooftop is always flooded with Fitzroyians. Of course everyone, including visitors, are welcomed. Even if you feel slightly overwhelmed by the considerable amount of people, look on the upside; the view of Fitzroy's quirky surroundings is spectacular. The experimental and extensive cocktail list is a definite must try. There's a variety of unique flavours, so it comes down to one's own preference. I had a cheeky off the menu cocktail from here, so ask one of highly-skilled bartenders to create one of their own bombshells.
127 Brunswick St, Fitzroy
Wolf's Lair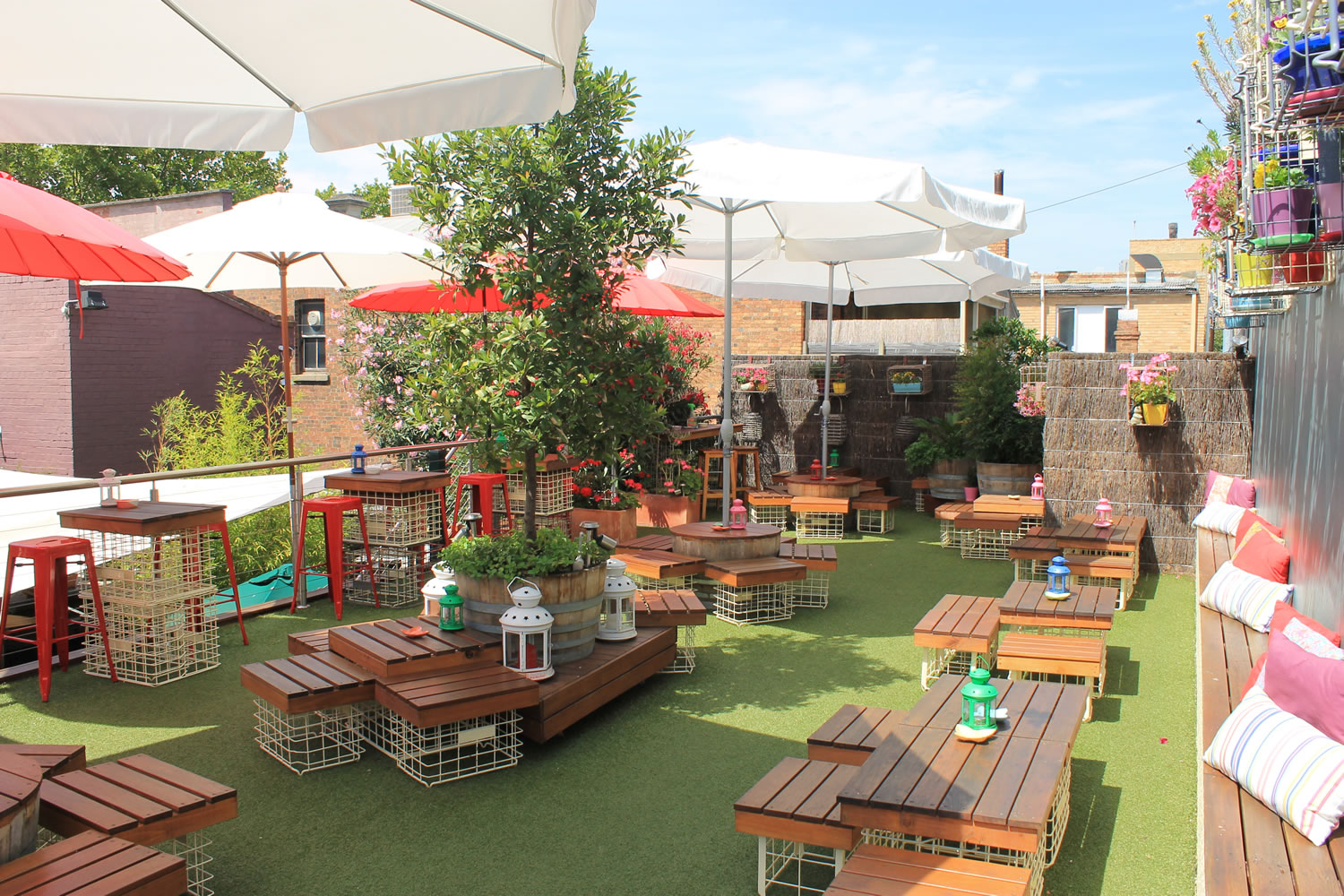 Huddled in behind Elgin and Lygon Streets is a hideaway. Bring a small group of tight-lipped friends to the top secret Wolf's Lair. Concealed and cosy, this bar is where you and your close friends can enjoy each other's company whilst sharing a Tiger or Watson pizza and a Blue Bison cocktail jug. The Wolf's Lair thrives on confidentiality and intimacy so maybe a few secrets of your own can be let out here with confidence. Just remember, what happens in Wolf's Lair, stays in Wolf's Lair.
Wolf's Lair & Drinking Haus & Treetops – Jimmy Watson Lane, Carlton
RELATED: 20 Best Rooftop Bars in Sydney
RELATED: The World's Best Rooftop Bars