New on Disney+ In November 2023
You've just watched the latest episode of Loki and you still have a few hours to kill. What do you do? What. Do. You. Do? Okay, okay, this isn't exactly a nail-biting scenario since you know as well as we do that there are plenty of other series and movies to watch on Disney+. In November, the streaming service brings us a boatload of new shows along with sports documentaries and at least one original film. Here's everything coming your way.
New Movies on Disney+
One of the best reasons to subscribe to Disney+ is to gain access to fresh movies straight out of the theatres (which isn't to mention the vast back catalogue of titles). Here's a fresh highlight.
Quiz Lady
Awkwafina plays an awkward game show fanatic and Sandra Oh shines as her wild, estranged sister in this upcoming comedy. To get their mother out of debt and save a kidnapped dog, the odd couple join forces and head across the country so that Awkafina's character can put her game show skills to the test. It all sounds quite delightful so here's hoping they nail the landing.
Release date: 3 November 2023
New Series on Disney+
Disney+ is releasing a generous bounty of new shows, episodes, and seasons this month. Read on for highlights.
The Artful Dodger
Journey back to 1850s Australia in this historical drama series, which doubles as a spinoff of Dickens' Oliver Twist. Now a skilled surgeon, former pickpocketer Jack Dawkins is reunited with an old acquaintance and drawn back into a life of crime. Jumping between the respective worlds of surgery and theft, the show promises to keep the stakes high and the blood pumping.
Release date: 29 November 2023
Faraway Downs
Leave it to director Baz Luhrmann to double down on his rare flop, 2008's historical adventure film Australia. He took leftover footage from the original production and adapted it into this sweeping six-part series. It transports viewers to the Australian outback during WWII, where a widowed aristocrat (Nicole Kidman) and rugged cattle drover (Hugh Jackman) square off against a greedy land baron (Bryan Brown). Is the second time the charm? Tune in to find out.
---
Featured Video from Man of Many
---
Release date: 26 November 2023
Black Cake
When a woman dies, her estranged children discover a flash drive documenting her mysterious past. So goes this thrilling family drama based on a bestselling novel of the same name. The story spans multiple locations and eras and delivers no shortage of revelations along the way.
Release date: 1 November 2023
Doctor Who: Specials
Disney+ will debut three Doctor Who 60th anniversary specials starting in late November through to the first two weeks of December. In these interconnected episodes, Doctor Who (David Tennant) and cohort Donna Temple-Noble (Catherine Tate) will square off against the Toymaker (Neil Patrick Harris), their most menacing nemesis yet.
Release date: From 26 November 2023
FX's A Murder at the End of the World
This limited mystery series puts a Gen Z twist on the classic Agatha Christie-style whodunnit. A small group has gathered at a reclusive billionaire's estate when one of the guests turns up dead. Springing into action, amateur sleuth Darby Hart must prove that there's murder afoot before the killer strikes again.
Release date: 14 November 2023
The Santa Clauses: Season 2
What began as a holiday film franchise continues with this comedy series, which picks up 28 years after the original trilogy. Season 1 found Scott Calvin aka Santa Clause (Tim Allen) looking for a replacement as he neared retirement. In season 2, the Calvin family tries to keep the Christmas spirit alive in a rapidly changing world.
Release date: 8 November 2023
New Disney+ Documentaries
Who doesn't love a good documentary or docuseries? Here are some real-life stories coming your way on Disney+ this November.
Brawn: The Impossible Formula 1 Story
This new docuseries tells the true story of Brawn GP, Honda's Formula 1 racing team that overcame various odds both on and off the racetrack. Actor and superfan Keanu Reeves sits down with a consort of racing legends to hear the incredible saga in their own words. Be there!
Release date: 15 November 2023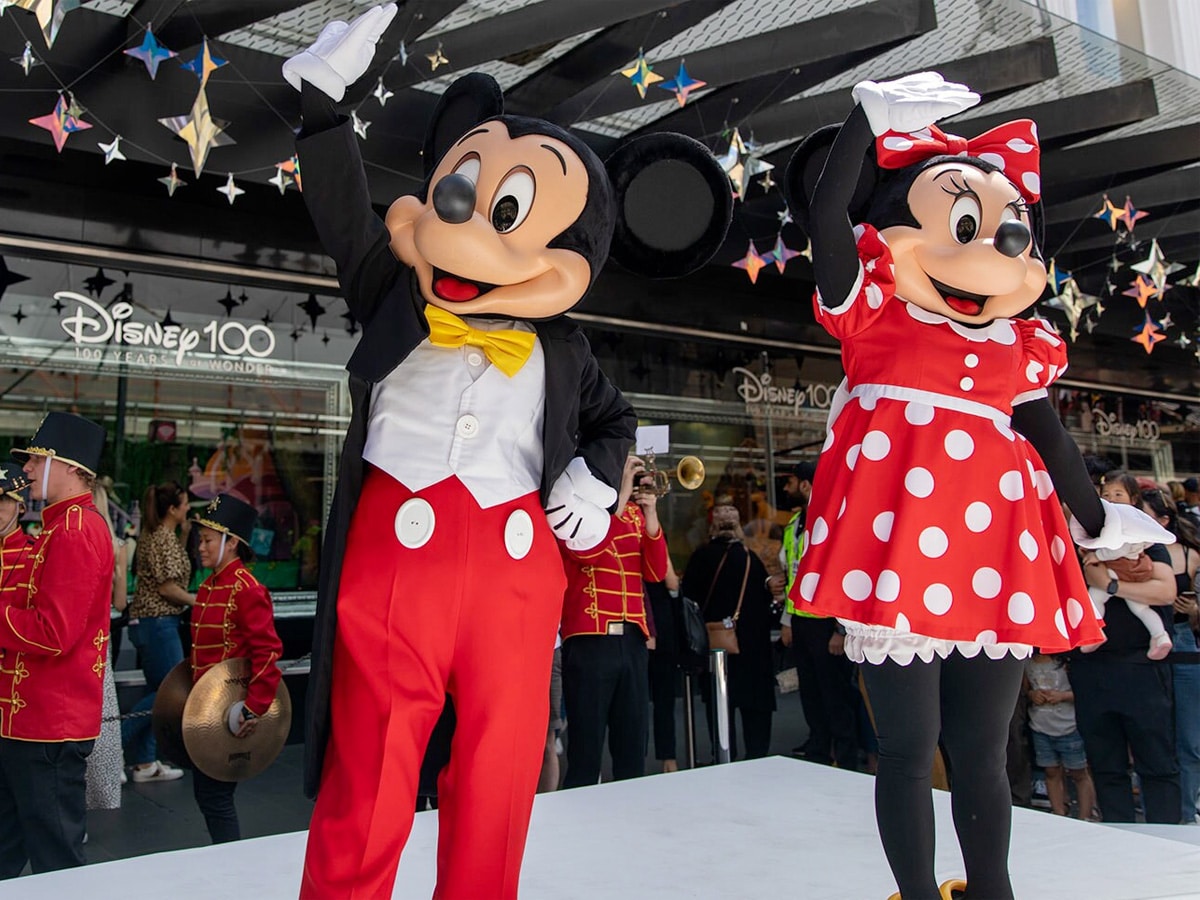 Windows of Wonder – Inside the Disney 100 Myer Christmas Windows
Did you know that Disney turns 100 this year? In celebration of the milestone, the Myer Christmas Windows in Melbourne have been entirely transformed. Standing in their place are six windows that span Disney's extraordinary history and weave a visual tapestry in the process. This documentary takes viewers behind the scenes and goes from pre-production all the way up to the main event.
Release date: 17 November 2023
Shohei Ohtani – Beyond the Dream
Japanese Major League Baseball player Shohei Ohtani is a once-in-a-generation wunderkind who's as formidable on the pitcher's mound as he is at bat. He's also the subject of this new documentary, which features in-depth interviews with coaches, managers, players, and the man himself.
Release date: 17 November 2023
Everything Coming to Disney+ in November 2023
Are you still not entertained?! Fret not because Disney+ is releasing plenty of other content this November. Here's a full list.
Behind the Attraction: Season 2 – 1/11/23
The Three Detectives: Season 1 – 1/11/23
Big City Greens: Season 3 – 1/11/23
Black Cake – 1/11/23
Marvel Studios Legends: Season 2: New Episodes – 2/11/23
The Mill – 2/11/23
Quiz Lady – 3/11/23
JFK: One Day in America: Season 1 – 6/11/23
The Santa Clauses: Season 2 – 8/11/23
Daddies on Request: Season 2 – 8/11/23
Love in Fairhope: Season 1 – 8/11/23
Final Trip: Season 1 – 8/11/23
Vigilante: Season 1 – 8/11/23
Farm Dreams: Season 1 – 8/11/23
The Lady Bird Diaries – 13/11/23
FX's A Murder at the End of the World – 14/11/23
Interpreter of Silence: Season 1 – 15/11/23
I'm Your Fan: The Party Continues: Season 1 – 15/11/23
The Doc and Bella Are In!: Season 1 – 15/11/23
Brawn: The Impossible Formula 1 Story – 15/11/23
Drive with Swizz Beatz: Season 1 – 16/11/23
Dashing Through the Snow – 17/11/23
Shohei Ohtani – Beyond the Dream – 17/11/23
Windows of Wonder – Inside the Disney 100 Myer Christmas Windows – 17/11/23
The Naughty Nine – 23/11/23
Doctor Who: Specials – 26/11/23
Faraway Downs – 26/11/23
Marvel Studios Assembled: The Making of Loki Season 2 – 29/11/23
The Artful Dodger – 29/11/23
New on Disney+ FAQs
Is there anything for adults on Disney plus?
Despite being a largely children-led streaming platform, Disney+ is also home to an extensive catalogue of films and series for adults. In Australia, the streamer has the rights to channels such as Discovery, Hulu and Star, giving you access to a host of true crime documentaries and scripted series such as 'All That We Destroy', 'Pam & Tommy' and many more.
Are there any R-rated movies on Disney plus?
In recent years, Disney+ has added more R-rated titles to attract adult subscribers. At present, the streaming service boasts R-rated films such sa Deadpool, Deadpool 2, and Logan, with the streaming platform likely to increase its portfolio in the coming months.
Is Disney Plus better than Netflix?
While Netflix has a larger range of new original content, Disney+ is loaded with nostalgic classics and time-honoured favourites, so there is certainly a case to be made that the streaming platform is the top option. If you have kids, Disney+ is the obvious choice, but can also be a boost for adults, due to the streamer's connections with Hulu and Star.
---
Featured Video from Man of Many