No two mums are exactly the same and that's why we've packed this year's Mother's Day Gift Guide with a little bit of everything. From the latest Apple Watch to Penfolds' beloved Rosé to power banks to running shoes and so much more, we're bringing you the best of all product categories. Take your time but don't take too much time because the big day is right around the corner and some of these items are available in limited supply, which isn't to mention potential shipping delays. Let's get on with the gifts, shall we? Here's our curated selection for 2023.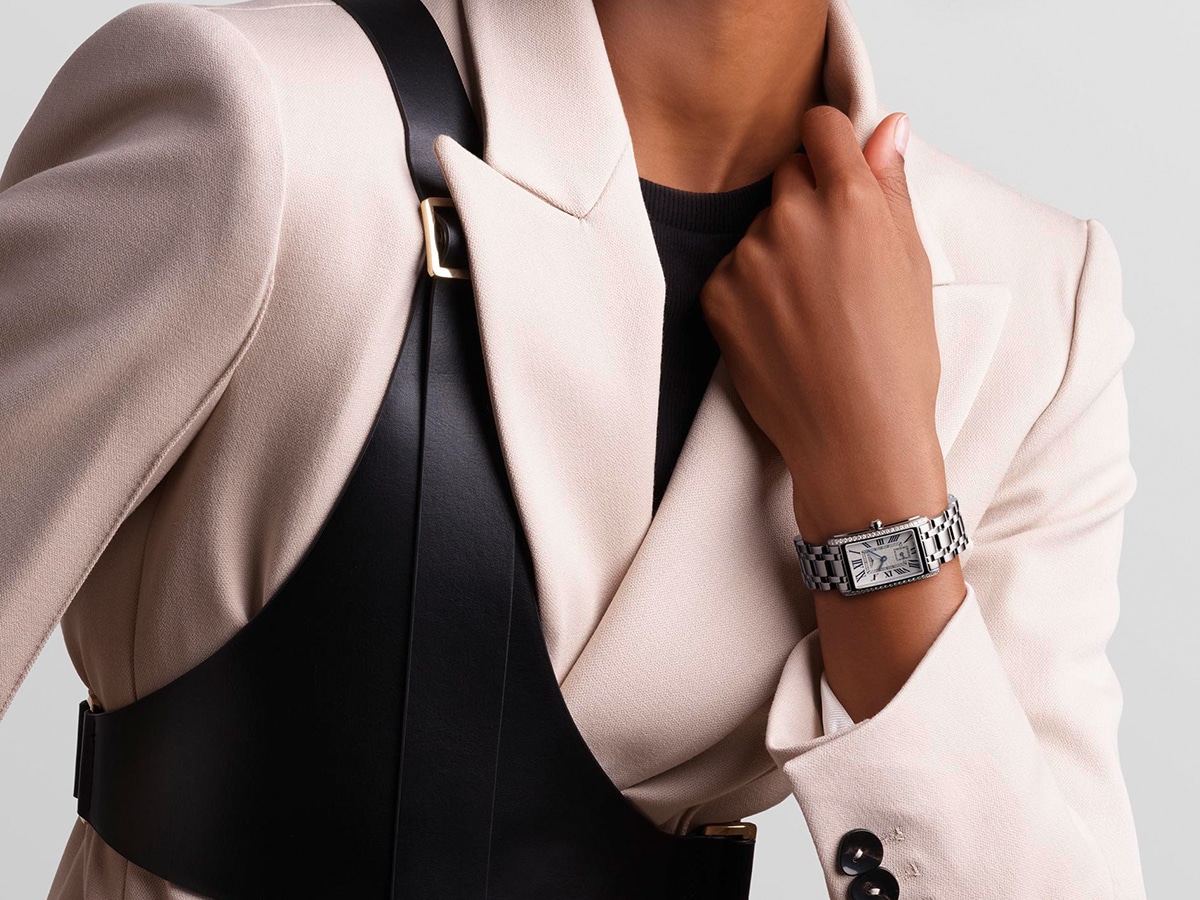 Longines DolceVita
In partnership with Longines
Arguably best known for their classic aviation watches, Longines is certainly no stranger to timeless sophistication. The Longines DolceVita collection exudes all that and more whilst paying an ode to the Italian sweet life of luxury. Synonymous with the best in elegant watch design since its very inception, the range kicks off a new chapter with this latest and possibly greatest iteration.
Your taste of the sweet life arrives at the first sight of this slim stunner and its diamond-set case of prime stainless steel. Move inward to discover a dazzling silver "flinqué" pattern display with painted Roman numerals, blued steel hands, and signature logo detailing. A precise timekeeper perhaps, but the watch also imparts the allure of ultra-premium jewellery. If you want to make Mum's eyes pop and jaw drop, this is your chance. – $6,450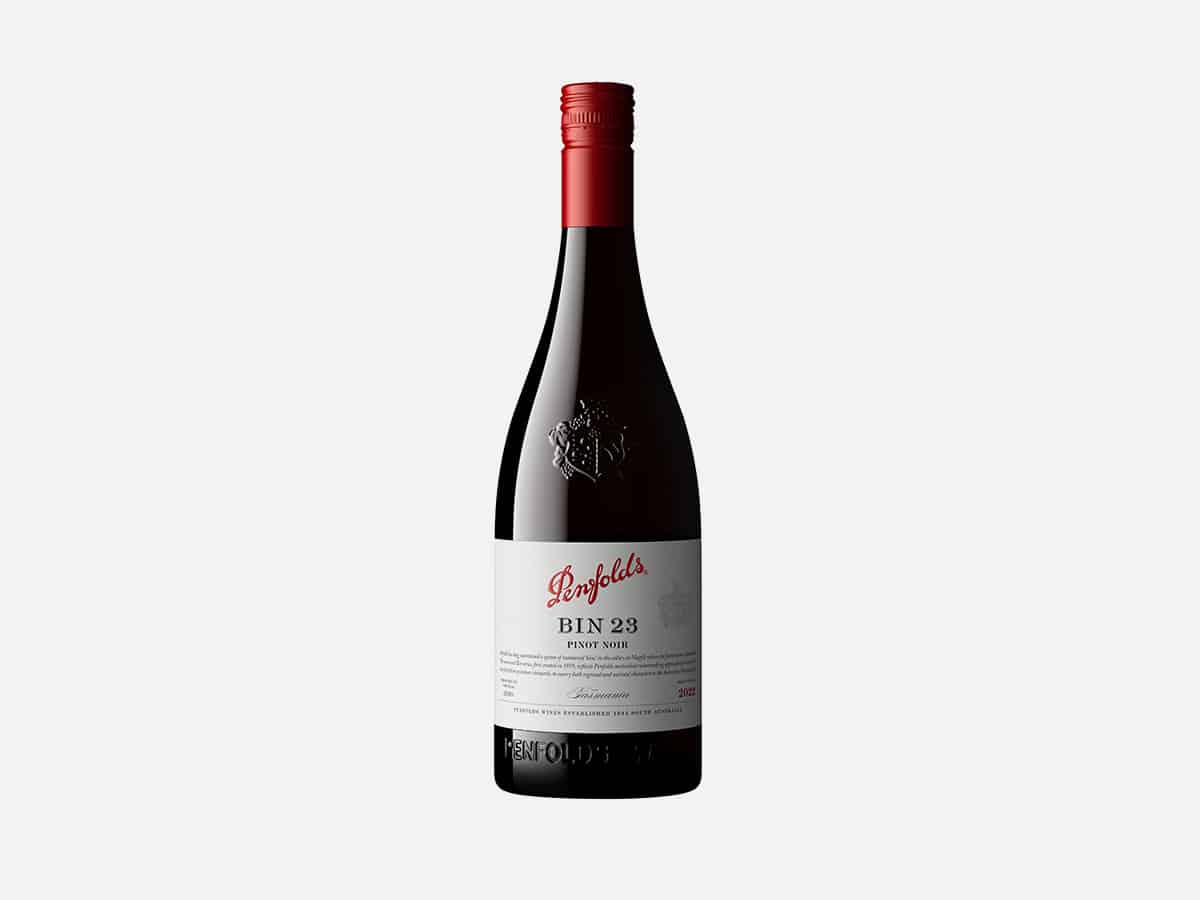 Penfolds Bin 23 Pinot Noir 2021
In partnership with Penfolds
This bold and complex Pinot Noir was once matured in 'Cellar 23' at Magill Estate, hence the name of Bin 23. It comes to us on the heels of the acclaimed Penfolds Cellar Reserve Pinot Noir and finds the Aussie winemaker continuing to explore varietals from cooler-climate regions. Dark cherry in colour, it opens on a virtuosic nose of strawberry, wheatgerm, biscuits, and jelly crystals with fresh and floral undertones.
As for the taste, it's everything one could ask for out of a modern Pinot Noir. Soft and juicy tannins and a firm acidity lend the wine a consistent textural backbone as it rides over the palate in silky waves of ripe fruit, spiced white pudding, tobacco leaf, and violet. A palpable minerality persists and helps round out the balanced, fruit-forward flavour profile for what can only be described as one heck of a rewarding sip.
Bin 23 Pinot Noir represents yet another knockout for Penfolds. Grown in optimal conditions and matured for eight months in French oak barriques (40% new), it's in peak drinking condition from now until 2030. Grab a bottle for your wine-loving mum and show her what a true Pinot Noir is made of, with the discreet hope that she'll pour you a glass. Sharing is caring, after all. – $50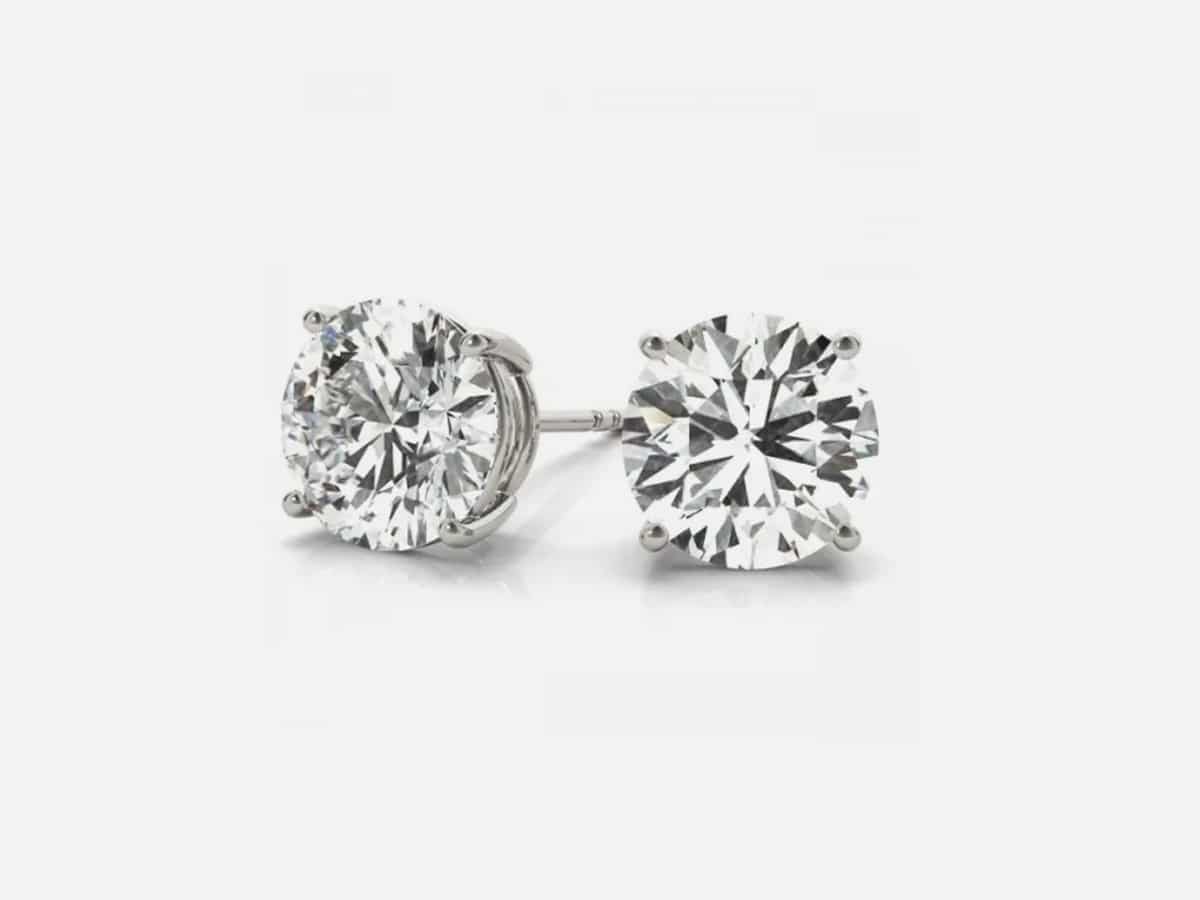 Clean Origin Certified Round 4-Prong Studs in 14K Gold
In partnership with Clean Origin
Clean Origin is more than a name and also a mission statement, as this brand exclusively uses lab-grown diamonds for their incredible (and ethical) selection of modern jewellery. And if you think that infers a drop in quality, then you simply haven't picked up on what these folks are throwing down, which isn't to mention their 100-day return policy or best-in-class customer service. Their eco-friendly ethos is more like icing on an already delicious cake.
For a prime example of Clean Origin's output (and an awesome Mother's Day gift), we present the Certified Round 4-Prong Studs in 14K Gold. Each of these beautiful stud earrings securely sets two certified brilliant lab-grown diamonds within a four-prong basket of either 14K yellow or white gold. They practically pop off the screen so imagine what they'll look like on your mother's ears. Welcome to the future of jewellery. – $335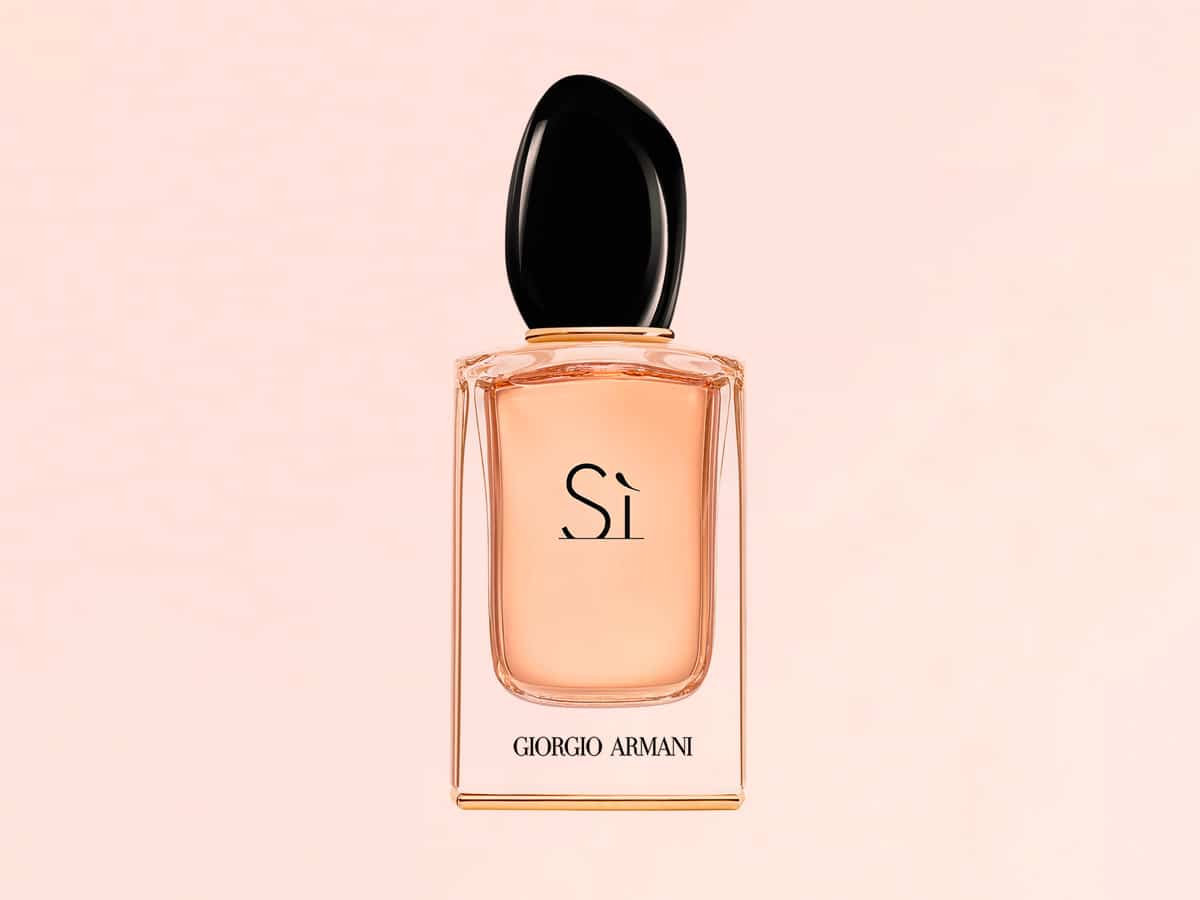 Giorgio Armani Si Eau De Parfum
In partnership with Giorgio Armani
Giorgio Armani named this iconic eau de parfum Sì (i.e. "Yes" in Spanish) as an ode to feminine empowerment, ambition, independence, and love of self. The olfactory stunner manages to capture those very intentions with its bold and sensual profile, balancing a warm white wood accord with heart notes of floral chypre and top notes of blackcurrant nectar. The transfixing bottle is no less spectacular in its combination of minimalist aesthetic and avant-garde detail.
Sì Eau De Parfum makes up part of a larger family and comes joined by other selections such as Sì Intense and Sì Passione. No matter where you land, you're getting a feast for the senses and a glorious beauty product for your buck. What else would you expect from Giorgio Armani, one of the most dependable names in fashion and fragrance alike? They've put their very soul into this one and the results will speak for themselves. Yes is right. – $118 and up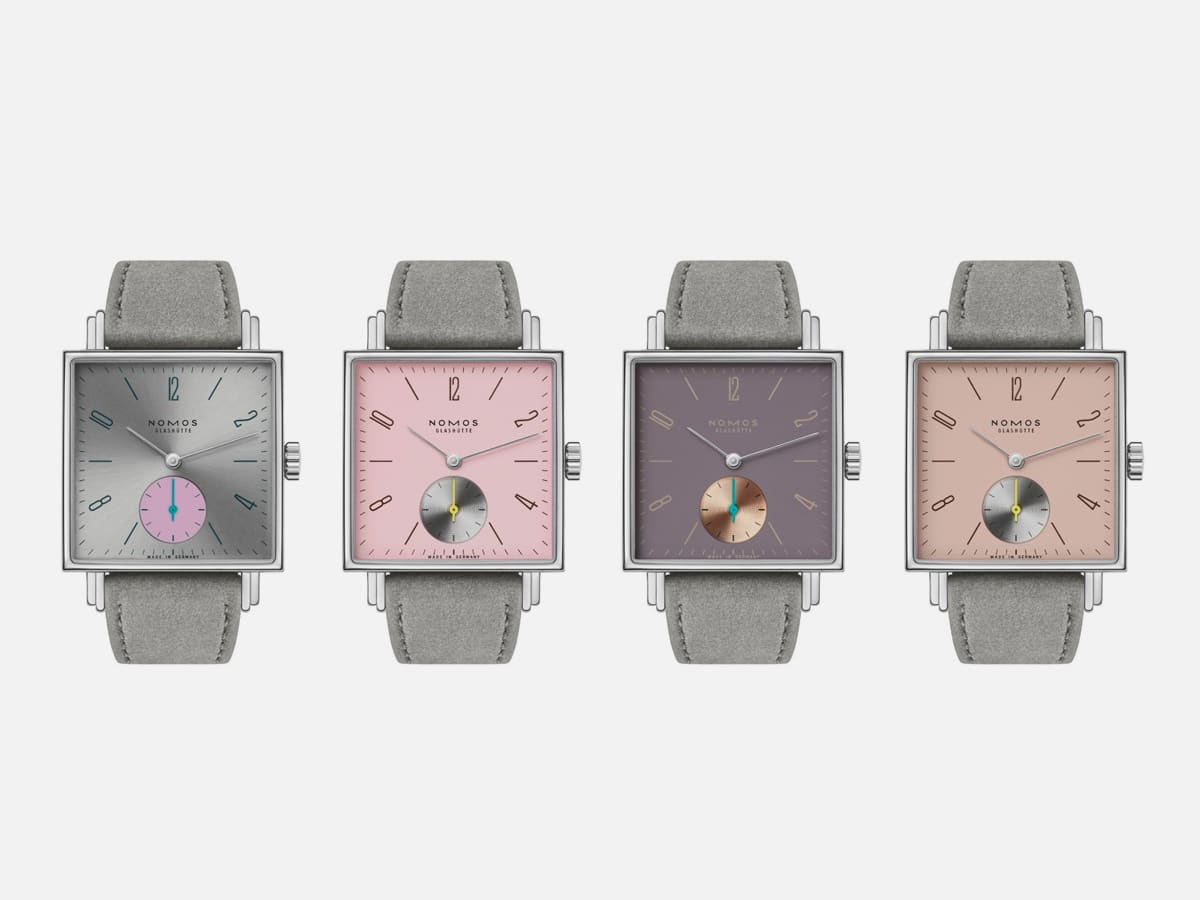 NOMOS Glashuette Tetra – Die Wildentschlossene
In partnership with NOMOS Glashuette
From legendary German watchmaker NOMOS Glashuette comes the wristwear of your mother's wildest dreams. A masterpiece of design, style, and performance alike, Tetra first catches the eye with its elegant rose-coloured display. Similarly distinguished is the seconds sub-dial at 6 o'clock, which is grooved in the mold of a vinyl record, complete with an audible tick-tock rhythm.
Measuring a tight 29.5 mm in diameter, Tetra's square case of stainless steel lays flat against the wrist and comes affixed to a velvety strap of vegan velour. A hand-wound caliber Alpha ensures the utmost precision whilst premium sapphire crystal glass delivers ample protection. With all these features and details flowing together in a truly harmonious fashion, the piece becomes a symphony of colour and material, and a gift that's simply too good to refuse. – $2850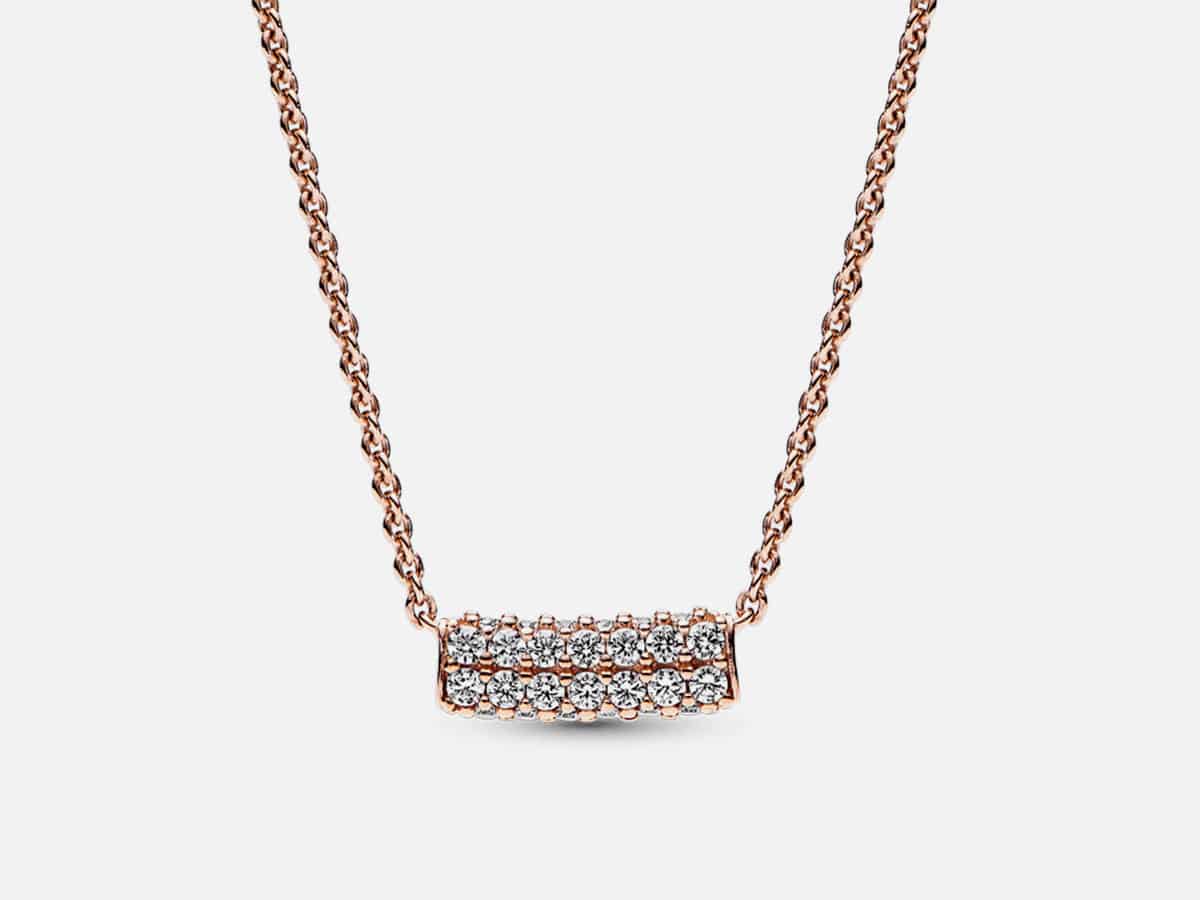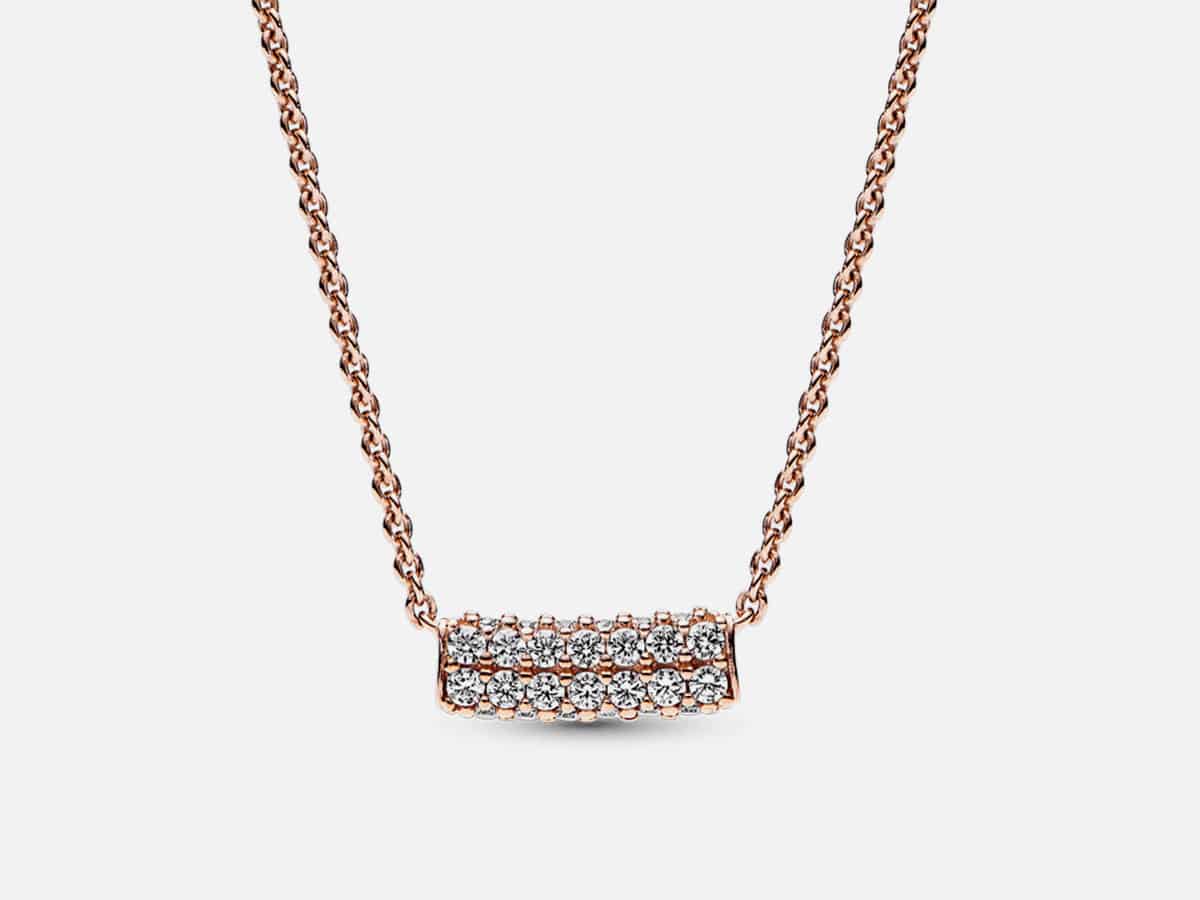 Pandora Pavé Double-Row Bar Collier Necklace
No one does jewellery quite like Pandora, a brand that knows how to deliver expert design and premium material at a terrific value. Their Timeless Pavé Double-row Bar Collier Necklace is timeless indeed and loaded with impeccable detail. It brings the style and the sparkle by way of a curved bar pendant, which hangs from a solid chain necklace and features two rows of pure sparkling stone, with extra stones facing outward on either side.
Thanks to a 14k rose gold-plated finish, the Timeless Pavé Double-row Bar Collier Necklace rounds out its glittering effect with a warm and approachable glow. Whether flying solo or layered up with other pieces, this one lights up the room and turns heads in the process. As with everything from Pandora, it's also rich in symbolic meaning and thus a perfect gift for Mother's Day. Get your mum a piece of jewellery that shines just like she does. – $299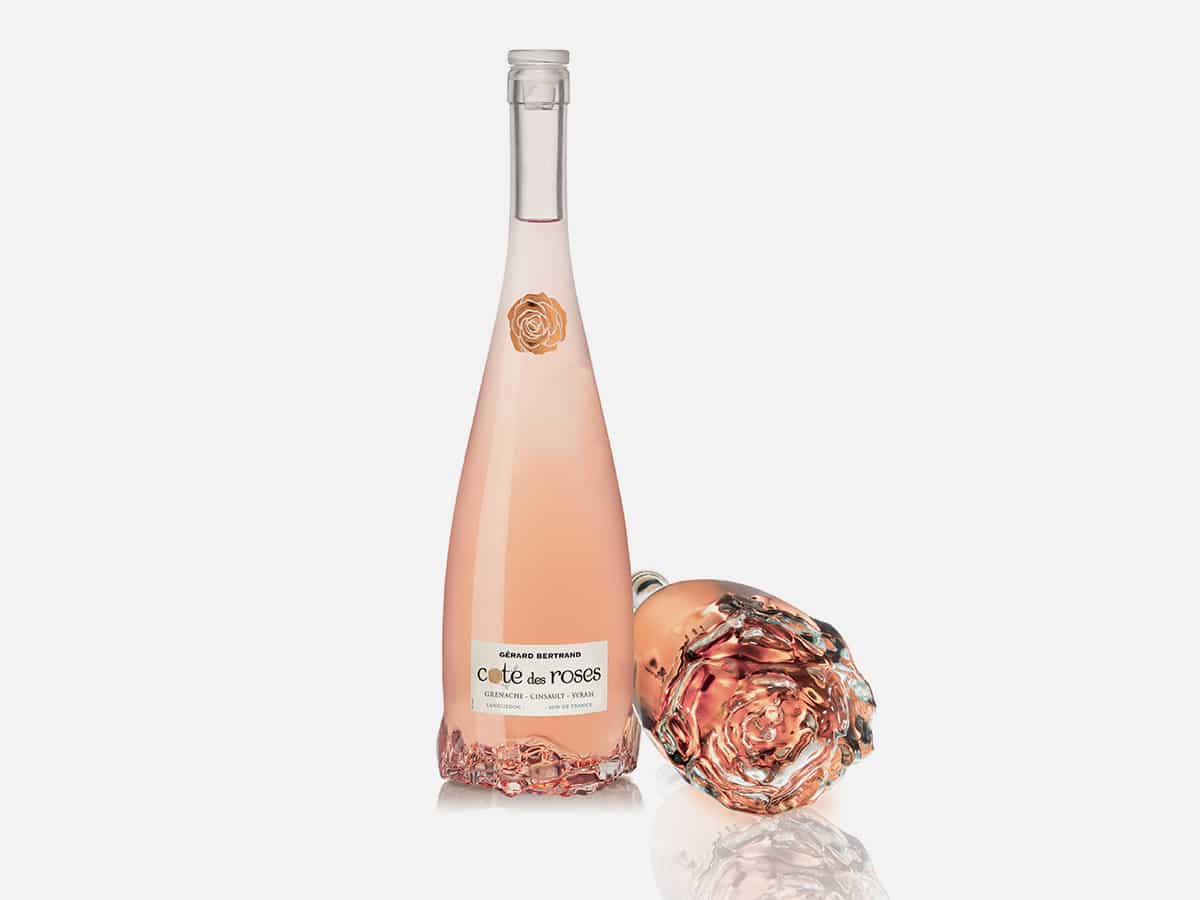 Cote des Roses Rosé
If your Mum enjoys a glass or two, look no further than Cote des Roses Rosé. This beautiful wine boasts a warm blush colour and is bursting with aromas of summer fruits, cassis, and floral notes. The palate is full and fresh, with a perfect balance of sweetness and acidity that will have her loving you more and more with every sip. So whether you're treating your mum to a special brunch or a relaxed lunch, this wine is the perfect companion for any occasion. -$23.99
Dyson Airwrap
Dyson's superlative How To Start Your Own Tasmanian Whisky Label on a Budget employs Coanda Airflow in lieu of traditional heat so as to increase control and reduce the potential for damage. It comes with a wide selection of re-engineered attachments and leaves no potential user behind. If your mum loves perfect hair, then she'll love this.
Elon Musk's $130 Million Bitcoin Gamble Pays Off
Vitamix A2500i Ascent Series Smart Blender
You simply can't go wrong when gifting your mother a Vitamix, it is the holy grail of blenders after all. The A2500i Ascent Series Smart Blender specifically, has an ultra-convenient blending system that runs at various speeds and comes with three program settings for the respective categories of smoothies, hot soups, and frozen desserts. Thanks to self-detect technology, it can automatically adjust program settings when operating on different container sizes. Game-changer!
Sol de Janeiro Bum Bum Jet Set
Sol de Janeiro's all-in-one travel skincare kit will have you both eager and ready to embark on the next tropical getaway. Featured products include Brazilian Bum Bum Cream, Brazilian 4 Play Shower Cream-Gel, and Brazilian Crush Body Fragrance Mist. The result is soft and healthy skin with a glorious fragrance to match.
LTN 25 Momme Mulberry Silk Pillowcase
Crafted from 25 momme mulberry silk, this smooth and static-reducing pillowcase is quite literally the stuff that dreams are made of. Denser than standard silk and naturally thermo-regulating, it repels mold, allergens, fungus, and other unwanted hazards. Plus, it just feels good.
NON Blush Set
Does your mum enjoy the refreshing qualities of sparkling beverages, but not the alcohol content? If so, we have just the thing for her. It comes from NON and takes the form of two non-alcoholic alternatives—Salted Raspberry & Chamomile and Lemon Marmalade & Hibiscus—both of which deliver crisp colour and nuanced flavour. Here's to great taste, minus the hangovers.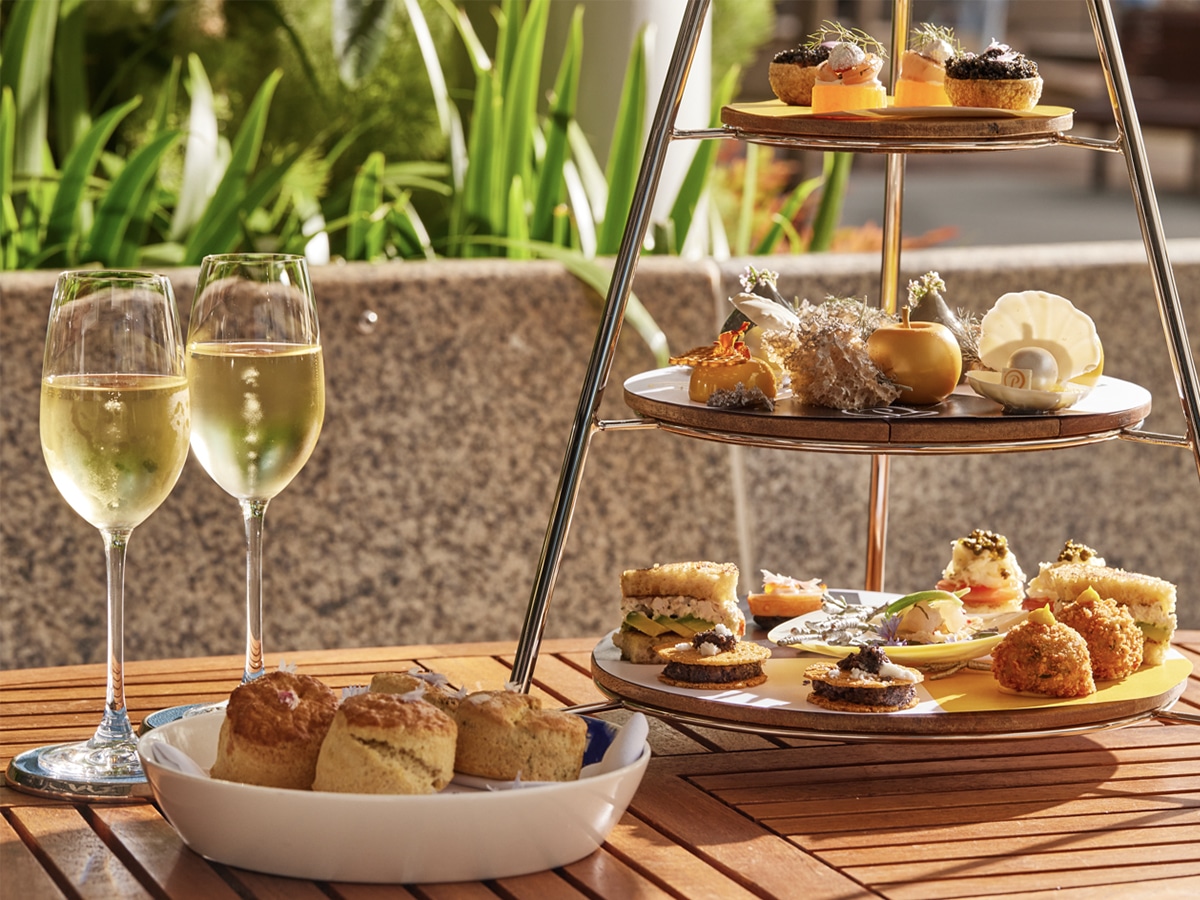 TWR Paspaley Mother's Day High Tea
Because your Mum deserves only the best, a regular High Tea simply won't do. Instead opt to spoil her with this beautifully curated High Tea experience at The Crown's The Waiting Room, also known as TWR. Not only will you enjoy breathtaking views overlooking Sydney harbour, but you will also be treated to a delicious selection of rare delicacies including Paspaley Pearl Meat, alongside a selection of sweet and savoury treats all whilst sipping on a glass of Piper-Heidsick. The Paspaley High Tea can be booked between Wednesday 10 May – Sunday 14 May between 2 pm – 5 pm. Bookings are essential at $135 per person.
Chefs Life Trio Gift Pack
Celebrity Chef and Restauranteur Brian Malarkey designed these culinary oil blends, which make for the perfect addition to any modern cooking arsenal. Each one features instruction-themed labels so that cooks of any skill set know exactly when and how to use them. If only everything in life were this simple…and delicious!
ASICS GEL-NIMBUS 25
With its plush knit upper, flexible tongue, PureGEL technology, and cushioned midsole, this neutral trainer cultivates the best of comfort and performance alike. Choose between a variety of colourways and give Mum the gift of optimal footwear.
Giorgio Armani Silk Foulard with Floral Print
Giorgio Armani's eye-catching foulard hails from the Holiday collection and simply bursts with vibrant colour and a signature floral motif. Your mum will gasp with pure delight as soon as she sees it and that alone is worth the premium price tag.
Drunk Elephant Trunk
Why get Mum one or two skincare products when you can give her an entire grooming routine? Enter this limited edition cooler from Drunk Elephant, which comes fully loaded with 10 full-size skincare essentials, including moisturisers, exfoliators, revitalisers, replenishers, and more. Get one before it's gone.
Apple Watch Series 8
The Apple Watch is a great thing that keeps getting greater and the Series 8 is no exception to the rule. Expect all the goodies you've come to relish along with advanced features like temperature sensing, fitness monitoring, automobile crash detection, and assorted workout apps.
diptyque Eau Rose Eau De Parfum
Presented within an elegant bottle, this acclaimed fragrance conjures the aromatic essence of a floral bouquet. Rounding out its rosy profile are notes of fruit and camomile and a complementary artichoke accord.
Penfolds Max's Rosé
Named after industry legend and former chief winemaker Max Schubert, this Penfolds Rosé is every bit as lively and refreshing as its signature pink colour would suggest. It glides across the palate in a silky symphony of orange, strawberry, jasmine blossom, and white pepper. Ahhhhhh…
Belkin Power Bank
Sometimes you're mum just needs a reliable power bank and Belkin has her covered. This 10K version is sleek by design and able to charge up to three devices at the same time by way of USB-C ports.
lululemon Align High-Rise Pant 25
The energy will flow and so too will the comfort when you rock these lululemon pants to the next yoga session, enjoying the many benefits of lightweight Nulu fabric construction. The brand has done more than anyone else to master this particular apparel category so buy with absolute confidence.
Rimowa Luggage
Equal parts practical and premium, Rimowa's iconic luggage turns aluminium construction and signature grooves into a work of functional art. Behold its lightweight but sturdy performance as it cruises on a patented wheel system and secures your belongings within an expertly-designed interior.
Giorgio Armani Brass and Resin Pendant Earrings
These clip-on earrings combine various materials and crafting techniques to generate their utterly distinctive allure. Splurge on Mum this year and watch as they become her favourite possession overnight.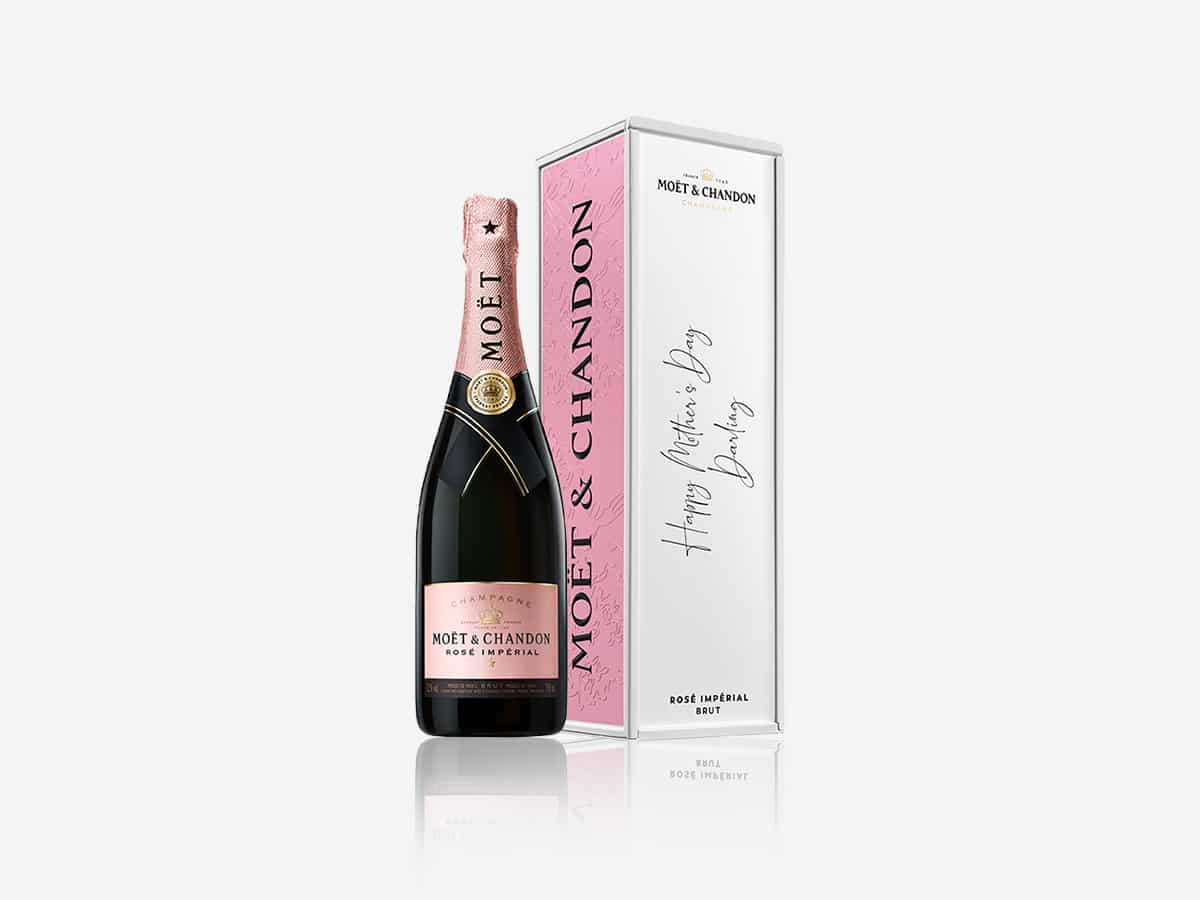 Moët & Chandon Mother's Day Personalised Tins
Mother's Day is a time to celebrate and there's no better way to do it than by cracking open some delicious bubbly. Make the moment count by scoring a bottle of this timeless champagne from Moët & Chandon, which arrives with a personalised "Specially Yours" limited edition metal gift box. Show Mum you love her with one of the most historic and esteemed names in the game.
Glasshouse – Lost in Amalfi Travel Set
This fragrant 17 Cool Restaurants in Sydney for a Fun Night Out takes inspiration from the Amalfi coast and puts a scented candle and luxurious hand cream within a pink cosmetic case. An aromatic profile of lemon, freesia, lavender, and musk is like a getaway unto itself.
501 Levis
Everyone can use a pair of trusty blue jeans and Patrick Mahomes' Diet & Workout Plan from Levis are as quintessential as it gets. Crafted from 100% cotton and equipped with a button fly, they've never gone out of style and they probably never will.
How to Make the Perfect Aperol Spritz
Sennheiser True Wireless 3
Not all wireless earbuds are created equal and Sennheiser is here to prove it. Their latest generation of Momentum True Wireless combines exceptional sound with long-lasting performance, superior noise cancellation technology, splash resistance, sleek style, and ergonomic design. Don't settle for the rest when you can score the best.
Ralph Lauren Throw Blanket
Ralph Lauren constructed this luxurious throw blanket out of cable-knit cashmere with signature patterning and ribbed edges. Choose between Natural and Dark Heather Gray and prepare to make her Mother's Day.
MAISON de SABRÉ The Laptop Bag
Don't be dismayed by the words "laptop bag" as this full-grain leather example puts a stylish twist on the familiar product category. It comes available in a variety of striking colours and comfortably protects any device up to 16″ in size, with dedicated room for your charger, phone, and other essentials.
Blundstone Chelsea Boots 500 (Stout Brown)
Streamlined and superior, the Blundstone 500 Chelsea Boot is a masterclass of leather construction. Brown elastic gussets and tonal contrast stitching dials up the detail whilst rubber outsoles deliver ample shock protection and support. This is a footwear classic if there ever was one.
Golden Goose Mid-Star Sneakers
Handcrafted in Italy, these Mid Star sneakers use pink-gold glitter and premium suede to render their one-of-a-kind impression. If your mum likes to turn heads as she stays active, then you've just found the perfect gift.
Ecovacs WINBOT W1 Pro Window Cleaning Robot
This advanced robot effortlessly cleans windows and only asks for the occasional recharge. Sometimes, it's a good thing when the machines take over.
Ralph Lauren Polo Bear Wool Cashmere Jumper
Classic comfort meets clever style on this premium Cashmere Jumper, which features an intarsia-knit Polo Bear on the front along with signature logo detailing. Hand embroidery and beading make an already terrific garment all the more distinctive.
Papinelle Kate Modal Pajama Set
Sydney-based Papinelle continues to perfect the art of sleepwear with this ultra-comfortable pajama set. Soft in feel, relaxed in fit, stylish, and stretchy, it will have you begging for bedtime.
Nespresso Vertuo POP
Nespresso's award-winning Vertuo POP combines brilliant colour with effortless performance and a compact design. It's easy to maintain, smartphone compatible, made from 35% recycled plastic, and presented in sustainable packaging. Your morning has just been optimised.
Ettitude Woven Throw Blanket
What's better than cashmere? This Woven Throw Blanket from etitude, which simulates the softness of cashmere by way of sustainable and cruelty-free bamboo fibres. Choose between two different stylish colours and prepare to feel good on multiple levels.
Ooni Koda 12 Gas Powered Pizza Oven
Piping hot pizza is a tasty delight that few can refuse and we're not about to start. For the best of home cooking, look no further than this gas-fueled oven, which fits in any outdoor area, reaches 500°C (950°F) in 15 minutes, and whips up a stone-baked 12″ pie in a mere 60 seconds. Yum.