Guide to Buying a Mens Wedding Ring
Choosing a mens wedding ring might be less difficult than choosing an engagement ring, but it can still be pretty darn difficult, especially if you're a man of style. That's not just because mens wedding bands come in all prices, shapes, widths and materials, but furthermore because it's one piece of jewellery that you'll be ideally rocking for life. And while we can't necessarily dispense 10 Common Men's Health Myths Debunked on mens wedding ring recommendations (you know, because we don't know you), we can offer a general guide on where to buy a mens wedding ring, hopefully sending you down the right path. Hence, please read on for everything there is to know about buying a mens wedding ring, written in partnership with Mens Rings Online. Oh, and by the way, congrats on your engagement! You are getting married, right? Right? Hello?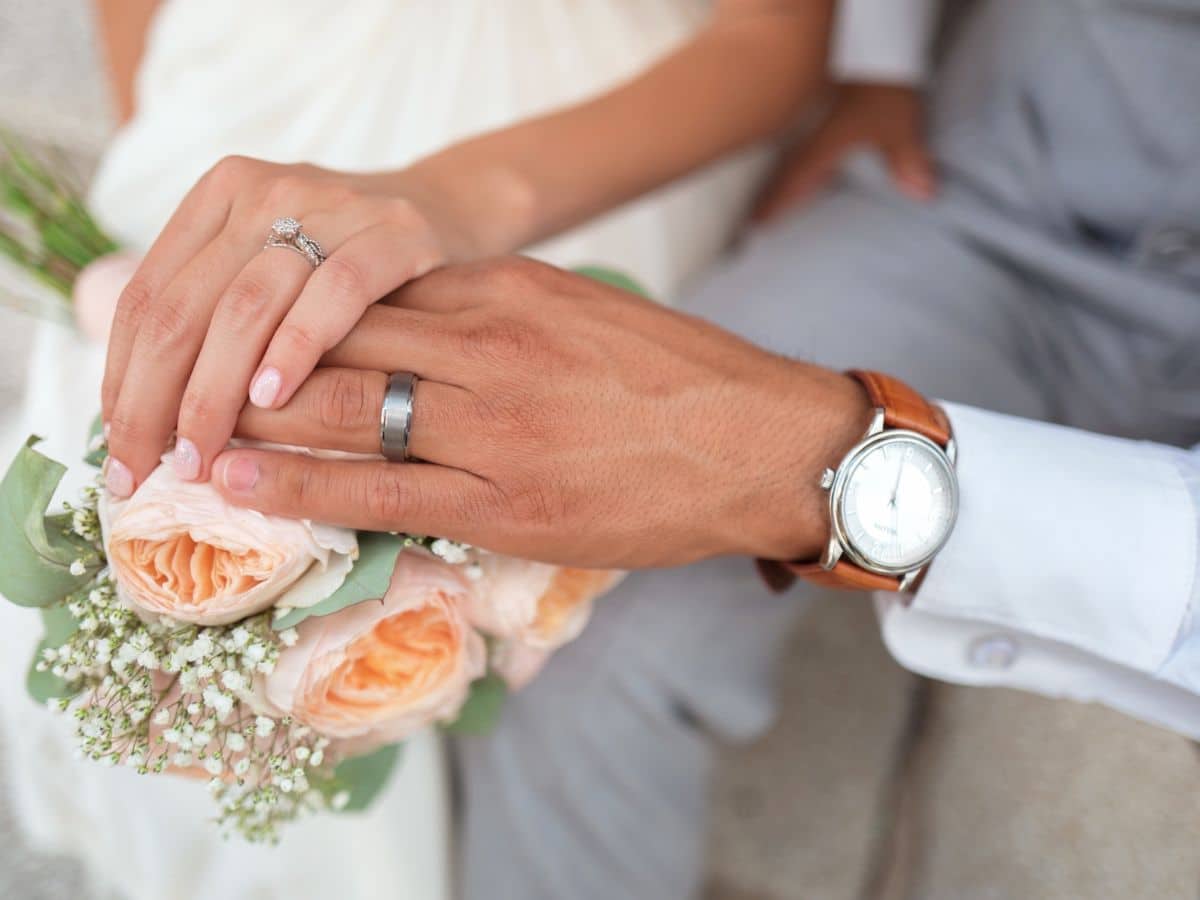 Choosing a Mens Wedding Ring Width
As you're likely to know, rings offer all sorts of various widths, and mens wedding rings are no exception. For the sake of simplicity, we'll boil width down to slim (4mm), medium (6mm) or wide (8mm) styles. That is, do you want a slimmer ring, a medium width ring, or a wider ring? Before answering, you should be aware that most men choose bands that are at least 4mm wide, that wider rings typically cost more, and that larger or longer fingers generally go better with wider rings. Of course, ultimately it's up to you what looks best on your finger, and you'll definitely want to try on a few rings of various widths to see how they look and feel. If you already know the width you want, and feel like buying your ring online, Mens Rings Online makes the process supremely easy. Simply peruse their catalogue and use the filter at the top to find the width you're looking for. The site also offers a 60 day change of mind guarantee, just in case you discover that maybe a slimmer or wider band was the way to go.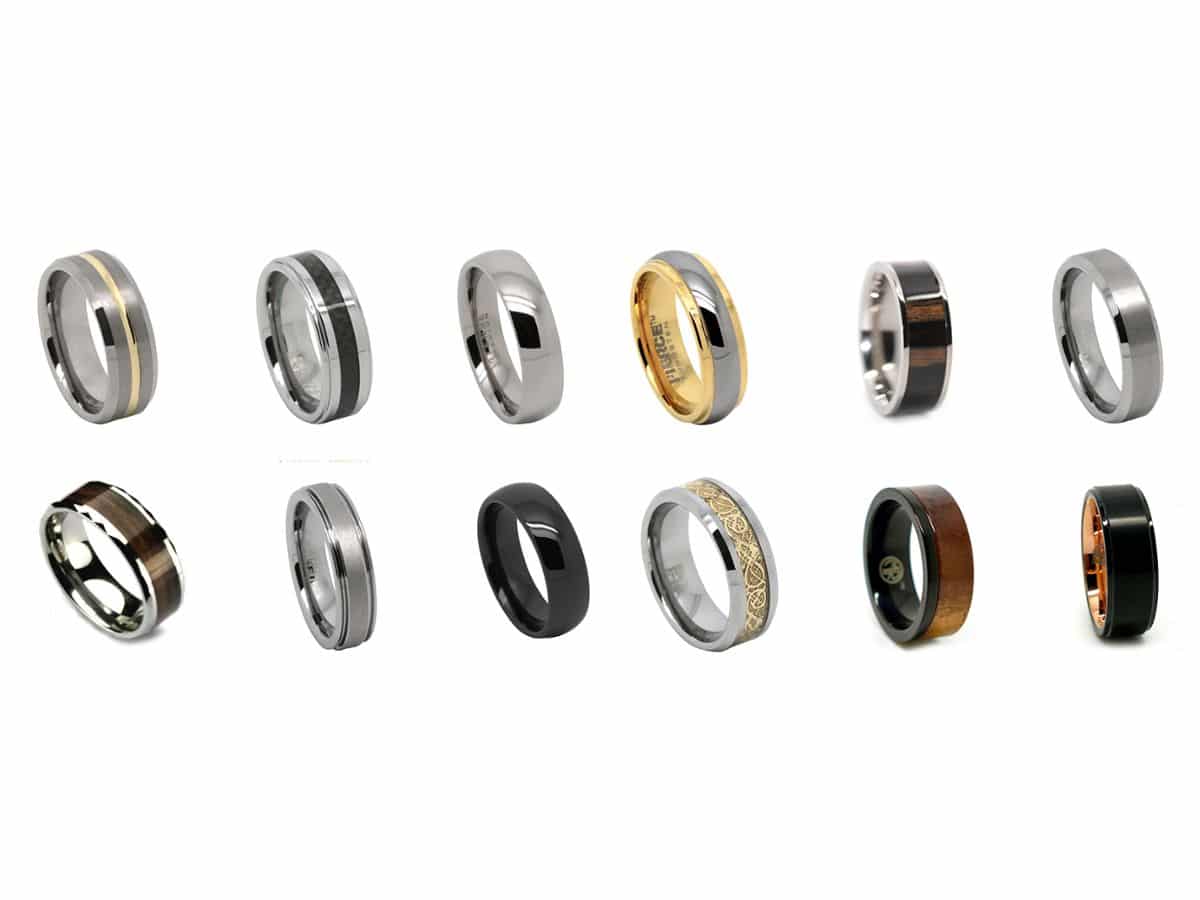 Different Metals & Materials for Men's Wedding Rings
Landing on the right material is probably the most important part of choosing a mens wedding band. Thankfully, the options aren't so varied that you'll spend months overthinking it, with most mens wedding rings coming in one of the following metals: white gold, rose gold, yellow gold, platinum, palladium, titanium and stainless steel. That's joined by a growing list of alternative metals like tungsten and zirconium, which are gaining in popularity. Okay, so maybe you have a lot of options after all.
Metals like white gold and palladium are precious metals, making them rife with timeless symbolic value, easier to resize, costlier to purchase, and generally more prone to wear. Metals like titanium and tungsten are modern metals, meaning they're more or less impossible to resize, commonly cheaper, and far more resilient to scratches or dents. Remember, it's also quite important to determine what type of color you and your bride ultimately want. It's not just about choosing a given material, it's about choosing the color gold, rose gold, or platinum for your wedding bands.
Before grabbing the first metal to catch your eye, you should be aware of a few peripheral factors:
The physicality of your finger will probably change over the course of decades. That might make a precious metal ring more desirable, whereas if the girth of your finger changes, you can have the ring easily resized. By contrast, you would have to completely replace a modern metal ring if it no longer fits.
You might be allergic to certain materials. For example, white gold is probably the most popular metal among men, however it contains nickel, which at least some men are allergic to.
Platinum–which is more durable than most precious metals and also hypoallergenic–can definitely come with a lofty price tag.
If you work with your hands a lot, and plan to wear your ring at all times, you might be better off selecting a modern metal like increasingly popular tungsten, which won't incur lots of scratches.
Truth be told, most men keep it classic and get a precious metal like white gold or yellow gold. Naturally, Mens Rings Online offers no shortage of examples. Their White Gold Polished and Brushed Men's Wedding Ring is slim, beautiful, and affordable. Taking the width up a notch while retaining a classic vibe is their Flat Yellow Gold Polished Men's Wedding Ring. Looking for a little more heft and diversity? Then check out their 2-Tone White and Yellow Gold Mens Wedding Ring.
Of course, we live in modern times, so there's no harm in checking out some modern metals, especially since most will save you hundreds of dollars. Did the mention of tungsten catch your eye? If so, the Black Tungsten Ring with Brush Finish might very well be calling your name. Or maybe the Unique Tungsten and Gold Mens Ring is more your style–it definitely lives up to its promise of distinction.
Titanium metal is likewise resilient and sleek. Mix things up a bit by slipping a Titanium Mens Ring with Dark Hawaiian Koa Wood Centerpiece on your finger. Or maybe something like the Custom 6mm Brushed Half Round Titanium Mens Wedding Band is more your speed.
---
Featured Video from Man of Many
---
How to Fit and Size Your Wedding Ring
No matter how flashy or resilient it might be, no mens wedding band in the world can do its job if it doesn't fit around your finger. In other words, you need to know how to fit and size your wedding ring. For that, you can get a ring sizer by clicking here. Once you've determined your size, you should confer with this Ring Size Chart to further determine which mens wedding rings you should be looking at. Next, click through the catalogue on Mens Rings Online to find the ring you want, knowing exactly which size you're looking for.
A few things to note:
Wider bands commonly deliver a tighter fit, and most men go up half a size when shopping for wider bands.
Fingers can physically change throughout the day, so be sure to wear the ring multiple times before deciding if it's not the right fit.
Fingers can also physically change depending on the season, and Mens Rings Online offers a Fit For Life policy that can resize your ring when necessary.
Not all modern metals are created the same, so if you swap one out for another you may have to adjust the size.
Different jewellers might give you different results when determining your ring size. That's why it's best to buy a ring from the same vendor who helps you determine your ring size.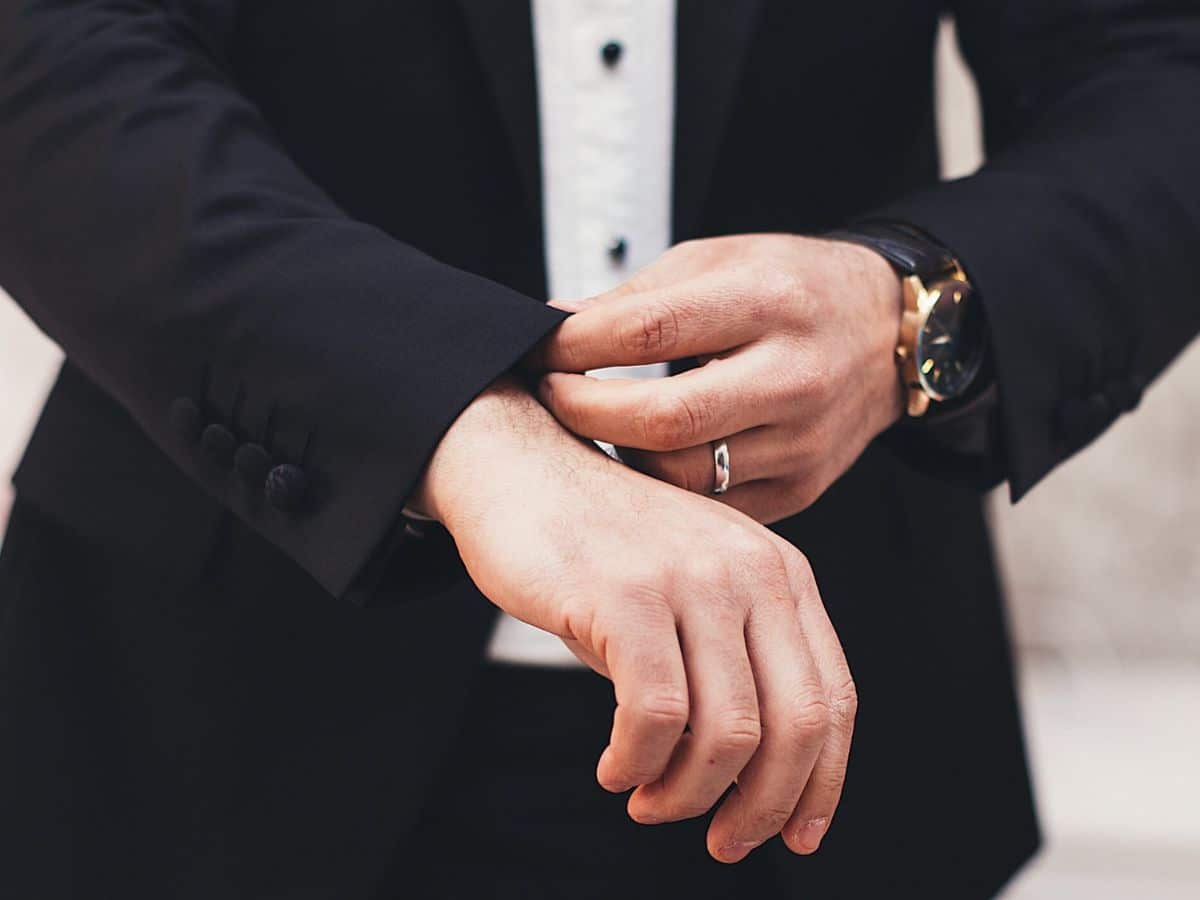 Choosing a Style & Finish for Your Wedding Ring
What, you thought you were done? Quite the contrary. When choosing a men's wedding ring, you should also be mindful of the finish, i.e. the texture, aesthetic, and profile of the ring itself. Here's a breakdown of some different profiles:
Classic Court – Arguably the most common ring shape, a classic court is round inside and out.
D-Shape Ring – The outside is round and thin, while the inside is flat, offering a closer fit.
Flat Ring – Comfortable to wear, but prone to getting stuck on clothing or machinery, the flat ring is true to its name, meaning it's flat inside and out.
Flat Court – Bridging two worlds, the flat court offers a flat exterior and round interior.
You also want to be mindful of the finish, or polish. Here are some different styles:
High Polish – The most common type, a high polish delivers straight metal with a smooth, glimmering finish.
Matte – Popular among modern grooms, the matte cuts down on the finish for less reflection.
Combination – This one falls directly between a high polish and matte finish.
Hammered – For those seeking true distinction, the hammered finish looks as though every detail was pounded in, resulting in far more texture.
Since young gents definitely like to think outside the box these days, more and more of them are also looking for rings with detailing, meaning the inclusion of patterns or different materials. For example, look no further than this Carbon Fibre Tungsten Ring with Blue Highlights.
On the more traditional end of things are engravings, which allow you to personalise the band by way of a word, message, image or even fingerprint, thereby enhancing the ring's symbolic value. Last but not least, you can always explore custom designs, giving you the power to design a wedding ring any way you see fit.
You may also like:
A Guide to Keeping Things Interesting in The Bedroom
Deciding on a Budget for Your Men's Wedding Band
When determining the budget for your wedding ring, just remember that most men keep it affordable these days. Hence, there's no reason to go overboard.
Different Wedding Band Material Prices
Of course, if you do want to go overboard, you should seek out a diamond-encrusted ring or a platinum ring, followed by palladium, white gold, yellow gold, rose gold, and then silver. Beyond that, you get into modern metal territory (titanium, tungsten, etc). In summary, precious metals will usually cost more and modern metals will usually cost less. The good news is that there's no shortage of incredible mens rings that can be purchased for just a few hundred dollars, especially if you're going with metals like tungsten or titanium. Peruse Mens Rings Online's catalogue and sort by "price" to see for yourself.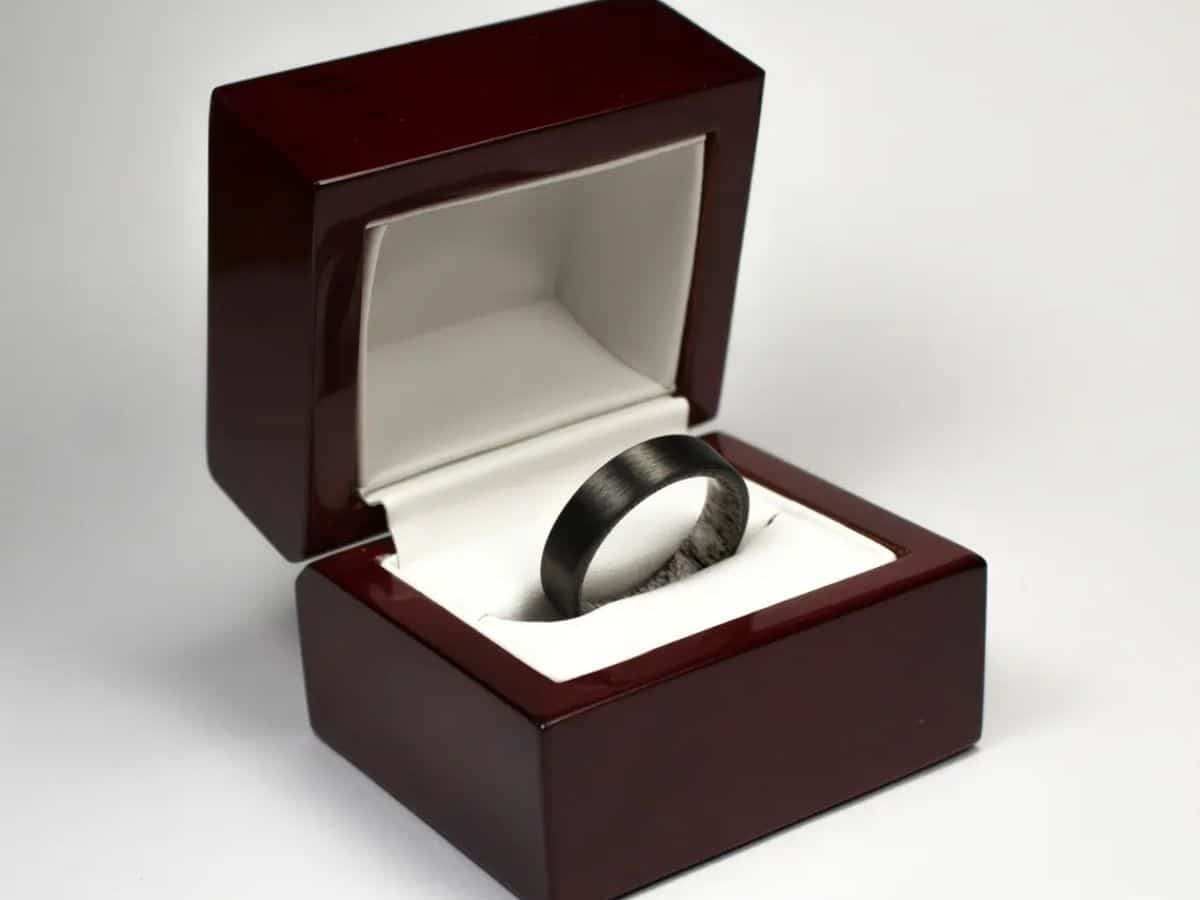 Care and Maintenance of Your Ring
Before you purchase your men's wedding ring, you should ask yourself how often you plan to wear it. For example, are you going to be one of those dudes who basically wears his ring at all hours of the day or night? Or will you be a guy who only slips it on during work hours and for special occasions? Once you've figured that out, you can proceed accordingly, remembering that most precious metals (outside of platinum) are prone to wear, and most modern metals aren't.
When not wearing your men's wedding ring, keep it in a dry, secure place. You'll also want to clean it every now and then. To do that, you should soak the ring in a solution of warm water and soap for about 20-30 minutes. After soaking, use a soft cloth or soft brush to gently remove any lingering dirt or grime, being sure not to scratch the metal.
Like a great marriage or even a wedding suit, a men's wedding ring requires dedicated maintenance and care. In return, you get a trusty companion for life. Sounds like a good deal to us!
General FAQ
Where can I buy a mens wedding ring?
Mens Rings Online have a wide range of mens wedding rings and bands.
What's the difference between a wedding ring and a wedding band?
Both wedding rings and wedding bands are rings, a wedding band, however, is a simpler design to a wedding ring.
Do you need a wedding band and a wedding ring?
No, you can have one or the other.
You may also like:
A Guide to Keeping Things Interesting in The Bedroom
Top Tips for Choosing A Wedding Suit
A Complete Guide to Buying a Tuxedo
---
Featured Video from Man of Many