25 Best Hip Flasks and Drink Ideas
Being compact, sturdy and able to hold 2022 Valentine's Day Gift Guide For Her, the best hip flasks duly answer perennial questions such as "But what if they don't serve booze?" and "The drinks are going to be how much?" Accordingly, the almighty flask remains a concealed weapon of choice for urban warriors and savvy campers alike.
Now to be clear, we're not advising you to slip one of these flasks into your pocket every time you go to the movies or an overpriced cocktail lounge, because such a manoeuvre is probably illegal. On the other hand, we're not not advising you either. You follow? Good. Read on for our list of the best hip flasks and then strap up!
RELATED: Want to learn more about whisky? Check out our comprehensive guide to whisky here.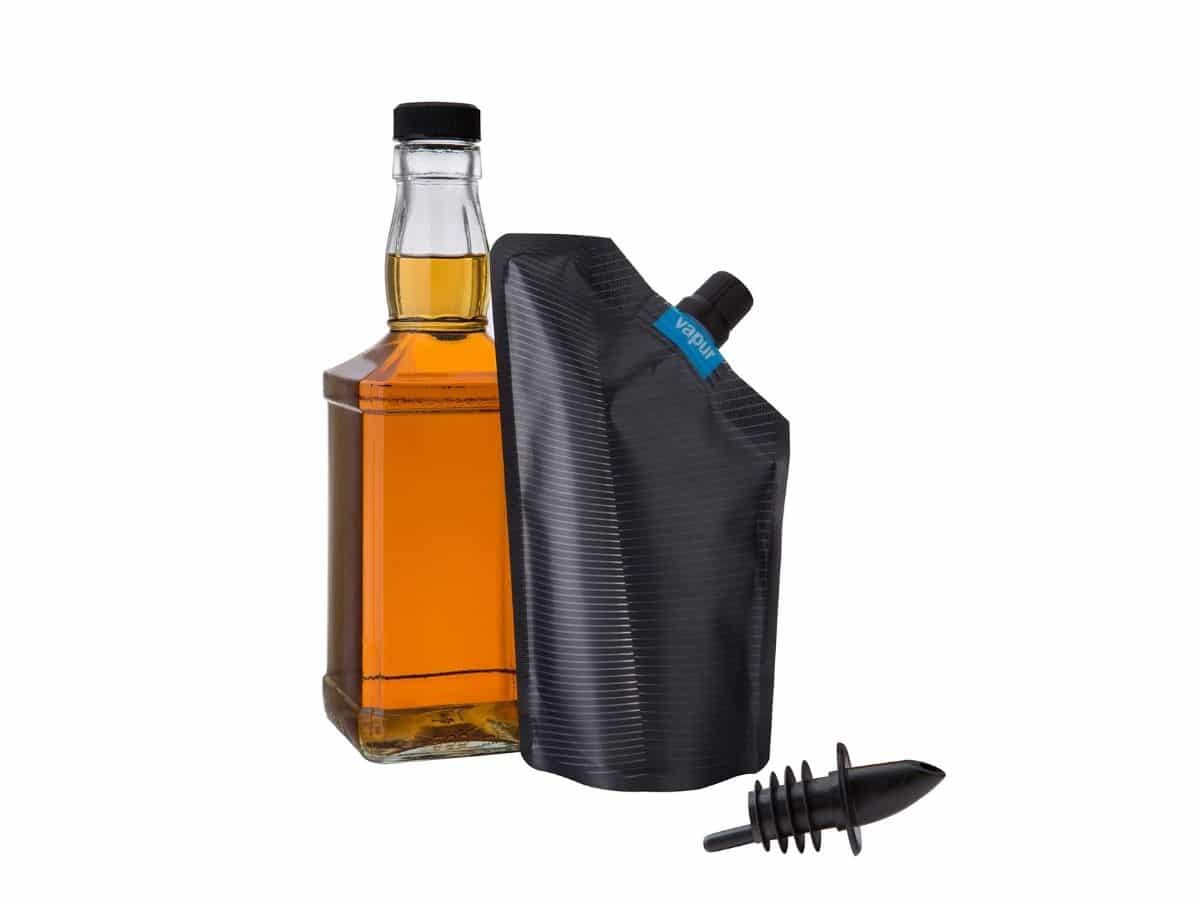 1. Vapur Icognito Flexible Flask
Kicking off our list of best flasks is the Vapur Icognito. Made with dishwasher safe, BPA-free polyethylene & nylon, the Vapur exudes both flexibility and durability. It also comes with a tiny pourer to ensure you don't lose a drop. This is not your grandpa's flask!
Material: BPA-free
Quantity: 300 ML / 10 oz.
Price: $9.95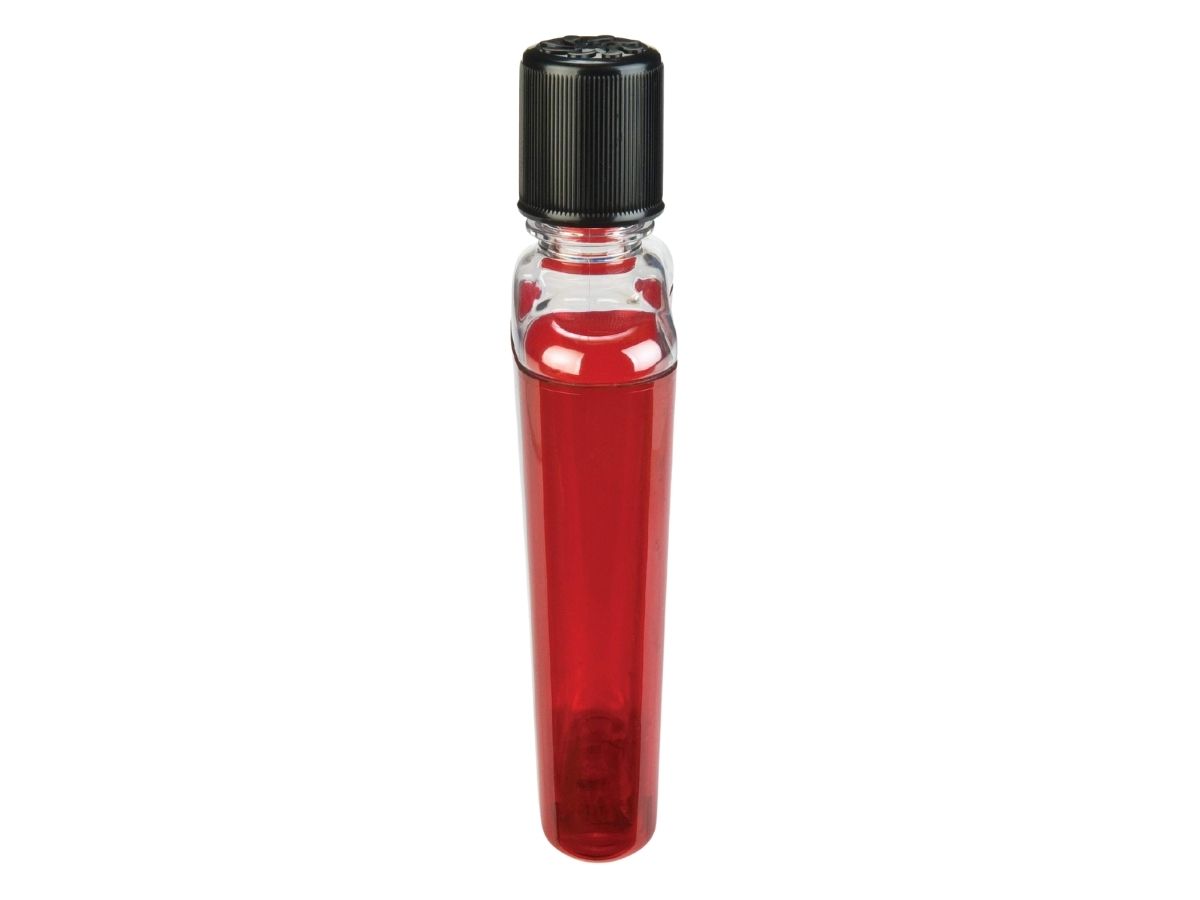 2. Nalgene Flask
Able to hold an ample 12 oz. of booze in its slender, leakproof body, the Nalgene Flask is a trusty friend that's always there in times of need. Also, the cap is 1 oz. deep, making it a perfect shot cup on the go.
Material: BPA-free Tritan
Quantity: 10 oz.
Price: $11.25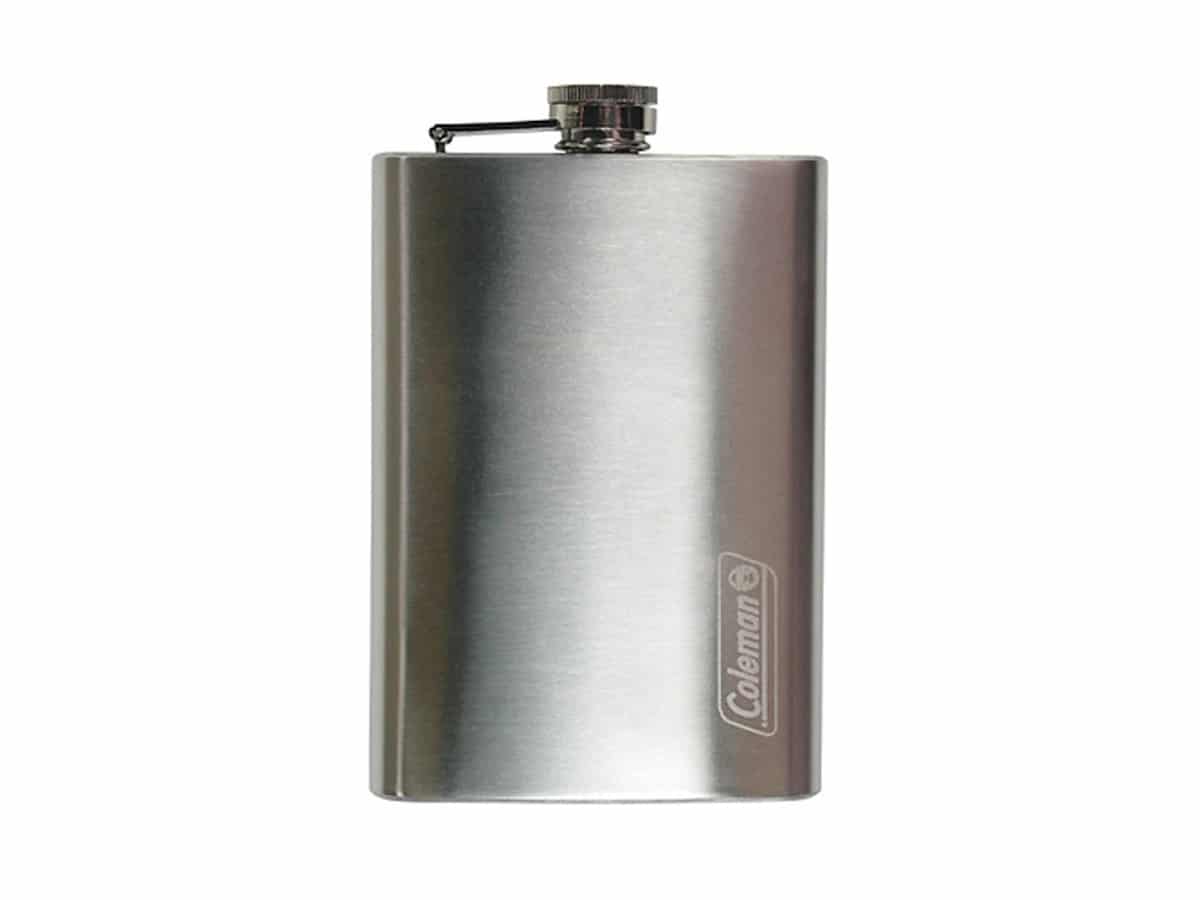 3. Coleman 8 Oz. Stainless Steel Flask
The Coleman 8 oz. Stainless Steel Flask gives off all sorts of classic vibes. It's like you're maintaining a timeless tradition every time you unscrew the cap and take a hearty sip. In other words, this might be your grandpa's flask, but your grandpa could probably drink you under the table in his prime so maybe you can learn a thing or two by emulating him.
Material: rust-resistant, stainless steel
Quantity: 8 oz.
Price: $8.3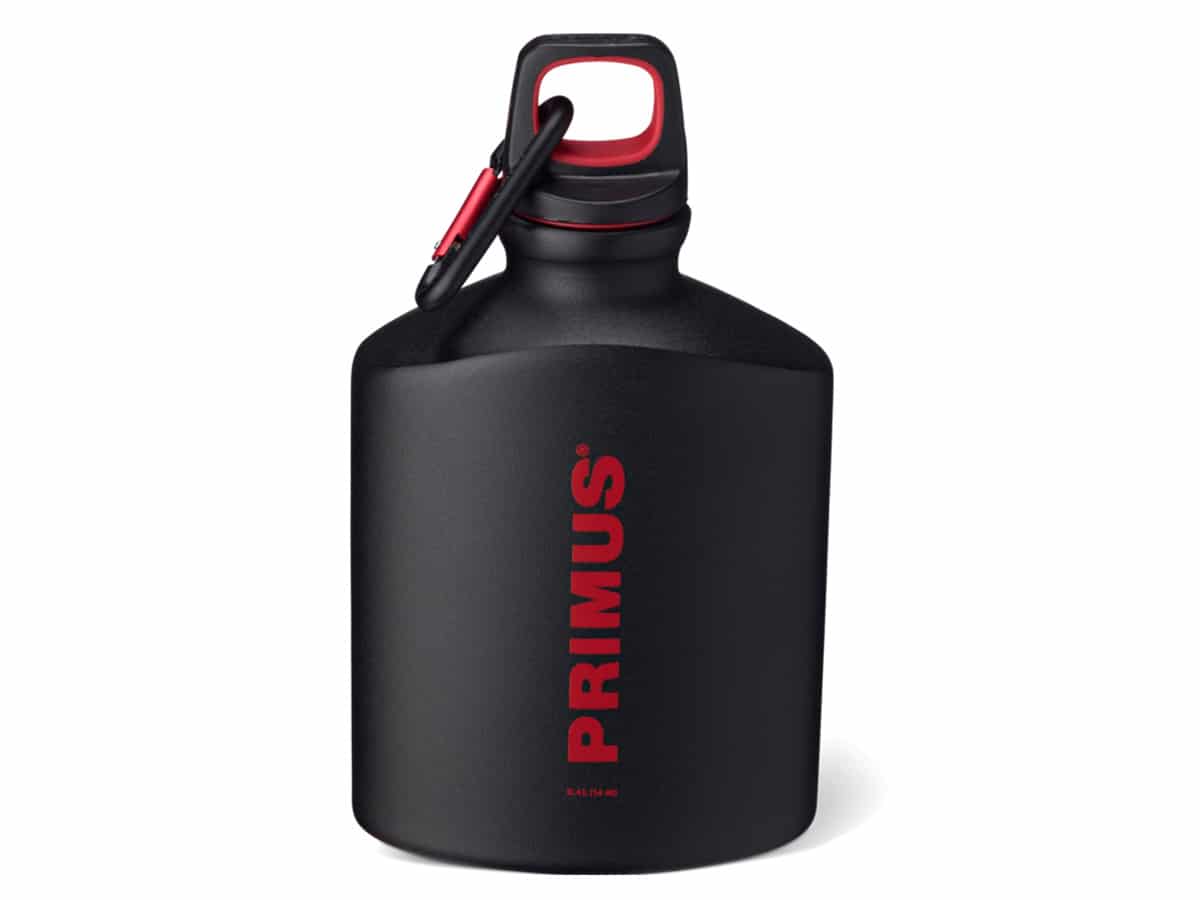 4. Primus Flask and Oval Drinking Bottle
With a stout, aluminium body and then a finger hole at the top, the Primus is both manageable and sturdy. Plus, the interior has been treated so as not to affect the taste of your booze–a measure we definitely appreciate!
Material: aluminum
Quantity: 0.4 L / 14 oz.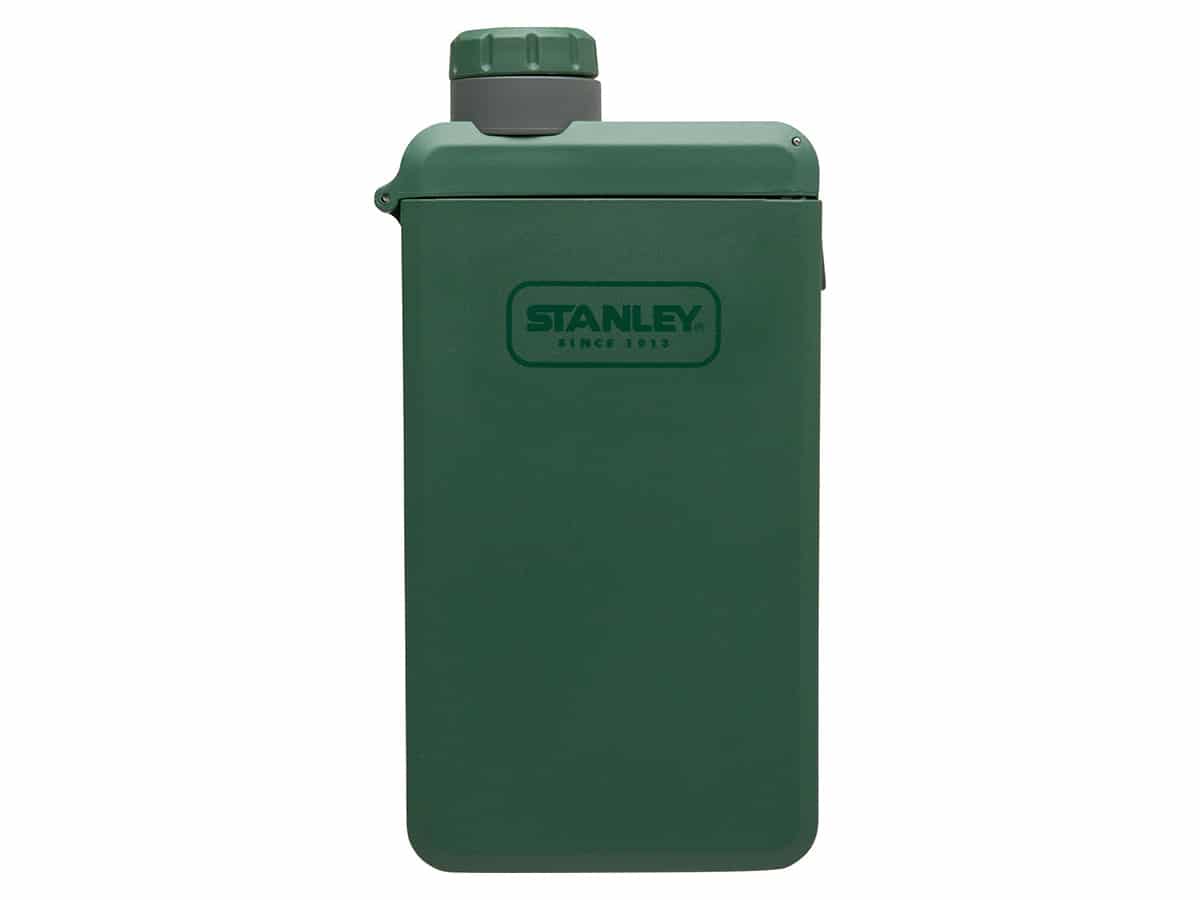 5. Stanley Adventure eCycle Flask
The Stanley keeps it green and we're not just talking about the colour. This light, leakproof and dishwasher safe flask is made using 100% recycled materials. A detachable cap makes the flask all the more easy to clean. This is one of the best hip flasks for increasing your buzz while decreasing your carbon footprint.
Quantity: 7 oz.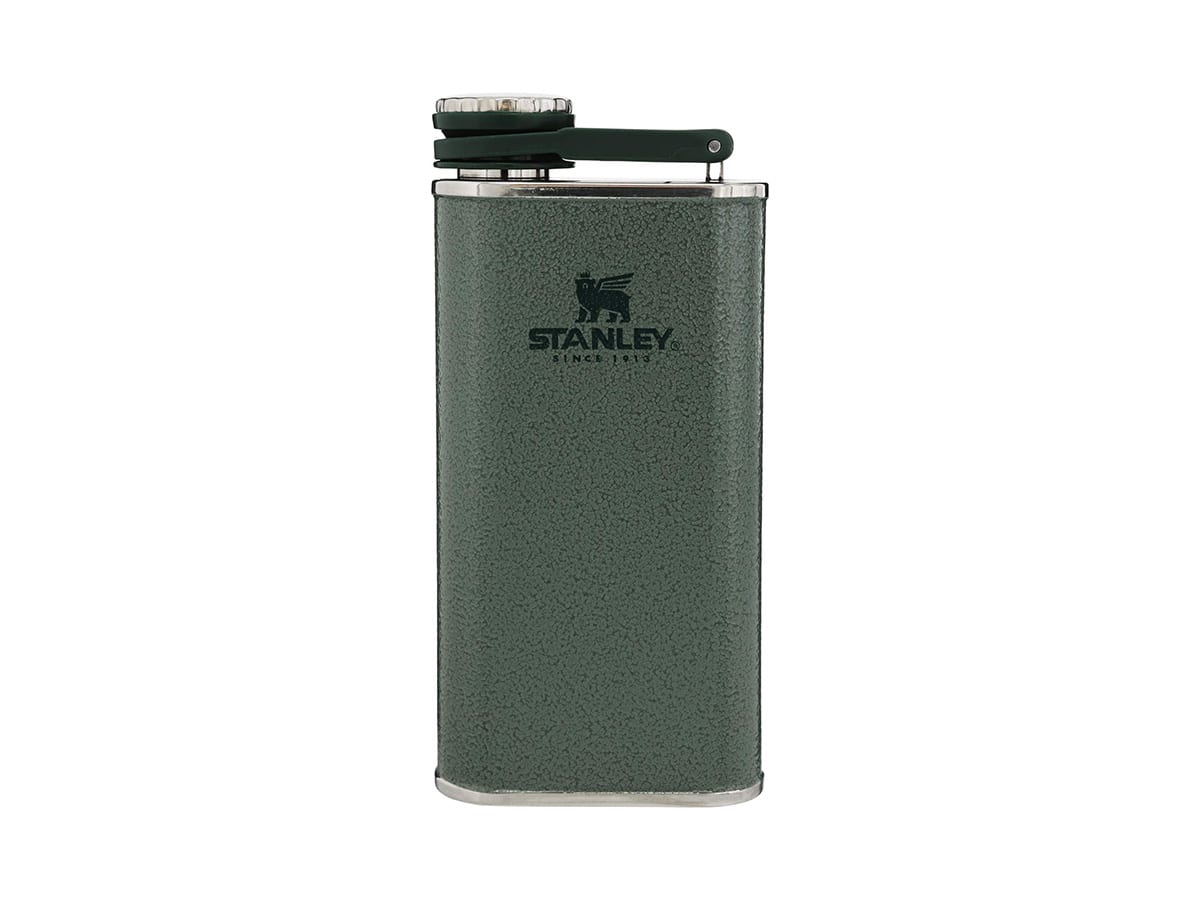 6. Stanley Classic Flask
If the Stanley Adventure eCycle aesthetic is a little too crude for your taste, by all means consider the Stanley Classic instead. It hosts a wide mouth for steady gulping, and is made using BPA-free 18/8 stainless steel that won't rust. The Stanley Classic is so confident in its performance that it even comes with a lifetime warranty. Classic, indeed!
Material: 18/8 stainless steel; BPA-free
Price: from $18.74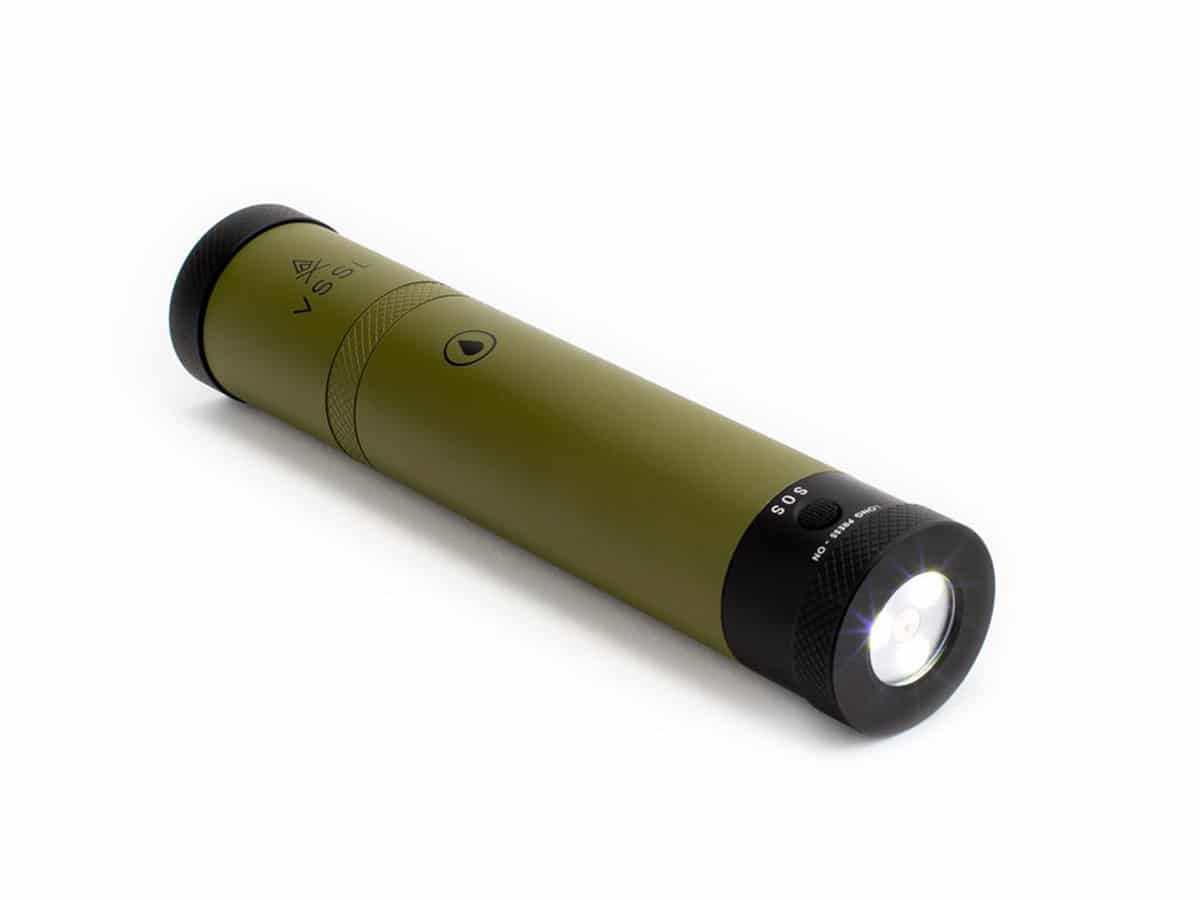 7. VSSL Compact Adventure Flask
Truly built for the outdoor experience, the VSSL Compact Adventure Flask delivers an impressive number of peripheral specs. Not only is it good for 10 oz. of booze (or the beverage of your choice), but it doubles as a 4-mode LED utility light. An oil-filled compass, bottle opener, hidden compartment, and two collapsible stainless steel shot cups are also part of the package. This one leaves nothing to chance!
Quantity: 10 oz.
Price: $76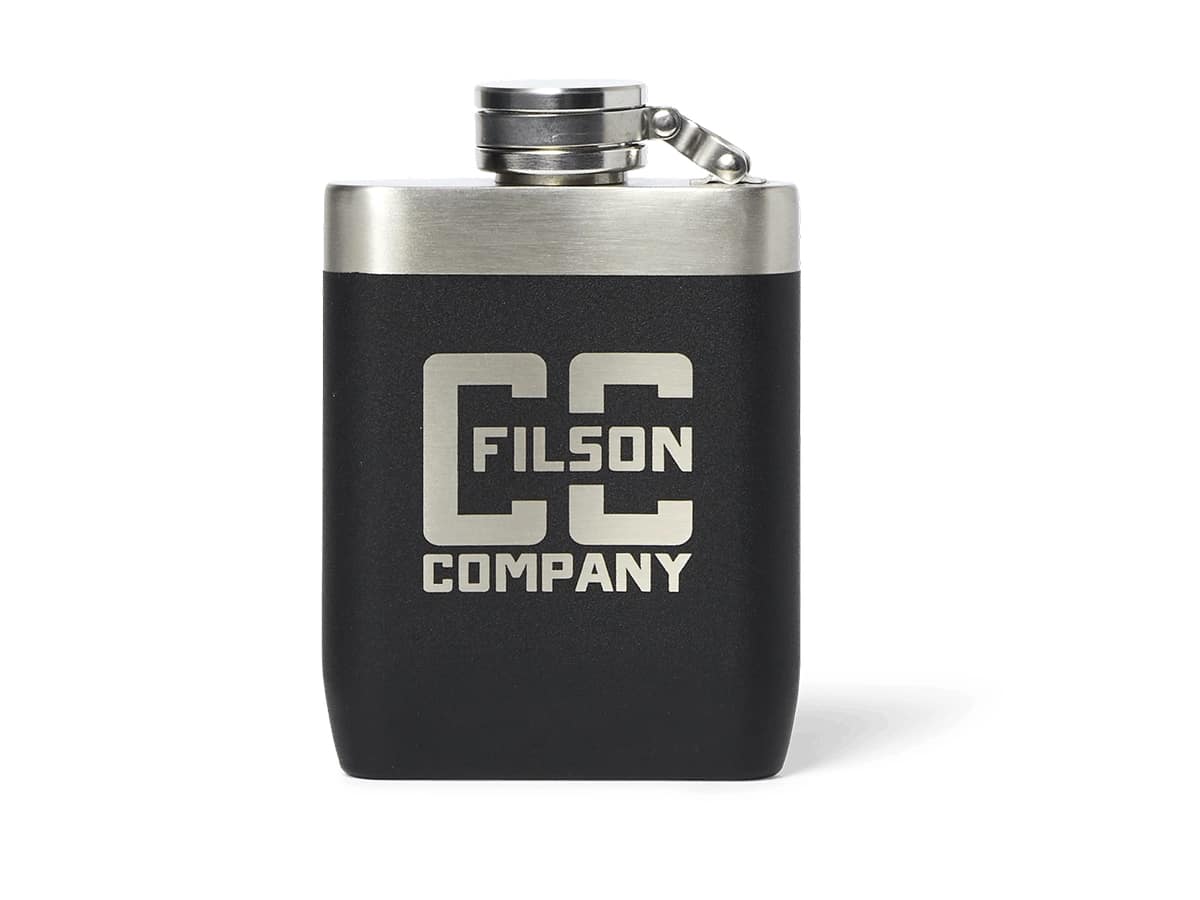 8. Filson Flask
One look at the beautiful, black Filson and it's easy to see why it's one of the best hip flasks you can own. It's all about that premium bridled leather, wrapped around a stainless steel frame. Giving the flask an extra touch of elegance is an embossed logo on the front. This one has our name written all over it!
Quantity: 6 oz.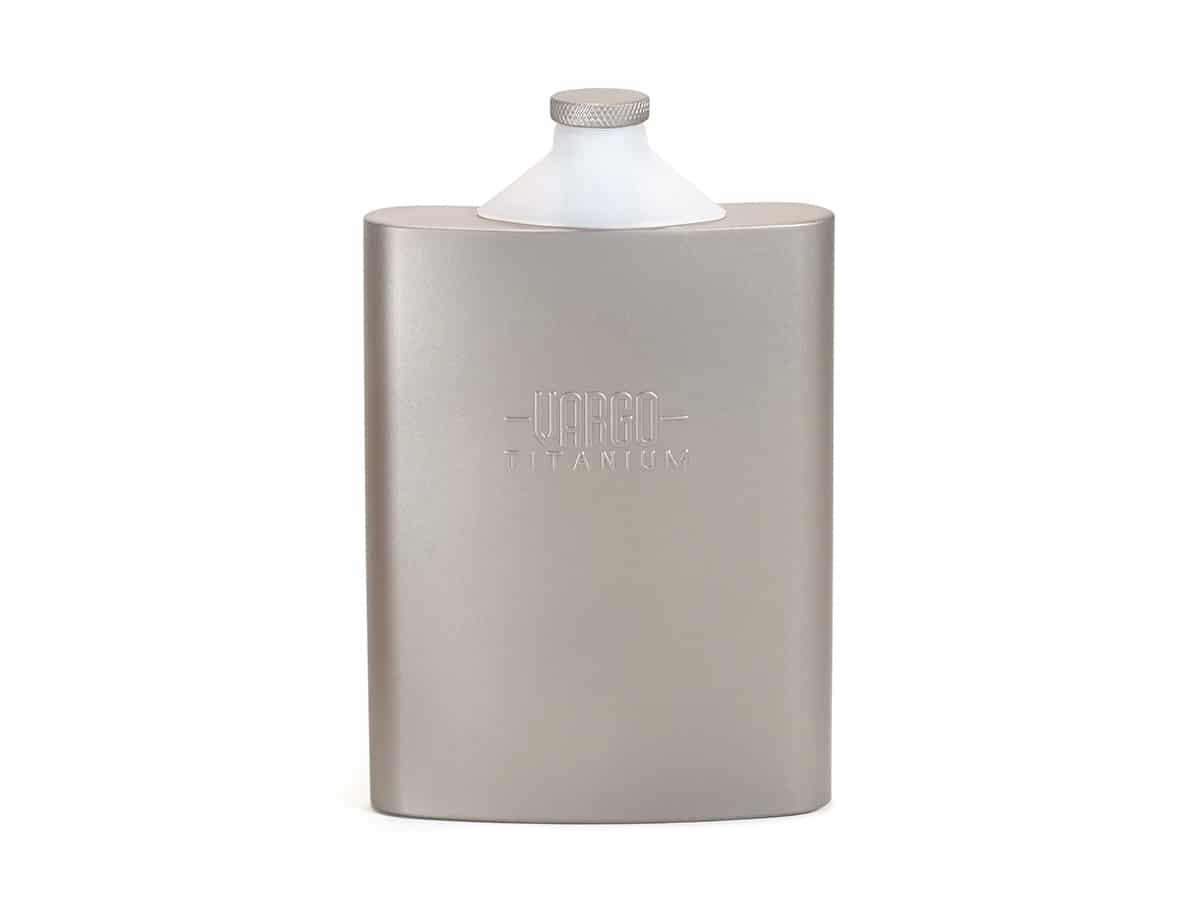 9. Vargo Titanium Funnel Flask
The Vargo is an eye-catching stunner and lightweight champion due to its pure titanium body alone. Throw in an integrated silicone funnel and you've added an extra tier of functionality to what was already one of the best flasks on the market. This is also the only hip flask with a funnel that we've included in this list!
Material: titanium
Quantity: 8 oz.
Price: $74.95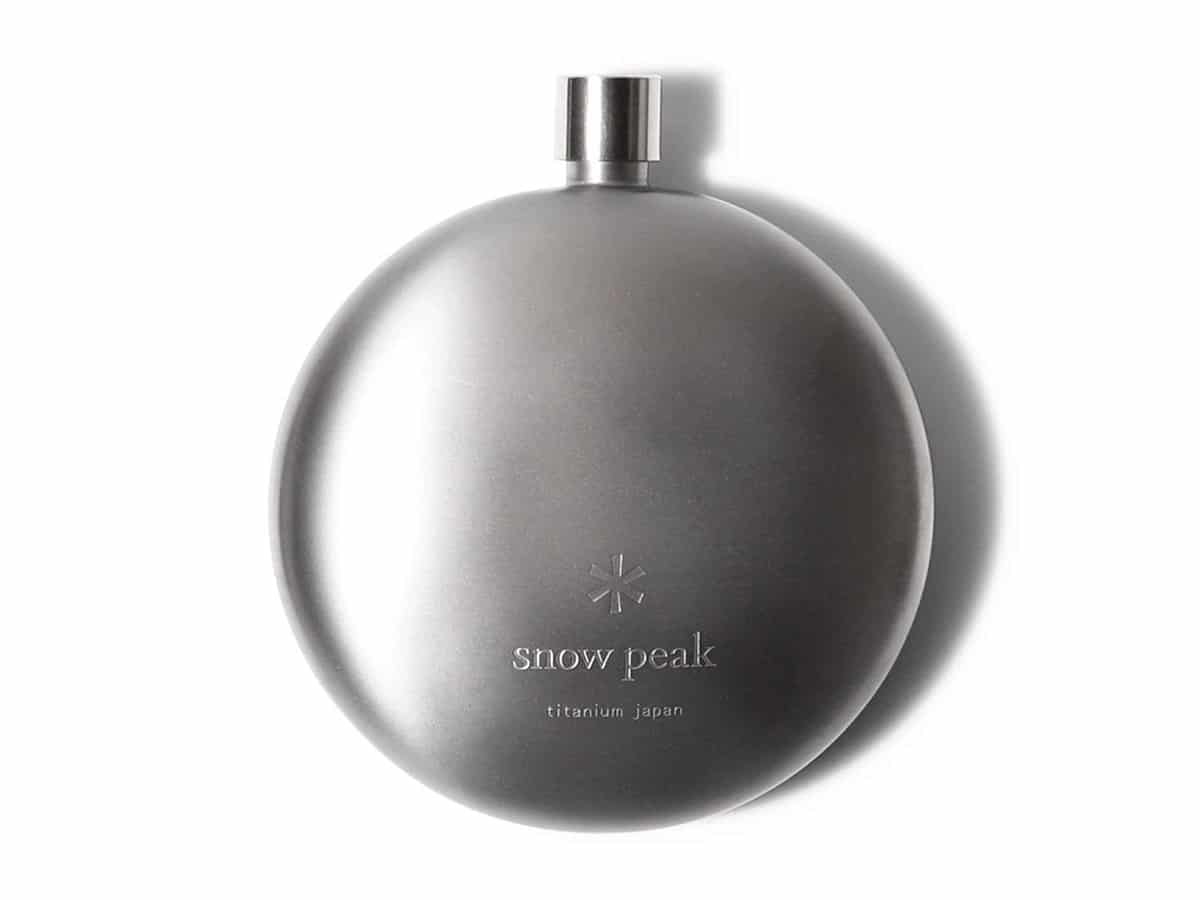 10. Snow Peak Titanium Curved Flask
Visually distinguishing itself from the herd is this gorgeous orb from Snow Peak. The Titanium Curved Flask is light and strong in stature and mind-blowing in design. Fill it with some choice Scotch and worry not about the slightest metallic flavour getting in the way of your enjoyment. We don't suggest using this flask to sneak booze into an event because it simply begs to be seen.
Material: Japanese titanium
Quantity: 6.4 oz.
Price: $150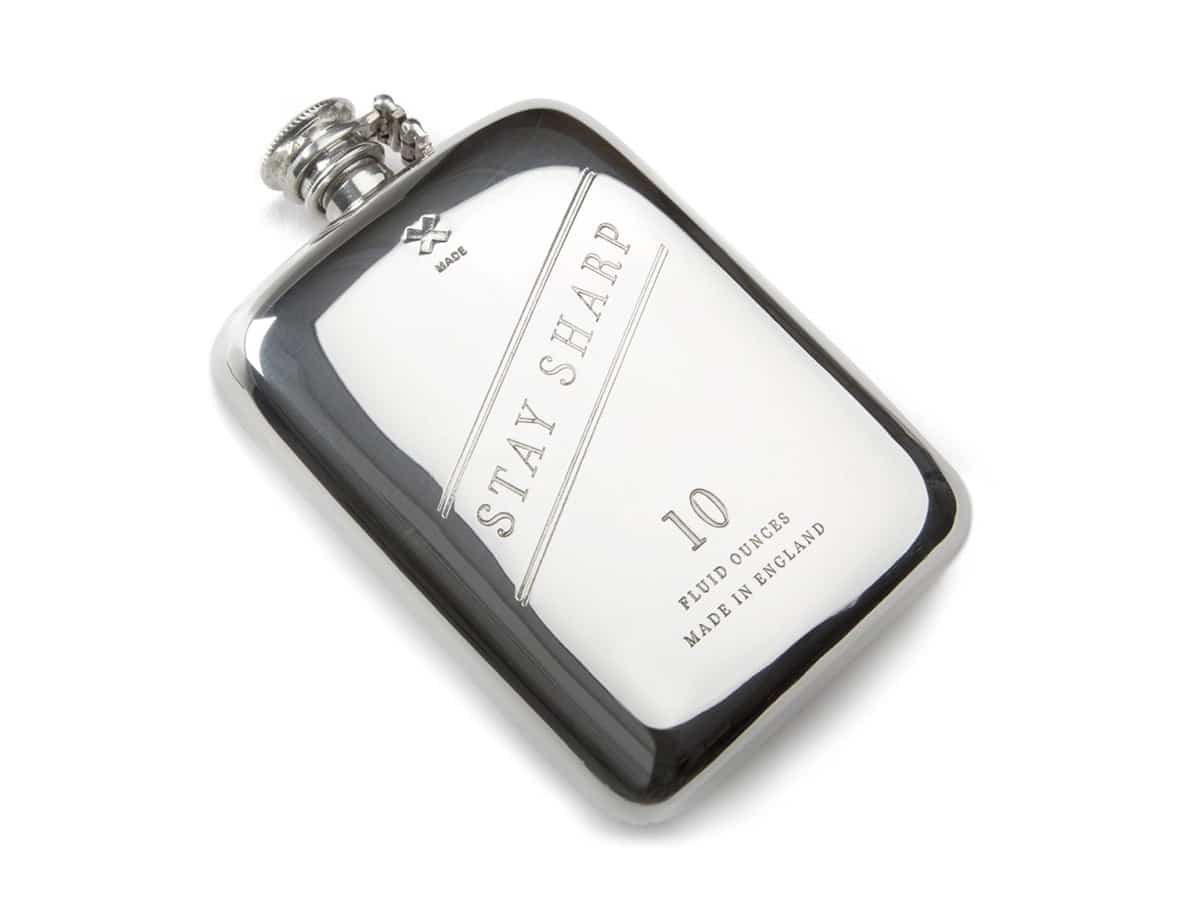 11. Best Made 10 oz. Flask
Handmade in England using only the finest stainless steel, this 10 oz. flask is another premium entry that's simply too beautiful to conceal. Highlighting its palpable elegance is a "Stay Sharp" motto embossed on the front.
Material: pewter and American made waxed cotton case
Quantity: 10 oz.
Price: $118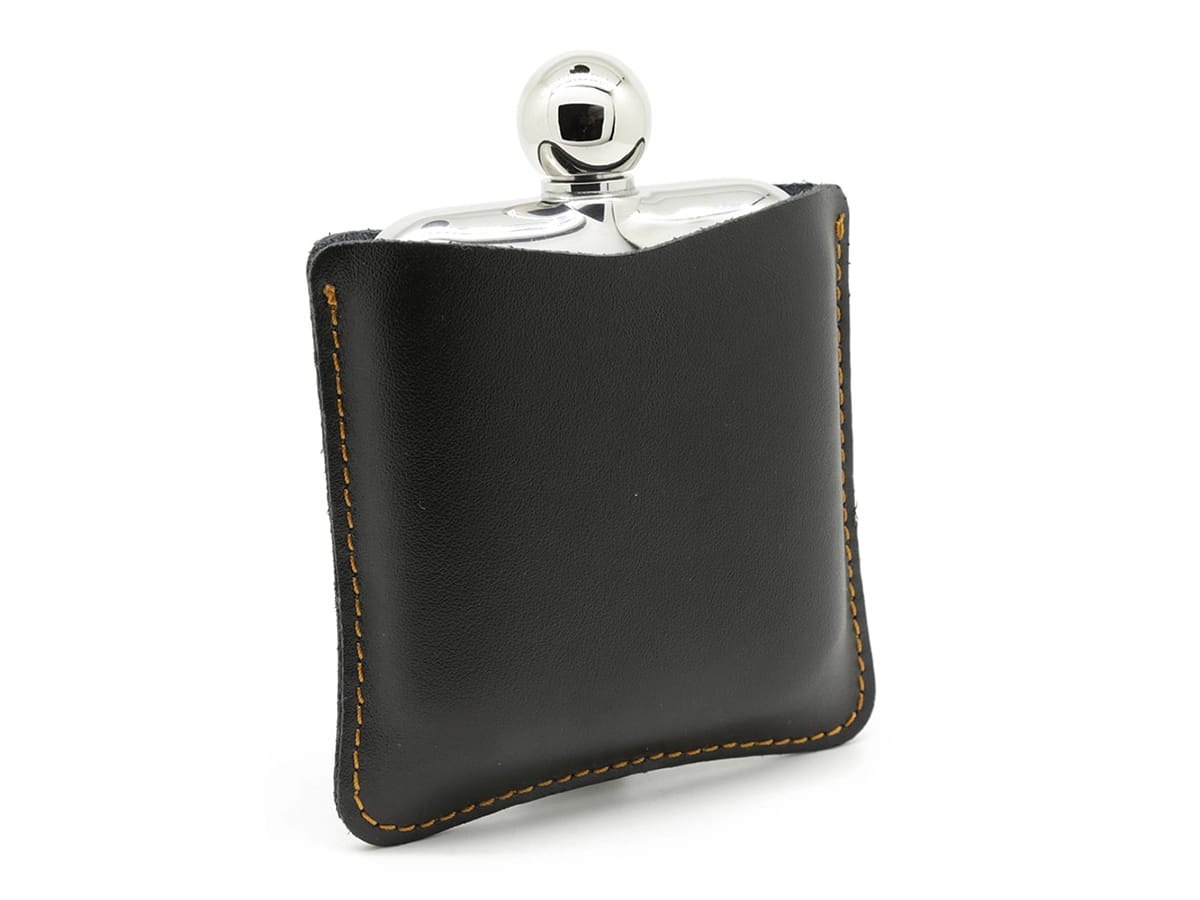 12. James Butler Luxury 4oz Hip Flask
James Butler keeps the luxurious vibes going strong with this extraordinary hip flask. Secured around a premium polished silver exterior is textured a real leather slip. The cap is a screw screw lid with a ball top. Honestly, we don't need to tell you that this one of the best flasks–it does that all on its own.
Material: premium polished silver exterior; leather slip
Quantity: 6 oz.
Price: $95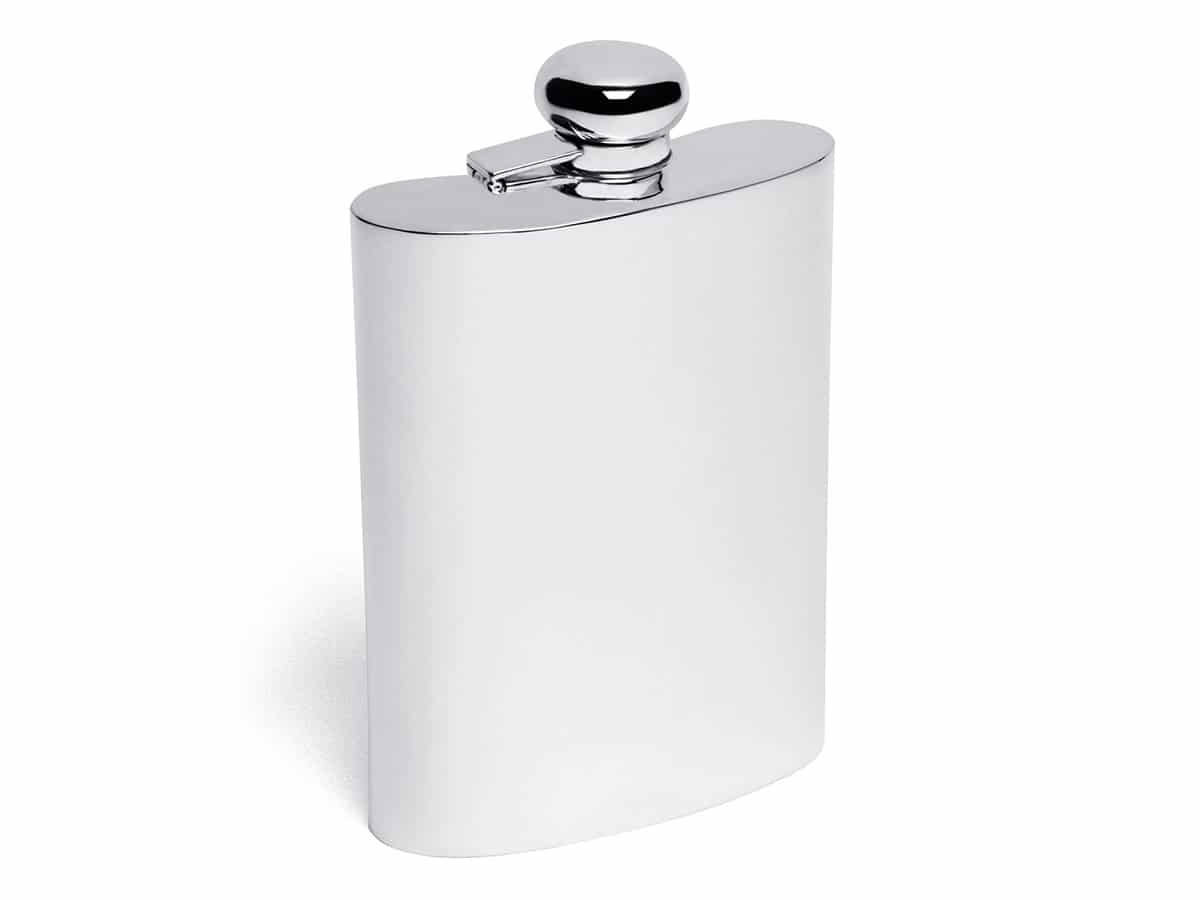 13. Sir Jack's Sterling Silver 7 oz. Hip Flask
At the topmost shelf of best hip flasks is this absolutely prestigious masterpiece. Sir Jack's Flask comes in at just under $2,000 and for that extra dough you get 7 oz. of prime sterling silver hand-forged with timeless precision. It doesn't get much better than this, folks!
Material: sterling silver
Quantity: 7 oz.
Price: $1,995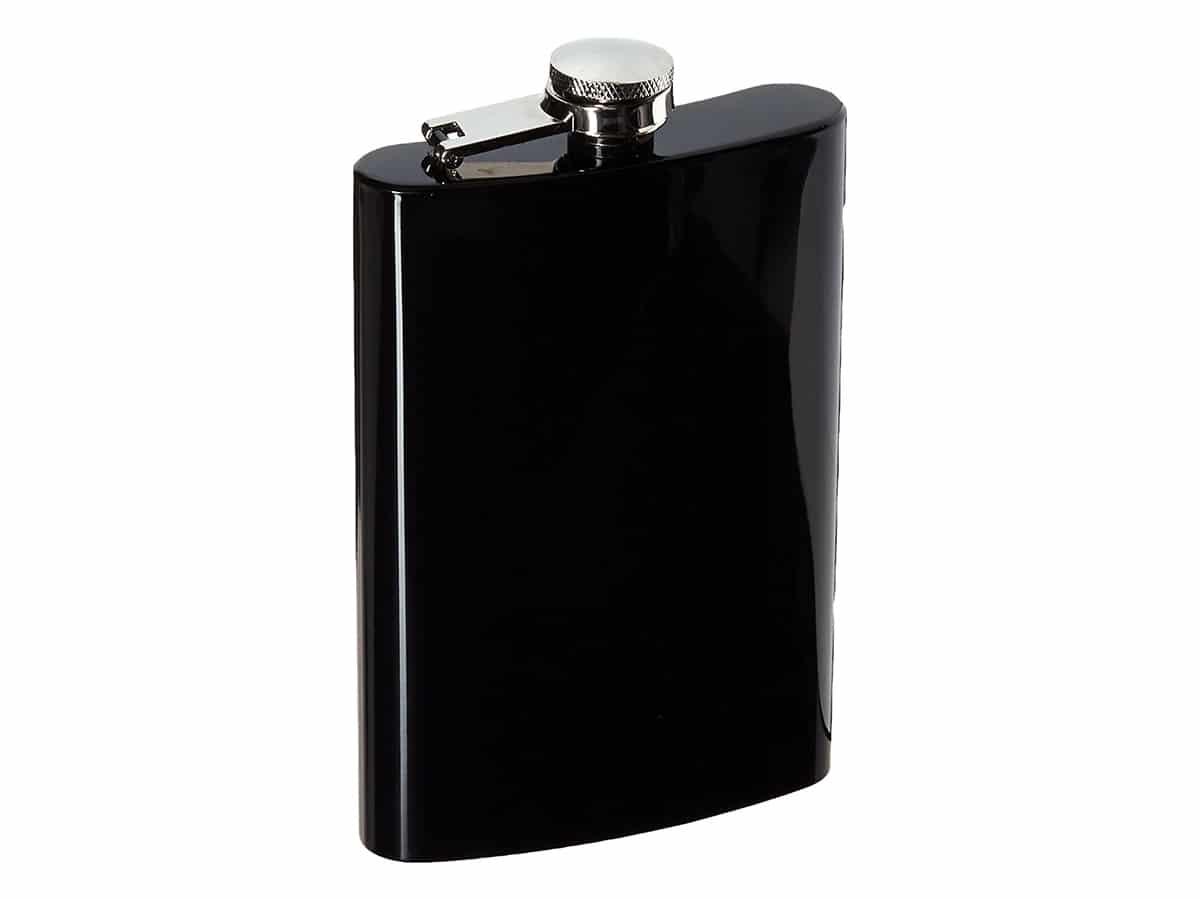 14. Top Shelf Flasks Stainless Steel Hip Flask
Given the outrageously ritzy nature of our previous entry, it's hard not to chuckle just a little at the name of Top Shelf Flasks (or the price for that matter). Nevertheless, this stainless steel hip flask gets the job done and gets it done well, which at the end of the day is all you're really asking of it anyhow.
Material: stainless steel
Quantity: 8 oz.
Price: from $8.95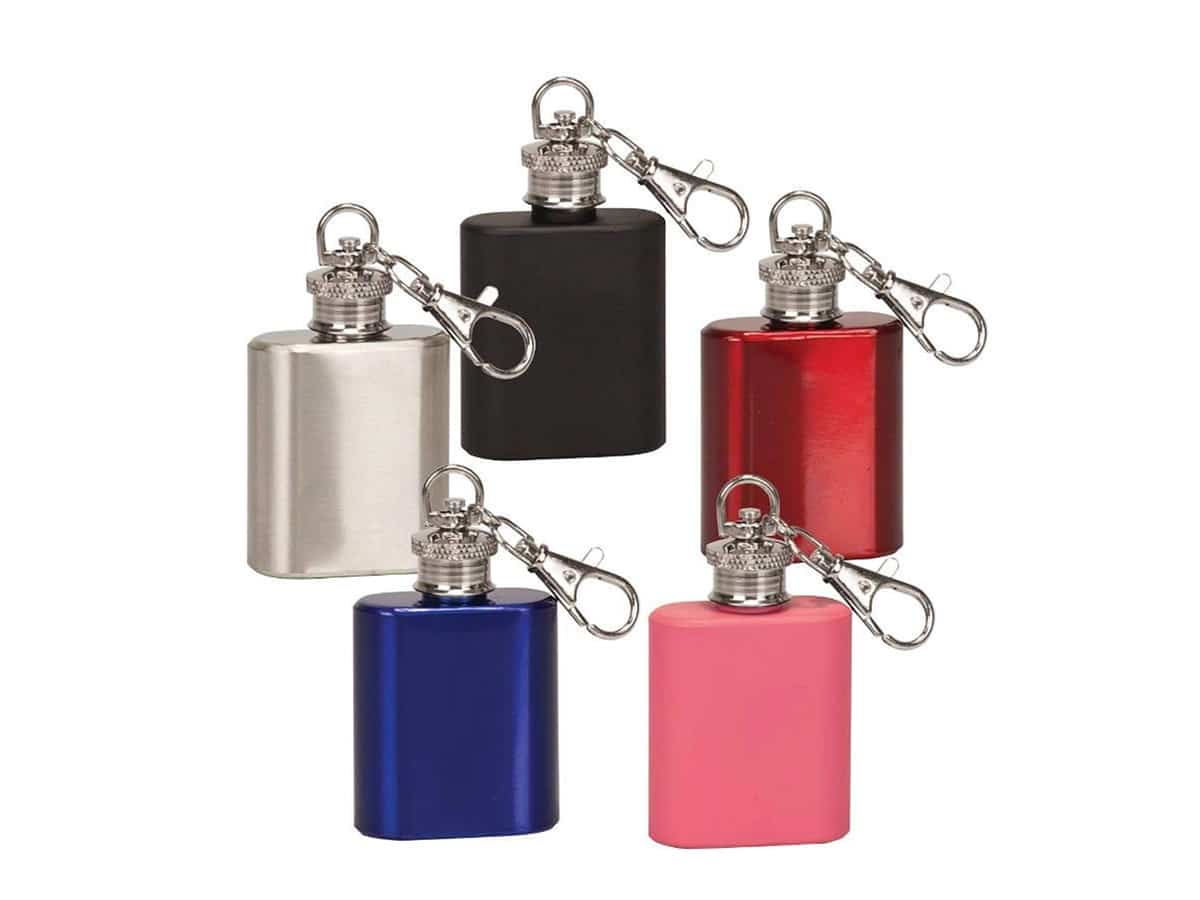 15. Mini Keychain Flask
Sometimes you just need a little pick me up, and by little we mean little. For that bite-size boost to get you through the night, consider the Mini Keychain Flask. It's tiny and it holds booze. It could very well be the best hip flask size. Enough said.
Material: chrome stainless steel
Quantity: 1 oz.
Price: from $8.62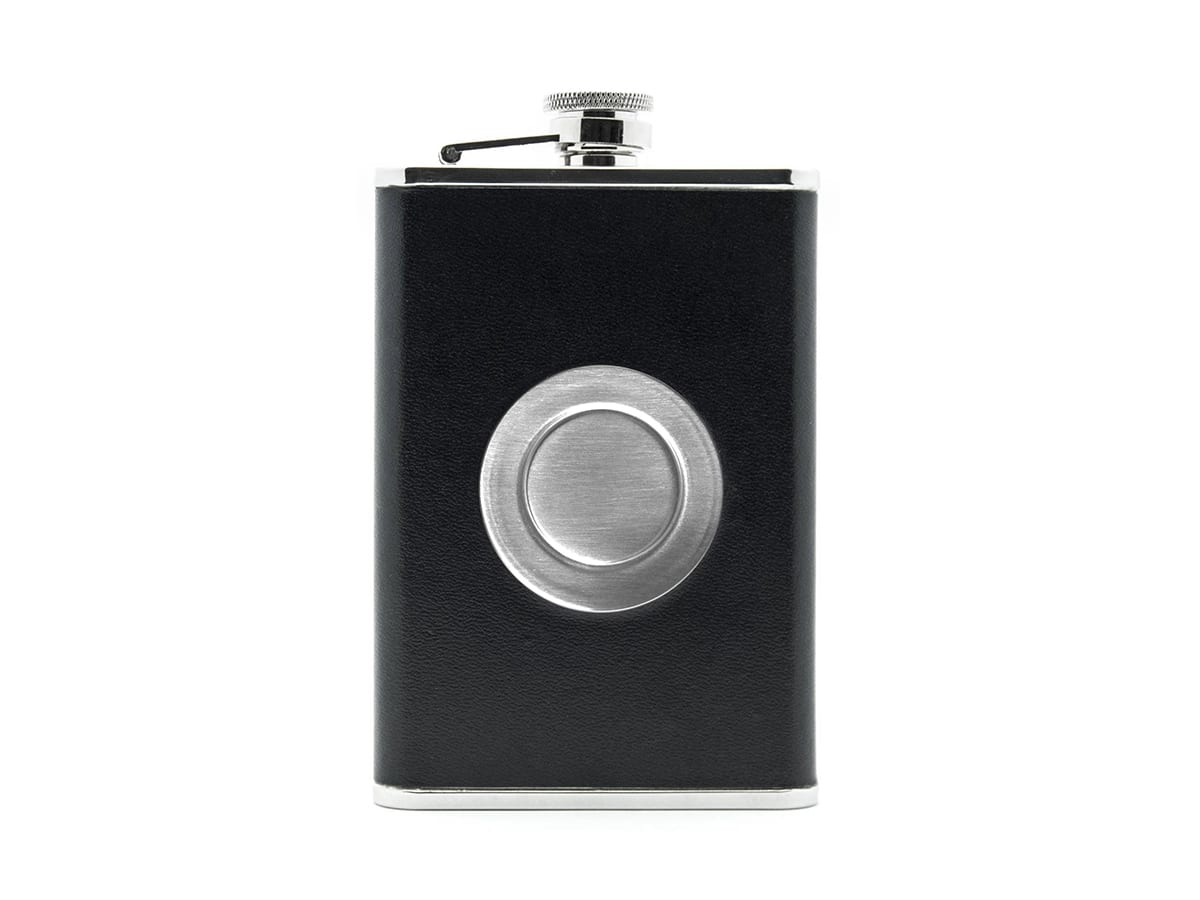 16. Stone Cask The Original Shot Flask
The Stone Cask Original Shot Flask pairs genuine novelty with genuine functionality. It's the first to include a collapsable shot glass built directly into the frame. Shot glass aside, it's still a pretty damn great, affordable flask.
Material: stainless steel
Quantity: 8 oz.
Price: from $13.95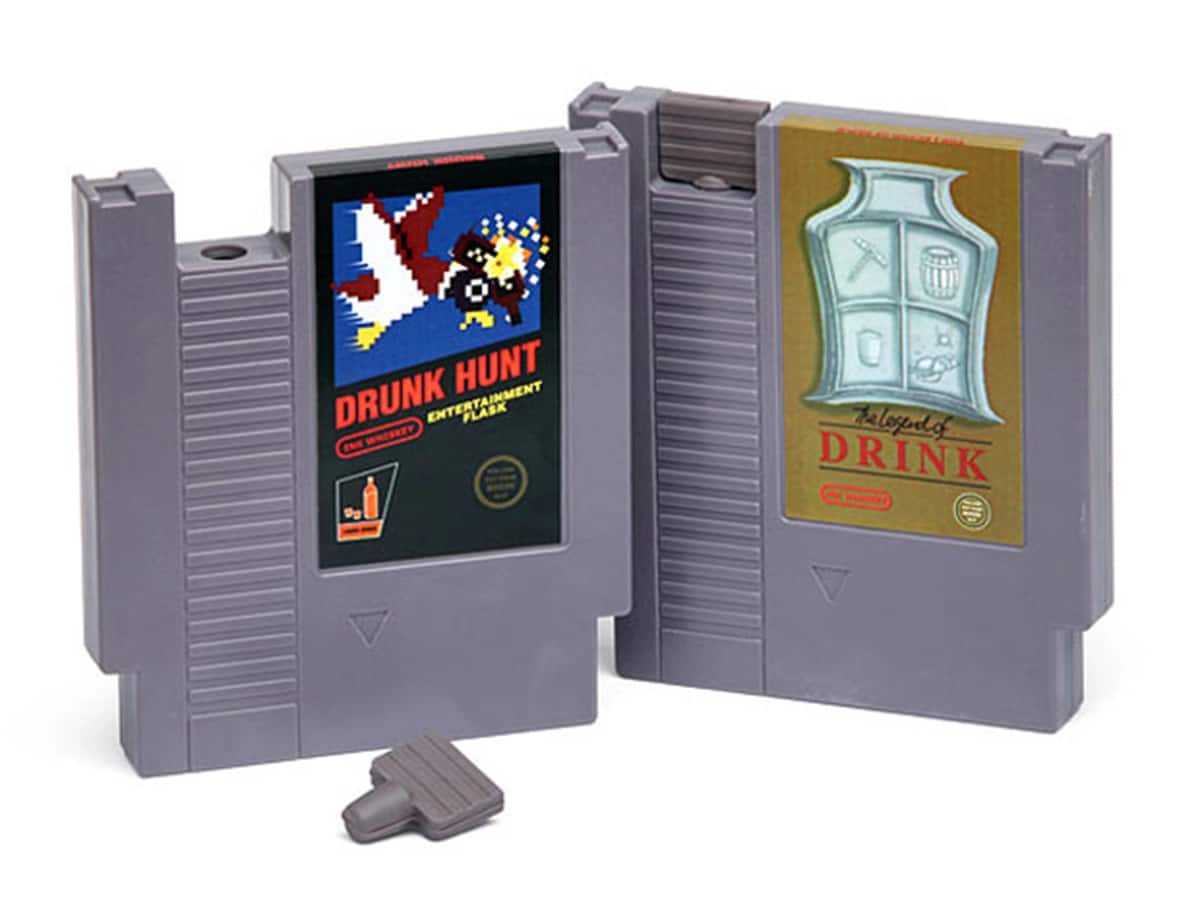 17. Drunk Hunt Video Game Cartridge Flask
Speaking of novelty, here's one for all the gamers and geeks, though let's be honest there's really no human alive who can't appreciate an NES-cartridge themed flask. The picture says it all. And you either want one or you don't. We most definitely do.
Material: BPA FREE – food-grade polymer ABS plastic
Quantity: 4.25 oz.
Price: from $20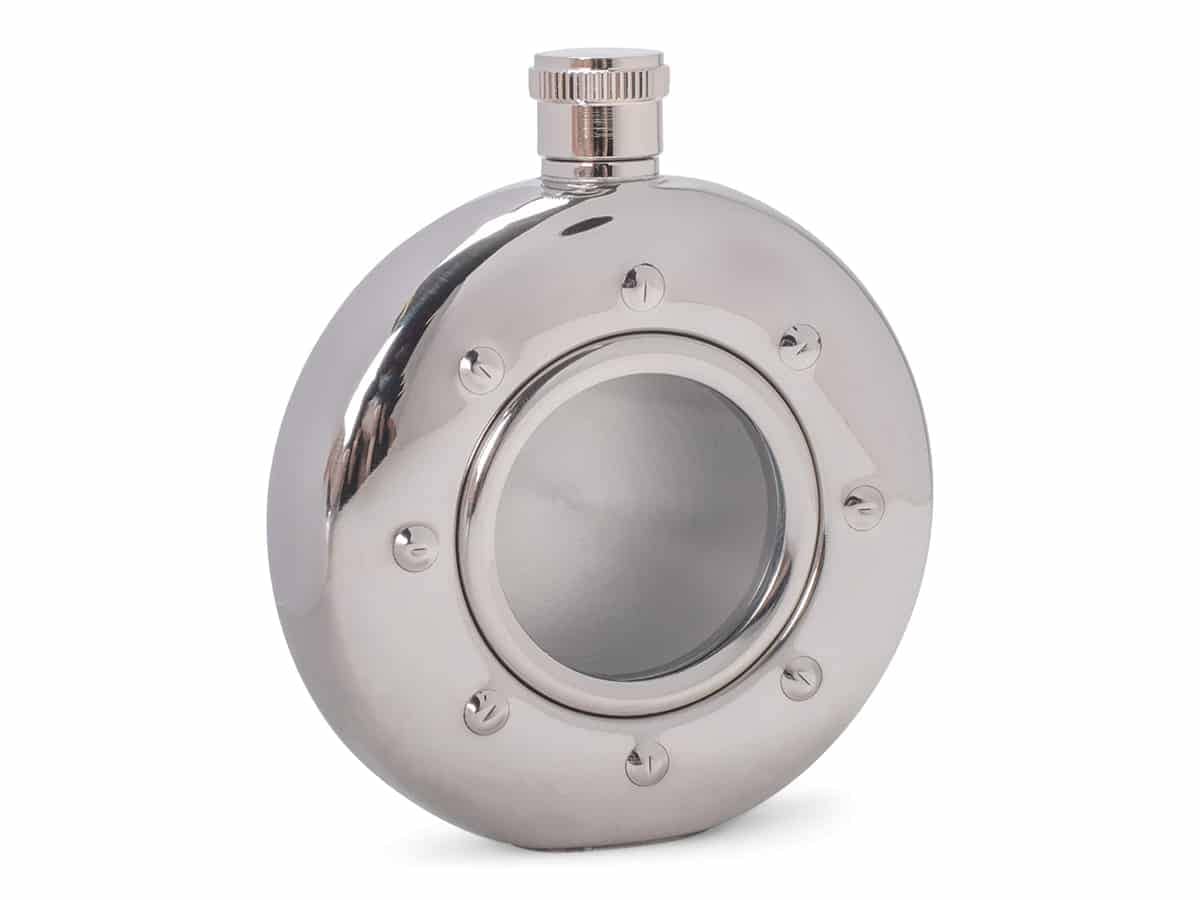 18. Cork Pops Nicholas Portside Flask
With its porthole window and brilliant nautical vibe, the Cork Pops Nichols Portside Flask looks like something fished out of the Titanic wreckage. Naturally, that makes one wonder if maybe the captain was drinking on the job. If so, he was certainly doing it in style!
Material: polished stainless steel with a glass window
Quantity: 4 oz.
Price: from $21.50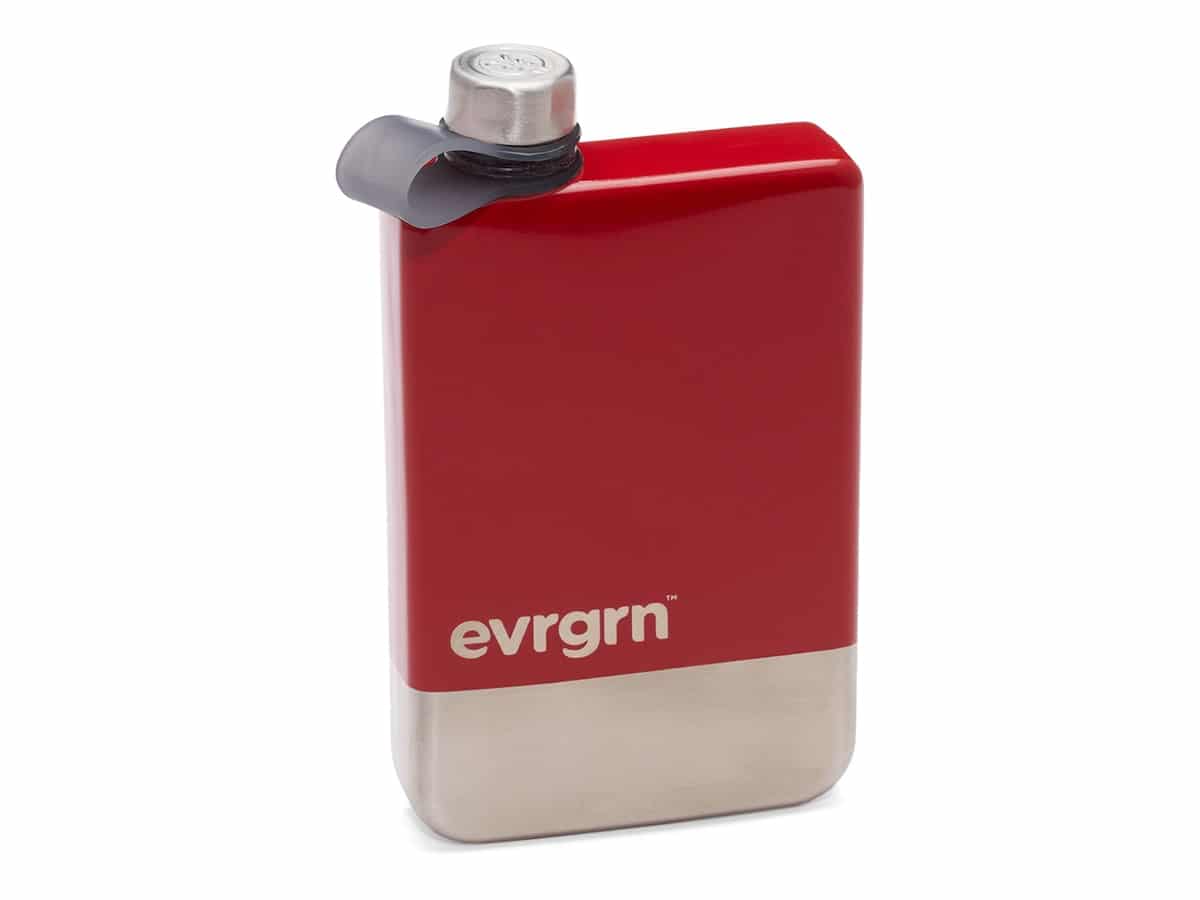 19. evrgrn Last Call Flask – 8 fl. oz.
Modest in appearance and able to hold up to 8 oz. of booze, the evrgrn Last Call Flask will serve you well no matter where your adventures may take you.
Quantity: 8 oz.
Price: from $25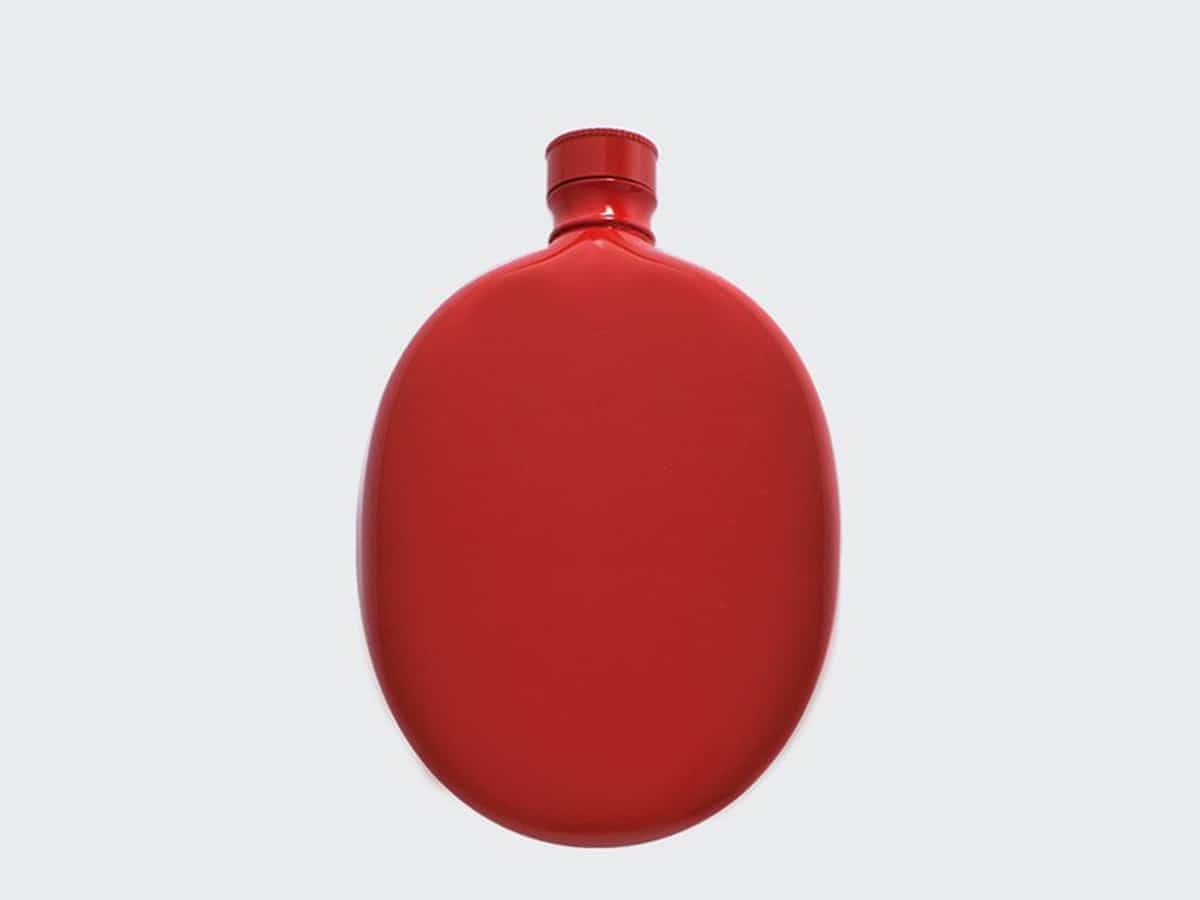 20. Odeme Red Flask
Flaunting bold colour and an alluring, ovular body, the Red Flask from Odeme will tide you over 3 oz. at a time. That wonderful shade of red alone makes it one of the best flasks you can find.
Material: powder coated stainless steel
Quantity: 3 oz.
Price: from $32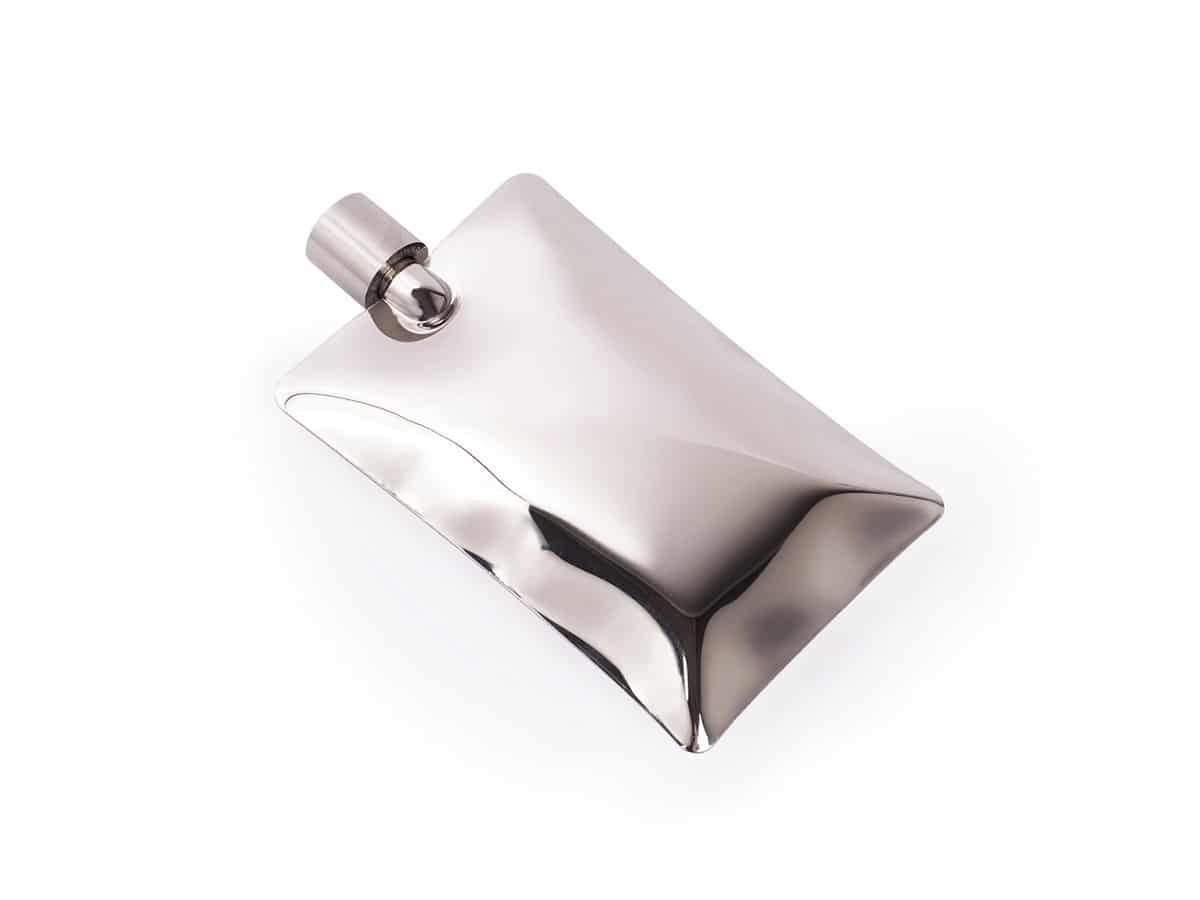 21. Areaware Liquid Body Flask
Areaware goes big on double entendre while delivering one of the best flasks on the market. With its unmistakable and downright stunning design, this flask exudes liquid inside and out.
Material: two sheets of surgical-grade stainless steel
Quantity: 175 ml
Price: from $44.93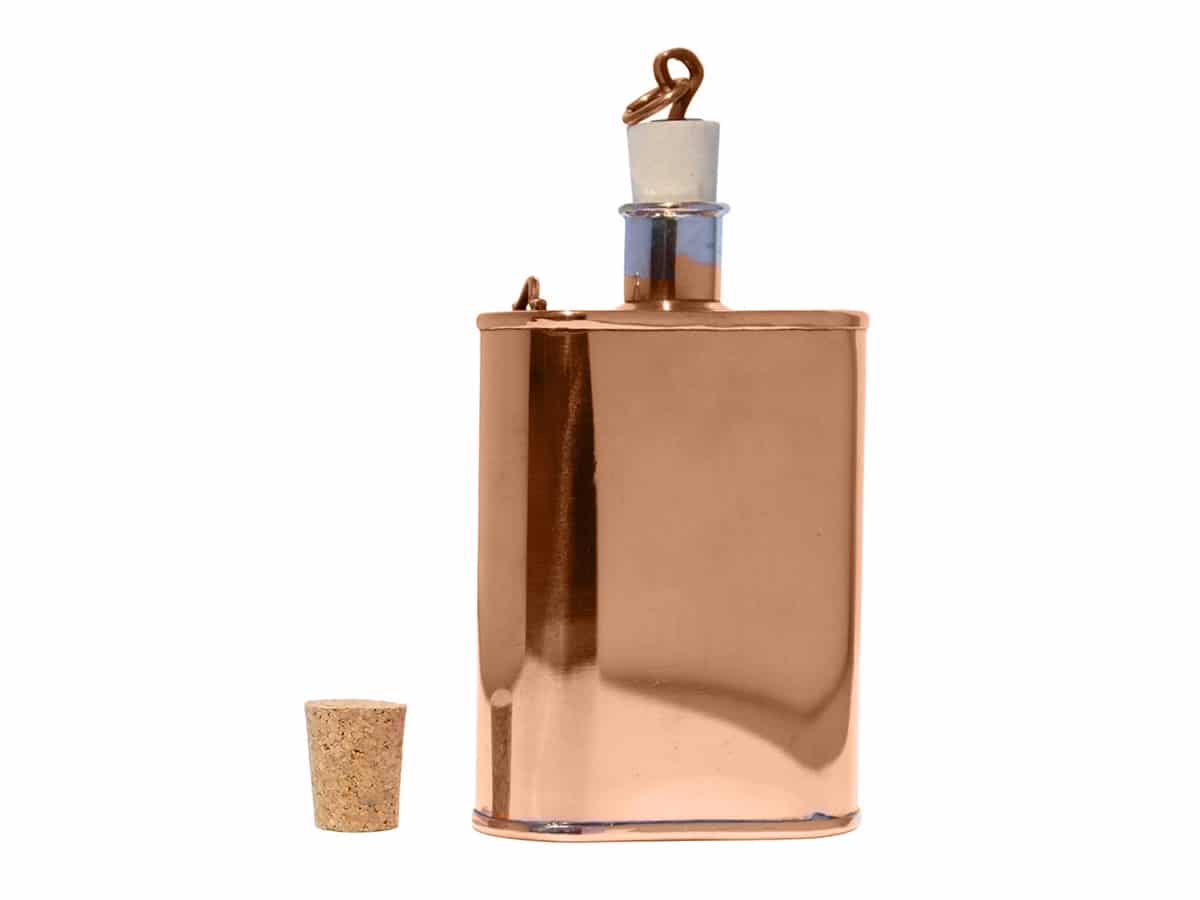 22. Jacob Bromwell Great American Flask
Forget your grandfather–this remarkable flask is what your grandfather's grandfather was using. Handmade using solid copper, the Great American Flask brings the past roaring into the present with painstaking attention to detail. Take a discreet sip as if it's the Prohibition all over again.
Material: pure, solid copper
Quantity: 9 oz.
Price: $300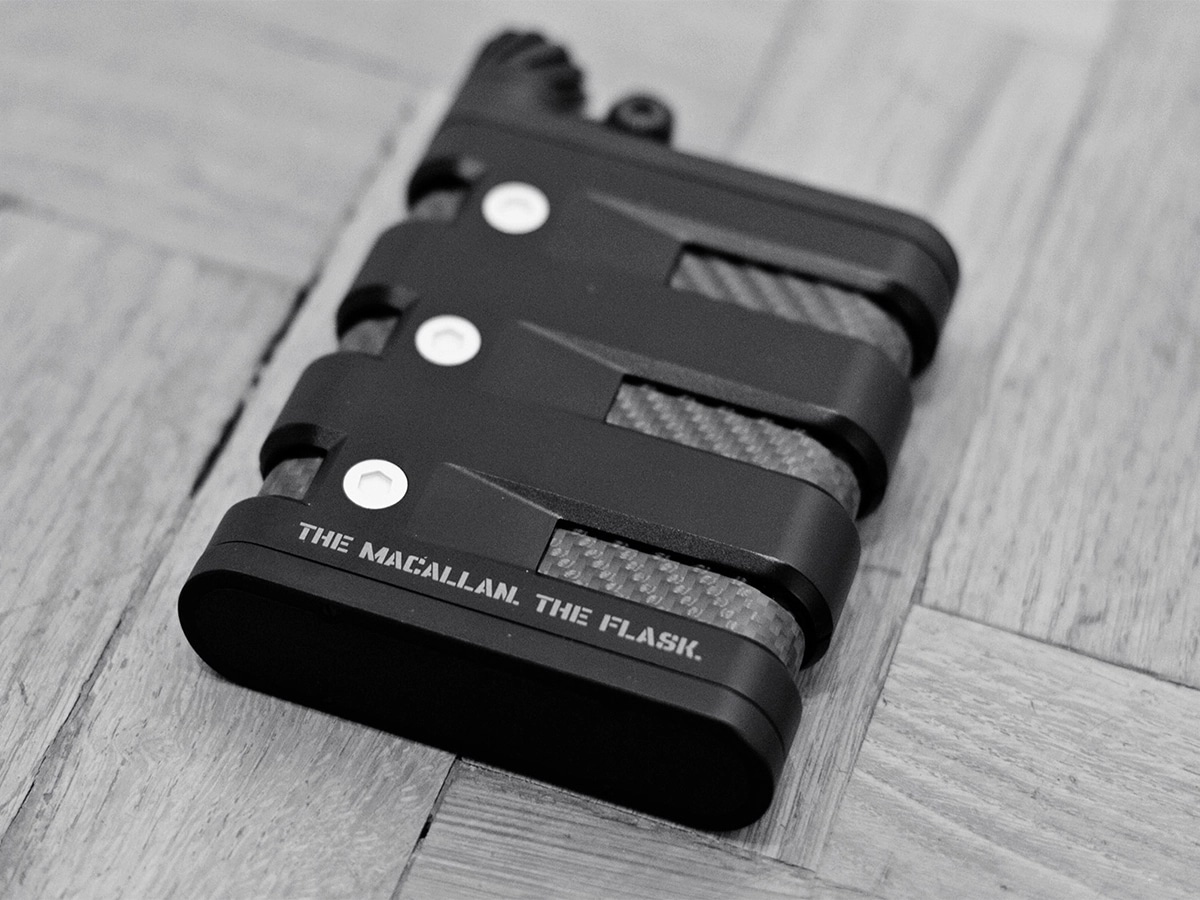 23. Macallan Oakley Flask
Representing a partnership between two premier brands, the Macallan Oakley Flask truly drives home the theme of flask as concealed weapon. Featuring nifty touches like a non-slip grip bottom and rectangular air vent on the side panel, this is truly one of the best flasks for the modern day urban warrior.
Material: carbon fiber; aluminum
Quantity: 200 ml / 5 oz.
Price: £600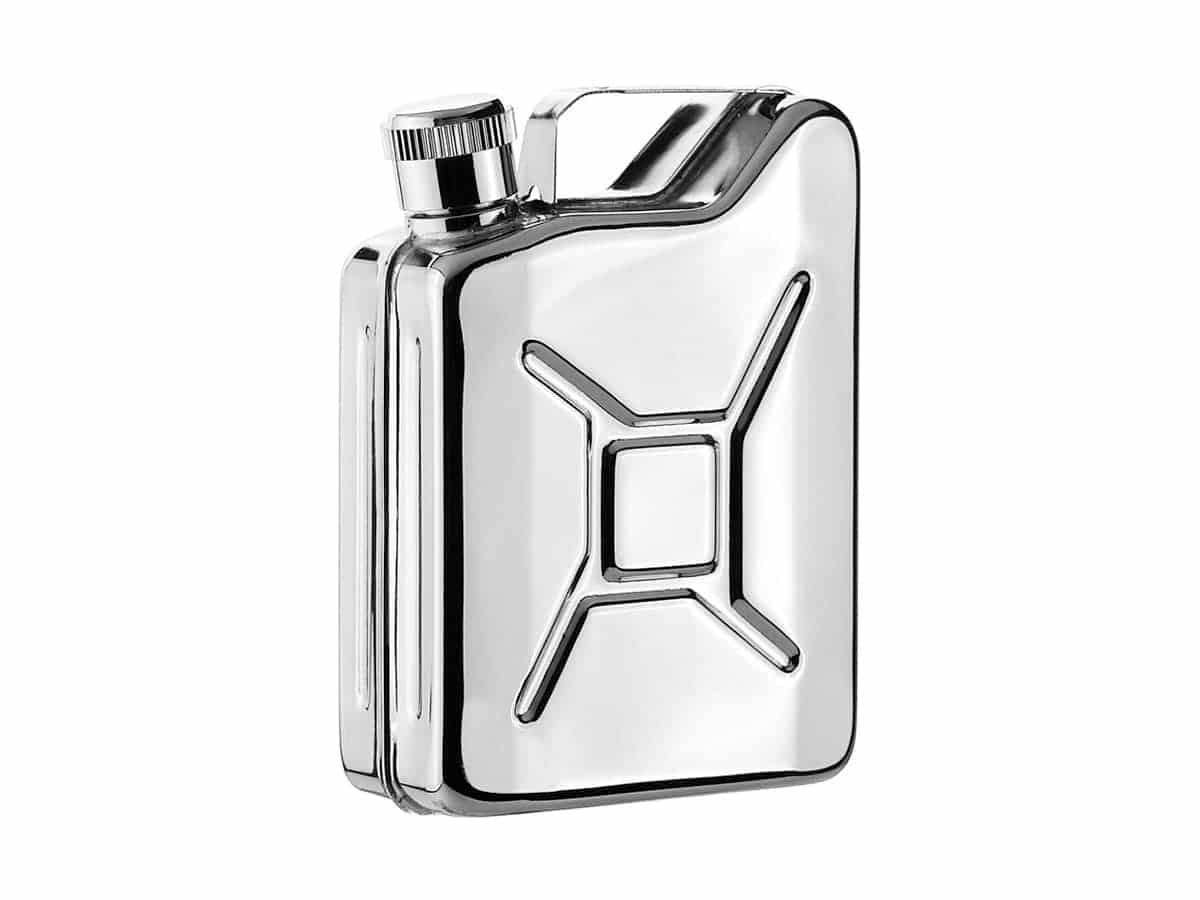 24. AceCamp Pocket Camping Lantern
Alcohol is fuel for many so why not drive the point home by getting a flask designed to resemble a gas can? Able to hold up to 5 oz. of booze, the Ace Camp Pocket Flask is a camping essential.
Quantity: 150 ml / 5 oz.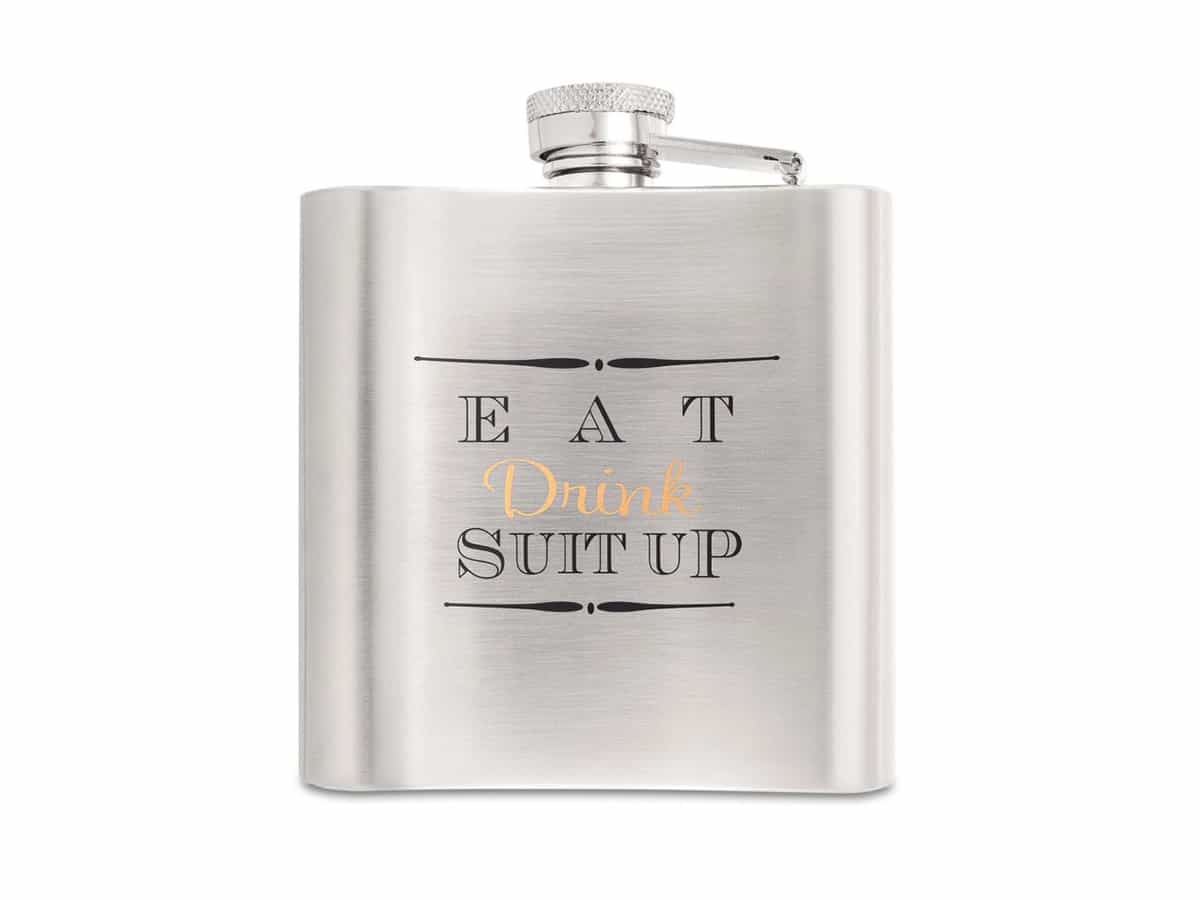 25. Things Remembered Gunmetal Flask
Capping off our list of best flasks is this sleek 7 oz. charmer. Made of stainless steel and hosting a resilient sheen, the personalized Gunmetal Flask from Things Remembered makes for the perfect gift. Yes, buy this one for the special someone in your life so they can know for sure that when you think of them, you think of alcohol.
Material: stainless steel – gunmetal
Quantity: 7 oz.
Price: $24.99
Bonus: What's the Best Hip Flask Drink?
You might be wondering, what's the best alcohol for a hip flask? The absolute classic is whiskey, but what other options are there? The consensus among hip flask enthusiasts is that liquor (spirits) is king. This includes whiskey, bourbon, cognac, rum, gin. If you're so inclined event vodka or tequila in a hip flask is acceptable. Other, lower alcohol drinks, don't keep well in a hip flask so avoid wine, beer, cocktails, etc. They might lose their taste quickly and damage the flask (smell is one of the first symptoms of a hip flask that wasn't cared for).
Interested in more whisky stories? Here are a few to get you started:
Alternatives to the Best Hip Flasks and Drink Ideas
Great Whisky Gifts
Best Whiskies Under $150 and $100
Whisky by Region
Best Whisky Recipes
You'll also like:
General FAQ
What alcohol goes in hip flask?
It is suggested that hip flasks are only used for hard liquor, like gin, rum, whisky, or tequila.
Are hip flasks legal in Australia?
Any alcohol in public places is generally illegal however it is not illegal to carry a flask around if it contains a nonalcohlic beverage.