11 Best Coffee Shops in Australia for a Fresh Brew
We love a good cuppa Joe in Australia, and the eternal search for the next best blend is something of a national sport. We're pretty proud of it too, beating the likes of France and Italy in international competitions and having a reputation as one the best places for coffee in the world. We don't like it average either, quality and consistency are what it's all about so not just any cup will do. With new coffee spots seemingly springing up every week, it can get a little daunting on where to next get your caffeine hit for that early morning wake-up or afternoon pick-me-up, so take a look at some of the best spots for coffee Australia has on offer.
Here is a list of the 11 best coffee shops in Australia.
You'll also like:
How to Make Cold Brew Coffee That Actually Tastes Good
How to Make Whipped Coffee; The Viral TikTok Treat
110 Best Specialty Coffee Shops & Cafes in Sydney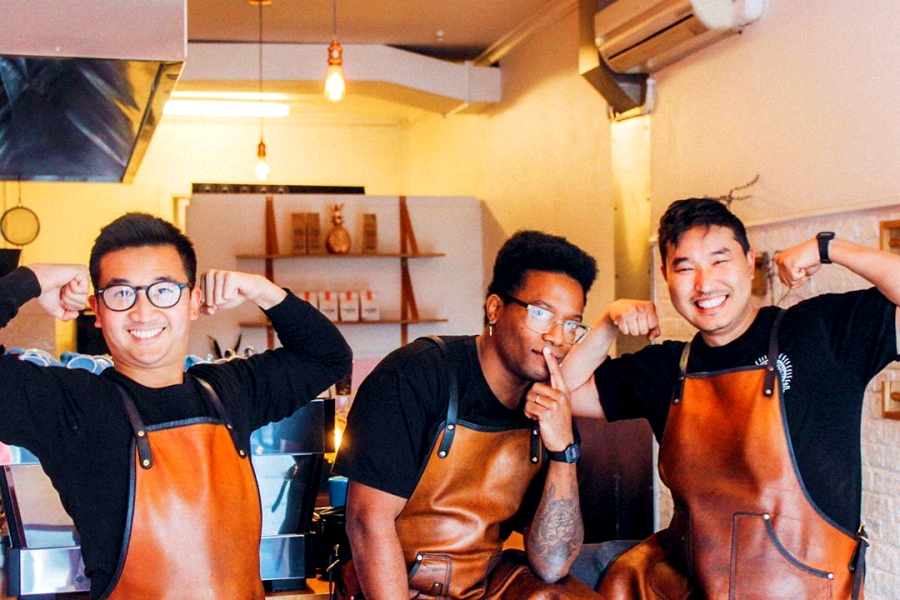 1. Sash, Sandy Bay TAS
Sash is a favourite with the locals which is why it's one of the best spots for coffee in Australia. The adage "go where the locals go" comes to mind and they couldn't be more right in this case. Sash uses 7 types of roasters for their coffee from Melbourne, Sydney and Queensland so you are getting a taste from all over Australia.
Known for: mocha, iced coffee
Address: 1/163 Sandy Bay Road, Sandy Bay TAS 7005
Phone: +61 0449 799 664
Trading Hours: Mon-Fri 6am-4.30pm, Sat-Sun 7am-2pm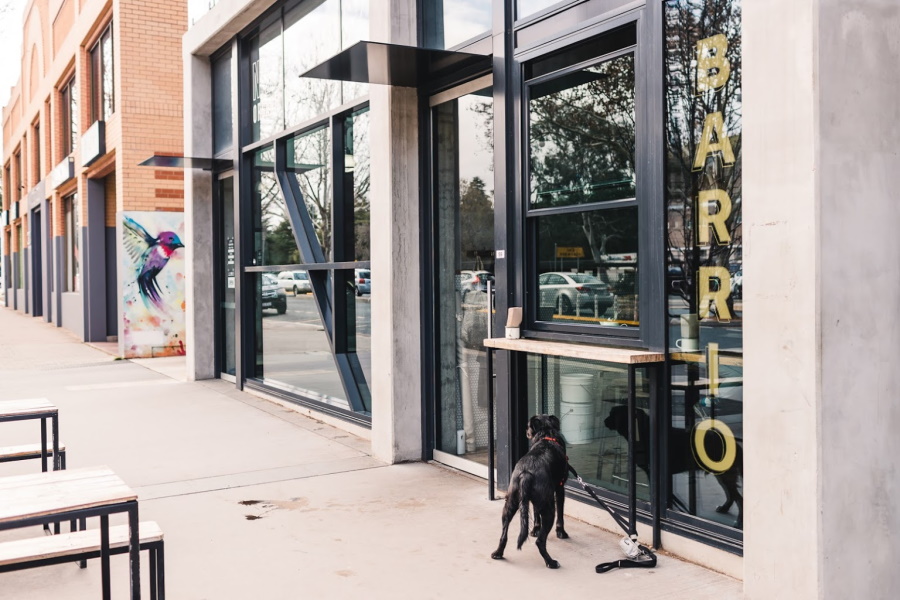 2. Barrio Collective Coffee, Canberra ACT
If you're after some of the best coffee in Australia and you happen to be in Canberra, check out Barrio Collective Coffee. With their range of specialty brews and selection of sweet tasty pastries, you really can't go wrong for a coffee break.
Known for: pastries, specialty blends
Address: 59/30 Lonsdale Street, Braddon ACT 2612
Phone: +61 0423 100 814
Trading Hours: Mon-Fri 7am-2.30pm, Sat-Sun 8am-2.30pm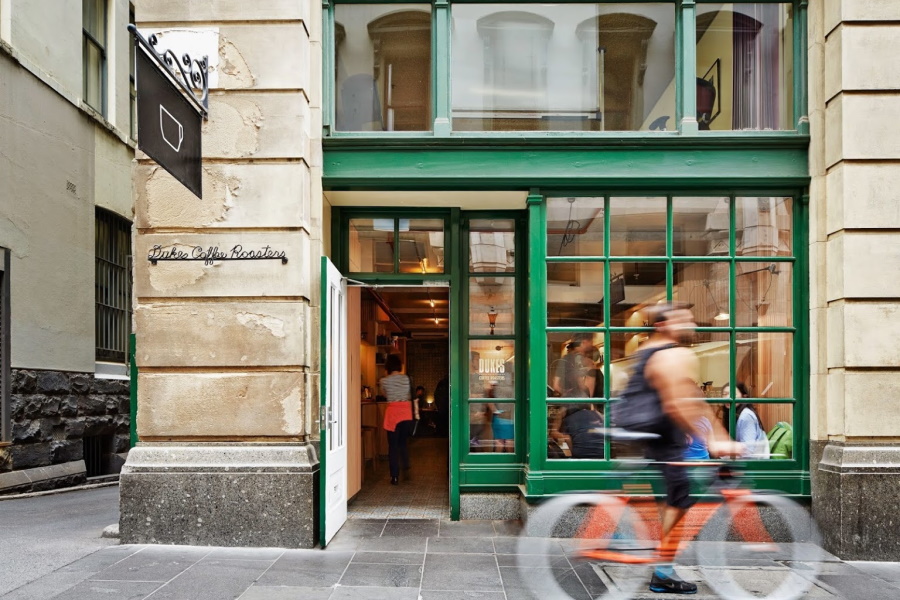 3. Dukes Coffee Roasters, Melbourne VIC
If you're new in town or just visiting, then Dukes is definitely a place to check out for coffee lovers. It's always busy but serves quickly and is perfect on a cool winters day to warm up with a nice long black or flat white and a cheeky pastry.
Known for: long black, flat white, pastries
Address: 247 Flinders Lane, Melbourne VIC 3000
Phone: +61 3 9417 5578
Trading Hours: Mon-Fri 8am-3pm, Sat 9am-4pm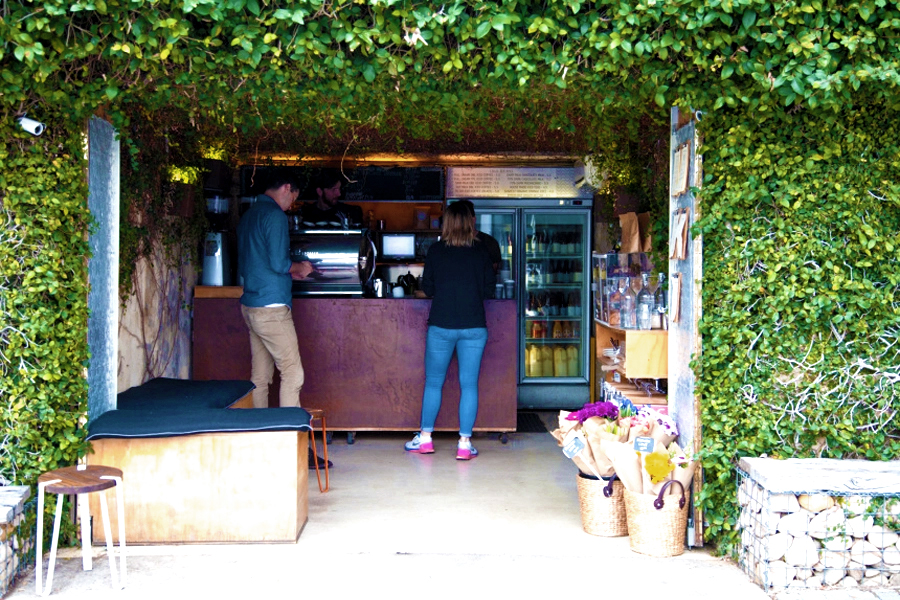 4. Bunker, Milton QLD
Located in an old 1940s air raid bunker in Milton near the Brisbane CBD, Bunker coffee is a hidden gem, almost literally as it's exterior is covered in leafy fig vines. It's definitely worth the visit if you're in the CBD and offers some delicious coffees by Blackstar and tasty cold brews.
Known for: cold brew, mocha, hot chocolate
Address: 21 Railwy Terrace, Milton QLD 4064
Phone: +61 0422 124 767
Trading Hours: Mon-Fri 6am-3pm, Sat 6.30am-12.30pm, Sun 8am-12pm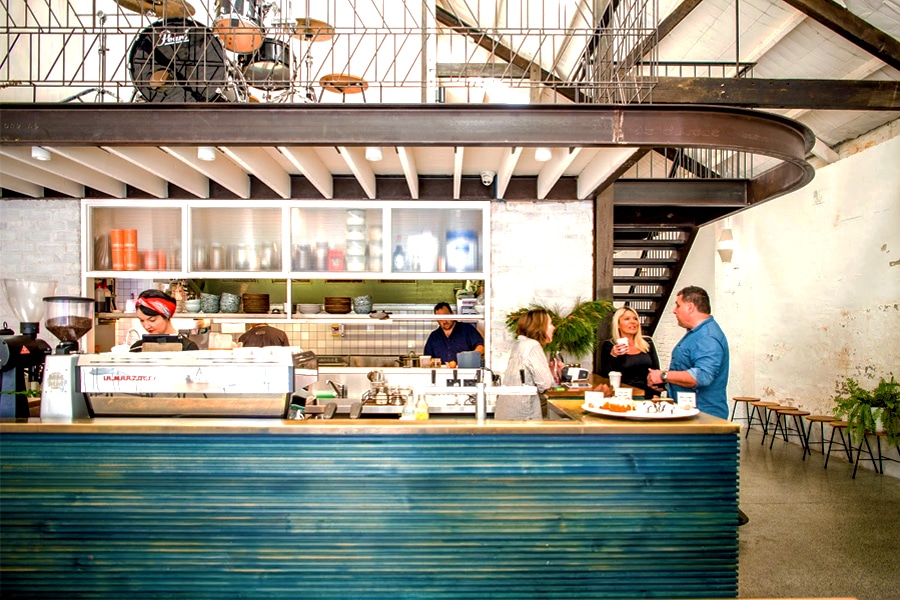 5. Mecca, Alexandria NSW
You can smell the beans before Mecca in Alexandria is even in sight. That's because they roast on sight in their vintage Probat roasters, ensuring consistency and deliciousness. Check them out and even grab a bag or some pods to take home the next time you're in Alexandria.
Known for: Bounty coffee, BAE roll
Address: 26 Bourke Road, Alexandria NSW 2015
Phone: +61 2 9806 3030
Trading Hours: Mon-Fri 7am-3pm, Sat-Sun 8am-3pm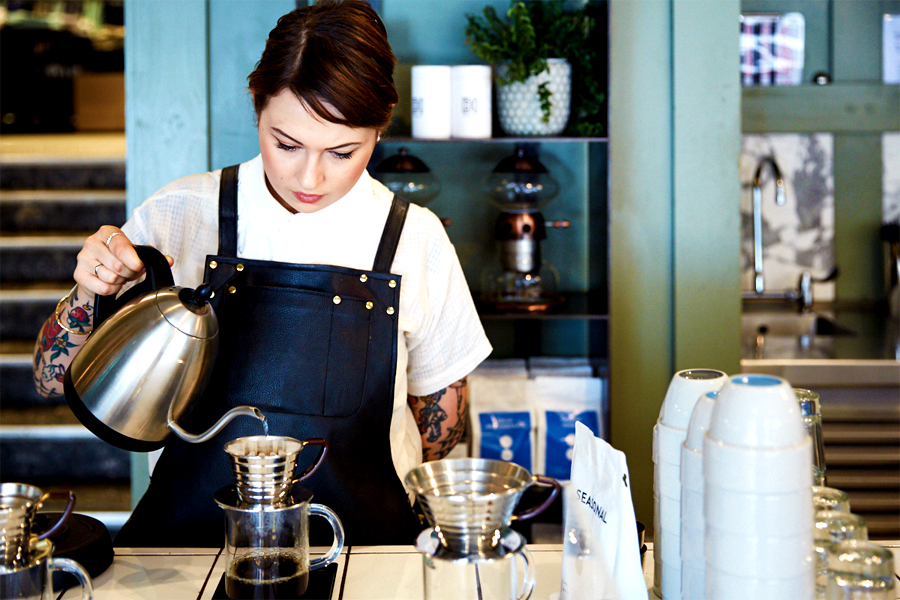 6. Sensory Lab, Melbourne VIC
Sensory Labs is a staple in Melbourne and Sydney and has now even opened up shop on the other side of the world in Central London. The little Collins street store is a cosy spot for sampling some of the best coffee in Australia and a tidy selection of coffee beans to take home with you.
Known for: long black, espresso
Address: 297 Little Collins Street, Melbourne VIC 3000
Phone: +61 3 9132 8960
Trading Hours: Mon-Fri 8am-6pm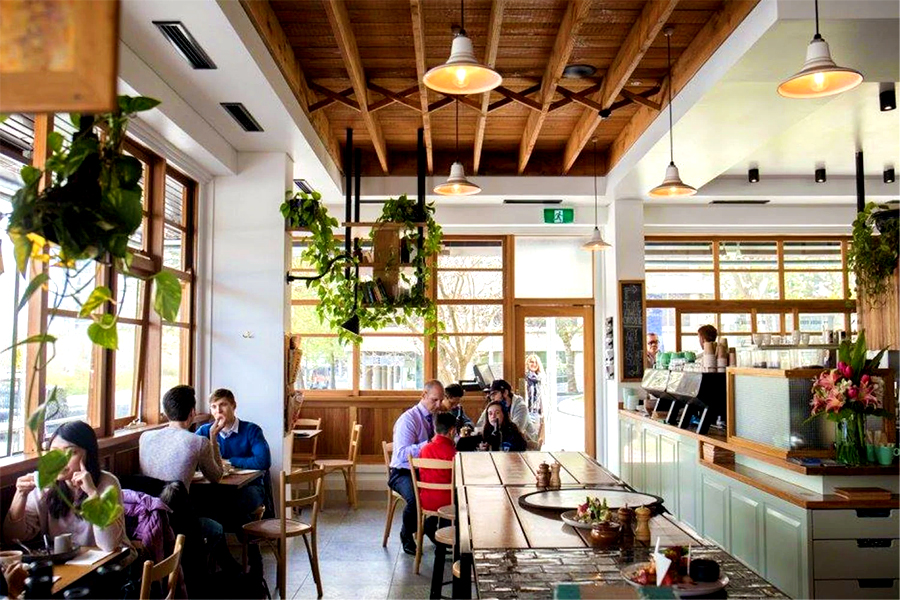 7. The Cupping Room, Canberra, ACT
If you are after some of the best coffee Australia has to offer, then The Cupping Room in Canberra is the answer for every coffee lover. Think cold drip filter coffee, pour overs, espresso and more, plus some superbly crafted reserve teas and blends, perfect for your next pick me up.
Known for: black betty coffee, French toast
Address: 1/1-13 University Avenue, Canberra ACT 2601
Phone: +61 2 6257 6412
Trading Hours: Mon-Fri 7am-4pm, Sat-Sun 8am-3pm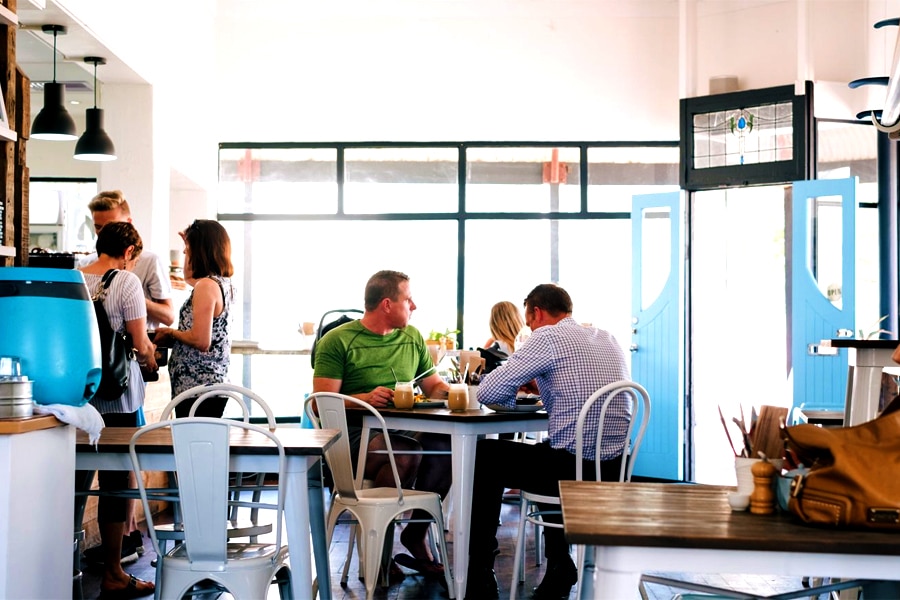 8. 303 By the Sea, Henley Beach SA
There's a lot to love at 303 by the Sea in South Australia's Henley Beach. Most of all it's delicious coffee but also the awesome brunch menu, beachy vibes and relaxed atmosphere of this beach side location. Their organic Rio coffee beans brewed in a La Marzocco espresso are guaranteed to give you your coffee hit.
Known for: organic coffee,  vegan menu
Address: 303 Seaview Road, Henley Beach SA 5022
Phone: +61 0432 999 127
Trading Hours: Mon-Sun 7.15am-3pm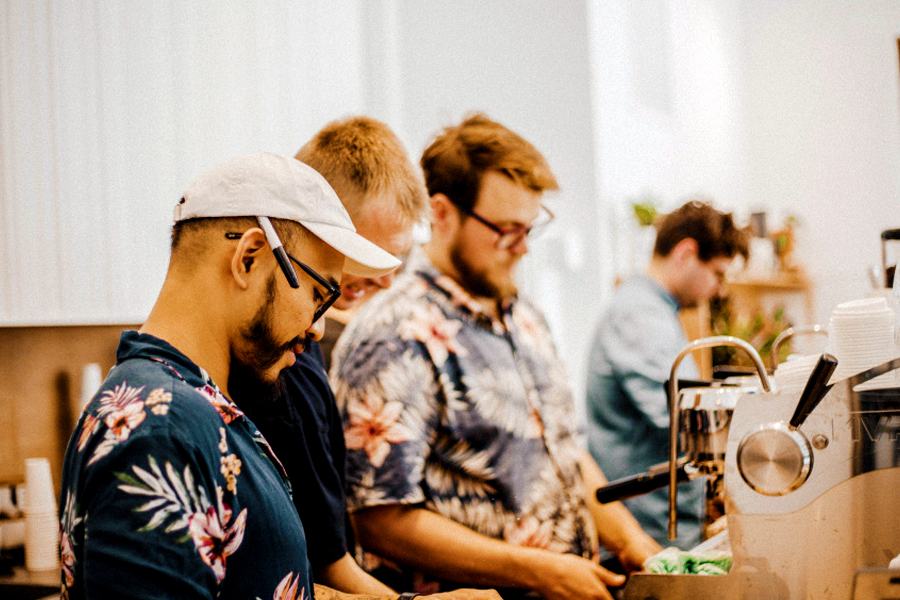 9. Arlo by Mo, Perth WA
Over on the west coast in Perth we have Arlo by Mo, a favourite local spot with ridiculously delicious coffee and great food as well. For the real coffee enthusiast, there's a barista breakfast which includes a single origin espresso, a flat white and filter coffee all in one package.
Known for: Mo espresso, coconut mango bread
Address: 137 St Georges Terrace, Perth WA
Phone: +61 8 9321 3765
Trading Hours: Mon-Fri 6.30am-4pm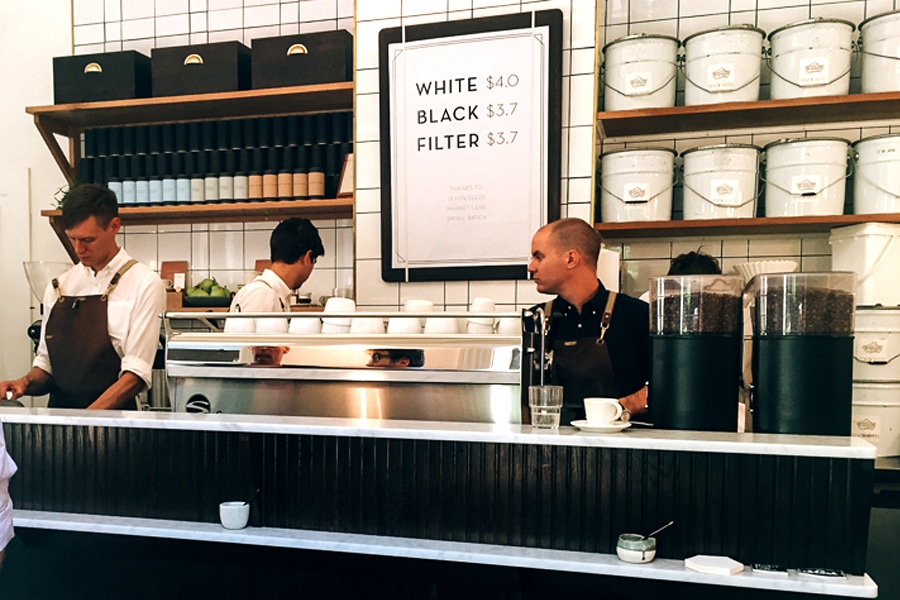 10. Patricia Coffee Brewers, Melbourne VIC
For the best coffee Australia has to offer, make your way to Melbourne's CBD down Little Bourke Street and you find Patricia coffee brewers. A quaint coffee shop that really knows how to roast a bean and offers a range of delicious coffees and local baked goods.
Known for: single origin coffee, flat white
Address: 493-495 Little Bourke Street, Melbourne VIC 3000
Phone: +61 2 9806 3030
Trading Hours: Mon-Fri 7am-4pm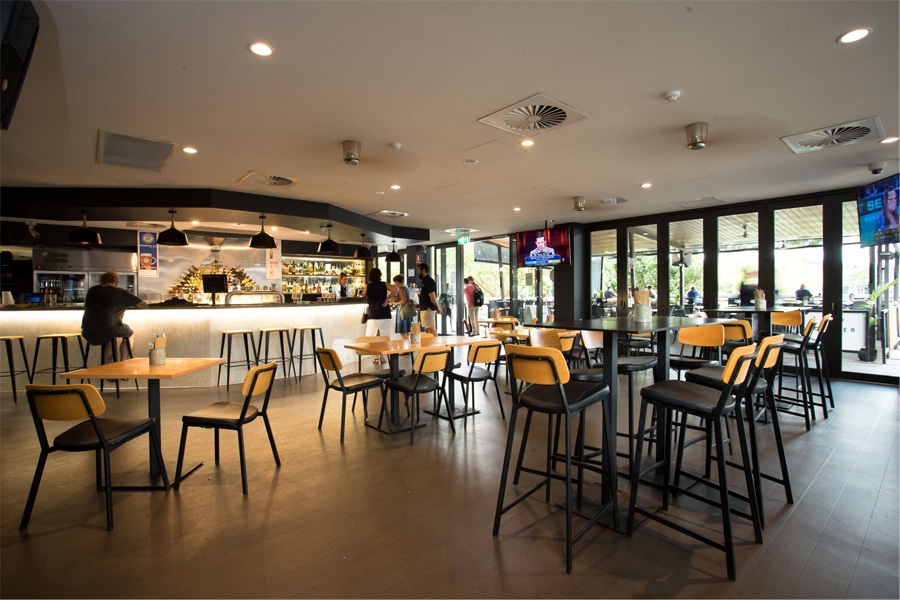 11. The Rabbit Hole, Darwin NT
When you think about the best coffee in Australia not many would immediately think of Darwin, but our neighbours up top are pushing out some serious coffee brews that are hot contenders. If you're in the mighty north then The Rabbit Hole is one of the best spots for delicious coffee.
Known for: Milky Way espresso, Nutella rim
Address: 44 The Mall, Darwin NT 0800
Phone: +61 8 8942 2692
Trading Hours: Mon-Fri 7am-3pm, Sat-Sun 8am-2pm
You'll also like:
What's the Buzz About Bulletproof Coffee?
12 Best Specialty Coffee Shops in Melbourne
Studies Show Coffee Might Help You Lose Weight and Body Fat
General FAQs
What is the best-tasting coffee brand?
Some Australian favourites are Guatemala Poaquil by Mecca, Proud Mary Coffee Roasters, Campos Coffee, Odin's Brew by Madding Crowd, Seasonal Blend by Sovereign and Hairy Chest by Coffee Alchemy.
What is the best coffee shop in Australia?
Everybody has different tastes and personal preferences but the top-rated coffee shop in Australia is Melbourne's Patricia.
Which is the best coffee in Australia?
Danes Specialty Coffee was given in 2019 the Australian International Coffee Award for Best Australian Roaster.