20 Best Specialty Coffee Shops in Sydney
You'll find excellent batch brews, iced coffees, and filter coffees on our list of the best specialty coffee shops in Sydney. As residents of the harbour city, we truly believe our coffee culture has hit its peak, and our list features some of the most important intel we can impart to you.
Not to be confused with our favourite cafes in Sydney, these places have the richest beans, the most specific roasting processes and masterful brewing. These select specialty coffee shops produce ethical and delicious coffee that often cut out the middleman bringing the plantations straight into your mug. Their produce and methods take years to perfect, so you can rest assured that every sip of your latte is the result of a time-honoured process.
Best Specialty Coffee in Sydney at a Glance
Our list of the best coffee shops in Sydney goes like this.
Now we've had a look at our favourites, let's check out the complete list.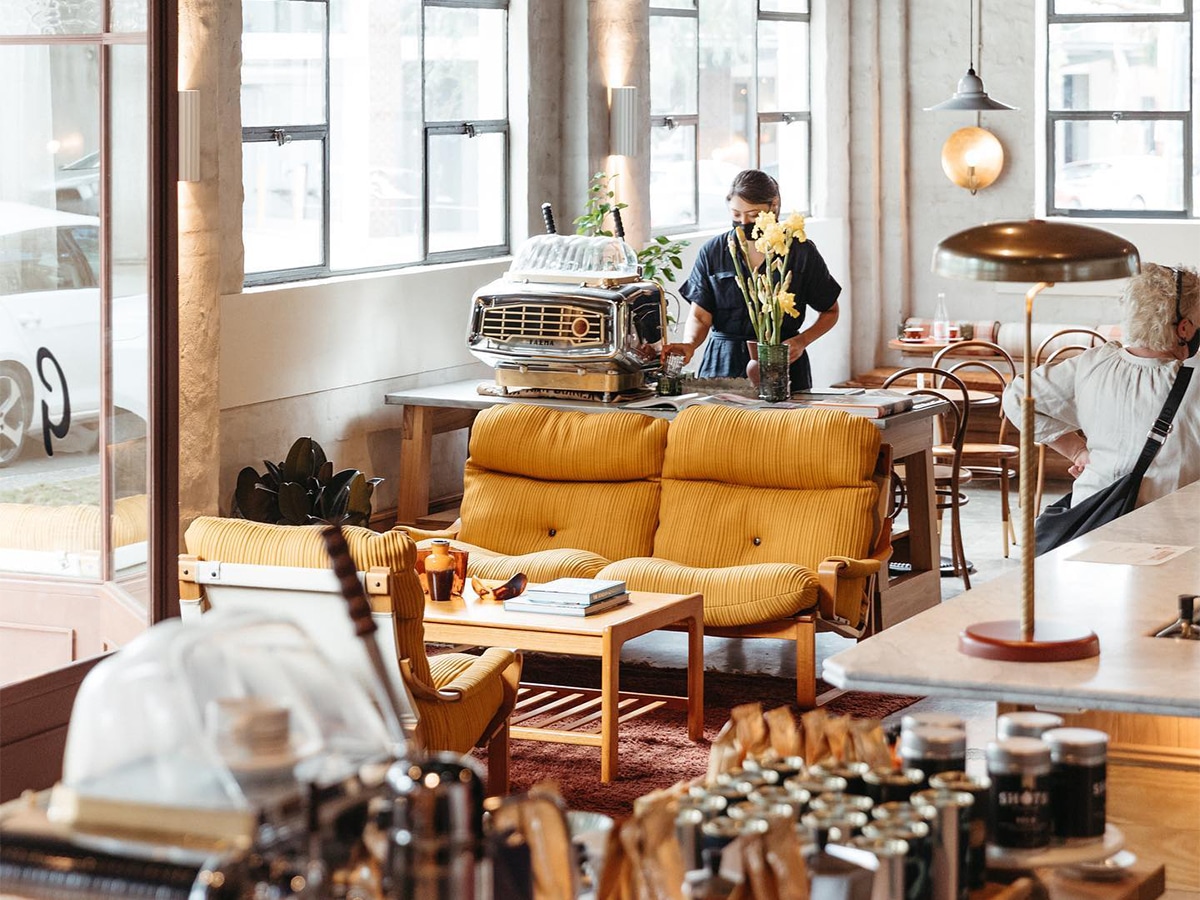 1. Genovese Coffee House
Originally heralding from Melbourne, Genovese Coffee House has firmly solidified its spot as one of the best speciality coffee shops in Sydney. Located converted warehouse in the industrial backstreets of Alexandria, you already know you're going to find something good here as you catch a waft of the coffee from further up the street. Once inside, you will find long tables for public cupping sessions, home barista courses and alternate brewing courses. To balance out all the coffee, there are also Italian delicacies, panini sandwiches and pressed focaccia sandwiches.
Address: 1/3 Lawrence St, Alexandria NSW 2015
Hours: Mon-Sun 7am-3.30pm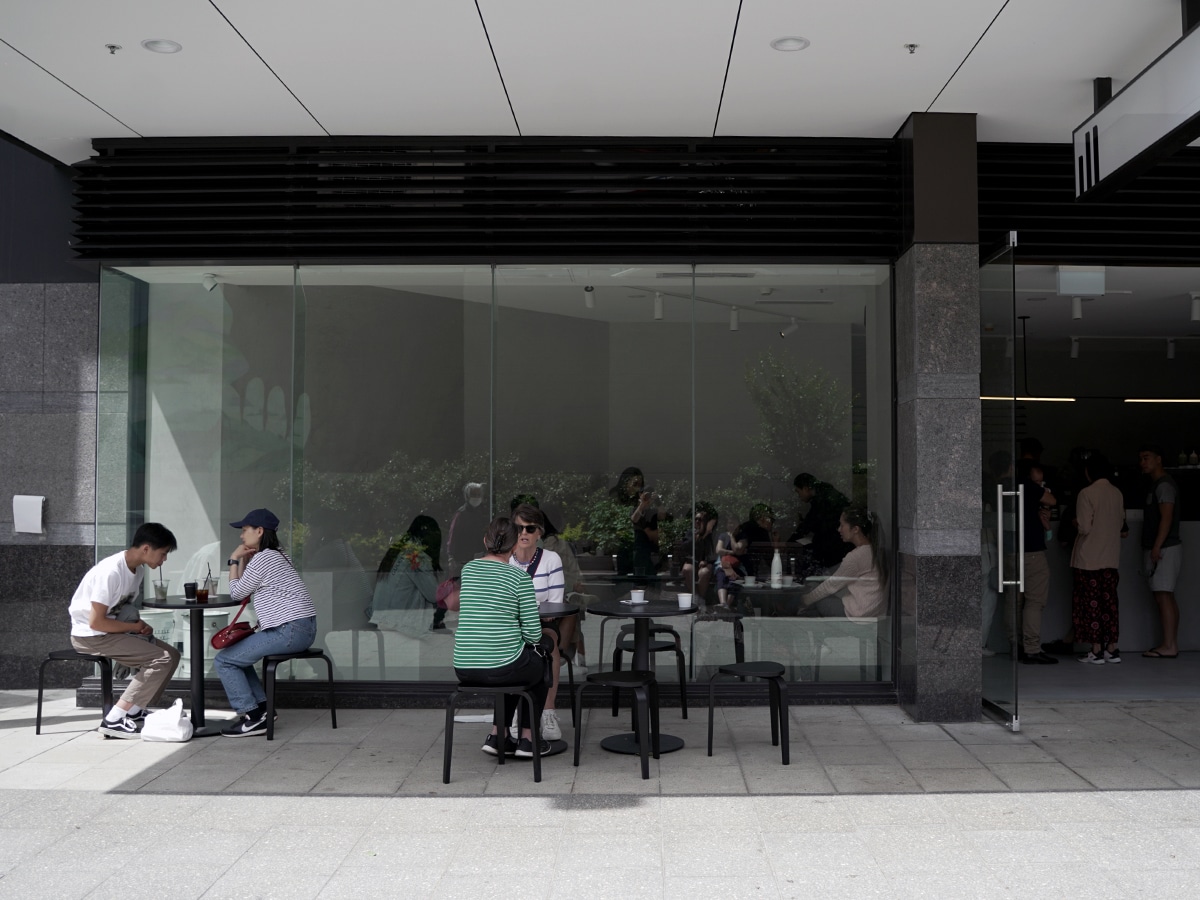 2. Pillar
Burwood's one-stop shop for speciality coffee, Pillar can do no wrong when it comes to quality brewing. Designed to make speciality coffee accessible, the curated menu includes batch brews from Skittle Lane, a boutique roaster in Sydney; the Reserve Coffee selection offering pour-over options showcasing exceptional single-origin coffees from micro-roasters across Australia, and Sudan Rume, an extremely unique and rare blend that offers a complex range of tasting notes and has previously been selected as one of the top three coffees in the world. The calm, minimalist interior here is yet another way to ensure coffee is the star of the show, and that it is.
Address: Located in: Burwood Grand, Shop/1 Unity Pl, Burwood NSW 2134
Hours: Mon-Fri 7am-3pm, Sat 8am-3pm, Sun 9am-2pm
---
Featured Video from Man of Many
---
RELATED: Want to brew your own at home? You'll need one of the best coffee machines in Australia.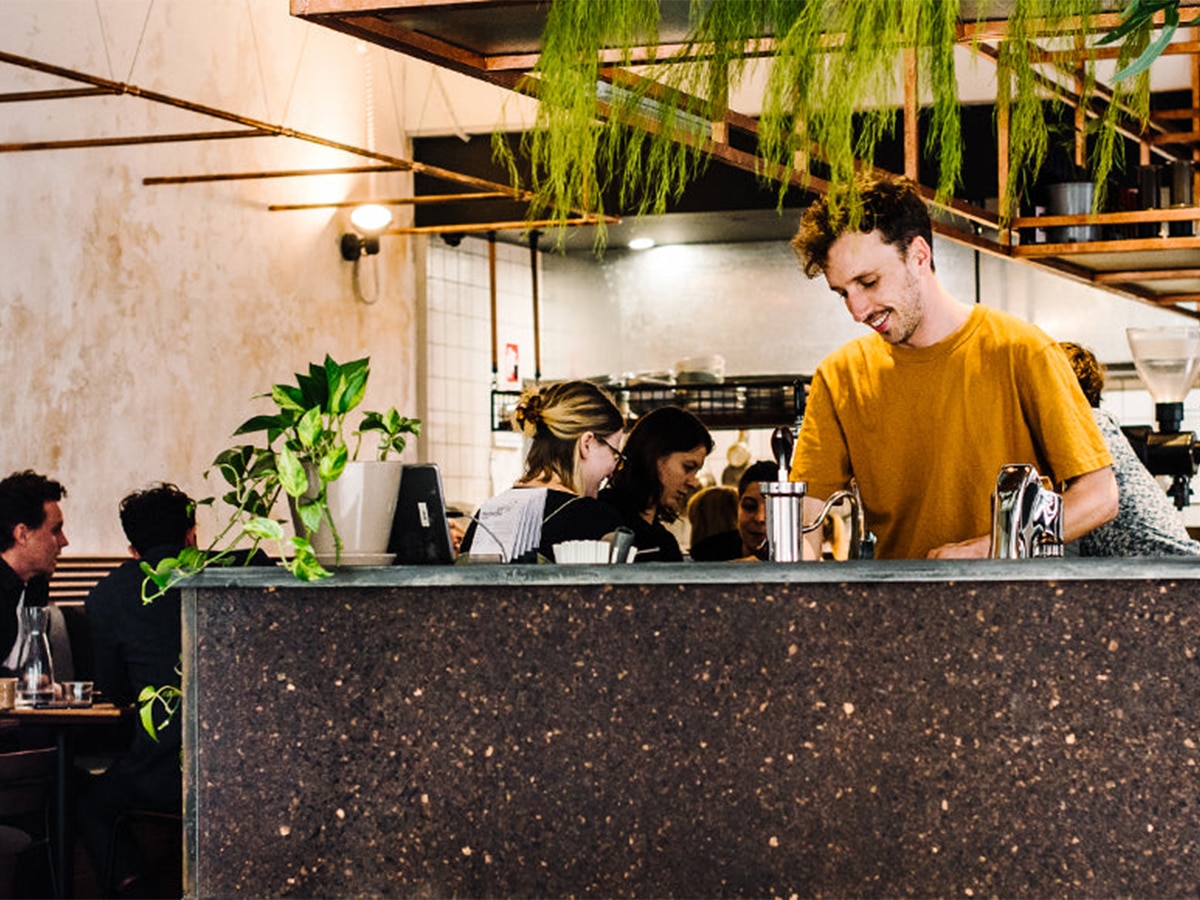 3. Single O
Every time we walk past this Surry Hills establishment, we simply can't deny ourselves a coffee. These guys are all about coffee with a conscience, focusing on Fair Trade and sustainable coffee practices (the roastery also runs on solar power). Their specially crafted self-serve batch brew taps dispense four different single-origin brews and it's safe to say – it's some of the best coffee we've ever had this side of the bridge. If you're looking for a great iced coffee this is our pick of the bunch, it's on tap!
Address: 60-64 Reservoir St, Surry Hills NSW 2010
Hours: Mon-Fri 7am-3pm, Sat-Sun 8am-3pm
Phone: (02) 9211 0665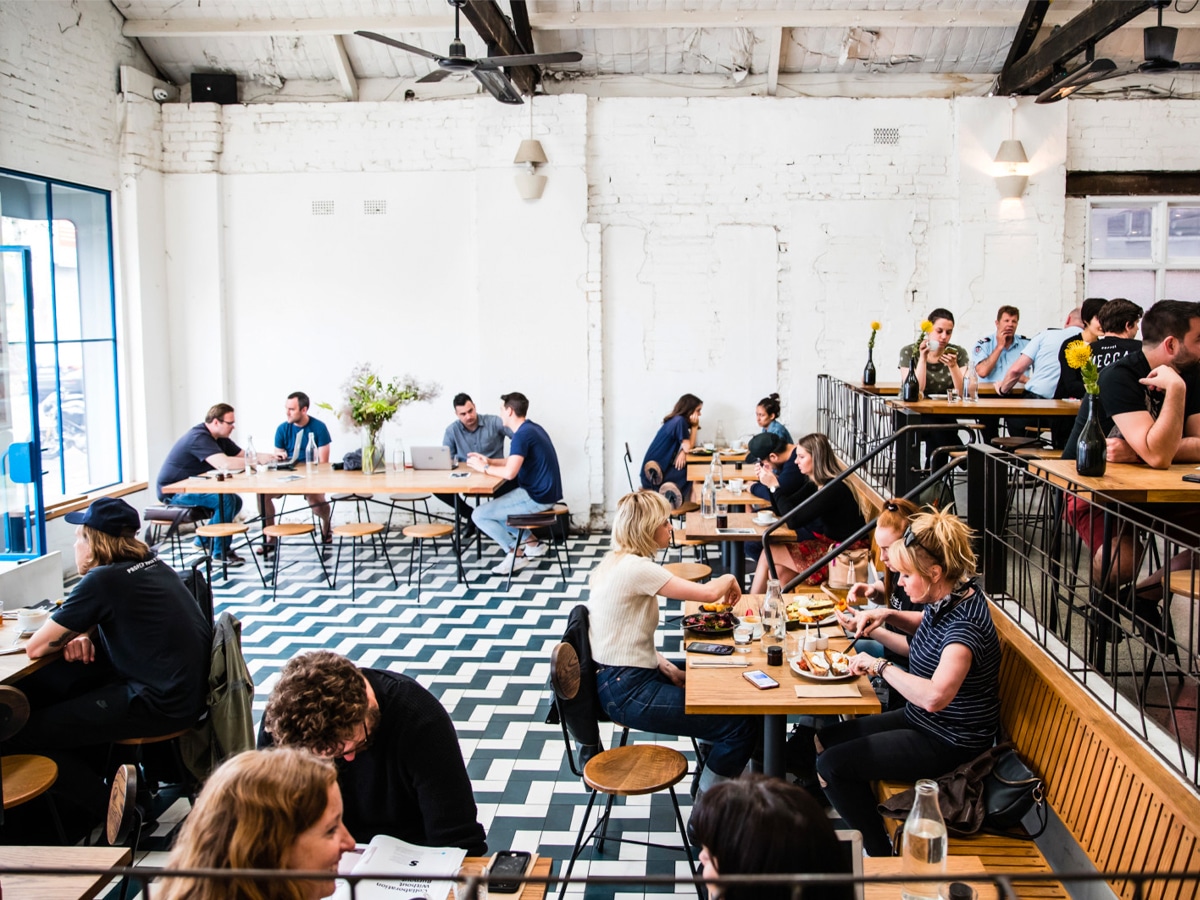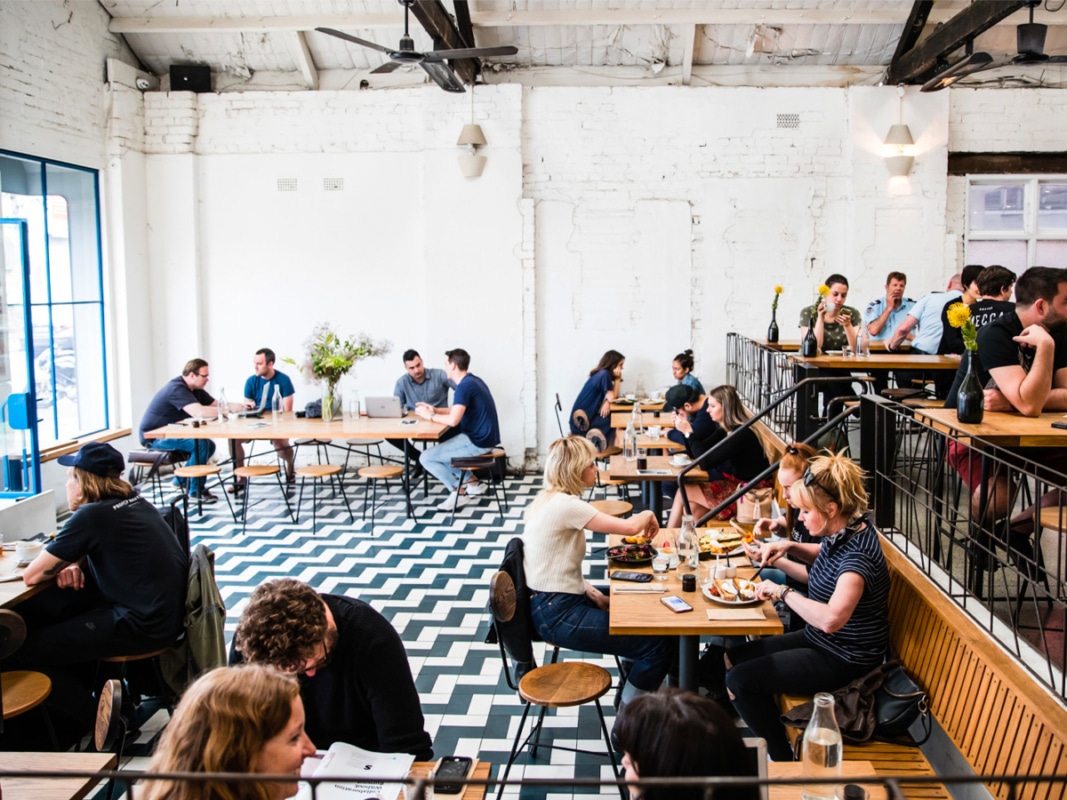 4. Mecca
Roasting beans sourced from El Salvador and Ethiopia, Mecca is one of the biggest and most prolific coffee roasters in Sydney. Their grand space in Alexandria is a testament to this – with high ceilings, terrazzo flooring and a garden out the back and countless coffee-related events happening all year long (come on down on Saturdays at 10am for training and cupping.) If you can't get to Alexandria, head to the original Mecca Coffee in the CBD, or at sister cafe Soma in Ultimo for your fix.
Address: 26 Bourke Rd, Alexandria NSW 2015
Hours: Mon-Fri 7.30am-3pm, Sat-Sun 8am-3pm
Phone: (02) 9698 8448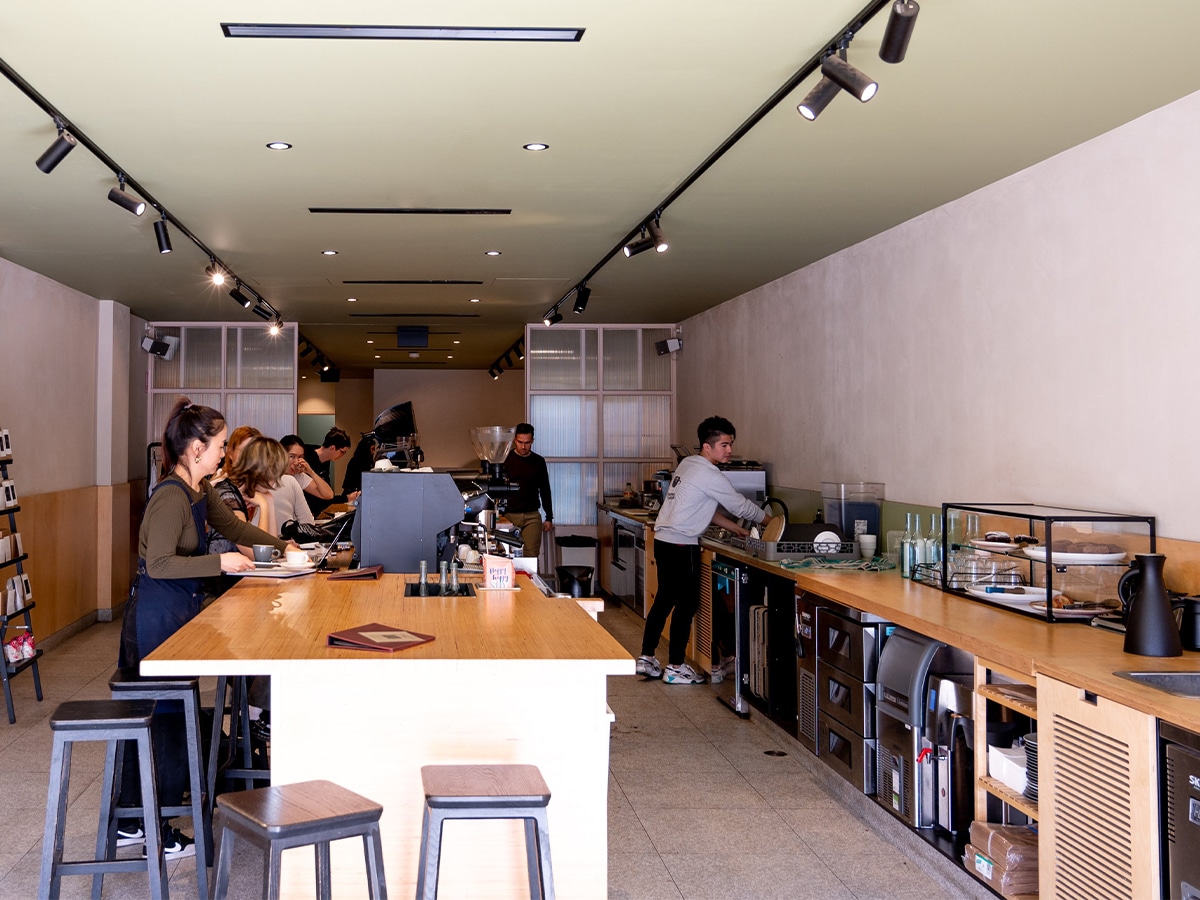 5. Ona Coffee
Coffe first, brunch second, we recommend coming here for one thing and one thing only – coffee. They have a long list of premium-reserve coffees available to taste by the glass or to take home, once you decide which is your favorite. What makes this one of the best speciality coffee shops in Sydney is their approach to teaching – the cafe operates as a daytime espresso bar out front and out back there's a dedicated barista training room.
Address: 140 Marrickville Rd, Marrickville NSW 2204
Hours: Mon-Fri 7.30am-2.30pm, Sat-Sun 8am-3pm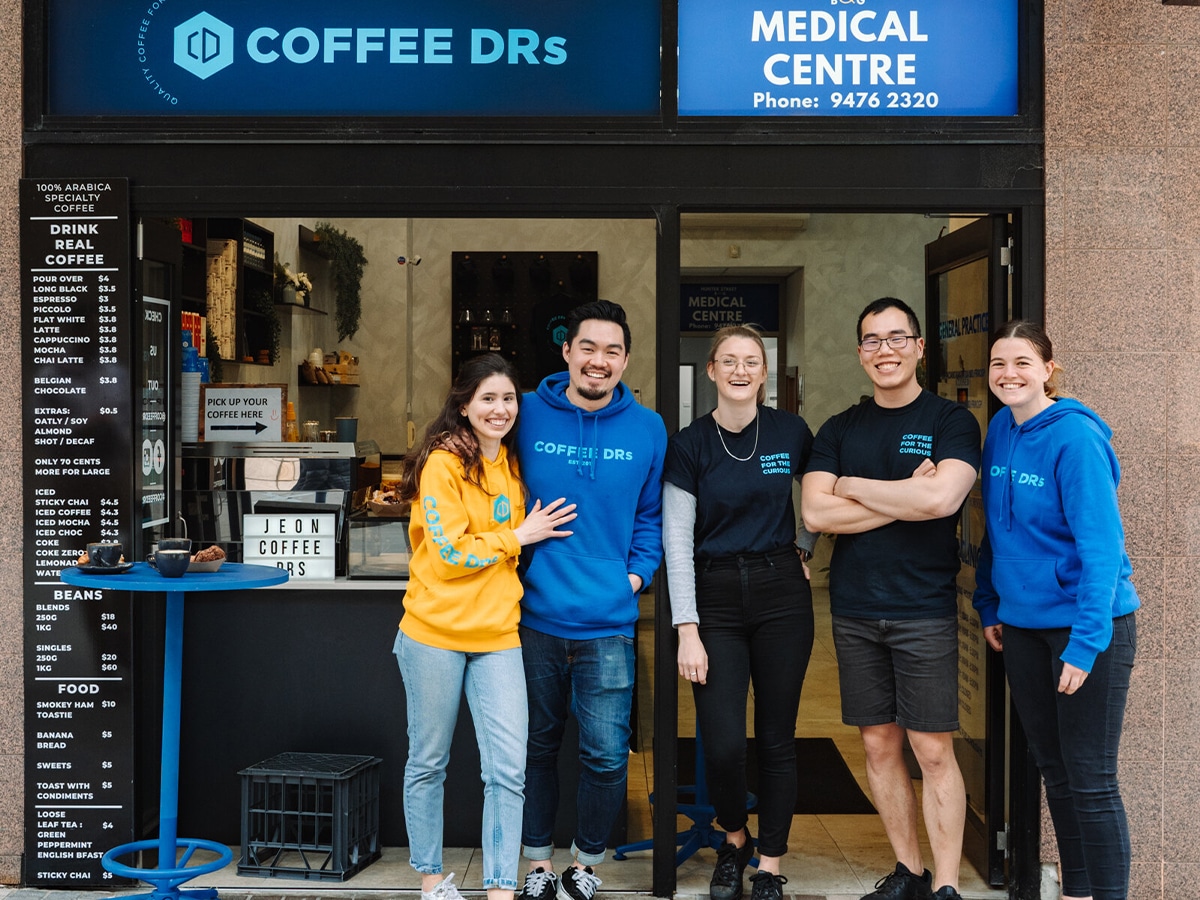 6. Coffee DRs Hornsby
If you find yourself north of Sydney and are in need of a coffee fix, look no further than Coffee DRs in Hornsby. One of the best speciality coffee shops in Sydney, Founder Luke Bantatua gave up his pharmaceuticals career to begin roasting coffee and in February 2017, Luke created a blend called 'BANTAT', a riff of his surname which went on to receive the highest score at Sydney Fine Foods. A fuss-free approach to speciality coffee that's entirely genuine and unpretentious, we can't fault this place.
Address: Shop 9/25 – 29 Hunter St, Hornsby NSW 2077
Hours: Mon-Fri 7am-2pm, Sat 7.30am-12pm
Phone: 0423 671 222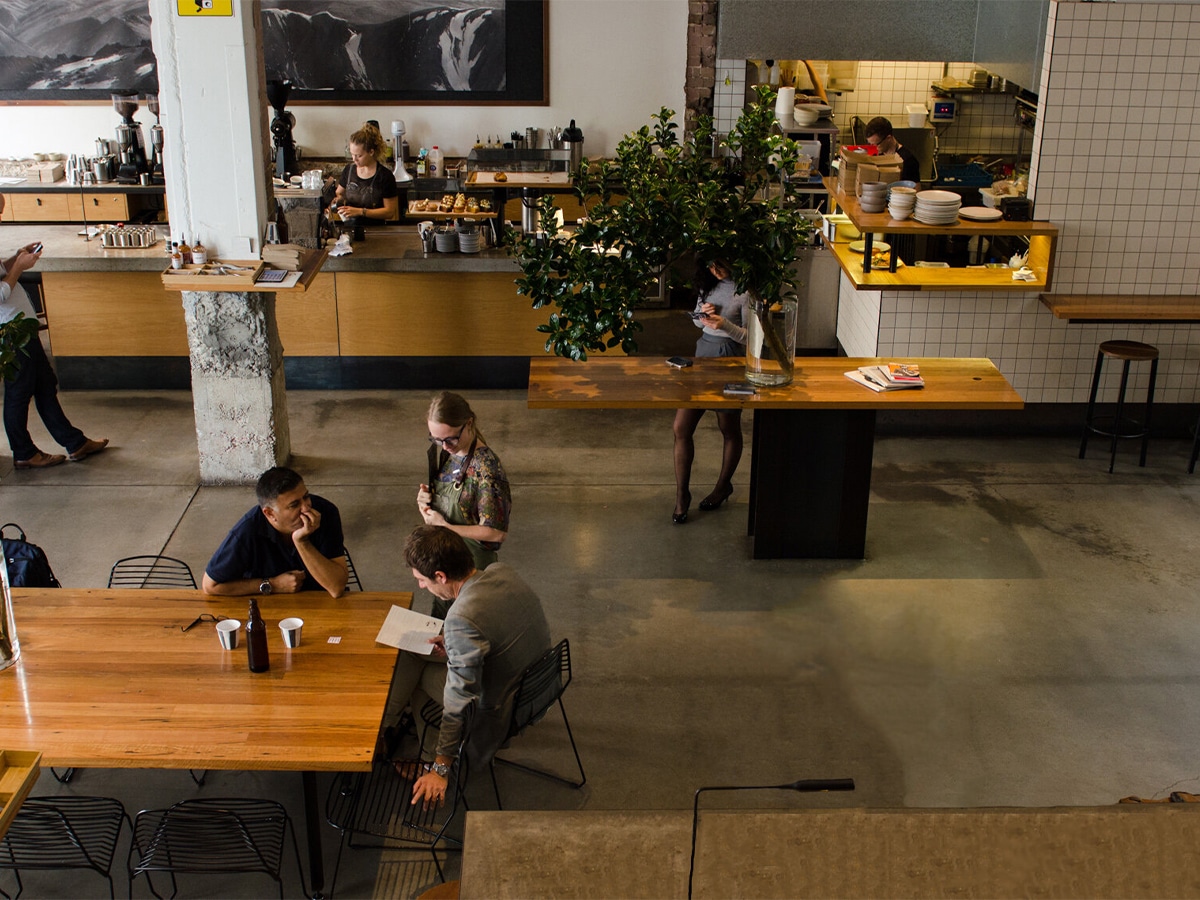 7. Paramount Coffee Project
Often the first port of call for people just dipping their toes in the world of specialty coffee, Paramount Coffee Project is as good as a place to start as any. Located in an architectural budling in Surry Hills, the focus here is equal parts coffee and equal parts food – being a collaboration between the building's Jin Ng, Reuben Hills' Russell Beard and Mark Dundon of Melbourne coffee roaster Seven Seeds. Beans are always rotating so you can try a bit of everything, there is a brew bar and an intricate food menu designed to compliment the coffee – the fried chicken waffle with maple bacon gravy is our top pick.
Address: 80 Commonwealth St, Surry Hills NSW 2010
Hours: Mon-Sun 7am-4pm
Phone: 0481 148 439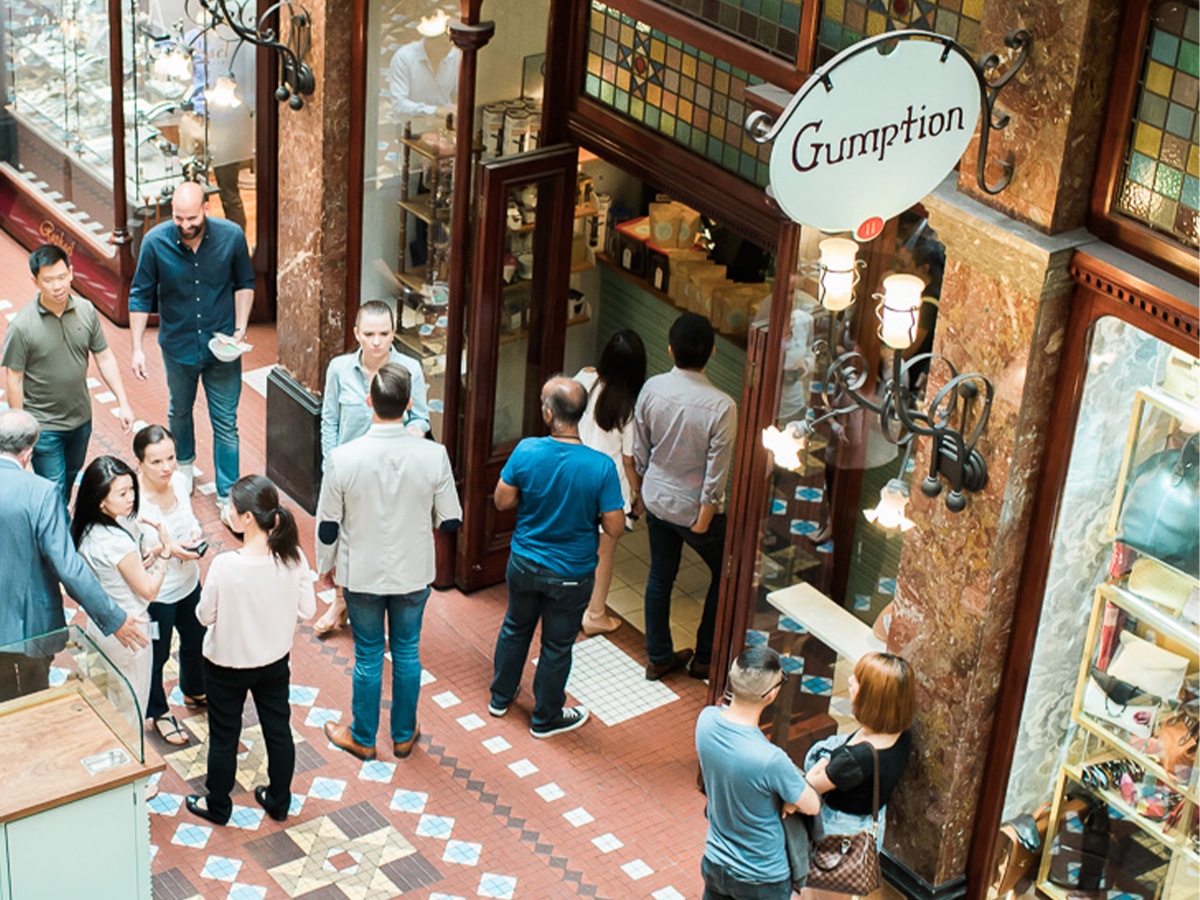 8. Gumption by Coffee Alchemy
What started from an inspiring trip to grandma's fruit trees evolved into the award-winning specialty coffee in Sydney, Coffee Alchemy. They're dedicated to the pursuit of great coffee and are in love with the enchanting journey of sipping the final result. They believe it takes Gumption to identify the ideal plot of land, tough out the growing years and identify the key moment to pick, experiment with growing methods, and proudly present the final result. It also takes Micro adjustments to the temperature, the weight of the dose and the rate with which the coffee extracts to reach the sum that is the perfect cup of coffee: a coffee that expresses the intent of the grower and baristas to allow the coffee to speak for itself.
Located in: The Strand Arcade
Address: Shop 11, The Strand Arcade, 412-414 George St, Sydney NSW 2000
Hours: Mon-Fri 8:30am-4pm, Sat 10am-4pm, Sun 11am-3pm
Phone: (02) 9516 1997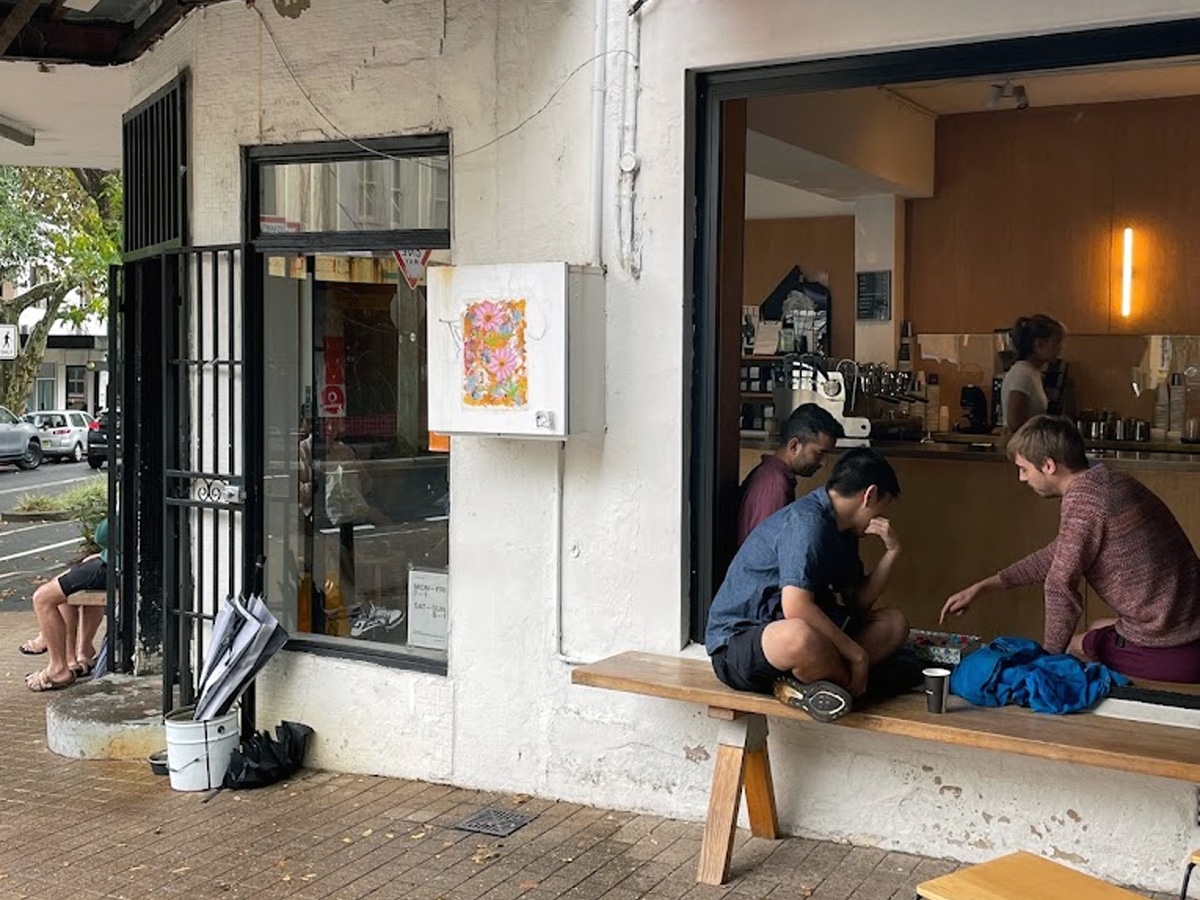 9. Artificer Coffee
Don't come here if you're hungry (for food, that is) but do come here if you're parched for specialty coffee. One of the best speciality coffee shops in Sydney, Artificer Coffee is headed by Dan Yee (ex-Salvage) and Shoji Sasa (Mecca and Single Origin,) a team of dedicated coffee artisans. They buy quality beans and roast for the qualities of that particular coffee, rather than using a standard brief. Every time we come here, we're reminded that coffee truly is one of life's greatest pleasures, and that's saying something.
Address: 547 Bourke St, Surry Hills NSW 2010
Hours: Mon-Fri 7am-1pm, Sat-Sun 8am-1pm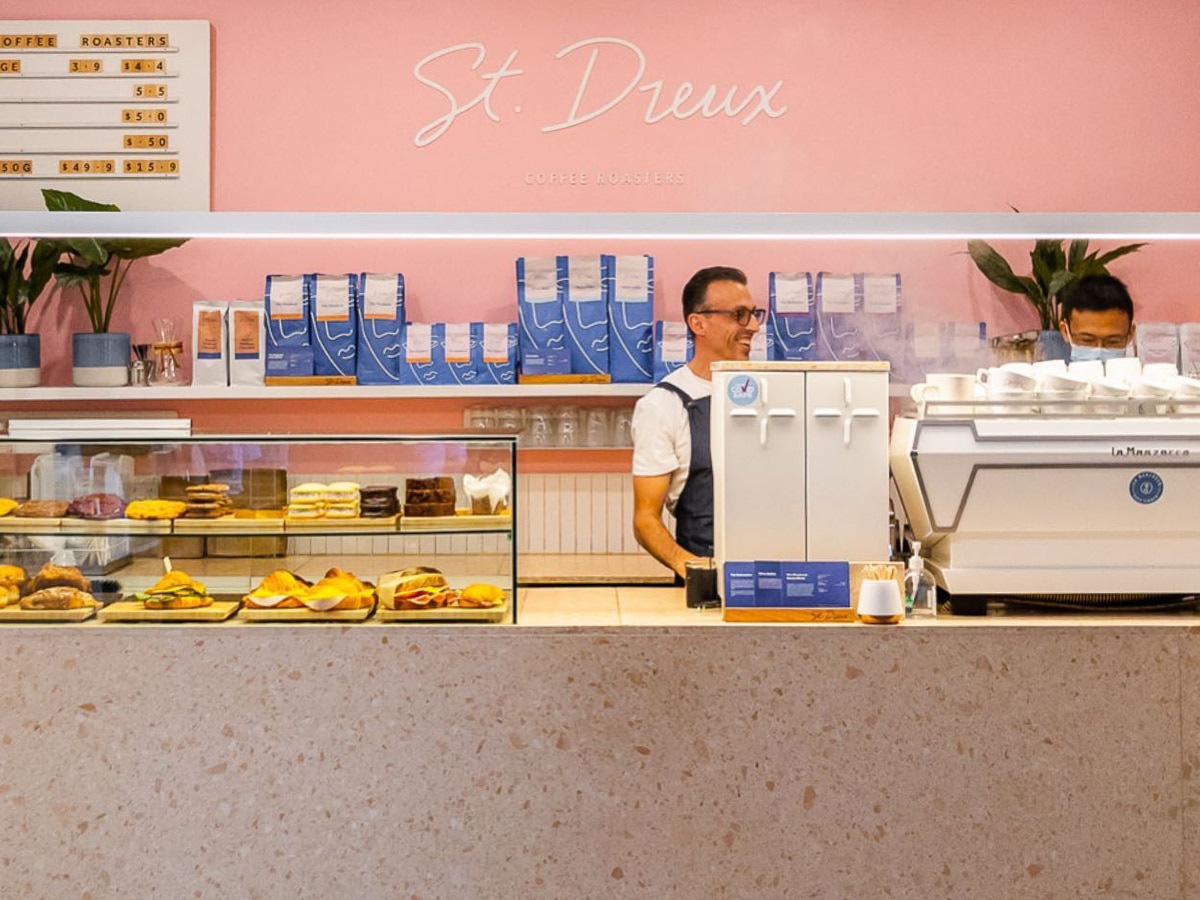 10. St Dreux
St Dreux means all business, so much in fact that they're only open during the week. Founders Raf Bartkowski and Ernest Igual bring 30 years of experience to St Dreux, which undoubtedly shows. Here you will find three signature blends – the Shepherd (light), the Silver Bullet (medium) and the Rainmaker (dark) which are complemented by a range of micro-lot single-origin beans. You will always know what you're in for here, both cups and beans are sold with a card detailing the flavour profile, brew guide and origin. They also have a nitro brew and plenty of pastries to soak up all the coffee.
Address: 151 Clarence St, Sydney NSW 2000
Hours: Mon-Fri 7am-4pm
Phone: 0409 439 906
11. Barrel One Coffee Roasters
Northern Beaches locals swear by Barrel One, one of the best specialty coffee shops in Sydney's northern beaches. Located in Brookvale's inconspicuous but not thriving industrial precinct, Barrel One Coffee Roasters serves up bagels, sangas and of course – coffee. We love coming here for a more casual vibe and a bit of sustenance to go with our caffeine.
Address: 4 Roslyn St, Potts Point NSW 2011
Hours: Mon-Sun 7am-3pm
Address: 22 Orchard Rd, Brookvale NSW 2100
Hours: Mon-Fri 6am-2pm, Sat-Sun 7am-1pm
Address: 40 E Esplanade, Manly NSW 2095
Hours: Mon-Fri 6am-2pm, Sat-Sun 7am-2pm
Address: 9/161 S Creek Rd, Cromer NSW 2099
Hours: Mon-Fri 6am-2pm, Sat-Sun 7am-1pm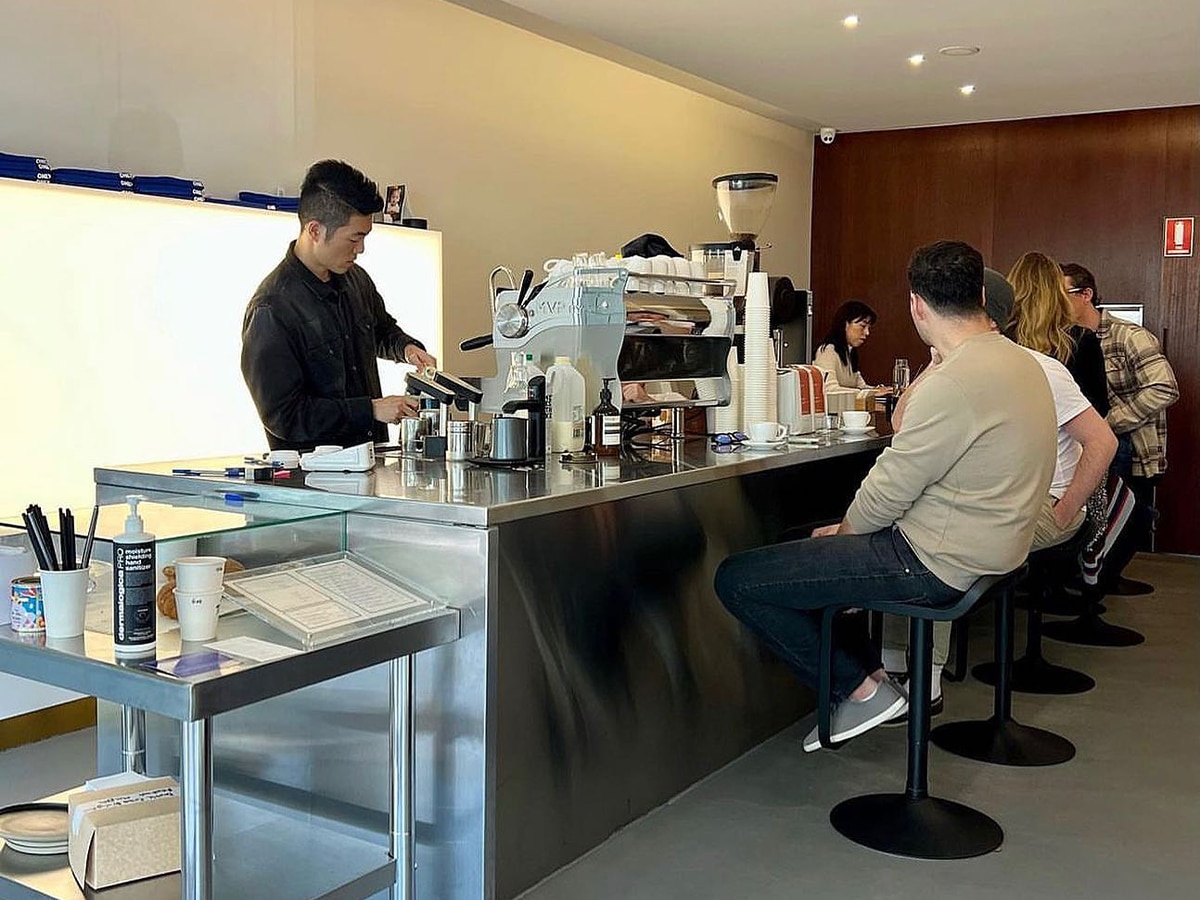 12. Only Coffee Project
Another one of the best specialty coffee shops in Sydney located north of the bridge, Only Coffee Project is a small espresso bar serving Melbourne's Market Lane coffee as well as Sey Coffee, a New York-based micro-roastery that's considered one of the best in the US, both by the cup and in bulk 9for a rather high price.) The thing we love the most about this place is the ceramic mugs they serve their coffee – the Origami sensory cup – traps in all the aromas for the ultimate coffee-drinking experience.
Address: Shop 2/118 Willoughby Rd, Crows Nest NSW 2065
Hours: Mon-Sun 6.30am-3pm
Phone: 0452 516 316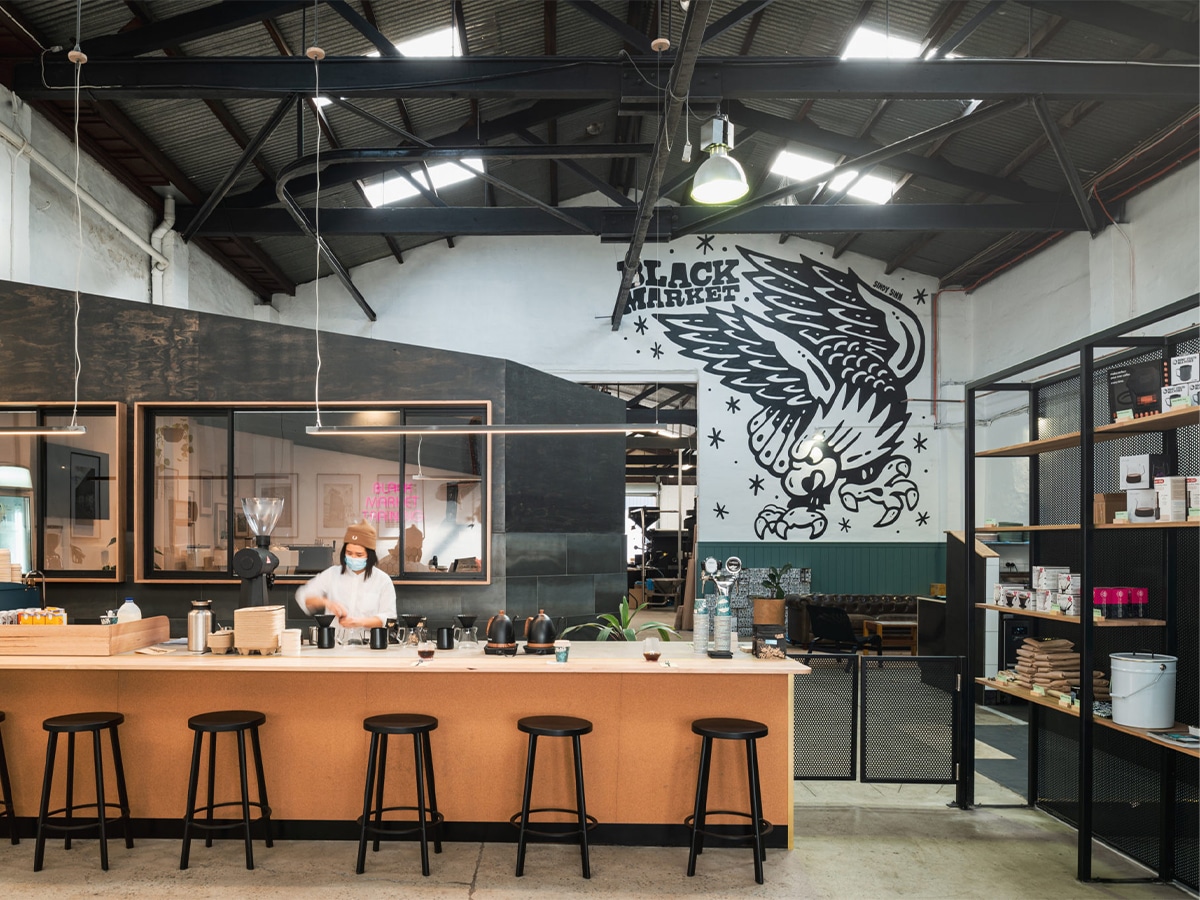 13. Black Market Roasters
With outposts in Marrickville and Enmore, Black Market Roasters are slowly but surely infiltrating Sydney's inner west, and we're not mad about it. The Marrickville outpost is a cafe, roastery, training space and tasting bar all in one. You will find multiple blends for milk-based coffees, as well as single origins for filter and cold brew. Non-coffee-related goodies include healthy smoothies, pastries and classic brunch feeds. We love the communal feel here, each time we visit we always end up chatting all things coffee (among other things) with the people sitting next to us.
Address: 24 Cadogan St, Marrickville NSW 2204
Hours: Mon-Fri 6am-3pm, Sat 7am-3pm
Phone: 1300 030 327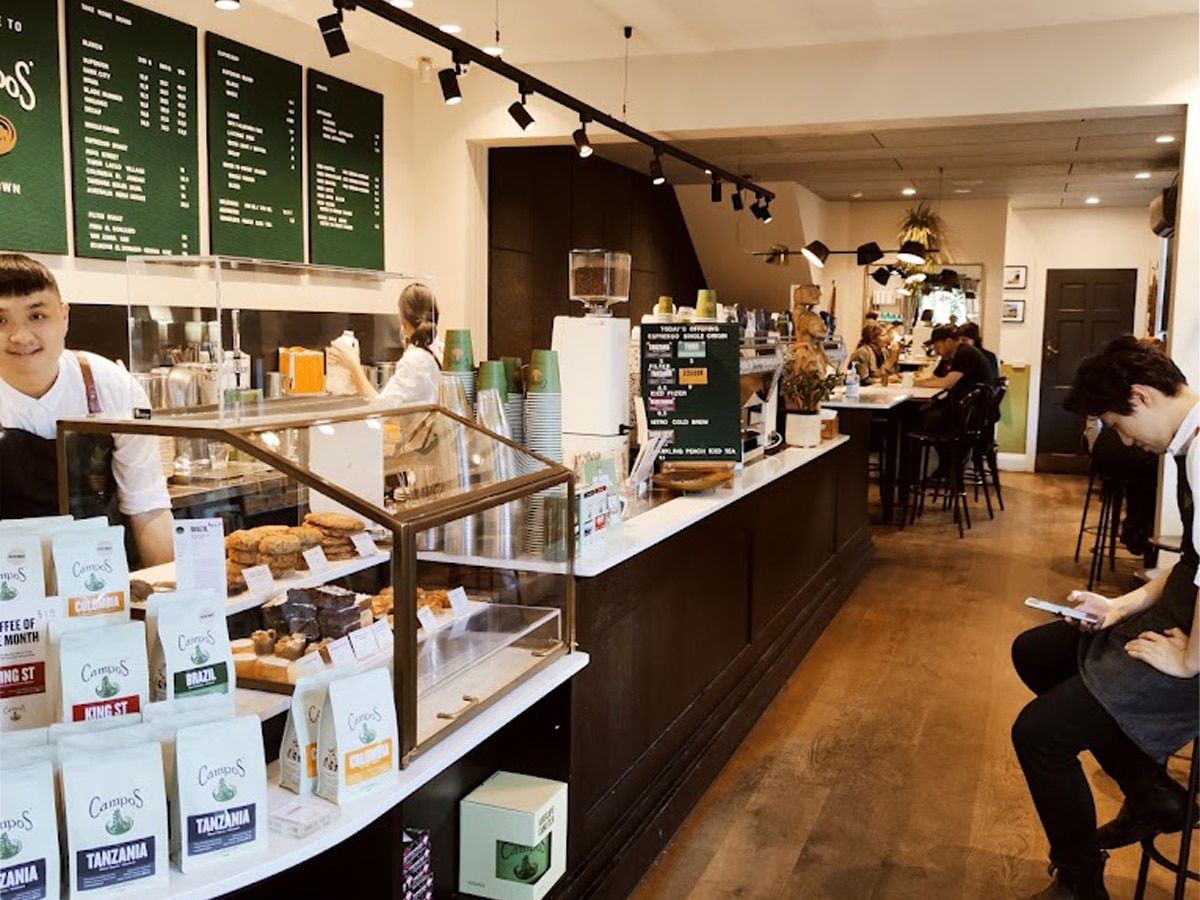 14. Campos Coffee Newtown
Campos Coffee is known for being one of the best coffee roasters in Australia for a reason – they produce some of the best coffee in the country. Their mantra is 'quality coffee cultivated by good'. They focus on coffee that is made ethically and with care. Campos cut out the middleman by fostering long-lasting partnerships directly with the producers. This means they know the farmers are always producing the highest quality beans, and their select cafe partners roast and serve it to perfection. Their flagship Newtown store exemplifies this nurtured process, much to your enjoyment.
Address: 193 Missenden Rd, Newtown NSW 2042
Hours: Mon-Fri 7am-4pm, Sat 8am-5pm, Sun 8am-4pm
Phone: (02) 9516 3361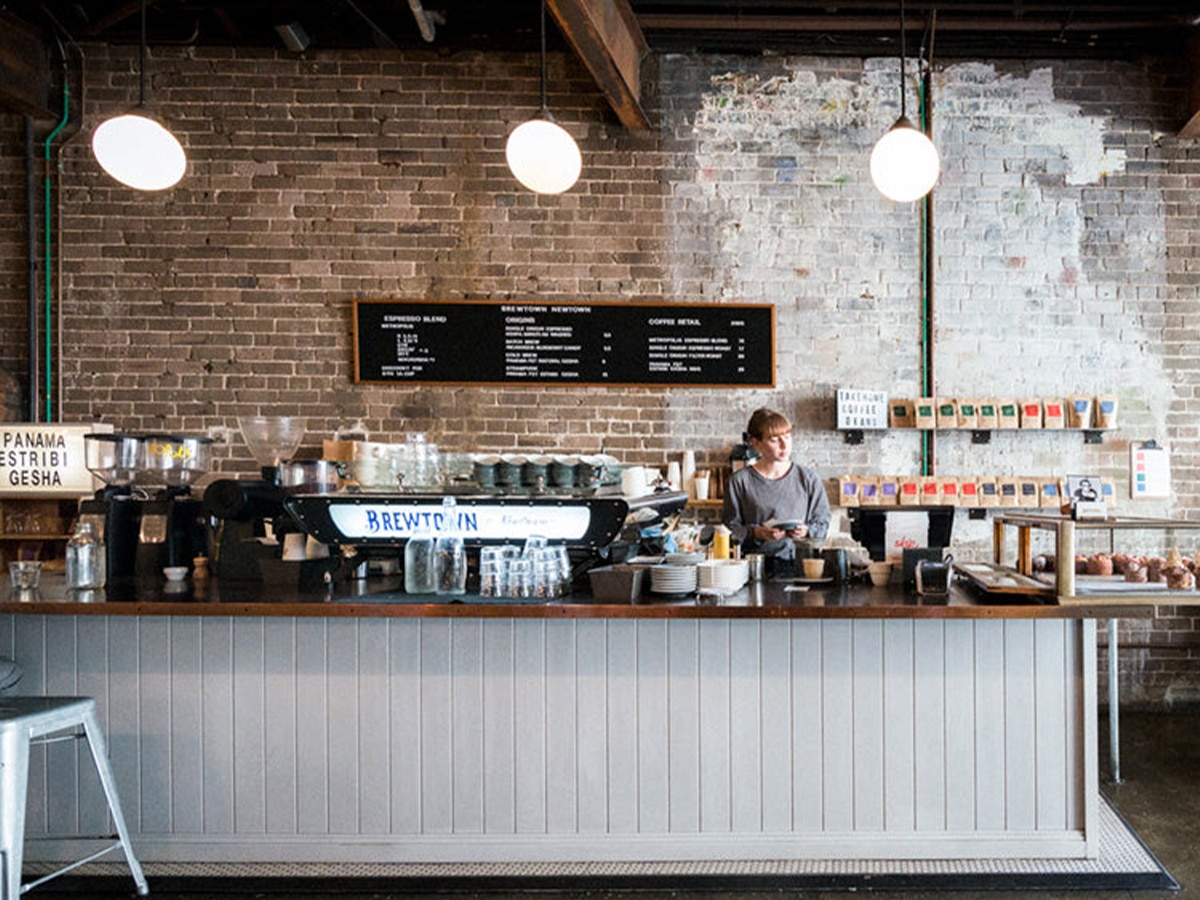 15. Brewtown Newtown
The 19th-century warehouse in Newtown is the only thing that's old at Brewtown. Coffee aficionados Simon Triggs and Charles Cameron purchase the beans directly from the plantations, meaning you only get the freshest and richest best speciality coffee in Sydney. Pair it with bistro-style breakfast and lunch dishes with the freshest and most delicious produce, and your tastebuds will be set alight.
Address: 6-8 O'Connell St, Newtown NSW 2042
Hours: Mon-Sun 8am-4pm
Phone: (02) 9519 2920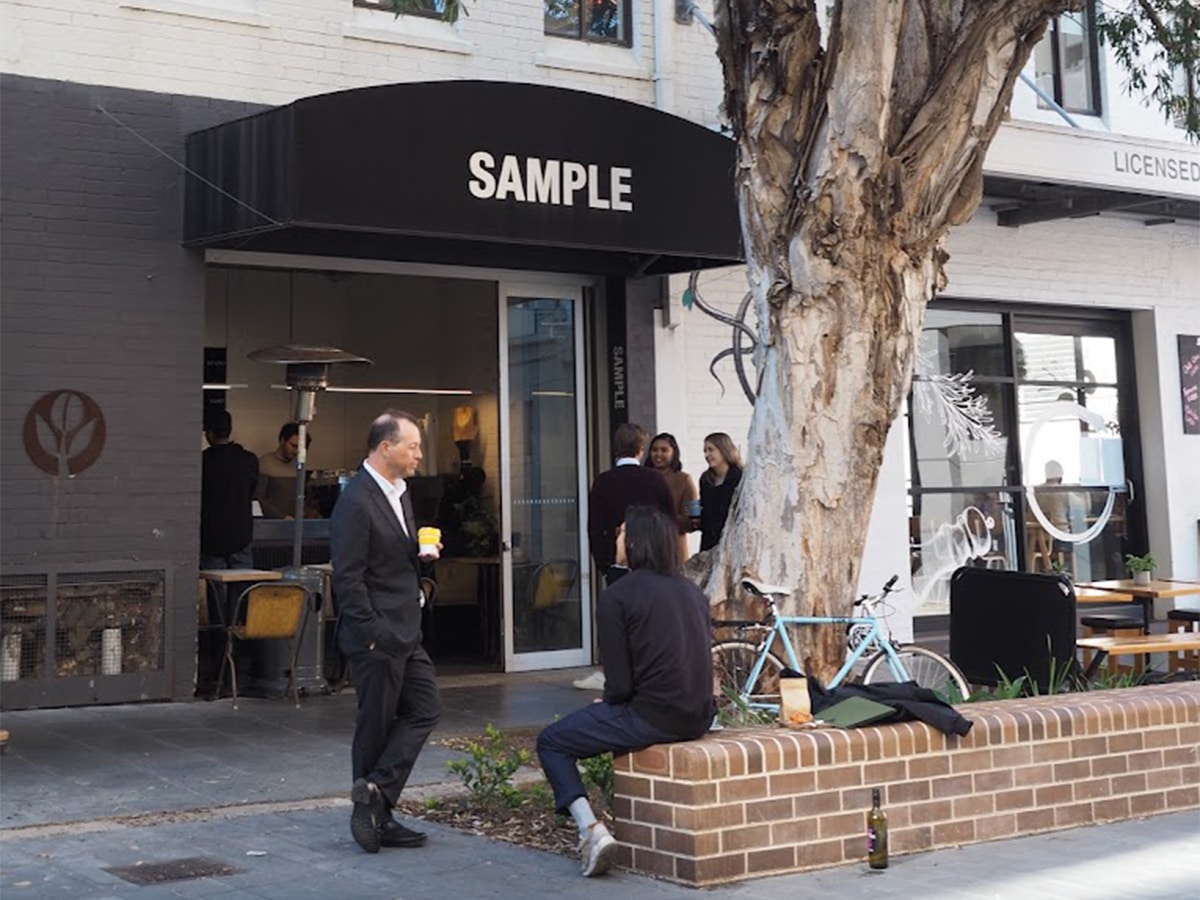 16. Sample Coffee
Sample coffee is ethically sourced from farms around the world and roasted locally in Sydney's Inner West. If you choose the Brew Crew delivery option you can even receive seasonal coffee from different farms around the globe with each delivery. You'll learn about each country's coffee-growing history and learn different recipes and tips from their brew guides on how to make the best coffee in Sydney, and beyond.
Address: Shop 1a, 118 Devonshire Street (cnr, Holt St, Surry Hills NSW 2010
Hours: Mon-Fri 7am-3pm
Phone: 0414 703 005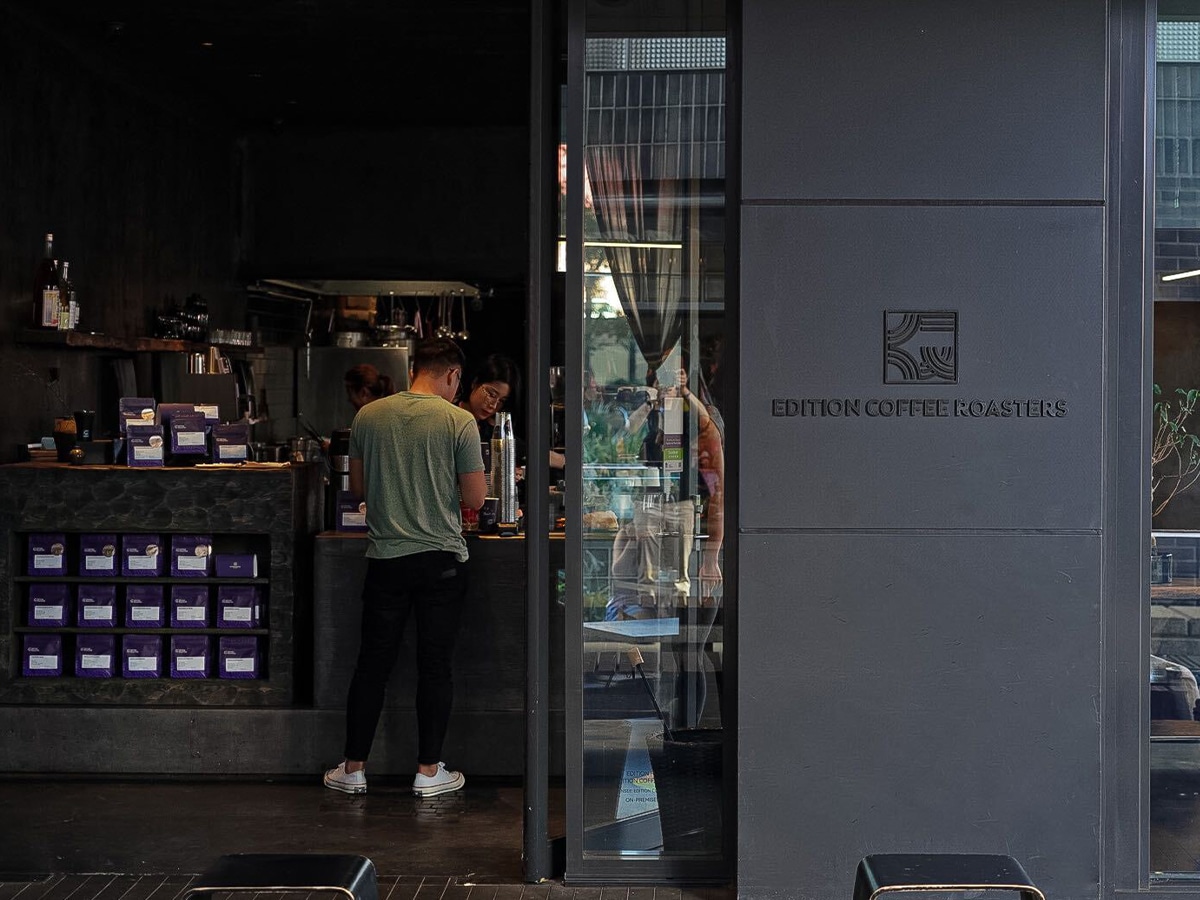 17. Edition Roasters
With a few locations scattered around Sydney, Edition Roasters is a reliable option whenever you're looking for one of the best speciality coffee shops in Sydney. Combining Scandinavia and Japan in a weird and wonderful way, the menu includes a mix of bento boxes and Scandinavian-style open sandwiches. Coffee is single origin/estate green beans roasted for batch brew, pour-over, aero-press, Japanese drip and cold brew. We also love the selection of Japanese tea here, too.
Address: 60 Darling Drive, Haymarket 2000
Hours: Mon-Sun 8am-4pm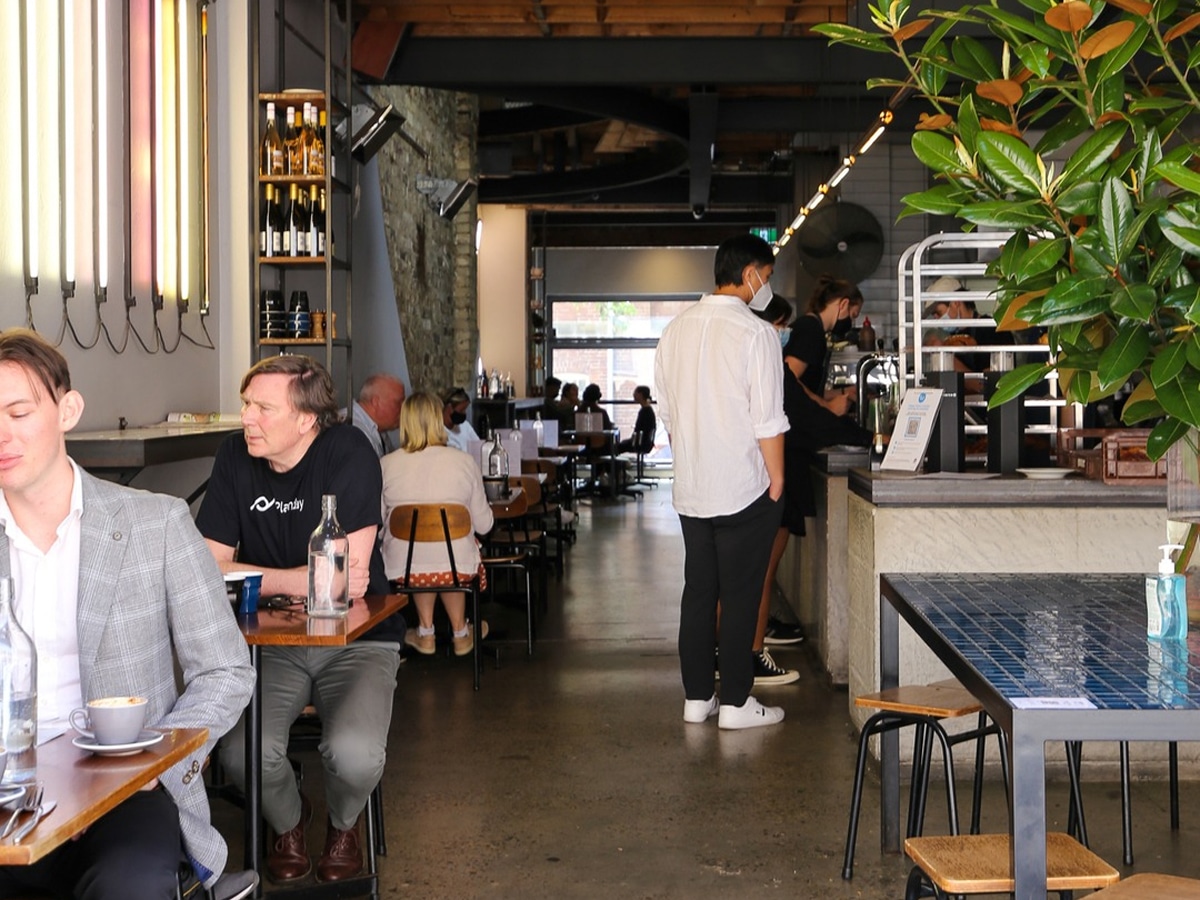 18. Reuben Hills
The philosophy at Reuben Hills is simple – make specialty coffee approachable. This is a newbie to coffee's haven, with filters and brewing tools scattered around and friendly staff just waiting to chew your ear off. Moreover, there are cupping (tasting) sessions every Saturday morning and beans are roasted on the mezzanine level before being transported downstairs for use, so you can take a look at this process too. The food menu is designed to match the origins of the beans, with the likes of Central and South American and African cuisine.
Address: 61 Albion St, Surry Hills NSW 2010
Hours: Mon-Fri 7am-4pm, Sat-Sun 7.30am-4pm
Phone: (02) 9211 5556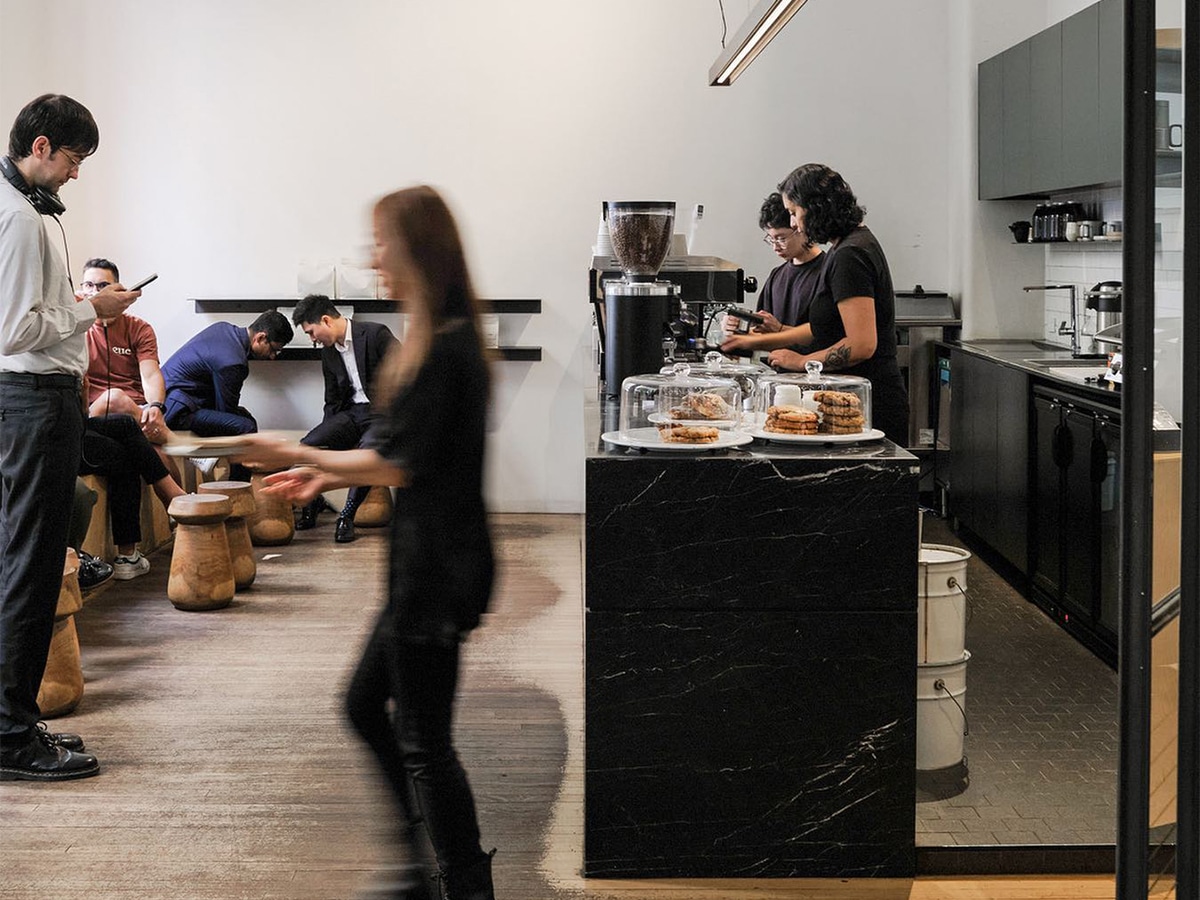 19. Skittle Lane
One of the best speciality coffee shops in Sydney located in the heart of Sydney's CBD, coffee is the main event here. They offer their own seasonal blend – a full-bodied, well-balanced espresso with notes of vanilla and cocoa, alongside a selection of single origins rotate for espresso and filter. We love the pour-over bar here, which offers one of the more personalised coffee experiences in Sydney.
Address: 40 King St, Sydney NSW 2000
Hours: Mon-Fri 7am-4pm
Phone: 0448 887 728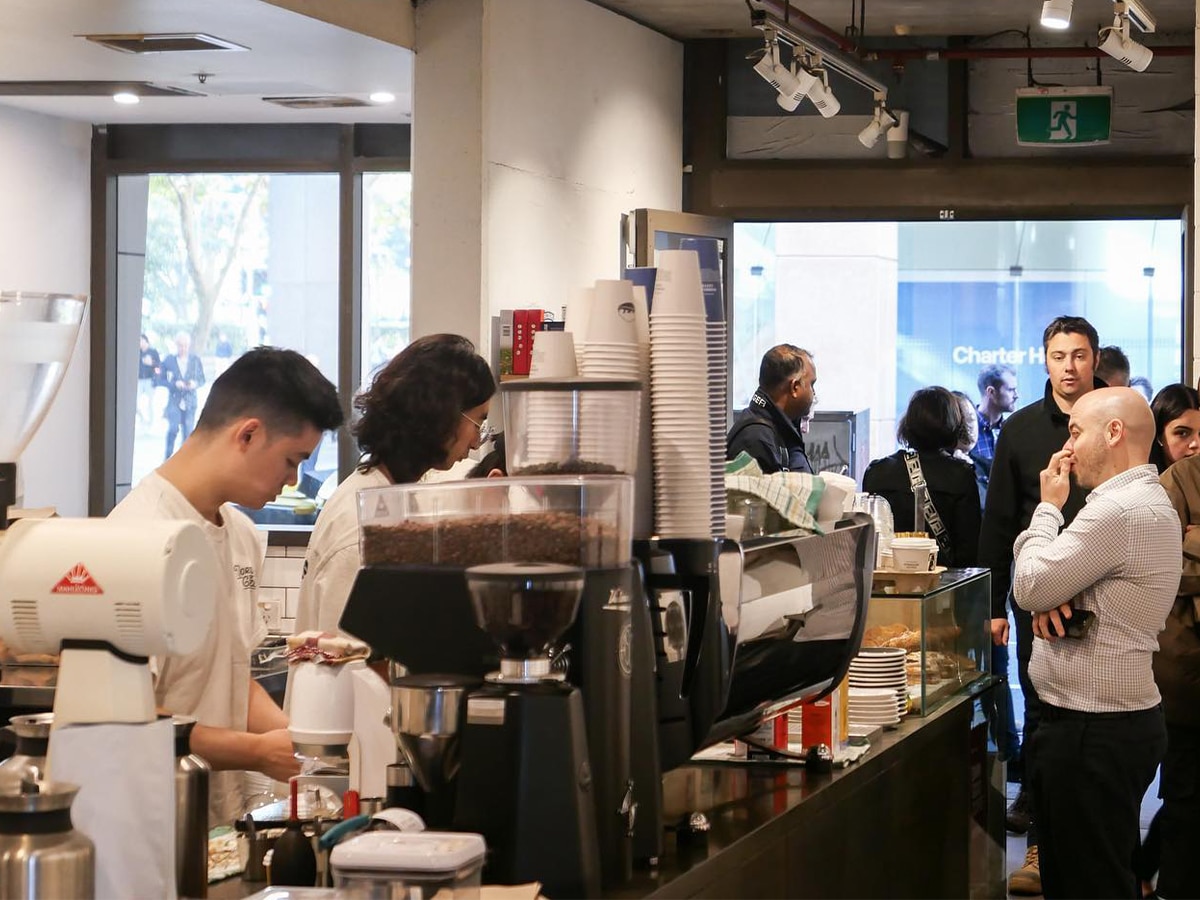 20. Normcore Coffee
The motto here is simple – damn good coffee – and it shows. They consider themselves coffee professionals and strive to create coffee that appeals to both the masses while satisfying the manias with very specific and unique tastes. The space is small, but turns out you don't much space to make quality coffee.
Address: 209 Castlereagh St, Sydney NSW 2000
Hours: Mon-Fri 7am-4pm, Sat 8am-2pm
How Man of Many Chose the Best Speciality Coffee Shops in Sydney
With more than 10 years of experience reviewing bars and restaurants, Man of Many's team of editors has selected a list of the specialty coffee shops in Sydney we love. They've taken into account flavour, price, atmosphere and menus when compiling this list, while also leaning on author Aimee O'Keefe who is an avid coffee drinker who has spent many years bouncing between cafes in Sydney in search of the best cup of joe.
Alternatives to Speciality Coffee In Sydney
If you're hungry after all the coffee drinking, why not check out our list of Fun Things To Do in Sydney? Or, if you're looking for a night out, we can also help you with your search for the Best Bars in Sydney.
You'll also like:
---
Featured Video from Man of Many