40+ Best Rooftop Bars in Sydney
As any local can tell you, Sydney's best rooftop bars are something for which our beloved city is best known. Indeed, who doesn't relish the idea of sipping cocktails or munching on delicious bites while being surrounded by epic views? During the day, the sun's rays warm your every intoxicated nerve. At night, the city's lights come alive. Meanwhile, the atmosphere around you is either contagiously festive or perfectly relaxed. As such, we're getting alternately excited and/or sedated just thinking about these legendary locales, and you should, too. Without further ado, we present the best rooftop bars in Sydney.
---
You'll also like: 
25 Coolest Bars in Sydney
15 Best Beer Gardens in Sydney
20 Best Hidden Bars in Sydney
---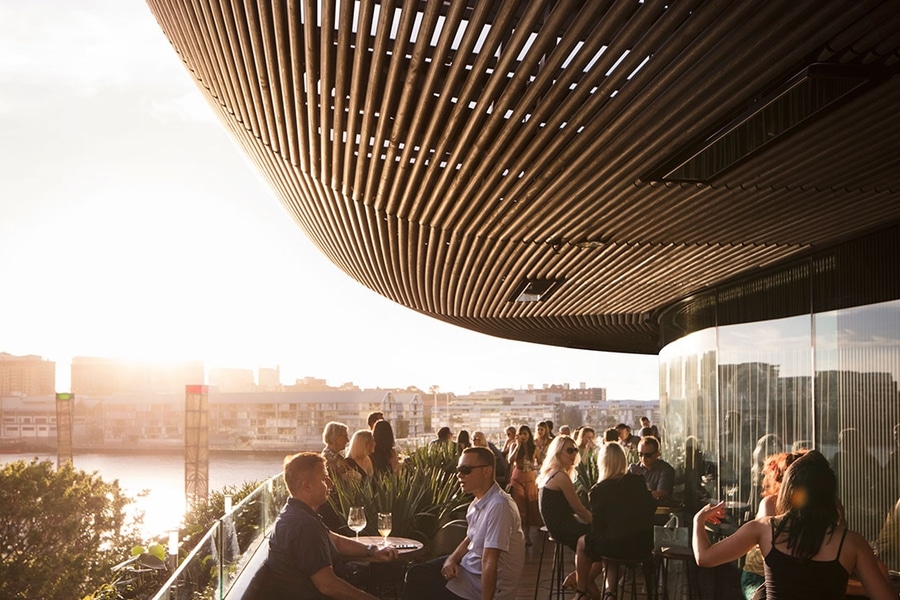 Smoke Bar at Bangaroo House
As one of the best rooftop bars in Sydney, the award-winning Smoke Bar easily serves up some of the city's best views. Enjoy caviar and champagne while you watch the sun dip over the nearby water. This is what it's all about, folks.
35 Barangaroo Avenue, Sydney NSW 2000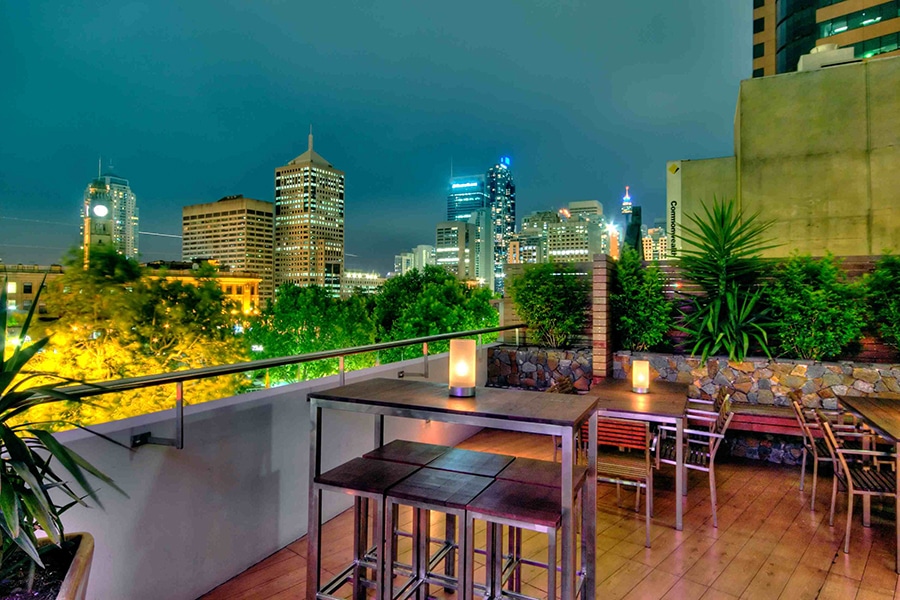 The Aurora Hotel
After a casual Friday in the office, meet your friends at Central Station, cross the road onto Elizabeth Street and Aurora awaits. You and your friends will encounter Surry Hills largest rooftop beer garden that has views that will keep you here until dawn.
324 Elizabeth Street, Surry Hills NSW 2010
Old Mate's Place
Occupying the top two levels of a rundown office building, Old Mate's Place delivers creative cocktails and tasty food within a sophisticated decor. It's also home to one of Sydney's best new rooftop bars. All that's left for you to do is find this popular haunt, something easier said than done. Quick hint: look for the inconspicuous door at ground level.
Level 4 199 Clarence Street, Sydney NSW 2000
The Bristol Arms
Located on Sussex Street, Bristol will welcome you with open arms. Its Hamptons-inspired setting is accompanied with the good ol' Aussie gastropub feel. The white picket fencing and timber coupled with colourful and decorative furniture makes it the perfect spot to reset. Start your weekend overlooking the water and the city skyline.
81 Sussex Street, Sydney CBD NSW 2000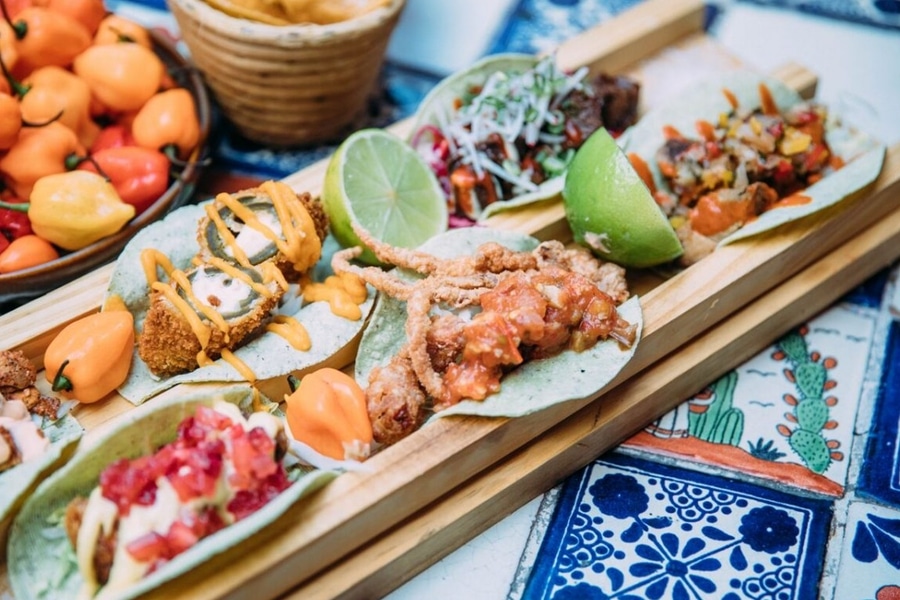 El Topo at The Eastern Hotel
Nothing goes better with a sunny rooftop view than a lip-smacking margarita and some mouthwatering tacos. You'll find that and more at El Topo, which holds court atop The Eastern Hotel.
Level 3, The Eastern Hotel 500 Oxford Street, Bondi Junction NSW 2022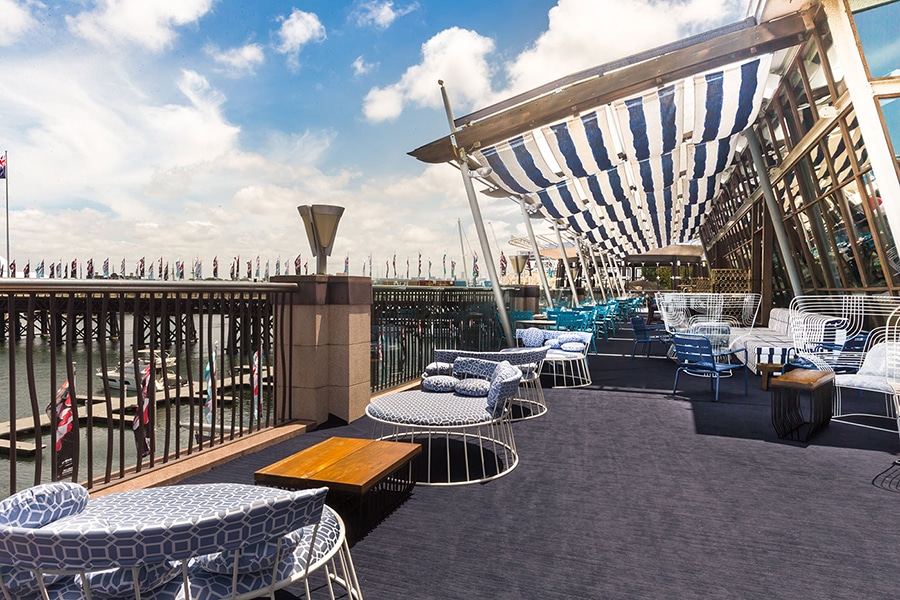 Cafe del Mar
Eat, drink and listen in style at Cafe del Mar. Its soothing and sophisticated atmosphere accompanied with tropical house tunes lets you enjoy a sumptuous sunset at Cockle Bay Wharf. Its starters selection is filled with a variety of delicious choices, leaving you wondering whether or not people would judge you if you ordered two entrees alongside your main and dessert (I most certainly wouldn't!). A better alternative could be to consider them as share plates. Things just got a whole lot easier! The rock oysters and the chili salt and pepper squid are personal favourites. If, however, you prefer a three-course meal, you can't go wrong with the crisp skin barramundi as your main.
Cockle Bay Wharf/Roof Top Terrace, Sydney CBD NSW 2000
Sky Terrace at The Star
Welcome to Sky Terrace, one of the best rooftop bars the Sydney CBD has to offer. You can find it at The Star Casino, where stimulation is more or less everywhere. Come for the trendy crowd and boozy beverages, stay for the DJ set.
The Star 80 Pyrmont St, Pyrmont NSW 2009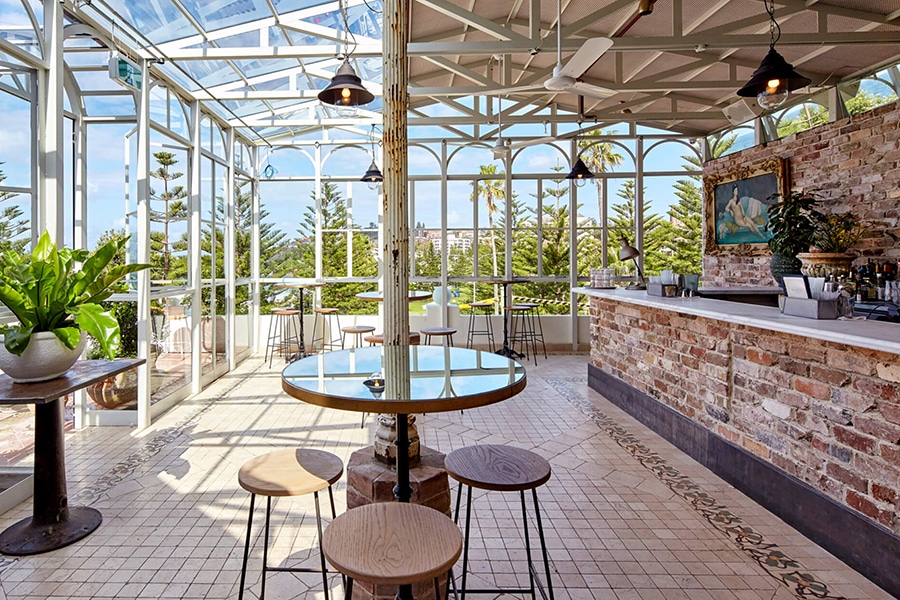 Coogee Pavilion
No list of the best rooftop bars in Sydney is complete without the inclusion of one of Coogee Pavilion (aka The Pav), a reputable Merivale production. Inspired by Eastern Mediterranean cuisine, the restaurant's Charred Octopus with Harissa Powder and Burnt Orange along with the Zhoug Lamp Chops served with Chilli Oil and Yoghurt are two must have dishes. Accompany them with a Jungle Bird or Pomegranate Cosmopolitan cocktail and enjoy the beautiful rooftop view of one of Australia's finest beaches.
169 Dolphin Street, Coogee NSW 2034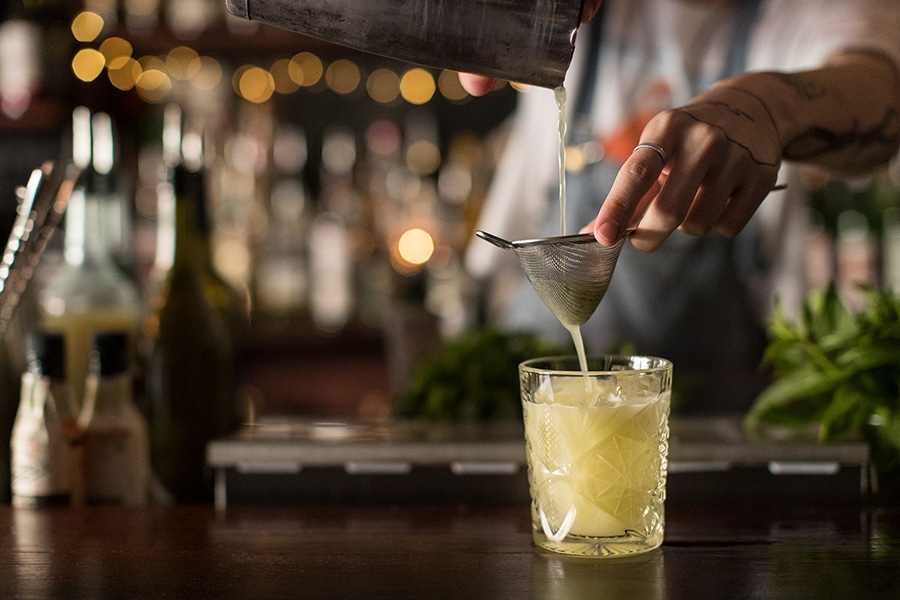 Corridor
The secret has now been revealed – Newtown has its own cosy rooftop deck named Corridor. It's one for the locals, and its rooftop is always packed to the brim. So if you don't mind having your personal space invaded, then this place is well worth the minimal seating options. The signature nachos paired with an East 8 Hold Up is the ultimate snack and drink combo.
153A King Street, Newtown NSW 2042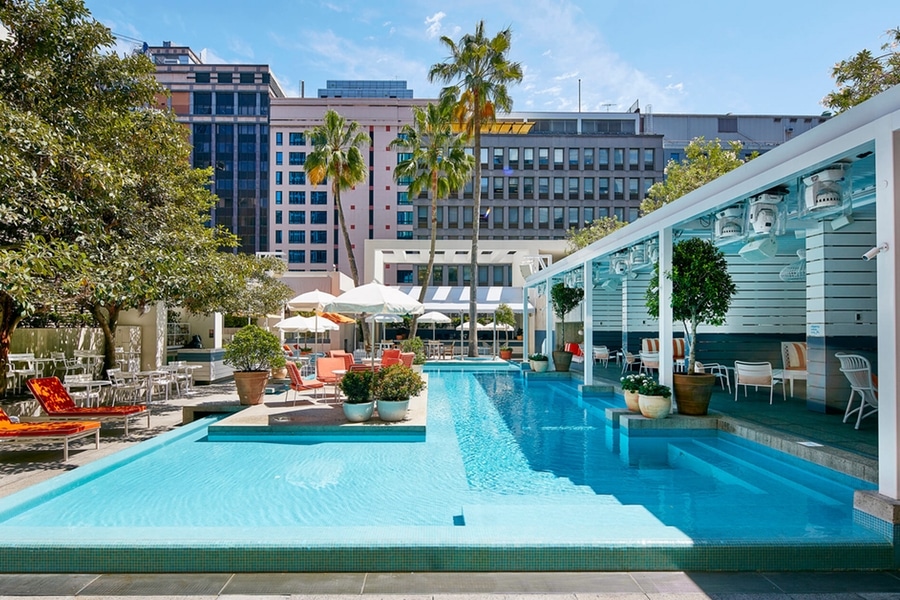 Ivy Pool Club
Another winner from Merivale, Ivy Pool Club is quite simply a place to let go of your inhibitions, hence its perennial status as one of the hottest rooftop bars in the Sydney CBD. Beauty is pretty much omnipresent, to say the least. Book a private cabana, order a pizza, and prepare for something to catch your eye in every which direction.
320 George St, Sydney NSW 2000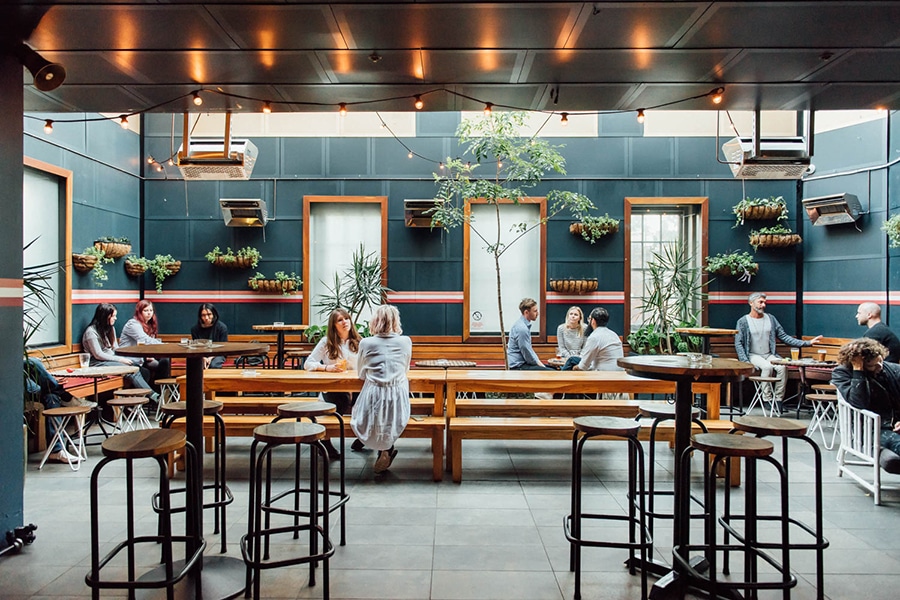 Darlo Bar
Once you step foot into the Darlo Bar open-air terrace, you'll be greeted with various shades of greens. This rooftop garden has a large selection of beers, cocktails and wine – with the Darlo Tea Party cocktail being a crowd favourite. There is also a pool table and a number of comfortable lounges, so don't be surprised if your whole afternoon is spent here.
306 Liverpool Street, Sydney CBD NSW 2000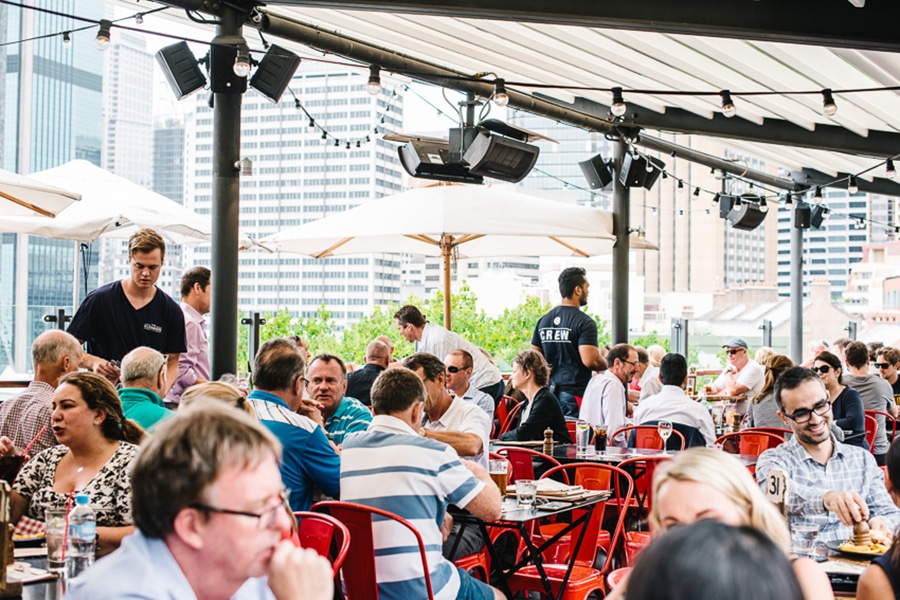 The Glenmore
Among all the rooftop bars in Sydney's the Rocks, The Glenmore is the best of the bunch. It has 180-degree views of Sydney Harbour and even a retractable roof. So rest assured, there will be a party, rain, hail or shine. Have you also tried the hot wings? If you haven't, stop what you're doing, head back and order a bucket. It's classified as a 'share' plate, but after trying one, it'll be every man for themselves.
96 Cumberland Street, The Rocks CBD NSW 2000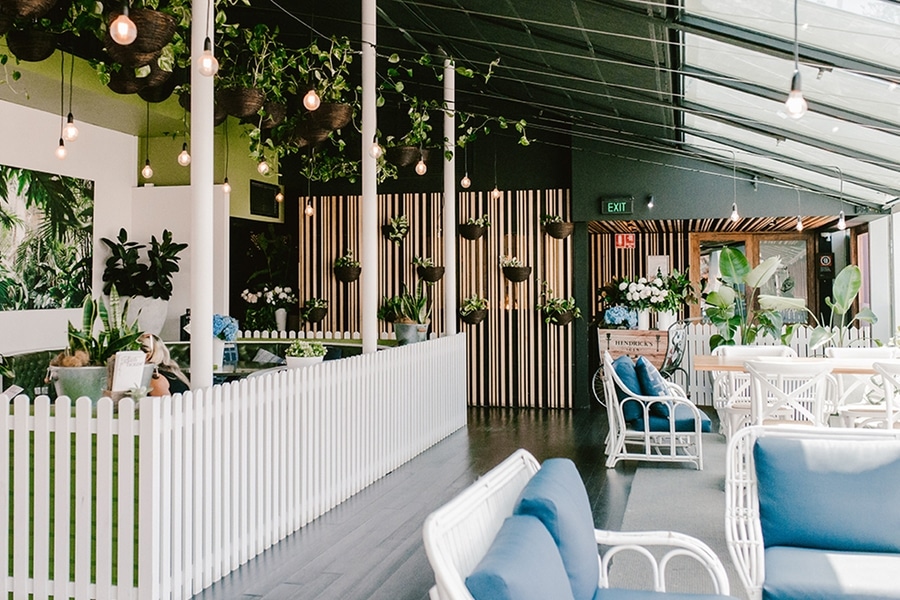 Glasshouse at Hotel Steyne
We Aussies love ourselves some gin and some gorgeous beachside views. At Glasshouse, you'll find both in equal measure. Perched atop the Hotel Steyne at Manly Beach, this hotspot is a sanctuary of positive vibes.
75 The Corso, Manly NSW 2095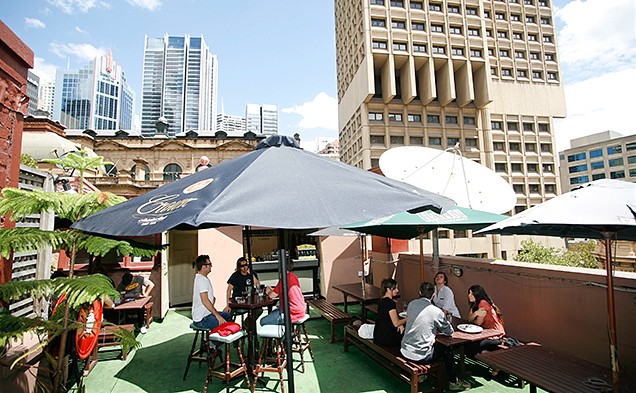 Hotel Sweeney's
Now I don't blame you for walking straight past this one. Unlike others on this list, its exterior isn't show-stopping, so it's no surprise that many people miss this unknown sweet spot. It's your old school pub – the first floor is a sports bar, the second is a Thai bistro, the third houses a pool table. However, if you push through and make it up one more level, you'll reach Dot's Rooftop. Be rewarded with some great views of the city and Darling Harbour. Unless you're a regular, this spot is relatively unknown, so bring along some mates to have some drinks, chill out and enjoy this hidden gem.
236 Clarence Street, Sydney CBD NSW 2000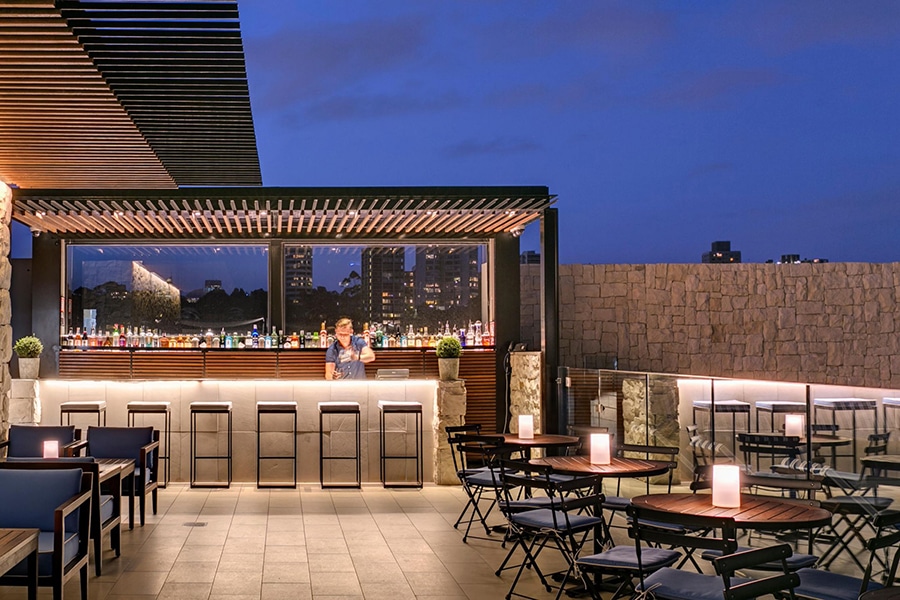 InterContinental Sydney Double Bay
This is not your regular rooftop bar. Oozing luxury, the InterContinental rooftop bar at Sydney Double Bay has its own infinity pool and a lounge area with cabanas. With all of these state-of-the-art additions, it is no surprise that it also provides its visitors with a 270-degree panoramic view of Sydney Harbour. However, be warned, the rooftop bar is only free for visitors at breakfast from 8 am to 11 am. From midday onwards, bookings are required with a minimum spend of $250 per person. If you've got 99 problems, but money ain't one, go and have some fun with this one, because it's one of the best rooftop bars in Sydney.
33 Cross Street, Double Bay NSW 2028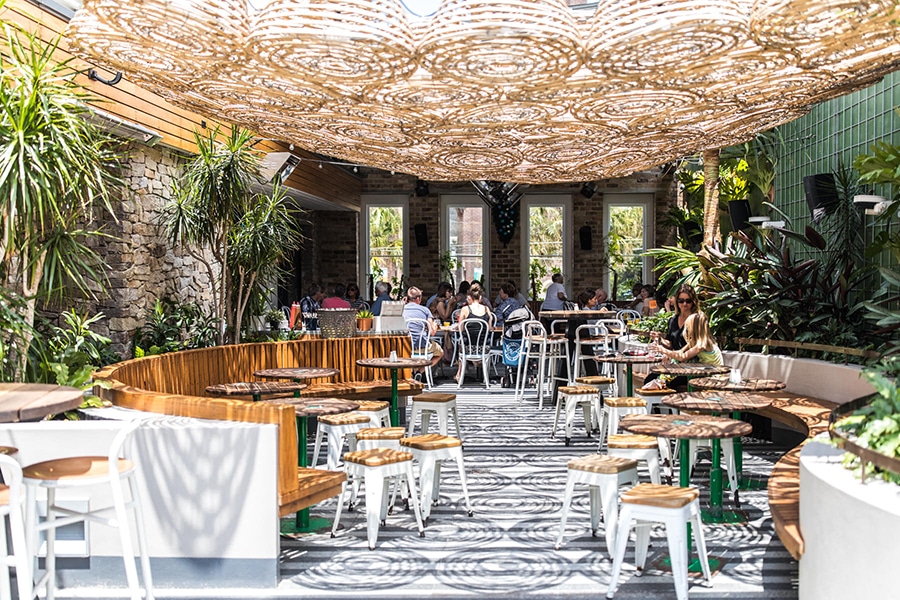 Ivanhoe Hotel
For all the Northern Beaches locals, this is the alternative to Bristol Arms. Upon level two at The Pines, Ivanhoe offers a sophisticated, yet coastal vibe with the use of natural timbers, ravishing foliage and luxurious furnishings. The Ivanhoe White Wine Sangria is one for you and your friends to share a few drinks with whilst looking at Manly's mesmerising landscapes.
27 The Corso, Manly NSW 2095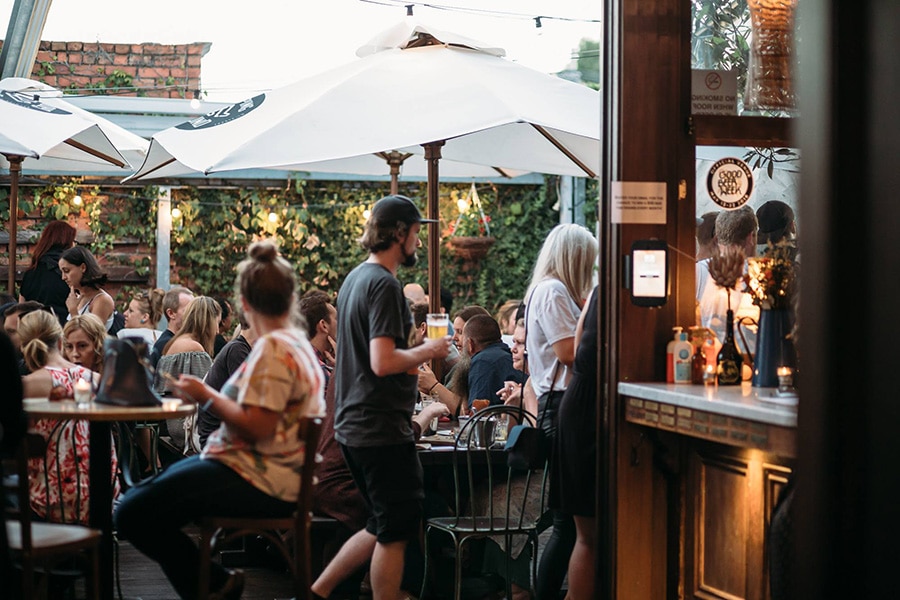 The Local Taphouse
It's all about beer here. Beer is even incorporated into the food. Yes, The Local Taphouse is a place for beer enthusiasts, which already makes it one of Sydney's best rooftop bars, in our opinion. Just be careful not to get a beer belly.
122 Flinders Street, Darlinghurst NSW 2010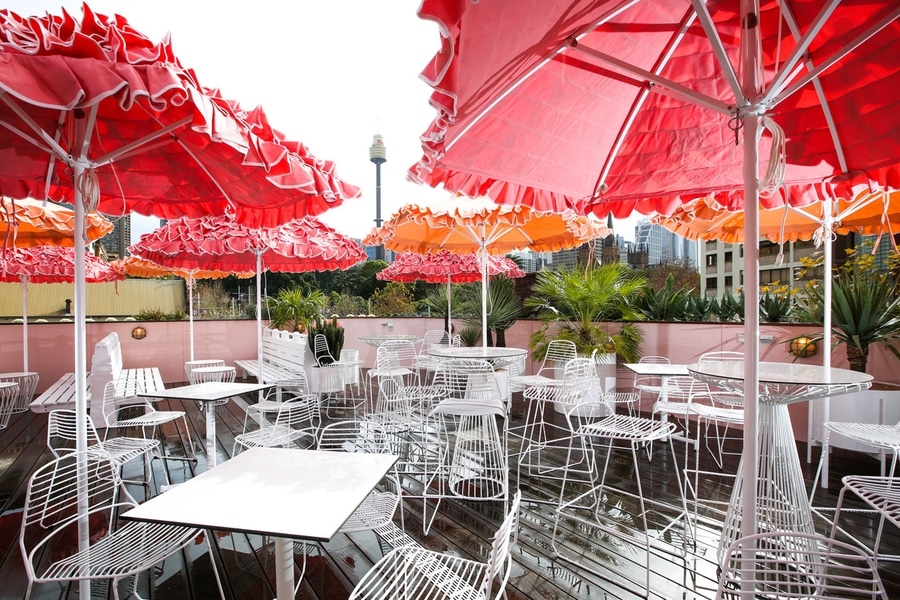 Slims Rooftop at Hyde Park House
Between the inspired dishes, refined drinks, decorative cacti, and majestic views, you'll enter Slims Rooftop at Hyde Park House and never want to leave. To call this new rooftop bar in the Sydney CBD an oasis from the hustle and bustle below would be putting it mildly.
47-49 William St, Darlinghurst NSW 2010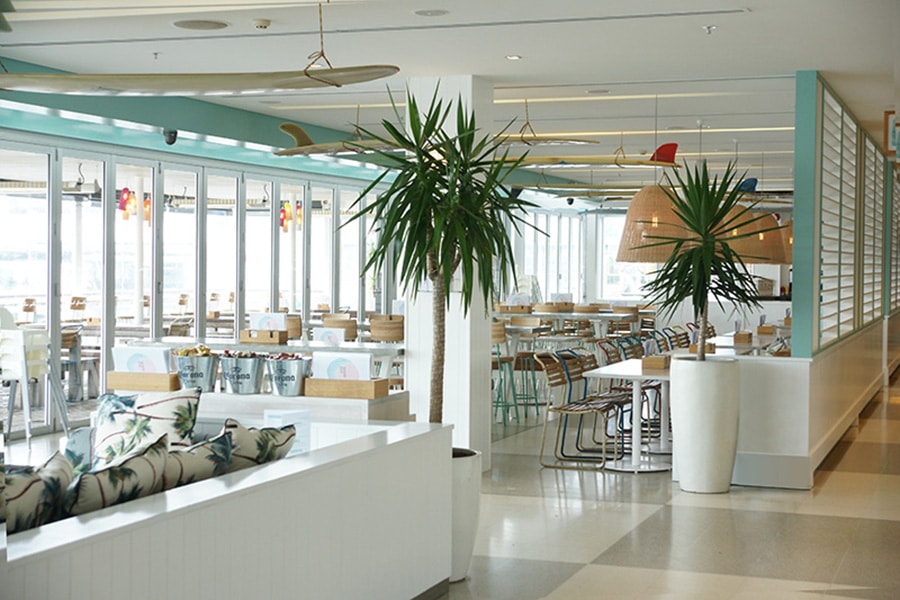 Manly Wharf Hotel
The Manly Wharf Hotel is a perfect place for a scorching summer's day. Located right next to the ferry wharf, the views out to the water are undisturbed and the surrounding water provides cooling sea breezes for you and your friends. Feeling hungry? The lengthy menu makes choosing incredibly difficult, though the Burger Liquor and Lobster options are a tasty and sure thing!
East Esplanade, Manly NSW 2095

The Rook
After a busy week, head over to York Street and take a look at The Rook, yet one more killer rooftop bar in the Sydney CBD. The unique combination of an industrial atmosphere with graffiti walls and the lobster banquet will help you ease into the weekend. Or, if you've had a super busy week and need something substantial – the Uncle Sam or the Bandito have got you covered. And if, after all that, your stomach STILL hasn't been satisfied, top it off with a deep fried Mars Bar, served with a side of Vanilla Bean Ice Cream. That should do it! After your banquet fit for a king, you may be in dire need of a drink or two. A Kentucky Cooler or a Peg Leg cocktail should quench that thirst.
7/56-58 York Street, Sydney CBD NSW 2000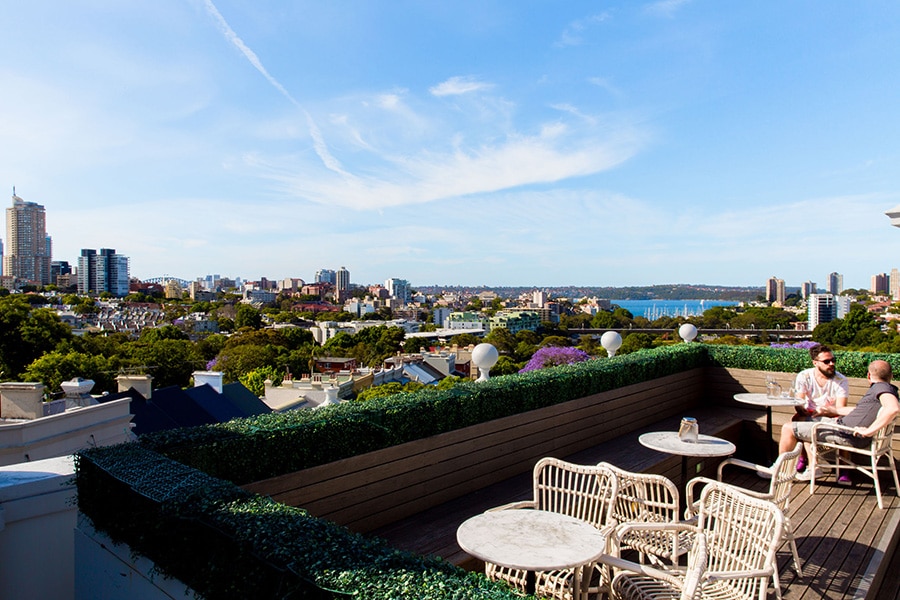 The Royal Hotel
It should be one of the top picks on your list of 'where to watch the sunset at'. Let me plan the day for you – Brunch at Bills on Crown Street, window shopping on Oxford Street (hold the window), stop, sit and admire the beauty that is Paddington Reservoir, skip on over to The Royal and have a sip from its sublime selection of cocktails at Elephant bar then finally, take a cocktail and head up to the rooftop. But be quick as there is limited space. But trust me, the view is sick.
237 Glenmore Road, Paddington NSW 2021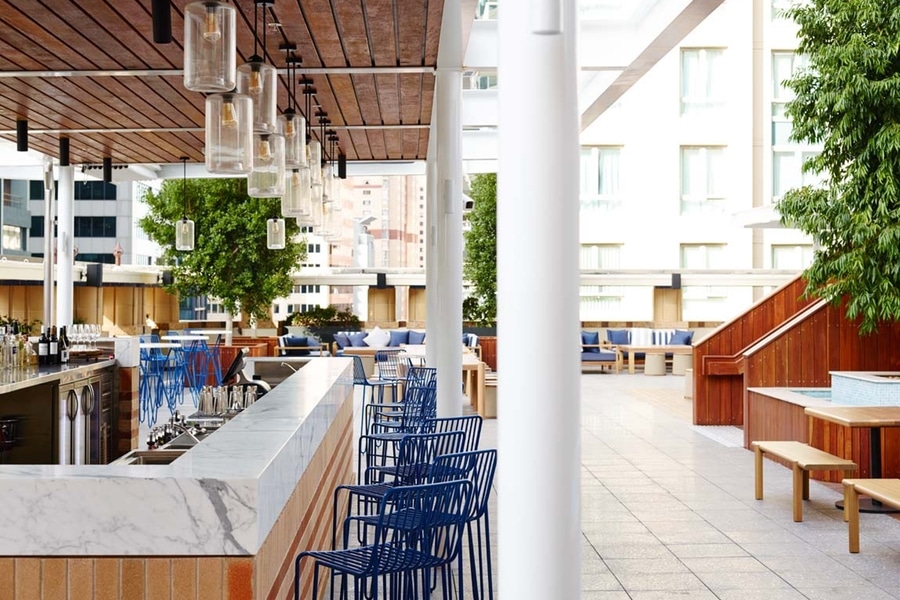 Level Seven at Primus Hotel
What was once available exclusively to Primus Hotel guests is now open to the public. We're speaking of Level Seven rooftop bar in the Sydney CBD, where New York and Aussie style collide. True to its name, this trendy locale is situated seven stories up, with some terrific views to show for it. Once within its confines, you'll find a variety of epicurean delights, poolside cabanas, and the occasional full-blown dance party.
339 Pitt St, Sydney NSW 2000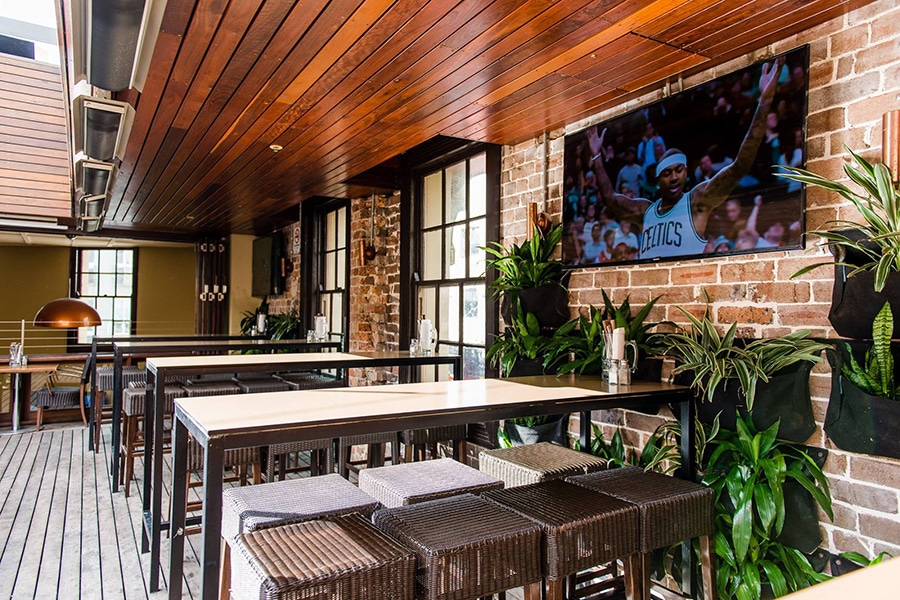 Strawberry Hills Hotel
Who's up for some strawberry picking? – I'm kidding. The name itself gives it a countryside-like feel and the vibe is carried throughout its rustic interior. After being spoilt for choice over Surry Hills' selection of brunch locations, come to dine with a sparkling glass of wine on a large wooden deck with the Surry Hills locals.
453 Elizabeth Street, Surry Hills NSW 2010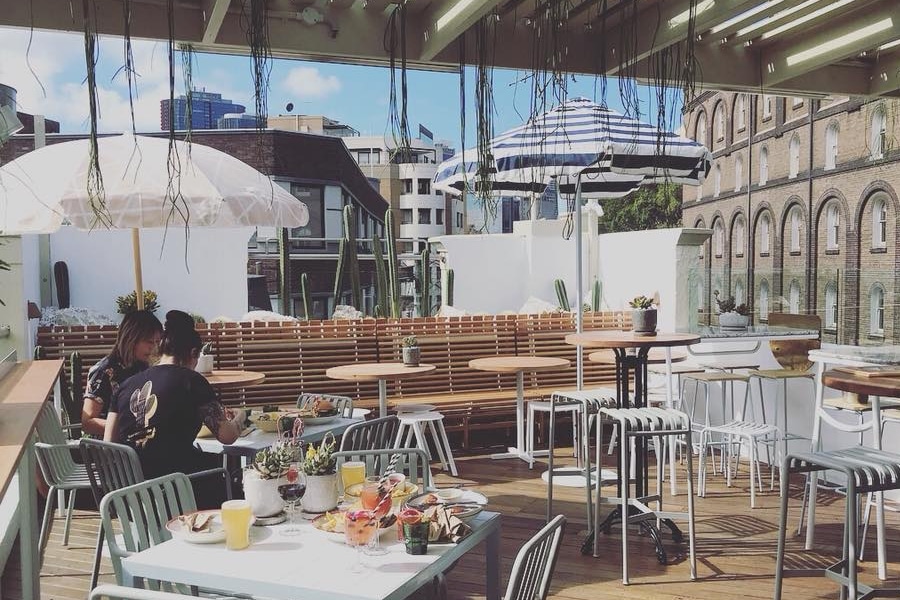 The Rooftop at Quarrymans Hotel
The Quarrymans Hotel in Pyrmont was already a beer drinker's paradise, and now it comes double stacked by way of a new upstairs cocktail bar, The Rooftop. Here, one will find a modern, Palm Springs-inspired aesthetic, complete with cacti, pastel colours and a beach house vibe. That's all joined by plush indoor seating, and a range of delectable beverages.
214-216 Harris St, Pyrmont NSW 2009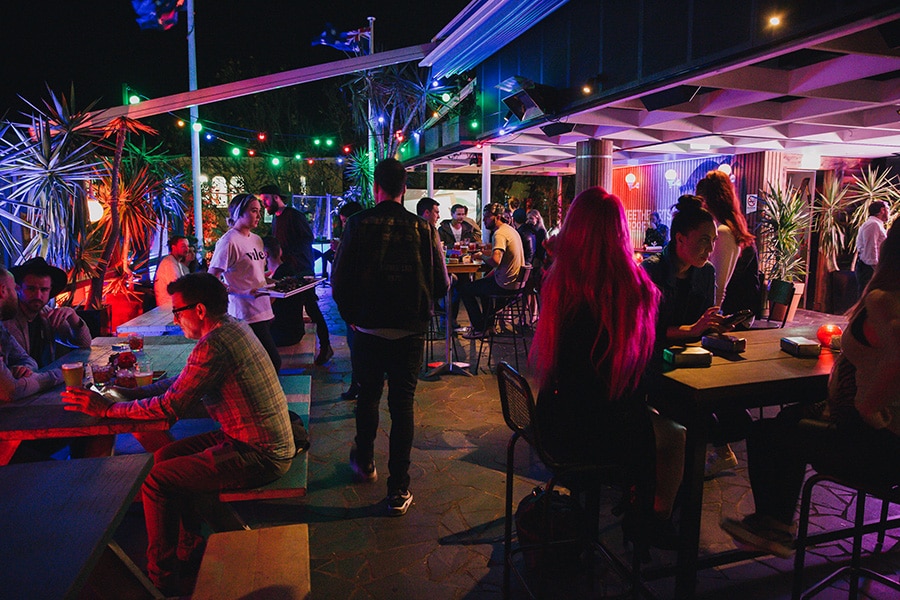 Sweethearts Rooftop BBQ
After giving your heart a good pumping from a fair few flights of stairs, reward yourself with some sweet-ass succulent skewers from the menu at Sweethearts, while sitting underneath strings of fairy lights. Imagine you're at a friend's barbeque, but with a view of the city. But don't forget to book, or you'll be left disappointed after a workout on the stairs. In saying that, it is guaranteed that your taste buds will keep asking for more after each skewer, so maybe a few trips up and down the stairs will keep your summer body in shape.
33-37 Darlinghurst Road, Potts Point NSW 2011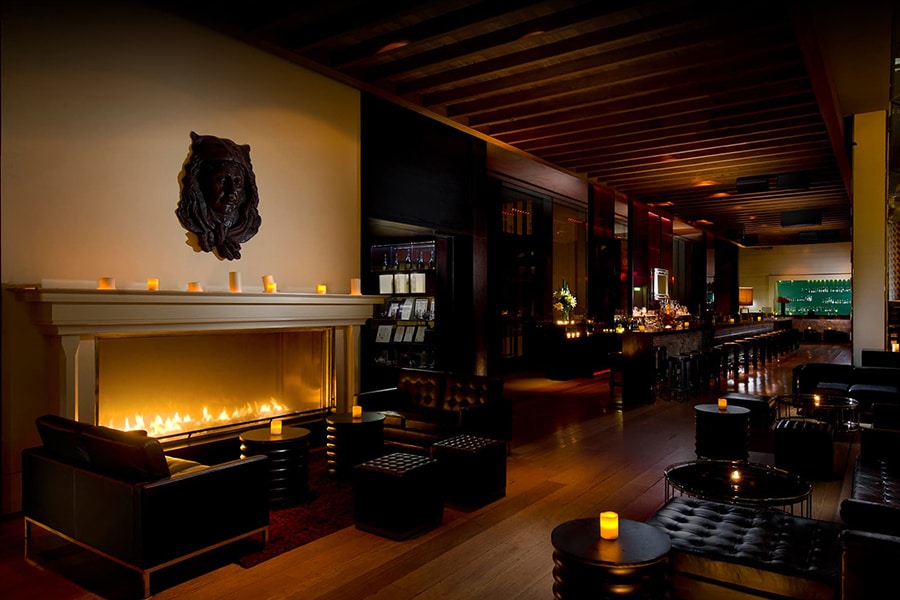 Zeta Bar
Feeling all fancy-schmancy? With Zeta Bar you get award-winning cocktails that start from classics to innovative surprises, you can experience the tastes of Milan, London, Puerto Rico, and New York, to name a few. Couple that with a majestic view of the Queen Victoria Building, and you're looking at one of Sydney's best rooftops bars. Also, be sure to visit at dusk to view the lighting up of Sydney's most historical and iconic monuments.
Level 4, 488 George Street, Sydney CBD NSW 2000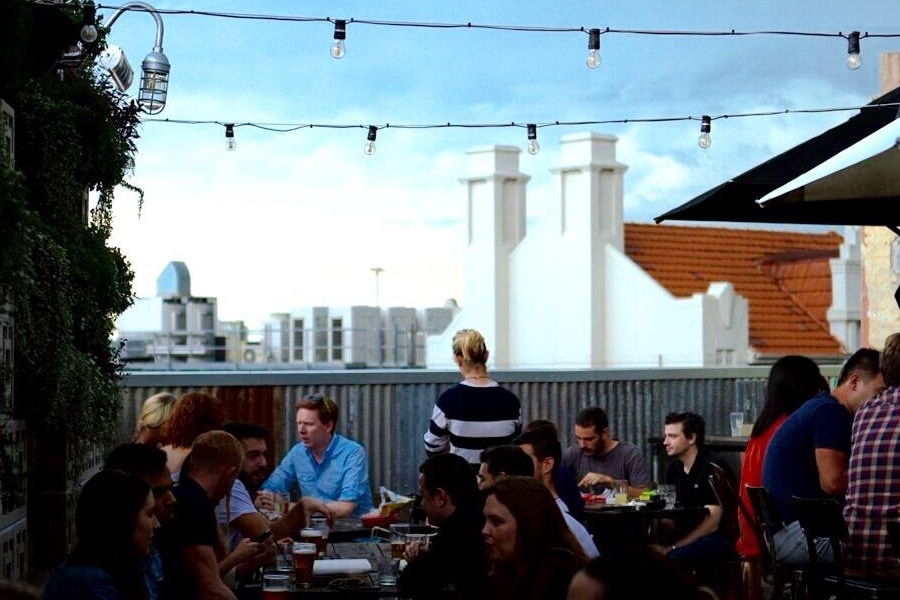 Webster's Bar
Located in the space previously occupied by Zanzibar, Webster's Bar in Newtown has racked up quite the solid reputation for its impressive selection of whisky. Pair that with a popular rooftop area and you've got no reason to miss it.
323 King Street, Newtown NSW 2042
Supper Club – InterContinental Sydney
Supper Club is living proof that despite pesky lock-outs, Sydney is capable of having an adult venue for late-night nourishment. While you won't be able to stay until 'I don't even remember leaving o'clock' like in Melbourne town, you will be able to enjoy 10/10 cocktails, proper food, one of the most OTT wine lists this side of Bordeaux and some succinct service, all the while taking in the view, which we suppose is okay…
117 Macquarie Street, Sydney 2000 Australia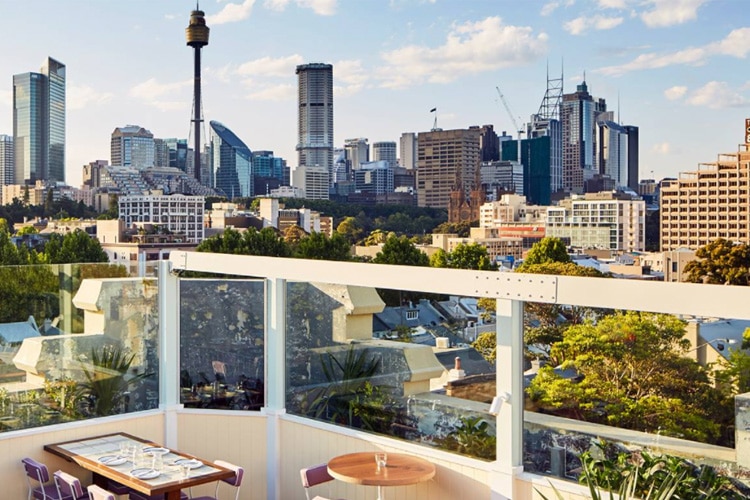 East Village Sydney
One of Sydney's stalwart drinking holes recently got a facelift, featuring interesting tap beers and a good selection of spirits, slightly fancy pub fare, an 'athletic club' with big screens for y'all fans of the sportsball, and, lo and behold, a new rooftop offering, with spectacular views across the terrace rooftops of Darlinghurst all the way to Centrepoint tower. Come to East Village Sydney for sunny beers, and get in early, it's not a well-kept secret.
234 Palmer St, Darlinghurst NSW 2010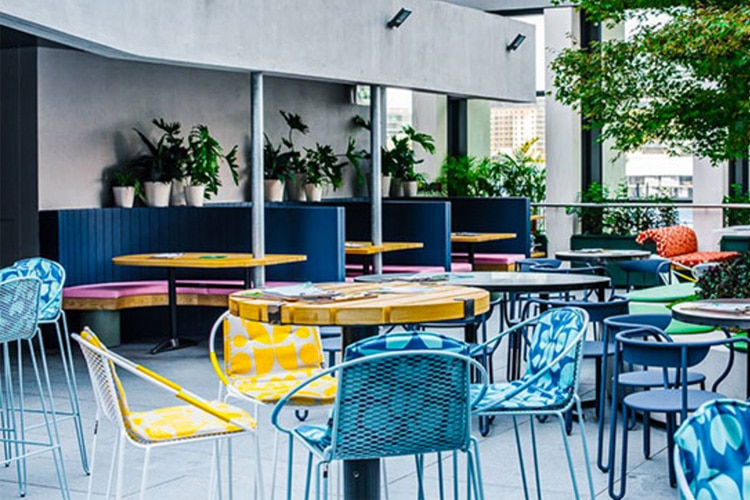 Untied
Barangaroo was recently the most hotly anticipated area in Sydney, and as the corporations slowly moved into their new headquarters, the venues started to follow. Among them was Untied rooftop bar–Sydney's first to open in the desirable suburb–which boasts North Queensland vibes in a tasteful setting. Oxymorons aside, it's a pretty cool place, with the fun colour scheme extending from the decor to the cocktails. Put it on your to-do list for your next drinking sesh in the CBD.
Level 4, Exchange Pl, 400 Barangaroo Ave, Barangaroo, NSW 2000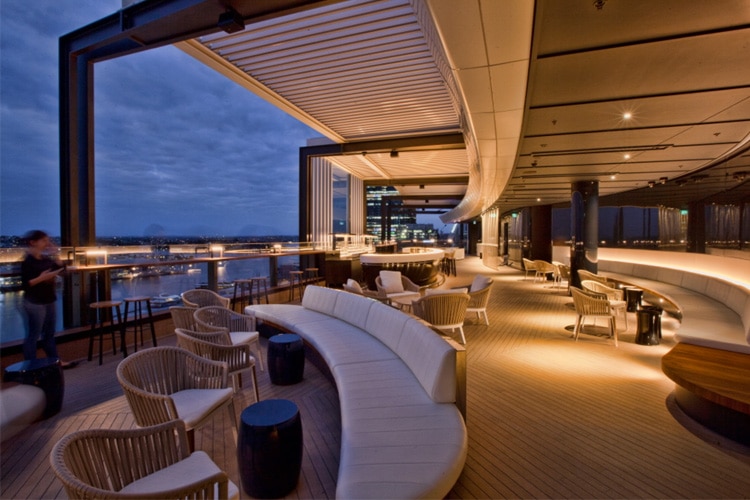 Zephyr
One of the fanciest we've seen to date, Zephyr is Hyatt Regency Sydney's rooftop bar, and the answer to the question 'where in the city do I get my annual fix of vermouth and fortified wine in a single sitting?' The cocktail menu is hi-tech, featuring 'hypersonic infusions' (we have no idea either, but they're tasty AF), barrel-aged things and a selection of vermouths on tap. Oh, and the view. Not too shabby, Hyatt Regency…
Hyatt Regency Sydney, Level 12, 161 Sussex Street, Sydney NSW 2000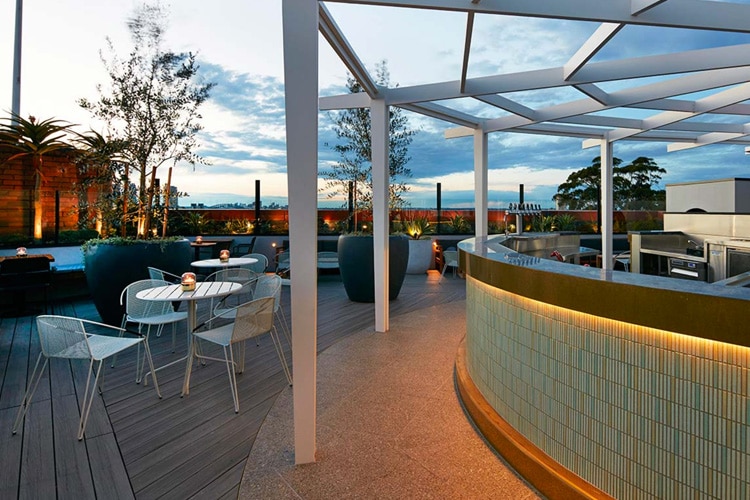 The Light Brigade
Already one of Woollahra's all-time best beer venues, The Light Brigade just joined the ranks of becoming the subject of the elite conversationalist phrase 'Oi should we check out that place with the rooftop? I've heard it's a bloody ripper'. Sun, views, revelry and comfortable furniture. What more can you ask for? Probably a jug of V-Bangers and the arvo off work.
Corner of Oxford St & Jersey Rd, Woollahra NSW 2025
Blu Bar on 36
Want to impress your significant other? Take her to this award-winning, New York-inspired cocktail lounge at the Shangri-La Hotel, with a view of the city that's to die for. Seriously. To die for. Don't even take our word for it. Just click on the link and you'll understand immediately that even if it's not the best Sydney rooftop bar, it's probably the most romantic.
176 Cumberland St, Sydney NSW 2000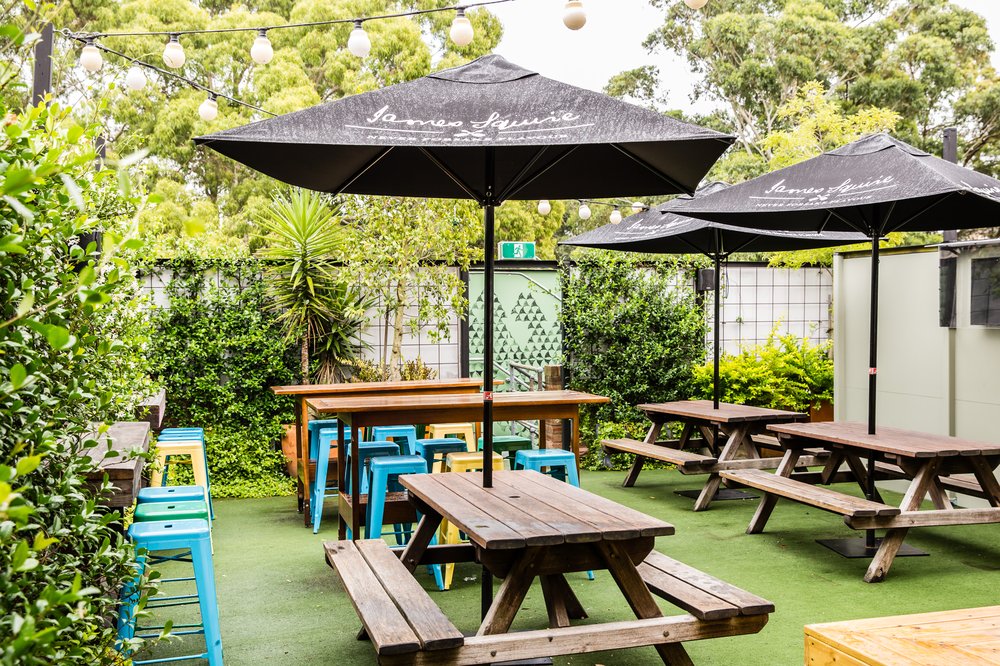 Bridgeview Hotel
The Bridgeview Hotel on the North Shore is an institution built on and sustained by tradition. It packs no pretensions and exudes the charm of a neighborhood pub, complete with stocked bar and killer nachos. This Sydney rooftop bar is a wonderfully casual, relaxed environment to enjoy a beer and every now and then it's a vivacious, packed place to enjoy ten beers.
580 Willoughby Rd, Willoughby NSW 2068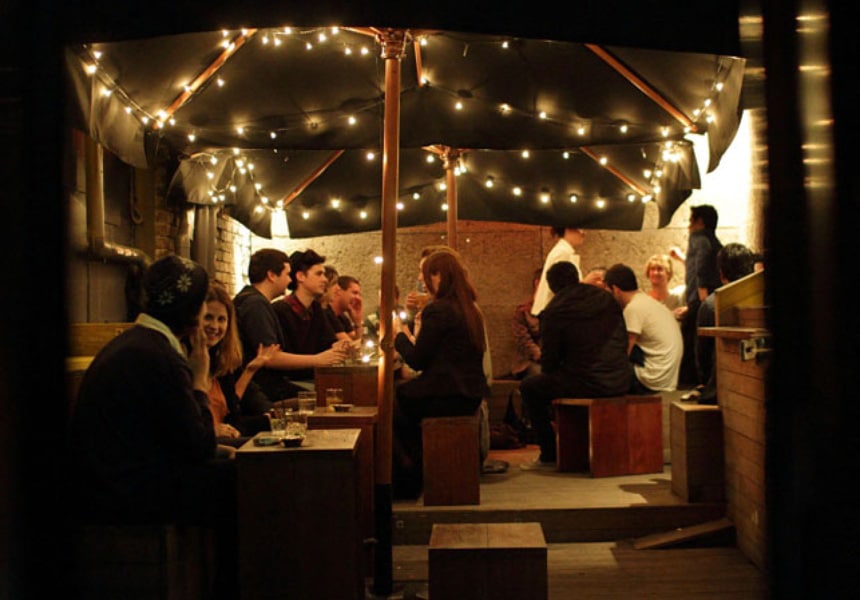 Ching-a-Lings
Music heads can get their groove on at this compact sanctuary of inebriation, which hosts frequent DJ sets and boasts an awesome Sydney rooftop bar. Ching-a-Lings is like an exclusive old-fashioned block party that only you and your group of friends know about. Throw back Cooper longnecks while dancing the summer night away.
1/133 Oxford St, Darlinghurst NSW 2010
Dojo Rooftop Bar Above Daniel San
If you've never been to the iconic Daniel San, try to picture a Karate Kid-themed small plate restaurant serving excellent Japanese street food while pouring alcohol generously and blasting classic rock. Are you still with us? Good. Now head upstairs to the Dojo Rooftop Bar and relax. With serene views of pine trees and Sydney's famous Manly Beach, the Dojo Rooftop Bar represents a tranquil, secluded alternative to the hubbub below. Use it as your moment of Zen before you dive back downstairs for the party. Or say to hell with Zen, get a group together and take the party upstairs.
55 N Steyne, Manly NSW 2095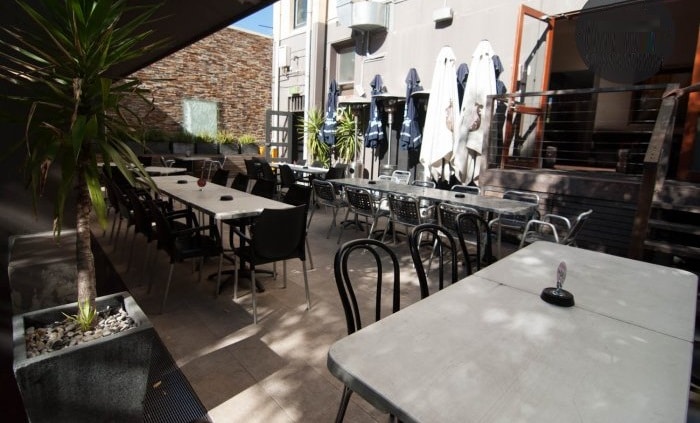 Lord Roberts Hotel
The Lord Roberts Hotel restaurant is a no-frills home away from home for locals and travelers alike. It serves reliable, elevated pub fare in a good old-fashioned welcoming atmosphere. The Sydney rooftop bar is the perfect place to get together with friends, chasing Wagyu Beef cheeseburgers with pints of ice cold draft beer.
64 Stanley St, Sydney NSW 2010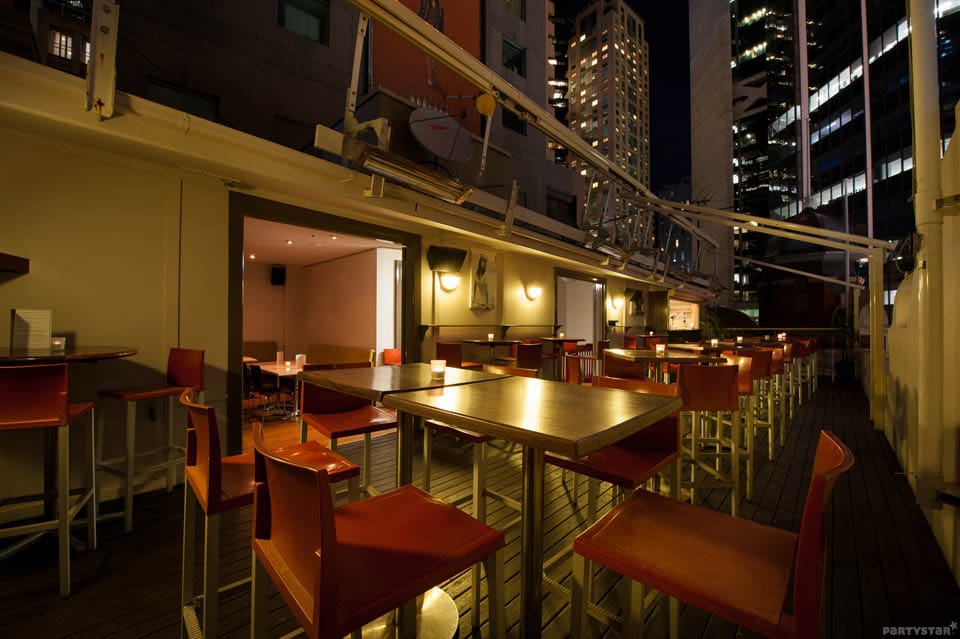 Metropolitan Hotel
Sydney's Metropolitan Hotel has a rich history going all the way back to 1834, and now that it's undergone a few necessary makeovers it refers to itself as the "newest old pub". Enjoy tasty modern bistro fare on the rooftop bar while sipping cocktails and gazing into the city.
1 Bridge St, Sydney CBD NSW 2000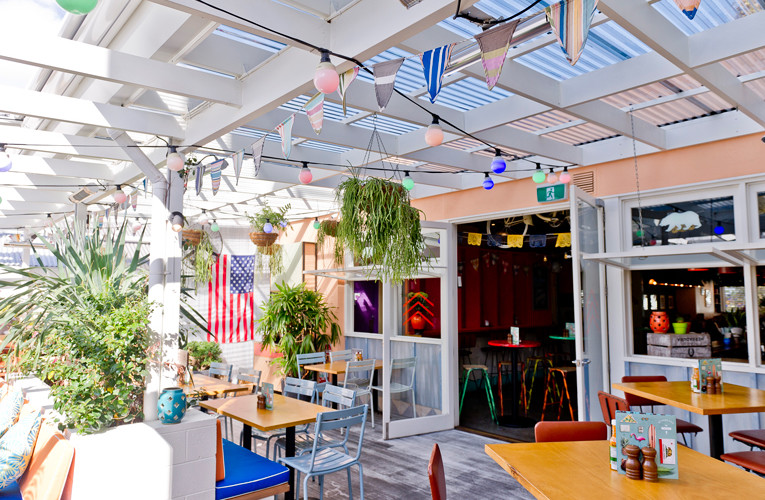 SoCal Neutral Bay
This addition to the list of Best Rooftop Bars in Sydney is truly dedicated to upholding its name by infusing every square inch of atmosphere with a distinct Southern California vibe. That means tropical palm trees, a menu loaded with fresh Baja California goodies, craft cocktails and cold bottles of Pacificos to enjoy in the summer breeze.
1 Young St Neutral Bay, Sydney NSW 2089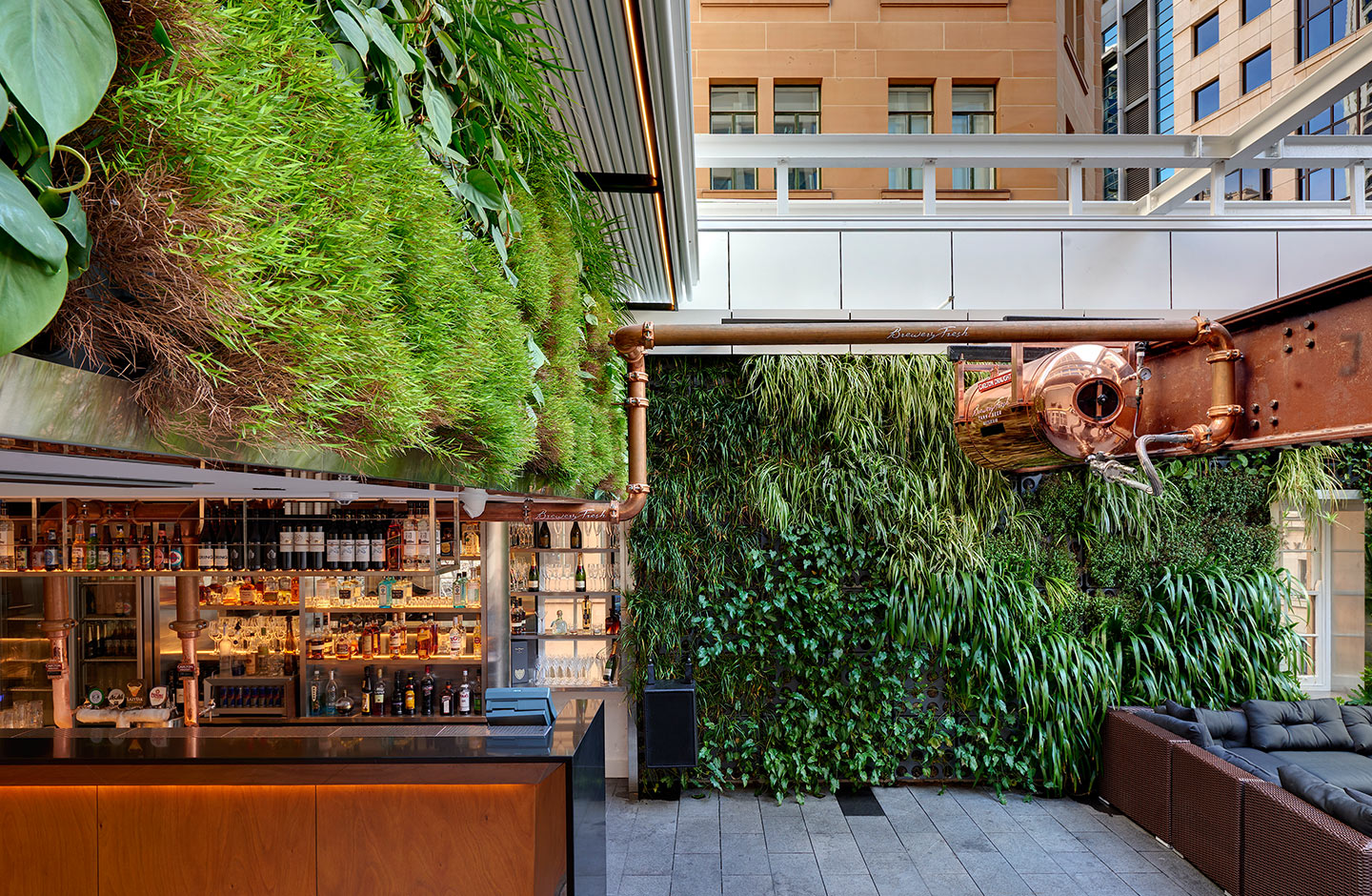 Taylor's Rooftop Bar
The third-story rooftop bar at the Republic Hotel is an absolute oasis away from the everyday grind of Sydney. Come here to sip martinis in a subdued jungle setting while relishing gorgeous views of the sky and equally gorgeous people. Let the night drift by as though you haven't a care in the world.
69-73 Pitt St, Sydney CBD NSW 2000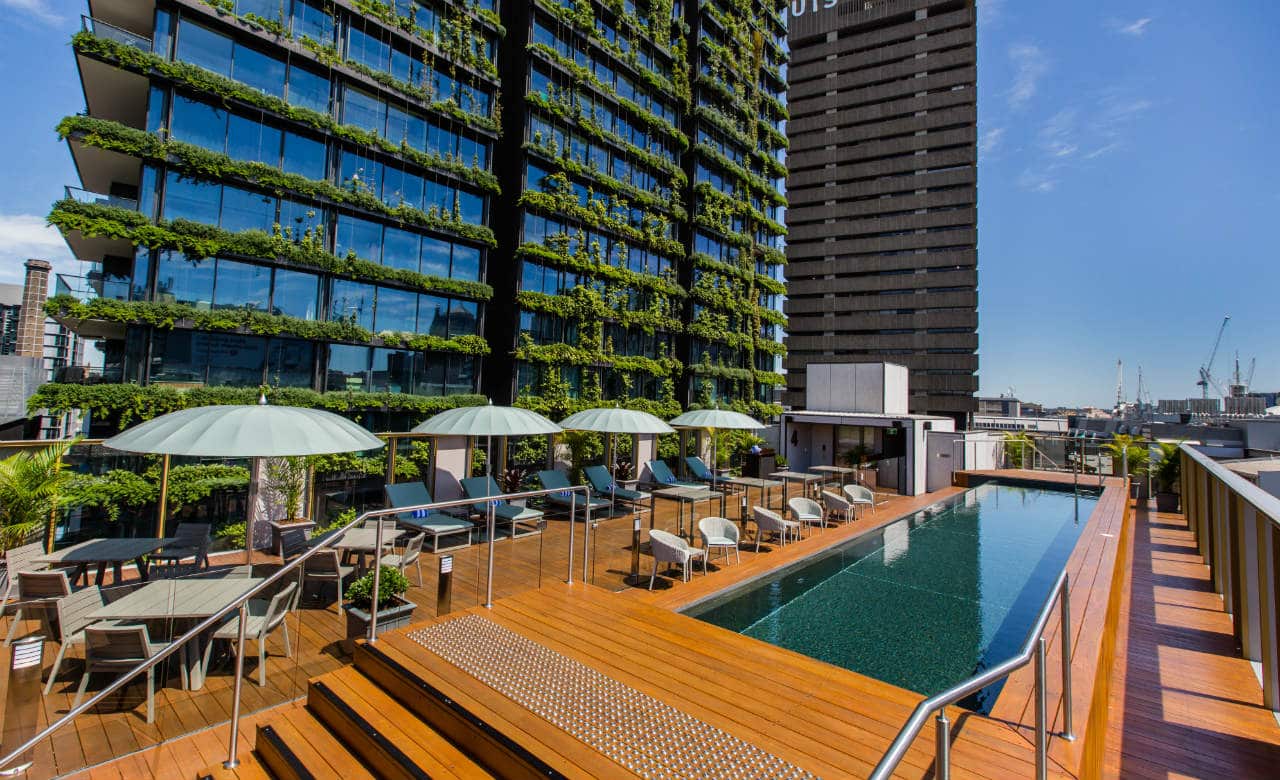 The Old Clare Hotel
After undergoing some (okay, a lot of) reconstructive surgery, the Old Clare has emerged as a premier, trend-setting boutique hotel hosting three separate critically acclaimed restaurants. As if all that weren't enough, the newly redesigned hotspot also features a modern rooftop pool and bar that oozes swagger. Go here fast before it becomes too hard to get in.
1 Kensington St, Chippendale NSW 2008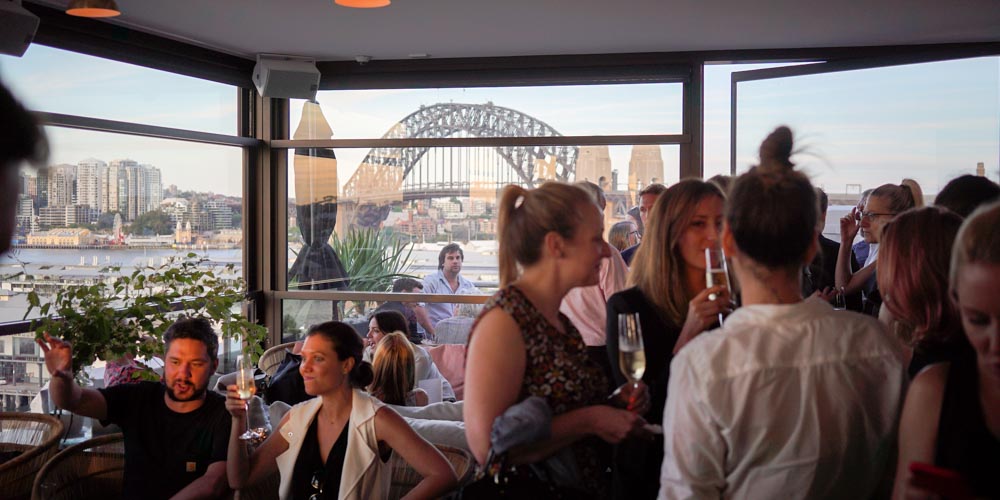 The Hotel Palisade
Located in Sydney's historic rock district, the Hotel Palisade brings the past into the present and beyond by adorning its storied architecture with a completely modern sheen. The Sydney rooftop bar offers amazing drinks and intensely satisfying views.
Palisade Hotel, 35 Bettington St, Millers Point NSW 2000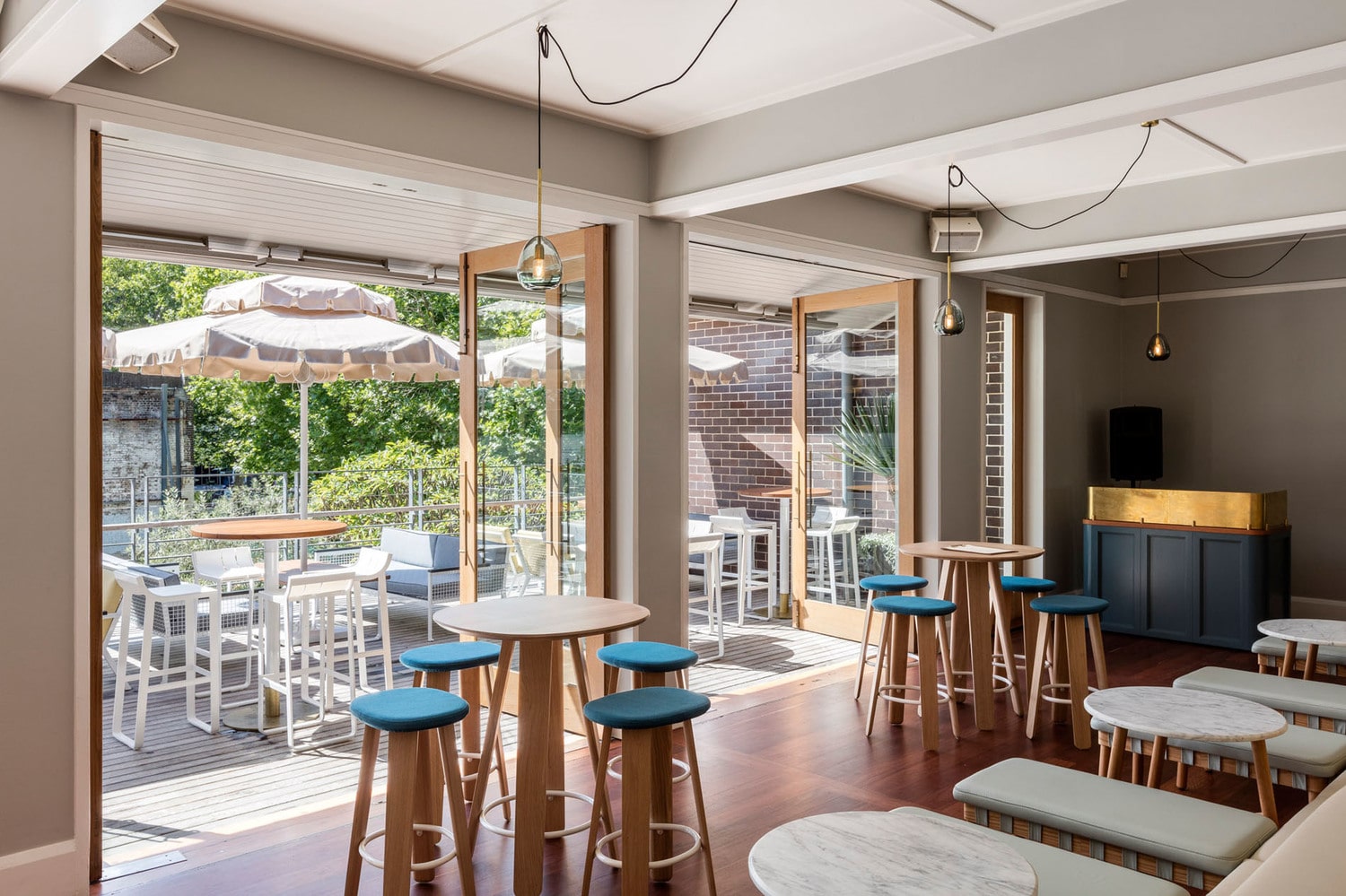 The Tilbury Hotel
This fine dining locale is beautiful inside and out, inspiring heaps of praise and a wildly popular reception since opening twelve years ago. The Tilbury Hotel Sydney rooftop bar is an ideal place to munch on fresh prawns and sip gin & tonics while basking in the sun.
12-18 Nicholson St, Woolloomooloo NSW 2011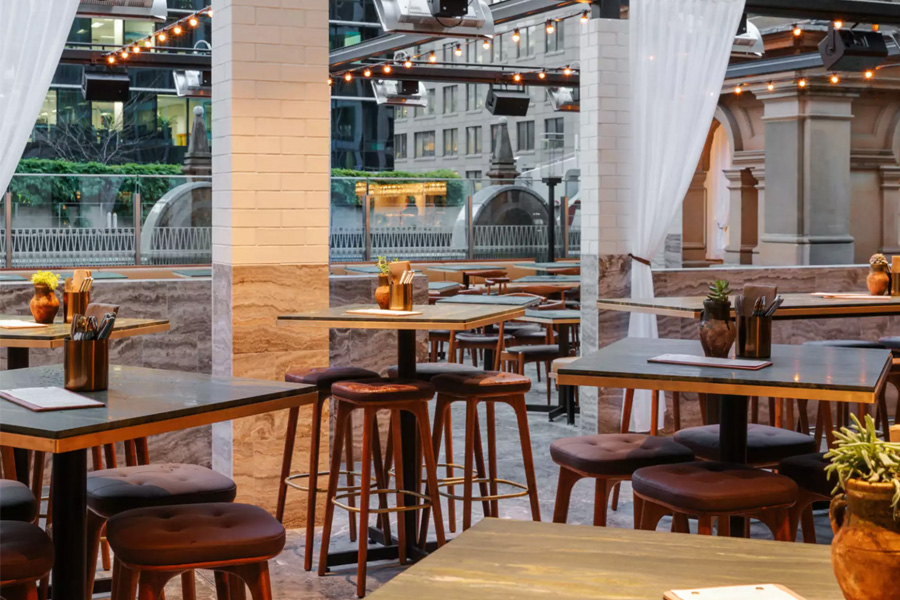 Babylon
With the capacity to seat 300 people and an enviable inner-city location, Babylon is an oasis for a post-work beverage. Take the express elevator from Pitt Street, sit down and order some traditional meze platters while you enjoy the sprawling restaurant and bar with its bustling atmosphere.
Level 7/188 Pitt St, Sydney NSW 2000
The Workers
From the wacky decor to the row of pinball machines to the spacious sun-soaked courtyard, The Workers is all about showing its patrons a great time and giving them something to remember. The tasty menu leans Mexican and the staff is always happy to see you. As the sun sets and the drinks continue to flow, one way or another you're in for a night you'll never forget.
1/292 Darling St, Balmain NSW 2041
Duck & Rice
Elegant, moody and modern, Duck & Rice is your local Chinese joint turned up to 11. Situated on a rooftop in the center of Sydney's CBD, Duck & Rice boasts elegant Cantonese and provincial Chinese cuisine in either banquet, a la carte or bar menu form. Pair these with traditional cocktails made with house-made sodas.
Level 7/188 Pitt St, Sydney NSW 2000
If you liked this post on the best bars in Sydney, you might also like reading our article on 12 Men's Fashion Stores in Sydney You've Never Heard Of or the 50 Best Watches Under $500.
Are there any Sydney rooftop bars we've left of the list? Let us know in the comments below if there's a bar we should be checking out! 
---
You'll also like: 
25 Coolest Bars in Sydney
15 Best Beer Gardens in Sydney
20 Best Hidden Bars in Sydney
---