The Secret Society Behind Australia's Best Wines
As a nation of wine-lovers, we're a little spoilt for choice thanks to our world-class winemaking regions with glowing global reputations. Behind the scenes, there are many hands at work, most of which have gone unnoticed and unrecognised. Until now.
Australia's Best Kept Secret
Deep in the heart of South Australia's iconic wine region is a hidden secret; a Grower-Owned Collective comprising of around 100 different vineyards and growers. While you might not know their names, you most certainly know their work.
As the wine industry's unsung heroes, these growers have spent centuries collectively cultivating fruit for some of the country's biggest and most recognised wine producers.
It's a truly collaborative approach. Rather than competing against each other, the growers, many with several decades and generations of experience, have banded together to produce world-class wines with remarkable consistency. Now, Australia's best-kept secret, our local grape growers, are dropping the anonymity and being celebrated for their hard work sculpting their vineyards and nurturing their grapes, thanks to a new wine label called The Group.
What could be better than one of the country's best grape growers sharing their wares? Try around 100 of them all joining forces.
With The Group, we finally see those unsung heroes recognised in full. The Aussie label has just debuted five new releases, celebrating the very best of South Australian Pinot Noir, Grenache, Shiraz, and blends. Not only does the venture bring hundreds of years of collective wisdom together under one label, The Group celebrates and supports Australian growers – the unique stories, husband and wife teams, multi-generation growers, and those who entered the industry out of the sheer love of wine.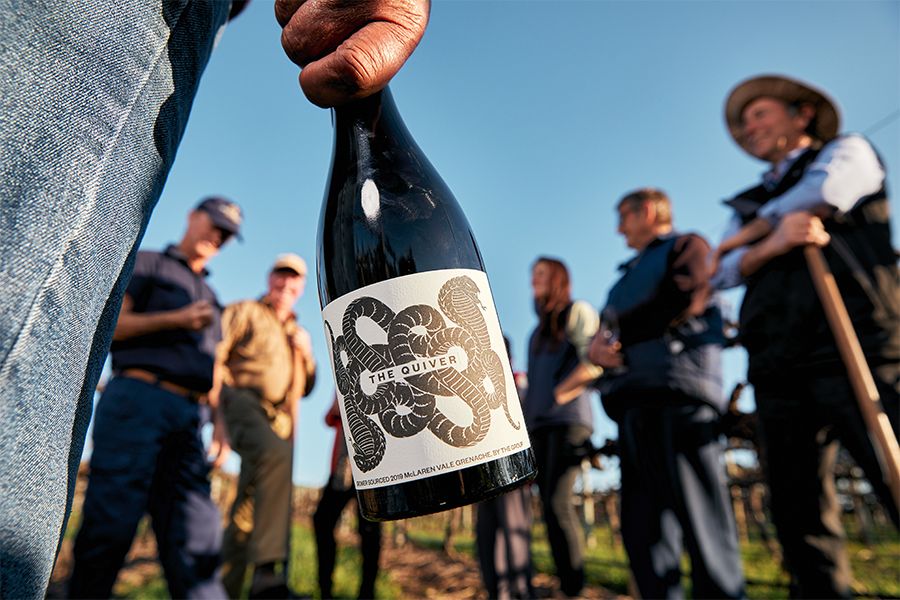 The Icon
The Group grower Jock Harvey, who some might say is a McLaren Vale region icon, agrees that The Group is something special. Jock explains, "As a group of growers, we have always understood the importance of being part of a collective and the value it can deliver. Our collective is something unique, we have always known that."
While Jock has spent years working with the Collective providing some of the nation's finest grapes, The Group offers a new opportunity to stand up and be seen.
"As a grape grower, understanding the product that your fruit is destined for is so important to be able to grow grapes to the winemaker's specifications. It's great to be recognised for the collective passion and dedication from generations of growers' and ultimately raising the profile of the region and the industry as a whole," concludes Jock.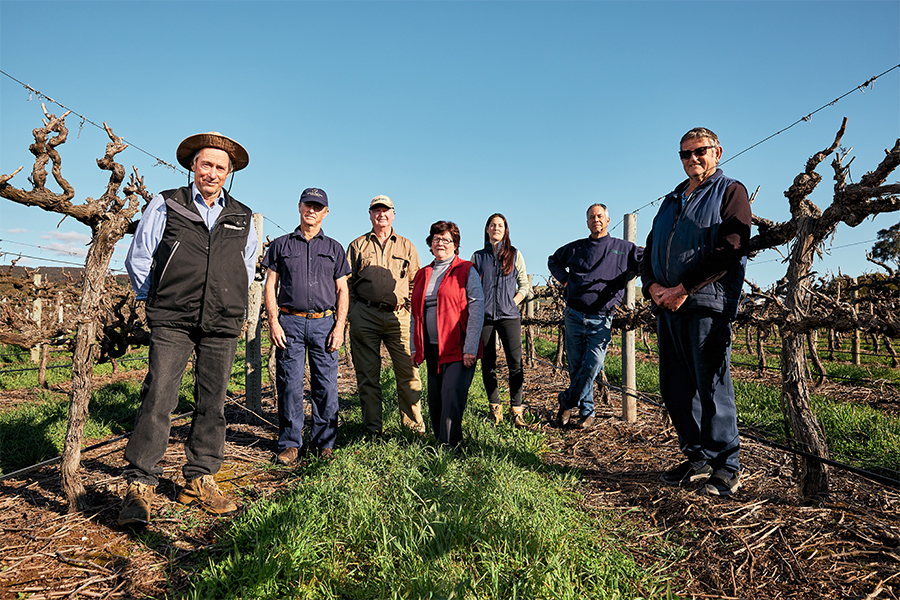 The Generational
Generations of family growers are continuing to swell. Brian and Valerie Cameron are 3rd generation growers from McLaren Vale who are using their 70 years of family knowledge and experience to bring Aussie wine to the forefront. Their recent grape plantation saw their own children, Derek, Jodie and Paul as well as grandson Bradley, involved with the current family business as fourth and fifth-generation growers.
"Collectively, each grower brings years of experience that has been handed down through multiple generations. Being part of the Grower-Owned Collective and providing our grapes to The Group shines a light on the hard-working growers behind some of Australia's finest wines," says Valerie.
It's a welcomed change of pace. After decades spent growing grapes and selling them onto unknown sources, the Cameron family vineyard is now part of something bigger than Brian and Valerie could have ever imagined.
Brian adds, "As part of the Grower-Owned Collective, we are able to make the day to day decisions associated with our own vineyards, yet still provide our grapes to The Group with confidence that ourselves and our produce will be respected and supported throughout the process."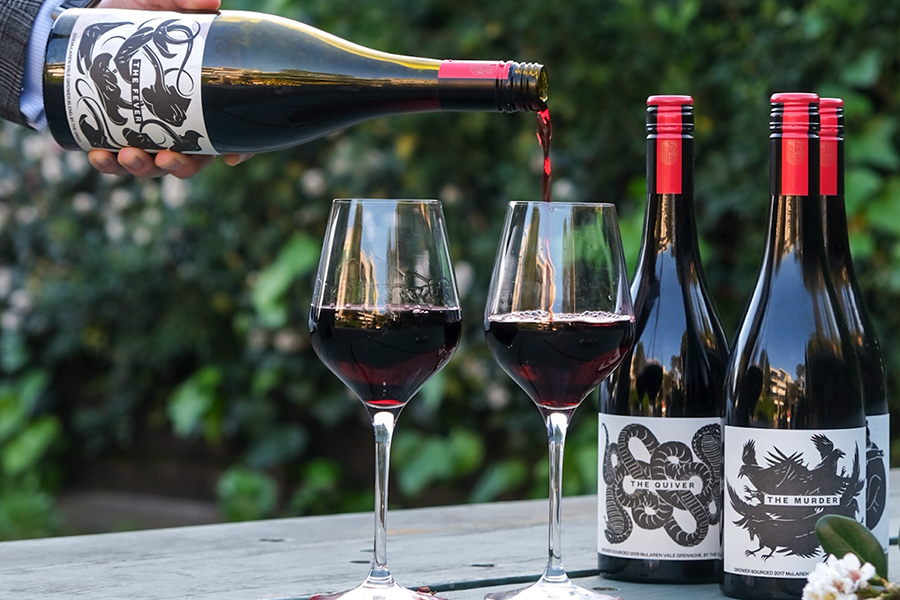 The Family
It's not just heritage leading the charge. Husband and wife team Rob and Julie Symonds see working with The Group as an opportunity to build their traditional mixed farm, where grapes are one of several crops. Supporting local remains the great Australian focus and with a community of like-minded country men and women behind the new range of wines, combining forces just made sense.
So, why now? Why not go out on your own?
"The Group celebrates small parcels of premium wine, promoting the growers, not just a region, which encourages the growers to maintain a high quality of fruit. Joining The Group provides us with a sense of security, so our vineyards can thrive and grow which allows us to focus on what we know best – growing exceptional grapes that we know Australian wine-lovers will enjoy," says Rob.
The Group
So, what do you get when the nation's top grape growers join forces for a new wine label? Unveiled earlier this year, The Group's inaugural lineup of reds sparks a fresh future for the Grower-Owned Collective. Sporting a series of clever names to highlight the power in numbers and The Group's 'Collectively Better' mantra (i.e. a murder of crows or fever of stingrays) this selection of McLaren Vale and Adelaide Hills sourced Shiraz, Pinot Noir, Grenache and blends take local to new levels.
From the balanced flavours of The Quiver 2019 Grenache, crafted on Dave and Jen Wright's stunning Wlypena Vineyard to the silky dark fruits of Brian and Valerie Cameron's McLaren Vale grown drop The Murder, the spirit of local is alive and well.
More than ever, now is the time to be supporting local producers and buying Australian. Despite only launching in October, the new Aussie label is perhaps the best-backed wine brand in the business. With around 100 growers putting their best produce to the forefront bolstered by decades of collective experience and wisdom, combined with the fact that through a simple purchase decision, we're supporting hundreds of hard-working Australian grower families whilst nurturing the future of Australian wine – it's a winning formula to us!
Check out The Group on Instagram to stay up to date with the Grower Wines by The Group.