Paige Hathaway & Rob Deutsch Tell Us All About F45
There's no denying Australia's love affair with working out. Need proof? Just ask Donny Benét. We're a nation of beaches beset with bronzed and buff bodies, and rather proud of it. Former equities trader Rob Deutsch co-founded F45 back in 2011. In just six years it's become one of the greatest franchises and, now, exports, the Australian fitness (and dare I say business) community has ever seen.
This is no dumb luck, however. Deutsch saw his opportunity and pounced with surgical precision. Everything they do is calculated and deliberate, but all with the common goal of helping people achieve their fitness goals in the least boring way possible.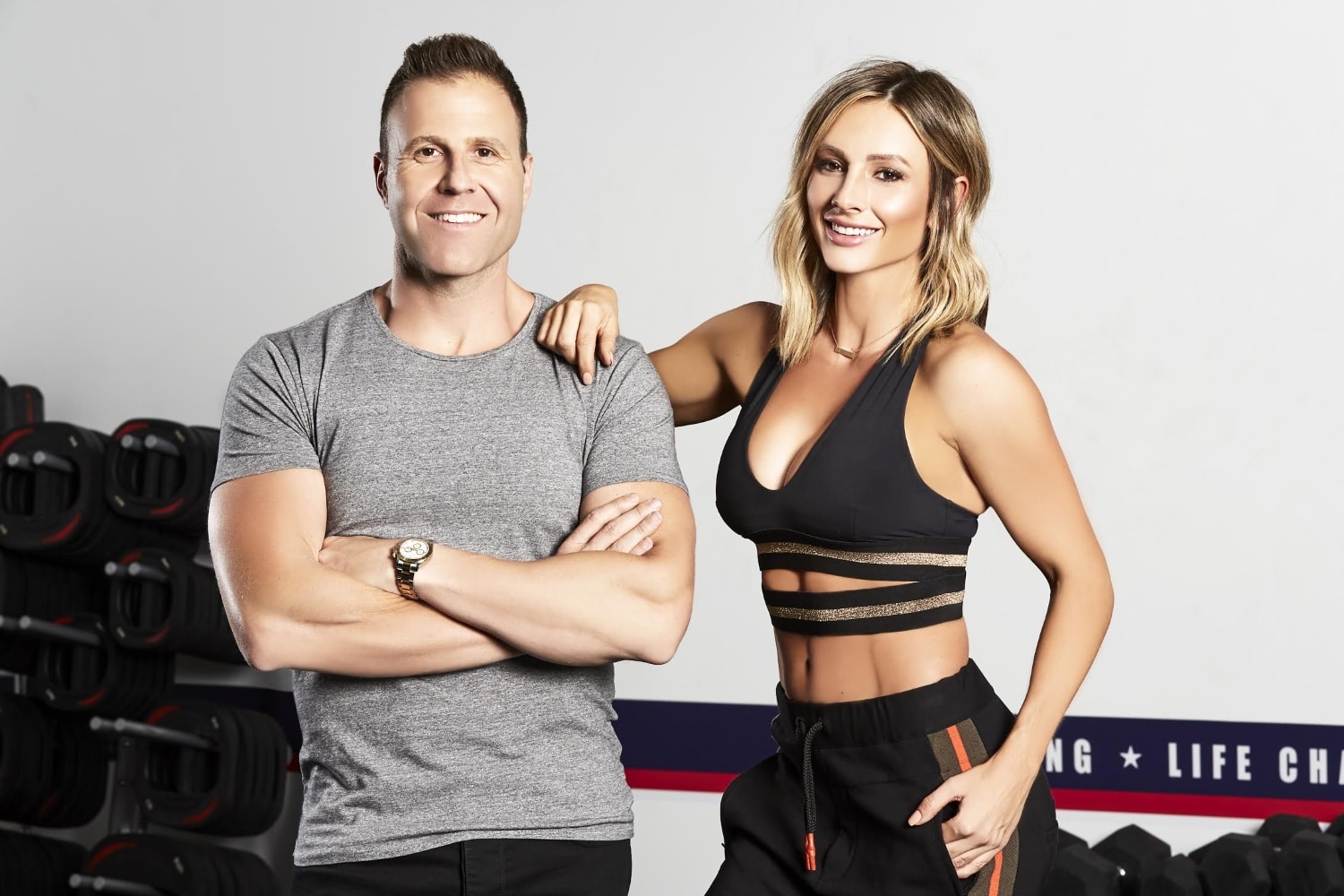 The red, white & blue branding has led a huge number of people into believing that F45 is an American innovation. And they're not entirely wrong for thinking this.
"We actually made it look Americanised because we always wanted to take it to the US. In the US I think it helps to actually be a US brand, so all the Americanised workouts and branding, and the red, white and blue, is specifically done so it will look like a US brand in the US" says Deutsch, relaxed in his seat at Bondi's Icebergs Restaurant. While he happily admits to his decision to Americanise the brand, he's probably done more research than anybody else on how to take an idea from concept to international success in such a short space of time.
"I think being an Australian brand in America is not overly helpful because everyone wants to look American, but in the rest of the world it definitely helps being an Aussie brand."
Fitness model and Instagram sensation Paige Hathaway recently signed as the face of F45, after 18 months of campaigning on Rob's part. "Paige's just joined as the face" he enthusiastically proffers, though the friendly banter between the two suggests they've been friends for a long time.
"The face? I like that, have you started saying that?" teases Paige, who's sitting cross-legged in an armchair, decked out in F45 training gear and an oversized hoodie.
"We could never have done this without Paige" Rob quickly shoots back sarcastically. "If you'd signed a year and a half ago when I called you, we would have said that."
The ongoing ribbing between Rob and Paige instantly tells two things: one, that Rob's wit is sharp, he's adept at engaging people, and has no problem giving them enough rope to contribute to his brand in their own way. The second is that the very American Paige, who hails originally from the midwest but now calls California home, is a natural who understands how Australians converse, and is clearly a perfect fit for Rob's modern, global approach to group fitness.
"I've travelled a lot around the world and I really love coming to Australia because I feel like it's one of the more fitness inclined places that I've been. People are running around. I feel like they're more fit than a lot of other places" says Hathaway.
"Its interesting because in metro areas Australia definitely has a huge fitness culture and is right up there, but when you take it out to the rural areas and you include the rural areas, our obesity levels are terrible and they fall off the map completely. I think we have the biggest disparity between metro and rural areas in terms of how poor it gets when you get out to the more country areas, where so many people are overweight" adds Rob. The wrong person could be incensed by a comment like that, but he's right – a quick Google reveals that of the 31 Primary Health Networks across Australia, last year's records show that the eight with the highest rates of overweight and obesity were all recorded in regional and rural locations.
Rob's business is all about making fitness accessible to everybody. "I think it's something that people need help with. The first thing is people have so many different ideas and strategies and there's new fad diets coming in and out, but the reality is it's like everything: the simpler you can keep your philosophy the better. I think people get confused. I think it's an education thing. People have poor education and they believe the wrong people when it comes to diet, but that calories-in versus calories-out, if you actually did nothing more than follow that, you'd probably get great results."
It's very hard to argue with Rob's logic, even without taking the huge success his brand has enjoyed into consideration.
https://www.instagram.com/p/BbddfTPhSuu/?taken-by=paigehathaway
Putting Paige on the spot, I ask her to talk me through a cheat day, but it's Rob who's quick to jump in and explain the dietary quandary Paige proudly shows me tattooed on her wrist: a slice of pizza dripping with cheese. "The best fitness influencer in the world has a f*cking pizza on her arm."
After howls of laughter, Paige is quick to clarify. "Do you want to know something? My best friend had gotten the whole pizza minus one slice and I got the one slice, but because I'm the one that wanted to do it I made him get the whole pizza. He actually has the big one and I have the small one."
This hints at what makes Paige the ideal face of an already successful fitness philosophy. F45 is about fun, and group activity. It can be done alone or with friends, but is largely focused on maintaining a balance between the inevitable calories that go along with a strong social life and having myriad apps in your pocket that can have a pizza to your door in under 30 minutes. Rob knows this, and used it to his advantage when designing his business.
"This is what F45 is all about. Our target market is 25 to 40 year-olds who care about the way that they look but don't want to be professional athletes. Our diet plans, our challenges – they're all built around sustainability and are really simple, which is very rare in the fitness market, where often they expect you turn up seven days a week and train, not have any cheat meals, not drink any alcohol.
"We understand that that is just absolutely never going to happen, and is probably going to lead to people leaving the system, so we do everything in balance. Like I said, our clients are the type who, on weekends will like to get out and have a wine, but on Monday morning they'll be at F45 training. We believe that is 99 per cent of the population.
"The other 1 per cent should go to Crossfit."
One of the biggest changes that's been visible in the exercise industry is the acceptance of group training regimes, and programs that are beneficial when performed with other people. "The reality is you'll find a lot of guys are now moving towards group training, which we never saw before. We're 68.5 per cent female and the rest is male, whereas most group classes in the past have been 95 per cent female and 5 per cent male. The reason is we've got a lot more weights in our system, a lot more resistance in our system and the males have seen how good results the other males are getting, so our male participation is actually far higher than most group training.
"I think there's ways to get people coming back and enjoy group fitness. I think you need to make it super fun, super innovative for guys, a lot of technology, which is what we do, and you've just got to make sure the results are there" Rob continues.
There's another huge selling point that sets F45 apart from the rest which Paige and Rob touch on: the music. While gym playlists are usually pretty horrific, and seldom feature the bangers you love, F45 workouts have been curated by DJs who adeptly work to specific BPMs and genres (depending on the region and demographic) to ensure that the gym's occupants can get the best out of their without suffering through one-hit-wonders.
Rob says: "The big issue with the music is obviously people's taste. You go to America for instance and it's definitely more of an R'n'b style focus. In Australia, we're more house music, happy house and all that kind of stuff, and rock. What we've done is we've now got different genres. They can log on, there's jazz, there's rap, there's hip hop, there's everything you can possibly imagine, and we have what we call our Workout Mix Of The Day, which is obviously a 45-minute playlist, but they can also pick different 45-minute playlists from the different genres that we have to meet their tastes."
"You ever worked out to jazz? It will change your life!" Paige gleefully adds. I have a few inspiration numbers. You know this guy?", she hands me her phone which is now serenading the surrounding tables with a non-descript genre of electronic music."What is it called? I don't know what genre this is? Maybe alternative? You guys have alternative?"
So maybe Paige isn't doing the playlists herself, but when Rob describes her schedule, she evidently wouldn't have time to anyway. "We're just opening in Pakistan, Namibia, Uzbekistan – it's a pool of random places, so the goal is obviously to get Paige to come round the world with us, do tours, do festivals, do a whole host of stuff with us.
"We've got Lebanon opening, Israel I think, lots in Europe too – lots of cool countries in Europe. We've got New Caledonia already done. Tahiti, the Bahamas" he continues, rattling off the top of his head just a select few of the 31 countries that will soon enjoy F45 franchises as their newest way to get fit and stay healthy. Lastly, in a world of fads and up-and-coming fitness startups, I ask Rob if he has a plan for what's next; for how to stay ahead of the curve in an industry that gains as much momentum in the latest craze as it sheds kilos.
"Well the thing that makes us completely different to most of the other gym models out there. You look at Orangetheory or Barry's Bootcamp, 70 per cent of the studio is treadmills and rowers, which means that 70 per cent of your workout is a treadmill and a rower. In three years' time and five years' time, guess what they'll be doing? Treadmills and rowers – they are fads. Whether you like it or not, Orangetheory and Barry's Bootcamp won't be around in ten years.
"Soulcycle is very similar. It's one discipline. You get on a bike, you're riding, you leave. They're actually already facing issues in filling their classes, because it's starting to already look like it's becoming a little bit of a fad, because it gets boring getting on a cycle bike every single day. It's something you can do once a week or maybe twice a week or maybe once a month even.
"The beautiful thing about F45 is that all the equipment you see at the end of the night moves out to the side of the room. That gives us flexibility. We don't have big cumbersome equipment like a treadmill. We change the equipment every single year, we bring out new equipment, but the rule that we basically have is that the equipment has to be able to be moved to the side of the room at the end of the night.
"We've got different workouts and different branding, for instance, one of them is called Romans, which is a weights workout; but the Romans workout today is completely different to the Romans workout that we were doing two years ago, and the Romans workout in three years completely different. There will be the same system where you move around the room in the same way but the equipment and the exercises will be completely different.
"We bring out a thousand new exercises each year. We're always innovating, but you can't do that when you've got a whole room full of treadmills and rowers. That's why we've picked the equipment plan that we've got."
"You never do the same workout twice in a row. It's different every single time" confirms Paige. The view of Bondi below us, and its body-image obsessed occupants, is ample proof of Rob & Paige's collective business models. One a hugely successful businessman who's minted himself not just as a fitness guru but a trendsetter, and the second a model who is famous worldwide for practical diet and exercise advice, and an ongoing stream of glamour shots on her Instagram.
The pair's focus and determination is admirable, and their combined success is undeniable. Time will tell whether F45 stays number one in its category, but for now, Rob's calmly (but perhaps not-so-quietly) confident in his product, and he's okay with that, too. Honesty, in Rob's eyes, is the best ticket to success.
"I'm a real fat bastard, so you don't have to ask me about cheat meals. They've been way too frequent" he laughs through an espresso, not an ounce of fat on him.
General FAQ
How much is F45 worth?
A deal made with Mark Wahlberg Investment Group and FOD Capital in 2019 values the company at US$450 million (AU$672 million).
Who is the owner of F45?
Rob Deutsch is the founder and CEO of F45. He started the business back in 2011.