Deontay Wilder's Diet & Workout Plan
If you are looking to get fighting fit, the Deontay Wilder diet and workout plan has you covered. When it comes to his workout routine, Deontay "The Bronze Bomber" Wilder takes a far more rigorous (and occasionally inventive) approach. With help from personal trainer Peter Khoury, the long-running heavyweight champ performs weight training, boxing techniques, standard cardio, and an impressive number of water-based exercises. Here's how the Bronze Bomber is whipping himself into shape.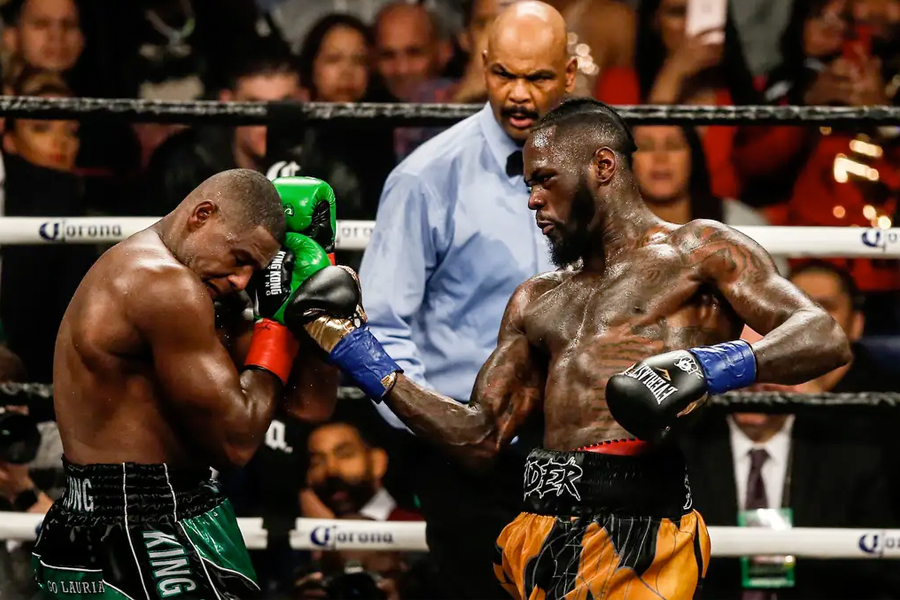 Deontay Wilder's Diet Plan
When you're the WBC heavyweight champ for five years running, you pretty much get to eat whatever you want. At least that's what one would assume after getting a look at Deontay Wilder's diet plan, which might be alternately known as the "Las Vegas Buffet" diet or maybe the "It's Your Last Day on Earth So Go Nuts" diet. Think sausages, pancakes, and eggs and you're starting to get the idea…and that's just breakfast.
As revealed in 2019, Wilder consumes calories like it's nobody's business. This is the kind of diet that we all wish we could eat, were we not worried about things like obesity, diabetes, and coronaries. Somehow, Wilder makes it work. Perhaps his dedicated training and juggernaut genetics have something to do with it.
When prepping for a major bout, Wilder eats up to six meals per day and supplements with at least two protein shakes. Despite his massive breakfast and downright epic appetite, the boxer claims that he's "not a morning person at all" and not one "that enjoys food that much." How's that for irony?
According to Wilder, "They just feed me the food, I just eat it! My stomach sometimes can be so fat that I have to rub it for hours. I'm not a big eater!" He went on to explain that he's really more of a pizza and Pepsi guy, even if both of those foods don't make up part of his pre-fight diet.
We said it before and we'll say it again: one can't really call heavyweight Deontay Wilder's diet plan a "plan" at all because to do so would be to endorse it in some way. The last thing we'd want you to do is chow down like the champ unless you're likewise 6'7″ with 213 pounds of pure muscle at your disposal and 41 KOs under your belt.
Now that you've been warned: what does Wilder eat while at training camp? To give you an idea, let's assemble a meal plan of sorts, ripped straight out of his proverbial playbook.
Breakfast (8 am)
Pancakes – No one in their right mind would tell you to eat more pancakes and we're not about to start. That said, this breakfast food is quite delicious, especially with butter and maple syrup.
Sausage – Wilder packs in the protein as early as breakfast, chowing down on either Polish sausage or traditional sausage patties.
Eggs – For the most part, Wilder eats "good eggs," but he also brings Egg McMuffins into the rotation on a regular basis.
Protein shake – A heavyweight boxer can use all the muscle recovery he can get.
Lunch #1 (11:30 am)
Alfredo chicken pasta – Here's another tasty dish that no practising dietician would recommend.
Corn on the cob – Why do we have the feeling that Wilder slathers this thing in butter?
Garlic bread – What can we say? The man knows how to eat!
Protein shake – Wilder's gulped down two protein shakes and it's not even noon!
Lunch #2 (2 pm)
Sandwich – In the boxer's own words, he'll eat "maybe ham and cheese, maybe tuna."
Two boiled eggs – Sure, why not?
Dinner #1 (5 pm)
Salisbury steak – Most professional athletes eat a lean cut of steak with no sauce at all. Not Wilder, though.
Potatoes and yams – Wilder enjoys red potatoes, mashed potatoes, and yams, sometimes within a single meal.
Green beans – Hey, who let this green vegetable into the Deontay Wilder diet plan?!
Dinner #2 (7:30 pm)
T-Bone steak – T-bone! T-bone!
Red potatoes – Wilder can't get enough of those red potatoes.
Squash – It's similar to yams and Wilder loves yams.
Green beans – More green for the muscle machine.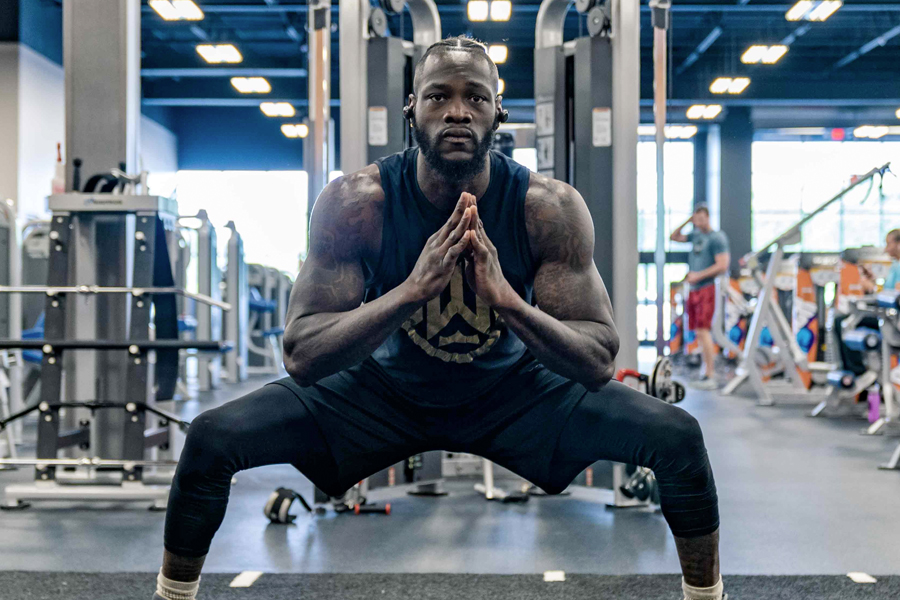 Deontay Wilder's Workout Plan
With his 2008 Olympic medal and impeccable boxing record, the Bronze Bomber is—without a doubt—a veritable force to be reckoned with in the ring. It's then surprising that he rocks a relatively lean and sculpted physique along with some downright skinny legs, distinguishing him from your average heavyweight. Nevertheless, Wilder's muscular figure and sharp agility continue to work to his advantage, fight after fight.
---
Featured Video from Man of Many
---
By his own admission, Wilder possesses a number of natural gifts and thinks that other boxers do too. To quote him directly: "To a huge degree, you're born with (power)…you can improve power about 10% through conditioning and technique, so you can take a guy who's a nothing puncher and make him at least respectable, and you can take a guy who's a pretty good thumper, and make him a 10% better thumper. But the best I've ever seen anybody improve is about 10%."
As such, Deontay Wilder's training is purposefully threadbare in certain areas. For instance, he doesn't go heavy on the weights or dedicate too much time toward traditional speed-based exercises, at least not to the extent that you might imagine. What's more, he sticks primarily to hitting mitts and sparring when it comes to boxing exercises.
Of course, don't take that to mean there's no such thing as a Deontay Wilder workout routine because there most definitely is. That is to say, he spends serious amounts of time preparing for his next fight. It's just not the heavyweight workout routine you might have in mind.
What's most surprising is just how much time Wilder spends in the water and we're not just talking about his scuba diving certification. Taking a truly enlightened approach, Wilder and his training team see tons of value in pool-based workouts, which provide low-medium impact and crank up the resistance factor.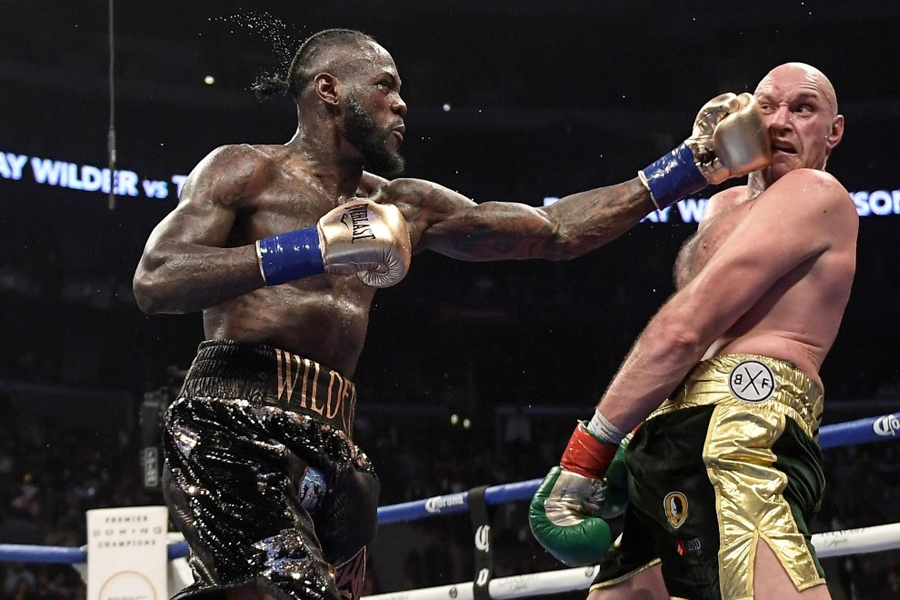 When working out in the pool, Wilder will often wear an Aquajogger around his waist. This unique device keeps his head above water when he's in the deep end, where his feet don't touch the ground. Using the device, he performs various actions such as jogging or sprinting in place, moving from side to side, and even practising his boxing techniques.
To increase the resistance factor, Wilder will also wear flotation devices around his ankles along with swim gloves. As a result, he's able to build up explosive power without overworking his joints and muscles. That's all in addition to traditional swimming laps, which he practices as well.
Overseeing Wilder's pool workouts is trainer Peter Khoury, who said the following: "When we get in the water, we do a lot of stuff that keeps him long and flexible with shoulder and joint mobility, which allows him to be able to snap a punch."
Meanwhile, Wilder's water-based activities aren't confined to his daily workouts. Back in Tuscaloosa, he'll often go kayaking toward an island near his house, taking full advantage of any wind resistance. It's also been reported that when Wilder is partying near a lake, he'll have friends throw cans of beer into the water and then swim out to retrieve them. He's even been known to hang off the back of motorboats and then pull himself aboard as the boat picks up speed.
"I love the water because it builds all your muscles in your body," Wilder claimed. "I can't even tell you the name of the muscles, that's for sure, but I feel it."
As one might suspect, pool-based exercises are just a part of Deontay Wilder's workout plan, albeit a major part. Yes, they're supremely effective, but one can't keep the belt for as long as he has by staying out of the gym entirely. Here are some other workouts performed by heavyweight Deontay Wilder:
Treadmill – Likening the treadmill to sand, Wilder described it as a similarly "soft surface" for running. For some high-intensity cardio, he'll perform 30 reps of 30 seconds of running at a "grade 9" incline, followed by 30 seconds of rest.
Weighted vest and Bosu ball – "A lot of fighters don't train for balance, but that's one of the most important things," Wilder once said. For this exercise, he wears a weighted vest while standing atop a Bosu ball, occasionally on one leg. Next, he'll catch medicine balls that are thrown to him from different angles.
Weighted vest and dumbbells – Cranking up the intensity dial, Wilder will put on a 25-pound vest and then pick up a pair of 45 or 50-pound dumbells. Next, he walks up and down the 21 steps of his gym for three minutes at a time, followed by a minute of rest. Like a true boxer, he varies the movements between each set or "round." When describing this particular workout, Wilder said, "Oh my goodness, that right there…that's why I know my legs are strong enough…That's my least favorite workout. I hate that one."
Standard weight training – While some form of weight training is basically unavoidable, Wilder doesn't push himself to extremes. He feels that excessive weight training results in "too much shoulder development, too much strength and size, what's happening is, you're pushing the punches, as opposed to snapping your punches."
Boxing training – When not practicing his technique in the pool, Wilder heads to the gym for what might be described as a light boxing workout, which consists of hitting mitts and sparring. "You all have seen it," he said. "I'll come in here and just hit the mitts and spar. That's it; no running, no conditioning and stuff, no heavy bag, no speed bag, no jump rope, no nothing!"
Deontay Wilder's Diet & Workout Plan FAQ
Consuming up to six meals a day, Deontay Wilder eats eggs, sausage, pancakes, steak, sandwiches, yams, red potatoes, green beans, and pasta when preparing for a fight. He'll also supplement with two protein shakes. When not prepping for a fight, he's all about the pizza and Pepsi.
You'll also like:
Conor McGregor's UFC Diet & Workout Plan
Lionel Messi's Football Diet & Workout Plan
Joe Rogan's Diet & Workout Plan
---
Featured Video from Man of Many