12 Best Cafes in Canberra
Think Canberra is all about politics, Albo and Toto, and Questacon? Well, think again. All across our nation's capital, you'll find some absolute ripper cafes. Whether you're after an incredible cup of coffee, a vegan cake, classic bacon and eggs or something a little more out there like beef cheek croquettes, Canberra's cafe scene is serving it up. To help you find the best cafes in Canberra, we've rounded our fave breakfast, brunch and lunch spots in and around the city. Let's eat!
Best Cafes in Canberra at a Glance
Our list of the best cafes in Canberra goes like this:
Now we've had a look at our favourites, let's check out the complete list.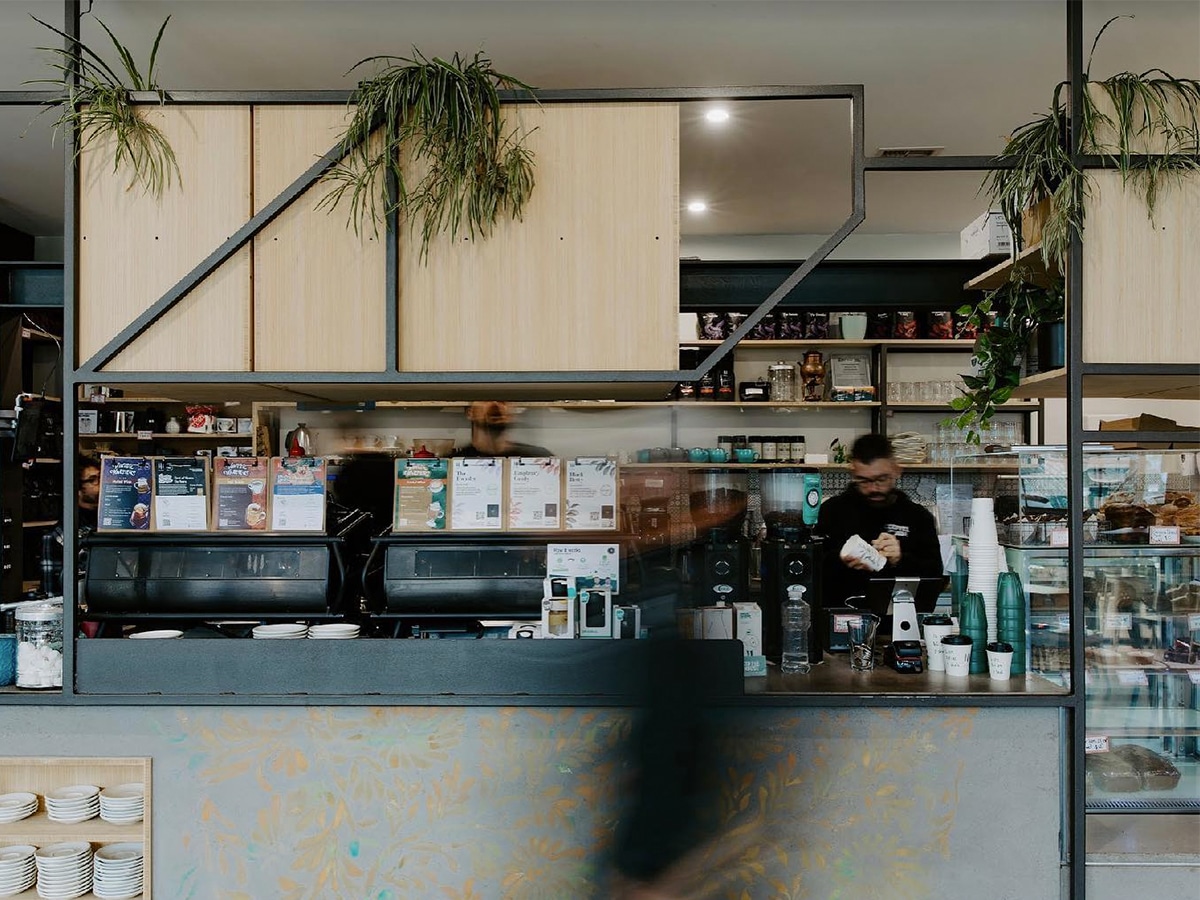 1. ONA Coffee House
Address: 68 Wollongong St, Fyshwick ACT 2609
Opening Days/Hours: Mon-Fri 7:00 AM – 3:00 PM, Sat 8:00 AM – 3:00 PM, Sun 8:00 AM – 2:00 PM
What we liked: Amazing coffee and friendly staff
What could be better: Some smaller, snack-style breakfast plates
The sibling venue to the famed Canberra-based ONA Coffee, Coffee House shares its space with the ONA Coffee roastery. So, if you're a serious coffee lover – this one's for you. Here, you can indulge in ONA Coffee's signature house blends and a rotating selection of single-origin brews, ready to sip on-site or take away.
But of course, a cafe is about more than just its coffee. There's plenty on the brekky and lunch menu at ONA – from a pork benny to a chicken burger, ONA's take on bacon and eggs and more. Plus, you can't knock back the atmosphere with the cosy outdoor deck offering a unique vantage point of Fyshwick's lively industrial streetscape.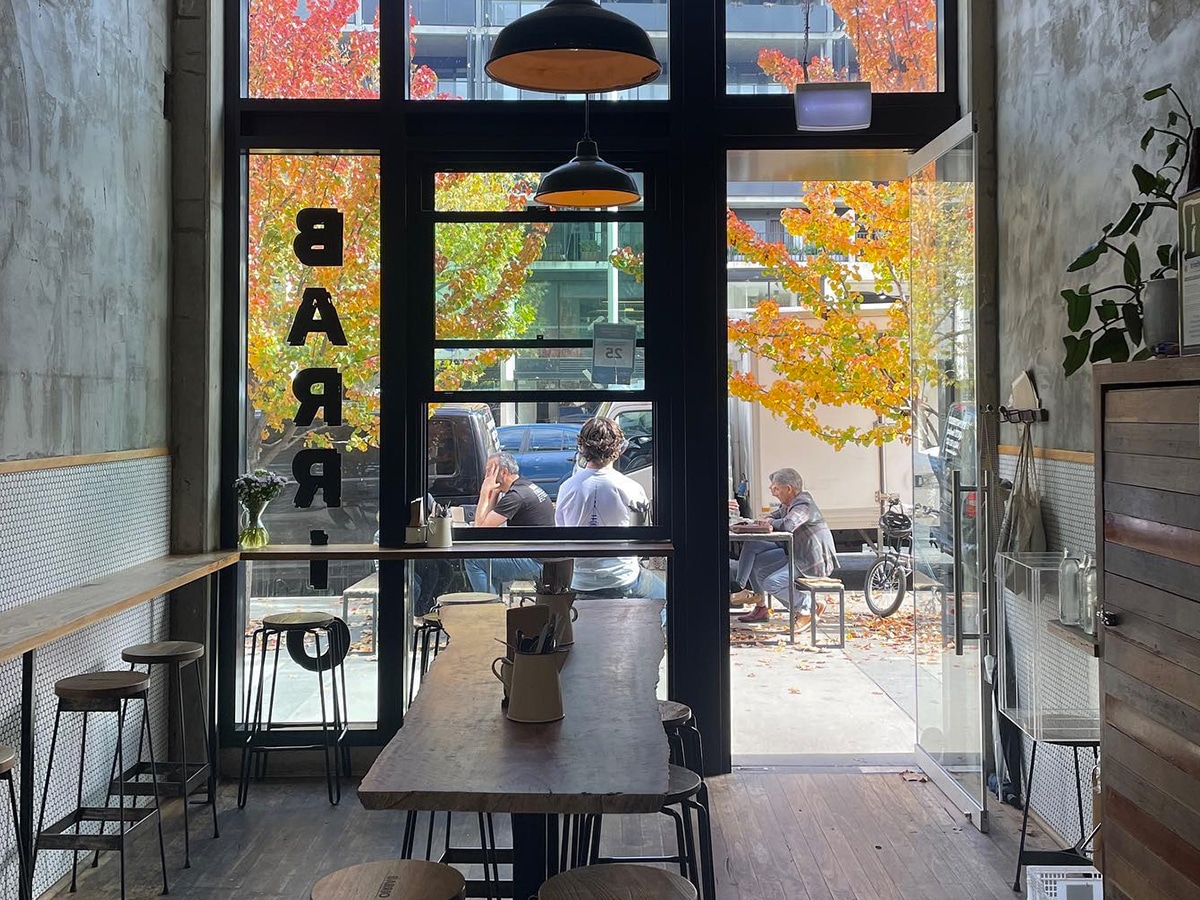 2. Barrio Collective Coffee
Address: 28 Lonsdale St, Braddon ACT 2612
Opening Days/Hours: Mon-Fri 7:00 AM – 2:00 PM, Sat-Sun 8:00 AM – 2:00 PM
What we liked: An amazing neighbourhood feel.
What could be better: A few more menu items.
Barrio Collective Coffee is all about good coffee and simple, tasty food. They don't have a big breakfast menu, but they do great sandwiches, some bakery goodies, and top-notch coffee. It's made the list of one of Canberra's best cafes despite the smaller menu this because the sambos are next level. Fun fact: the Barrio Collective team roast their beans locally on an old-school 1950 Probat L5. Overall, Bario Collective is a relaxed spot where quality coffee, food, and community come together.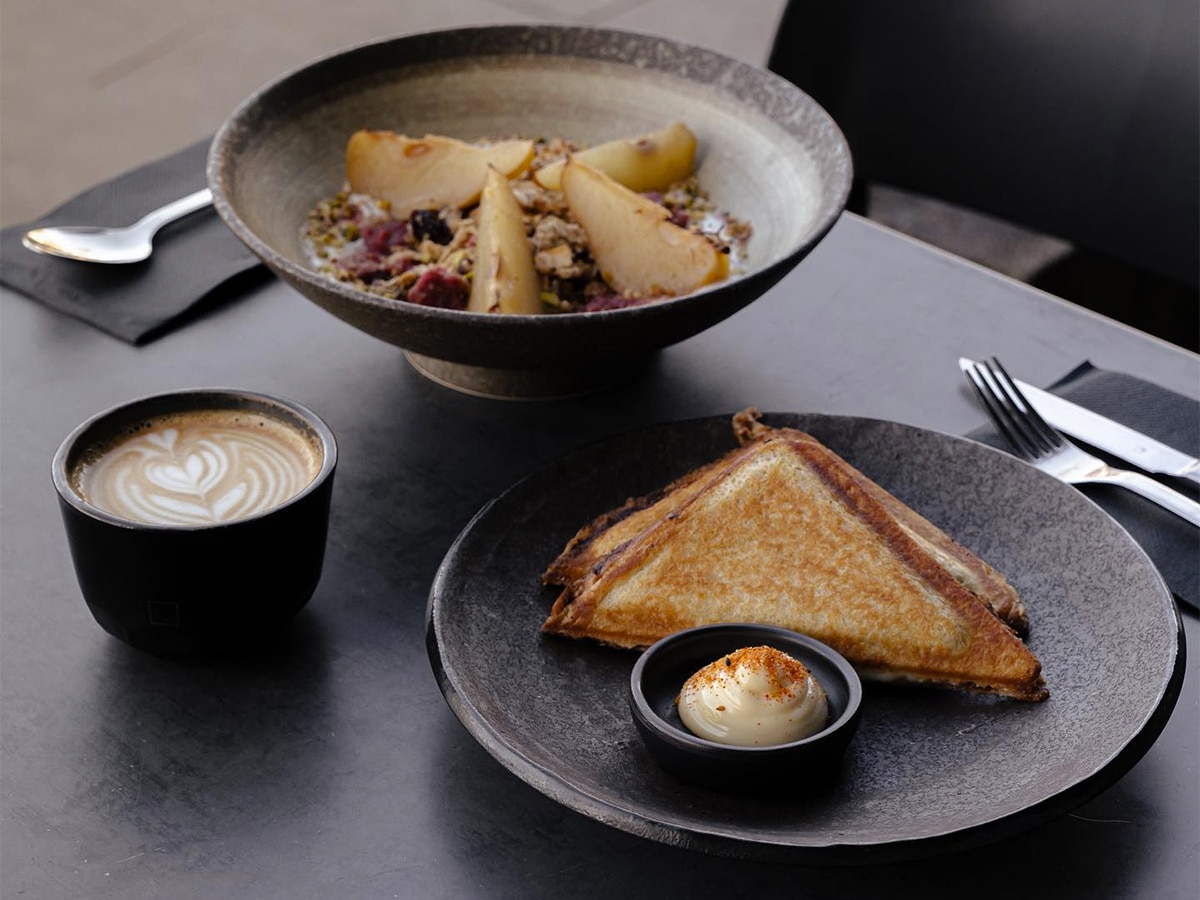 3. Intra
Address: 30/12 Provan St, Campbell ACT 2612
Opening Days/Hours: Mon-Fri 6:30 AM – 2:00 PM, Sat&Sun 8:00 AM – 2:00 PM
What we liked: Big servings & reasonably priced
What could be better: Sometimes there's a wait, given its popularity.
Looking for a no-nonsense but hearty brekky? Head over to Intra on Lonsdale Street in Braddon. The team there serves up European comfort food for breakfast and lunch. From a brekky role with mushroom, egg, and cheese, to rice pudding with a mandarin compote, if you're after something beyond the usual brekky fare, Intra is where to go. And if you're in the mood, there's a solid wine list for a laid-back afternoon sip. No bookings, just walk on in.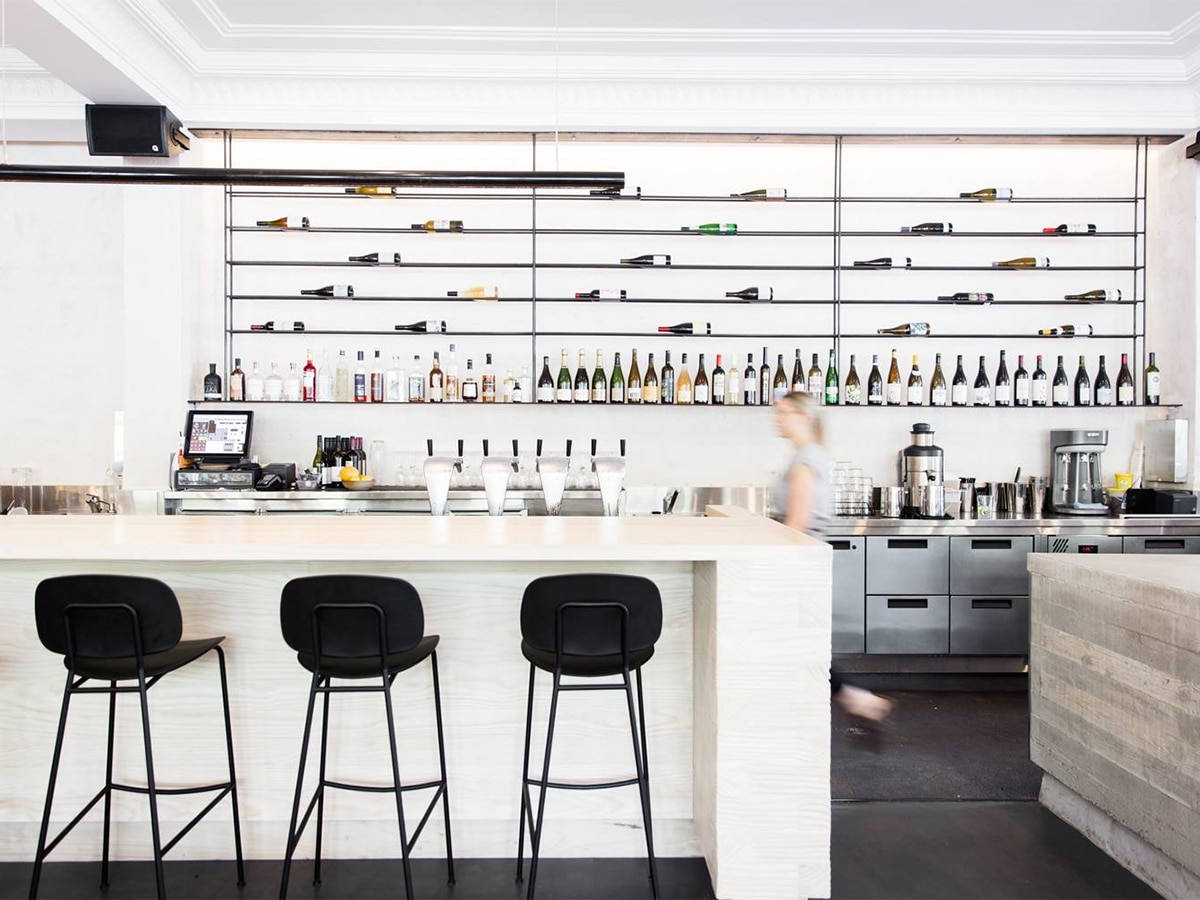 4. Highroad
Address: 1 Woolley St, Dickson ACT 2602
Opening Days/Hours: Mon-Fri 7:00 AM – 3:00 PM, Sat & Sun 8:00 AM – 3:00 PM
What we liked: Fresh and local produce, expert baristas.
What could be better: Noise level can get a bit high.
Highroad, nestled in Dickson's inner northern suburb of Canberra, is an initiative by the team behind ONA Coffee. Concentrating on specialty coffee, local ingredients, and an inventive menu, Highroad is a welcoming hub for the community to come together and enjoy yummy food with good vibes.
---
Featured Video from Man of Many
---
Its interiors are certainly a point of difference – drawing inspiration from Canberra's natural terrain, echoing the city's 'bush capital' essence. Meanwhile, the menu is expansive, ranging from zucchini bruschetta to french toast, to a filling steak sandwich, beef benedict and more.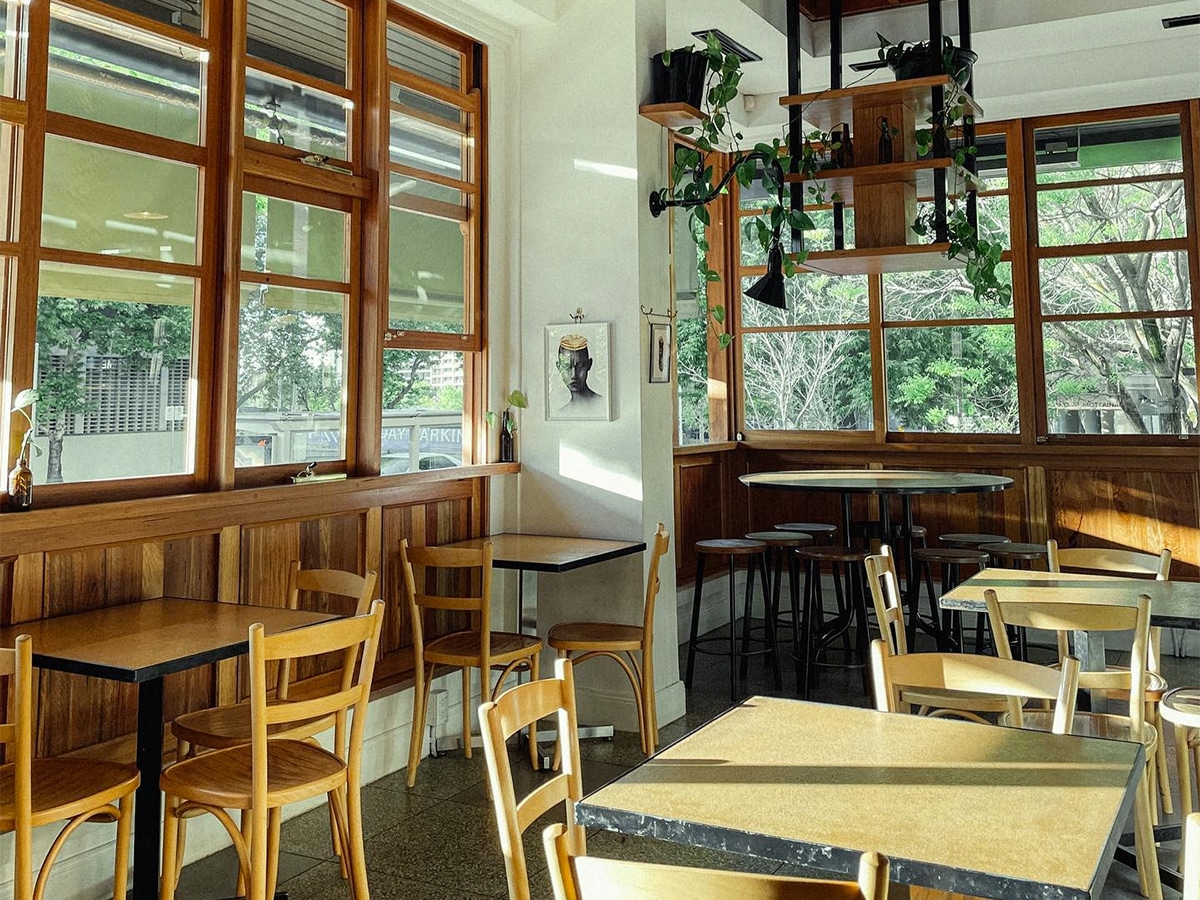 5. The Cupping Room
Address: 1/1-13 University Ave, Canberra ACT 2601
Opening Days/Hours: Mon-Fri 7:30 AM – 3:00 PM, Sat-Sun 8:00 AM – 3:00 PM
What we liked: Coffee masterclasses, knowledgeable staff, and inventive menu.
What could be better: Gets quite busy, so might have to wait for a spot.
Another cafe from the folks at ONA Coffee, The Cupping Room is an experimental space where coffee lovers can experience the journey of coffee from bean to cup. With an expansive coffee menu, they aim to diversify your coffee choices, offering insightful flavour profiles and guided tastings.
The food menu is crafted with equal care and consideration – an ever-evolving menu that consistently pushes the boundaries of cooking. Located in the Canberra's bustling city centre, its communal seating, hanging plants, and light-wood decor creates a laid-back, friendly atmosphere you won't want to leave.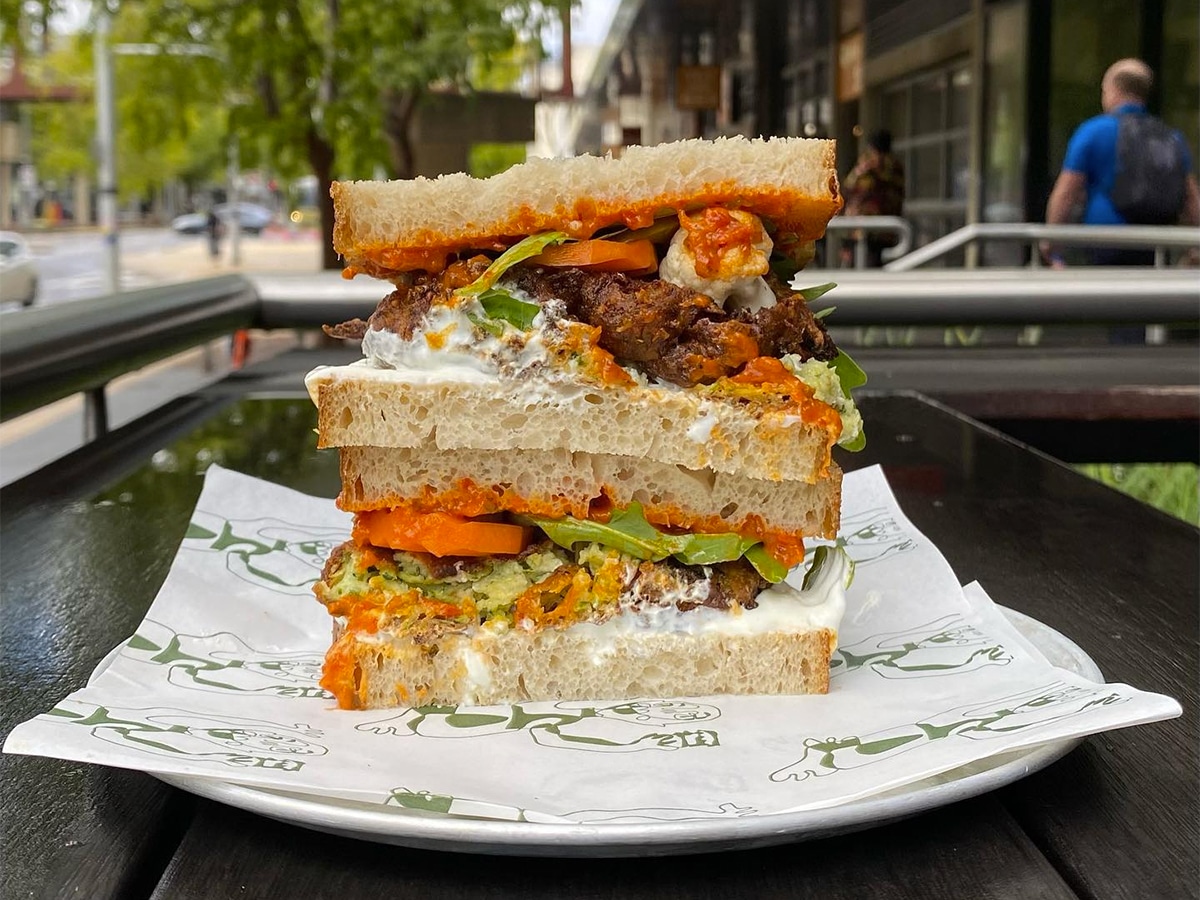 6. Sandoochie
Address: Shop 8 No Name Lane, Canberra ACT 2601
Opening Days/Hours: Mon-Fri 11:30 AM – 3:00 PM
What we liked: Inventive sandwiches, warm atmosphere, and quality ingredients.
What could be better: Can get a bit busy during lunch hours.
Looking for Canberra's best sandwich? Check out Sandoochie in Acton. The team at Sandoochie are master sandwich creators – blending local ingredients with international twists to make some seriously wild and delicious sandwiches. Whether you're into classics or keen to try something new, Sandoochie has you covered. The cafe's relaxed setting with native flowers, combined with quick service, makes it a solid choice for a city meal.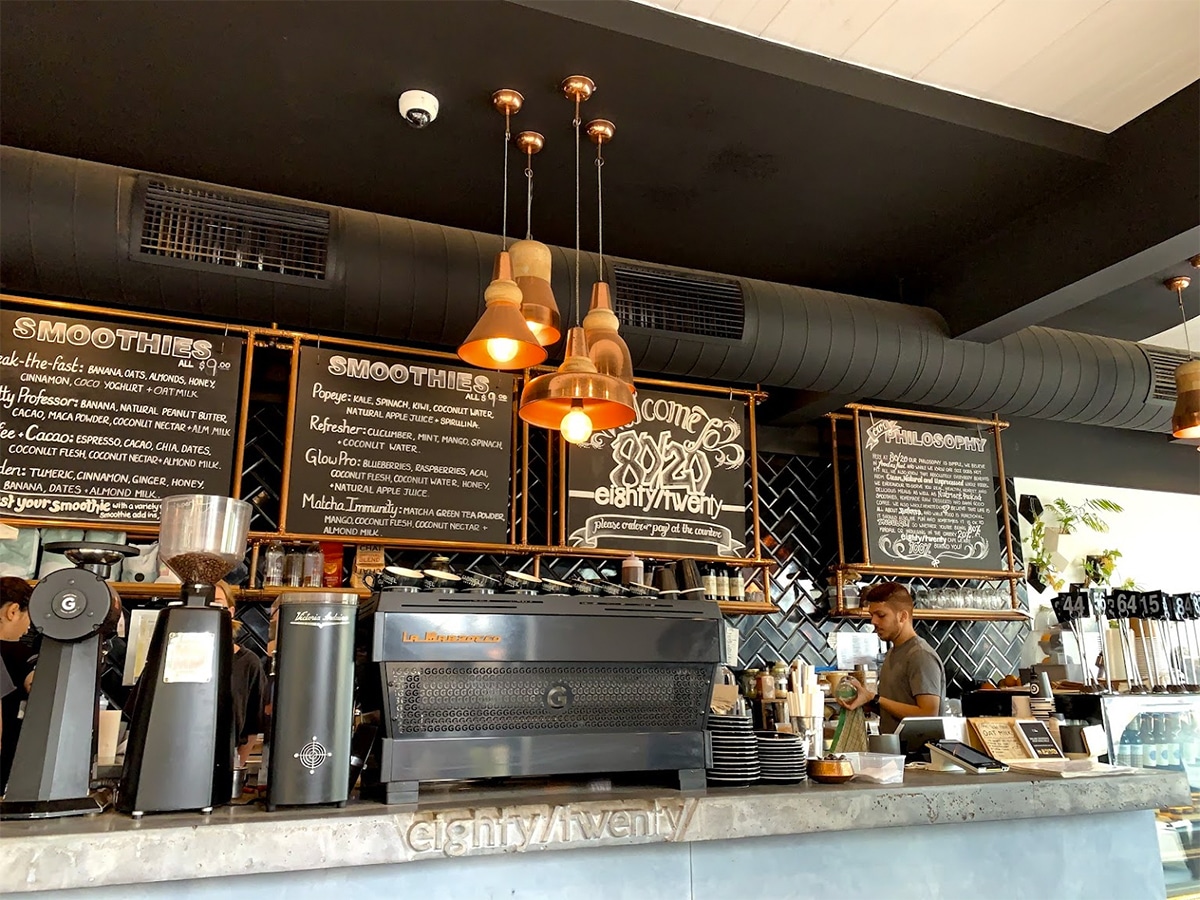 7. Eighty/Twenty Food
Address: 1/18 Lonsdale St, Braddon ACT 2612
Opening Days/Hours: Mon-Sun 6:00 AM – 3:00 PM
What we liked: Health-conscious menu, and vibrant atmosphere
What could be better: Service could be a bit snappier!
Love a bit of balance in your diet? Then Eighty/Twenty is right up your alley. With a commitment to wholesome, enjoyable food, they serve up dishes that nourish the soul and body. Their belief? It's not always about strict diets. That's why alongside their clean and whole foods, they also dish up bangin' smoothies, tempting raw desserts, and some pretty good coffee. We recommend the vegan buckwheat waffle, burrito bowl and chermoula lamb salad. Yum yum yum.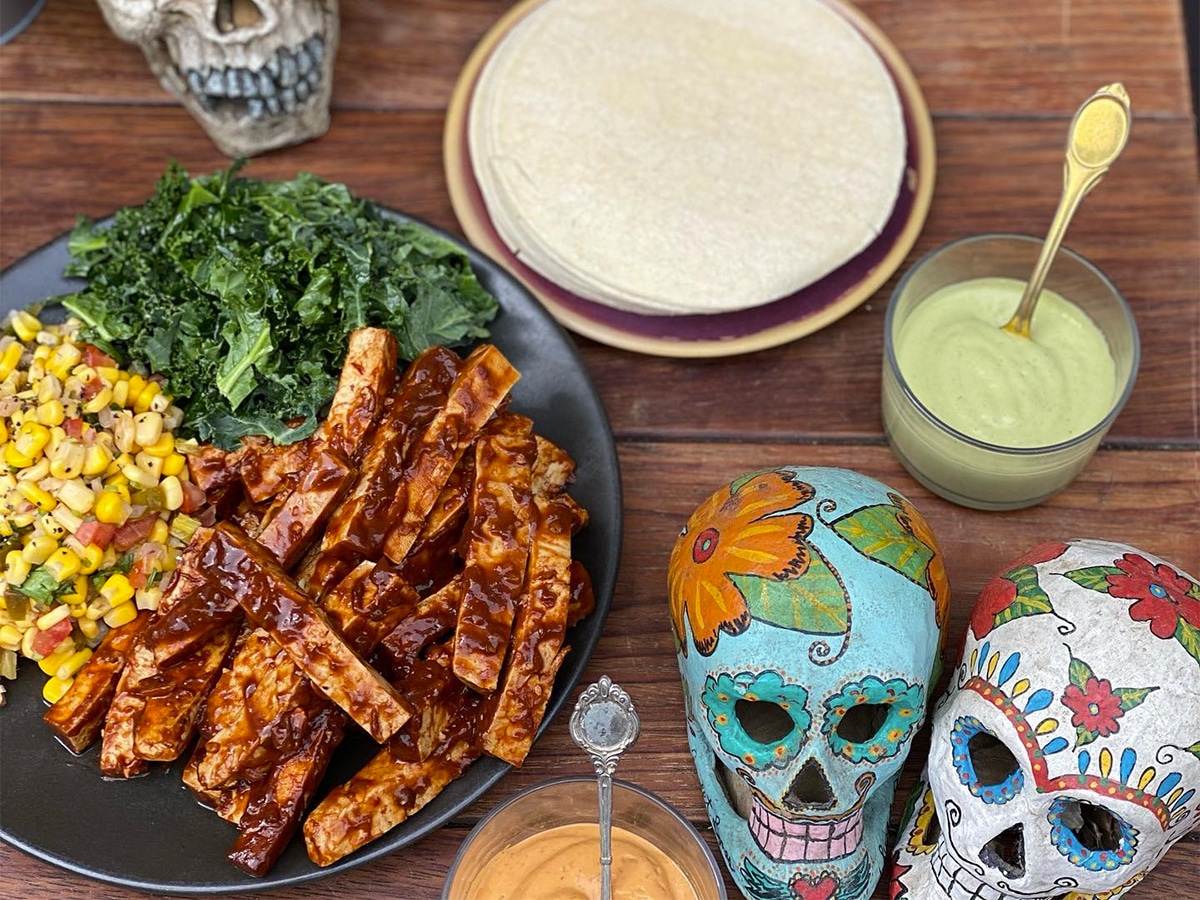 8. Sweet Bones Bakery
Address: Shop 8, 18 Lonsdale St, Braddon ACT 2612
Opening Days/Hours: Mon-Sun 8:00 AM – 3:00 PM
What we liked: All vegan and lots of gluten-free options too!
What could be better: Bigger serving sizes, pls!
If you're more of a sweet breakfast person, look no further than Sweet Bones Bakery in Braddon. An organic vegan cafe and bakery, Sweet Bones boasts a very fun vibe and offers plenty of treats that are as delicious as they are ethical. If you're not keen on something sweet, don't worry, Sweet Bones has an entire breakfast and lunch menu too – from tacos to pancakes and more. Everything at Sweet Bones is vegan, and there are also plenty of gluten free options for the gluten-free friends among us.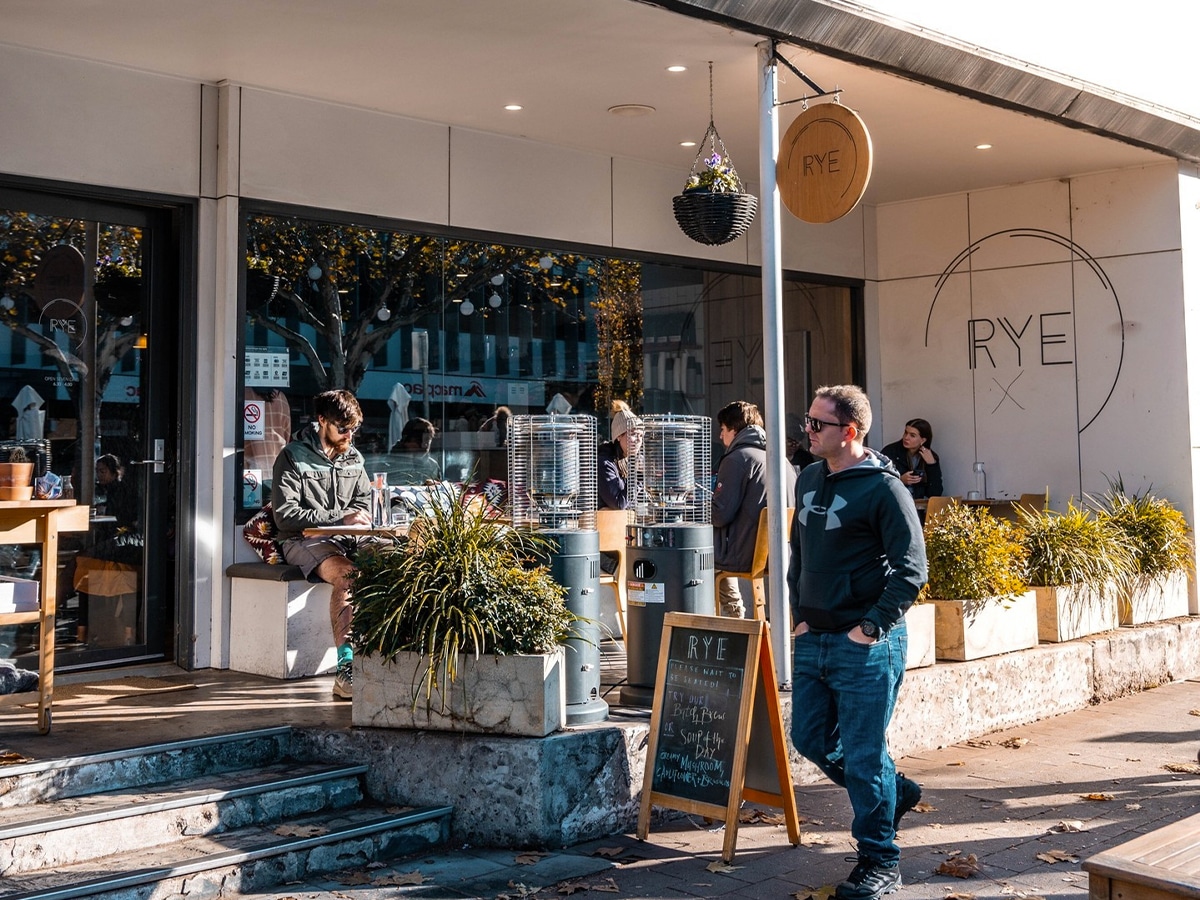 9. RYE Cafe
Address: 9 Lonsdale St, Braddon ACT 2612
Opening Days/Hours: Mon-Fri 6:30 AM – 3:00 PM, Sat & Sun 6:30 AM – 3:30 PM
What we liked: Scandi-inspired decor, delicious pastries, and relaxed vibe.
What could be better: Wait times can be long on the weekend.
Rye Cafe has a huge breakfast and lunch menu – so huge you'll struggle to know what to pick! With its Scandinavian influences, and minimalist charm, Rye is a great spot for a weekend brunch or long, lazy lunch with friends. If you want to try something beyond the usual smashed avo or eggs benny, this is the place to do it. We recommend giving the Havørred a go (mustardy ocean trout with potatoes, pickled beets and pumpkin), or if you're after something sweeter, the dark rye porridge with spiced blueberry compote and cinnamon poached pearl and dark rye crumble is pretty bloody fantastic too.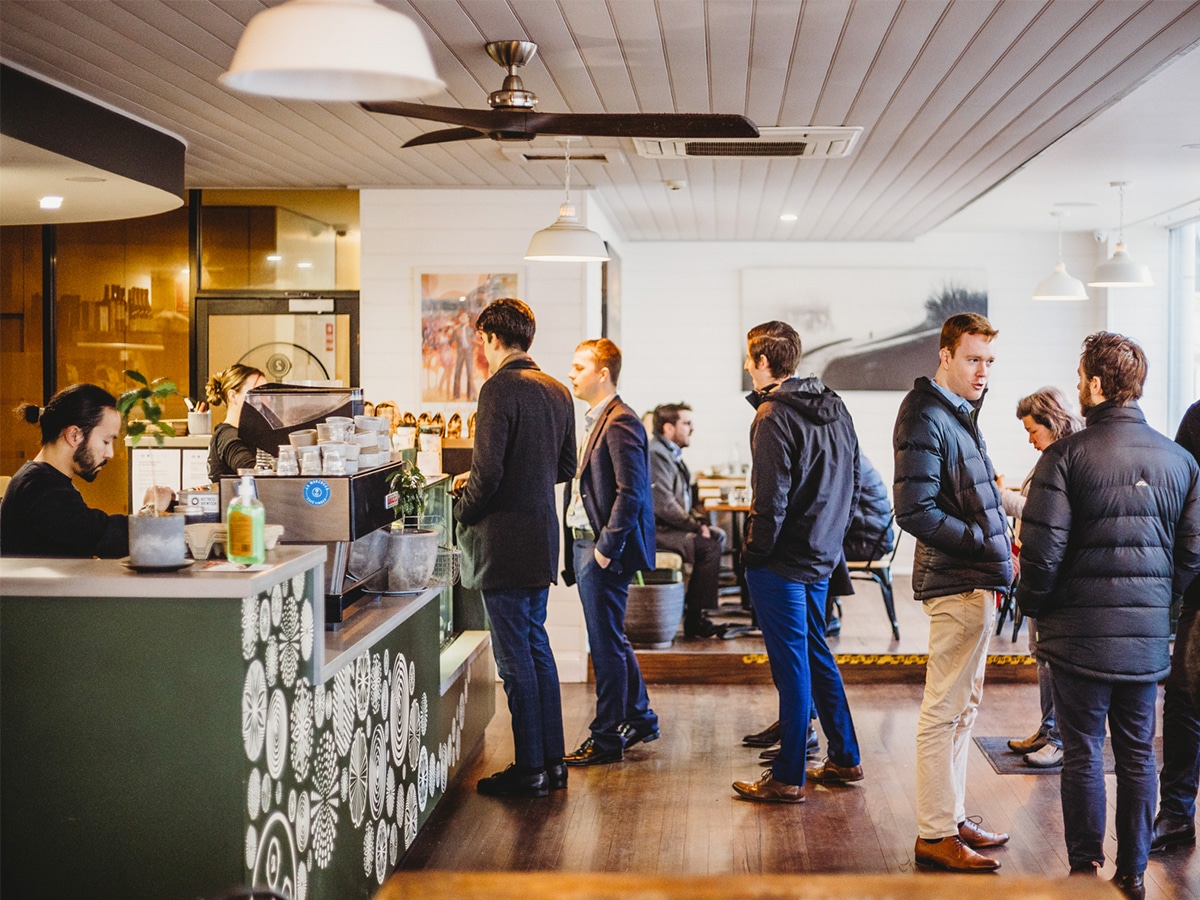 10. Two Before Ten Hobart Place
Address: 1 Hobart Pl, Canberra ACT 2601
Opening Days/Hours: Mon-Fri 7:00 AM – 3:00 PM, Sat-Sun Closed
What we liked: Community-driven approach with a homely feel.
What could be better: A tad more seating for peak hours.
The Two Before Ten team has a slew of Canberra cafes under their belts (11, to be precise), with a commitment to fostering local talent and businesses. Each of their cafes offers something special, but we particularly love Hobart Place thanks to its seriously homely and welcoming feel. If you like a classic breakfast meal, you'll find something to tickle your fancy at Hobart Place. From a bacon and egg roll to a beef burger or eggs your way, it's the go-to spot for a meal that feels home-cooked (but tastes a whole lot better).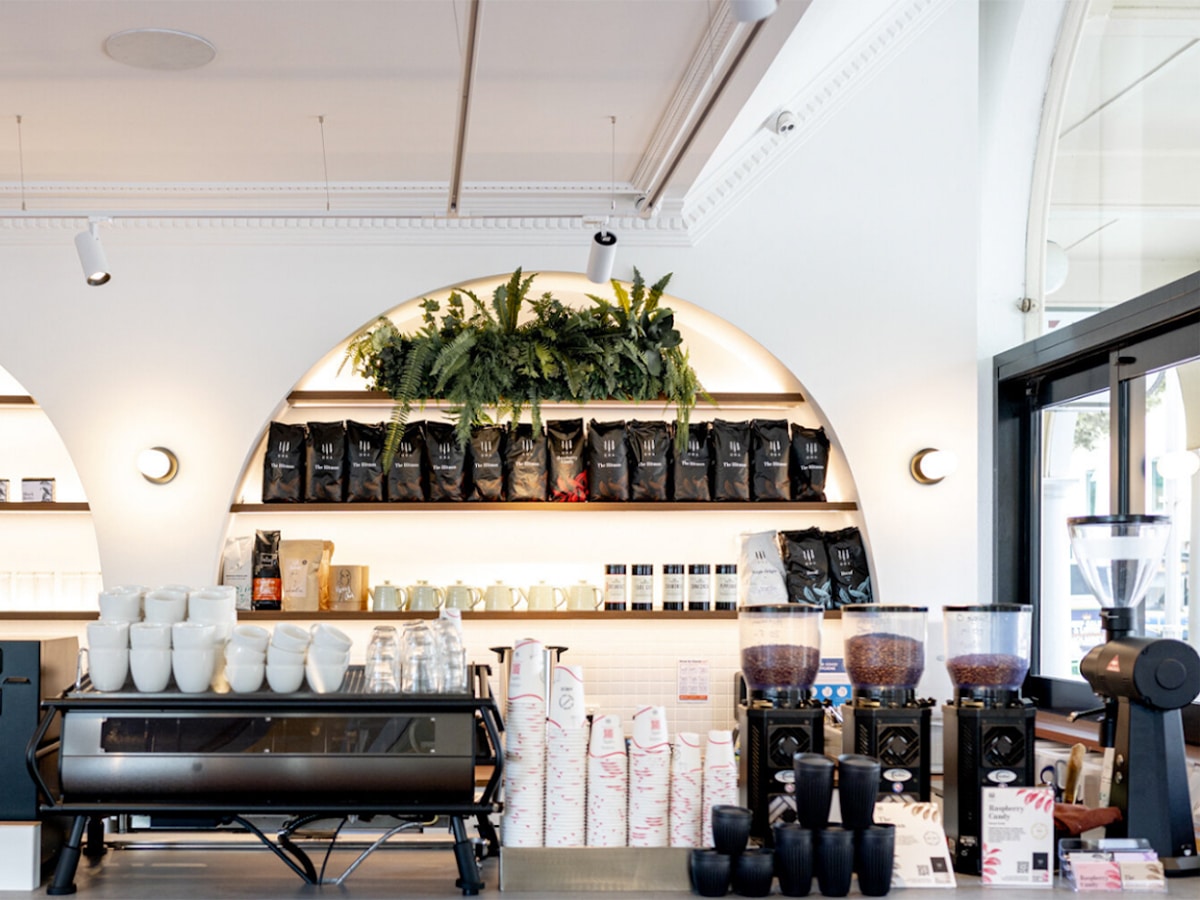 11. East Row Speciality Coffee
Address: Cnr London Cct &, E Row, Canberra ACT 2601
Opening Days/Hours: Mon-Sat 7:30 AM – 3:00 PM, Sun 8:00 AM – 3:00 PM
What we liked: Vintage charm, diverse coffee and knowledgeable baristas.
What could be better: A bit more variety in snack offerings.
Located in the historic Sydney Building in Canberra Civic, East Row Speciality Coffee is a quiet and relaxed spot to grab a bite to eat and delicious cup of joe. Serving up Ona Coffee with a rotating selection of single-origin blends and a modest yet tasty brekky menu that focuses on seasonal ingredients, for a no-fuss cafe in Canberra, East Row is the place to go.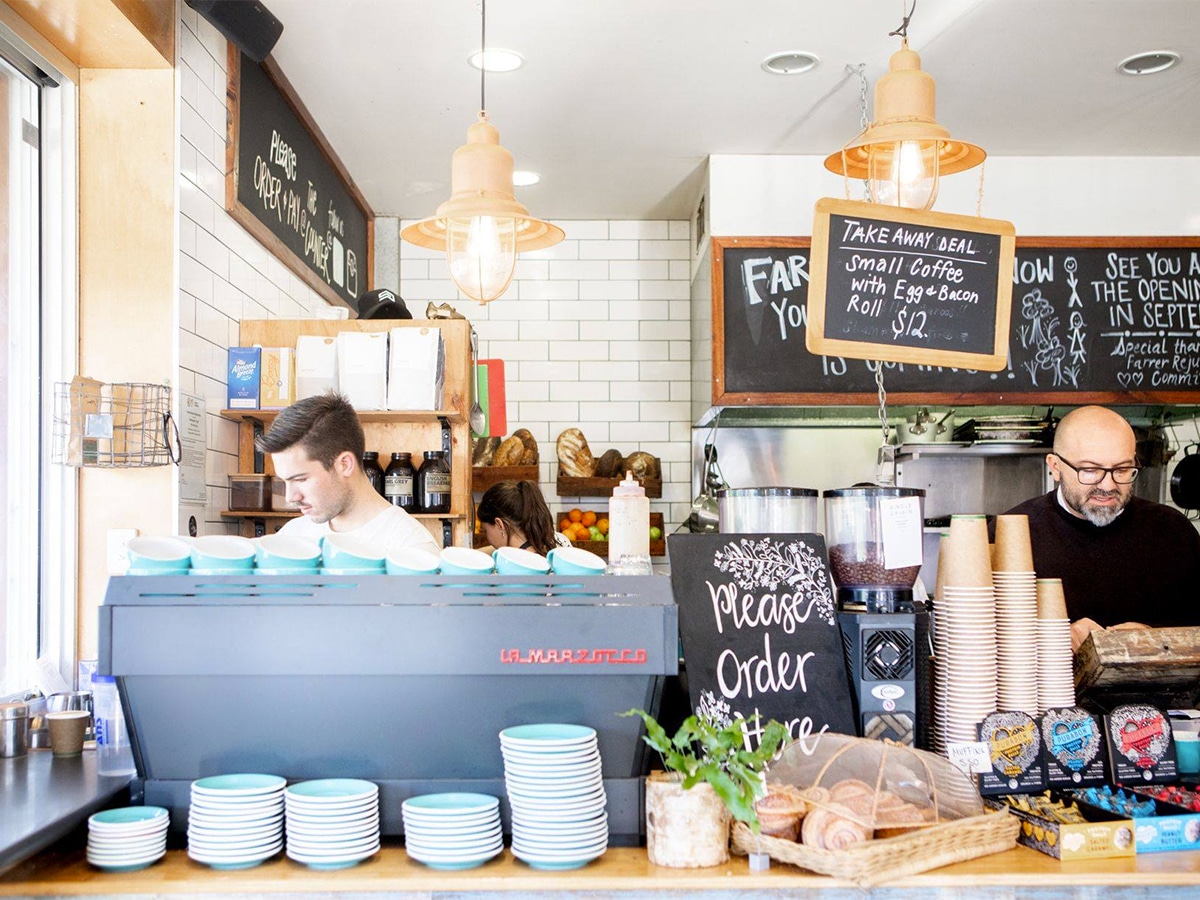 12. Fox & Bow
Address: 4 Farrer Pl, Farrer ACT 2607
Opening Days/Hours: Mon-Fri 7:00 AM – 2:30 PM, Sat & Sun 7:30 AM – 2:30 PM
What we liked: Simple yet tasty coffee.
What could be better: Customer service is a bit hit or miss.
Tucked away in Canberra's south, Fox & Bow is a true hidden gem. Prioritising local ingredients, Fox & Bow sources as much as possible from nearby farms and its own kitchen garden. The menu, playfully listed under "Breakfasty, Brunchity Things", offers everything from eggs on toast to Spanish eggs, toasties and more – accompanied by a broad range fresh cold-pressed juices. And for coffee lovers? ONA is their choice for a perfect espresso.
Things to Consider for Canberra Cafes
If you want to make sure your Canberra brunch or brekkie is up to scratch, there are a few key things to consider. Whether you are a Canberra local or you are simply visiting for the weekend, here is what you need to know:
Location: Canberra is a unique city that has been designed in a strange formation that doesn't necessarily follow the same suburban structure as the rest of Australia. As a result, leafy neighbourhoods are placed next to business districts and suburbia lies closer to the CBD than is common elsewhere. Consider the location of your Canberra cafe and what ambience you are after. Do you want a cafe in the city centre, a trendy suburb, or a quieter neighbourhood?
Menu & Variety: Canberra has a very diverse foodie culture, so you can expect to find a bunch of vegetarian, vegan and specialist options up for grabs. Don't be afraid to check the menu online before you go and see if it its your kind of place.
Outdoor Seating: Canberra, like much of Australia, is home to an incredible climate, so outdoor seating is a great option. Check if the cafe has a pleasant outdoor area, especially if you enjoy dining al fresco.
How Man of Many Chose the Best Cafes in Canberra
With an editorial team full of foodies, Man Of Many has had the unique opportunity to directly sample and experience food from the best cafes in Canberra. It is also based on our experience, in-depth research and customer reviews of Canberra cafes.
As expert journalists who guide people between competing products and services, we have provided our independent opinion in formulating Man of Many's selections. Our editors have taken into account food, coffee, and atmosphere to bring you this list of the best cafes in Canberra. You can review our editorial policy here on how we maintain our independence in our editorial reviews.
Alternatives to Canberra Cafes
Have 48 hours to spend in Canberra and looking for more than just Canberra's best cafes? No worries – we've got you covered with the below:
Best Cafes Canberra FAQs
What's the best brunch in Canberra?
Oh, it's too hard to play favourites! However, the Man of Many team agrees Rebel Rebel ticks all the boxes when it comes to the best brunch in Canberra – amazing food, service, killer coffee and all round good vibes.
Where's the best coffee in Canberra?
Canberra has tonnes of amazing coffee spots, but the best would be East Row Speciality Coffee or the Cupping Room – it's where the locals love to go, after all.
Where's Canberra's best bottomless brunch? 
Is it Mimosa o'clock? It's not very hard to find a good bottomless brunch in Canberra, that's for sure! We recommend The Marion, White Rabbit, Assembly or Muse
---
Featured Video from Man of Many