12 Best Greek Restaurants in Sydney
If you can't be dining on a Greek Island somewhere, indulging in some delicious Greek food is definitely the next best thing. With more and more Greek restaurants popping up on Australian shores, Sydney leads the way, playing host to some of the best Greek restaurants in the country. The restaurant scene is buzzing with traditional fare that celebrates the very best of Mediterranean flavours, coupled with a few modern interpretations that have edged their way into our culinary landscape. If you're a fan of fresh seafood, grilled meat and a lot of bread, only the best Greek restaurants in Sydney will do.
Best of Sydney Greek Restaurants at a Glance
Best for a Wide Selection: Ikaria Bondi
Best for Atmosphere: The Apollo
Best for Drinks: EROS
Best for Take-Away: Stix and Pita
Best for Fine Dining: Alpha
Best Greek Restaurants in Sydney
Whether you're in the mood for fine dining or are just looking for some take-away, these are the best Greek restaurants in Sydney to kick off your Greek culinary adventure.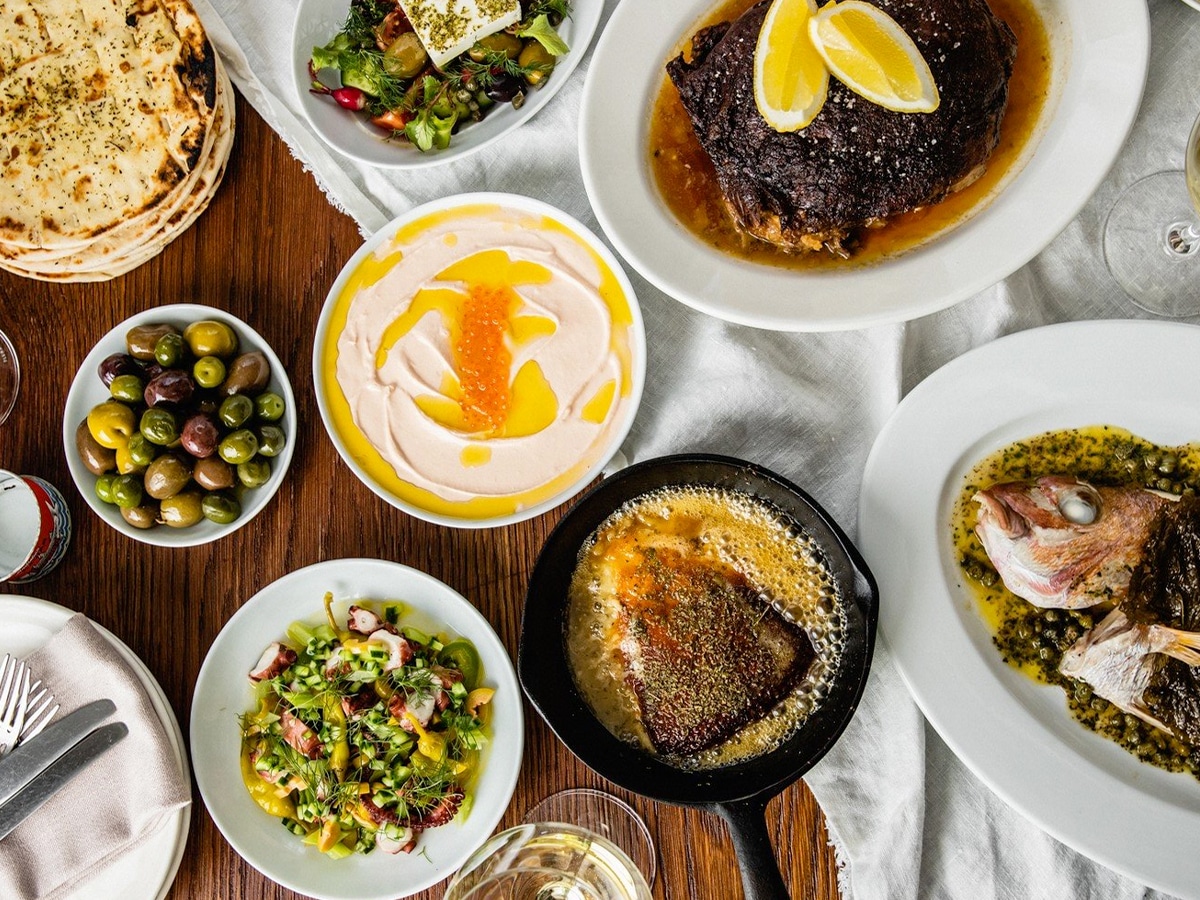 1. The Apollo
Best for: Atmosphere
Nestled in the luxurious streets of Potts Point, The Apollo is an absolute institution in the Greek dining scene. The first joint venture from the now-closed Longrain Sydney's Sam Christie and Manly Pavilion's Jonathan Barthelmess, The Apollo is a showcase of everything that makes Greek food special. The menu's main focus is shared plates, and they're fondly known for their dishes cooked over a wood fire, adding that subtle smokiness renowned in Greek cooking. We recommend the pork and eggplant moussaka or the fried fisherman's plate.
Outside of just great food, The Apollo is one of the best restaurants in Sydney for the atmosphere alone. The stunning setting was designed by architect George Lixissianis and takes on a decidedly more minimalist aesthetic than we're used to seeing in most Greek establishments. Instead, what you're left with is an open and inviting space, ready to be filled with the sound of clinking glasses and lively conversation.
What we like: Vibrant, buzzing atmosphere
What we don't like: Can get busy and loud
Address: 44 Macleay St, Potts Point
Hours: Monday 5.30 pm – 11 pm, Wednesday – Thursday 5.30 pm – 11 pm, Friday – Saturday 12 pm – 11 pm, Sunday 12 pm – 10 pm
Contact: (02) 8354 0888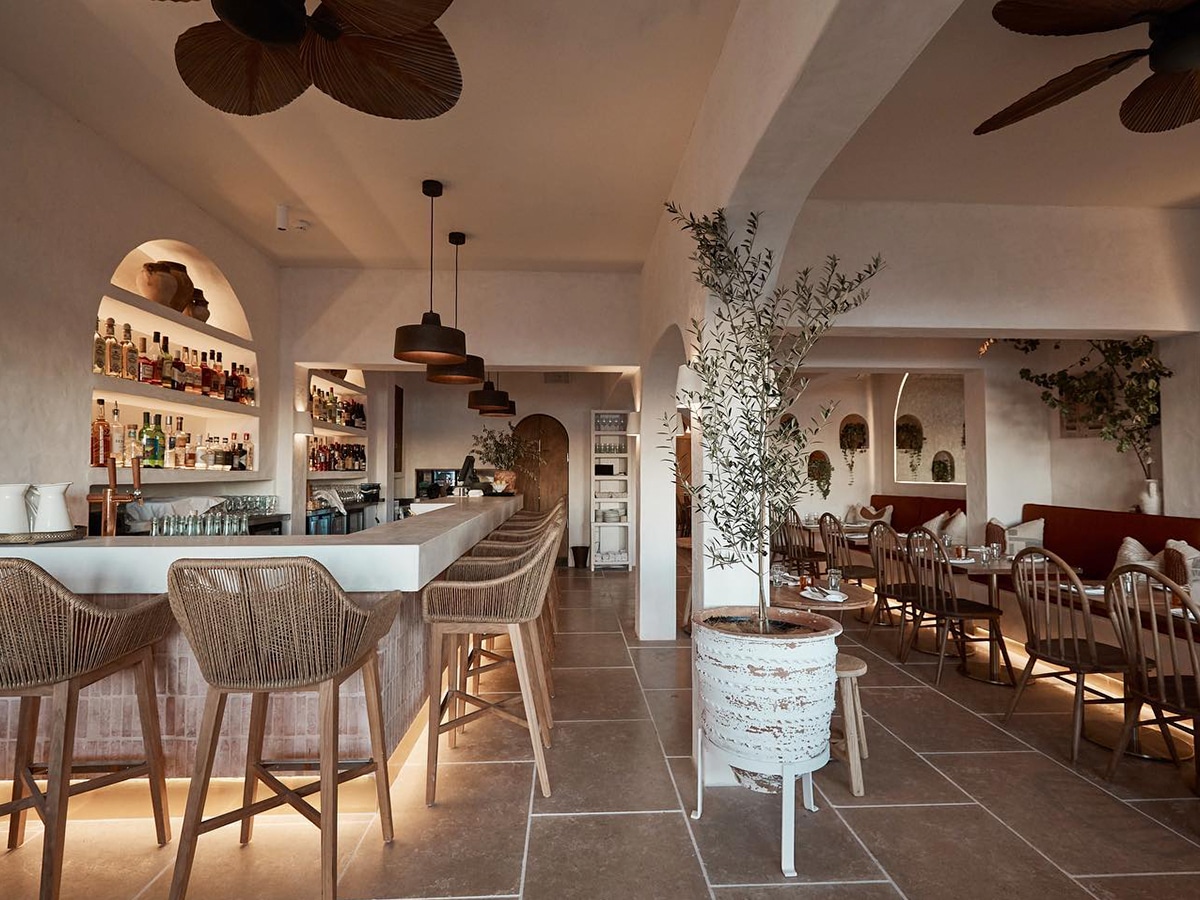 2. Ikaria Bondi
Best for: Selection
Greek restaurant Ikaria Bondi could easily fool you into thinking the deep blue waters of Bondi were in fact, the deep blue waters of the Aegean, bringing an authentic Greek touch to the beachside town. The meze bar boasts a share-focused menu peppered with plenty of Mediterranean flavours and a vibrant drinks menu. And housed in a whitewashed, coastal-inspired interior, it's so Bondi and we love it.
Operated by husband-and-wife duo Joaquin Saez and Emily Abay, who arrive with an enviable restaurant pedigree that includes Alberto's Lounge, Ikaira Bondi is a taste of the Mediterranean with a big, bold beach feel. While Saez is responsible for driving the food and drink side of the equation, fashion photographer Abay has managed to balance the Greek aesthetics with an undeniable sense of tranquility.
What we like: Impeccable interior design and ambience
What we don't like: Sometimes a long wait time for food
Address: 70B Campbell Parade, Bondi Beach
Hours: Tuesday – Friday 5 pm – 11.30 pm, Saturday – Sunday 12 pm – 11.30 pm
Contact: 0422 771 251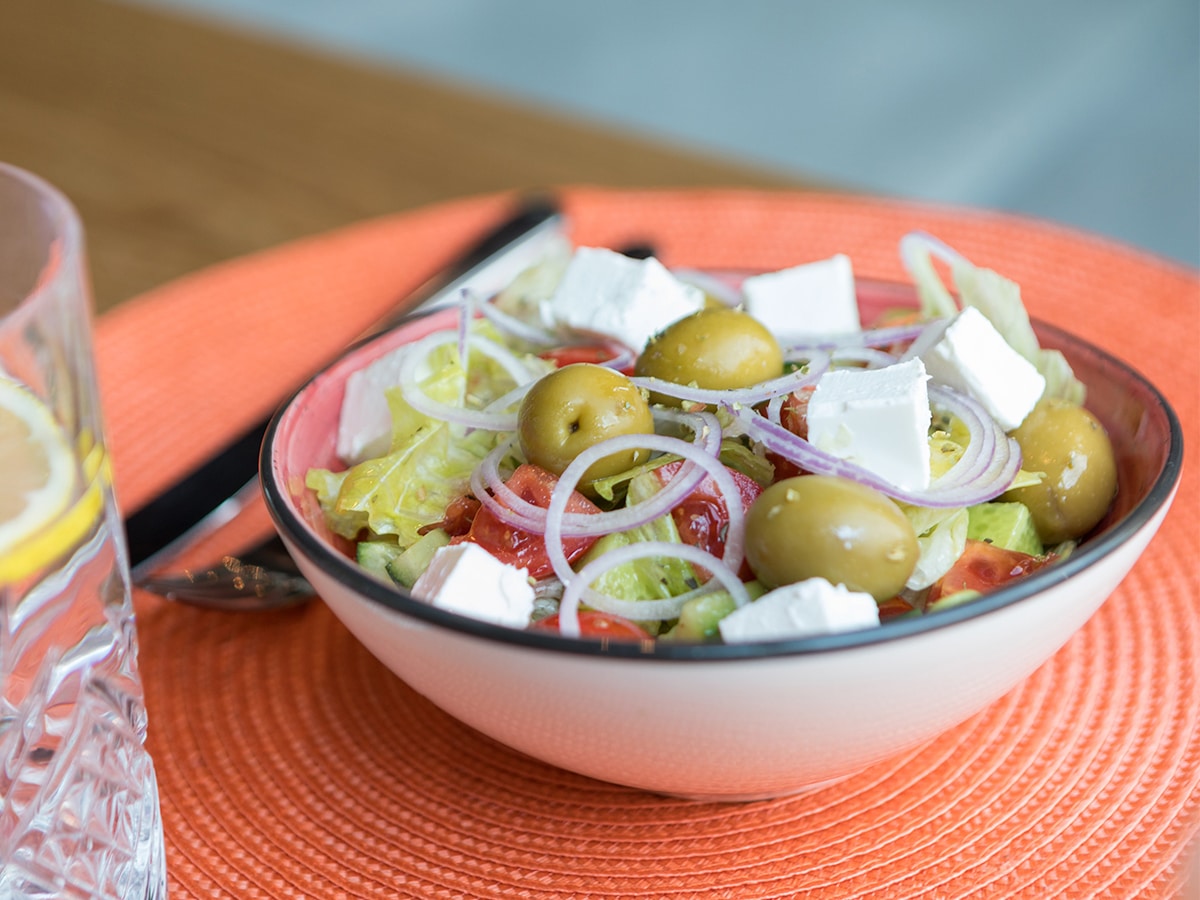 3. Sofie's Greek Restaurant & Meze Bar
Located in leafy harbourside Balmain, Sofie's Greek Restaurant & Meze Bar offers delicious, authentic Greek food. You'll find the owners in the kitchen and doing the service, which makes for an inviting dining experience. On the menu, we love their classic spanakopita and their Dolmades with ground beef, tomato, rice & herbs, rolled in spinach served with tzatziki garlic cucumber yoghurt.
In terms of what to expect at Sofie's Greek Restaurant & Meze Bar, this institution firmly falls in the authentic pile. The ambience upstairs is relaxing and engaging, with the main focus being on the food. Best of all, the characters you see working, drinking and enjoying the place embrace every element of the old home country. It really feels like a step inside someone's home kitchen and for that, we can't fault Sofie.
What we like: Family-run hospitality
What we don't like: Nada…how could we critique the amazing Sofie!
Address: Upstairs, 386 Darling St, Balmain
Hours: Wednesday – Thursday 6 pm – 9 pm, Friday – Saturday 6 pm – 12 am
Contact: 0412 075 076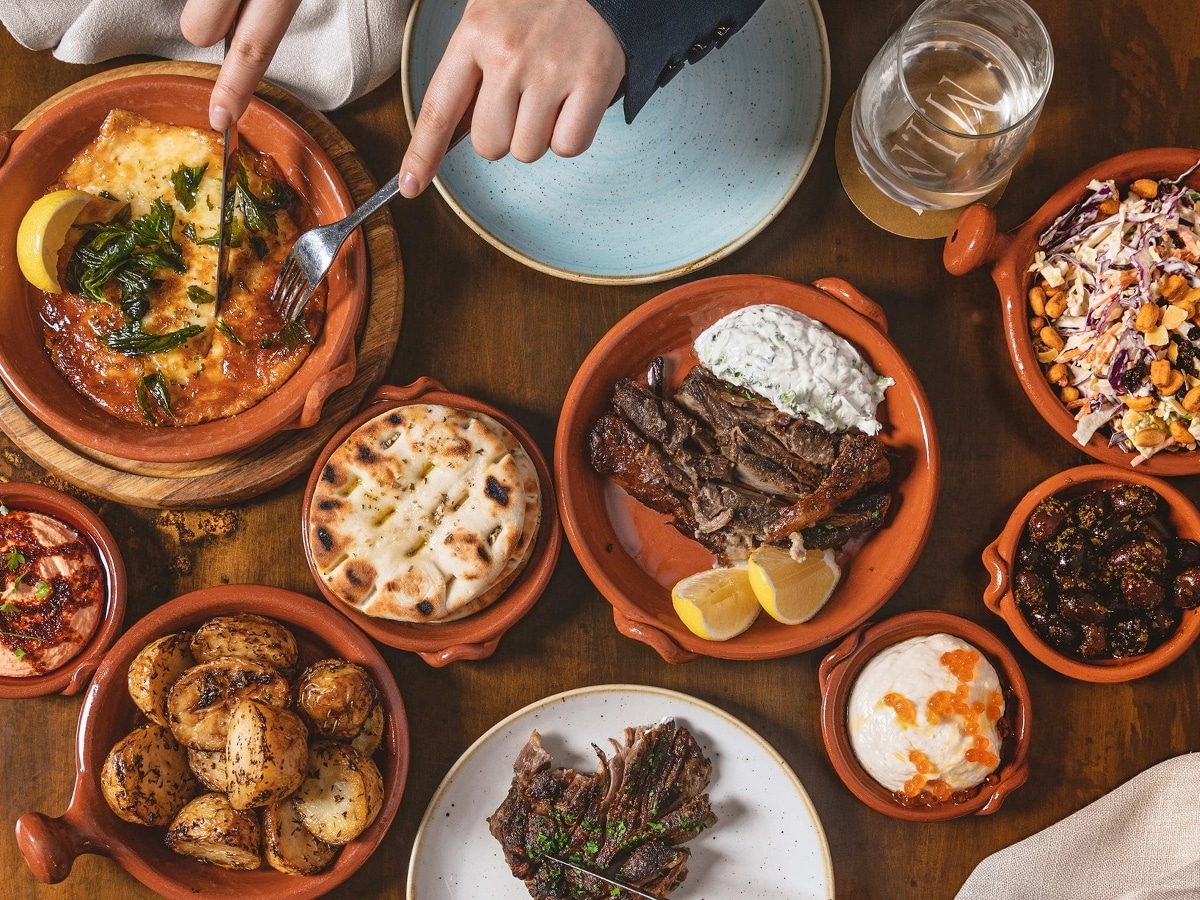 4. M.I.M. by 1821
Sitting in the heart of the Sydney CBD is this authentic celebration of Greek cuisine, pride and history. The restaurant is massive, with a main dining area, top-floor mezzanine, basement bar, and a bunker-style hideout for you to choose from. In line with the Greek tradition, most of the dishes are designed for sharing, with the seafood options the star of the show. Pair your meal with one of the many types of ouzo on offer, and you'll be sure to have a memorable evening.
The restaurant itself is housed in the old Pitt Street site that was once home to celebrity chef Jamie Oliver's eponymous restaurant and in many places, you can still see the Naked Chef's influence. Owners Jim Kospetas and Steve Anastasiou have taken the venue and elevated M.I.M – an acronym for Made in Mykonos – into a modern marvel, littered with some interesting multi-modal touches that hark back to the Greek island. In the dining room, you'll find murals of the Acropolis and a massive screen that plays classic Greek films from the 20th century.
What we like: Good mix of traditional and innovative Greek food
What we don't like: Portion sizes can be small
Address: 107 Pitt St, Sydney
Hours: Tuesday – Friday 12 pm – 3 pm/ 5.30 pm – 10 pm, Saturday 5.30 pm – 10.30 pm
Contact: (02) 8080 7070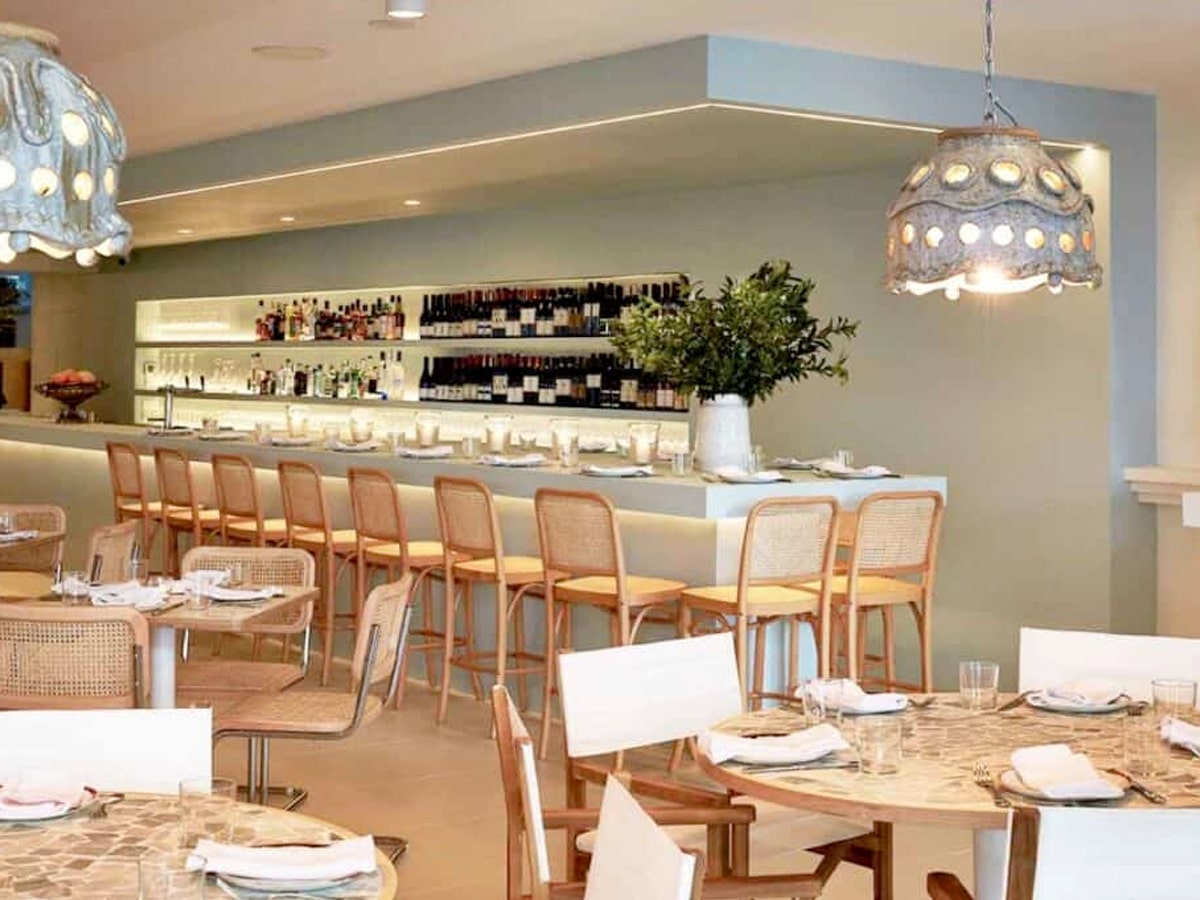 5. Topikós
One of the best restaurants in Sydney for modern Greek dining, Topikós is a seamless marriage of traditional Greek fare with a subtle Australian influence. Arriving courtesy of the makers of Shell House and The Dolphin, the venue is a vibrant explosion of light blue hues and white-washed walls, elevated by some beautiful fixtures and fittings. On the outside, Topikós feels like a casual diner, but the moment the food arrives, you realise there is so much more going on behind the scenes.
Culinary director Joel Bickford has managed to create a menu that dives deep into the boldest Greek flavours, offering one of the best meze offerings in Sydney. On the menu, you will find a long list of meze, woodfired meats and seafood and some seriously delicious homemade pita, accompanied by a wine list showcasing a mixture of Greek, Italian, French and local Australian winemakers. Think octopus skewers, taramasalata and prawns dripping in chilli-garlic butter and feta. Unreal.
What we like: Light interior and relaxed vibe
What we don't like: Not many vegetarian options
Address: 180 Campbell Parade, Bondi Beach
Hours: Wednesday – Friday 5 pm – 12 am, Saturday 12 pm – 12 am, Sunday 12 pm – 11 pm
Contact: (02) 9132 5777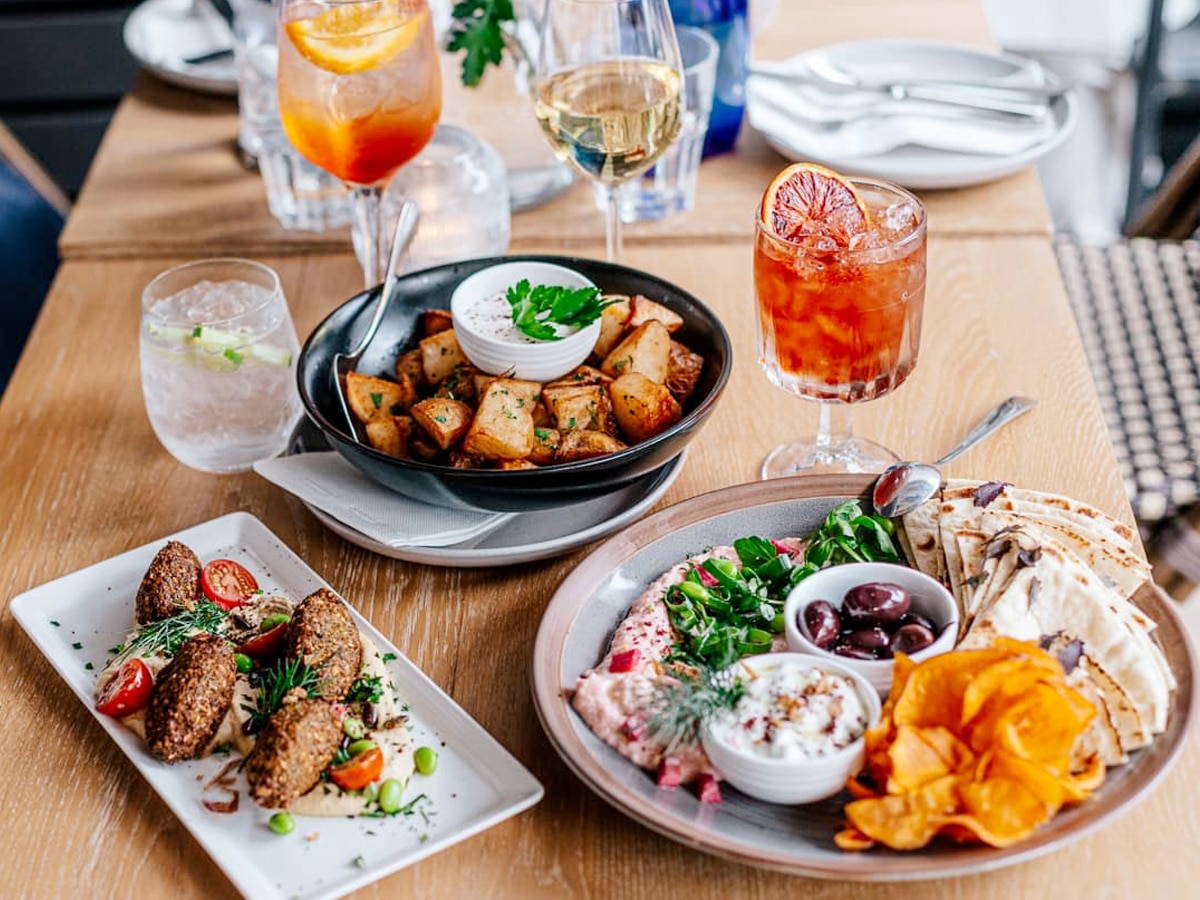 6. Ahgora
This Glebe institution offers a breath of fresh, Mediterranean air in Sydney's inner west. With an intimate dining room and leafy outdoor area, the menu is based on traditional Mediterranean food and has been revisited with modern techniques. They offer a brunch menu full of falafel and halloumi as well as a bottomless brunch for $75pp. If you're here for dinner, we can't go past the baked eggplant with cashew cheese, herb crumb and roasted walnuts.
What we like: Lots of vegetarian and vegan options
What we don't like: Lacking in atmosphere
Address: 172 St Johns Rd, Glebe
Hours: Wednesday – Friday 10 am – 2.30 pm/ 5.30 pm – 10.30 pm, Saturday 8.30 am – 2.30 pm/ 5.30 – 10.30 pm, Sunday 8.30 am – 2.30 pm/ 5.30 – 9 pm
Contact: 0451 597 846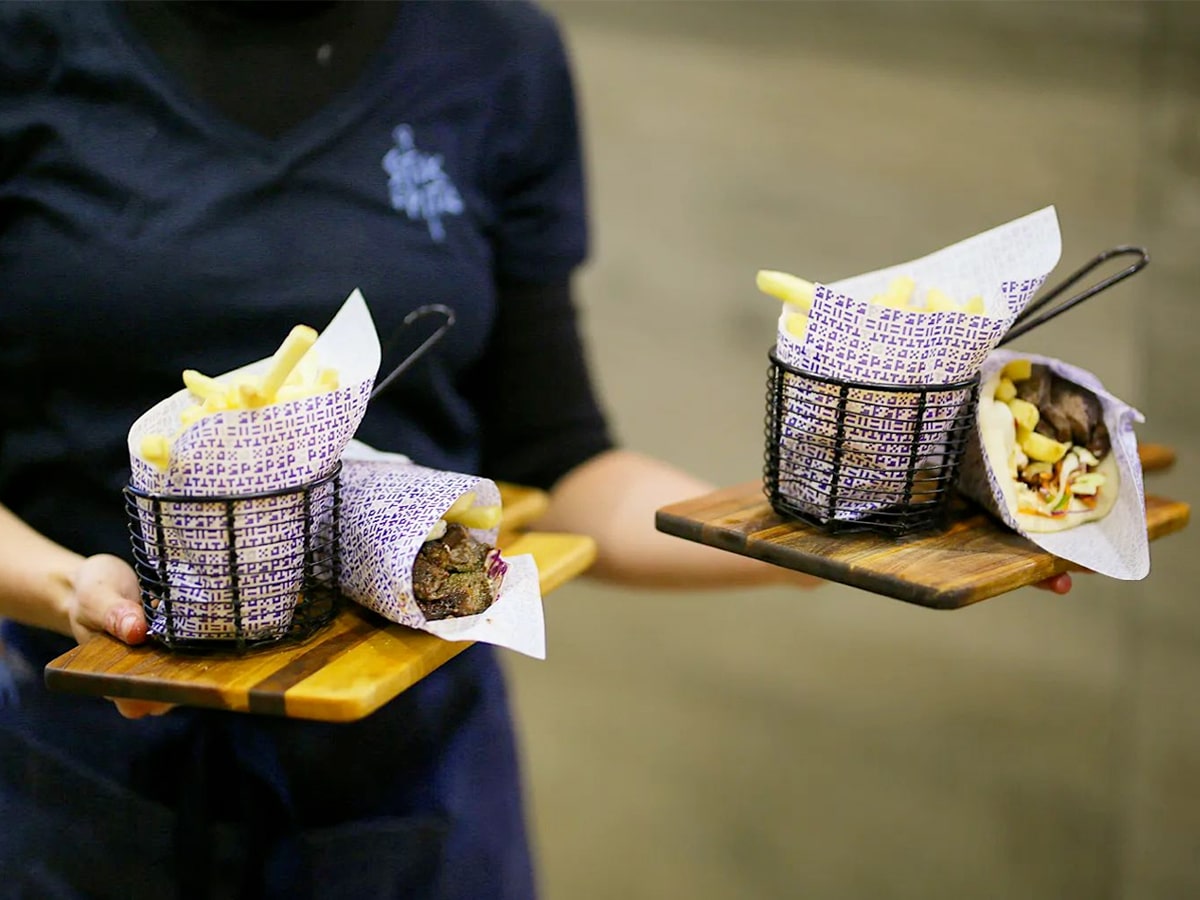 7. Stix and Pita
Best for: Take-Away
Greek street food with an Aussie twist, Stix and Pita is a welcome addition to the vibrant streets of Enmore. Serving up everything from daily made oh-so-fluffy pita wraps, burgers and of course, gyros! Even better, all the ingredients are sustainable and sourced from nearby businesses. Perfect for when you feel like a casual, but just as delicious, Greek feed.
What we like: Affordable and take-away friendly
What we don't like: Only open in the evenings
Address: 216 Enmore Rd, Enmore
Hours: Wednesday – Thursday 5 pm – 8.30 pm, Friday 5 pm – 9 pm, Saturday 4 pm – 9 pm, Sunday 4 pm – 8.30 pm
Contact: (02) 9516 1222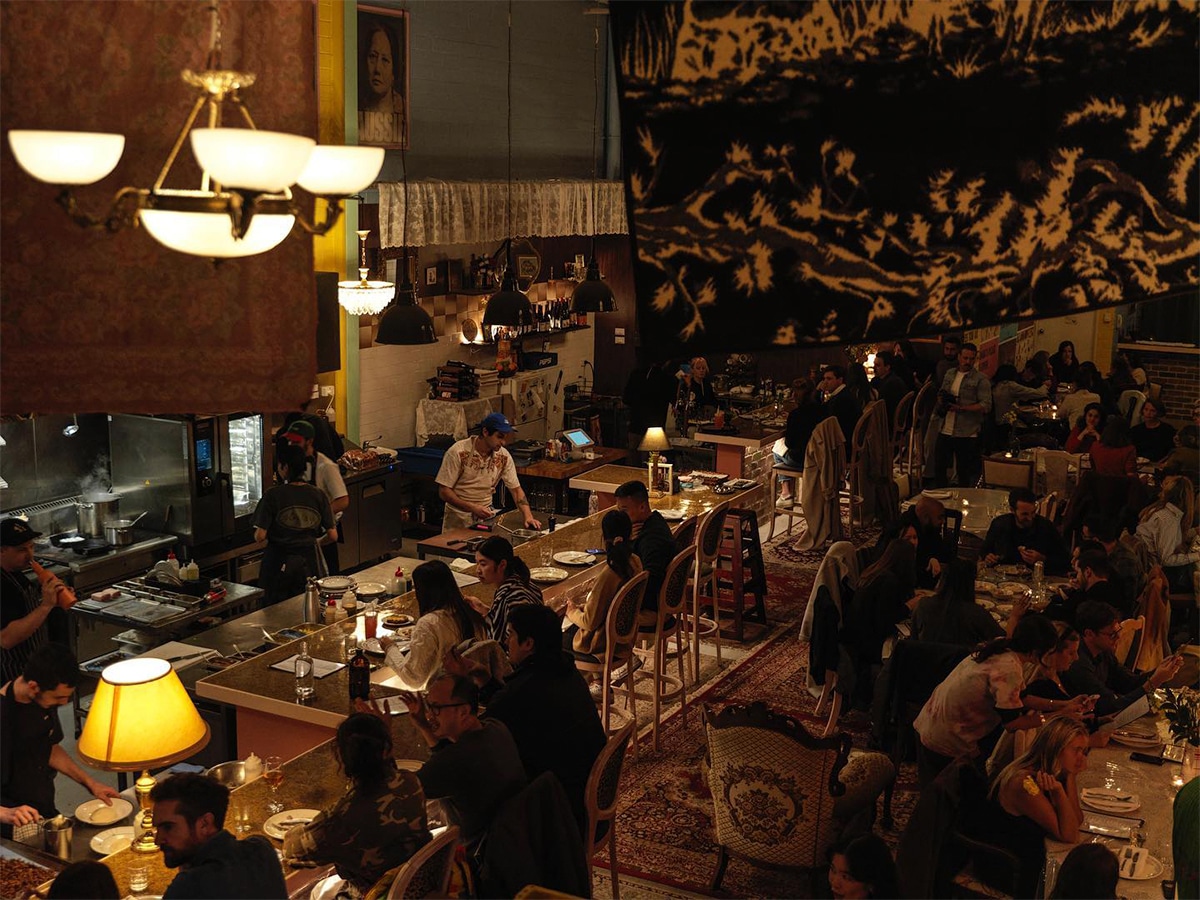 8. Baba's Place
It's no secret Marrickville is the coolest place on earth (seriously, look it up) but, somehow we're still managing to find hole-in-the-wall hotspots that haven't yet been taken over by the general public. Baba's Place is definitely one of these. Located just off the beaten track in a warehouse that reeks of rustic charm, this Sydney restaurant is unlike any other, but that's precisely the point. It's a bit of a mish-mash of different cuisines, so while it's probably the only spot on this list that isn't strictly Greek food, you can expect to find some family favourites here, along with Lebanese and Macedonian delights that are seriously impressive. According to owners Alex Kelly and Jean Paul El Tom, the whole idea of Baba's Place is to celebrate the uniting power of food, which has helped to bridge so many cultural divides, particularly in Western Sydney.
Emerging from a lockdown-forced takeaway explosion, Baba's Place has amassed a cult-like following and there are no surprises as to why. The food is exploded with rich flavours and the bold takes on iconic dishes make for an Instagrammable night out. From bouillabaisse bolognese to whole fried fish with taratour, there's a little something for everyone and we absolutely love it. Best for sharing plates, drinking too much wine and shouting stories at your friends over the dinner table, Baba's Place is exactly what you'd expect from a Marrickville institution.
Service options: Dine-in · Kerbside pickup · Delivery
Address: 20 Sloane St, Marrickville NSW 2204
Hours: Thurs-Fri: 6pm-12am, Sat: 12pm-4pm, 6pm-12am, Sun: 12pm-4pm
Phone: (02) 9090 2925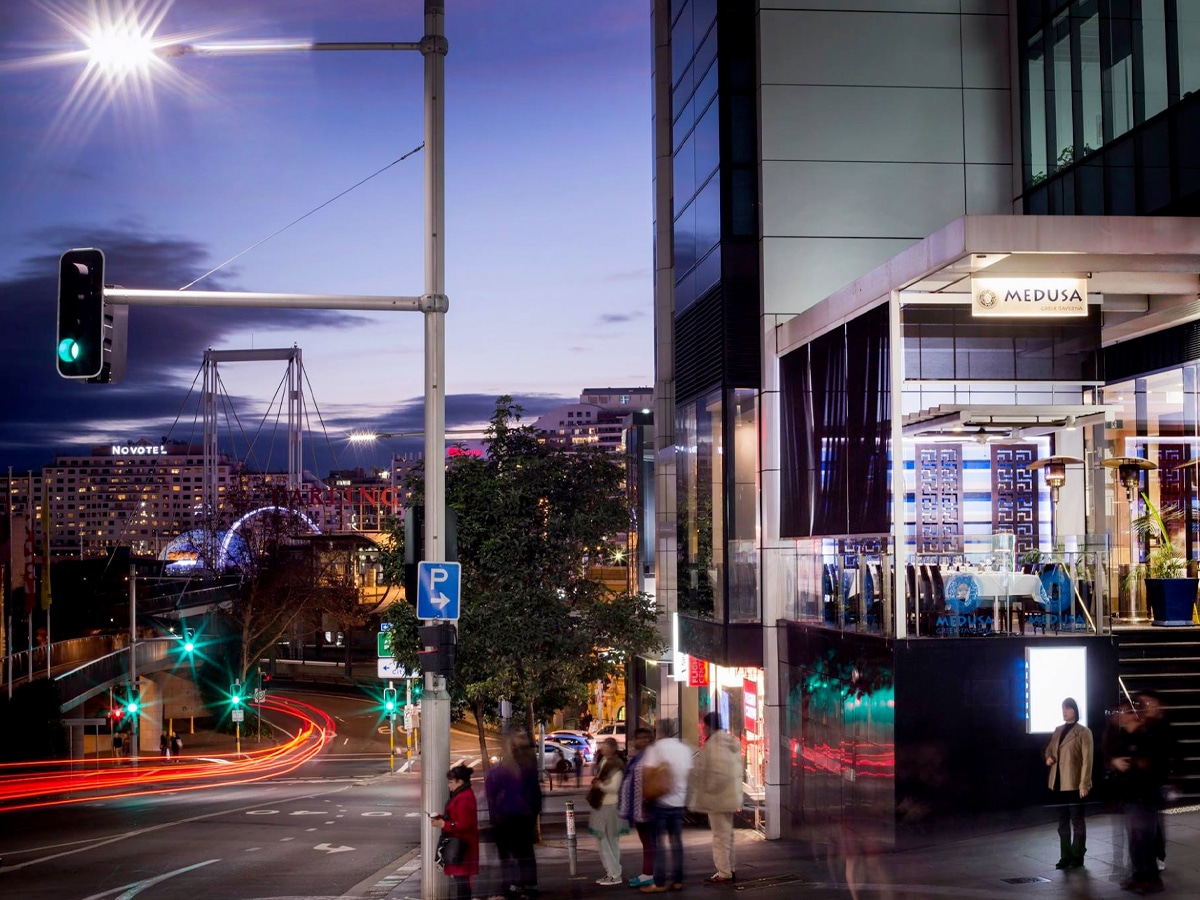 9. Medusa Greek Taverna
Open for breakfast, lunch and dinner, Medusa Greek Taverna is the perfect pitstop for city-goers looking for a delicious, authentic Greek meal. Located in the CBD, the restaurant serves up Greek street food and just about everything on the menu is handmade, so you really can't go wrong. Considering the venue has been open for decades, you can expect to see a few dated things on the menu and the walls, but it all adds tot he charm. There's something very wholesome about Medusa Greek Taverna that feels almost homely in a way.
What we like: Great, central location
What we don't like: Limited vegetarian options
Address: 2 Market St, Sydney
Hours: Monday – Friday 12 pm – 2.30 pm/ 5.30 pm – 9.30 pm, Saturday 6 pm – 10 pm
Contact: (02) 9267 0799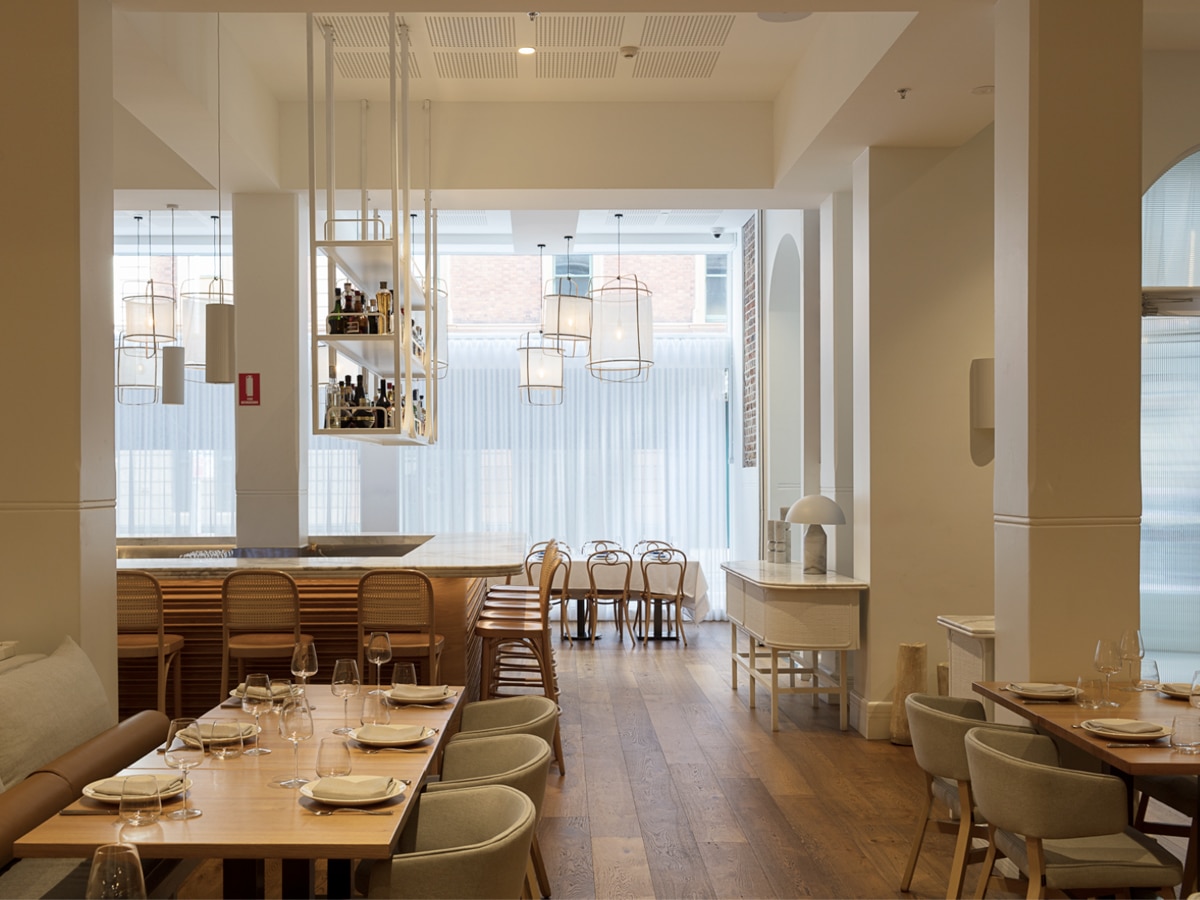 10. Alpha
Best for: Fine Dining
Alpha is one of the best Greek restaurants in Sydney with a colourful history to back it up. Modern Greek diner Alpha was originally funded by the Hellenic Club, a meeting place for celebrating and continuing Greek culture in a new country. Now, with an open kitchen serving up traditional Greek eats and a bar menu offering Osetra caviar, it's the ideal place to unwind and enjoy good food with good company. Our tip? Try the kokoretsi.
What we like: Friendly service
Address: 238 Castlereagh St, Sydney
Hours: Tuesday 6 pm – 11 pm, Wednesday – Friday 12 pm – 3 pm/ 6 pm – 11 pm, Saturday 5 pm – 11 pm
Contact: (02) 9098 1111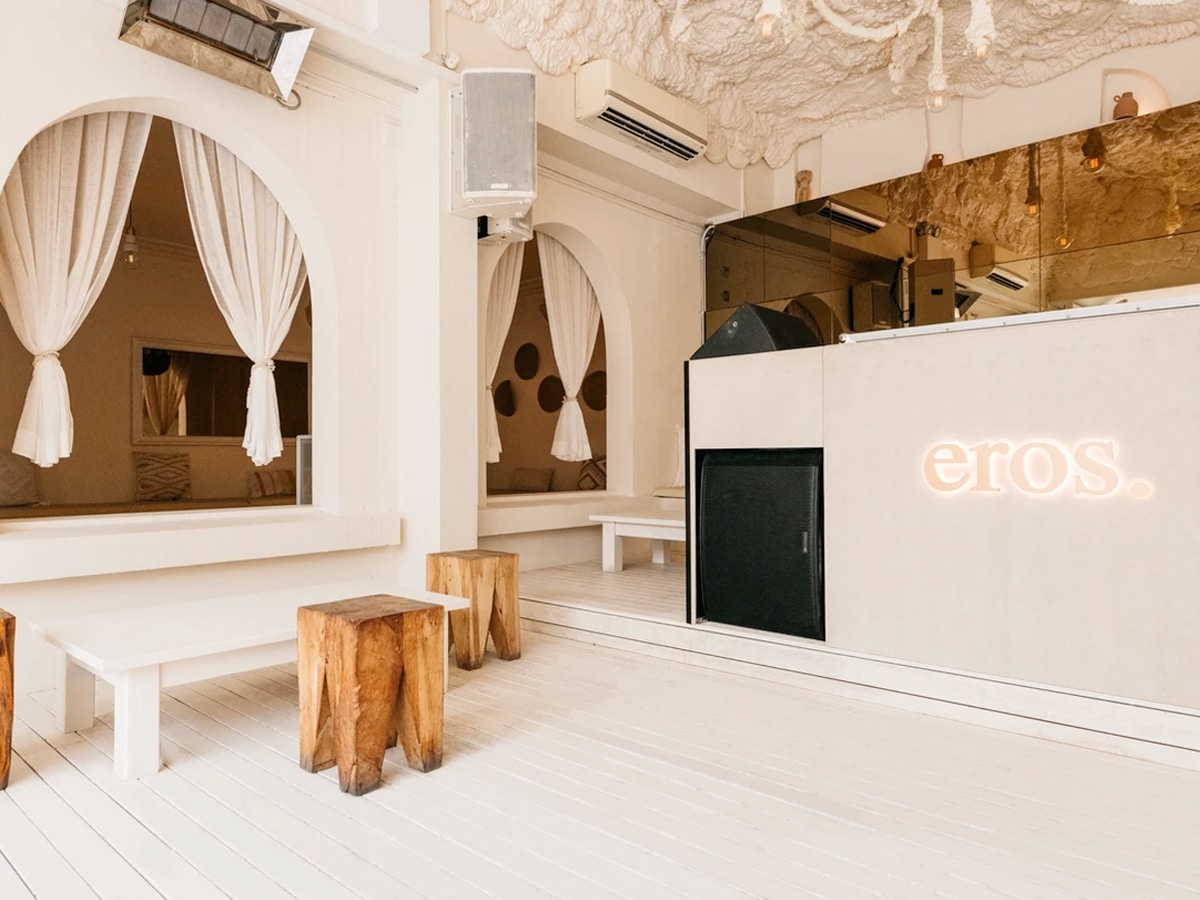 11. EROS
Best for: Drinks
When EROS opened in early 2022, Sydneysiders were thrilled to see the stunning new venue rise from the ashes of the Potts Point strip. Needless to say, the hotspot was pumping from day one, littered with a bevy of beautiful influencers and celebrities keen to get their hands on what the former Bayswater Brasserie was dishing up. Best suited for those looking for a drinking experience rather than a foodie stop, EROS mirrors the Mykonos aesthetic, offering meze, playful cocktails and bottle service.
According to the venue, it's styled after famed nightclub Scorpio's in Mykonos and features an interior complete with white-washed walls, black cut outs and a wax-drip ceiling. The menu features authentic Greek street-style food, with halloumi, dips and mezze all up for grabs, mouth-watering cocktails, as well as DJs on Friday and Saturday nights. Unfortunately, this influencer hotspot is a little more on the exclusive side, so it doesn't exactly make an ideal date night or romantic couple adventure. Part nightclub, part bar – EROS is a pumping addition to Sydney's Greek scene, just don't try to get in if you've got tattoos. As the reviews will tell you, the security isn't as welcoming as the colourful food and drinks pictures may suggest.
What we like: Fun, lively vibes
What we don't like: Designed for the influencers, the security is a little too strict
Address: 32 Bayswater Rd, Potts Point
Hours: Wednesday – Thursday 5 pm – 10 pm, Friday 5 pm – 1 am, Saturday 12 pm – 1 am, Sunday 2 pm – 10 pm
Contact: 0431 788 738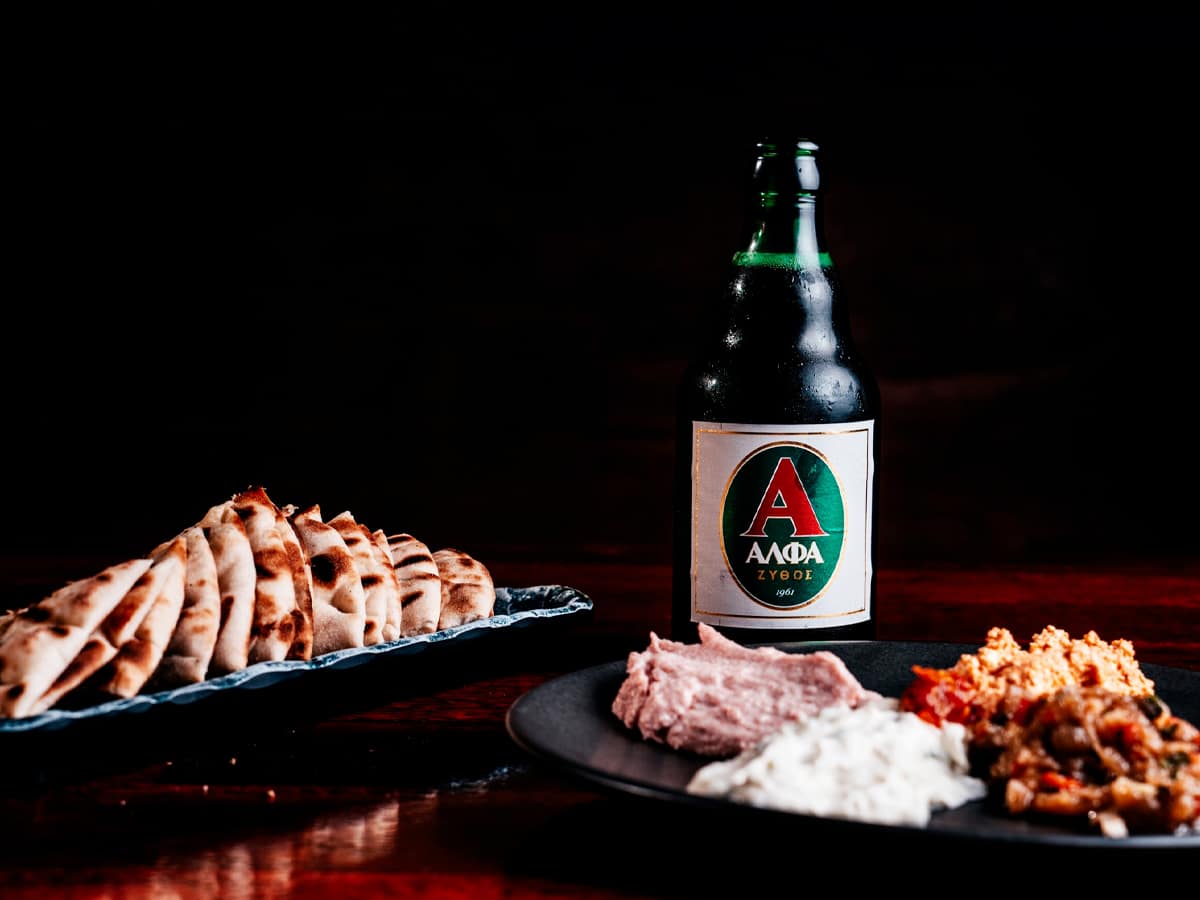 12. Koutouki
A meeting place of Greek food, culture, music and dancing can be found at Koutouki, making it one of the best Greek restaurants in Sydney for Greek natives. Located in the heart of Leichhardt, a dinner here will always be a memorable one. Try the meze set menu if you feel like going all out!
Address: 138 Norton St, Leichhardt
Hours: Wednesday – Thursday 5.30 pm – 10 pm, Friday – Saturday 5.30 pm – 12 am, Sunday 12 pm 3.30 pm/ 5.30 pm – 10.30 pm
Contact: 0437 864 493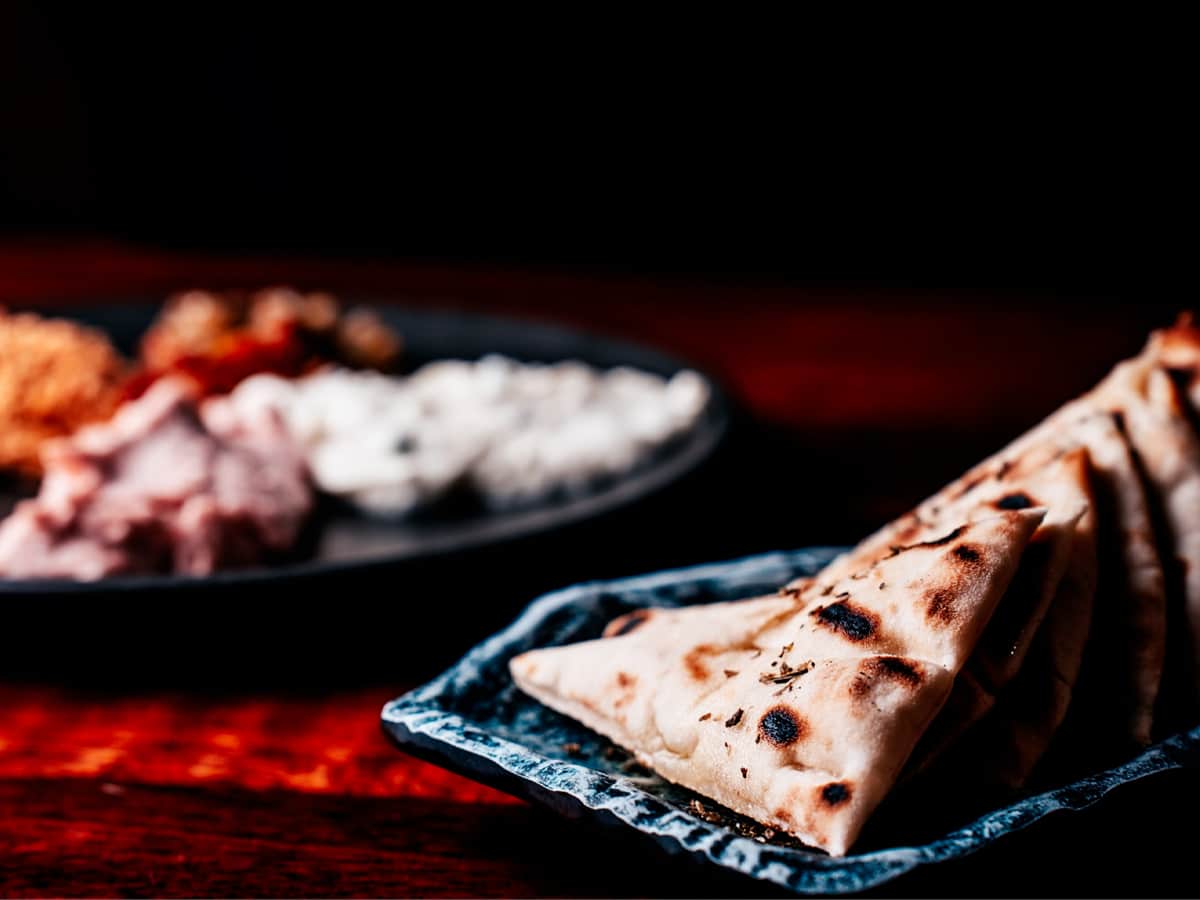 How We Chose This List of Best Greek Restaurants
This list was compiled through personal experience and online research, plus through commentary from food critics and expert restaurant reviews. We only looked at restaurants with a rating of 4.0/5 on Google Reviews and took into account the major gripes and positives from the public. We also studied a series of reviews from prominent critics and online publications such as Australian Good Food Guide, allowing us to cull it down to the Best Greek Restaurants in Sydney.
Things to Consider for Sydney Greek Restaurants
Ambience — Consider whether like a buzzing and pulsing restaurant experience, or something more intimate and quiet
BYO – Can you bring your own booze? And is there a corkage fee?
Vegetarian options – Greek restaurants aren't always the most vego-friendly, so it's best to check the website before you go to avoid disappointment
Price – Greek food ranges a lot in terms of precise range designing on the style of restaurant and type of menu, so it's important to think about how much dosh you're willing to spend, or not.
Alternatives to Greek Food in Sydney
If you don't feel like Greek food, why not check out our rundown on the best steakhouses, Italian restaurants, burger joints and Asian fusion restaurants in Sydney?
Types of Greek Food
A country built around a vibrant dining culture, Greece is home to some of the world's best-loved foods, and for good reason. Similar to many of its Mediterranean neighbours, Greek food is founded on the triad of wheat, olive oil and wine, with a healthy dose of vegetables, fish and meat thrown in. A staple diet that has existed for millennia, this rich and fatty assortment of foods has become an internationally recognised symbol of Greek culture. Importantly, this extends well outside the home. In Greece, dining out is seen as a way of life, with the streets littered with tavernas and meze bars dishing out small plates and charcoal grilled meat by the handful.
Typical ingredients
Most common greek food can be characterised by one important ingredient – olive oil. Used in most dishes, this rich, fatty substance has remained a core element in Greek cuisine for centuries, due to its steady supply and honed natural climate. Olive oil used in Greece is generally produced from trees grown locally, giving a more robust and earthy taste than some other regional producers.
Climate also plays a pivotal role in Greek cuisine, with the region best suited for goat and sheep breeding, rather than cattle. Similarly, the country's proximity to the water means a number of key dishes are built around protein sources such as fish, octopus and mussels. With almost all Greek dishes, you will see some kind of bread, generally served with a rich assortment of dips, heavy on garlic, onion, dill and oregano. Of course, the most popular is Tzatziki, a sauce made of salted strained yogurt or diluted yogurt mixed with cucumbers, garlic, salt and olive oil.
Classic Greek Foods
In Greek cuisine, you're likely to see a number of common foods pop up. While the westernised version of Greek food differs slightly from the traditional fare, the cuisine remarkably hasn't changed that much over the past few centuries. Whether you find yourself in Mykonos or you're walking the streets of Surry Hills, you'll be able to score some classic Greek food year-round. Staples include:
Kotopita – A chicken pie wrapped in filo pastry and baked until crispy.
Pita – A round flatbread baked from wheat flour, common in the Mediterranean, Middle East, and neighboring areas. It is generally served with all meals.
Moussaka – An eggplant- or potato-based dish, often including ground meat. Though it was originally created in the Balkans and the Middle East, the Greek variant was created in the 1920s by Nikolaos Tselementes and is among the world's most popular iterations.
Amygdalota – A Greek-style chewy almond cookies
Bougatsa – Greek breakfast pastry consisting of either semolina, custard, cheese, or minced meat filling between layers of phyllo
Dolmadakia – Also known as dolmades, these are grape leaves, stuffed with dill, mint, scallions, and tender rice
Tomatokeftedes – Fried tomato balls served as an appetizer on the Greek island of Santorini, and generally Cyclades. The dish is made from crushed or pureed tomatoes fried in oil.
Gyros – Meat cooked on a vertical rotisserie and served wrapped or stuffed in pita bread
Souvlaki – Popular Greek fast food consisting of small pieces of meat and sometimes vegetables grilled on a skewer
Spanikopita – Greek savoury spinach pie that often contains cheese, typically feta.
General FAQs
Why is Greek food popular in Australia?
Greek food is popular in Australia due to a combination of the influence of Greek immigrants, and our similar weather allowing for similar ingredients to be both plentiful and in season.
What is traditional Greek cuisine?
Traditional Greek cuisine is a combination of fresh seafood, dips, cheeses, meats and oil.