11 Best Indian Restaurants in Sydney
Indian food somehow just hits all the right notes no matter what mood you're in, and thankfully Sydney has some of the best Indian restaurants to get your fix. Hungover? Five huge samosas, please. Ravenous? A big bowl of Massaman curry, of course. Just a little peckish? A dosa or garlic naan will fill you up just the right amount.

Apart from the pretty incredible flavour combos, what we love about Indian food the most is it literally caters to everyone – no matter what diet you follow. From gluten-free to vegan, to vegetarian, pescetarian and beyond – Indian is just about the best kind of cuisine when you want to please everyone.
Best of Sydney Indian Restaurants
Best Indian Restaurants in Sydney
If you don't fancy booking a flight to Delhi or Mumbai anytime soon (although you really should FYI), Sydney just so happens to have some of the best Indian restaurants outside of India. What's even better is that Indian in the city is more than just Indian food – you'll often find exciting combos of Sri Lankan, Nepalese, and Bangladeshi fare, too. Yum. Ok, enough typing. Let's get into the list of the best Indian restaurants in Sydney.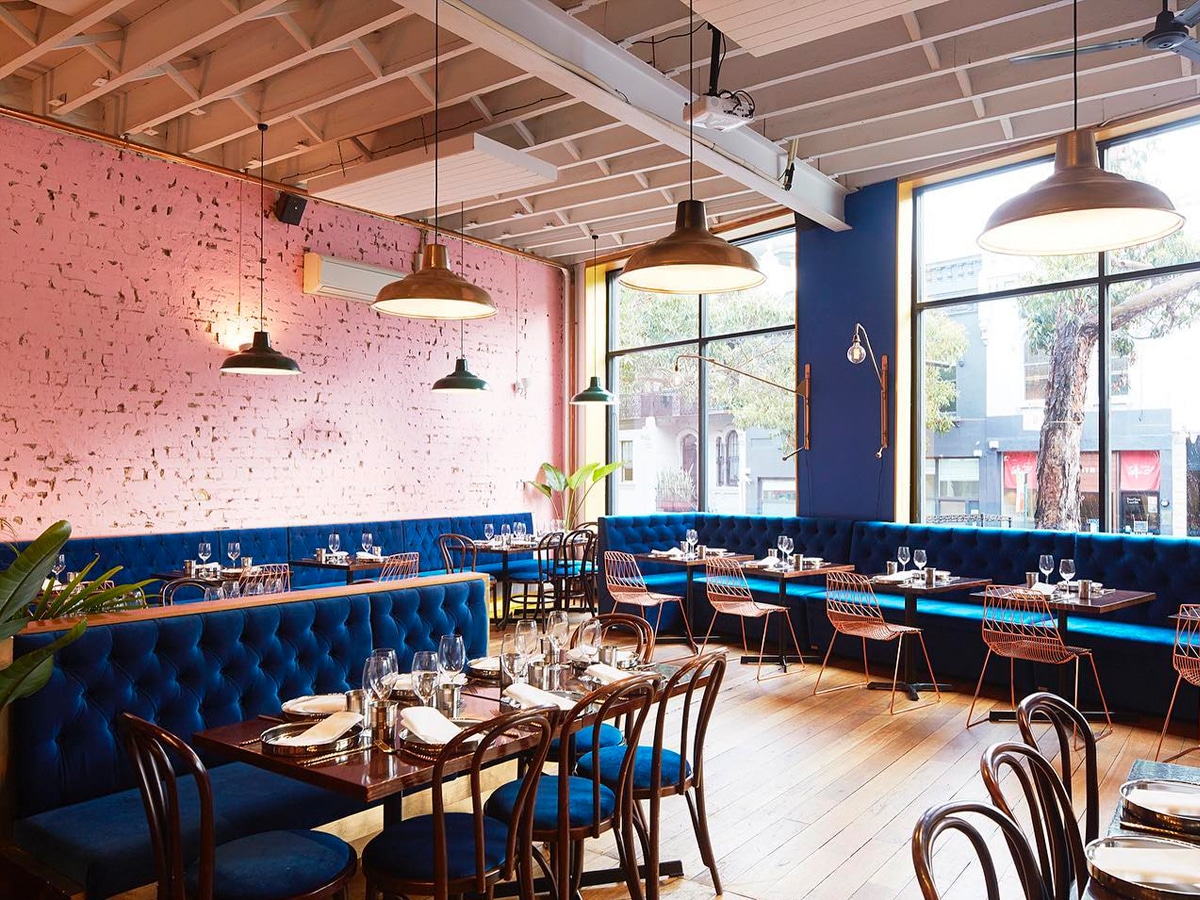 1. Don't Tell Aunty
Looking for self-proclaimed "unauthentic Indian"? Step into the vibrant world of Don't Tell Aunty, Jessi Singh's Bollywood-inspired Indian eatery. The menu is a playful fusion of Indian and international influences. From an Indian twist on nachos to Aussie lamb chops with raita and mint chutney, the dishes are a celebration of flavours from across the globe. The drinks selection is equally impressive, featuring natural-leaning wines curated by sommelier Rajat Parr and lively Bollywood-inspired cocktails.
What We Like: Funky and fun atmosphere!
What We Don't Like: Prices can be a bit steep compared to other Indian restaurants
Address: 414 Bourke St, Surry Hills NSW 2010, Australia
Phone: 02 9331 5399
Hours: Mon-Tues 5.30pm-9.30pm, Wed-Thurs 5.30pm-10.30pm, Fri-Sun 11.30-am-2.30pm and 5.30pm-10pm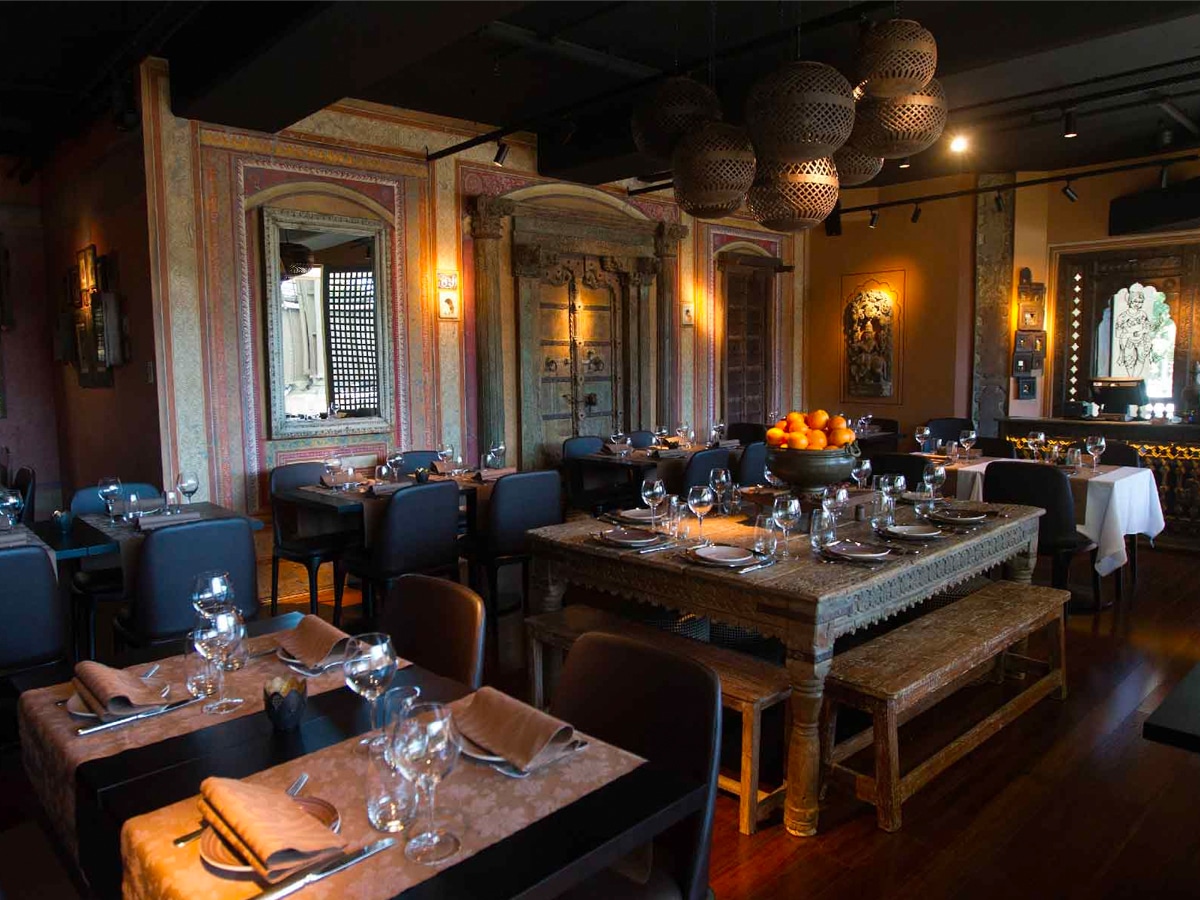 2. The Spice Room
At The Spice Room, prepare for an upmarket Indian dining experience like no other. This isn't your typical curry joint – it takes street food favourites and elevates them to a refined sit-down setting. The menu focuses on the northwest region of India, featuring dishes like fat chilli pakora, to paneer tikka ajwaini, to the house specialty of spiced chicken curry cooked with sesame, chilli, peanuts and tamarind. You can chart your own course through the menu or indulge in the grand emperor's banquet (recommended).
What We Like: Generous serving sizes
What We Don't Like: Service can sometimes be a tad slow during busy hours.
Address: The Quay Building, 2 Phillip St, Sydney NSW 2000
Phone: (02) 9251 9990
Hours: Tues-Sun 12–3pm, 5–10pm; Mon 5-10pm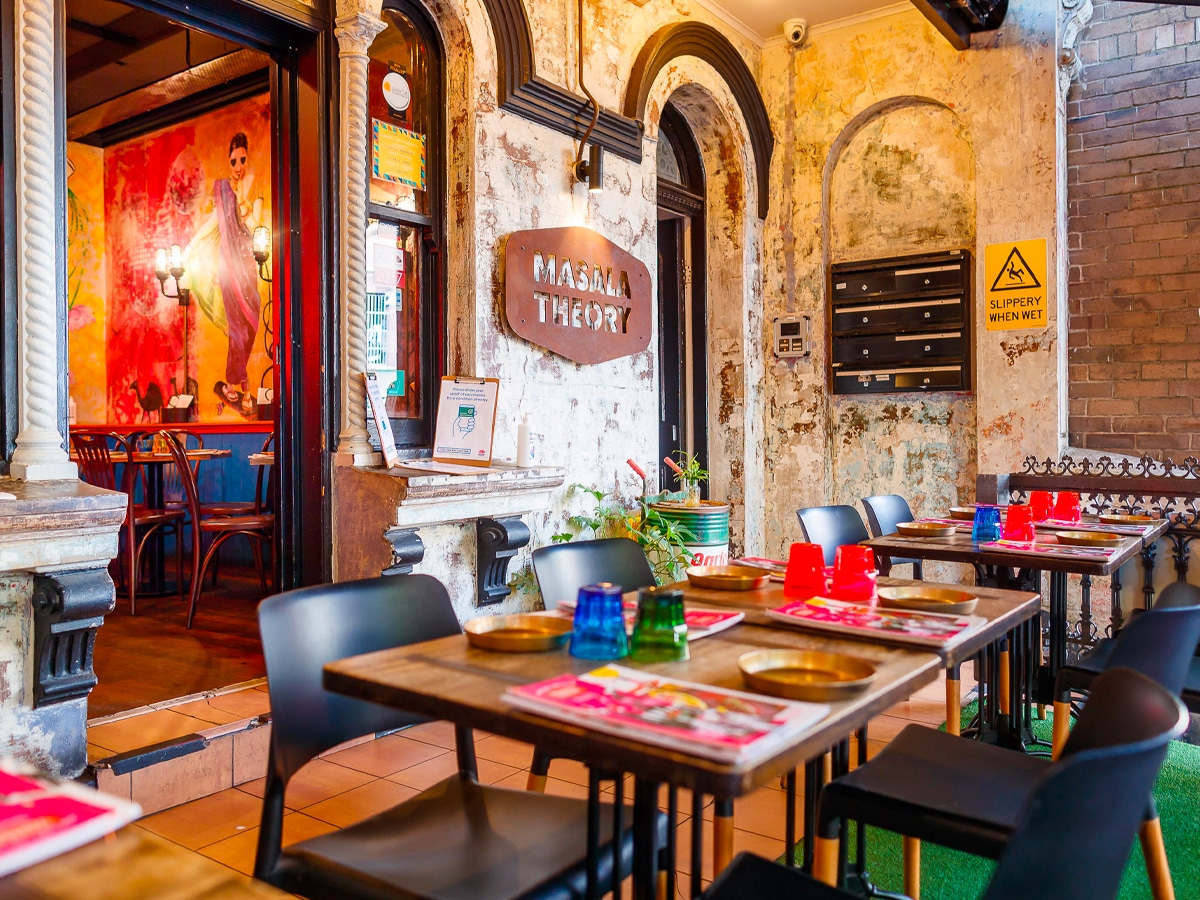 3. Masala Theory
Step into the vibrant Masala Theory on Crown Street, where colours and flavours come to life. With 'neo-Indian' fare like curry bombs and naanza, and classics like butter chicken, there's something for everyone. Vegetarian? Vegan? They've got you covered. Try the meat-less meatballs & aloo bharta with some flaky naan. If you do eat meat, don't miss the Masal Theory fried chicken speciality or sigdiwale seekh lamb kebab.
What We Like: Lots of vegan options
What We Don't Like: The food isn't overly spicy (give us more heat, please!)
Address: 545 Crown St, Surry Hills NSW 2010, Australia
Phone: (02) 9699 9444
Hours: Mon-Thurs 5pm–10pm, Fri 5-10.30pm, Sat-Sun 12pm-10.30pm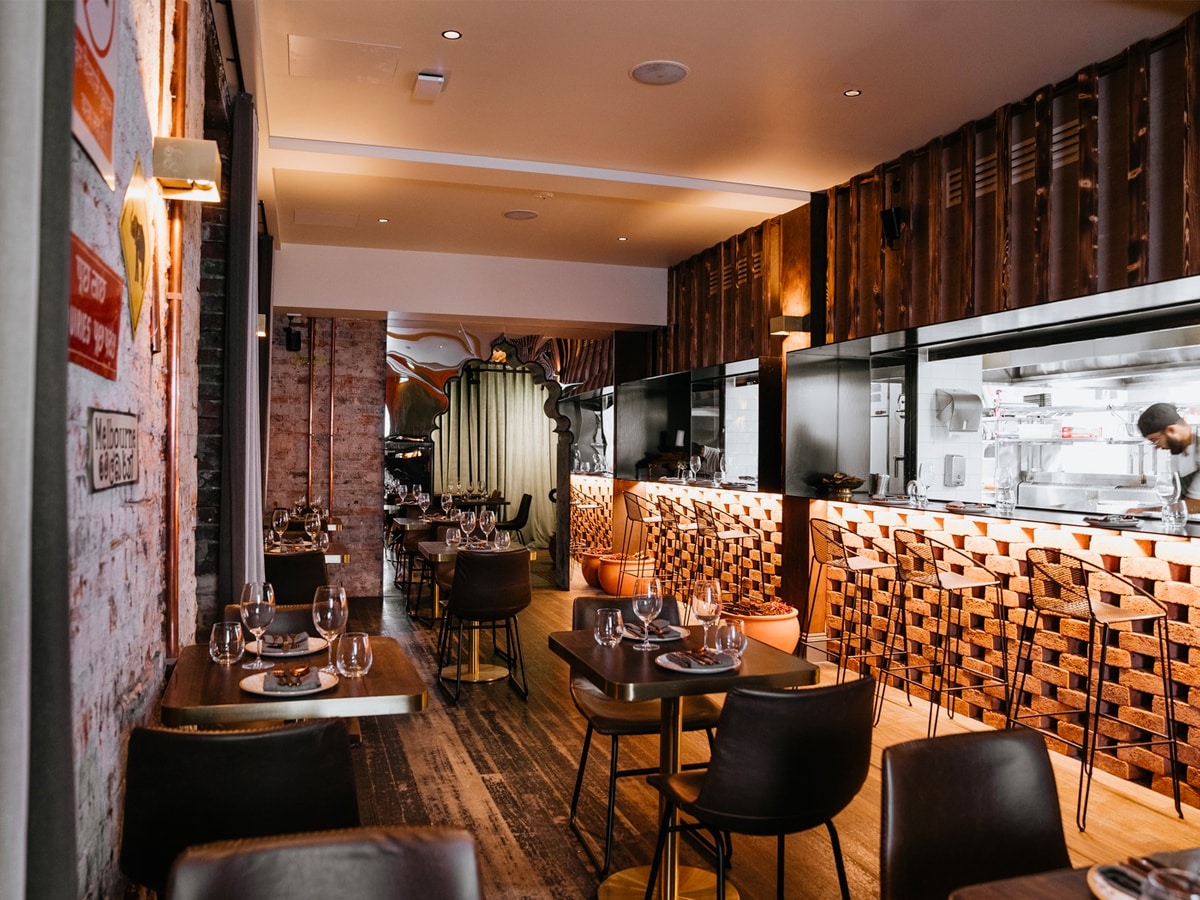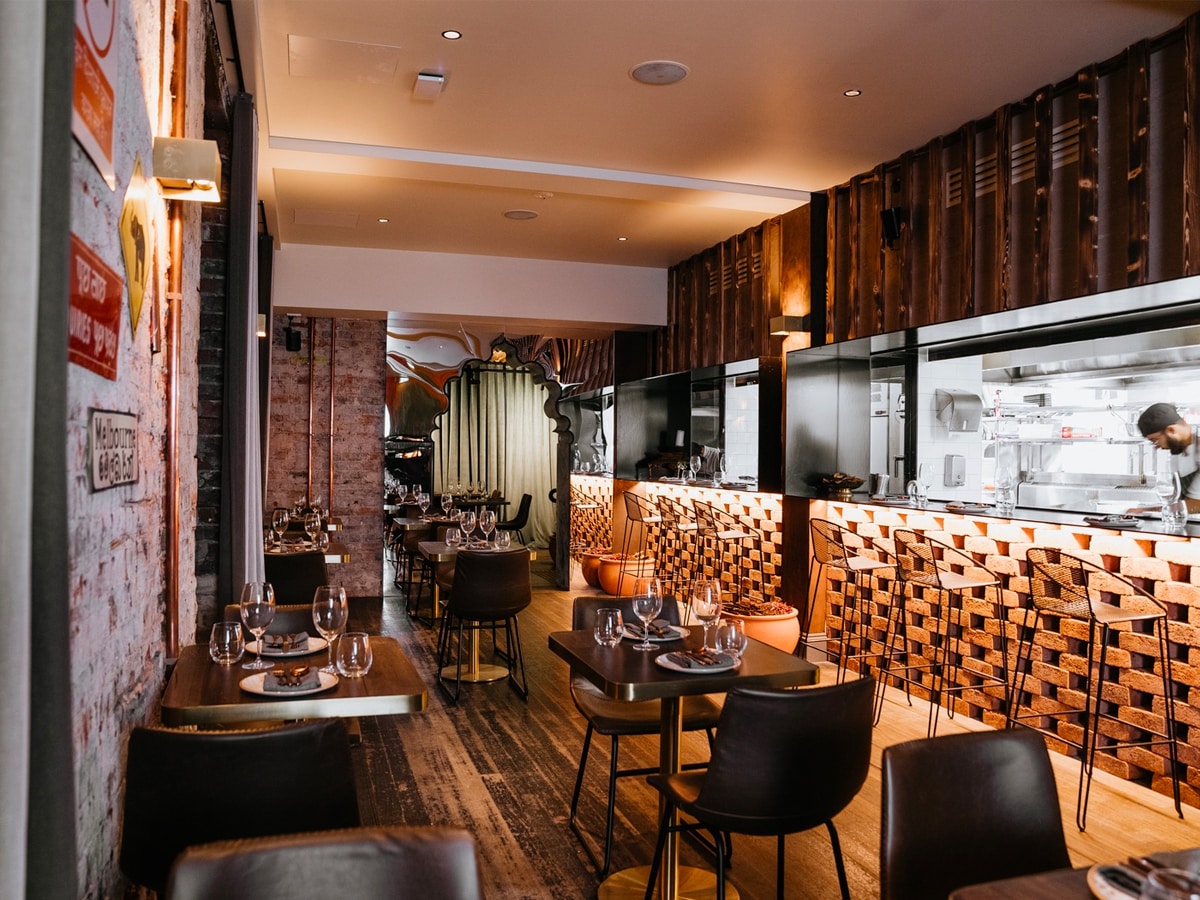 4. Indu
For an underground haven of spices that dives into the lesser-explored coastal regions of southern India, check out Indu in the CBD. The decor is exquisite – the service even more so. The food arrives quickly and at the perfect temperature. The staff are attentive and lovely and have some excellent recommendations if you suffer from choice overload – and there are certainly many choices. From a range of tasty dosas, hoppers, and coconut-based curries, to Goan pork curry and colombo king prawns with ghee and mango pickle – you won't leave hungry. Don't miss out on the homemade breads – the buttery parathas are a must-try.
What We Like: The unique concept of South Indian and Sri Lankan cuisine is a serious winner.
What We Don't Like: Closed on Sunday! Hangover day!
Address: 350 George St, Sydney NSW 2000, Australia
Phone: 02 9223 0158
Hours: 12–3pm, 5:30–10pm (Monday to Sunday)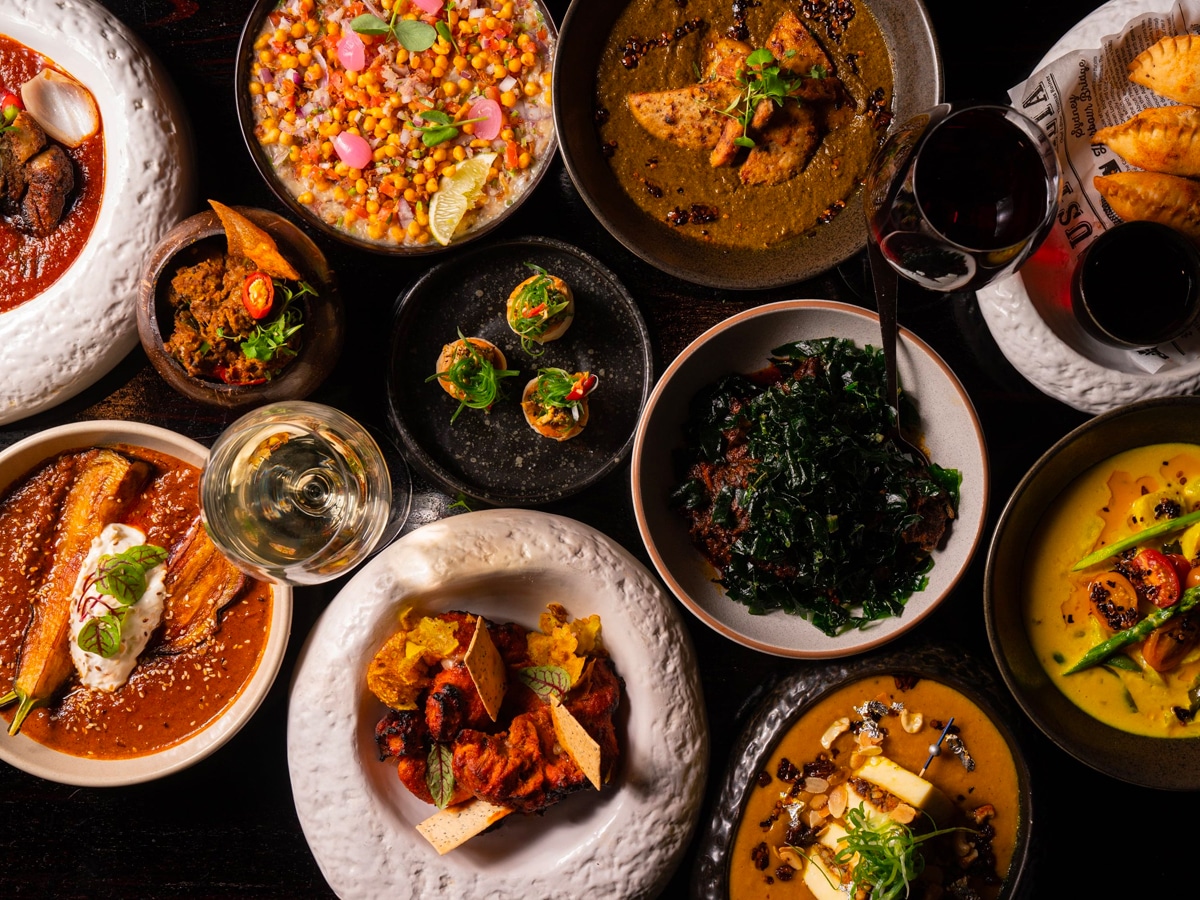 5. Foreign Return
Foreign Return is all about creating good food and good times (and isn't that what life's all about?) Begin your Indian adventure with chakhnas (snacks) like jhal kurmura and crispy masala fries before diving into their signature dishes like Tangra colony chilli prawns and chicken Changezi. We recommend trying something from the "lost recipes" menu (uncommon recipes from far of Indian towns and villages, packed with a heady mix of spices, flavours and memories) such as vari kokaru curry with lamb shank, tribal homemade masala, and fresh coriander.
What We Like: Lots of gluten free and vegan options
What We Don't Like: The cocktails are hit or miss
Address: 527 Crown St, Surry Hills NSW 2010
Phone: (02) 8399 5084
Hours: Mon-Fri 5.30pm-10pm; Sat 12-12.30pm, 5.30-10pm; Sun 12-12.30pm, 5-9pm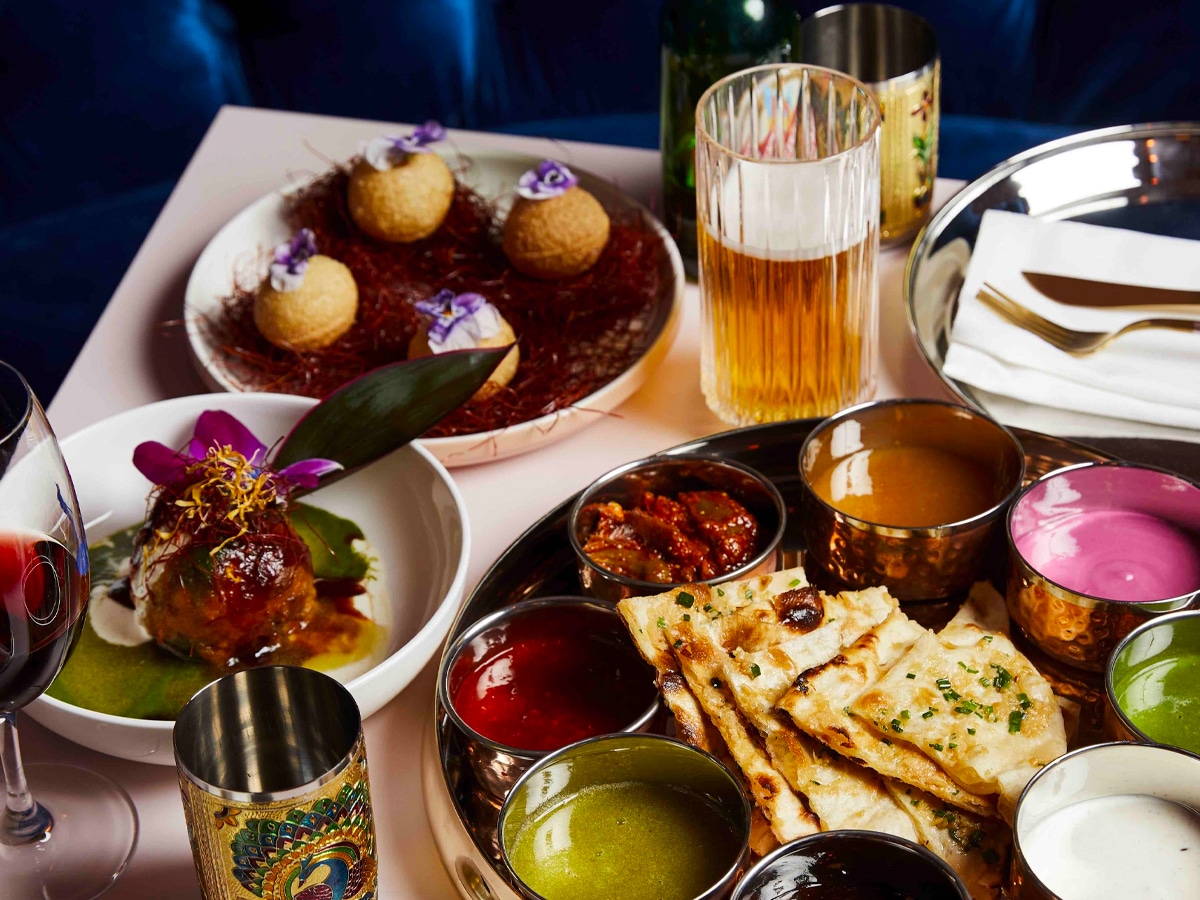 6. Pinky Ji
Located in a funky basement just off lively York Street, Pinky Ji is a vibrant restaurant that transports the lively spirit of Mumbai to Sydney's CBD (so much RED and floral mala garlands– we love it). From chef Jessi Singh (Don't Tell Aunty), Pinky Ji is a completely different experience (but still plays in the "unauthentic Indian" space). With a diverse menu divided into sections like snacks, raw, street, grill, wok, tandoor, and curry, there's something for everyone here. We recommend the unauthentic butter chicken, crispy barramundi or lamb rogan josh (or all three tbh).
What We Like: Playful and fun ambience
What We Don't Like: The restaurant can get a bit crowded during peak hours
Address: 89 York St, Sydney NSW 2000
Phone: (02) 9188 8848
Hours: Mon-Tues 5-10pm; Wed-Sun 12-3pm, 5-10pm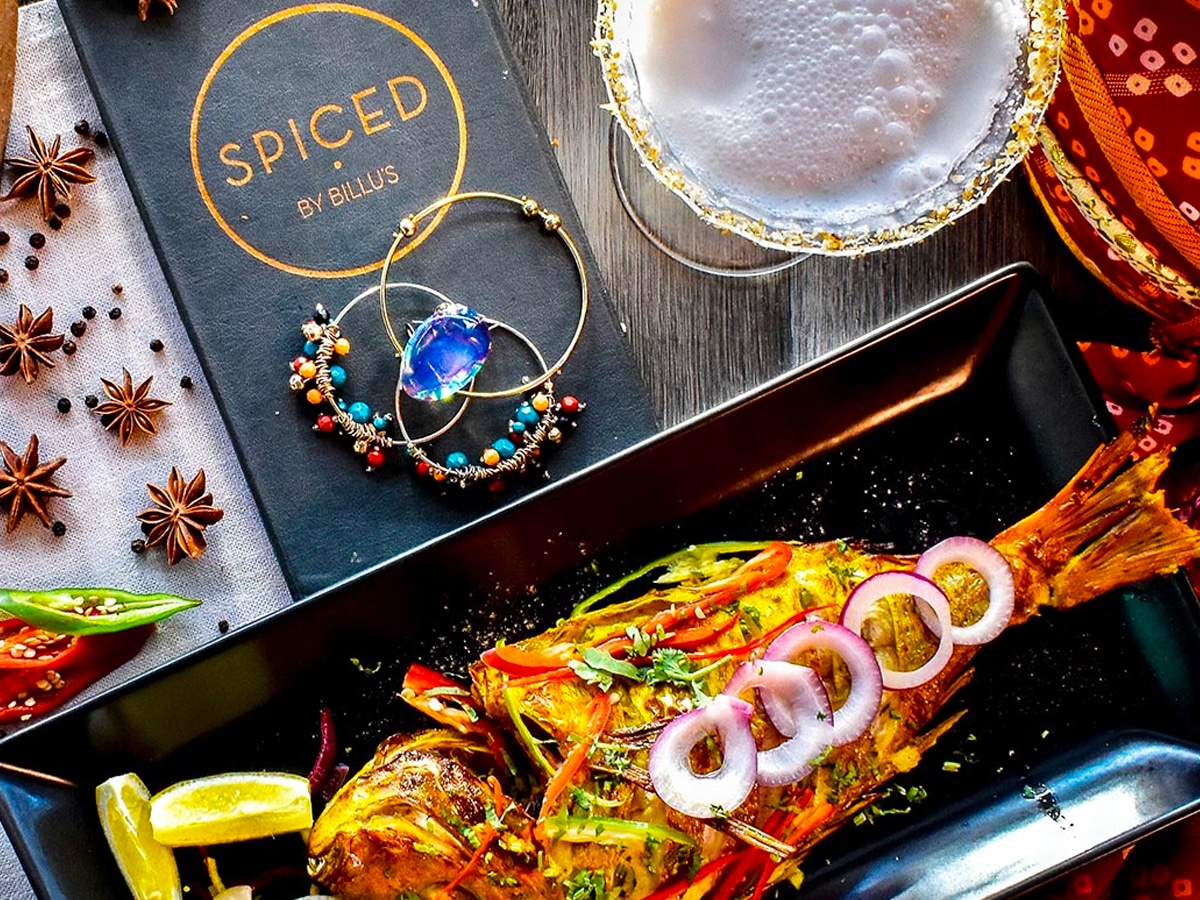 7. Spiced by Billu's
Discover some seriously authentic and vibrant Indian cuisine at Spiced by Billu's in Barangaroo. Following the resounding success of their original eatery in Harris Park, this new CBD establishment provides an upscale dining atmosphere without sacrificing the delicious homestyle Indian dishes they're known for. Don't miss out on their standout offerings, such as the value-packed $69 per person banquet menu, or go ala carte and try the chicken tikka arancini, the nachos bhel (Indian/Mexican fusion oh my word is it good) and the incredible beef vindaloo.
What We Like: Amazing location
What We Don't Like: Serving sizes of some dishes are small
Address: 7/33 Barangaroo Ave, Barangaroo NSW 2000
Phone: (02) 9046 0979
Hours: Tues-Thurs 12–3 pm, 5–9:30 pm; Fri-Sat 12–3 pm, 5–10:30 pm; Sun 1-8.30pm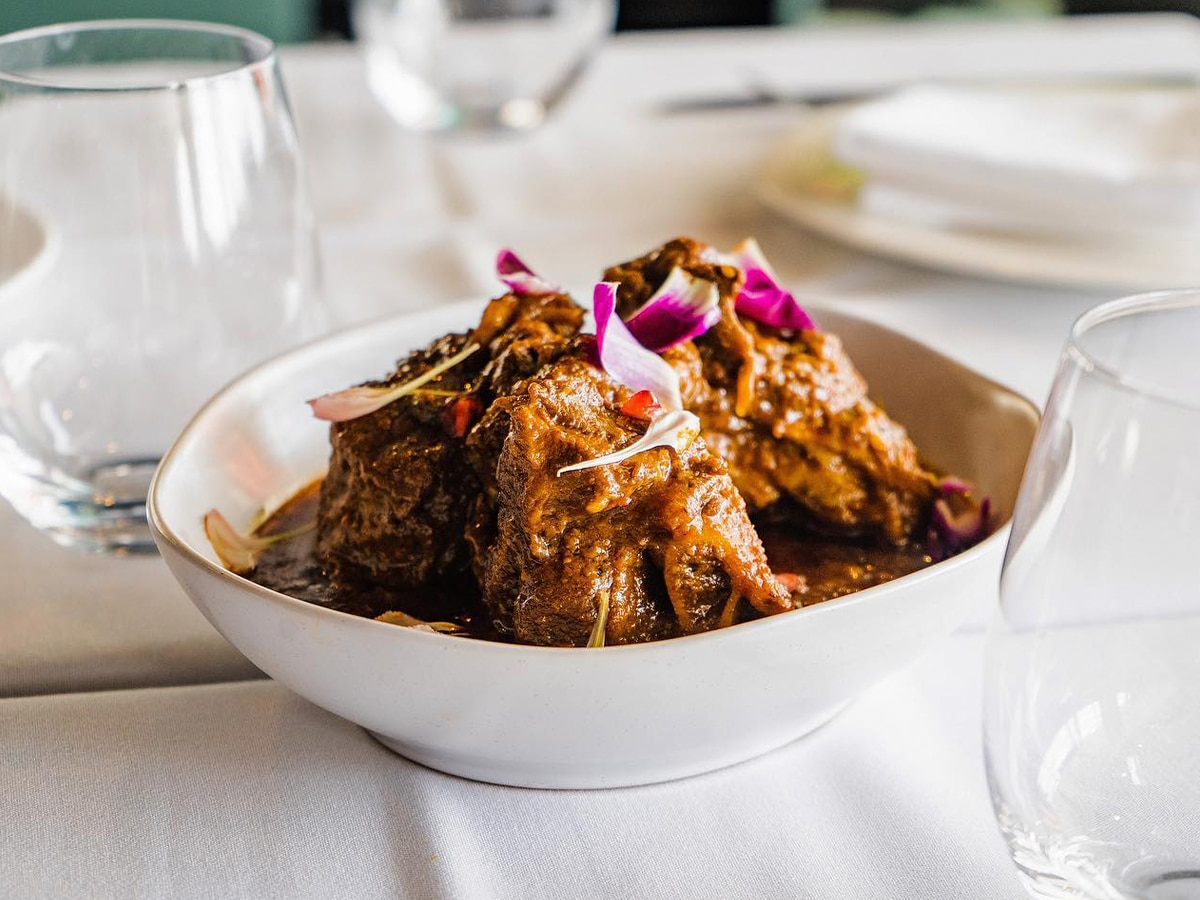 8. Manjit's
Manjit's is certainly a more upmarket Indian experience, situated smack bang in the CBD with beautiful views of Darling Harbour. Elegant yet inviting, don't miss out on the Manjits 1950s butter chicken or the Dhaba goat curry – tender mutton piece cooked in a traditional roadside style gravy of browned onion, ginger, garlic, black cardamom and cassia bark, served on the bone.Pro tip: Monday to Friday you can try the Express Lunch for 34.90pp which is the banquet menu accompanied by naan and rice. You can't beat it!
What We Like: The Express Lunch menu
What We Don't Like: Prices are higher than your average Indian restaurant
Address: 10/49 Lime St, Sydney NSW 2000
Phone: (02) 9279 3379
Hours: Mon-Thurs 12–3 pm, 5:30–10 pm; Fri-Sat 12–3:30 pm, 5:30–10:30 pm; Sun 12-3pm, 5-10pm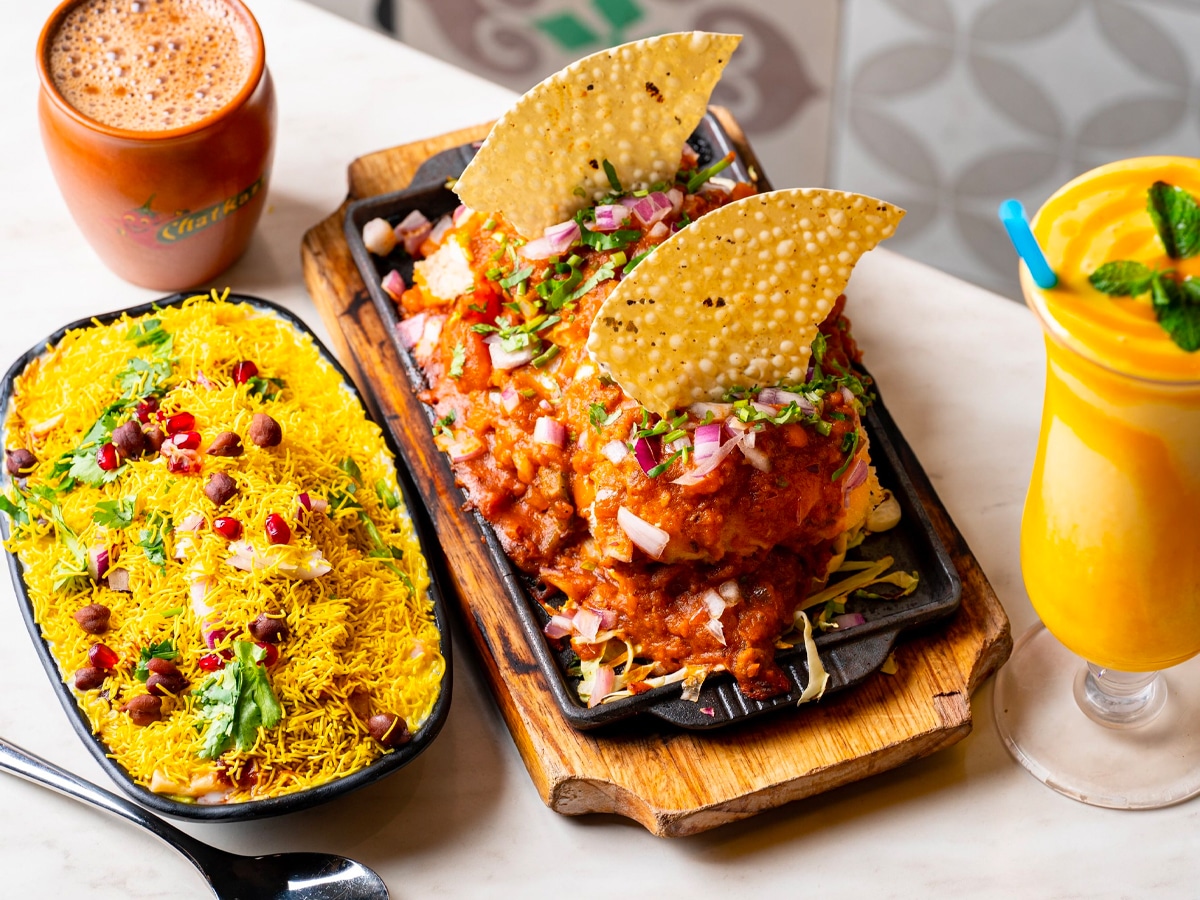 9. Chatkazz Harris Park
With over 6,500 reviews on Google, you know this Chatkazz is a Harris Park Indian restaurant worth paying attention to. With a menu boasting over 200 vegetarian snack options, many of which are unique to Sydney, it's a haven for Indian street food enthusiasts. From classic delights like Bombay style vada pav – a warm buttered roll packed with spicy fried potato balls – to delicate paper-thin dosas stuffed with chilli and cheese, the choices are endless. We'd rate this spot one of the best Indian takeaway spots in Sydney (if not the very best Indian restaurant in Sydney).
What We Like: Open from 9am on weekends!
What We Don't Like: Due to its popularity, it can get crowded during peak hours
Address: Shop 4-6/14/20 Station St E, Harris Park NSW 2150
Phone: (02) 8677 0033
Hours: Mon 5-10pm; Tues-Fri 11am-10pm; Sat-Sun 9am-10pm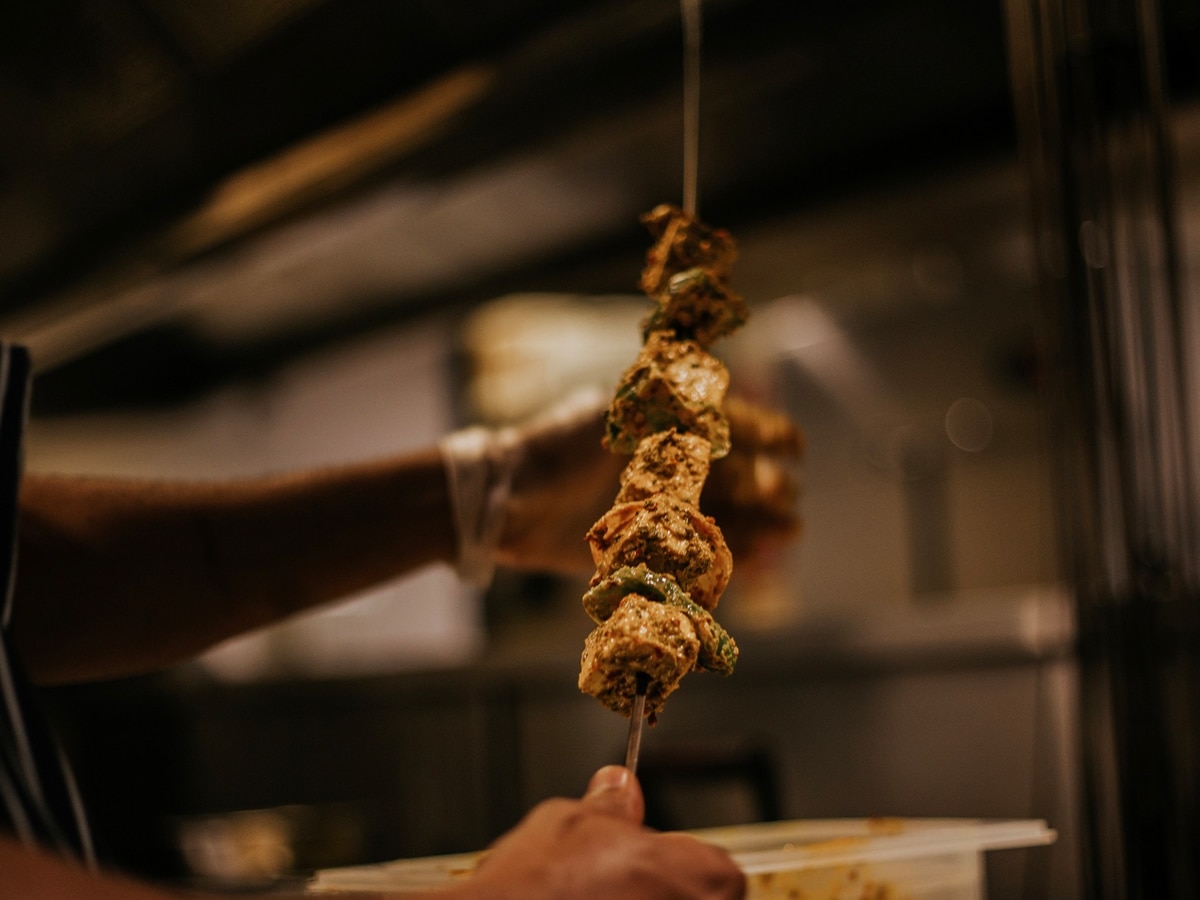 10. Lal Qila Surry Hills
Lal Qila is firmly dedicated to Mughlai cuisine, which traces its origins back to the 400-year reign of the Mughal Empire in India. This dedication is obvious in their extensive menu which uses techniques like charcoal barbecue and clay oven cooking. Their commitment to authenticity is clear – with "no substitutions to fit the neighbourhood tastes." Must-try dishes include the paani poori (rounded, hollow crispy pooris filled with a mixture of tamarind spiced water, sweet chutney, chilli, tangy chaat masala, boiled potatoes, onions and chickpeas) and signature sultani nalli (tender baby lamb shank marinated in aromatic spices and slowly cooked until the meat just falls off the bone.)
What We Like: Some of the best Indian curry in Sydney
What We Don't Like: A bit pricey
Address: 351/353 Cleveland St, Surry Hills NSW 2010
Phone: 1300 525 745
Hours: Mon-Sat 5:30–10:30 pm; Sun 5-10pm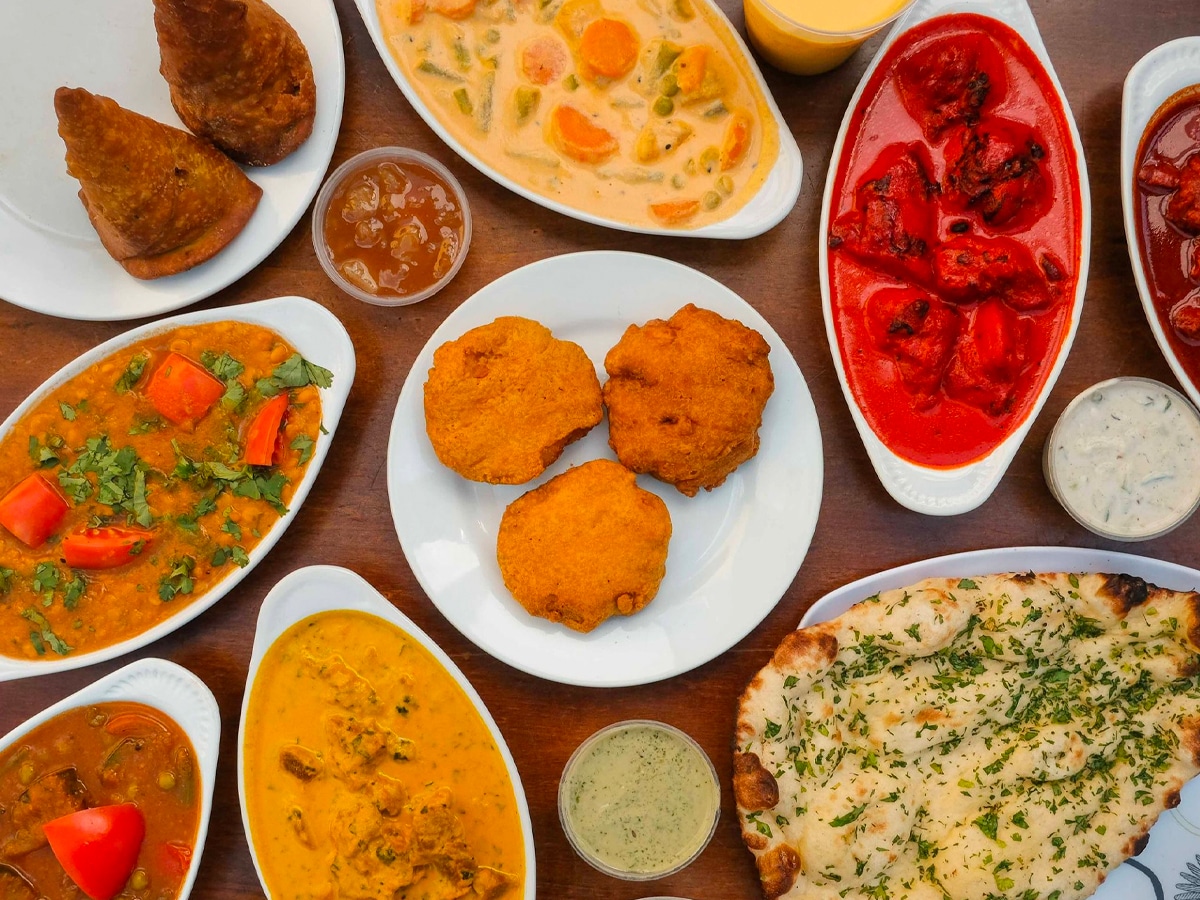 11. Indian Home Diner
For your late-night Indian fix, Indian Home Diner holds a special place in the hearts of Oxford St locals who've tried their Indian kebabs. Despite a modest shopfront, the dishes being served up at this late-night Indian joint are second to none. Start off by choosing your naan and watch as the skilled chefs combine your chosen meat with aloo chop (fried potato) or onion bhaji. Top it off by selecting your curry sauce (options include butter chicken, vindaloo, Rogan Josh, or korma), and enjoy one of the best kebabs you've ever devoured.
What We Like: Best kebabs on Oxford St
What We Don't Like: Since it's a smaller establishment, it can fill up quickly, so consider making a reservation.
Address: 86 Oxford St, Paddington, 2021
Phone: 02 9331 4183
Hours: Tues, Wed, Thurs, Sun 4pm-11pm; Fri-Sat 4pm-2.30am
Things to Consider For Indian Restaurants in Sydney
BYO: Craving a sem sav or maybe even a beer to take the heat off your curry? Check before you go if your restaurant is BYO.
North Indian vs South Indian Cuisine: Did you know there's a pretty big difference in flavours and meal types between North and South India? In North Indian cuisine, you'll find creamy curries (hello, butter chicken) and delicious tandoori. Meanwhile, South Indian cuisine features more tangy flavours and stew-type dishes (like a kick of spice in lentil stew).
Takeaway vs Dine-In: Whether you're in the mood for a cosy night in or a night on the town, Sydney's Indian restaurants typically cater to both dine-in and takeaway preferences. Indian takeaway might also save you a few bucks!
Alternatives to Indian Restaurants in Sydney
If you're looking for other things to do in and around Sydney, we've got you covered with some of the options listed below. You can also check out our list of fun things to do in Sydney. If you're looking for a more specific cuisine, check out our list of burgers or ramen restaurants. If you're full, we can also help you with your search for the best rooftop bars or show you the best Sydney museums.
How We Chose This List of the Best Indian Restaurants in Sydney
With an editorial team full of foodies, Man of Many has had the unique opportunity to directly sample and experience Indian food from the best spots in Sydney. It is also based on our experience, in-depth research and customer reviews of Indian restaurants in Sydney. As expert journalists who guide people between competing products and services, we have provided our independent opinion in formulating our selections. Our editors have taken into account food, service and atmosphere while also making a concerted effort to highlight a few spots outside of the CBD. You can review our editorial policy here surrounding how we maintain our independence in our editorial reviews.
Sydney Indian Restaurant FAQs
What are the best Indian restaurants in Sydney (NSW)?
Finding the best Indian restaurants in Sydney isn't too hard – the city is loaded with delicious Indian bites. From the famously funky Don't Tell Aunty to the more homely ambiance of Indian Home Diner, to the tandoor delights of Manjit's, there's plenty to choose from. 
What is the best Indian takeaway in Sydney?
We'd rate Chatkazz in Harris Park or Indian Home Diner as two of the best Indian takeaway spots in Sydney – the servings are super generous and the curries reheat like a bloody charm. Don't Tell Aunty does some pretty banging Indian takeaway too.