Monday Munchies: February 14 – Restaurant Royalty and Rising Stars
Welcome to another edition of Monday Munchies. We've got a short sweet bite to eat this week with a host of restaurant openings to add to your already long list of places to check out across the country. Sydney's favourite fish cook, Josh Niland, is opening his new restaurant in Waterloo 'Fish Butchery' and there's a serious plate of Wagyu on offer for our friends down in Melbourne. Let's get it started.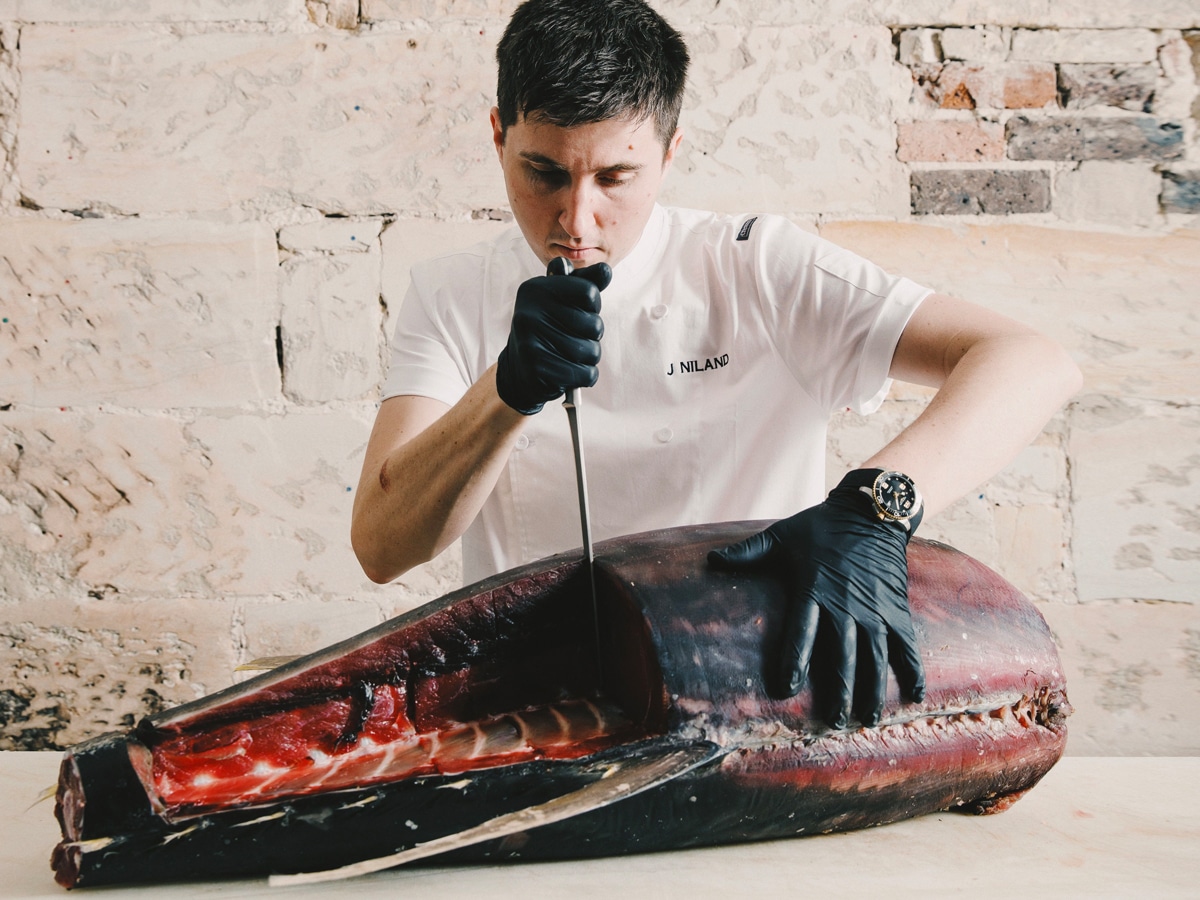 Josh and Julie Niland Open Fish Butchery Waterloo
Josh and Julie Niland of Saint Peter, Charcoal Fish, and Fish Butchery Paddington acclaim have opened their latest venture in Waterloo. Here, customers can watch the Fish Butchery Waterloo kitchens through the floor to ceiling glass windows along Bourke Street. Inside, a long 13-metre marble counter hosts the fish butchers preparing, trimming and cutting to order. The hot kitchen supplies dishes like Murray Cod Souvlaki coming off a vertical kebab cooker and a list of Josh Niland favourites including the Yellowfin Tuna Cheeseburger as a single, double or triple and Fish & Chips.
"Our mission at Fish Butchery is to work with remarkable fish caught and handled by extraordinary fishers that care about the details as much as we do. By being scrupulous in the variables of fish processing, storage & cooking, a more responsible collective approach is achieved, resulting in a higher standard of fish on our plate," said Niland.
"If we insist on continuing to consume only half the fish, there will be no fish left in years to come, regardless of how 'sustainable' they are. The issue of fish wastage should not be in the hands of the consumer; it is in the hands of those who catch, prepare & sell. Our priority at Fish Butchery is to bring tangibly delicious outcomes to the otherwise perceived 'waste' of a fish. The idea is to utilise fewer varieties of fish but use the species in its entirety."
In the months ahead, Fish Butchery Waterloo will activate private events for guests to share in the knowledge gathered to date and interact with Josh and his team in a more intimate and impactful way.
Address: 965 Bourke St, Waterloo NSW 2017
Hours: Wed-Sat 10am – 7pm, Sun 10am – 6pm
Ms Peachy Smoothie Bar Opens in Richmond
With a mission to nourish bellies, bodies, minds and souls, the team behind Bissel B, Lady T and Beer & Burger Bar has launched Ms Peachy – Richmond's latest hotspot for smoothies, cold-pressed juices and smoothie bowls. Bringing a fresh new outlook on holistic health to Bridge Road, are up-and-coming restaurateurs, Ryan Kurban, Jess Kurban and Andres Uran. Who after years of bringing burgers, New York-style bagels as well as authentic Latin street food to Melbourne, are delivering something new and exciting, inspired by their own personal shift towards holistic health and happiness.
---
Featured Video from Man of Many
---
"Previously, we've always been inspired by the flavourful and comforting cuisines from New York and South America. Whereas this past year, we've noticed a newfound appreciation for healthy living, not just in ourselves but within the wider community," said Co-owner Ryan Kurban.
"We're so excited to bring Ms Peachy to the Richmond community. We're not just creating a juice bar, but instead, a destination where people go to adopt or maintain a cleaner, lighter and healthier lifestyle," he added.
Beyond the highly nutritional menu, customers can enjoy a line-up of events, including free monthly meditation sessions as well as workshops with nutritionists.
Address: 109 Bridge Rd, Richmond VIC 3121
Hours: Mon-Fri 7:30am – 3pm, Sat 8am – 3pm, Sun 8am – 2pm
Wagyu Ya Launches Decadent Premium A5 & M9 Wagyu Tasting Set
What: A premium, limited-edition A5 Japanese Wagyu, M9 Full-Blooded Australian Wagyu and A5 Kobe Sirloin tasting set for two with Matsutake Mushroom.
Where: Wagyu Ya, 156 Toorak Road, South Yarra VIC 3141.
When: One month only (February-March 2022). Dine-in only.
Japanese chargrill connoisseurs and Wagyu masters Wagyu Ya have curated a limited-edition tasting set of the finest A5 Japanese Wagyu, M9 Full-blooded Australian Wagyu and A5 Kobe Sirloin in time for Valentine's Day. Valued at a jaw-dropping $339, the premium tasting setting invites patrons to experience a once-in-a-lifetime meal, including:
Eight different kinds of mouthwatering wagyu beef (A5 Japanese Wagyu, M9 Full-Blooded Australian Wagyu and A5 Kobe Sirloin slices).
The highly prized and sought after Matsutake mushroom.
A selection of two soups (Karubi Soup and Ox Tongue Soup).
Cooked at the table to perfection by Wagyu Ya's barbecue experts on a Hibachi grill, patrons can sit back and luxuriate in the warmth of the open grill and smell the mouthwatering aroma of freshly grilled beef and vegetables.
Australian Venue Co has opened Little Pearl Bar & Dining, a new waterfront bar on Manly's picturesque beachfront. The venue takes the place of local favourite, Manly Wine which recently closed its doors after an impressive twelve-year run.
Little Pearl is a casual, all-day destination offering hawker-style shared plates, bold cocktails, easy-drinking wines and prime ocean views of Manly Beach. The result is an effortless beachfront hangout for locals and visitors alike. Led by executive chef Jason Roberson, Little Pearl is the perfect spot to drop in for breakfast, gather with friends for brunch, or let lunch roll into dinner and drinks. The main menu features dishes such as popcorn bug sliders, betel leaves, Sri Lankan king prawn curry and slow-cooked wagyu beef cheek; along with a Friday to Sunday breakfast menu of Cured Ora King Salmon with ricotta, leaves, asparagus, black sesame, rye crumb; breakfast bao buns with sticky beef cheek; and pandan waffles with coconut ice cream, banana, lychee, toasted coconut, Vietnamese mint and palm sugar caramel.
"It feels like a breath of fresh air especially during the current climate of the hospitality industry. Little Pearl is designed for maximum ease and an effortless drinking and dining experience. It's beautiful, fun, laidback and a wonderful addition to the Manly community," said Paul Waterson.
Architect firm People of Design transformed the venue, bringing new life with beachy and nautical contemporary interiors. rough sandy textures on the walls, landscaped greenery, brass details and pops of light green, pink and deep blue furniture, giving a warm, casual modern touch. The new design also opens up the space, maximising the breathtaking ocean views.
Located in: The Sebel
Address: 8/13 S Steyne, Manly NSW 2095
Hours: Mon-Thur Monday 12-10pm, Fri 11am-12am, Sat 11:30am-12am, Sun 11am-10pm
You'll also like:
Monday Munchies: February 7 – Nothing is Impossible
Monday Munchies: January 31 – Serving Up Nostalgia
Monday Munchies: December 6 – Chook Yourself, Don't Wreck Yourself
---
Featured Video from Man of Many