Man of Many's Staff Favourites – 27 August 2022
Footy finals, baby. Just when you thought there wasn't a good enough reason to spend the entire weekend smooshed into your couch cushions shouting at the television, the streaming gods have bequeathed us with another showing of supreme sporting pursuits. Whether it's rugby union, league, AFL, AFLW, WNBA Playoffs or the Formula 1 Belgian Race, it's a good weekend for sports nuts. Why not settle in, put your feet up and enjoy a bit of light reading while you wait for kick-off? Here is Man of Many's Staff Favourites for this week!
You'll also like:
Man of Many's Staff Favourites – 20 August 2022
Man of Many's Staff Favourites – 13 August 2022
Man of Many's Staff Favourites – 6 August 2022
Moët & Chandon Birthday Customisation Bottles
There's nothing quite like cracking into a big bottle of Brut to celebrate something special, and what could be more special than the annual reminder you're ageing rapidly? In my household, birthdays are generally relegated to 'things we don't talk about', however, I'm definitely going to have to change my tune. The legends behind Moët & Chandon, everyone's favourite luxury bubbly, have just unveiled Moët Birthdays, a glitzy and glamorous way to celebrate your big day! The exclusive service lets you personalise a bottle of Moët & Chandon with a customised birthday message, transforming it into a memorable keepsake.  Best of all, the personalisation service is available across the whole Moët & Chandon range, from the iconic Moët Impérial to the Grand Vintage Collection and Moët & Chandon Rosé, and even includes the big dog Gold Magnums.
For those who want to take the party to the next level, the fabled drinks maker has dropped an even more exclusive offering, as well. The Moët Birthdays luxe birthday party delivery offers a curated package featuring a personalised bottle of Moët & Chandon accompanied by a chic Moët party set that includes branded glassware, a birthday cake and gigantic Moët balloons, all hand delivered by a white-gloved Moët & Chandon champagne concierge. I recently copped a gold magnum with my name on it and I can safely say, it was the best early birthday present I've ever received. Namely, because my wife has no idea when my birthday is. If you love to go big with your birthday celebrations, the Moët & Chandon Birthday customised bottles are a bonafide winner.
Favourite Article of the Week: Benoit's Back: 'Knives Out 2' Release Date Confirmed by Netflix
Wolf Blass Delivers Game of Thrones 'House of Dragon' Wine
Scott Purcell – Co-Founder
I was lucky enough to attend the launch of the House of Dragon at Moore Park last week (you can read our review of the show here), but the highlight of the event could very well have been what we were served before. Premium wine brand, Wolf Blass, has teamed up with Warner Bros to release a limited-edition wine in celebration of the show. The Fire & Blood Cabernet Shiraz can be found in three unique Westeros Labels. Not only does it look unreal, it tastes delicious and brings everything you can expect from a quality Australian Cab Shiraz at just under $30. On the palate, you can expect dark fruits and a richness of bold spices that delivers a full-bodied balance of intensity and character. Wolf Blass' Fire & Blood Cabernet Shiraz is available in store now exclusively at Dan Murphy's and BWS nationally.
Favourite Article of the Week: Man of Many's Father's Day Gift Guides
Buster & Punch Hooked Wall Light
Denise Barnes – Head of Branded Content
The London-born brand, Buster & Punch, started out in a garage in East London building custom motorbikes. Inspired by the city's fashion, music & sub-culture scene, the brand has since transformed into the world of interior design creating truly unique yet functional fittings for homes. Using rare and solid metals to craft their pieces, Buster & Punch is described as being "fashion for your house". From cabinet hardware & electricity plug sockets, to beautiful lighting and rockstar home bars, this brand can really elevate any room's interiors. While there is literally an endless list of things on my wishlist, I'm currently obsessing over this Hooked Wall Light with a graphite & brass finish. There is so much beauty in its simplicity and every single design element is truly stunning. The satisfying flip switch, the moveable hook, the bulb light fitting… The list goes on. Buster & Punch products are available through Living Edge.
Favourite Article of the Week: Is 'Game of Thrones: House of the Dragon' Any Good?
Noel Gallagher's Gibson Custom Shop ES-355 Signature
Rob Edwards – Branded Content Writer
Better suited to knocking out wall-of-sound epics like "D'you Know What I Mean?" or "Columbia" than the gentle strumming of "Wonderwall", Noel Gallagher's first signature Gibson electric guitar launches on August 30 and I'm betting the competition to get hold of one will be fierce. Fitted with a Bigsby and featuring a six-position Varitone switch near the tone and volume knobs, this is a serious piece of musical kit, which I expect to be priced accordingly. The ES-355 follows Gallagher's first signature Gibson, his 2021 J-150 acoustic, which retailed for USD$4,299 and was limited to 200 pieces. I'd be surprised if the demand for this one wasn't even greater. I certainly want one more.
Favourite Article of the Week: Tom Hardy Just Won Gold at a Jiu Jitsu Tournament
Gumtree & The Circular Economy
Tim Fernandes – Senior Sales & Partnerships Manager
Buying second-hand items, restoring or refurbishing them and selling again isn't a particularly new idea. But I bet you didn't know it could net you around $7k per year for the effort? New research from Gumtree has revealed savvy Aussies stand to make approximately $6,964 per household from their pre-loved, unwanted or unused items. The practice is becoming more and more common in Australia for people of all ages and socioeconomic backgrounds, and the best place to do this in Australia is Gumtree. It's all about being part of the " Circular Economy," which involves sharing, leasing, reusing, repairing, refurbishing and recycling existing materials and products as long as possible. The report also found that Aussies are turning to upcycling as a way to increase the life of their items, or to increase their sale value, with 24% of Australians believing that basic upcycling techniques can increase their item's value by more than 30%. The items that net the most money is Clothing, Shoes and Accessories" followed by Electronic Goods and then Home Decor and Furniture Items. So before you throw anything away, have a go at selling it on Gumtree first.
Favourite Article of the Week: WIN! 1 of 5 Double Passes To This Money-Can't-Buy 'Distillery Door' Event!
Cadbury Old Gold Chocolate Coated Peanut & Honeycomb
Sam Mangioni – Journalist – Entertainment & Culture
My Dad has a massive sweet tooth, and one of his favourite treats is chocolate-coated nuts. So you can imagine my excitement when I discovered Cadbury had added a new product to the line-up – the Cadbury Old Gold Peanut & Honeycomb. Just in time for Father's Day, Cadbury has created a delicious blend of honeycomb pieces and peanuts coated in Cadbury Old Gold Chocolate, which perfectly pairs with my old man's English breakfast tea. I've stocked up in preparation for Father's Day, and I highly recommend you do the same. The new Cadbury Old Gold Peanut & Honeycomb is available only at Woolworths and Metcash.
Favourite Article of the Week: 'Peaky Blinders' Creator Lines Up Illegal Boxing Series with Stephen Graham
3-in-1 Wireless Charging Pad with MagSafe
John Guanzon – Head of Social
There's nothing worse than a bedside table or workspace that's overrun with tangled charging cables. The new 3-in-1 wireless charging pad by Belkin instantly declutters your surface area from looking like a messy snake pit and Marie Kondos it to line everything up into a neat wireless charging station. The sleek, lay-flat design gives it a modern minimalist look and slips right under a desktop monitor riser. Belkin promises a 33% faster charge too, so you can charge your Apple Watch from 0 to 80% in 45 minutes and the MagSafe technology gives you convenient and easy access to all your devices. Gone are the days of the ol' phone-wallet-keys check before you go anywhere; its a Phone-AirPods-Smartwatch check nowadays and this new charging pad means they're all in one spot, fully juiced up for you.
Favourite Article of the Week: J.W. Anderson's $1,260 Pigeon Clutch Can Pigeoff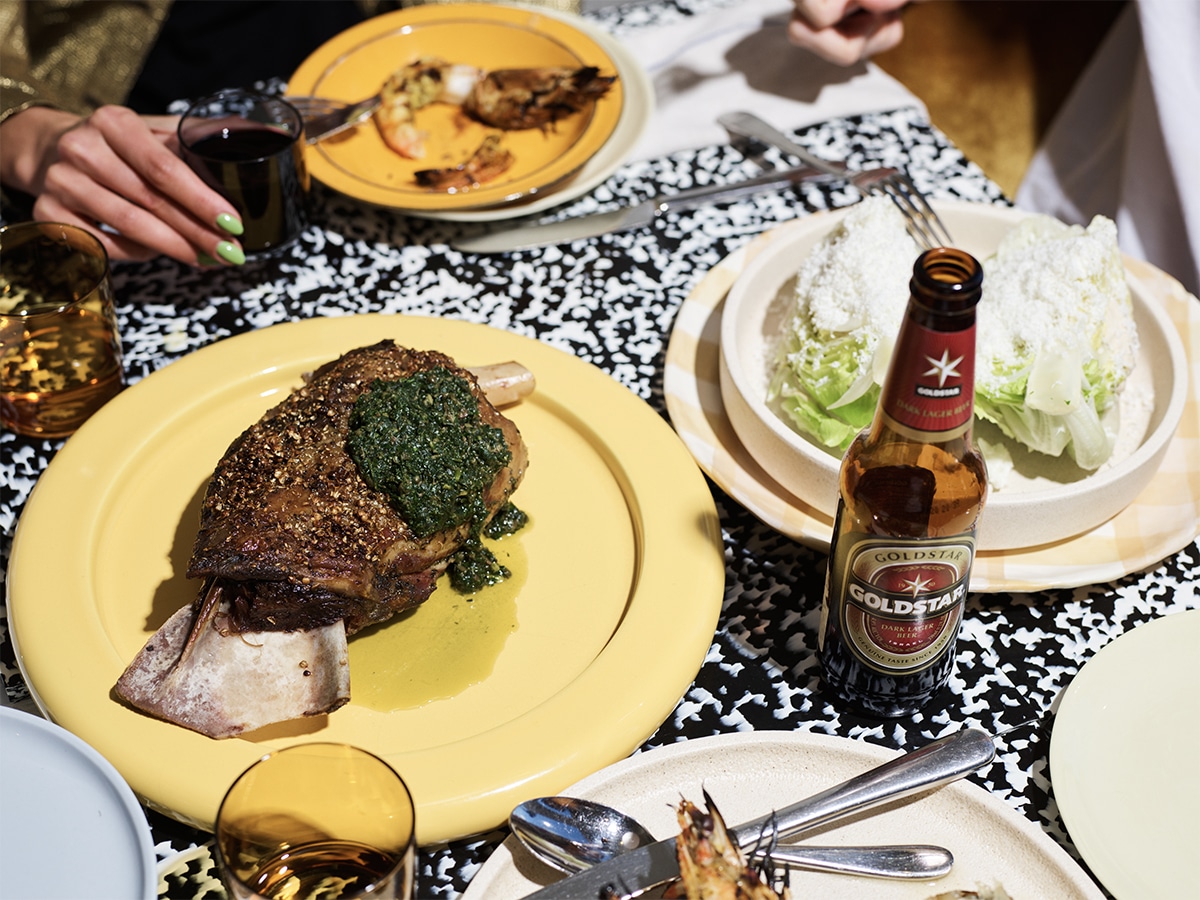 North Bondi Kepos Winter Pop-Up
Clelia Niyikiza – Branded Content Assistant
If you're looking for a place with excellent menu flavours, I recommend checking out North Bondi Kepos. I was fortunate to experience the flavours of modern Israeli food earlier this week, and I have to say, the waterfront location is a perfect place for Sunday lunch, a date or even a Friday night. The restaurant is a Middle Eastern inspired pop-up and has been under the guidance of Matt Moran and Michael Rantissi, who curated the menu. You can find items such as warm hummus, which is made tableside in a mortar and pestle, kingfish ceviche, coriander-crusted slow-roasted lamb shoulder, baby rainbow trout, and finish it off with an order of knafeh featuring halloumi melting through both sides. I plan to hit it up again before the collab finishes in a month.
Favourite Article of the Week: Netflix and LeBron James Announce Release Date for 'The Redeem Team' Documentary
Vitable
Ben McKimm – Journalist – Automotive & Tech
I'm writing this from my bed because after battling a separate sickness last week (trust me, you don't want to know) I got hit with a right hook and a dose of sinusitis this week. Here I am feeling like a rotten tomato when a package arrives from Vitable, an Australian TGA-approved vitamin company that makes and distributes clean vitamins. Coincidence much? If only I'd got stuck into a few vitamins last week, maybe I wouldn't have been smacked with the sick stick two weeks in a row. Anyways, if you're on the hunt for a few Aussie-made vitamins as part of your doctor-prescribed needs, or maybe you just want a boost, take a look at Vitable and jump on their survey to see what you might need.
Favourite Article of the Week: Michael Jordan is a Playable Character in PGA Tour 2K23
Twelve South Curve Flex for MacBook
Richie Hall – Video Producer
What struck me first about the Curve Flex from Twelve South was how well it folds flat and how easily it slips into my backpack. It's light, it's portable and it's perfect to take from the office to home or to a cafe. It comes with a handy padded sleeve which keeps it protected. I've got a space grey Macbook so I went with the matte black and it looks great in my home studio. It has the ability to elevate the screen up to 22-inches which means I can align the screen perfectly with my external display. You're even able to adjust the keyboard separately to the screen. The Curve Flex is already making my life easier and very importantly, saving my neck.
Favourite Article of the Week: This Barn Find 1956 Porsche 550 Spyder Could Go for $2 Million
Pendleton Directors' Reserve 20-Year Whisky
Jacob Osborn – Staff Writer
When it comes to the major whisky groups, Canadian may very well be my least favourite. Most expressions feature this elusive flavour element that tastes something like overcooked or slightly bitter custard, which my palate has never quite embraced. It was then with some hesitation that I scored a bottle of Directors' Reserve from Pendleton, an Oregon-based producer that adds glacier-fed spring water to blended Canadian whisky to create their signature profile. Well, call me a convert because this juice is pretty spectacular!
Limited to just 10,000 bottles, Directors' Reserve pays tribute to the 17 directors who lead the Pendleton Round-Up, an annual rodeo in the Pacific Northwest with over a century of history behind it. The liquid inside is aged for 20 years in American Oak barrels and that cultivates a glorious spirit of superb flavour and texture. It opens on a nose of marzipan and caramel, followed by a warm palate of crème brûlée, banana, coffee, and caramel, and then a long finish of spice and oak.
Yes, the slightly bitter taste I often associate with Canadian whisky is present, but it's been softened to the point of perfection. Rather than dominate, it makes up part of the spirit's warm and balanced tapestry. I've tried Pendleton before and this 20-year expression takes their flagship flavour profile to sensational new heights. I still don't love blended Canadian whisky, but I love this.
Favourite Article of the Week: What is Soju? A Guide to Korea's National Drink