Man of Many's Staff Favourites – 5 March 2022
So, not exactly the week we were after. Full-scale war in Europe, Queensland is being washed away and all hopes of 2022 being the year we finally got our sh*t together are swiftly dropping by the second. But The Batman came out, so that's a plus, we guess. With the weather (and general anxiety) keeping us indoors this weekend, we're once again turning to the small luxuries that put a smile on our faces over the past seven days. Here are Man of Many's Staff Favourites for this first week of March.
You'll also like:
Man of Many's Staff Favourites – 26 February 2022
44°N Gin
Nick Hall – Editor-in-Chief
I've always thought the spirits industry had a lot to learn from the high-end world of Champagne, but it turns out I was thinking of the wrong French region. This week, I had the opportunity to indulge in 44°N, a gin that arrives not from the fabled sparkling area, but from Grasse, the worldwide capital of perfumery. From the outset, you can see how the French Riviera has inspired this delightful sipper. The delicately designed Klein blue glass bottle is immediately eye-catching and features a handcrafted texture, meaning that when it catches the light, it mimics the pattern of sunlight on the seafloor. But it's inside that things really start to shine.
44°N gin blends 22 predominantly local botanicals including alexanders, samphire, verbena, grapefruit and immortelle, giving a floral body with hints of Grasse's Rose Centifolia and jasmine to taste. As someone who probably drinks too much gin these days, the release is unlike anything I've had before. Each sip is slightly different from the one before, and by all accounts, it's a completely different experience person to person. While I was getting citrus notes throughout, my partner was in an entirely different frame of mind, noting how much she enjoyed the floral finish. Needless to say, 44°N gin is a luxurious albeit wild ride that I still haven't quite put my finger on. I've still got half a bottle to go, so leave it with me and I'm sure I'll get to the bottom of it.
Favourite Article of the Week: New on Netflix in October 2023
---
Featured Video from Man of Many
---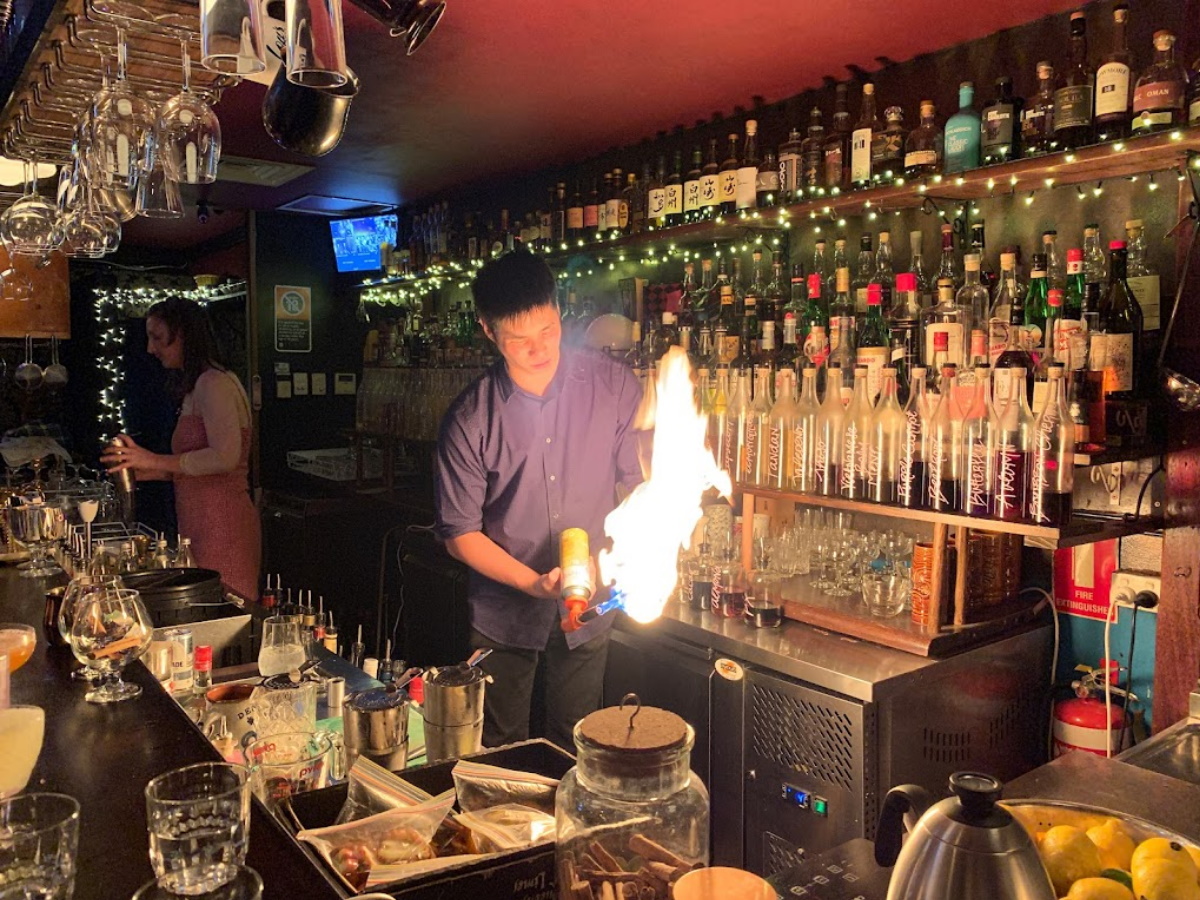 The Long Goodbye Bar
Scott Purcell – Co-Founder
Now people are venturing more as things get back to normal, I had the pleasure of checking out The Long Goodbye, a little speakeasy-style bar that's hidden up a small staircase next to the Dumplings & Beer restaurant on Stanley St in Darlinghurst. The thing I loved most about this bar is that there's no menu. You simply walk in, take your seat in one of the many comfortable lounges, chairs or even giant teddy bears, and name your flavour preferences. The bartender will then whip you up something absolutely amazing with their home-brewed or concocted liqueurs such as elderflower infused gin or apricot and honey-infused whisky. The bar has a warm and cosy vibe with Victorian wallpaper reminiscent of The Sinner that's perfect for these rainy days in Sydney. Well worth a stop in if you're ever in the area.
Favourite Article of the Week: The Gospel Releases Second Single Cask Rye Whiskey
Jung Sung Contemporary Korean Restaurant
Frank Arthur – Co-Founder
I recently celebrated my birthday by enjoying dinner at Sydney's Jung Sung Contemporary Korean restaurant. It was my first time dining there and can't wait to go back. Jung Sung Contemporary Korean is a fine dining restaurant serving up modern Korea-Australian cuisine using fresh locally sourced ingredients. Located in The Old Rum store in Kensington St, Chippendale, former Michelin star chef Insup Kim has built a strong menu of unique flavours with a distinctively Korean touch. Additionally, the food is just as appealing to the eye as it is delectable. The presentation of each dish is stunningly visual, especially their iconic custard dessert which at first glance looks like a piece of sweet corn, but surprisingly the spoon gently slides through the soft creamy sweet.
Favourite Article of the Week: New Land Rover Defender Vs Ineos Grenadier: Will the Real Defender Please Stand Up?
Truff Black Truffle Oil
Denise Barnes – Head of Branded Content
Cult hot sauce brand Truff has done it again with another highly anticipated release, a Black Truffle Oil. While it still has all the truffle goodness they're so well known for, this is their first heat-free release. Already a pantry staple of mine, this is such a delicious, versatile and luxurious addition to the kitchen as it can take so many meals and snacks to the next level with a simple drop or two. Crafted from real aromatic Black Winter Truffles that's been infused into olive oil, it's able to deliver a subtle, yet flavoursome finish to just about anything you can think of. Drizzled over pizzas, pastas, salads, soups, scrambled eggs and even popcorn. If you love truffles, this is a must-try! Or grab one for a truffle-loving friend as a gift. Naturally, it also comes packaged in a signature sleek box, so you don't even have to wrap it. Available to purchase now for $39.95 directly from the Truff website.
Favourite Article of the Week: Sneaker News #52 – Australia's Own PASS~PORT Nike Dunk High Unveiled
Rémy Martin XO 18-Karat Gold Decanter
Sam Mangioni – Journalist – Lifestyle & Entertainment
I was fortunate enough to get my hands on Rémy Martin's XO 18-karat gold decanter. Now, the French cognac house is no stranger to crafting beautiful bottles, but this one might take the cake. In collaboration with Parisian gilding studio, Atelie Thiery, the alliance of cognac and gold aims to celebrate Rémy Martin's heritage, whilst creating a new lens to imagine the future.
Gilded in refinement the decanter is adorned with gold leaf enamel serigraphy made in part from 18-Karat Gold. When creating the limited-edition box, Atelier Thiery applied a highly specialised gilding process known as verre églomisé, an ancient technique closely tied to French artisanal tradition that has no English translation. The special edition box that houses the decanter has been designed with gold foils, to create a sensational mirror-like, textured effect on the box. If you're looking for a new and innovative drinking experience, this is the bottle for you. – $299.00
MACROS Ready-Made Meals
Tim Fernandes – Senior Sales & Relationships Manager
We're into March, how are your 2022 fitness and diet resolutions coming along? It's ok if you're not smashing them right now – Floods, WWIII and Covid are playing havoc with all of us and when things get a little overwhelming, sometimes you just need to keep things simple. One option that might set you back on track, at least on the nutrition side of things, is checking out MACROS. These ready-made meals are large, delicious, healthy and will fit into whatever nutrition plan you have going at the moment. This includes high-protein, low-calorie, paleo, plant-based and low-carb options. They're all nutritionally balanced and portion-controlled, chef-crafted from fresh ingredients and delivered to your door so it couldn't be simpler. There's nothing worse than finishing a meal and still being hungry, and I've found the MACROS meals quite satisfying in terms of portion size. Another thing I love is that the meals are fresh, not frozen or vacuum-packed. Keep it simple and get back on track. Well worth checking out.
Favourite Article of the Week: How Golf Wear Became a Fashion Statement for a New Breed of Golfer
The Noble Sage Liquor Company Raven's Espresso
Ben McKimm – Journalist – Automotive & Tech
Based out of Sydney, The Noble Sage Liquor Company – which specialise in small-batch barrel-aged cocktails – have teamed up with Perth-based Timely Coffees to create Raven's Espresso, the company's third release since launching the business six months ago. Described as an "espresso martini with a twist," Raven's Espresso is made with rum barrel-aged by the Sage and cold brew coffee made with Timely Coffees and is inspired by a hipster witch who is misconstrued as haunting the night but is actually just wired on caffeine! I had the chance to get my mitts all around this release and try it with ice, and blended into an espresso martini to substitute coffee liqueur. In short, it's delicious either way and is the perfect after dinner substitute for schnapps or whisky. Available in classic and decaf iterations the 500ml Raven's Espresso contains 10 x 50ml servings.
Favourite Article of the Week: 2023 Ford Everest Unveiled as 'Do Everything' Family Tourer
Suffragette Watches by Coluri
Clelia Niyikiza – Branded Content Assistant
It's getting pretty obvious that I am a fan of wearing watches since receiving my first one preteen years and pre-mobile phones, when we didn't have a built-in clock we carried around our pockets. Another watch I own and the first watch I bought when moving to Australia is the Suffragette watch. There isn't much to say besides that it's a classic watch, but the reason I'm placing it as my staff's favourites are the values behind it. Having moved here, I liked that it was an Australian brand. I also like it because of the ethics behind the brand. 30% of the profit from the sales go towards women's charities.
I loved it so much it became a go-to gift for a few female family members overseas. Giving something that gives back to women and Australian owned seemed like the perfect gift at the time. Although it's an Australian brand, the charities they help are towards women worldwide, such as The Refugee Women's Alliance, Womankind Worldwide and Women for Women International, according to the brand. The brand has since changed and is now called Coluri but nothing else has changed besides the name! Ownership and values are all still the same.
Favourite Article of the Week: Kevin's Famous Chilli Recipe From 'The Office' Was Just Unearthed in the Last Place You'd Ever Look
Fire Dept. Irish Whiskey-Infused Coffee
Jacob Osborn – Staff Writer
St. Paddy's Day is right around the corner and I can think of no better way to kick it off than with a fresh cup of this signature java. It comes to us from Fire Dept. Coffee, a veteran-owned, firefighter-run company that channels revenue to firefighters and first responders who have been mentally or physically injured on the job, or are facing other serious health challenges. Thanks to a spirit-infused process, the medium roast coffee injects traditional flavours with a discernible edge of whiskey character. I normally take mine black but this particular cup was calling out for a dash of almond milk and a half teaspoon of sugar, which gave it the underlying essence of a delicious Irish coffee.
To be clear, there is no alcoholic content in Fire Dept.'s Irish Whiskey-Infused Coffee. But it was handcrafted in small batches using actual Irish whiskey, with a unique flavour profile to show for it. It makes up part of a broader spirit-infused range, which consists of additional infusions such as bourbon, rum, and tequila. Top o' the mornin' to ya, indeed!
Favourite Article of the Week: The Macallan Unveils 81-Year-Old Expression Worth $174,000
You'll also like:
Man of Many's Staff Favourites – 26 February 2022
Man of Many's Staff Favourites – 19 February 2022
Man of Many's Staff Favourites – 12 February 2022
---
Featured Video from Man of Many