Kevin's Chilli Recipe from 'The Office' Unearthed in Peacock T&Cs
Sometimes it pays to read the Terms & Conditions. A TikTok user in the United States has unearthed an Easter Egg of epic proportions this week, after finding the recipe for Kevin's Famous Chilli from the much-loved comedy series The Office buried in the Terms of Use of streaming platform Peacock. Amazingly, the recipe, which includes a frankly wild number of spices, was laid out in full, finally answering a question that had plagued Office fans for years.
You'll also like:
HBO Once Paid James Gandolfini $4 Million Not to Replace Steve Carell on 'The Office'
The Joke that Cost The Office $60,000
There is Now an Official UNO Game Based on The Office
In a video posted to TikTok a few weeks back, user @mckenziefloyd identified the hidden message in the new agreement. In the clip, she revealed that her boyfriend had been perusing the long and dry document when he uncovered the recipe, which sits smack in the middle of legal jargon.
"I'm trying to figure out why the chilli from The Office, the recipe, is on here in the terms of conditions with the instructions," she says in the clip, which has now received over 27,000 likes. "Why was that necessary to put on here? And then it just goes back to the regular terms and conditions. I'm not understanding!"
Bizarrely, this isn't the first time Peacock has hidden a recipe in terms of use policy. As revealed in the New York Post, the streaming service reportedly listed a recipe for chocolate cake in the agreement back in 2020, but this reveal feels bigger.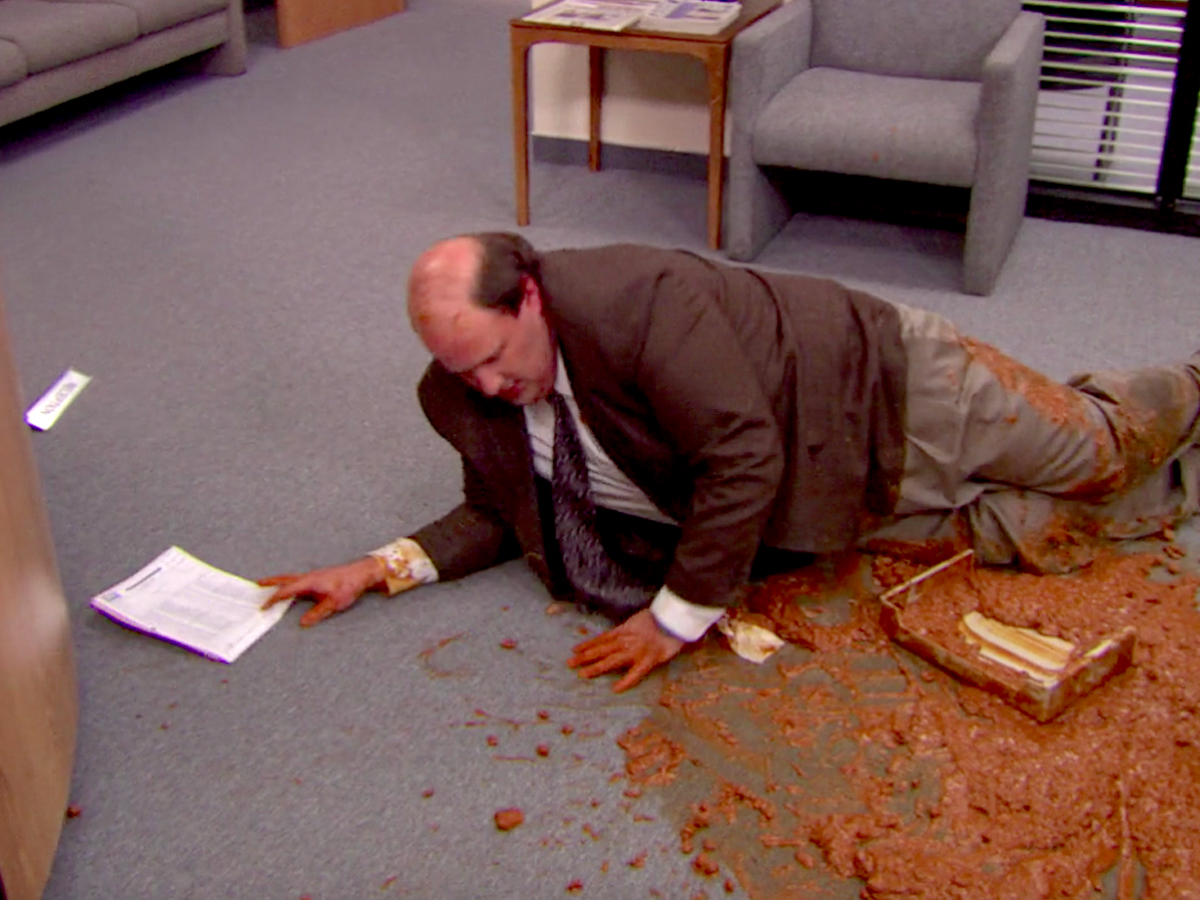 For The Office fans, Kevin's Chilli marks one of the most heartbreaking scenes in the entire series. Originally appearing in Episode 26 of Season 5, the clip sees the bumbling Kevin Malone, played expertly by Brian Baumgartner, attempting to raise the spirits of his beleaguered Dunder-Mifflin co-workers by bringing in his culinary specialty. A generally incompetent and unenthusiastic worker, Kevin's vigour and zest for his namesake chilli is infectious, particularly as the looming accountant reveals it's a "recipe passed down from Malones for generations" and "probably the thing I do best".
But in trademark Kevin style, it isn't long before it all goes horribly wrong. Despite his generous attempt to share a bit of goodwill, the journey from car park to office kitchen proves all too far when he unceremoniously drops the massive silver crockpot storing the family delicacy all over the floor. Naturally, he attempts to scoop it back into the pot which makes for some unsettling albeit hilarious viewing.
According to Floyd's TikTok clip, the recipe is yet to be tested, however, Peacock's rendition does look legitimate. Below you'll find the entire recipe for Kevin's Famous Chilli for The Office, along with the ingredients list and of course, the glorious scene in question.
Kevin's Famous Chilli Ingredients
4 dried ancho chillies
2 tablespoons neutral oil (vegetable, canola or grapeseed)
3 pounds ground beef (80/20 or 85/15 lean)
2 medium yellow onions, finely chopped
6 cloves garlic
1 large jalapeño, finely chopped
1 tablespoon dried oregano
2 teaspoons ground cumin
1/4 teaspoon cayenne pepper2 tablespoons tomato paste
2 (12-ounce) bottles of beer (lager or pale ale)
3 cans pinto beans, drained and rinsed
3 cups beef stock
2 ½ cups chopped ripe tomatoes
2 tablespoons kosher salt
Chopped scallions, shredded Jack cheese and sour cream, for topping
Kevin's Famous Chilli Recipe
Tear ancho chillies into pieces, discarding seeds and stems. In a large heavy pot or Dutch oven, toast chiles over medium-high, stirring occasionally until very fragrant, 3 to 4 minutes. Transfer toasted ancho chiles to a food processor or spice mill and process until very finely ground. Set aside.
Add oil to pot and heat over medium-high. Add ground beef and cook, stirring occasionally to break beef into small pieces, until well-browned (about six minutes). Using a slotted spoon, transfer beef to a plate and set aside.
Add onion to pot and cook briefly over medium-high until barely softened, about two minutes. The secret is to undercook the onions.
Using a garlic press, press garlic directly into the pot, one clove at a time. Then stir in jalapeños, oregano, cumin, cayenne pepper and tomato paste. Stir and cook until fragrant, about two minutes. Add beer and continue to cook, stirring and scraping the pan, for about seven minutes.
Meanwhile, put beans in a large bowl and mash briefly with a potato masher until broken up but not fully mashed.
Add mashed beans, stock, tomatoes, salt and cooked beef to pot. Cover and bring to a simmer. Reduce heat to low to maintain simmer and cook for two hours so everything gets to know each other in the pot. Remove from heat, uncover and let stand for at least one hour (can also be refrigerated for eight hours or overnight).
Reheat gently, taste and add more salt if necessary, and serve with your favourite toppings. We recommend chopped scallions, shredded Jack cheese and sour cream.