The World's Smallest Condom is Finally Available
As if going to the cashier with a box of condoms isn't already potentially an embarrassing enough interaction, now you can waltz up to the counter with a box of the world's smallest condoms. TheyFit has created the new condom that is the perfect fit for your… ahem, size.
Table of Contents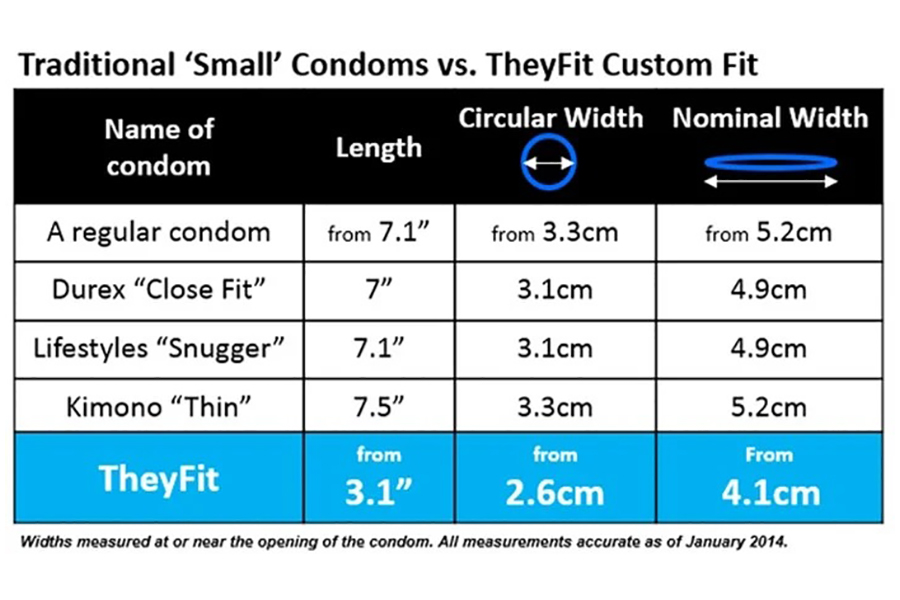 A Slim Fit
If proper fit is a challenge you face, you're not alone. UK-based TheyFit says proper condom fit is a problem faced by millions of men. According to their research, there is an increasing number of men that are searching for smaller sized condoms on a daily basis. TheyFit takes a novel approach for fit. "Do you find that condoms are much too long for you? Do they slip or fall off entirely during use? How about when you try supposedly small condoms that are labelled 'Snug', 'Iron Grip', or 'Close Fit'? Do the problems remain? It's because such condoms aren't actually that much smaller," TheyFit explains on its website.
Rather than keeping the length the same, TheyFit has created different length condoms. A typical condom measures around 7.1 inches. TheyFit's condoms start at 3.1 inches with a width of 2.6cm and a nominal width of 4.1cm. According to TheyFit, the problem with regular condoms results from the practice of measuring the condom at or near the opening and when it is laid flat. For a great fit, "you have to choose the correct nominal width for your requirements (your girth)," states the site. Using girth as the base measurement, you can then find the right length to give you the perfect, and secure, fit you're looking for.
TheyFit doesn't just offer the world's smallest condom, though. They have a whole range of condoms to match your particular needs. There's no sense in struggling with bad fits or dealing with embarrassing situations with your partner. Get the right fit and enjoy the moment more.
General FAQ
How do I choose a condom size?
Use TheyFit website and sizing chart to find the perfect condom for your size.
What is the smallest size condom you can buy?
TheyFit size E55 is the World's Smallest Condom. The condom is 123 mm long and 45 mm in width.