11 Best Airbnbs in Sydney for the Luxury Traveller
We've narrowed down your options for a sumptuous Sydney getaway by compiling the 11 best Airbnb's in Sydney. Get that homely feeling away from home and avoid the hotel sterility during travel by enjoying these luxury Airbnb's in Sydney. Enjoy that extra bit of pampering but retain convenience and affordability for your hard-earned Sydney Airbnb holiday.
If you're looking for an excuse for a weekend getaway or already have a trip planned and don't know where to stay this list of the best Airbnb's in Sydney is for you. Combine luxury with stunning views, convenient locations and decked-out kitchens and bathrooms to result in these irresistible abodes. If you need any more reason to book your trip, these luxurious days spas or 7 Best Cliff Jumping & Rock Diving Spots in Australia ought to sway you.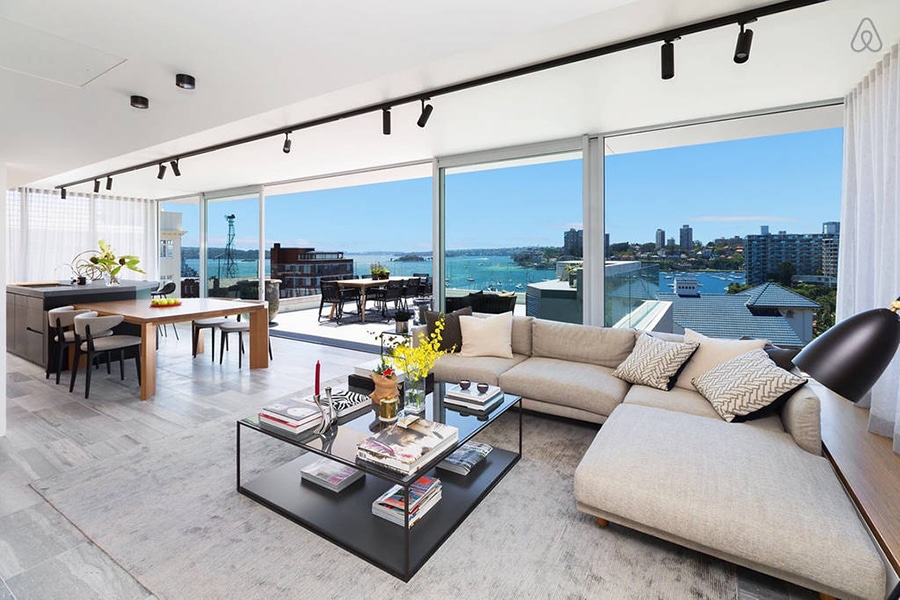 1. Stunning Harbour-Front Home with Spectacular Views, Elizabeth Bay
Elizabeth Bay is the ideal gateway to enjoying the entire city – the Botanical Gardens and Art Gallery of New South Wales are on your doorstep, and a whole suite of Sydney's best bars and restaurants are just a short stroll away. This exquisite waterfront home was recently renovated y award-winning architects, KPDO. The three bedroom Sydney Airbnb also features two bathrooms, open plan living and dining, and did we mention the unparalleled views of Sydney Harbour?
Address: King's Cross, Elizabeth Bay, New South Wales
Rating to date: 4.82 (62)
Price: $950/night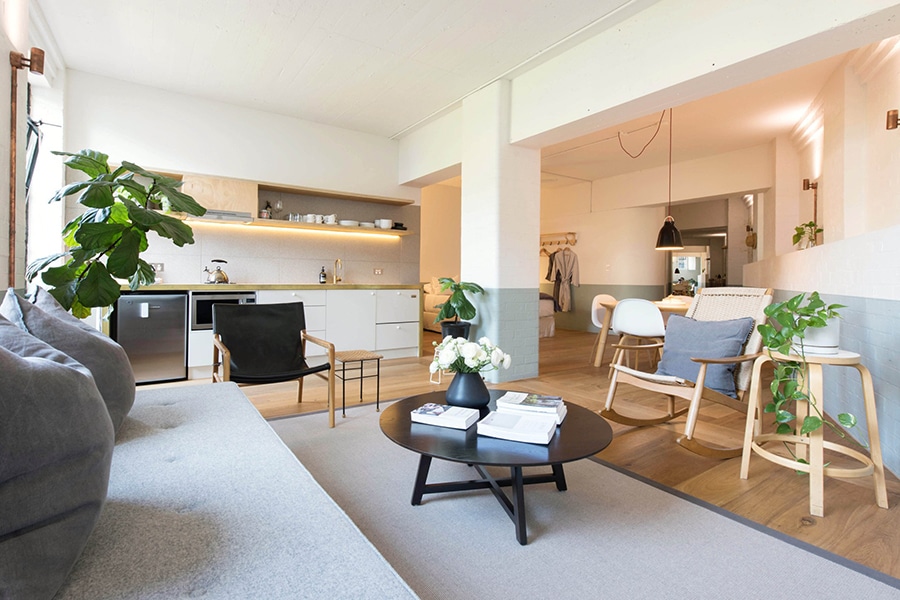 2. Studio 2 Apartment, Darlinghurst
Timber floors, designer furniture, a full kitchen and freestanding bath are just some of the major perks of this renovated studio. Plus enjoy the smaller comforts (but no less important) of a coffee machine, washer, dryer and dishwasher. And who could forget the incredible location of this luxury Airbnb in Sydney right in the hub of Darlinghurst's business and dining precinct.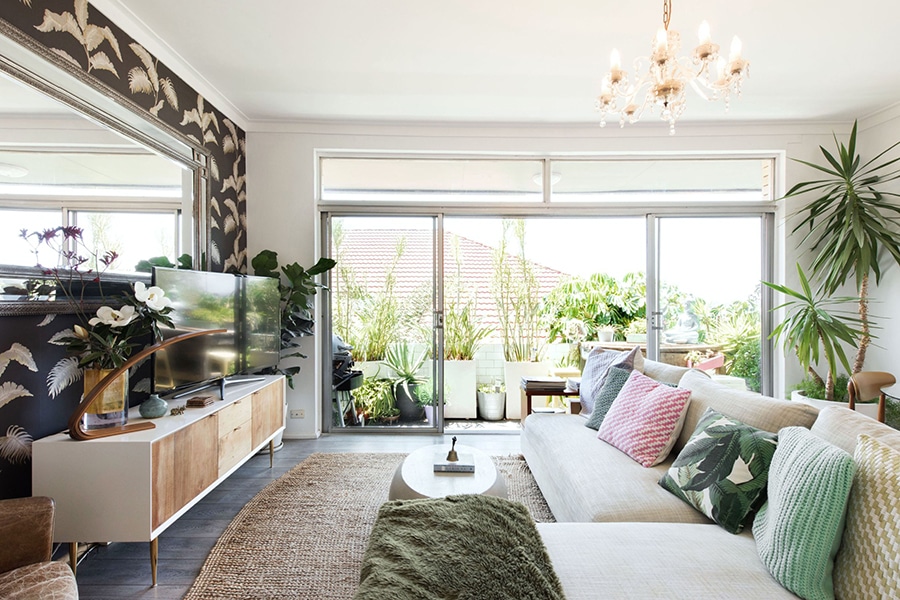 3. Bondi Beach Sanctuary Apartment with Ocean View
This two bedroom sanctuary was hailed by Qantas Travel Insider as one of the Best Airbnb's in Sydney for Beach Lovers. And with just a 9 minutes stroll to Bondi and 5 minutes to Tamarama, we can certainly see why. The Norwegian retro inspired decor, north-facing balcony with BBQ, greenery and ocean views are enough to make anyone book flights instantly. The sun-drenched apartment features a full bathroom and kitchen, free parking on premises and it even offers family-friendly cribs and window guards.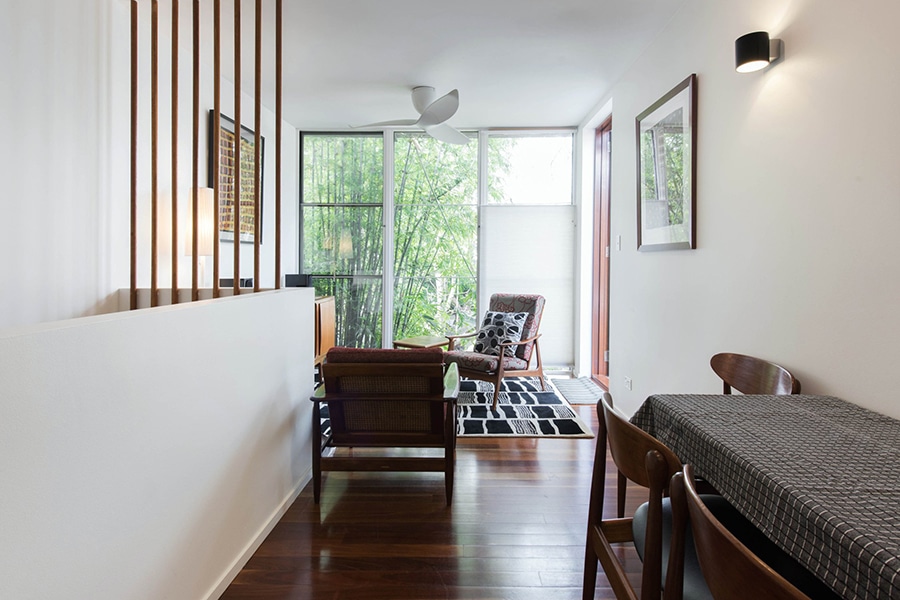 4. Private Apartment Oasis near King Street and Sydney Park
Ideally located between the hustle and bustle of Newtown's thriving, character-filled King Street, and the tranquil greenery of Sydney's largest park, this luxury Sydney Airbnb is the height of convenient getaway. Enjoy fresh herbs from the garden, distinctive mid-century furnishings and all the kitchen a and bathroom appliances you could think of.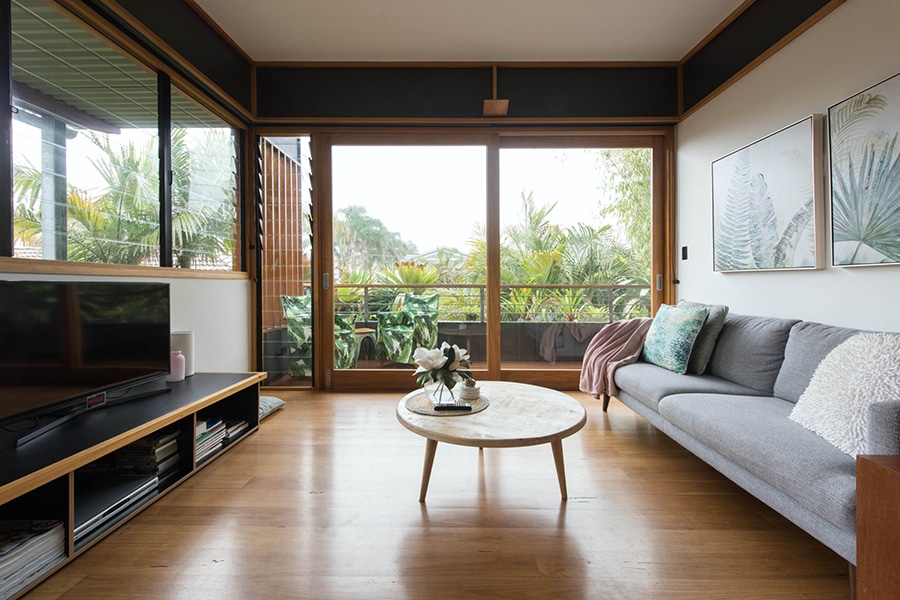 5. Tropical Architectural Apartment in Narrabeen Beach
If you just need a getaway from the rush of the CBD, relax in this tropical apartment, which is a more affordable Airbnb in the Sydney suburbs. Soak up the lake views and enjoy the beach just a short stroll away. Enjoy the serenity with comforts of modern furniture, spacious kitchen and living areas and a comfortable queen bed.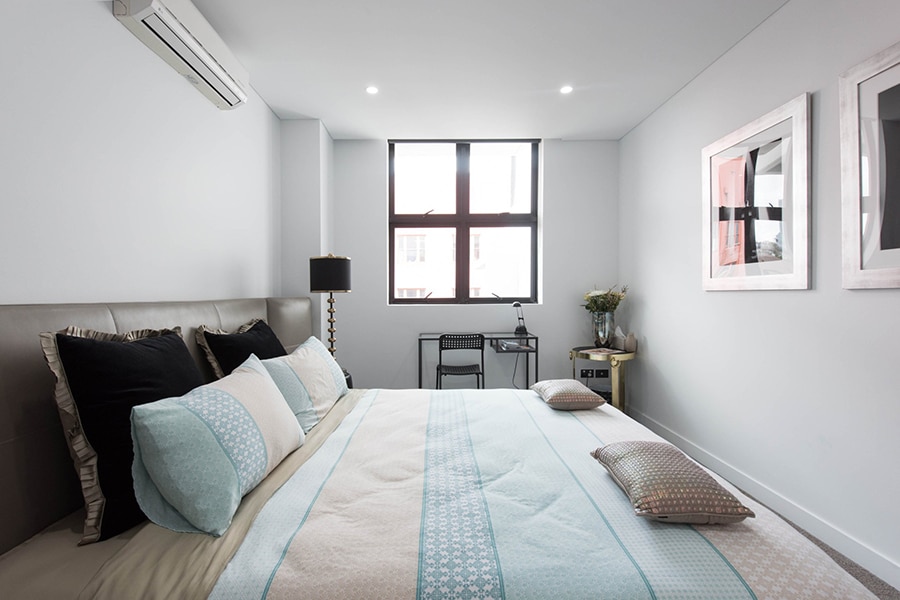 You'll also like:
15 Best Whisky Bars in Sydney
6. Elegant Master Suite in Luxury Penthouse in Ultimo
Don't waste your stay by constantly travelling around, simply stay in a luxurious penthouse Airbnb in the suburb of Sydney. It features a 50 metre squared terrace and stunning city views that not even the most coveted rooftop bars can offer. Also make use of the shared pool, hot tub and gym.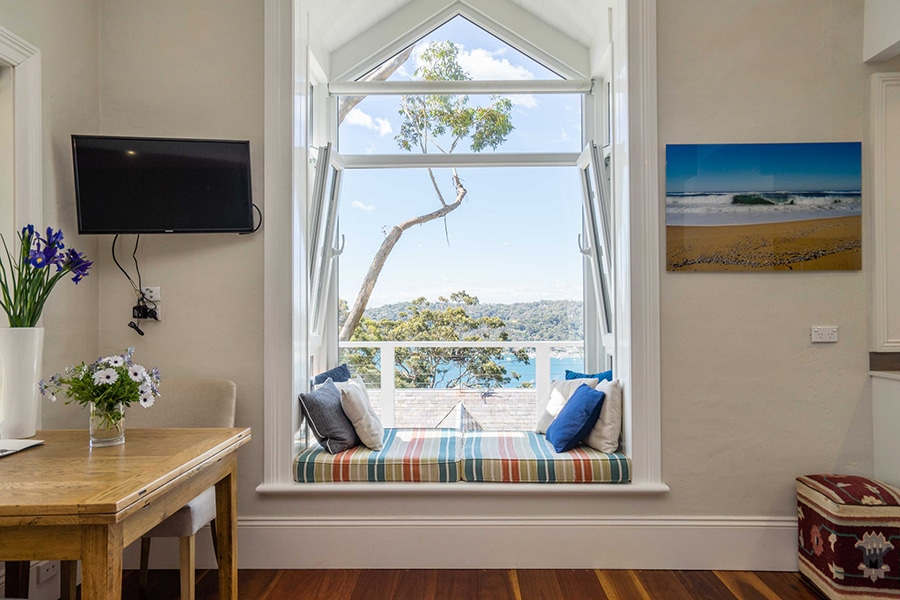 7. Modern, Secluded Cabin with Stunning Bay Views, Church Point
This Sydney Airbnb provides a quaint cabin experience that feels like a world away but is actually only 45 minutes from the CBD. From your private balcony you can enjoy sweeping views of both Pittwater and the Pacific Ocean. Enjoy the comforts of a full kitchen and bathroom and plenty of places to sit and read a book inside this luxury Airbnb Sydney, while also enjoying the stunning green and blue vistas outside.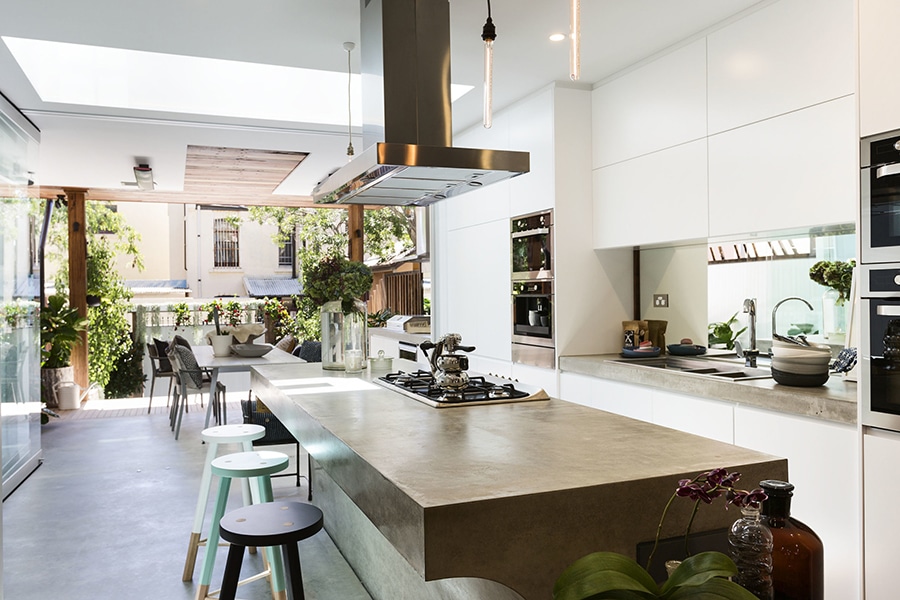 8. The Moo Project, Woolloomooloo
Winning the prestigious title of the Best Airbnb in Sydney by Qantas Travel Insider is no mean feat, which means you'll certainly get an award winning experience at The Moo Project. The three bedroom, two and a half bathroom designer townhouse is the ideal location for a group of friends or co-workers in need of a stylish, conveniently located abode in Sydney's inner city. Make the most of the open plan indoor/outdoor living space, outdoor kitchen and BBQ and fully equipped indoor kitchen, laundry plus air conditioning throughout, sound system and televisions in the living room and all three bedrooms.
Address: King's Cross, Woolloomooloo, New South Wales
Rating to date: 4.84 (186)
Price: $434.89/night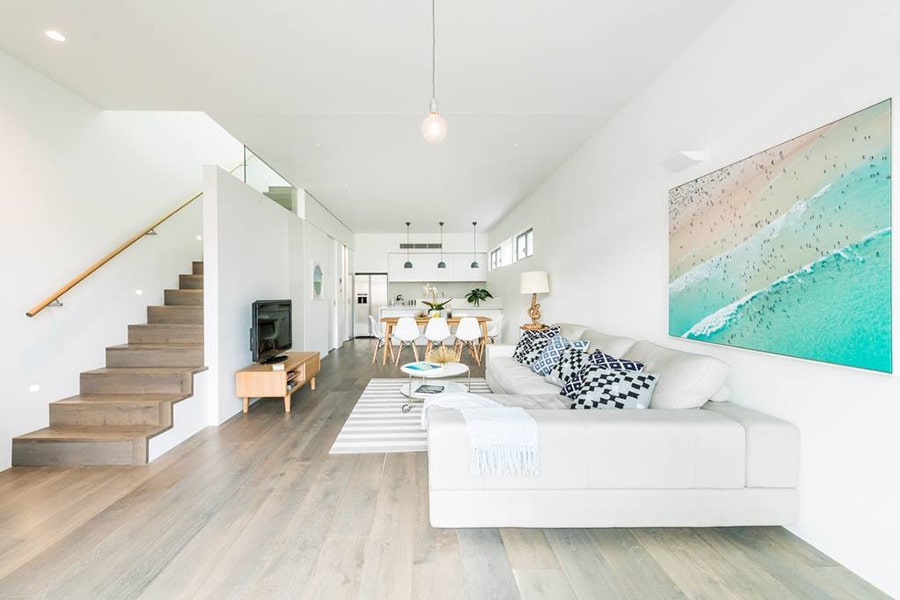 9. Luxurious 3 Bedroom Beach Home, North Bondi
If you're looking for the best Airbnb's in Sydney, you can't go past world-class Bondi Beach. Just a short 500m stroll from the crystal blue waters, this two-storey, three-bedroom townhouse will cater to you and your friends or family's every need. The German leather chaise lounges, high-end Smeg and Miele appliances, five-star hotel mattresses and 500 thread count hotel quality linen is just the beginning of what this Bondi accommodation offers its guests.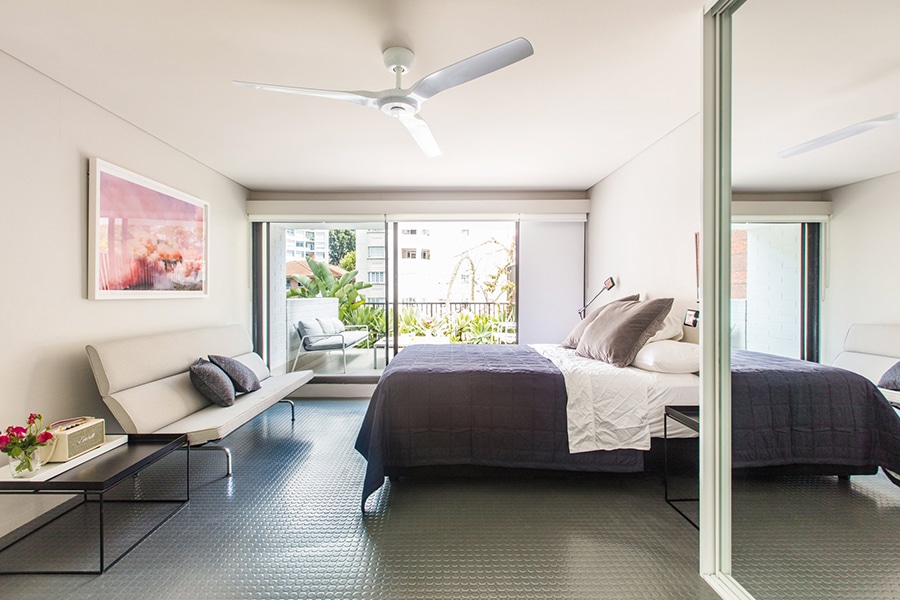 10. Designer Studio Flat with Private Terrace, Elizabeth Bay
Take a dip in the pool and then dry off on the rooftop patio while enjoying expansive views of Sydney Harbour. The tremendous location of this trendy loft Airbnb in the Sydney CBD is only outweighed by the modern designer decor that seamlessly blends the living room into the terrace walkout.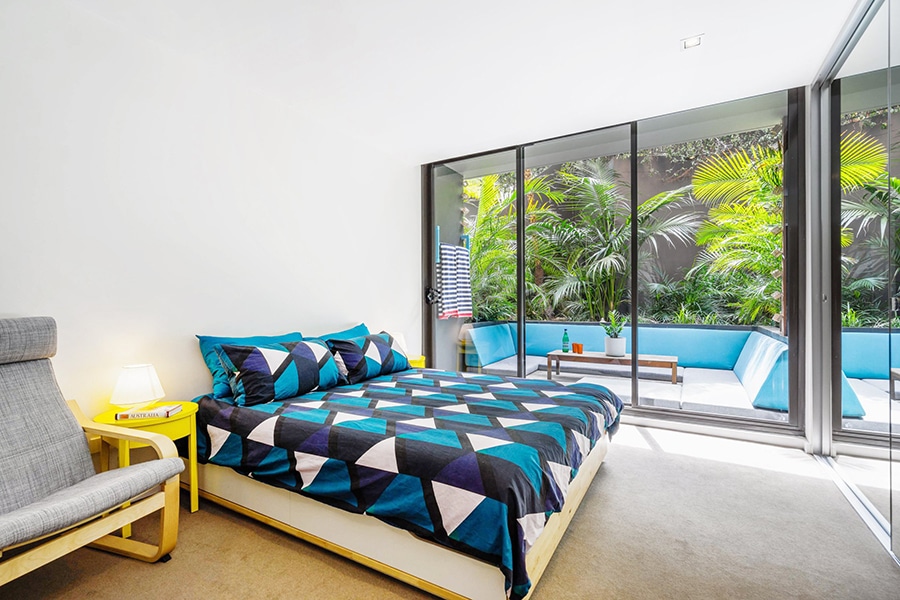 11. Peaceful Room Close to the Beach, Maroubra
Didn't think it was possible to be just steps away from the beach while only a 15-minute drive from Sydney airport? This Maroubra apartment proves your original conceptions false. Complete with an ensuite bathroom, private patio and open living room and kitchen, your next luxurious couples retreat at a Sydney Airbnb is calling.
You'll also like:
15 Best Whisky Bars in Sydney
11 Best Day Spas Sydney Has to Offer
13 Spots For The Best Yum Cha in Sydney