15 Best Whisky Bars in Sydney
You might need to wander down some dimly lit alleys or open some unmarked doors to discover Sydney's best whiskey bars, but we can assure you it's well worth the effort. Maybe you like a sweet and potent shot of America's finest; maybe you're more slanted towards a fine Scottish single malt whisky that's old enough to order its own whisky. Whatever your flavour, these are the venues that'll cater to your every malt, grain and wheat-based whim.
Sydney is now leading the country in small specialty venues, catering to an increasingly demanding and knowledgable clientele who know the difference between Islay and Speyside, and who are always on the lookout to try new things, drink their favourites in new ways and listen to what the bartender has to offer. Whether you're a newbie to the brown spirit or a malt master – check out the 15 best whiskey bars in Sydney for your fix.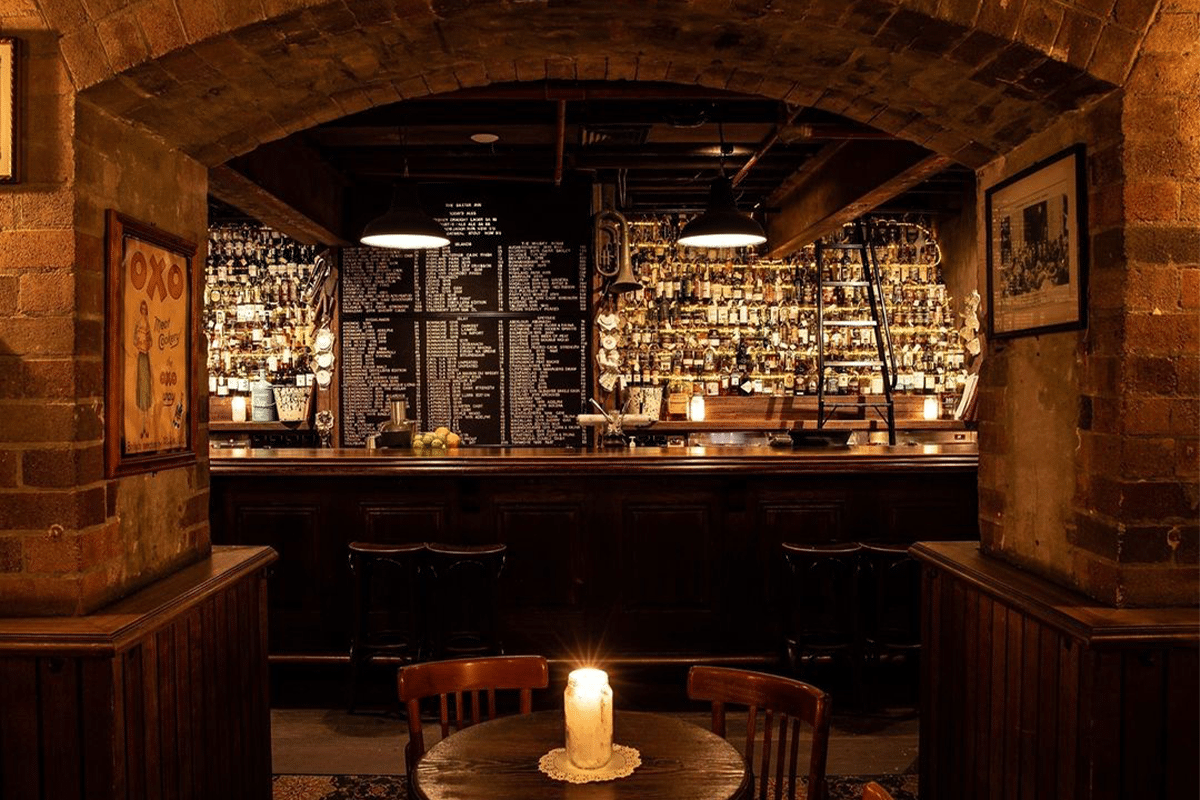 1. The Baxter Inn
In true small venue style, this blink-and-you'll-miss-it bar is tucked in an alley behind an alley and boasts arguably the largest collection of whiskey in Australia – scrap that – the Southern hemisphere. Well-dressed bartenders in clinical white aprons pour out drops from all around the world, including some of the rarest vintages out there, as well as their own house-aged stuff from the secret cellar that sits off the main room. Come for a cocktail before dinner, order a ploughman's plate, call the restaurant to cancel your reservation and drink your way through the continents one nip at a time.
Address: 152-156 Clarence St, Sydney NSW 2000
Hours: Mon-Sat 4pm-1am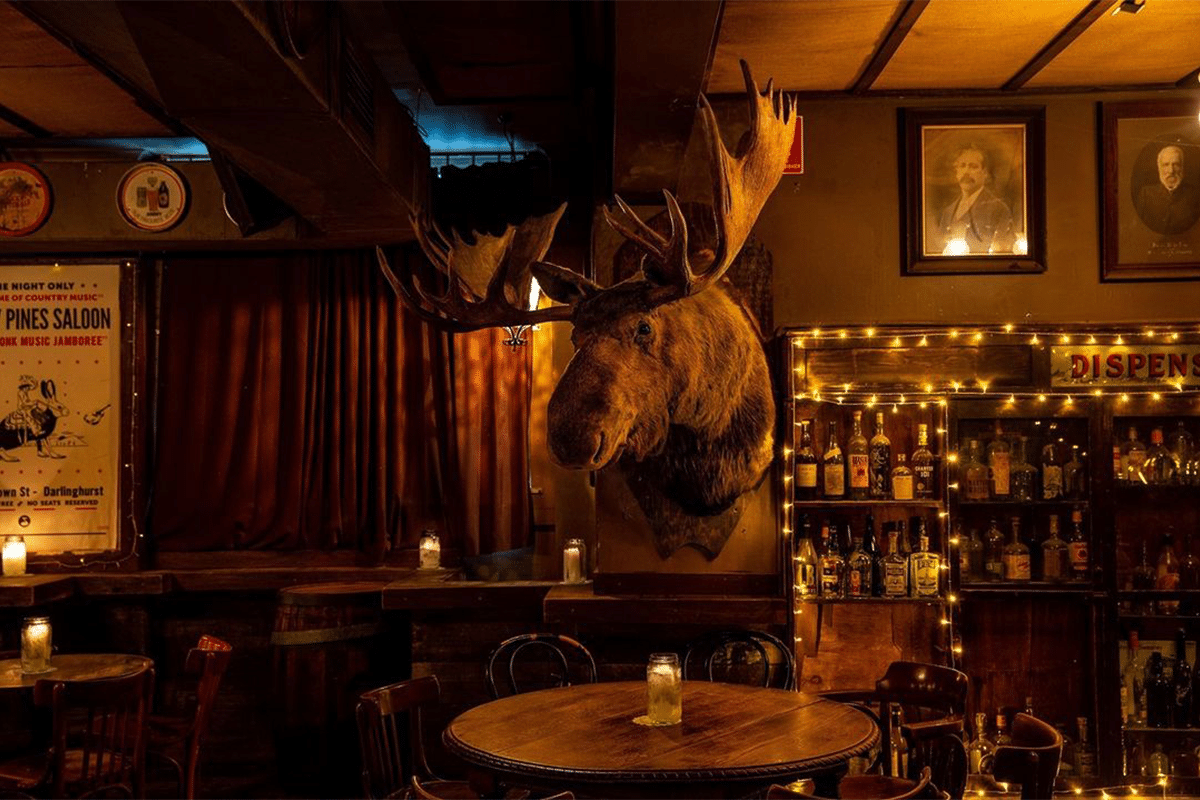 2. Shady Pines Saloon
The one that started it all for small whisky bars in Sydney, and the older brother of The Baxter Inn and Frankies, Shady Pines is arguably the cause of more Sydney hangovers than weddings and NRL finals combined. Born of a cowboy's booze-addled dream, they boast some of the best whiskey around, focussing on North America, and have a team of (oft shirtless) professionals who know how to use it. They also serve up free peanuts and play both kinds of music.
Address: 4/256 Crown St, Darlinghurst NSW 2010
Hours: Mon-Sun 4pm-12am
Phone: 0405 624 944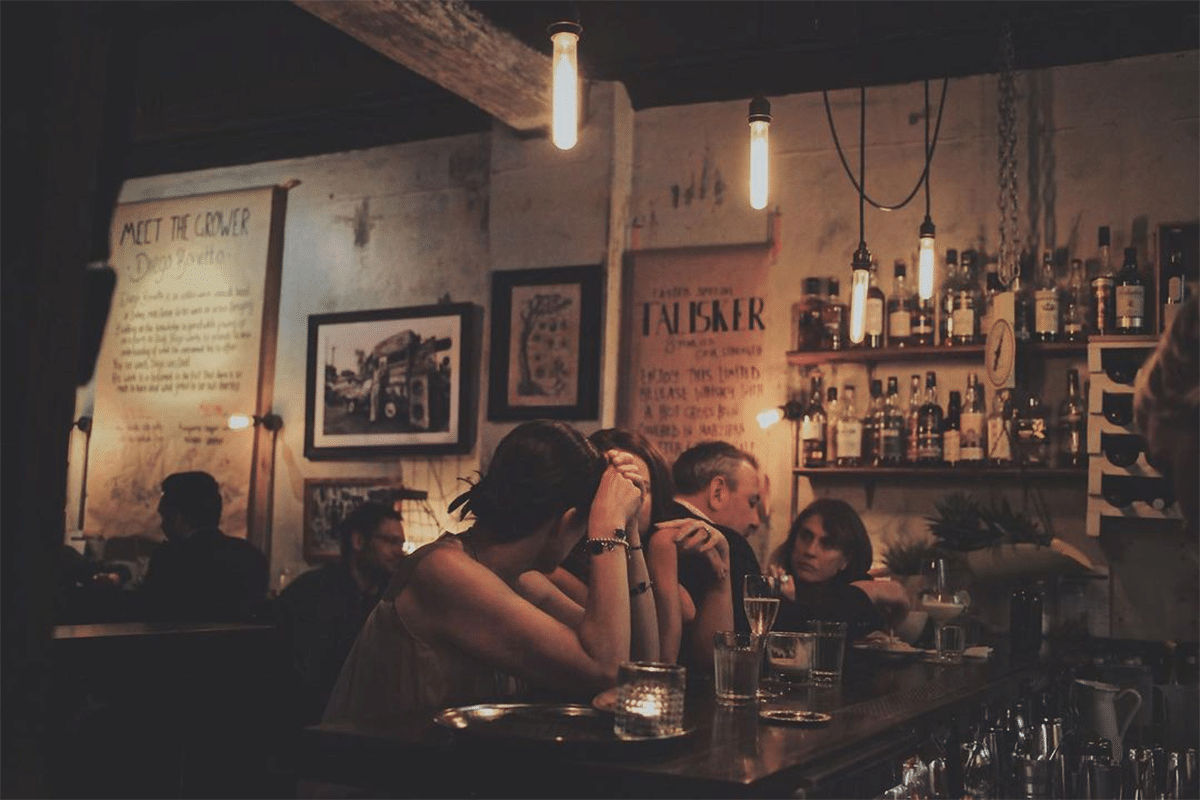 3. Bulletin Place Bar
When you're talking about the best whiskey bars in Sydney, no list is complete without Bulletin Place. Some say that the menu at this establishment changes more often than some people change underwear. Either the bartenders have too much time on their hands or the patrons visit too frequently. All we know is, we ain't complaining! You can visit once a week and the menus bound to be different. Look for whiskey cocktails such as the Nectarine Dream or the Mandalorian with blood plum, coffee, and bitters.
Located in: 7 Macquarie Place
Address: Level 1/10-14 Bulletin Pl, Sydney NSW 2000
Hours: Wed-Thur 5-11pm, Fri-Sat 5pm-12am
Phone: (02) 8069 5433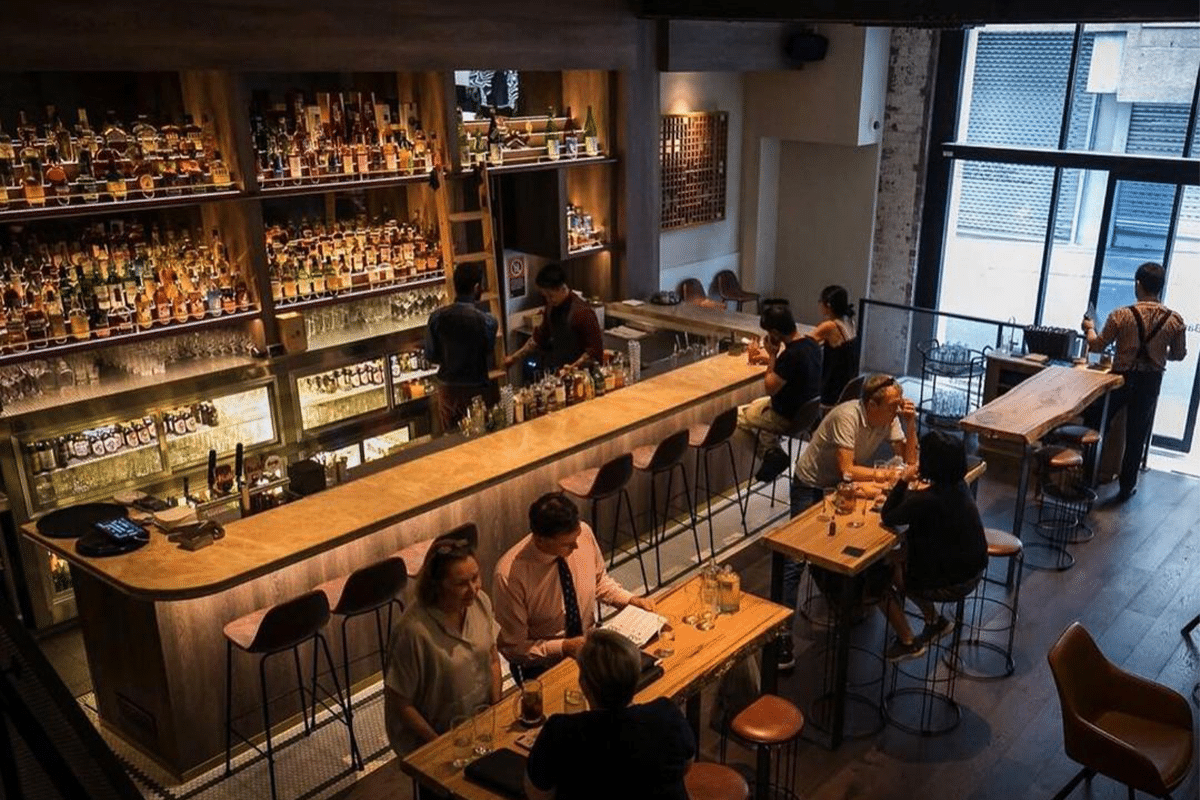 4. Bancho
Bancho features cocktails inspired by the diversity of cultures in Sydney's Chinatown. This whiskey bar in Sydney shares an endless arrangement of unique ingredients with its patrons. The bar prides itself on its large selection of Japanese and Scotch Whisky. Must try's include the Lantern Blazer with Glenfiddich Fire & Cane single malt whisky, black sesame, peanut, and blazed with Drambuie.
Address: 10 Thomas Ln, Haymarket NSW 2000
Hours: Tue 4-11pm, Wed-Thur 4pm-12am, Fri-Sat 4pm-1am
Phone: (02) 8097 9512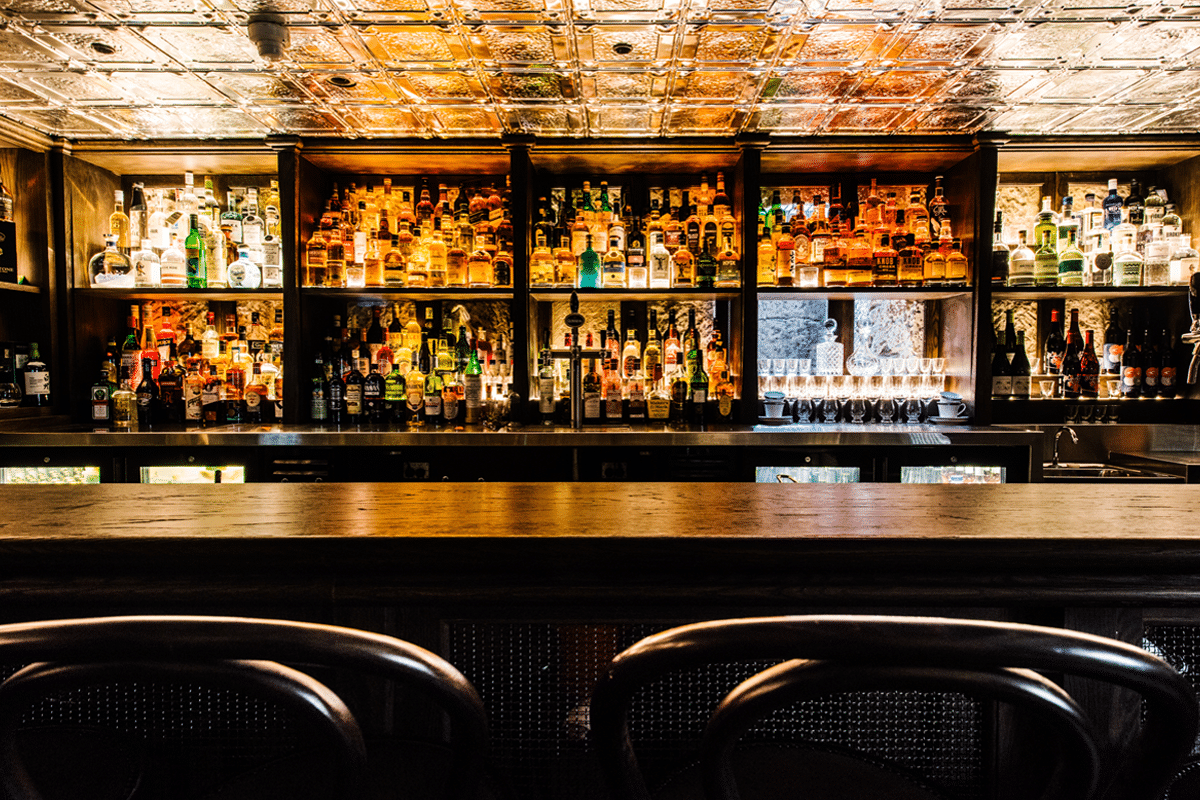 5. The Doss House
This whiskey bar in Sydney will transport you back in time. The vintage aesthetic that permeates throughout the venue is enough to recapture the convivial spirit of Sydney's formative years. The Doss House unites fine whiskies, spirits & cocktails with the historical charm of one of the city's oldest suburbs, The Rocks. Whiskey cocktails include the Julep of Ireland, highballs, and a Whiskey Lemon Cheesecake with Slaine Irish Whiskey, and lemon three ways.
Address: 77/79 George St, The Rocks NSW 2000
Hours: Tue-Thurs & Sun 4pm-12am, Fri-Sat 4pm-1am
Phone: 0457 880 180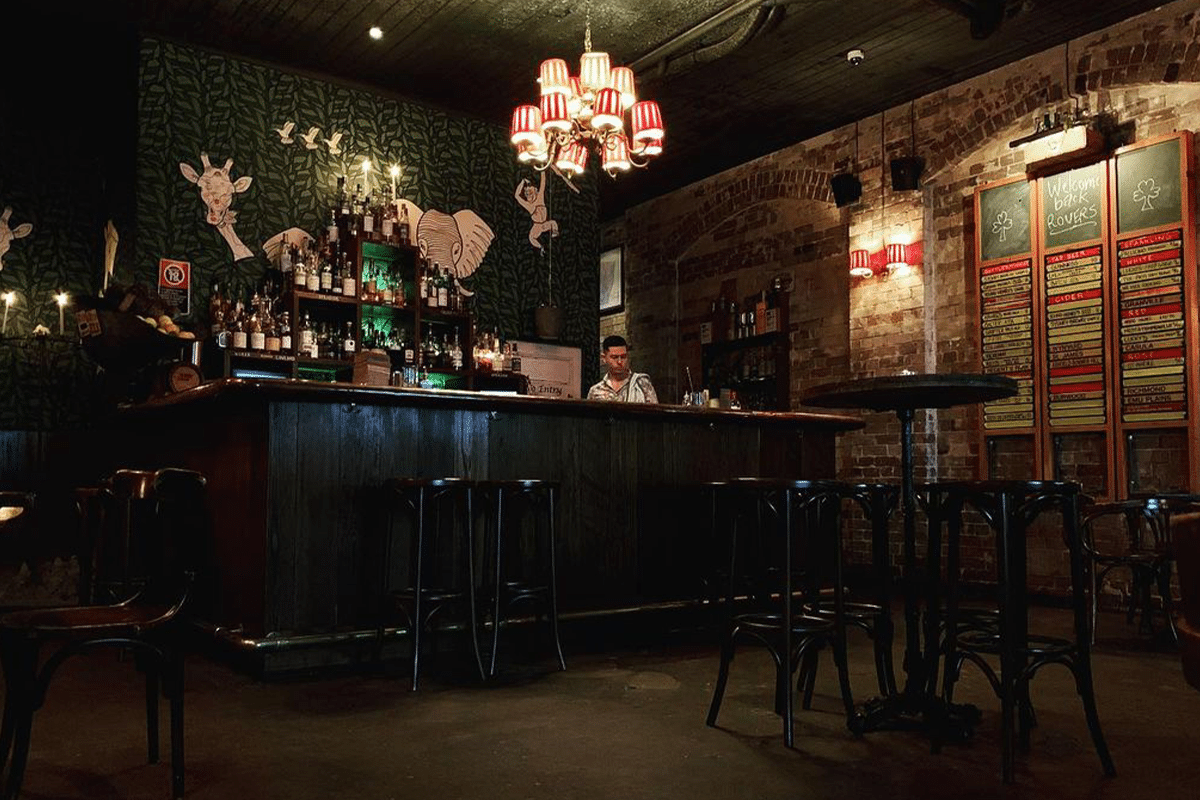 6. The Wild Rover
As the song so efficiently states 'I've been a wild rover for many's the year, and I spend all my money on whiskey and beer.' If you're one who enjoys your roving of the wild variety also then this is the place to spend all your money too. Perfect handles of Guinness, world-famous lamb sausage rolls and enough Irish whiskey to get you through the lengthiest of potato famines. Oh, and Shakin' Stevens fans will appreciate the classy entrance.
Address: 75 Campbell St, Surry Hills NSW 2010
Hours: Tue-Sat 4pm-12am
Phone: (02) 9280 2235
The Wild Rover Behind This Door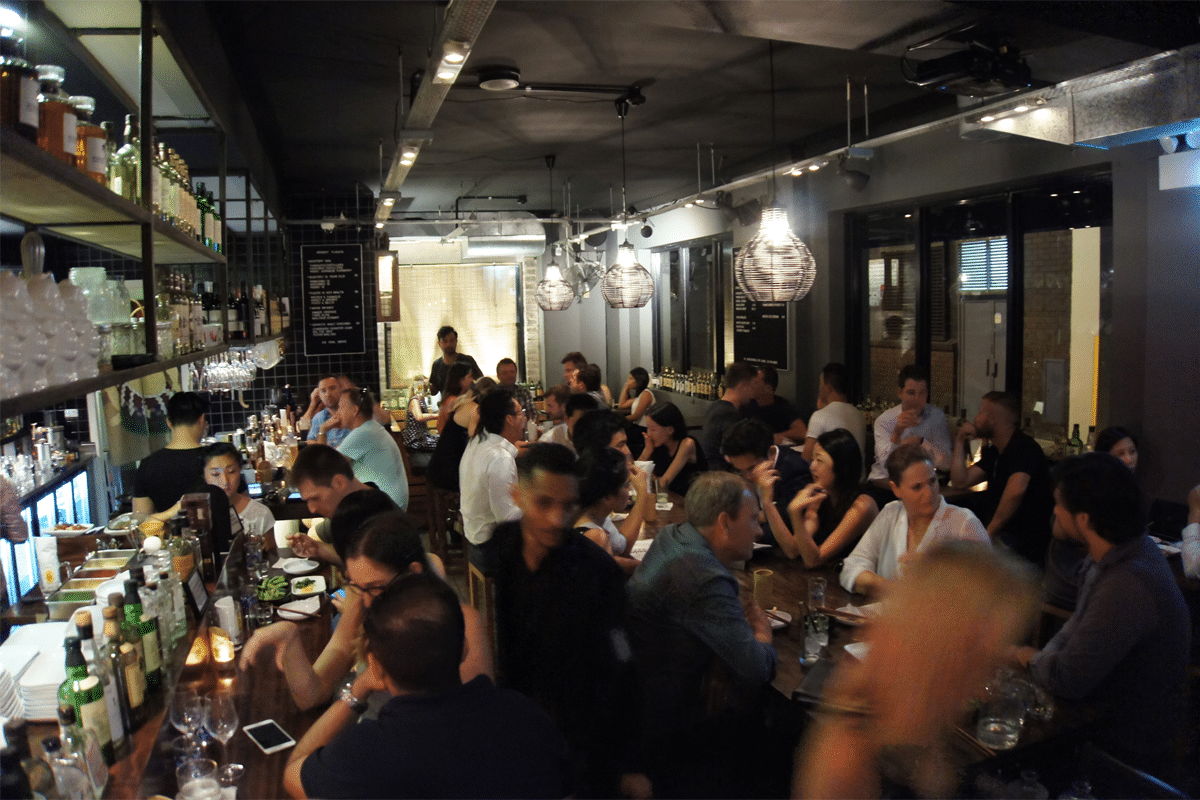 7. Tokyo Bird
Want to see what all the fuss is about re: Japanese whisky? This is the place to do it. The tiny, almost hidden space in an ex-industrial part of Surry Hills has some of the best (and now, rarest) in the world. Also serving up delicious Japanese bar food (katsu nuggets, skewers of lots of different things, eggplant with miso) as well as whiskey-laden cocktails, this is another feather in Sydney's excellent-small-bar-obsessed cap.
Address: Commonwealth St &, Belmore Ln, Surry Hills NSW 2010
Hours: Mon-Wed 4-11pm, Thur 4pm-11:30pm, Fri-Sat 4pm-12am
Phone: (02) 8880 9971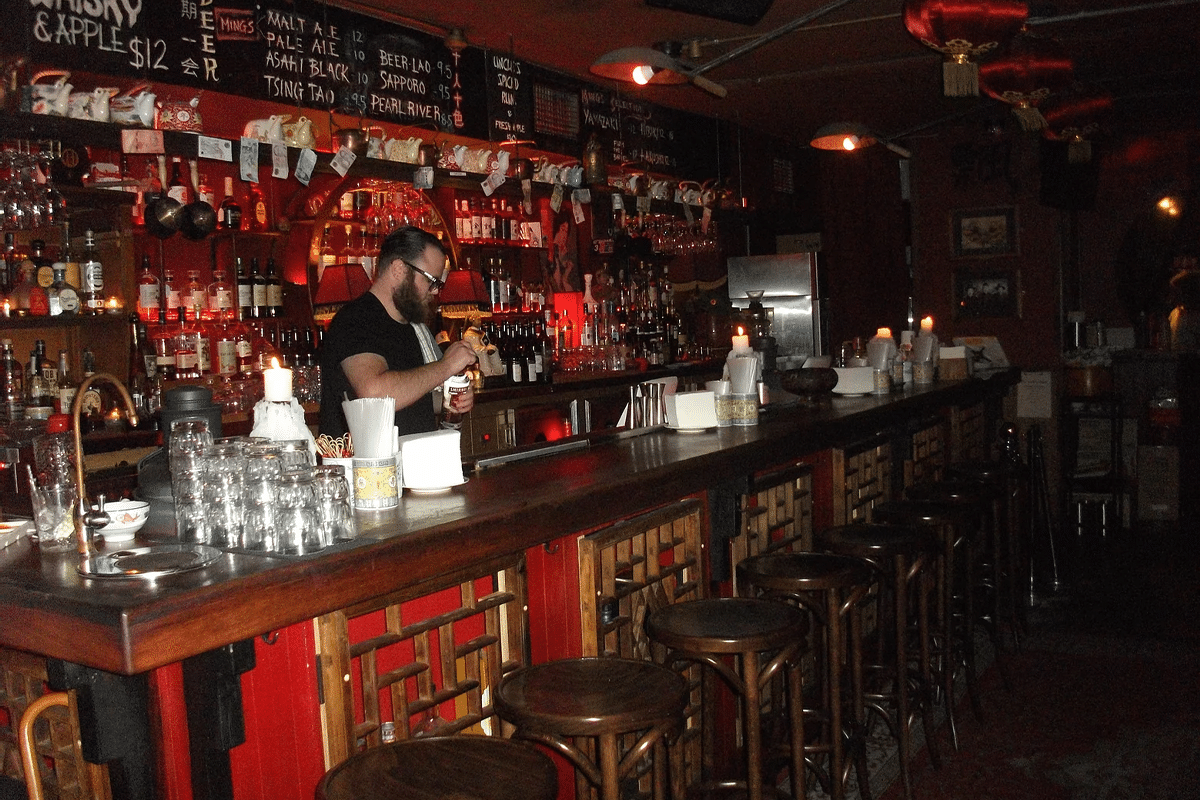 8. Uncle Mings
Cocktails, Japanese Whisky, and Dumplings. Need we say more? Legend has it that Uncle Ming was one of Shanghai's most notorious figures, a sweet potato vendor who began a life of crime as a policeman collecting protection money from local opium traders. Having to leave China, Uncle Ming settled in Sydney in the 1920s and set up a place for the local community to meet and have a drink. This whiskey bar in Sydney claims to have one of the most extensive Japanese Whisky collections in Australia. You HAVE to see it to believe it.
Located in: Ferrier Hare
Address: Basement/49 York St, Sydney NSW 2000
Hours: Mon-Thur 12pm-12am, Fri 12pm-1am, Sat 4pm-1am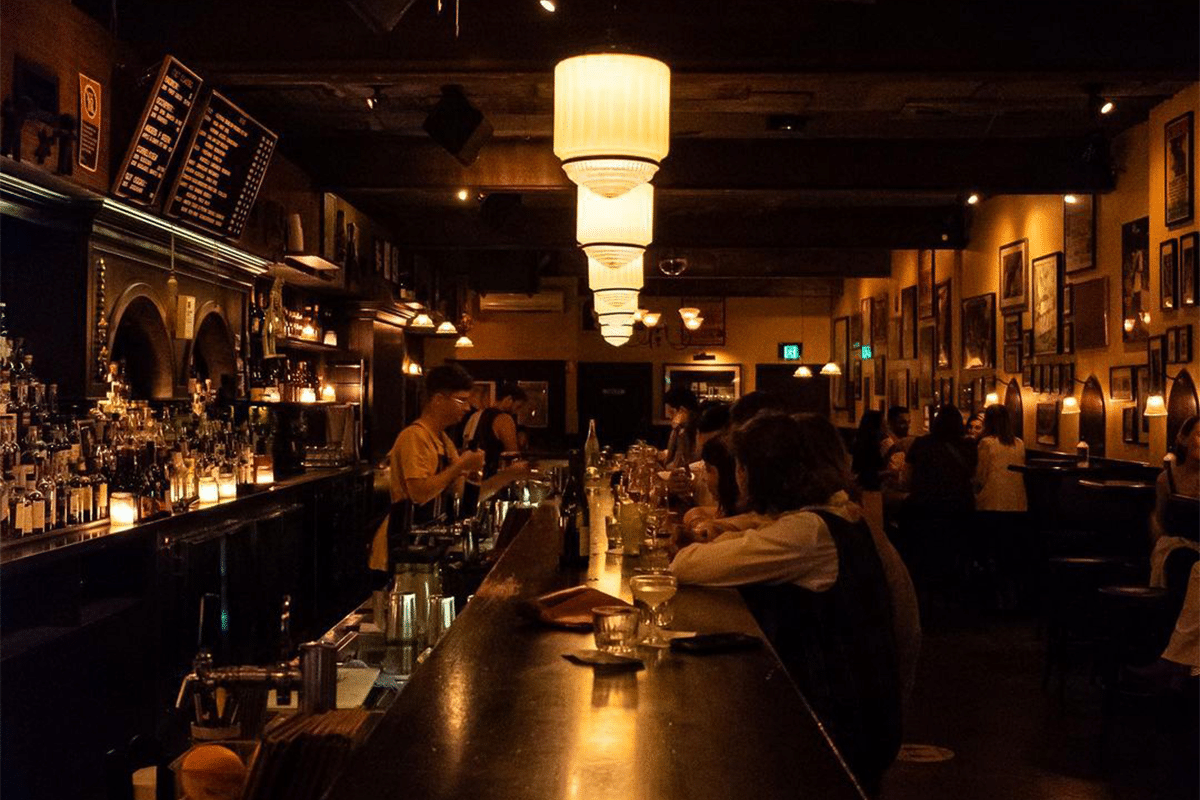 9. Earl's Juke Joint
Not specifically a whisky bar, Earl's is rather an everything bar that just so happens to have a great collection of regularly rotating rarities, to keep things interesting. With an enormous back bar and a team of cocktail and spirit experts, the guys (and girls) at Earl's know the recipe for a good night all too well. They also have a huge selection of beers, featuring classic, easy-drinking lagers to seasonal beers designed to sate even the thirstiest customer.
Address: 407 King St, Newtown NSW 2042
Hours: Tue-Sun 6pm-12am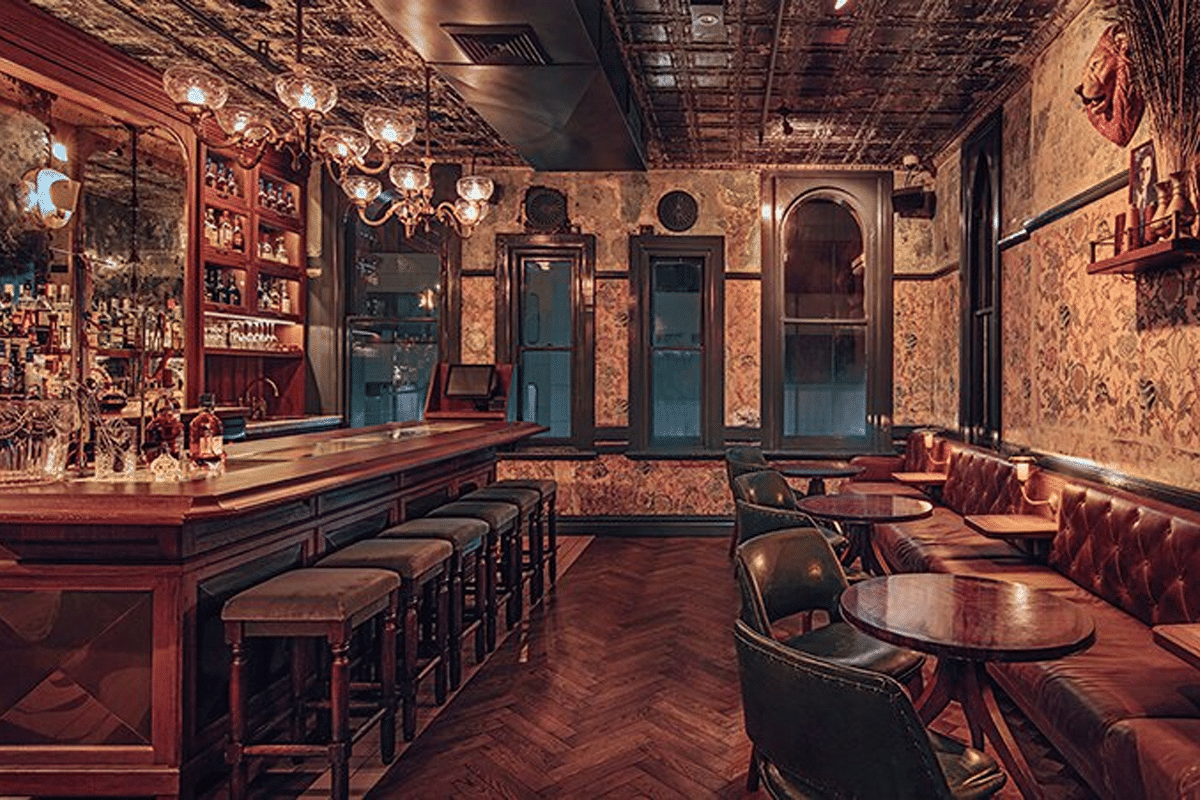 10. J&M
A Sydney whisky bar list wouldn't be complete without a little something from Merivale, and this offering is one of their best to date. J&M is a small, unassuming space nestled above The Angel Hotel, which was the site of Mr. John and Merivale Hemmes' first fashion boutique in the 70s. A huge whisky list takes pride of place amongst an already generous selection of drinks on offer, with cocktails and cracking service also on point.
Address: 1 Angel Pl, Sydney NSW 2000
Hours: Wed-Fri 5pm-12am
Phone: (02) 9114 7326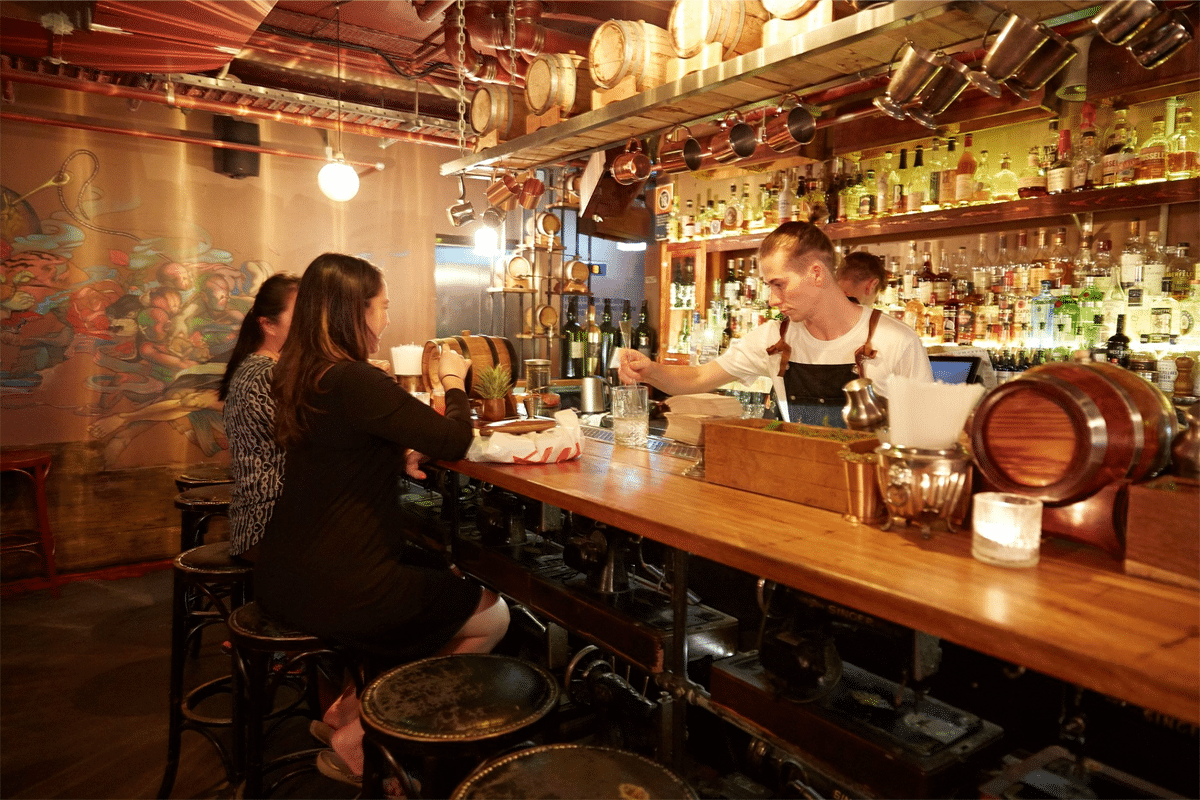 11. Stitch Bar
A regular addition to Sydney's best bars list, Stitch Bar is the perfect whiskey bar to enjoy a rare drop and some great food. American Diner style food graces the counter, there's absolutely no chance you'll be able to walk out without a good feed. The cocktail menu is just as impressive, with such names at Lousiville Slugger and Midnight Express. There's certainly an addition to tickle your fancy. Our pick would be the Gold Digger, a modern take on the classic whisky sour, honey and chocolate liqueur enhanced with the nutty flavour of Amaretto and burned coconut.
Address:  61 York St, Sydney NSW 2000
Hours: Mon-Wed 5pm-12am, Thur-Sat 5pm-2am
Phone: (02) 9279 0380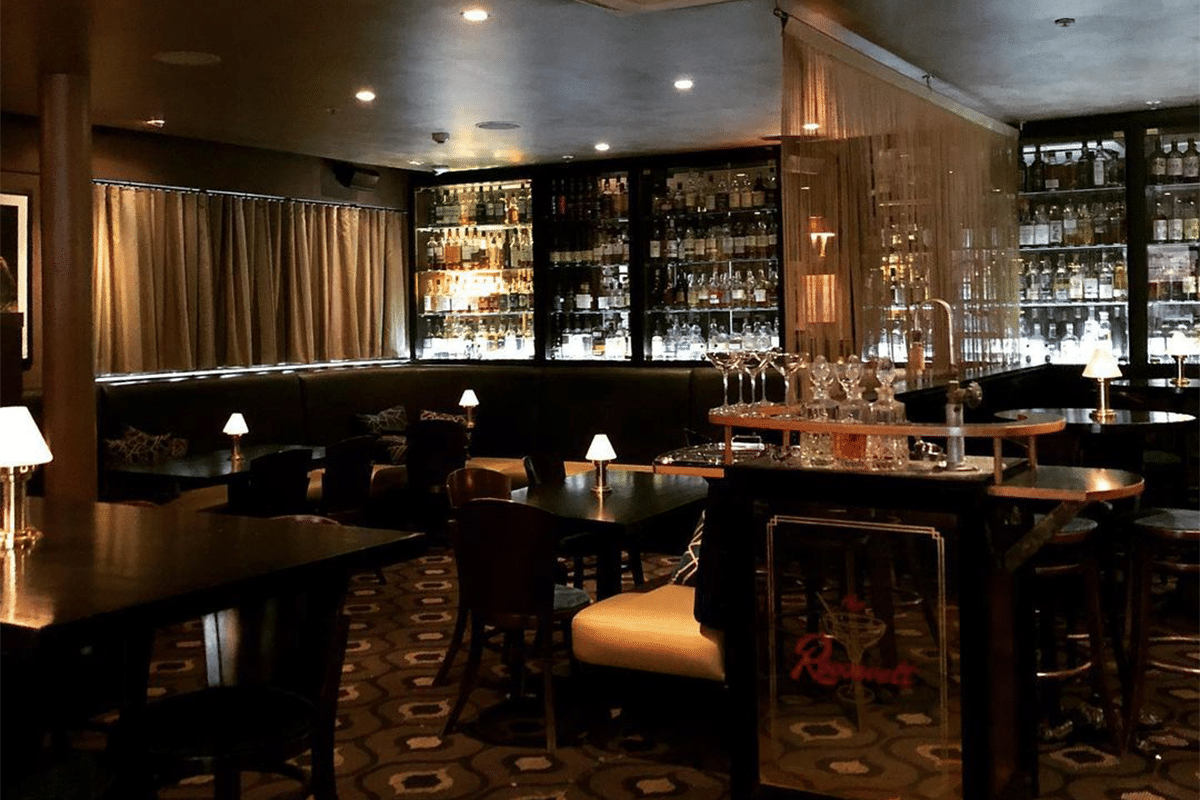 12. The Roosevelt
Eau De Vie's younger brother, This whiskey bar in Sydney delivers the glamour of a bygone era to Potts Point, offering one of the most well-thought-out drinks menus in town and prime-quality dishes in a room fit for the king himself. While cocktails are the specialty of the house, this has to be one of the most opulent rooms to sit in and peruse the excellent selection of whiskies available.
Address: Ground Floor/32 Orwell St, Potts Point NSW 2011
Hours: Tues-Fri 4pm-12am, Sat 3pm-12am, Sun 3-10pm
Phone: 0423 203 119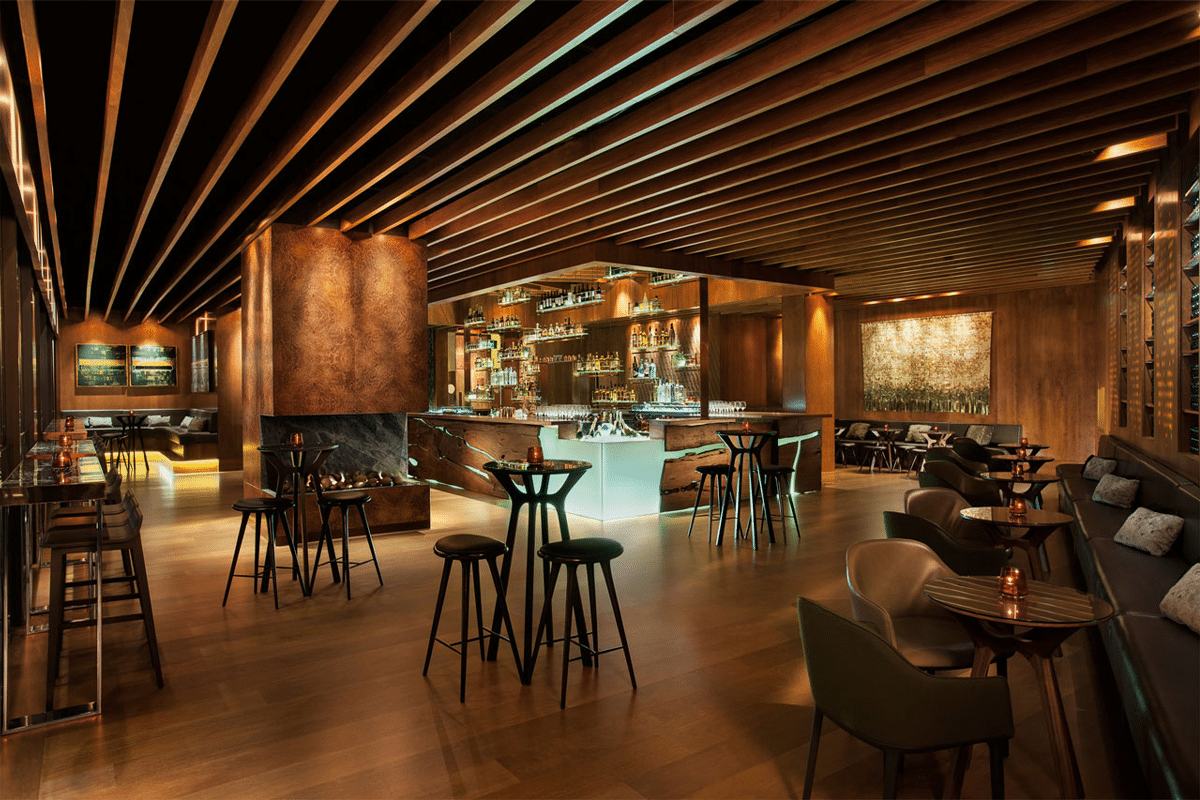 13. Grain
As part of accommodation giant Four Seasons Hotels, Grain Bar has been serving up a huge range of top-shelf whiskies since its inception in 2012. Ranging curious sippers from each major distilling region, you'd be hard-pressed to pay the team a visit and not find something you've never tried. This whiskey bar also dab-hands at cocktails and the sophisticated, elegant setting is perfect at any time of day, for just about any occasion.
Address: 199 George St, Sydney NSW 2000
Hours: Wed-Sat 4-11pm
Phone: (02) 9250 3118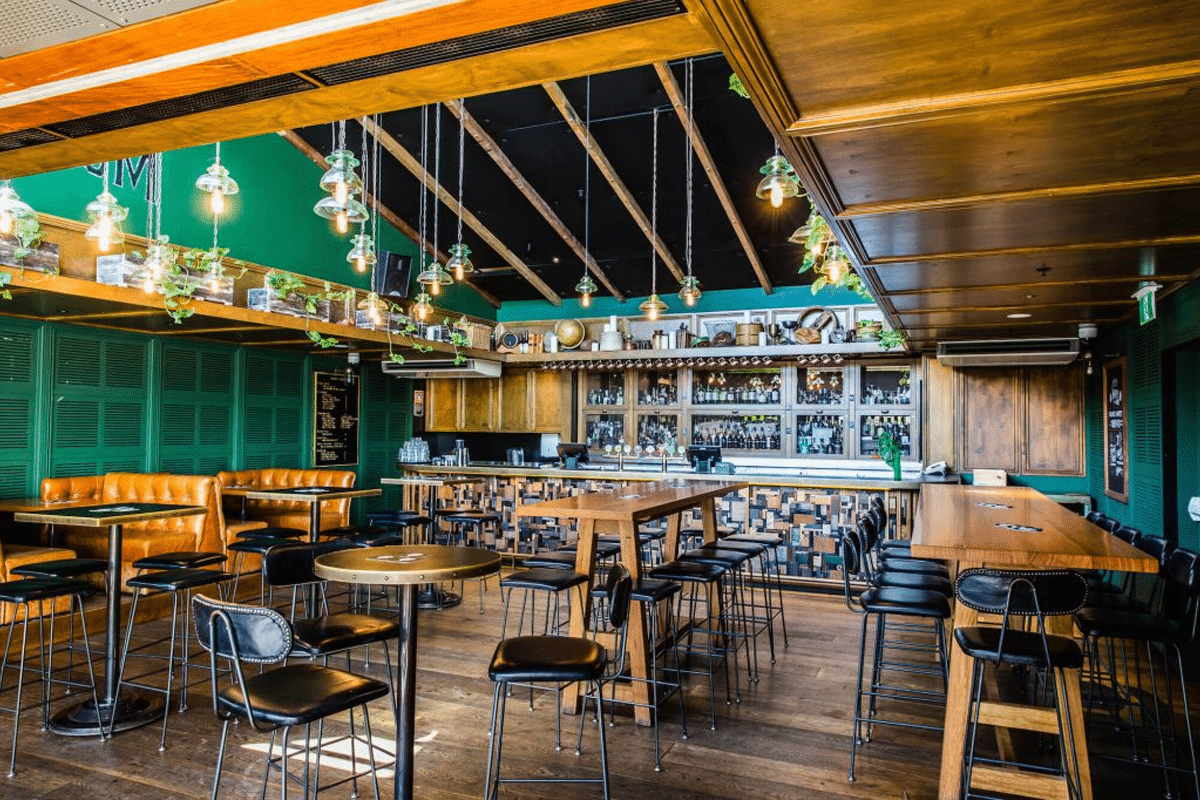 14. Whisky Room
Sitting above The Clock Hotel on Crown St in Surry Hills is The Whisky Room, a simple and elegant Sydney whiskey bar to pull up a stool and drink some drams you've probably not yet tried. Featuring over 200 whiskies from Scotland, Ireland, Japan, Australia, The US, Taiwan and New Zealand, there's something for everybody with a few hidden gems, and the helpful history notes in the menu make it an unpretentious place to educate yourself.
Located in: The Clock
Address: 470 Crown St, Surry Hills, NSW 2010
Hours: Wed-Sat 5pm-12am, Sun 12am-10pm
Phone: (02) 9331 5333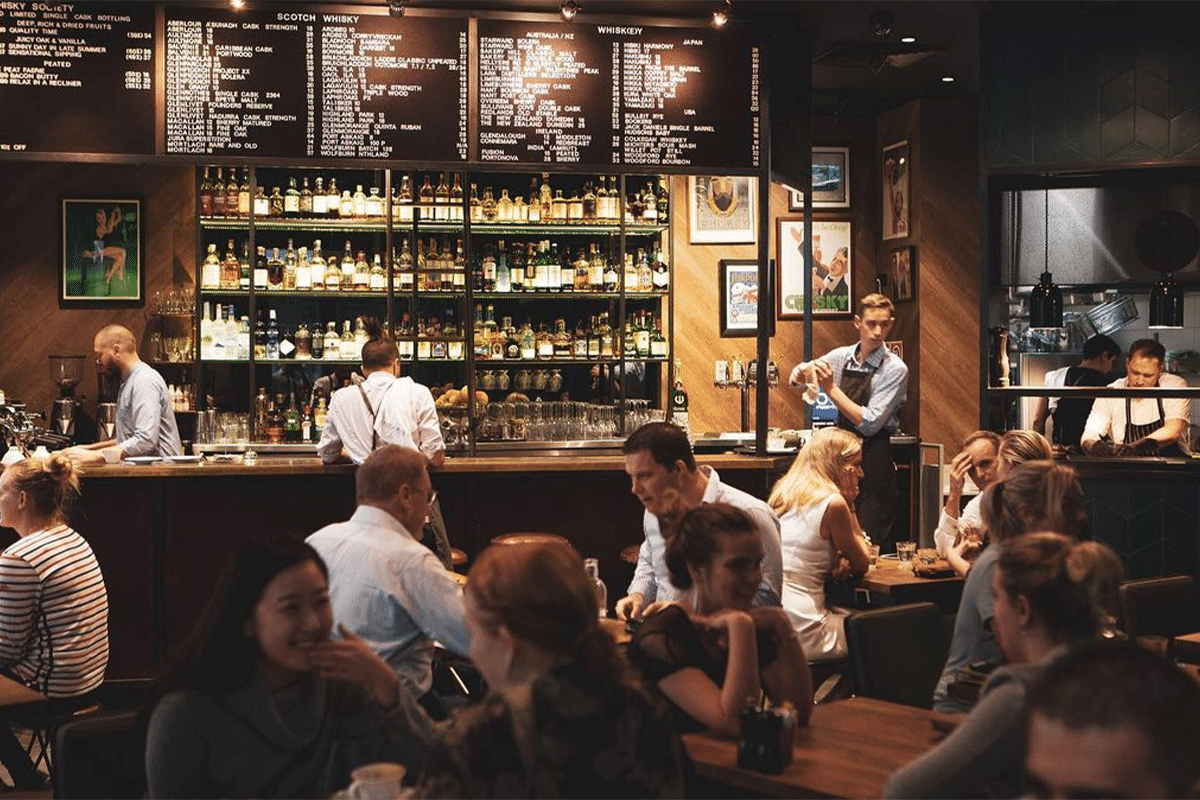 15. Shirt Bar
Wanting to bring something new and fresh to Sydney, Shirt Bar Sussex Lane was opened in 2011 bringing their passions of shirts, tailoring, coffee and dark spirits into an authentic experience unlike many other. This Sydney whisky bar relocated to Barangaroo in 2017 and brought delicious food with it. From the Haloumi to King Prawns and everything in between, this is a whisky bar that serves great food. You won't get thirsty either, there's an expansive whiskey menu with such drops as Uncle Monty Goes Burgling 18yr and Mortlach 18yo to boot.
Located in: International Towers
Address: Tower 1, Corner Scotch Row and, Shipwright Walk, Barangaroo NSW 2000
Hours: Mon-Tue 8am-4pm, Wed-Thur 8am-10pm, Fri 8am-12am
Phone: (02) 9299 5958
General FAQ
What is the best whisky bar in Sydney for Japanese whisky?
Tokyo Bird or Uncle Mings. The latter claims to have one of the most extensive Japanese Whisky collections in Australia. You HAVE to see it to believe it.
Which whiskey bar in Sydney serves the best food?
Stitch Bar serves American diner-style food such as Hot Dogs and Burgers. If you're looking for something more up-market, try J&M for a classic Merivale experience.
What is the best whiskey bar near Sydney CBD?
The Baxter Inn is the best whiskey bar in Sydney. This blink-and-you'll-miss-it bar is tucked in an alley behind an alley and boasts arguably the largest collection of whiskey in Australia – scrap that – the Southern hemisphere.