23 Best New Restaurants in Sydney to Try Right Now
Our list of the best new restaurants in Sydney will help you make a decision in time for that client meeting, birthday party, or casual get-together. From new Korean BBQ to French-inspired brassieres, the harbour city doesn't know when to stop when it comes to staying on top of the foodie scene – with new restaurants popping up left, right and centre. We've narrowed down our list to help you decide where to head first.
Best New Restaurants in Sydney at a Glance
Our list of the best new restaurants in Sydney goes like this.
Now we've had a look at our favourites, let's check out the complete list.
RELATED: Head to one of our favourite bars in Sydney before checking out the best new restaurants.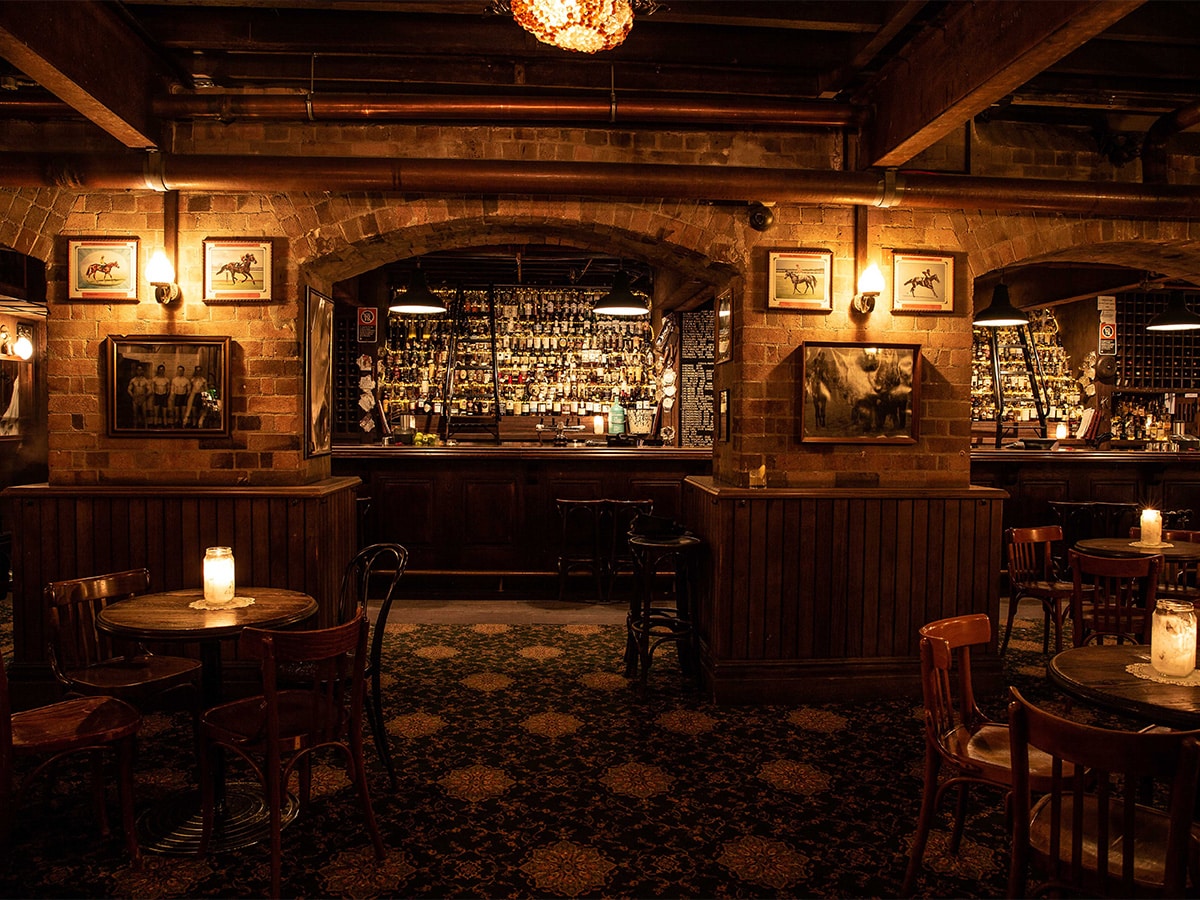 1. Le Foote
Part Parisian wine bar, part Mediterranean grill, Le Foote is the latest from the Swillhouse team. Transforming one of Australia's oldest pubs (Phillip's Foote) located in the historic The Rocks precinct, you can expect a wine bar and restaurant that takes a daring approach – compete with jazzy tunes, live entertainment combined with modern-day French romance and natty wine. Our top pick if you're looking for a new and pleasantly refreshing European-style eatery to visit in Sydney.
Address: 101 George St, The Rocks NSW 2000
Hours: Mon-Weds 5pm-12am, Thurs-Sun 12pm-12am
Phone: (02) 9232 0881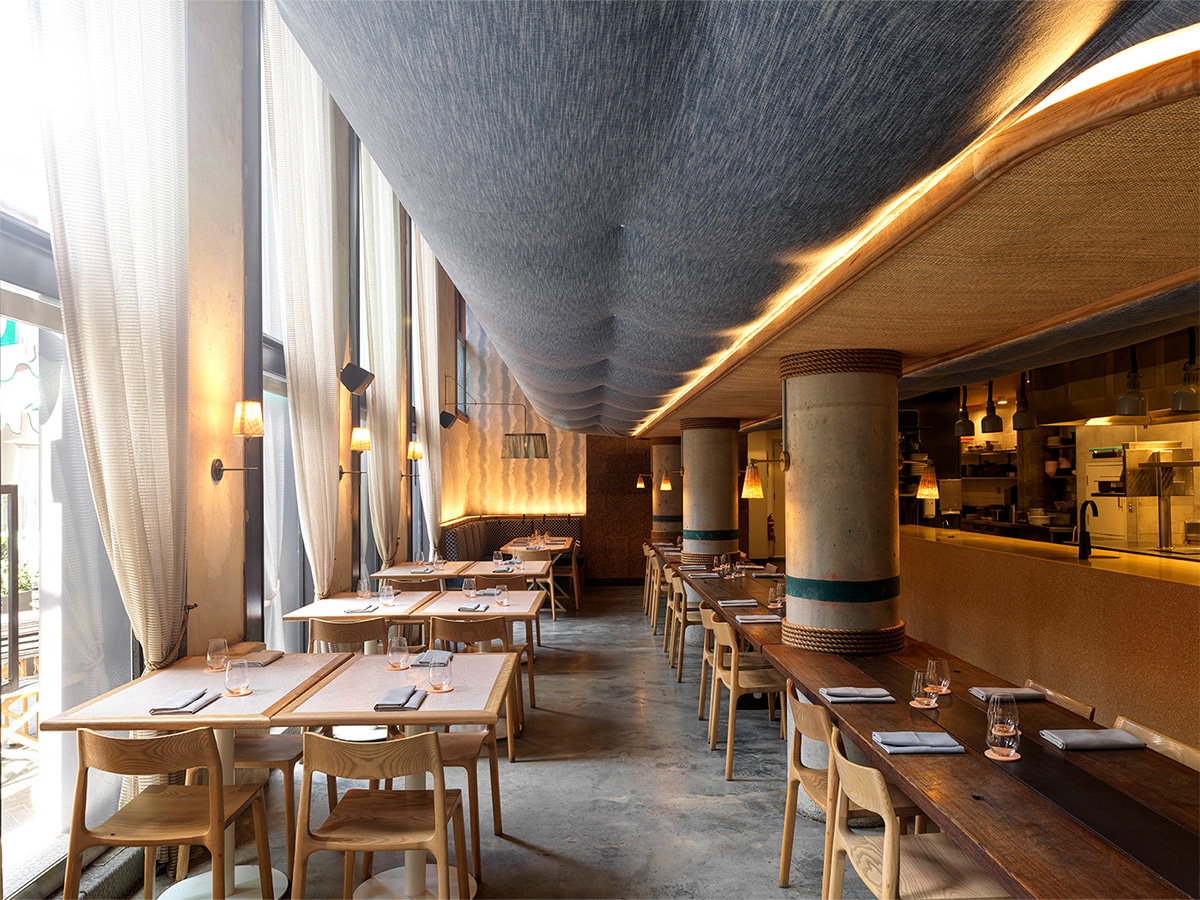 2. Longshore
Get ready for Chippendale's newest modern Australian restaurant and wine bar with an Asian touch, set to be one of the hottest restaurants in Sydney come mid-June when it opens. The menu takes an experimental snack-style approach and focuses on fresh, local Australian seafood and isn't afraid to explore bold combinations. Combine this with a 150-strong wine list, and you're in for a fun, new experience that may very well be different to any dining experience you've had to date.
Address: 5 Kensington St, Chippendale NSW 2008
Hours: Thurs 6pm-11pm, Fri-Sat 12pm-3pm/5.30pm-12am, Sun 12pm-4.30pm, Mon 6pm-11pm
Phone: 0450 502 882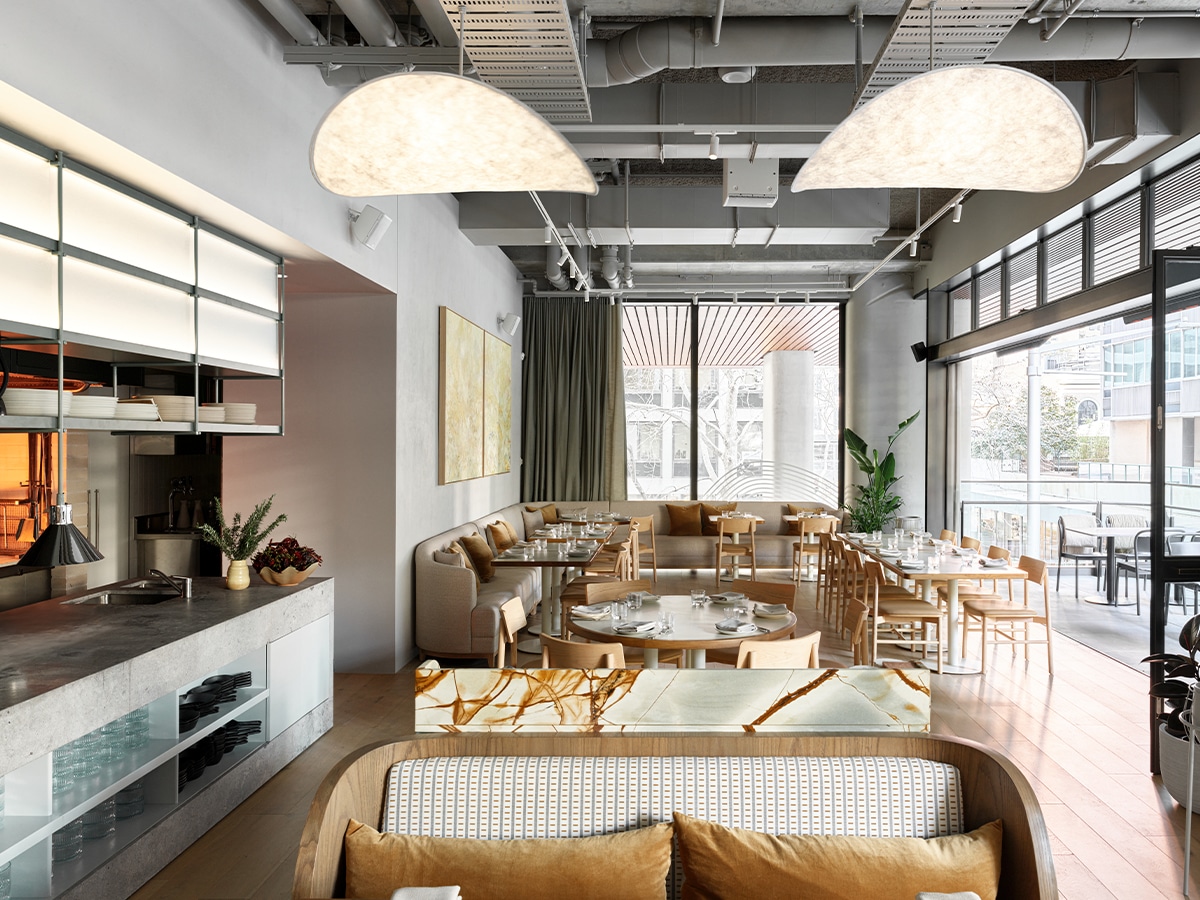 3. Poetica Bar & Grill
North Sydney is fast becoming one of Sydney's best foodie suburbs with a slew of new restaurant openings thanks to Etymon Projects, the team behind The Charles Grand Brasserie & Bar, Loulou Bistro, Boulangerie & Traiteur, and Tiva in Sydney CBD. Their latest venture is Poetica Bar & Grill, with raw and cooked starters, moving into 'charcoal', 'wood', 'dry-aged', sides, and dessert. Think smoky, slow-cooked big meats such as whole sirloins, T-bones and tomahawks that hang in the dry-aging cabinet.
While we love our steaks, it's hard to look past the stand-out swordfish. Dry-aged on the bone for around seven days, it sits above the fire slowly cooking until the last minute when it gets a flash on the hot grill to caramelise. Pair this with a bottle from the 450-strong wine list (mostly Australian) and you'll find yourself in foodie heaven.
Address: Mezzanine Level/1 Denison St, North Sydney NSW 2060
Hours: Tues-Sat 11am-12pm
Phone: (02) 9067 4925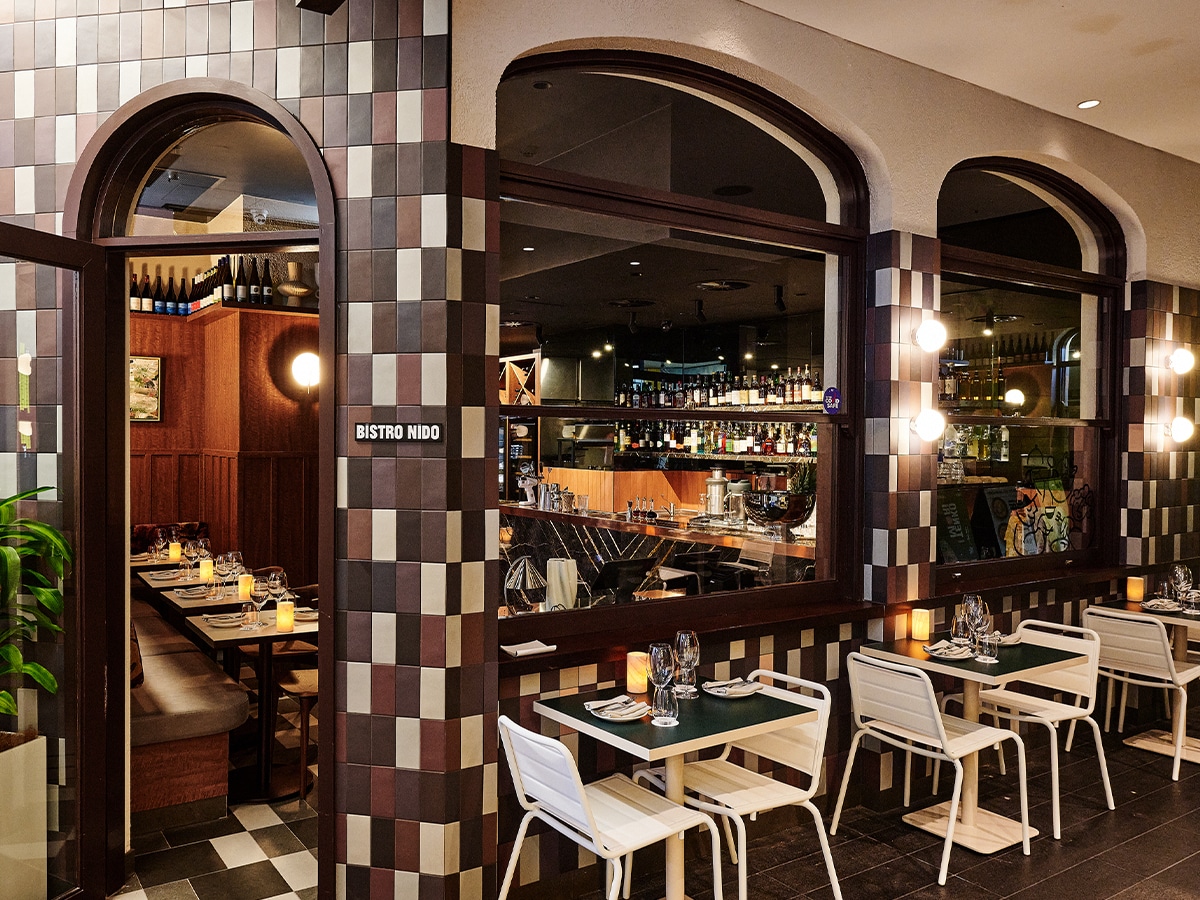 4. Bistro Nido
For one of the best new restaurants in Sydney combining French Cuisine with a Japanese twist, Bistro Nido is a no-brainer for those looking for something different. Unlike anything else to grace the streets of Sydney, the moody, intimate venue is conveniently located in the heart of Sydney's CBD on George Street. A calm oasis from the hustle and bustle just beyond, take the time to explore their exciting menu – complete with the likes of the Nido wagyu cheeseburger, the Charred kabocha pumpkin with nori pangrattato black sesame and the Blancmange, coconut, mango coulis, passionfruit granita for dessert.
Address: Shop 10.07/501 George St, Sydney NSW 2000
Hours: Weds-Thurs 5.30pm-10pm, Fri-Sat 12pm-3pm/5.30pm-10pm, sun 12pm-5pm
Phone: (02) 9283 9762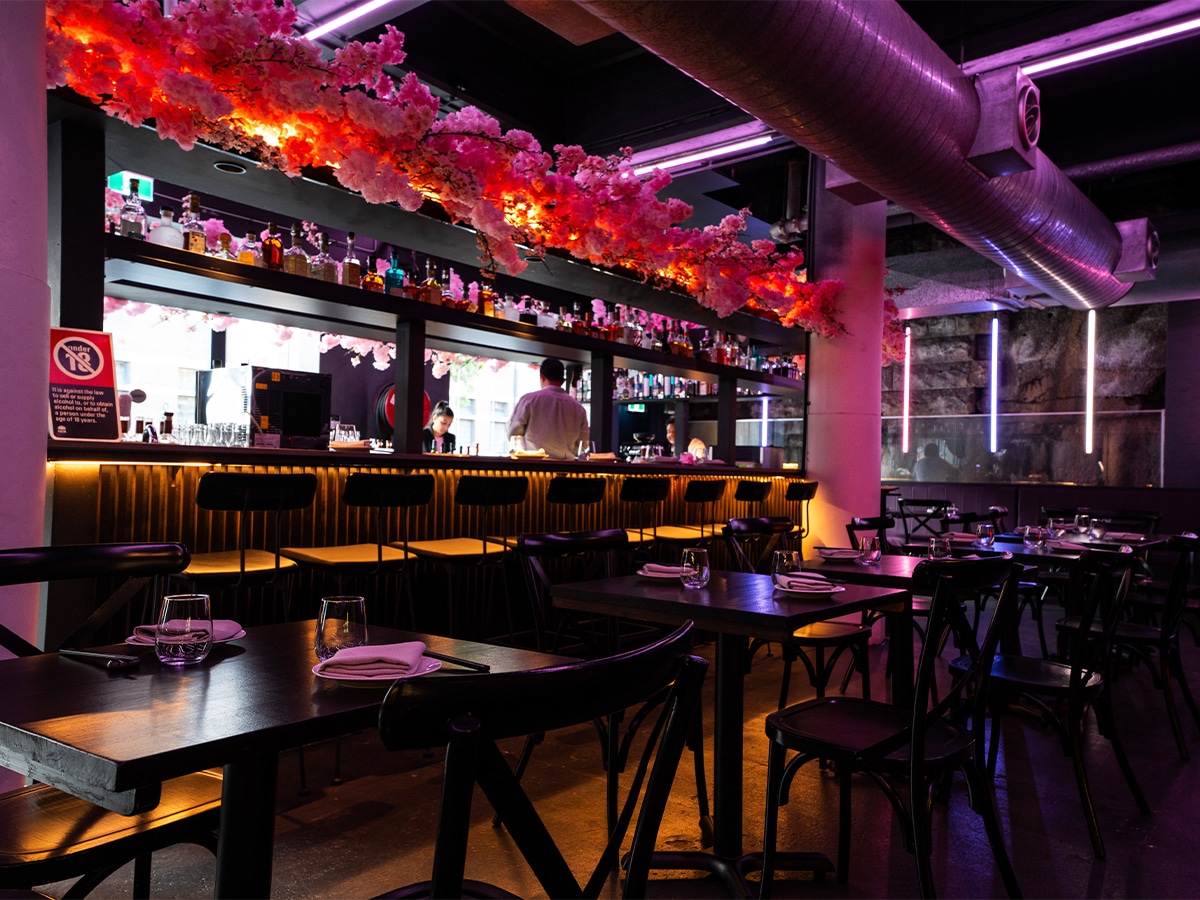 5. Lima Nikkei Restaurant & Bar
Haven't heard of 'Nikkei' cuisine before? It's a delicious Japanese-Peruvian fusion that offers everything from 'Ceviches' and 'Tiraditos' (Peruvian-style sashimi) to charcoal grilled skewers known as 'Anticuchos'. All of which can be found at this new restaurant in Sydney called Lima Nikkei Restaurant & Bar. The sister venue to Warike in Surry Hills, the venue changed names and menus to give Executive Chef Hector Chunga a chance to connect with his heritage and dive into his culinary specialisation in collaboration with chef Luis Guzman. Look out for the to-die-for Lobster Ceviche.
Address: Shop 7/16 Hickson Rd, Dawes Point NSW 2000
Hours: Tue-Thur 5-10pm, Fri-Sat 12-3pm & 5-11pm, Sun 12-3pm & 5-9pm
Phone: 0451 308 360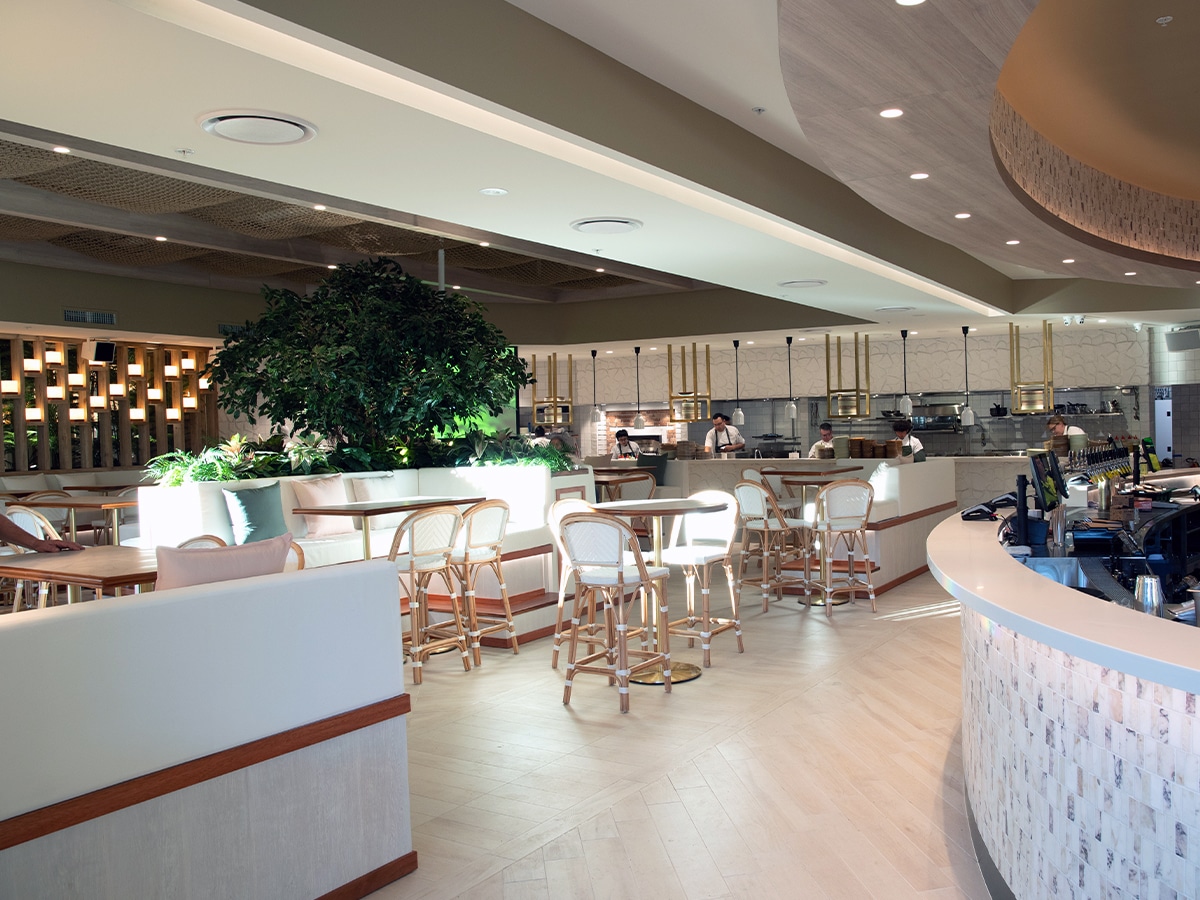 6. Darling Pavilion
Another great addition to Sydney's thriving pub scene, Award-winning hospitality group, Universal Hotels, has welcomed Darling Pavilion to its 16 pub roster by opening a new 1000SQM venue across from Tumbalong Park. Kyle Quy (ex. Nola Smokehouse) is looking after the menu with pub classics sitting alongside contemporary Mediterranean favourites. You won't be able to resist the Whole Roast Shoulder of Lamb, with roasted potatoes, green beans, cherry tomatoes, fried garlic, parsley and red wine jus.
Address: 1/11 Harbour St, Sydney NSW 2000
Hours: Mon-Sun 10am-3am
Phone: (02) 8080 7077
7. Amuro
If you're looking for one of the best new Japanese restaurants in Sydney, head over to Amuro in Darlinghurst. With no shortage of new openings, these vibrant streets never shy away from a new adventure, which is exactly what Amuro is there for. The timber-clad, intimate 20-seat venue is Sydney's very own slice of Japan. Sit back, relax and indulge in endless sushi, saké and mochi and let the staff guide you through the menu. This is the perfect place to come for a solo venture, and it no doubt provides a truly unique, global experience right in the streets of Sydney.
Address: 2/255 Crown St, Darlinghurst NSW 2010
Hours: Weds-Sun 4pm-10pm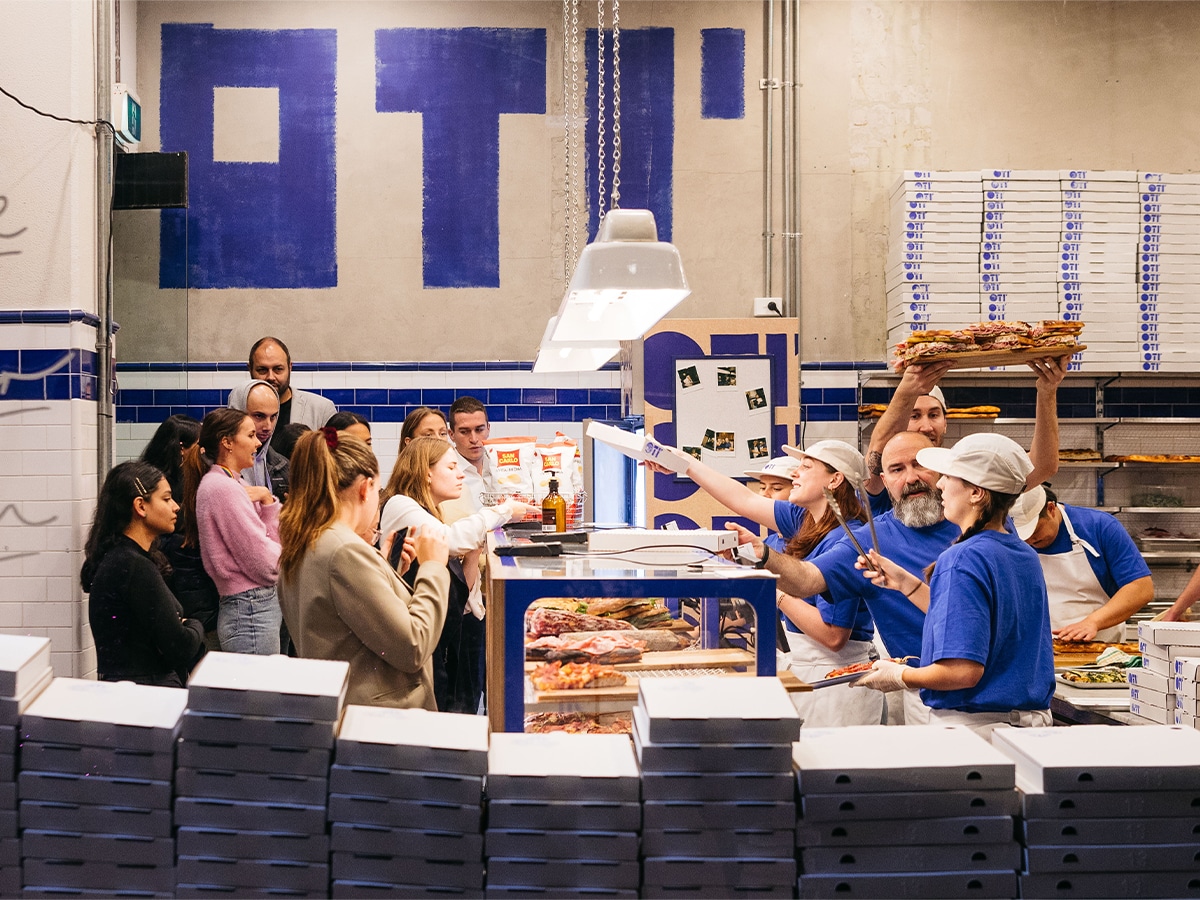 8. Oti'
The latest from Merival, Oti' is a hole-in-the-wall sandwich and pizza bar and one of the best new restaurants in Sydney if you're looking for a fun, laid-back vibe. Located within the Ivy precinct, Totti's executive chef Mike Eggert is the man in charge here and you can tell – the quality here takes casual eats to a whole new level. Bored of your lunchtime takeaway spot or in need of a late-night feed? Oti' has got you.
Address: Shop/5 Palings La, Sydney NSW 2000
Hours: Mon-Sun 11am-8pm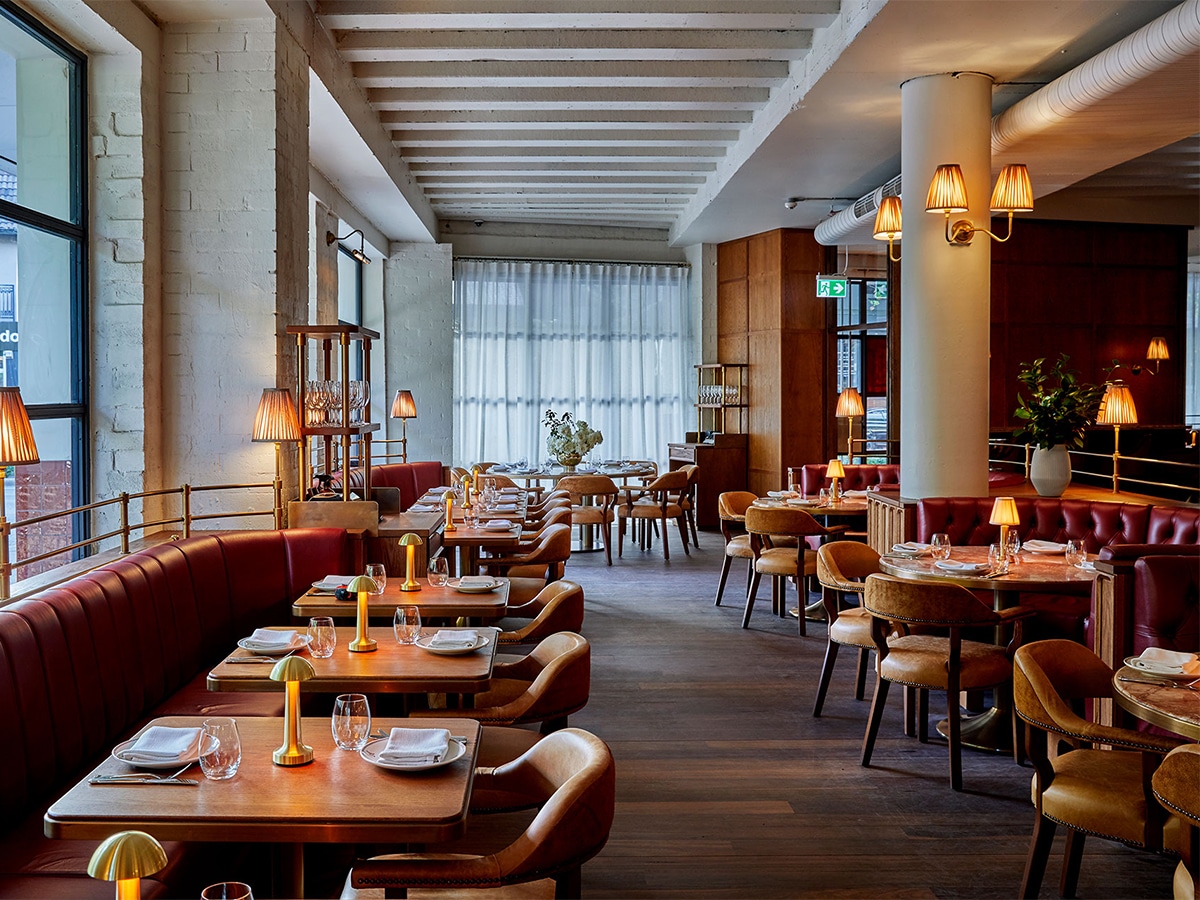 9. Armorica Grande Brasserie
We're beginning to notice a theme that Pariaian-style restaurants make for the hottest restaurants in Sydney right now, with countless new openings in 2023, including Armoirca Grande Brasserie. The traditional Parisian Brasserie epitomises opulence in every sense, from its 150-seat venue on Crown Street to the lavish menu with the likes of a seafood tower, steak frites and decadent French desserts. This offering is sure to become a favourite amongst Sydney siders aboard the French-themed train looking for a unique dining experience.
Address: Shop 1 & 2/490 Crown St, Surry Hills NSW 2010
Hours: Tues-Weds 5pm-11.30pm, Thurs 5pm-12am, Fri-Sat 12pm-12am, Sun 12pm-10pm
Phone: (02) 9145 2990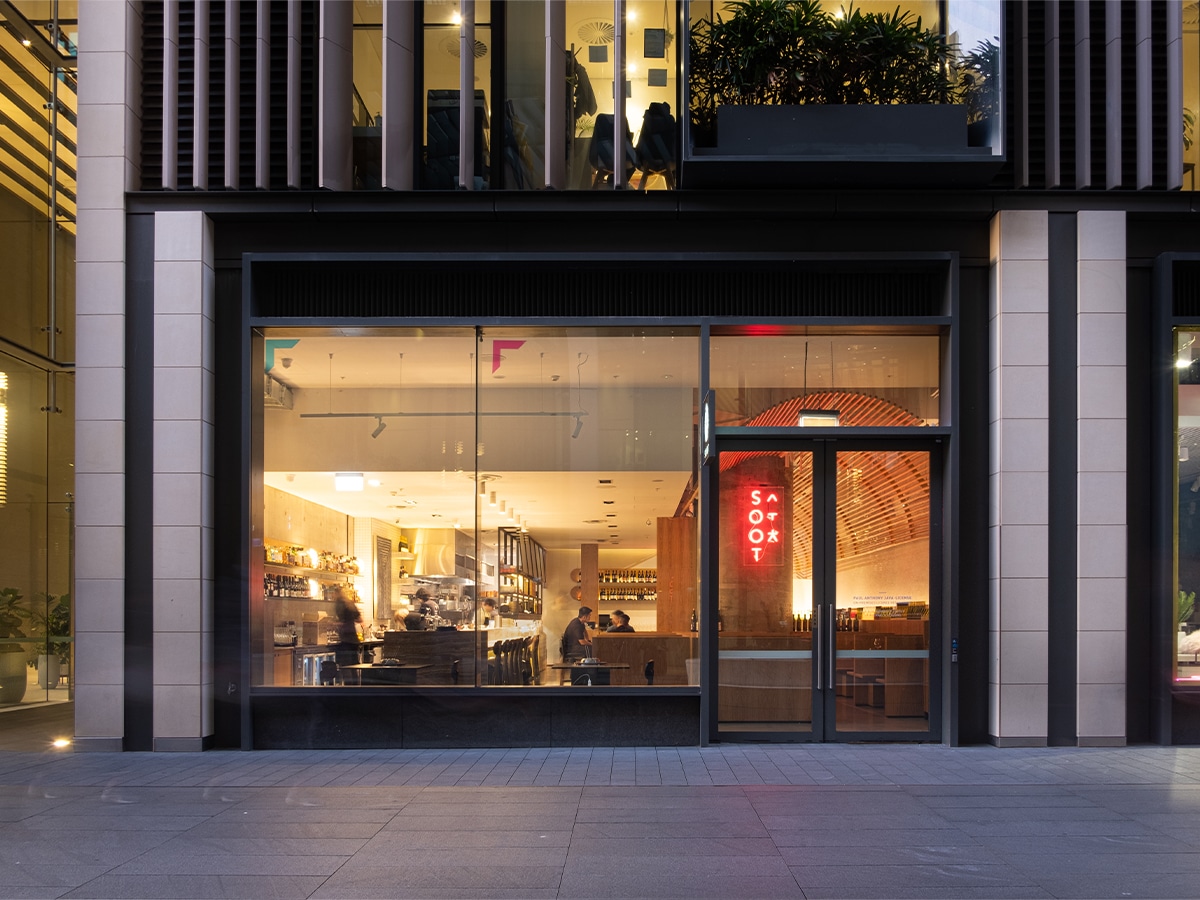 10. SOOT Barangaroo
SOOT in Barangaroo is all the rage right now – combining the classic Australian steakhouse with everyone's favourite, Korean BBQ. We couldn't think of a better combo. The menu features Sydney rock oysters served with mandarin and Jeju Island balsamic mignonette, hand-picked premium cuts of wagyu, signature marinated 'Galbi' beef ribs and a list Korean inspired cocktails and premium Korean Liquor. What makes it even better is that is smokeless! There are smokeless grills at every table, which, combined with a prime location in Sydney's newest dining precinct, means we can't get here quickly enough.
Address: Shop T1.05 100 Barangaroo, Barangaroo
Hours: Tues-Sat 5.30pm-late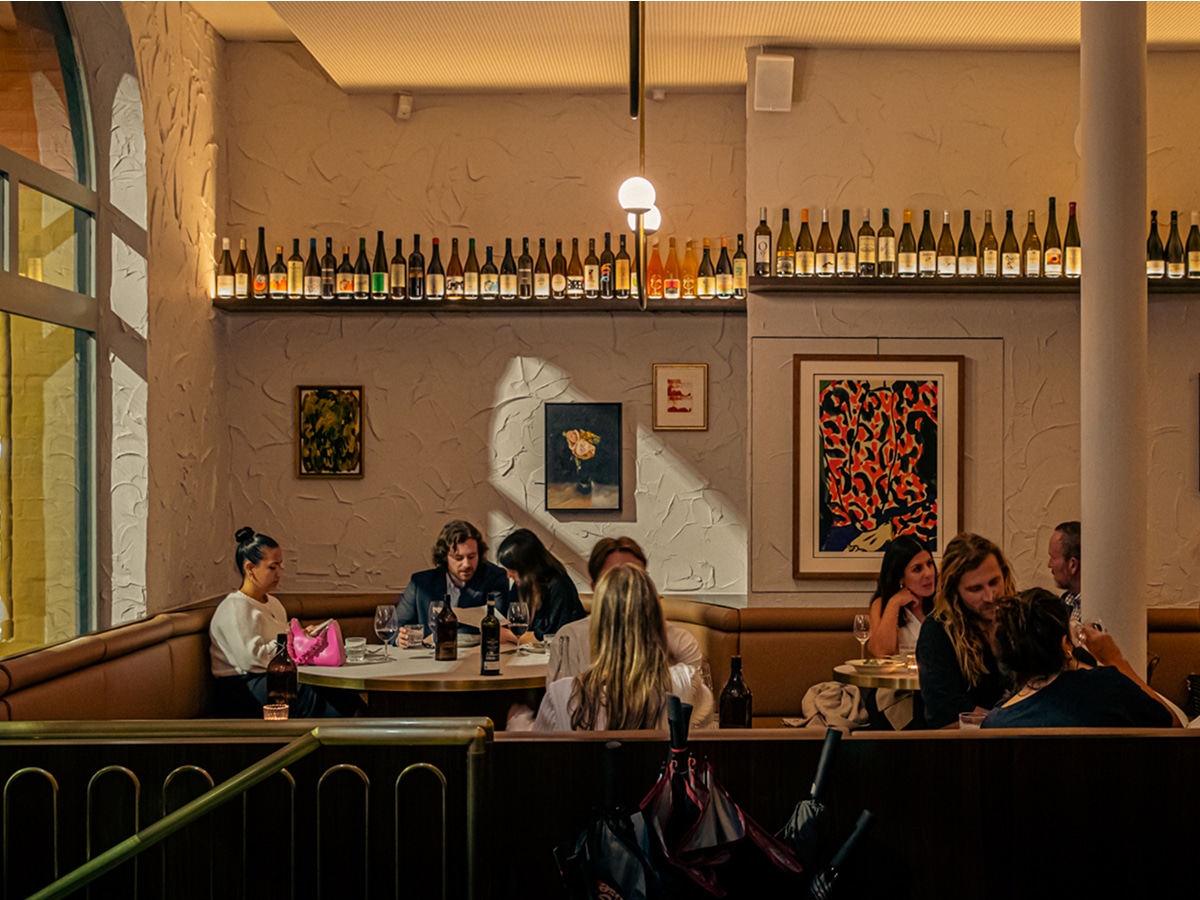 11. Palazzo Salato
From the team that gave us Tilly Devine comes your new favourite Italian trattoria. Come here to see what all the fuss is about and indulge in an authentic Italian experience. Expect hand-shaped pasta, a 500-strong wine list with a walk-in-only bar, a restaurant space, and a private dining room across two storeys in a heritage building in the CBD. Menu standouts include artichoke alla griglia with pesto Trapanese, scarpinocc of Andean sunrise with reggiano and balsamico and spaghetti alla chitarra with bottarga and egg yolk. Set to open in late 2023, you've got plenty of time to prepare your stomachs.
Address: 201/203 Clarence St, Sydney NSW 2000
Hours: Mon-Sat 12pm-12am
Phone: (02) 9044 2556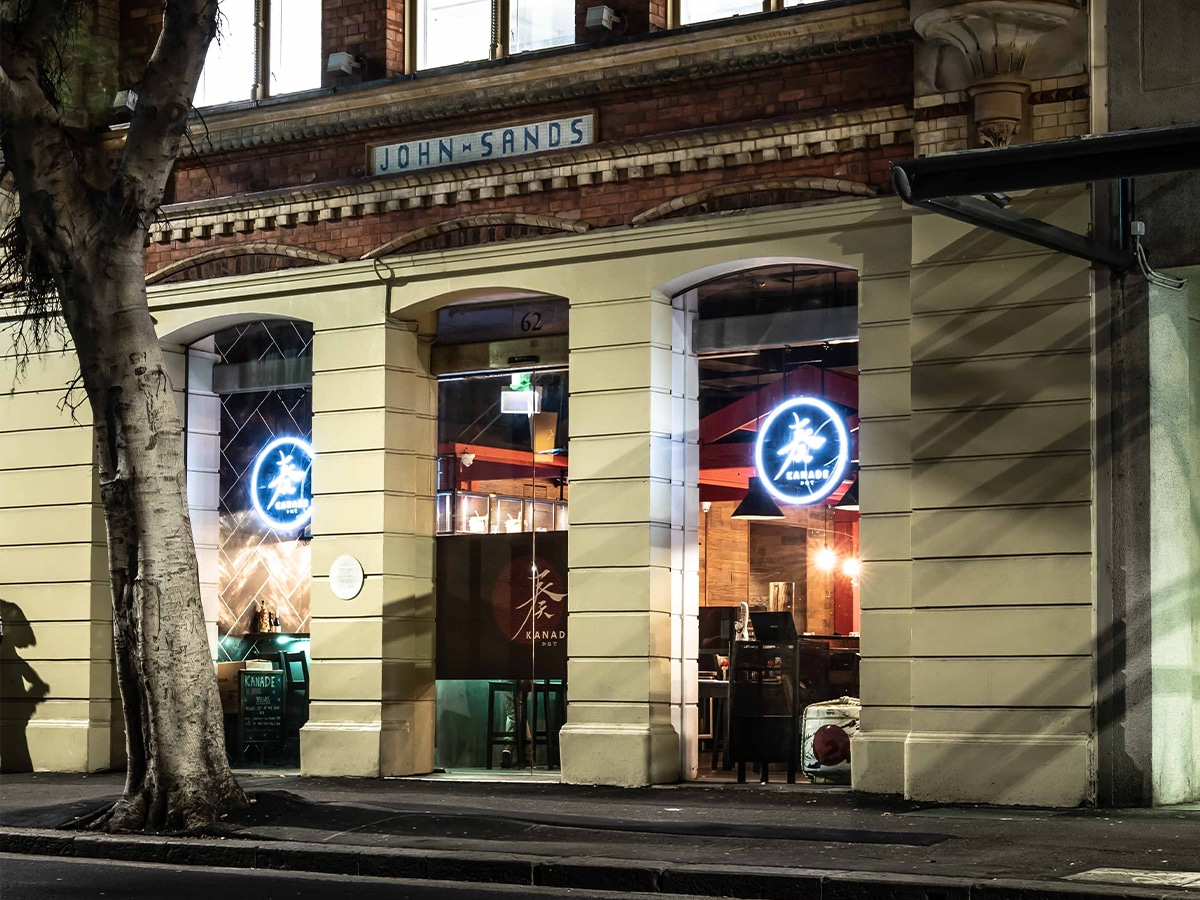 12. KANADE
One of the best new restaurants in Sydney for Japanese cuisine, KANADE is an approachable, authentic spot for all things Japanese in Sydney. Their menu speaks for itself – think wafu Spaghetti options like fluffy miso cream carbonara with bacon, onsen and egg, and mains including soy braised kakuni pork and nitamago egg as well as wagyu beef steak and yakiniku sauce. We're salivating just thinking about it.
Address: 62 Clarence St, Sydney NSW 2000
Hours: Mon-Fri 11am-2.30pm/5.30PM-9.30PM, Sat 5.30pm-9.30pm
Phone: 0487 540 531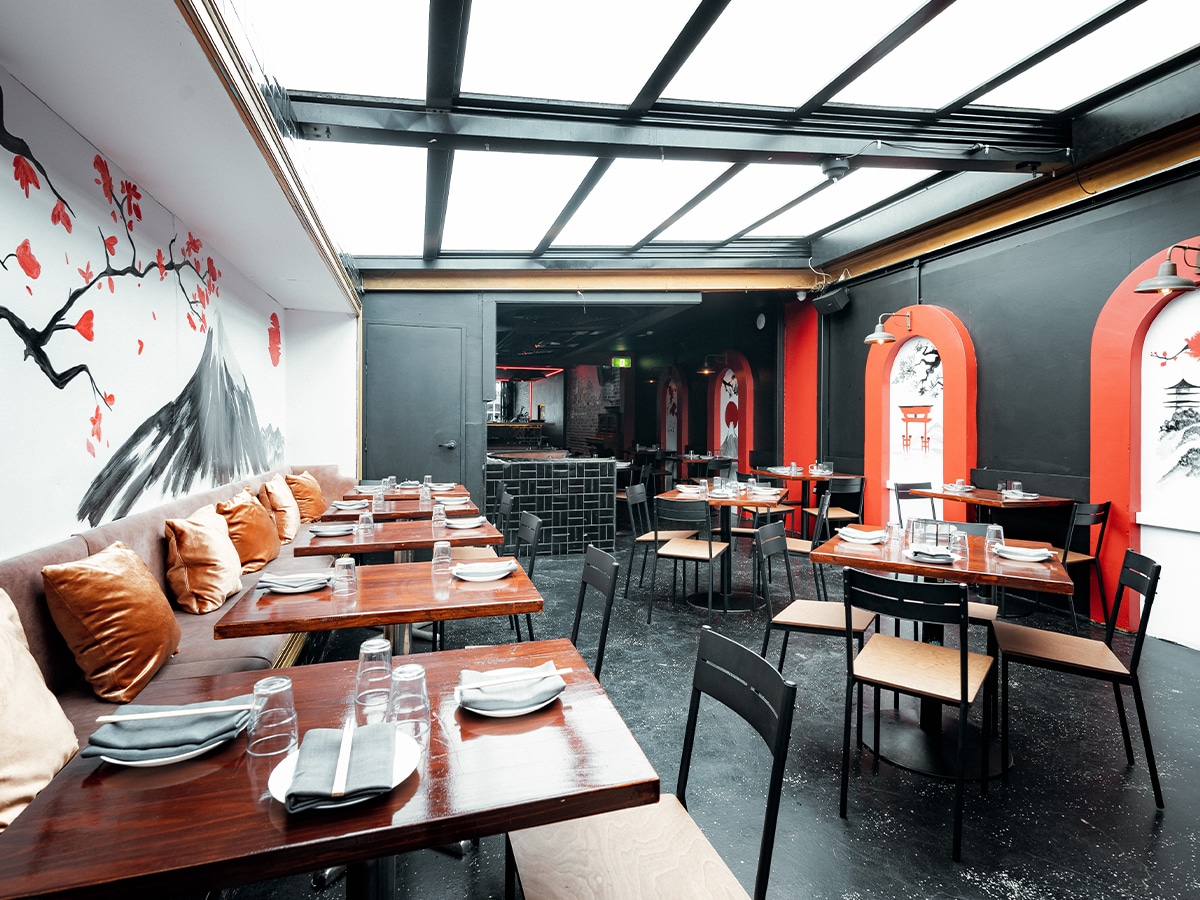 13. Haiku Bondi
Another restaurant jumping on board the new wave of Japanese food in Sydney, Haiku in Bondi might very well be one of the hottest restaurants in Sydney right now. With a sharing menu created around the idea of "poetry on a plate" – this is a place to gather and enjoy the finer (Japanese) things in life. Their sashimi and raw menu is beyond compare, with dishes like the raw half-shelf scallops with soy saffron, pickled ginger and parsley cress, and the seared tuna carpaccio with red pepper, garlic, ginger, rice vinegar, wasabi oil and parsley cress. Don't forget to grab a cocktail too, the Tokyo A.F with vodka, sake, ginger syrup and cucumber is our choice.
Address: 141 Curlewis St, Bondi Beach NSW 2026
Hours: Tues-Thurs 5pm-11pm, Fri-Sat 3pm-11pm, Sun 12pm-9.30pm
Phone: 0449 911 218
14. St Siandra
Flying the flag for the lower north shore, St Siandra is a little slice of the Amalfi coast right here in Sydney – it even has its own private beach and private moorings! Along with the stunning location, the menu also lives up to the high standards – Skull Island tiger prawns, endless hummus and even a butter-poached lobster tail all up for grabs. Under the guidance of Nomad's former head chef Sam McCallum, you know you're in for a treat. There's also spritz on tap, so you'll really feel like you're on holiday. Definitely pay a visit here if you're looking for a new excuse to venture to one of the prettiest parts of town and are in need of a mini holiday.
Address: 75 Lower, Parriwi Rd, Mosman NSW 2088
Hours: Weds 11.30am-5pm, Thurs-Fri 11.30am-10pm, Sat 7am-10pm, Sun 7am-5pm
Phone: (02) 8251 2444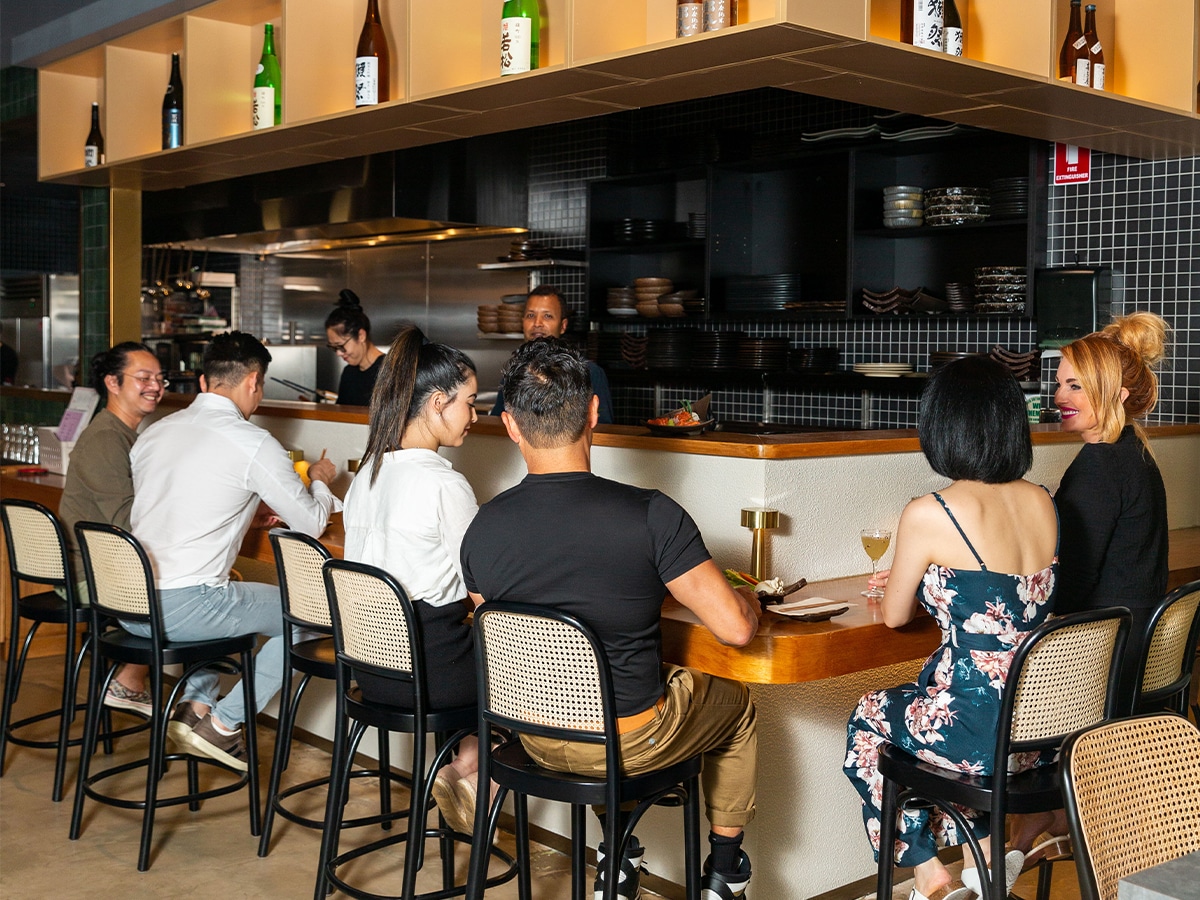 15. Tajima Yakiniku
Move over Korean BBQ and say hello to Japanese BBQ. Yes, Tajima Yakiniku is the newest go-to for Japanese BBQ and we're not mad about it. Here, it's all about bringing out those authentic Japanese flavours. Our top choices from the menu include the grilled miso eggplant, the Wagyu deluxe platter and the premium ox tongue. There are lettuce wraps shiso leaves, and truffle-flavoured edamame for vegetarians. If you're looking for a great new Japanese BBQ restaurant, check out Tajima Yakiniku in Sydney CBD.
Address: 95 Bathurst St, Sydney NSW 2000
Hours: Mon-Weds 5.30pm-10pm, Thurs-Sun 12pm-3pm/5.30pm-10pm
Phone: 0466 354 995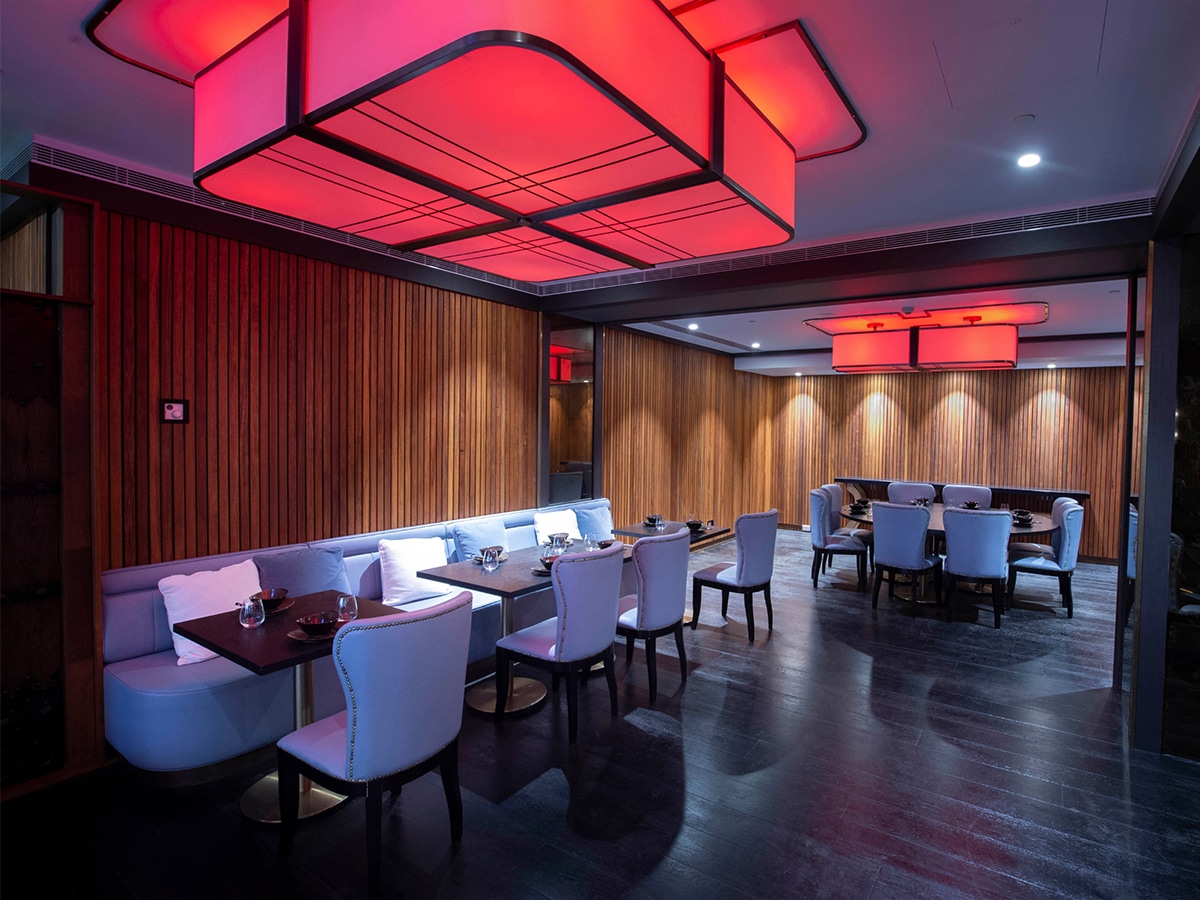 16. GOJI Modern Asian Cuisine
The best new restaurants in Sydney aren't limited to the CBD, with GOJI Modern Asian Cuisine in Penrith also making waves. A delightful fusion of Asian flavours awaits you at this new spot, along with an exciting selection of cocktails. Menu standouts include duck pancakes, homemade spinach and salmon dumplings and Nutella buns for dessert. This is a good option if you're looking to support the up-and-coming Western Sydney dining scene.
Address: 78-88 Tench Ave, Jamisontown NSW 2750
Hours: Mon-Fri 10.30am-2.30pm/4.30pm-9pm, Sat 10.30am-11pm, Sun 10.30am-9pm
Phone: 0416 914 562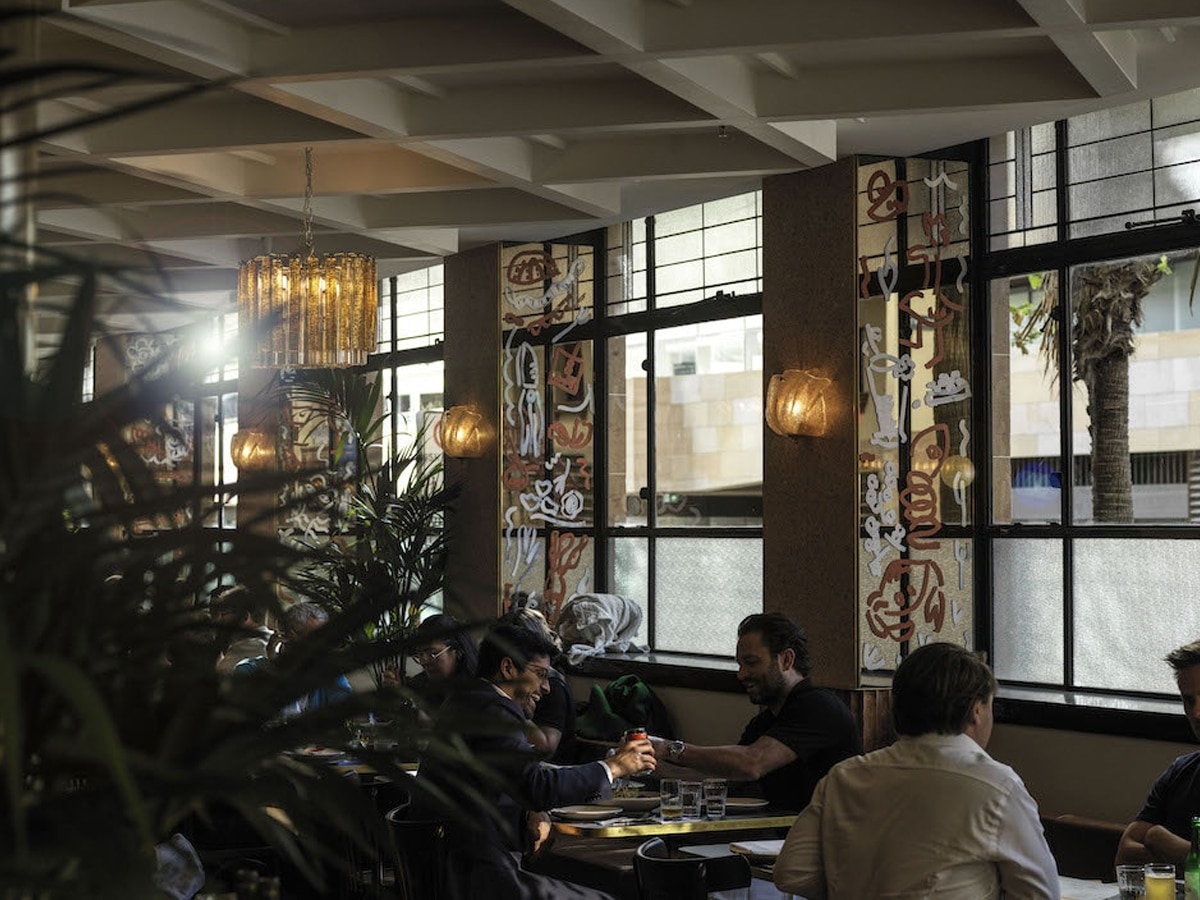 17. Clam Bar
Inspired by New York and its iconic steakhouses, Clam Bar is on track to become one of the hottest restaurants in Sydney. The third venue from the trio behind Surry Hills' Pellegrino 2000 and Potts Point's Bistrot 916, the menu leans towards the fine finding side of the equation, with a raw seafood bar, steaks cooked on the bone in a state-of-the-art Josper charcoal oven and spaghetti and clams (of course) tossed through fresh pasta, chilli, garlic and white wine.
Address: 44 Bridge St, Sydney NSW 2000
Hours: Mon-Sun 12pm-3pm/5pm-12am
Phone: (02) 9016 1590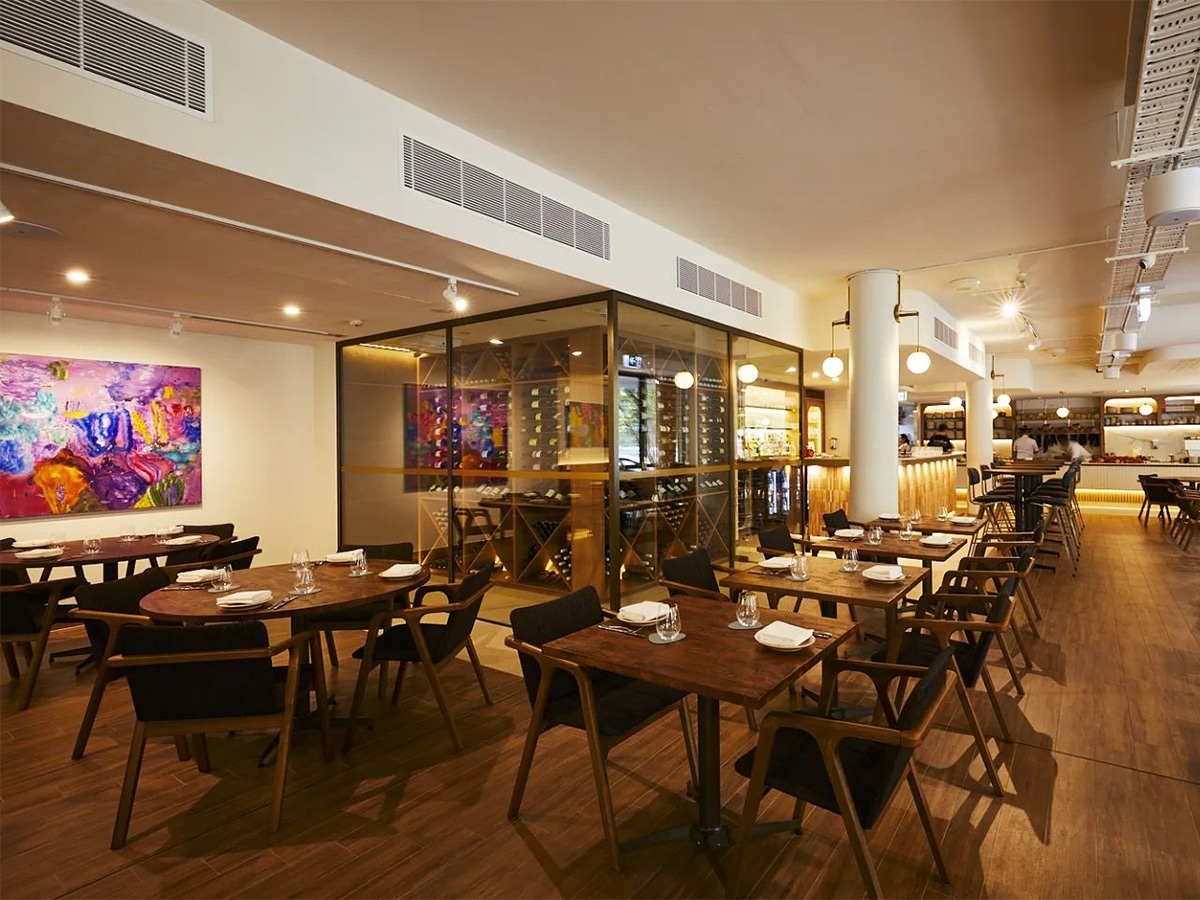 18. Peterman
The mission at Peterman is all about shining a light on local growers and producers, which chef Josh Niland and his wife Julie so effortlessly achieve. Come for dinner and lunch and you enjoy raw and cured seafood, as well as charcoal-grilled fish and vegetables. The best bit? It's also open for brunch and it also takes a seafood approach, which only means one thing – it's time to try a sea urchin crumpet!
Address: 66 Chandos St, St Leonards NSW 2065
Hours: Mon, Weds-Fri 5pm-10pm, Sat 12pm-3pm/5.30-10pm, Sun 11am-3pm
Phone: (02) 8387 4836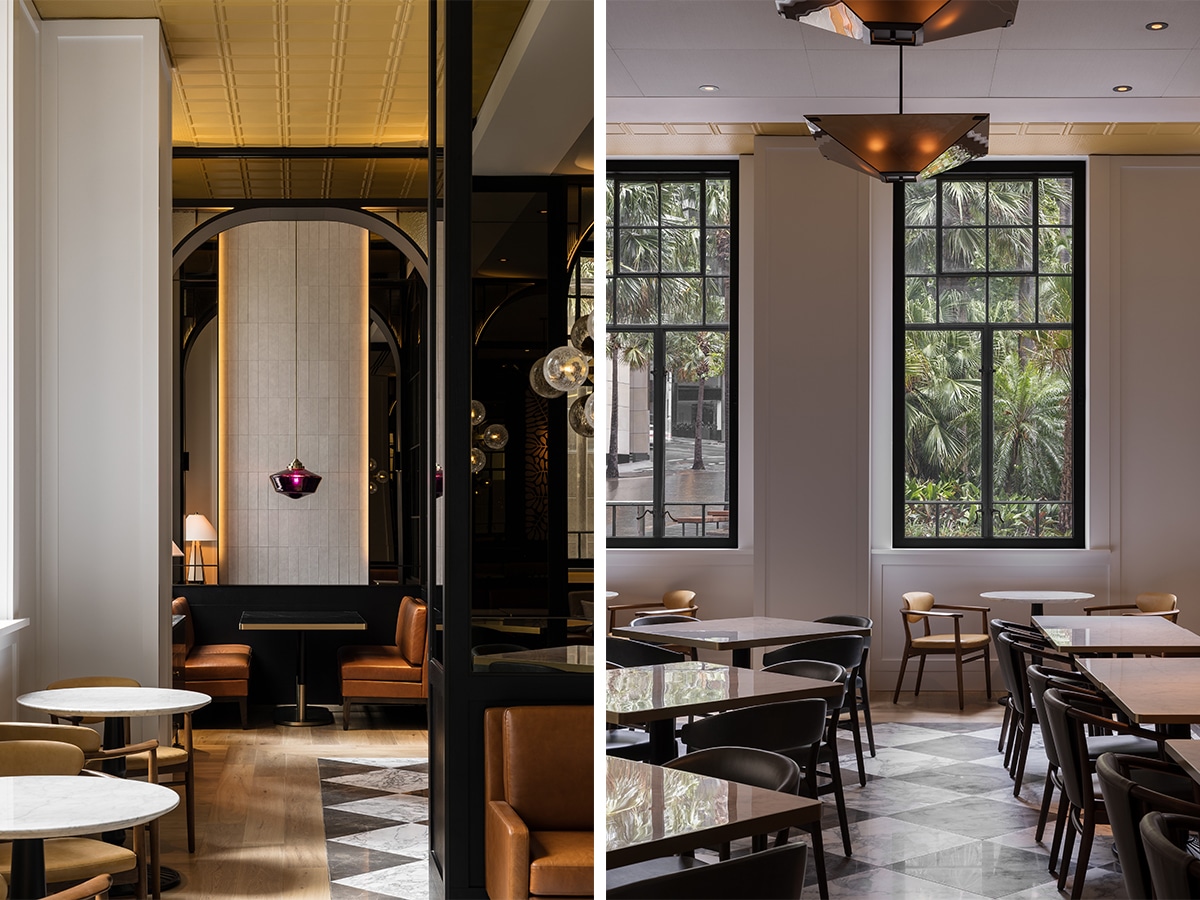 19. Brasserie 1930
For those looking for a new, inspired and elevated dining experience, look no further than Brasserie 1930. Housed within Sydney's newest luxury hotel Capella Sydney, the restaurant perfectly complements the hotel's historic aesthetic. The menu is all about brasserie classics – think lots of cured, smoked, fermented, and preserved menu items, with top dishes including glazed quail with whipped feta and green olive salsa and duck breast and sausage with roasted plum.
Address: 2/4 Farrer Pl, Sydney NSW 2000
Hours: Tues-Sat 12pm-3pm/6pm-10pm
Phone: (02) 9071 5000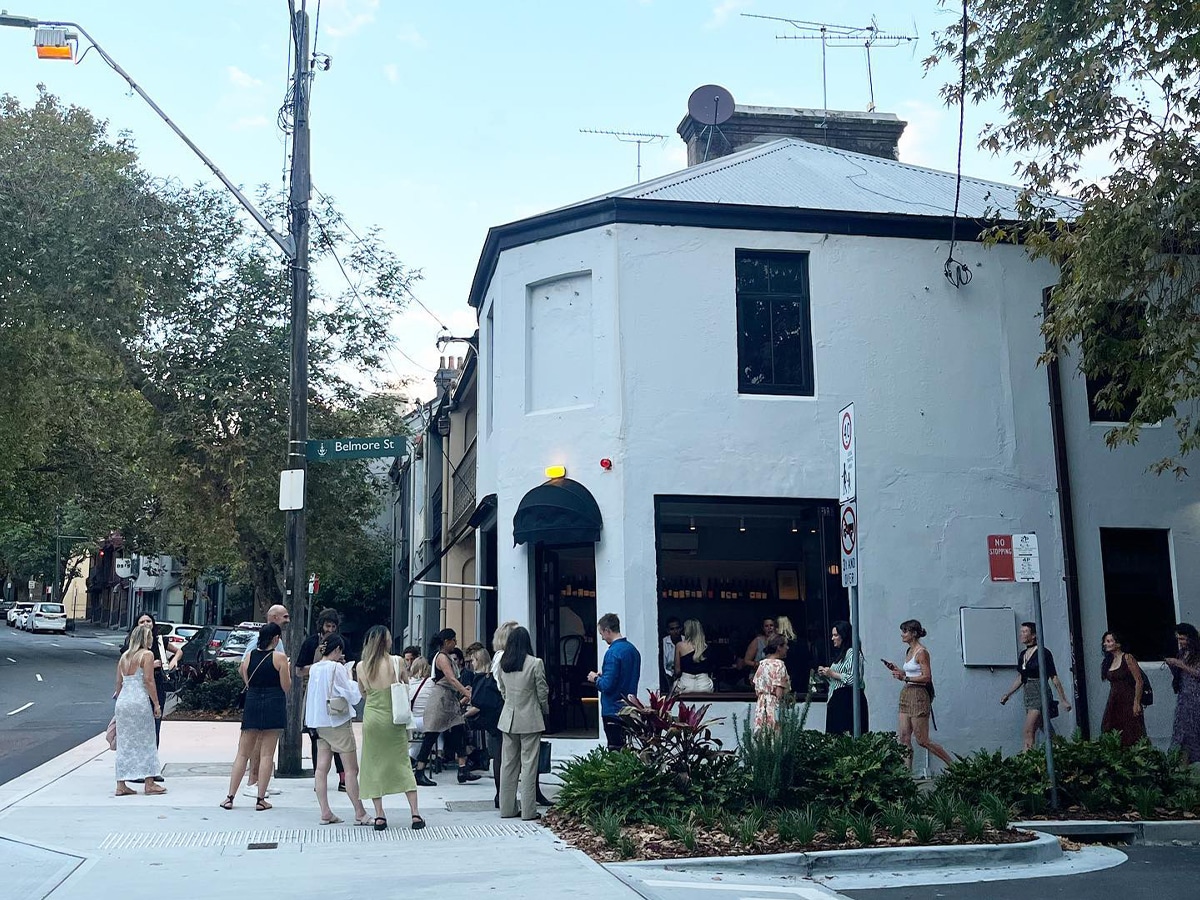 20. Bar Copains
A quintessentially Surry Hills-esque bar, Bar Copains is one of the best new restaurants in Sydney that's focused on one thing – wine. Come here to nurture your love of wine, with an extensive selection of small producers, classic Australian wines, natural wines and plenty of other super-rare drops. If you get hungry, Sasi will sort you out with a seafood-heavy menu. With so many wine bars gracing the streets in Surry Hiils, a new addition is as good as a holiday – so make sure to check it out.
Address: 67 Albion St, Surry Hills NSW 2010
Hours: Thurs-Mon 4pm-12am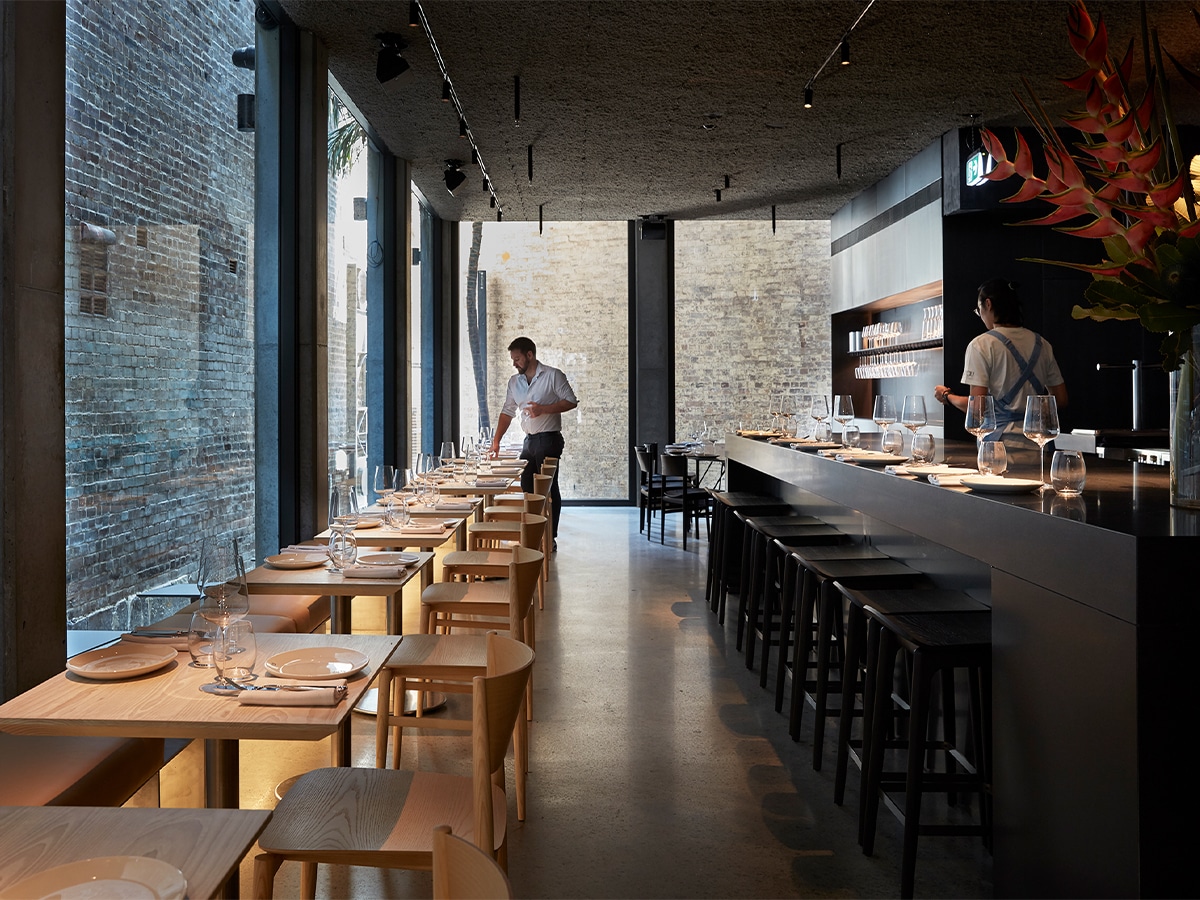 21. Beau
Serving up lunch and dinner, Beau is the little cousin to Surry Hills hotspot NOMAD and the latest in a growing list of new wine bars in Sydney. Combining a wine bar with a decadent menu, we love the distinctly European feel that radiates from this place. It's the place to indulge – so we recommend ordering the seared beef tartare, Hashbrown with Chilli and Cornichons and pairing it with one or two of their many wines. Night, sorted.
Address: 1 Fracks Lane, Surry Hills NSW, 2010
Hours: Tues 5pm-11.30pm, Weds-Fri 12pm-2.30pm/5pm-11.30pm, Sat 12pm-2.30pm/5pm-11.30pm
Phone: (02) 9280 3395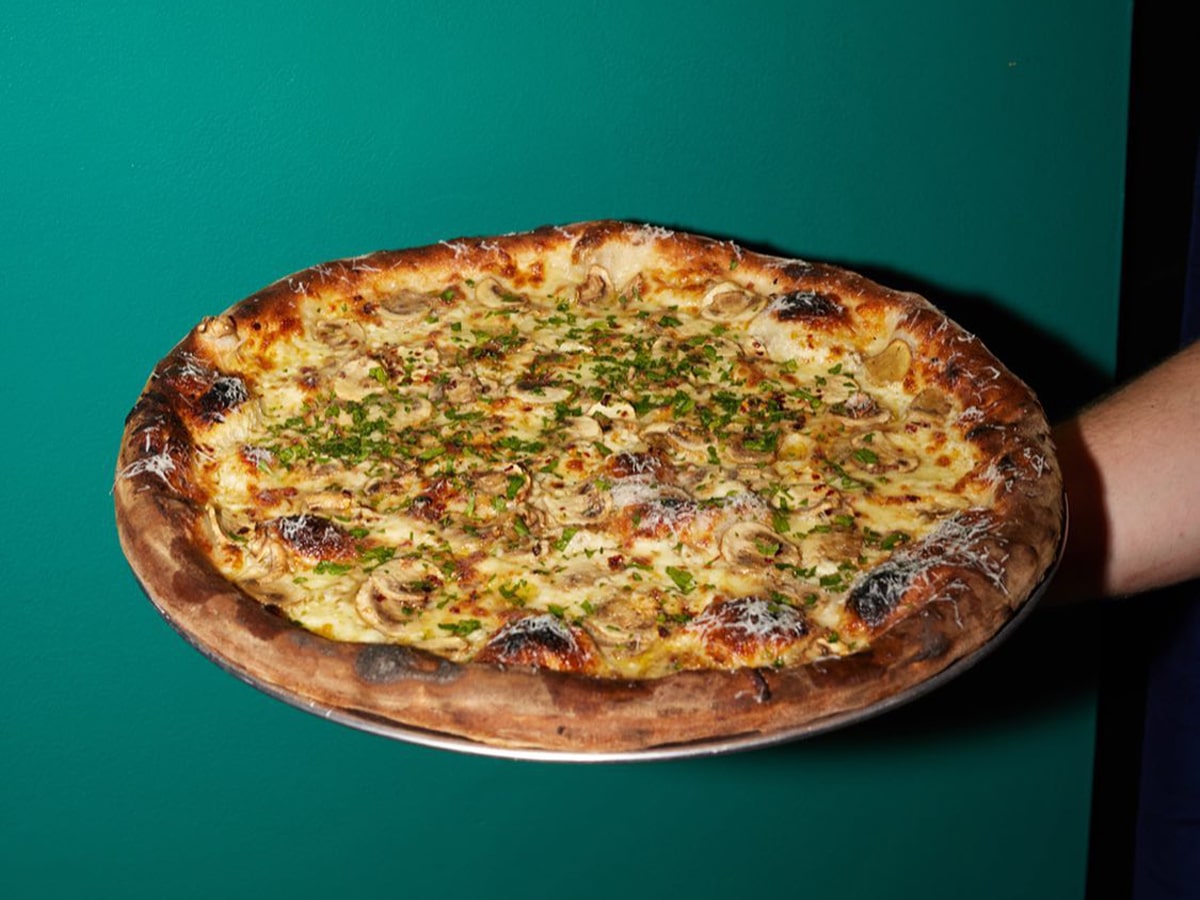 22. City Oltra
Delicious pizzas and a stellar soundtrack are what City Oltra is all about. Reimagining the classic train station canteen, this fun spot takes a fuss-free approach to dining, serving up American-style 16-inch pizzas, sandwiches, chunky square pies, cold cuts, salads and of course, garlic bread. Eat in or takeaway, there is also a cocktail list heroing Poor Toms, Grifter Brewing Co beers and natty wines. Our top pick/ We can't go past the Rancho Relaxo pizza, complete with pepperoni and ranch sauce.
Address: Shop 11/1 Eddy Ave, Haymarket NSW 2000
Hours: Weds 5pm-10pm, Thurs 12pm-10pm, Fri 12pm-11pm, Sat 4pm-11pm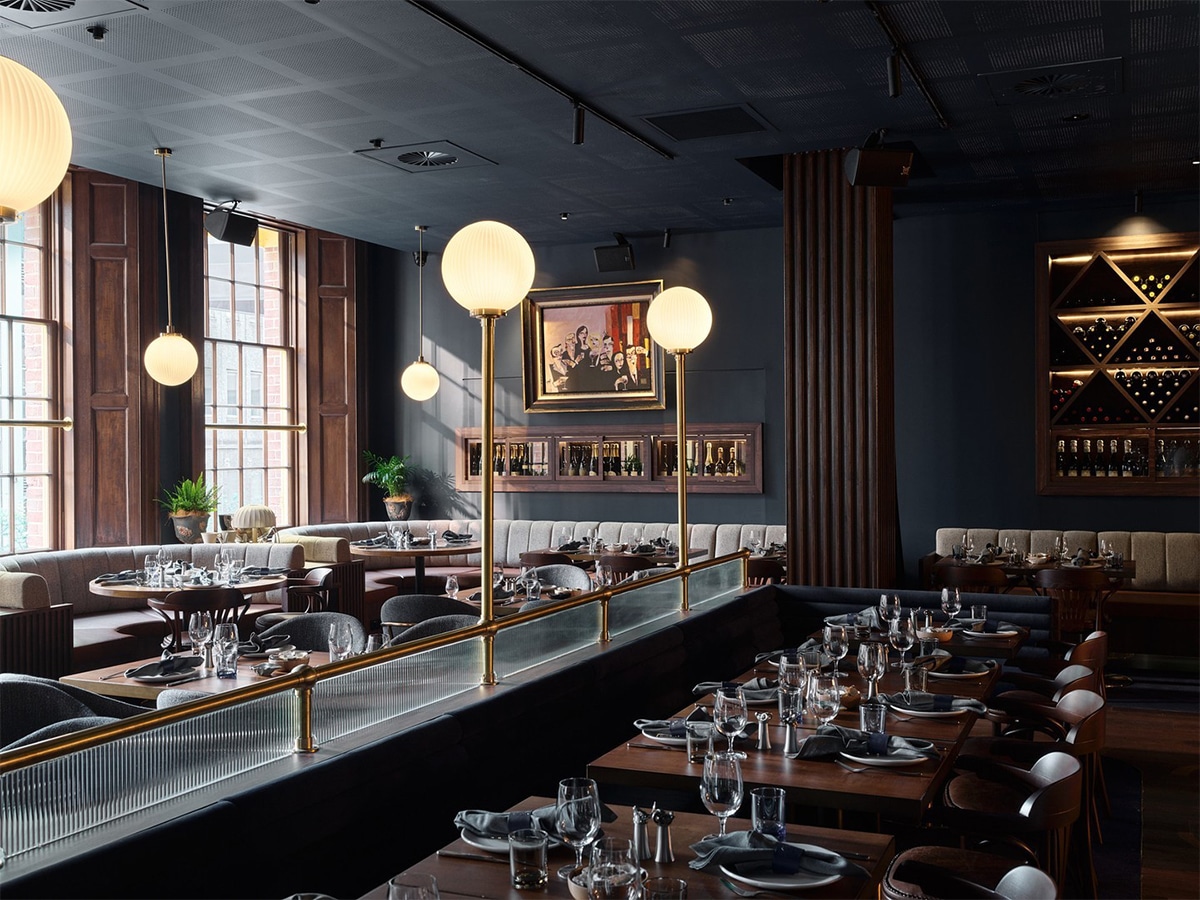 23. The Sanderson
If you're looking for a new restaurant in Sydney to impress one of your work colleagues, allow us to introduce The Sanderson. One of only a handful of places in the harbour city that offers a 'finished tableside' Gueridon service, this is an experience for all the senses.
The menu is laid out in three main parts; Earth, Sea, and Land. Our favourite items consist of the cow's milk burrata, Murray cod and Eastern Rock Lobster, before diving head first into the whisky-aged Wagyu scotch fillet (MBS 6) from Darling Downs Wagyu. We love the fact the menu states exactly where the produce is sourced from, e.g. Margra Lamb, Wollemi Duck, and Jack's Creek Beef.
When you can't make up your mind, check out any of the three set menus that are priced from $120pp.
Address: Enter Via Wynyard Lane, 285 George St, Sydney NSW 2000
Hours: Tue-Fri 12-4pm & 5:30-10pm, Sat 5:30-10pm
Phone: (02) 7225 5559
How We Chose the Best New Restaurants in Sydney
With an editorial team full of foodies, Man Of Many has had the unique opportunity to directly sample and experience food from the best new restaurants in Sydney. It is also based on our experience, in-depth research and customer reviews of new restaurants in Sydney. As expert journalists who guide people between competing products and services, we have provided our independent opinion in formulating Man of Many's selections. Our editors have taken into account food, service and atmosphere while also making a concerted effort to highlight a few new restaurants around Sydney You can review our editorial policy here surrounding how we maintain our independence in our editorial reviews.
Alternatives to New Sydney Restaurants
If you're looking for other cuisines or ideas of where to go in Sydney, we've got you covered with some options listed below. You can also check out our list of Fun Date Ideas in Sydney, or if you're looking for more food suggestions, check out our selection of Cool Restaurants in Sydney for a Fun Night Out. If you've hit a food coma and want to get out and about, we can also show you Fun Things To Do in Sydney.
General FAQs
What is the newest restaurant in Sydney?
Longshore is Sydney's newest restaurant. The seafood restaurant in Chippendale opened its doors on the 15th of June 2023 and is located in the former Automata site at The Old Clare Hotel. The Longshore menu features a five-course tasting menu, along with an experimental 10-course snack flight presented in two stages, hot and cold.
What is the best new restaurant in Sydney CBD?
If you're looking for a great new restaurant in Sydney to try out, we recommend heading into Bistro Nido for your next special occasion. Our menu highlights include the Nido Wagyu cheeseburger, Charred kabocha pumpkin with nori pangrattato black sesame and the Blancmange, coconut, mango coulis, and passionfruit granita for dessert. It's also a great spot to bring clients.
You'll also like: