18 Best Circular Quay Restaurants
If you're looking to dine on Sydney Harbour and eat some of the city's best food then pay a visit to these places on our list of the best Circular Quay restaurants. Whether you're twisting and turning through the nearby suburb of The Rocks trying to find a cool bar or just hanging out on the steps of the Harbour Bridge, the journey through some of the world's finest restaurants begins here. They'll take you down the garden path of scenery on your way to some of the best places to eat in this neck of the woods.
Best Circular Quay Restaurants at a Glance
Our list of the best Circular Quay restaurants goes like this.
Now we've rounded up our favourites, let's check out the complete list.
Related: Circular Quay is also home to some of the most romantic restaurants in Sydney.
1. Quay Restaurant
Located in the heart of The Rocks and with a spectacular view of the Harbour Bridge and Opera House, Quay Restaurant's executive chef Peter Gilmore re-invigorated cooking and dining experiences in Australia when he opened Quay. The ocean-decorated floor couples with Gilmore's adoration for nature, inspiring his dishes and giving notice of his attention to detail with a six-course set menu ($280pp) to challenge any in the harbour city.
Available for lunch and dinner, this three-hatted restaurant has a focus on fish, pork, and duck. Favourite menu items of ours include the Bone marrow noodles with Mud crab, striped peanuts, sour koji butter and the Confit pig jowl with Black Pearl mushrooms, Southern squid sea cucumber, and smoked trotter broth.
Located in: Overseas Passenger Terminal
Address: Upper Level Overseas Passenger Terminal, The Rocks NSW 2000
Hours: Thur-Fri 6-8:45pm, Sat-Sun 12-8:45pm
Phone: (02) 9251 5600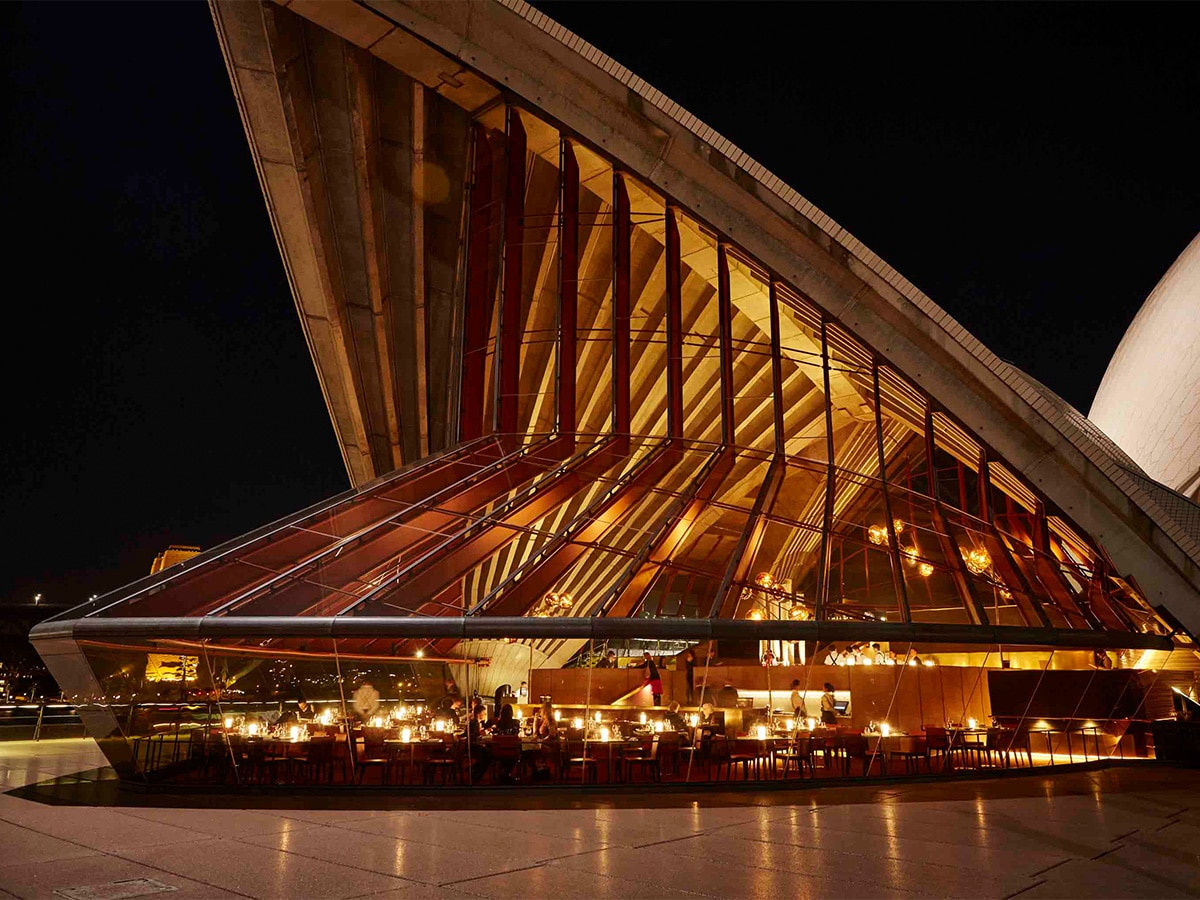 2. Bennelong
Bennelong put Sydney's dining scene on the world stage when it hit its strides in the 1980s with its famous roast trolley. Today, the dining fair has transformed thanks to Gilmore's Fink restaurant group, but the location remains just as special in the shell of the Opera House. You're spoiled for choice here between having a casual drink/quick bite before a show or getting immersed in a culinary experience.
The restaurant offers a choice of an À La Carte or three-course set menu ($180 AUD) with both leaning heavily towards seafood and Aussie favourites such as Lamb and Duck. Favourite menu items of ours include the XO pipis with smoked bacon, crispy eggplant shaved squid, striped peanuts, and aioli alongside the Lamb short loin with green olives, squash, nasturtium agretti, capers, and an outstanding herb purée.
Located in: Sydney Opera House
Address: Bennelong Point, Sydney NSW 2000
Hours: Wed-Fri 5:30–8:45pm, Sat 12-2pm & 5:30-8:45pm, Sun 12-3:30pm
Phone: (02) 9240 8000
3. ARIA
With two hats and the background of the harbour, ARIA owners Matt Moran and Bruce Solomon have created one of those Circular Quay restaurants you have to see to believe. Prioritising Australian produce revitalises the Aussie spirit of every guest, while executive chef Tom Gorringe crafts a seasonal menu that is designed for the enjoyment of the whole table.
Flavours are delicate, precise and perfectly balanced, presenting an authentic fine-dining experience, with favourite menu items of ours including the fraser isle spanner crab, aquna murray cod, and david blackmore 9+ sirloin.
Address: 1 Macquarie St, Sydney NSW 2000
Hours: Wed-Thurs 5:30-9:30pm, Fri 12-3pm & 5:30-9:30pm, Sat 5:30-9:30pm
Phone: (02) 9240 2255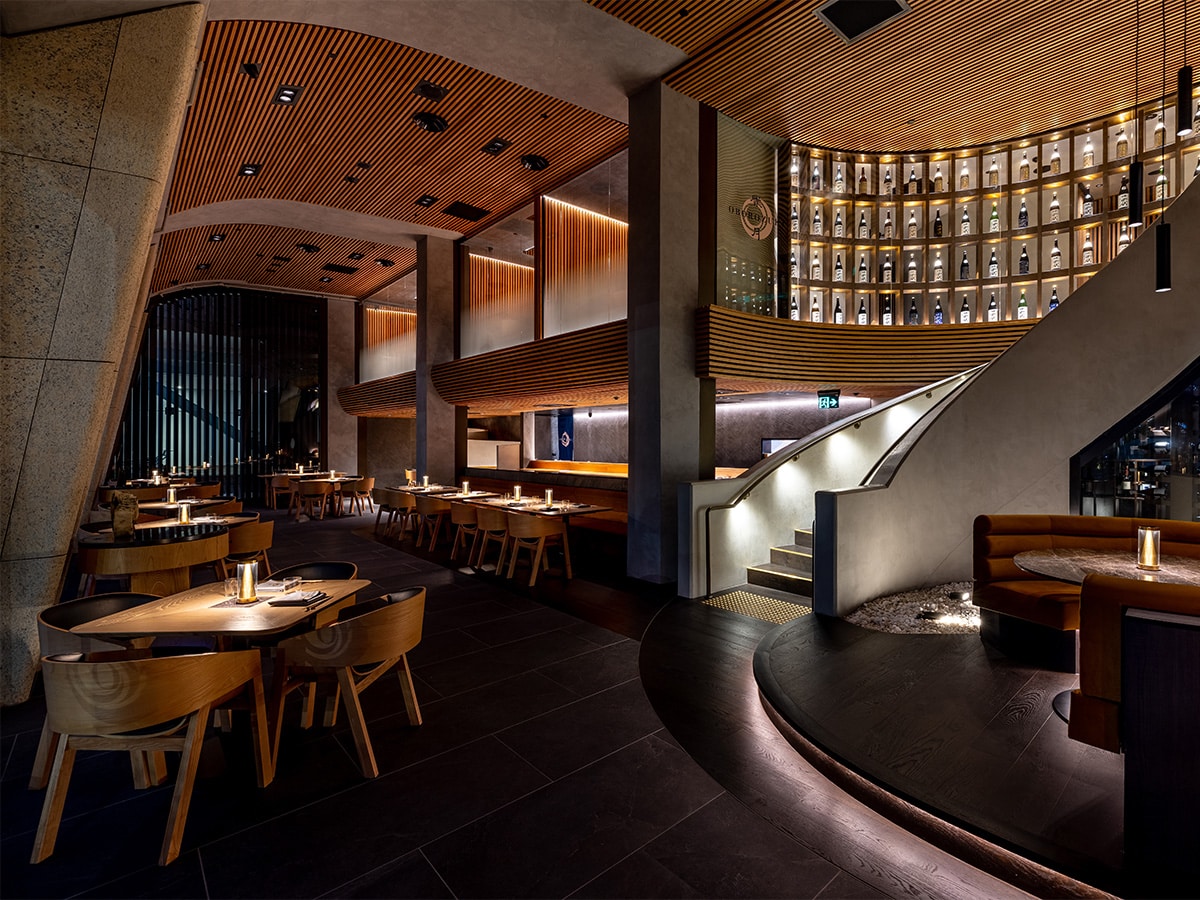 4. Oborozuki
Also one of the best new restaurants in Sydney, Oborozuki opened its 120-seat restaurant in late 2022 and is home to one of our favourite Japanese fine-dining fusion kaiseki and teppanyaki menus in the city. The restaurant regularly plays host to exclusive events hosted by world-renowned chefs who specialise in Japanese cuisine, think celebrity sushi masters such as Takayoshi Watanabe and Hirotoshi Ogawa.
In terms of cuisine, the two options are either Teppanyaki (minus the food throwing) or our personal favourite, the Kaiseki (similar to a degustation). Menus change regularly, but some of our favourite dishes on the Kaiseki menu include the Karasumi; Tasmanian Lobster, Tomato Sauce, Zucchini, Rosemary, Thyme, Dill, and Balsamic Sauce; King Crab with Somen Noodles; A5 Ozaki Wagyu Ribeye Miso-Wasabi Sauce, Rocket Leaf, Garlic, Rose Salt and Black Pepper. Being a fine-dining affair, the degustation prices are high at $450 AUD per person.
Address: Level 3, 5/71 Macquarie St, Sydney NSW 2000
Hours: Tue-Wed 5:30-11pm, Thur-Sat 5:30pm-12am
Phone: 0426 111 999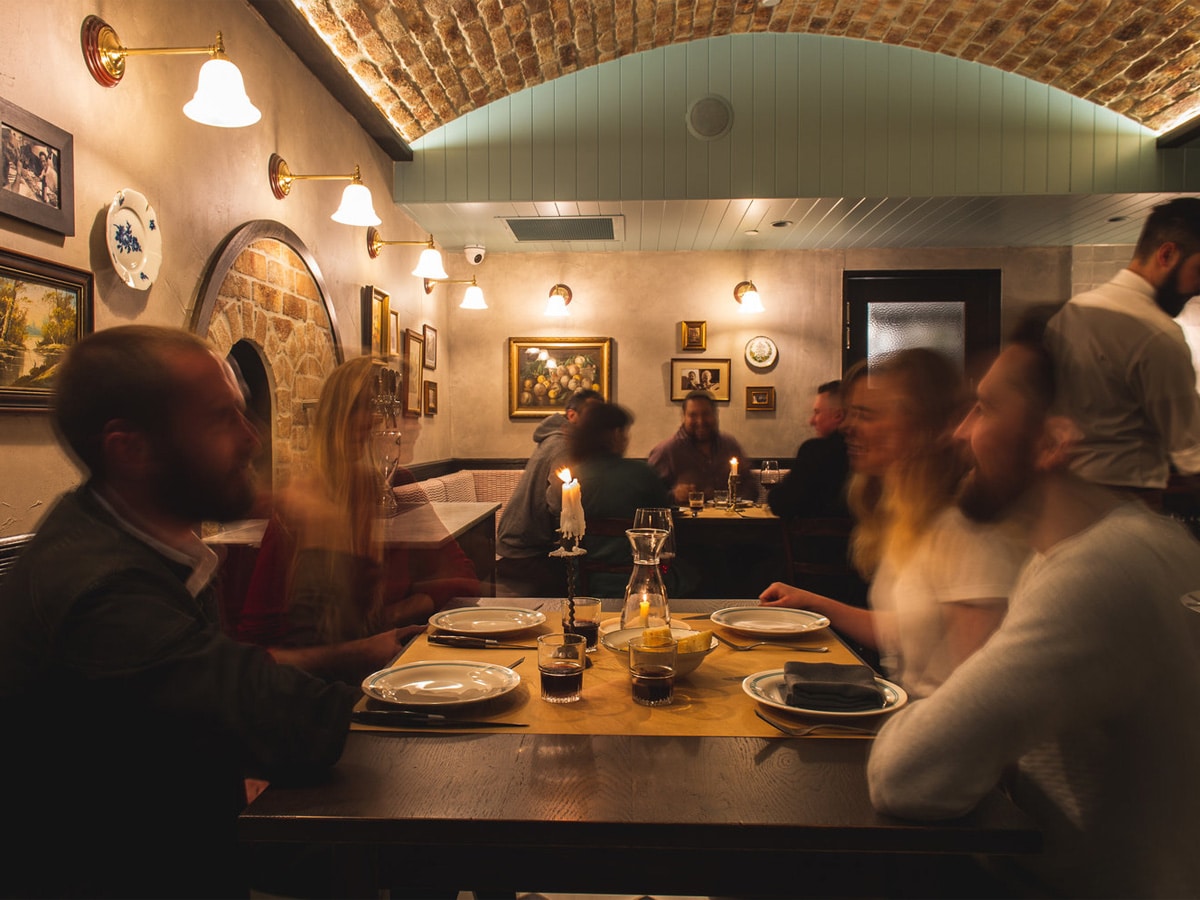 5. BISTECCA
One of our favourite steak restaurants in Sydney also makes the cut as one of the best near Circular Quay. Of course, it's hard enough to go past the 50-seat location that feels like it's underneath Sydney CBD, but the Bistecca alla Fiorentina on offer here is the best in the city.
Measured and served in grams, the meat is presented before you to showcase the outstanding marbling of the Riverine sourced meat before it's cooked fireside over ironbark and charcoal to a perfect medium rare. A range of sides are available to complement the meal, favourites of ours include the cavolo nero with confit garlic cream, followed by the Roast potatoes tonnato.
Address: 3 Dalley St, Sydney NSW 2000
Hours: Mon-Tues & Thur-Sat 12pm-12am, Wed 5pm-12am
Phone: (02) 8067 0450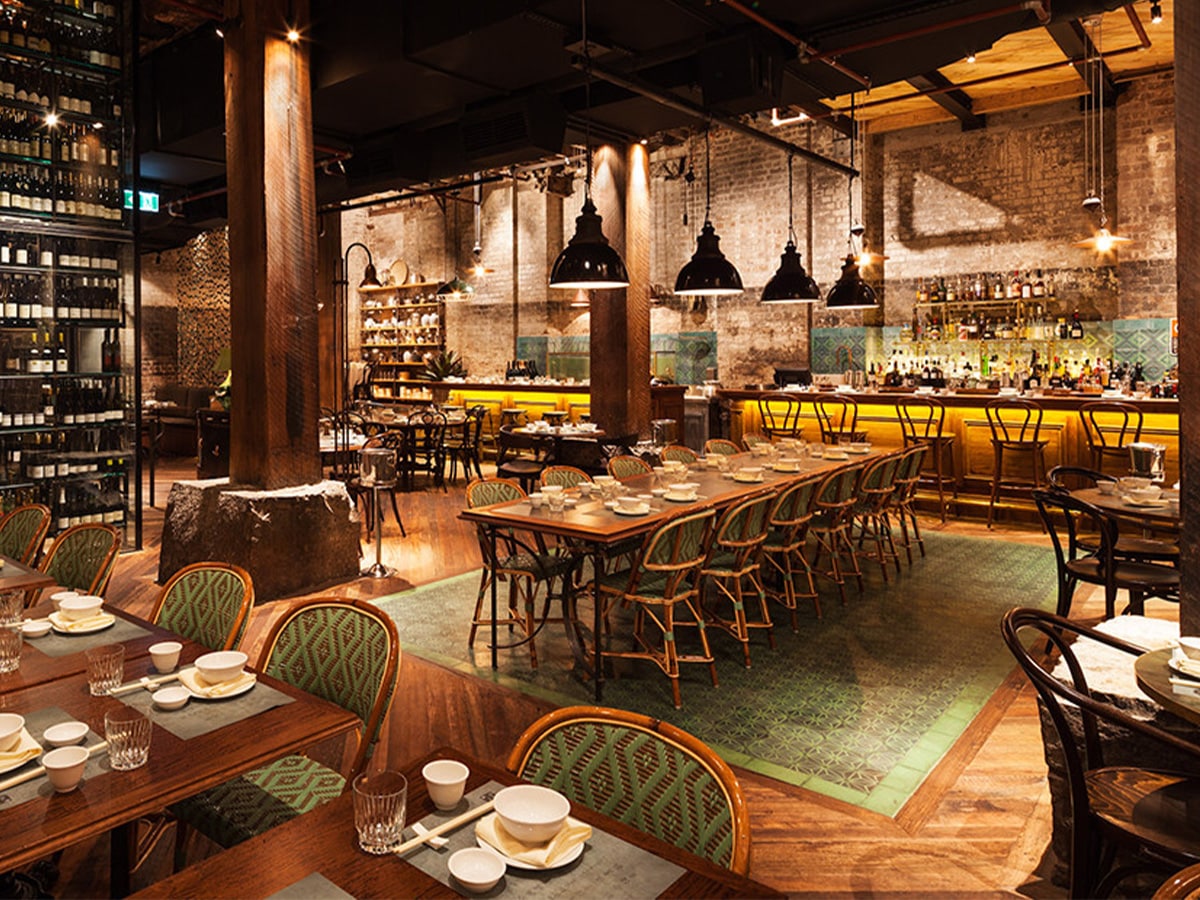 6. Mr. Wong
One of the most famous restaurants near Circular Quay, you'll struggle to find a foodie in Sydney that hasn't dined at Mr. Wongs and/ or tried their classic fried ice cream. A part of the Merivale company, Mr. Wong offers modern Cantonese-style food that has us coming back time and time again. We also love their BBQ Duck, while the stir-fried garlic prawns are also a big hit.
You'd be remiss for not ordering a few dumplings and the Scallop and prawn shumai, King crab and prawn, and Wild mushroom dumplings are worth their weight in gold. Those looking to turn things up a notch for a special occasion should opt for the Live Seafood menu with both mud crab and rock lobster on offer at market price.
Located in: Establishment Hotel
Address: 3 Bridge Ln, Sydney NSW 2000
Hours: Mon-Sun 12-3pm & 5:30-10pm
Phone: (02) 9114 7317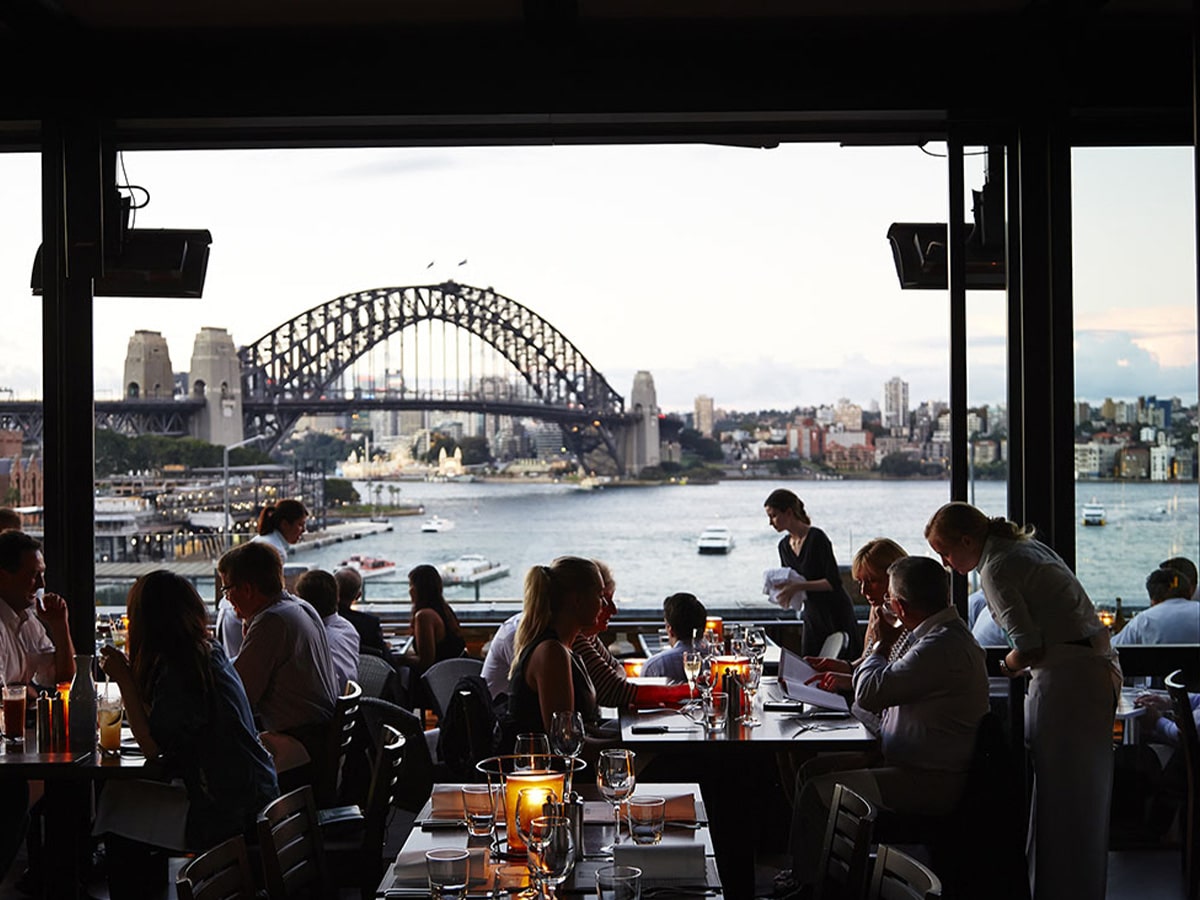 7. Cafe Sydney
Cafe Sydney has been a pillar of excellence for more than 20 years and understandably so. Often hailed as one of the best restaurants in Circular Quay, let alone the world, its impressive menu is filled with delicate meats and seafood, truly encapsulating the essence of Sydney, but we can't discount their breathtaking views of the harbour. Located on the rooftop of Customs House, Cafe Sydney is iconic and quintessentially Australian.
Located in: Customs House
Address: Level 5 Customs House, 31 Alfred St, Sydney NSW 2000
Hours: Mon-Sat 12-10:30pm, Sun 12-4pm
Phone: (02) 9251 8683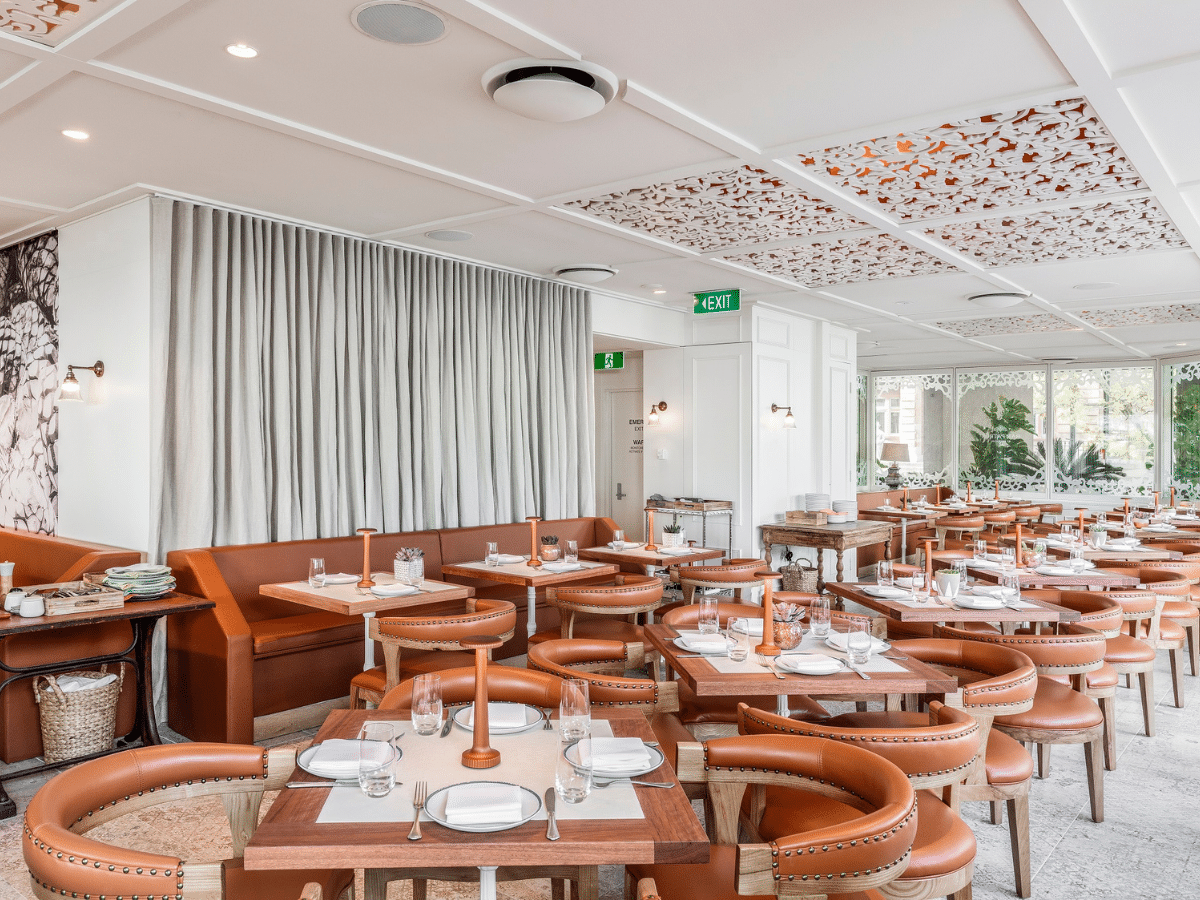 8. Bar Patrón
With salsa, tacos and tequila, Bar Patrón has it all and more! It became one of our favourite Circular Quay establishments again when it reopened its doors in 2022 after a three-year hiatus and we're pleased to say the restaurant is back serving the same authentic Mexican cuisine for Sydneysiders. A part of the famous Sydney restaurant collective Rockpool Dining Group and Patrón brand, this restaurant and bar is one that strives for excellence with every dish.
Their dining experience has that Mexican flare where each fresh ingredient pays tribute to traditional and contemporary recipes; starting with a seafood-driven entree menu with Scallop Ceviche, Tuna Ensalada and Octopus Huarache. House-pressed tortillas become hand-held tacos that are plump with light, flavour-packed fillings, including Soft Shell Crab, Chicken with Black Mole and Carnitas Eggplant, all paired with house-made sauces and salsas. Main dishes include Tajima Wagyu Rib Eye with Epazote Chimichurri and Aged Mango Mole; Lamb Shoulder Birria; and Lobster al Patrón, served with a creamy tequila sauce.
Address: 2 Phillip St, Sydney NSW 2000
Hours: Tues-Sat 12-3pm & 6-11pm, Sun 4-11pm
Phone: (02) 9189 1957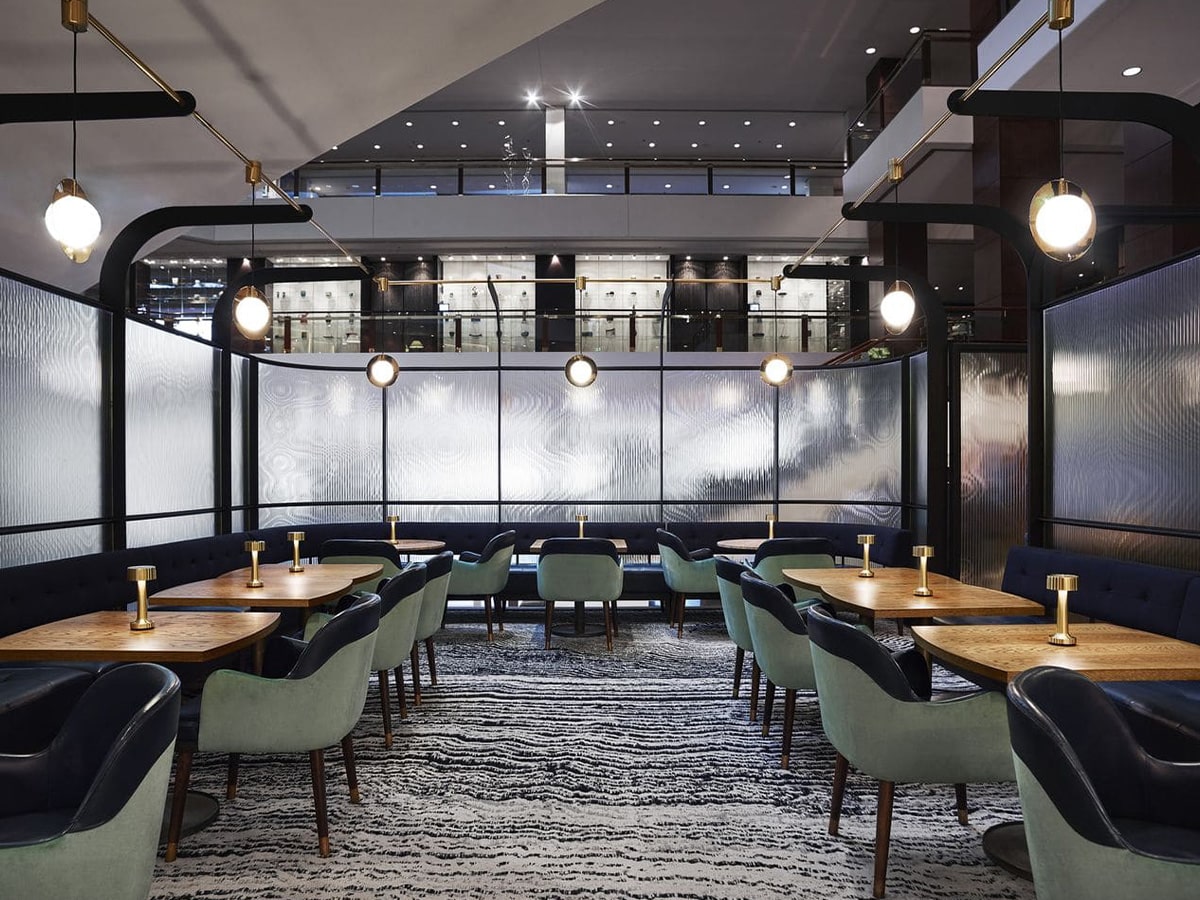 9. Mode Kitchen & Bar
Mode Kitchen & Bar defines modern Australian dining, offering classics with a modern twist. Making a name for itself as one of Circular Key's best restaurants by perfectly balancing business and casual diners with fine dining and bistro. Located in the atrium of the Four Seasons hotel, this venue has delicious, mind-blowing flavours and the friendliest staff.
You'll get transported back in time with their warm lighting, leather seats and mahogany tables. If you want something rich you can go for their signature 1kg T-Bone or if you want something light, their Duck Breast that's dry-aged and roasted, with radicchio, pomegranate and soubise is a sure-fire winner. Everything you taste at Mode Kitchen and Bar is locally produced, their hand-crafted stoneware plates are made in Melbourne, and their signature cocktails plus beautiful desserts will make you want to never leave.
Address: Ground Floor, 199 George St, NSW 2000
Hours: Mon-Fri 6:30-10:30am & 12-3pm & 5:30-10pm, Sat-Sun 6:30-11am, 12-5pm, 5:30-10pm
Phone: (02) 9250 3160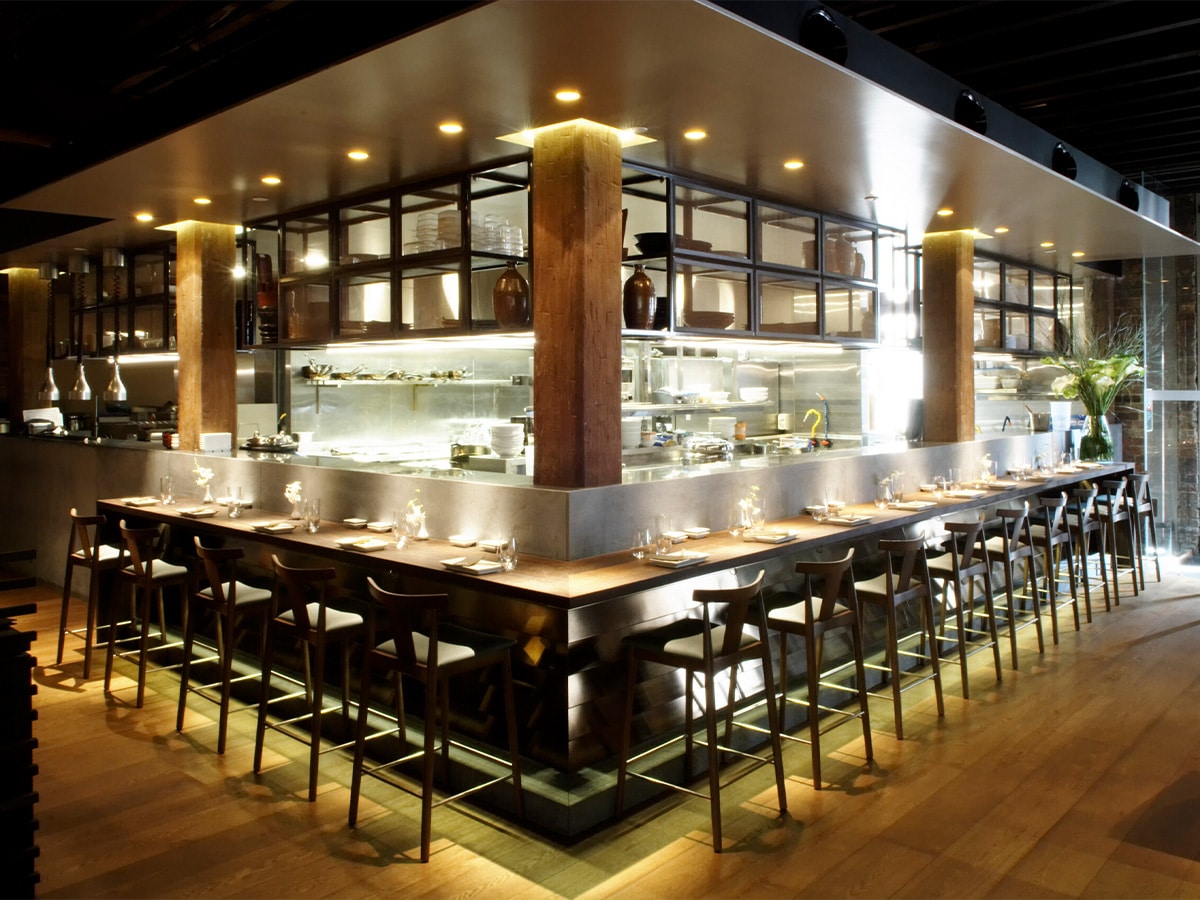 10. Saké Restaurant
Saké restaurant is probably the best place to find contemporary Japanese cuisine in The Rocks. Each dish is made from fresh ingredients with a unique twist, and guests can enjoy an innovative culinary experience as the team combines modern Japanese flavours with classic ones in a quest to delight your tastebuds. Sake's classic menu has everything you need, from their Himachi Kingfish with coriander-infused ponzu or their raspberry jelly goma. Fall in love with each bite and drink all the saké you want with their long beverage list.
Address: 12 Argyle St, The Rocks NSW 2000
Hours: Tues-Weds 6-9pm, Thurs 12-3pm & 6-9pm, Fri-Sat 12-3pm & 5-10pm, Sun 12-3pm & 5-9pm
Phone: (02) 9259 5656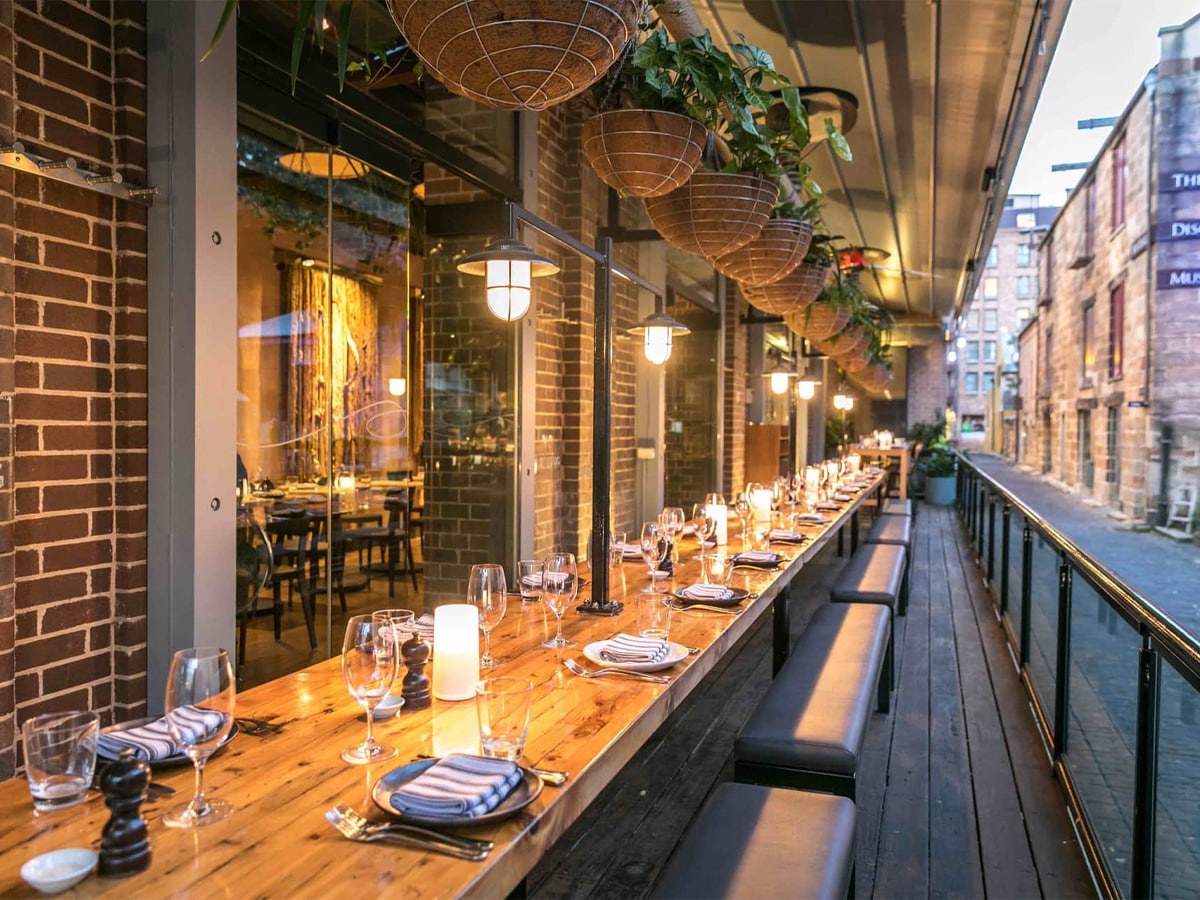 11. Pony Dining The Rocks
Pony Dining at The Rocks gives you locally sourced produce and beautiful meat and seafood dishes that you can down with Australian wine or their signature cocktails. Executive chef Neil Nolan's passion for cooking is definitely translated in his dishes, where every meal is cooked to perfection. The brick walls and earthy tones set the scene as you enjoy small plates of delicious food. They even offer brunch, so that you can enjoy a fine-dining experience at any time.
Located in: The Rocks Centre
Address: Cnr Argyle Street and, Kendall Ln, The Rocks NSW 2000
Hours: Tues-Thurs 5:30-10pm, Fri-Sat 12-10:30pm, Sun 12-4pm
Phone: (02) 9252 7797
Visit Pony Dining The Rocks Menu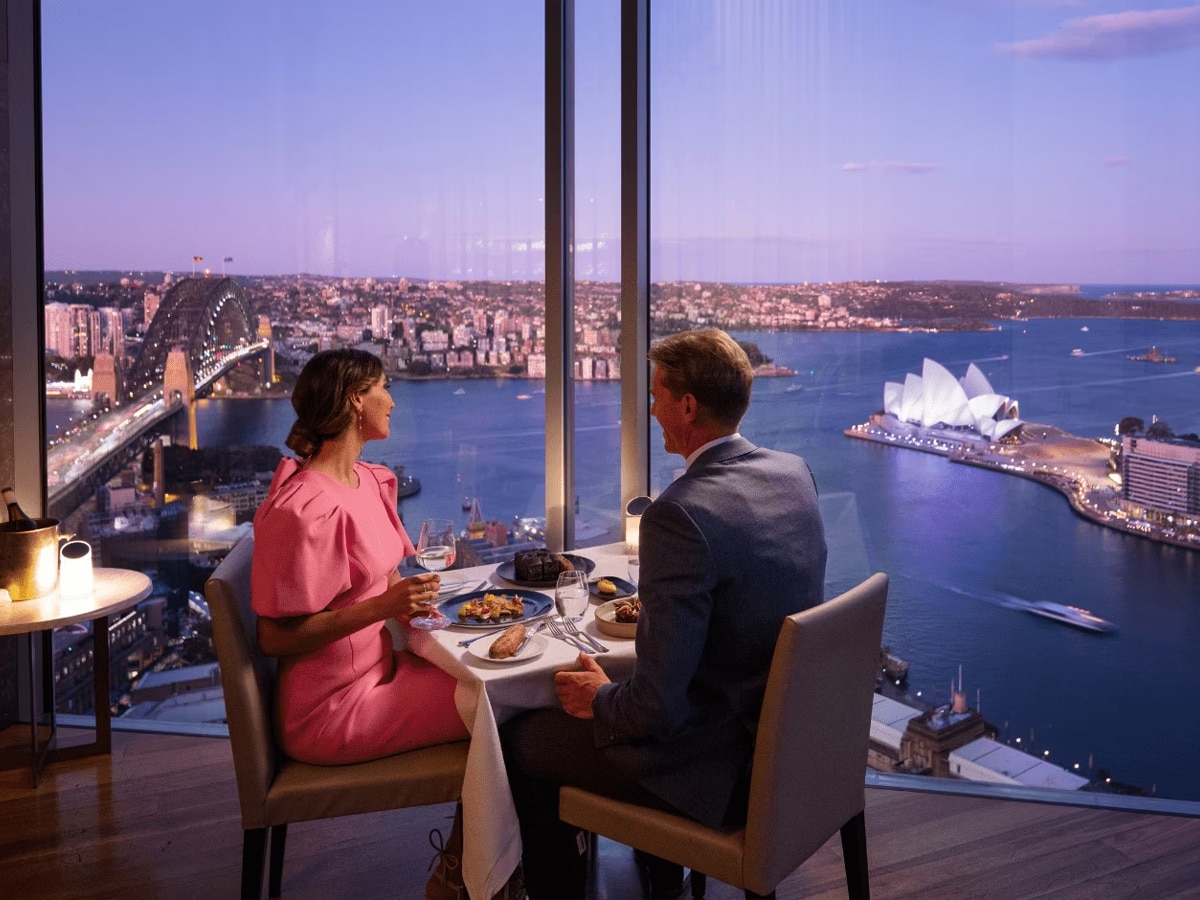 12. Altitude Restaurant
Located in the Shangri-La Hotel, this Circular Quay restaurant has arguably the best view of the city. 'Dine in the sky' is their motto and with a glass jewel private box you really will – it 'floats' 36 levels above the water, giving you views you've never seen before. Serving contemporary Australian cuisine, Altitude offers every meal from breakfast to dinner to high tea, paired with an excellent wine list. You can try their signature dishes, like the butter-poached WA marron with herbs with a sliced fennel salad or their pana cotta. If you are after one of the best restaurants in Circular Quay and aren't opposed to a view, this recently two-hatted restaurant is for you.
Located in: Shangri-La Sydney
Address: 176 Cumberland St, The Rocks NSW 2000
Hours: Sun-Thurs 7-10:30am & 12-2pm & 6-10pm, Fri-Sat 7-11am & 12-2pm & 5:30–10pm
Phone: (02) 9250 6000
Visit Altitude Restaurant Menu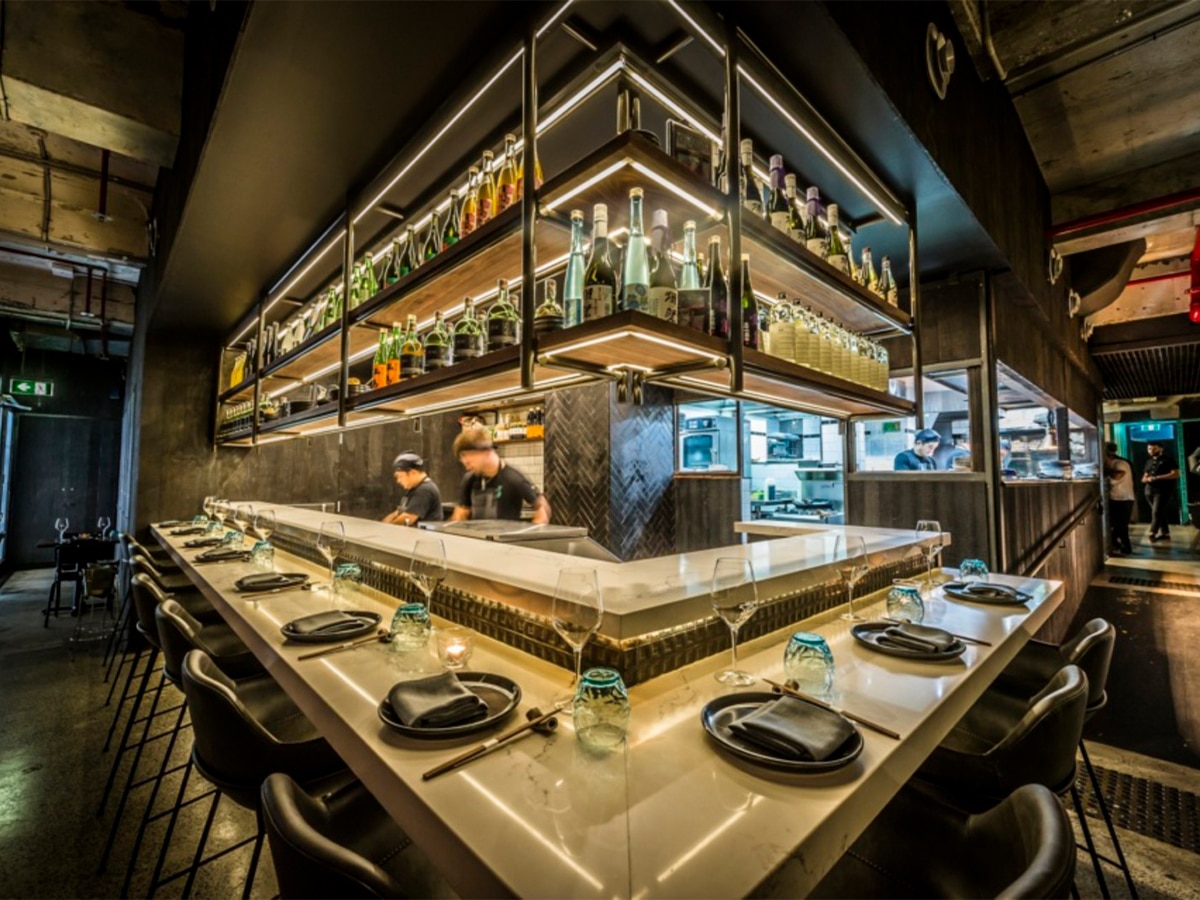 13. Kid Kyoto
Kid Kyoto is non-traditional in the best way, they serve up dishes that have native Australian ingredients paired with Japanese flavours that will have your tastebuds soaring. Downing this with one of their Japanese whiskeys or signature cocktails will make your night even better. This modern take on Japanese flavours is what brings Rhys Watson-Lamb's cooking to the next level.
Address: 17-19 Bridge Street entry, Bridge Ln, Sydney NSW 2000
Hours: Tues-Sat 12-10pm
Phone: (02) 9241 1991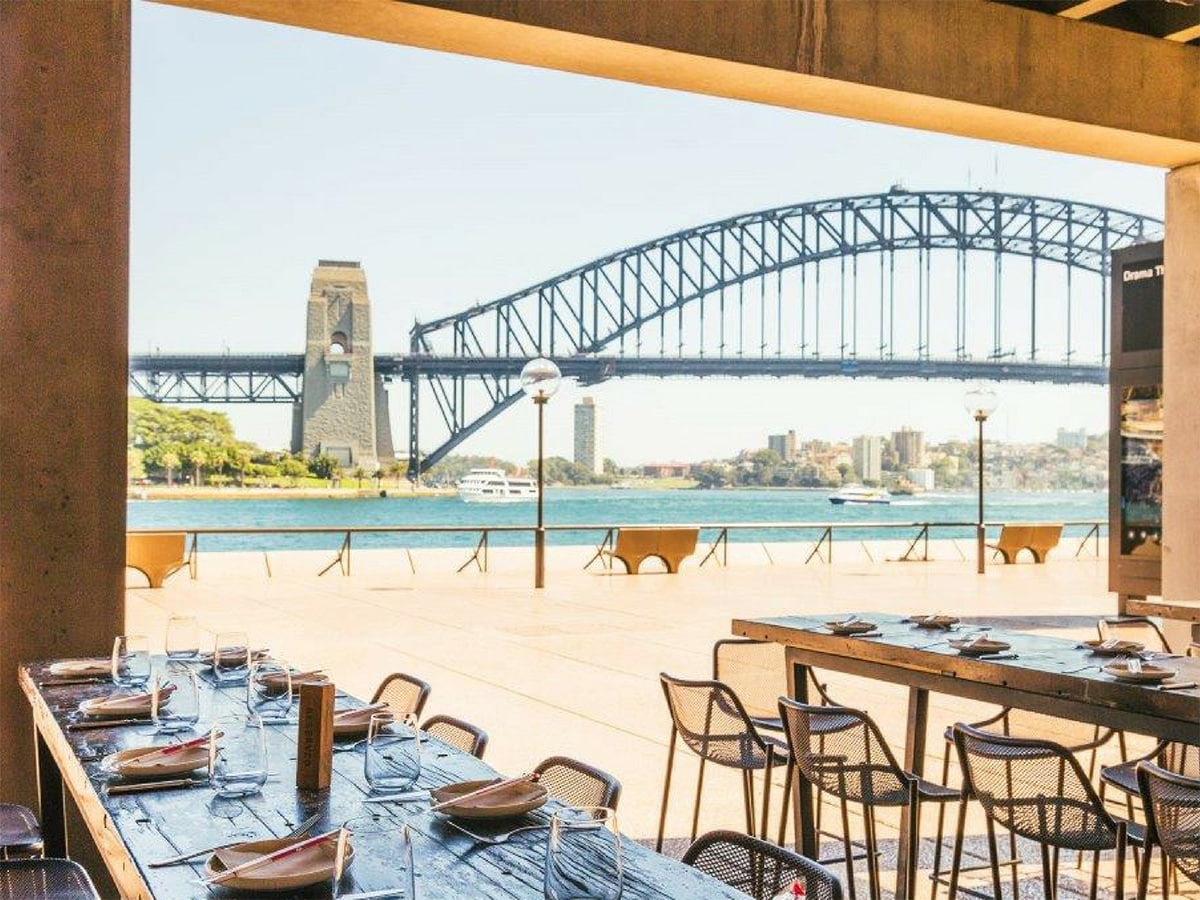 14. Opera Bar
A list of the best Circular Quay restaurants would not be complete without Opera Bar. One of the most memorable restaurants this is the perfect go-to before or after a show, or even just to enjoy the harbourside views, Opera Bar's signature Sangria jugs and their extensive wine and beer lists will make for the perfect night out. The venue offers a range of meals from cheese plates, sit-down dishes and desserts. Opera Bar is a must for any tourists or non-Sydneysider, the instagrammable views will make your followers green with envy, while you enjoy the run and sea salt breezes. If you're looking for a restaurant during the annual Vivid festival, we recommend getting in early.
Located in: Sydney Opera House
Address: Macquarie St, Sydney NSW 2000
Hours: Mon-Thurs 11:30am-11pm, Fri 11:30am-12:30am, Sat 11am-12:30pm, Sun 11am-11pm
Phone: (02) 8587 5900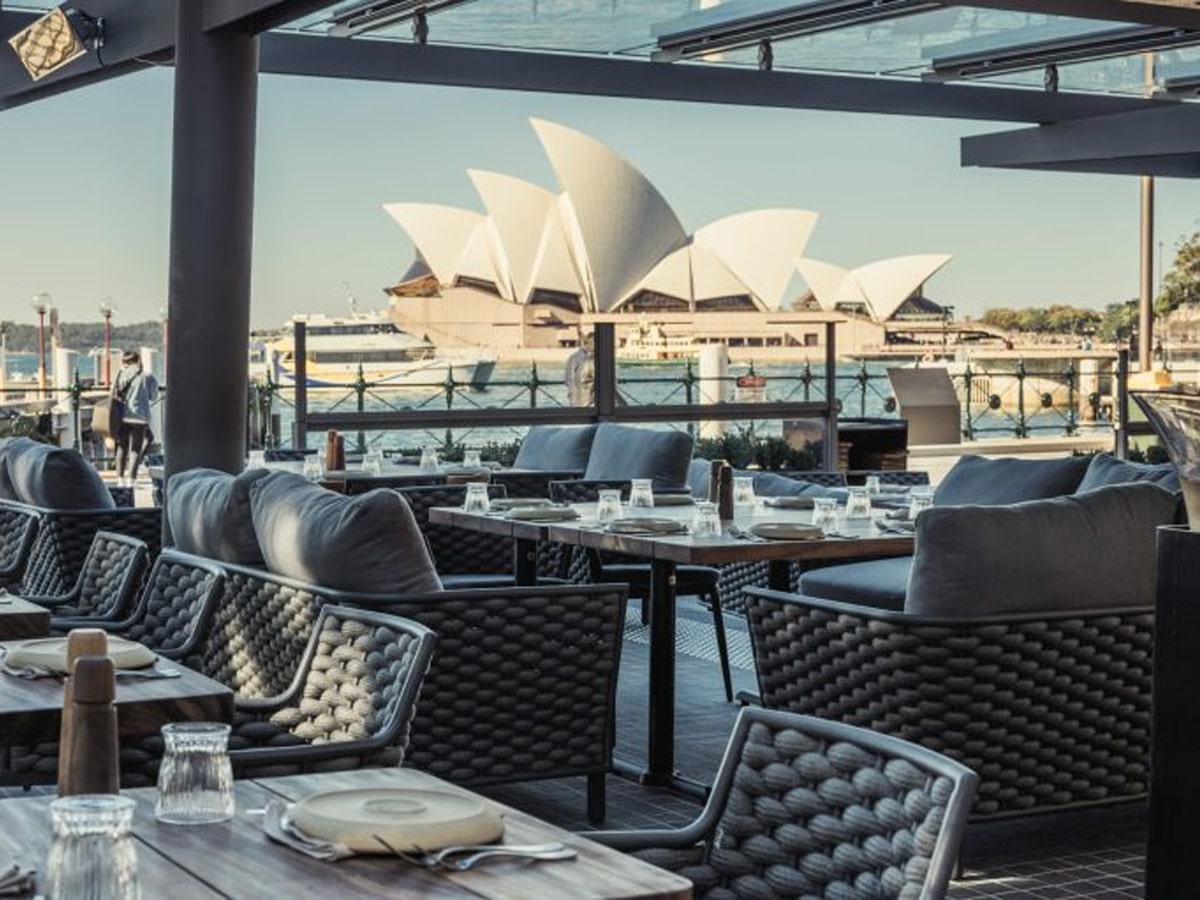 15. 6HEAD
A premium waterfront steak restaurant in one of Australia's most picturesque locations, it doesn't get much better than that. 6HEAD is one of those venues you simply can't go past. With a focus on local produce and meat sourced from respected local purveyors, the Circular Quay restaurant has emerged as a favourite in Harbour City. Throw in the hand-selected wine list and an assortment of spectacular desserts and you've got a recipe for a good night out.
We also hosted our 10-year party just next door, so you can bet that we like the scenery from this area.
Address: Bay 10 & 11, Campbell's Stores, 7-27 Circular Quay W, The Rocks NSW 2000
Hours: Wed-Sun 12-10pm
Phone: (02) 8629 8866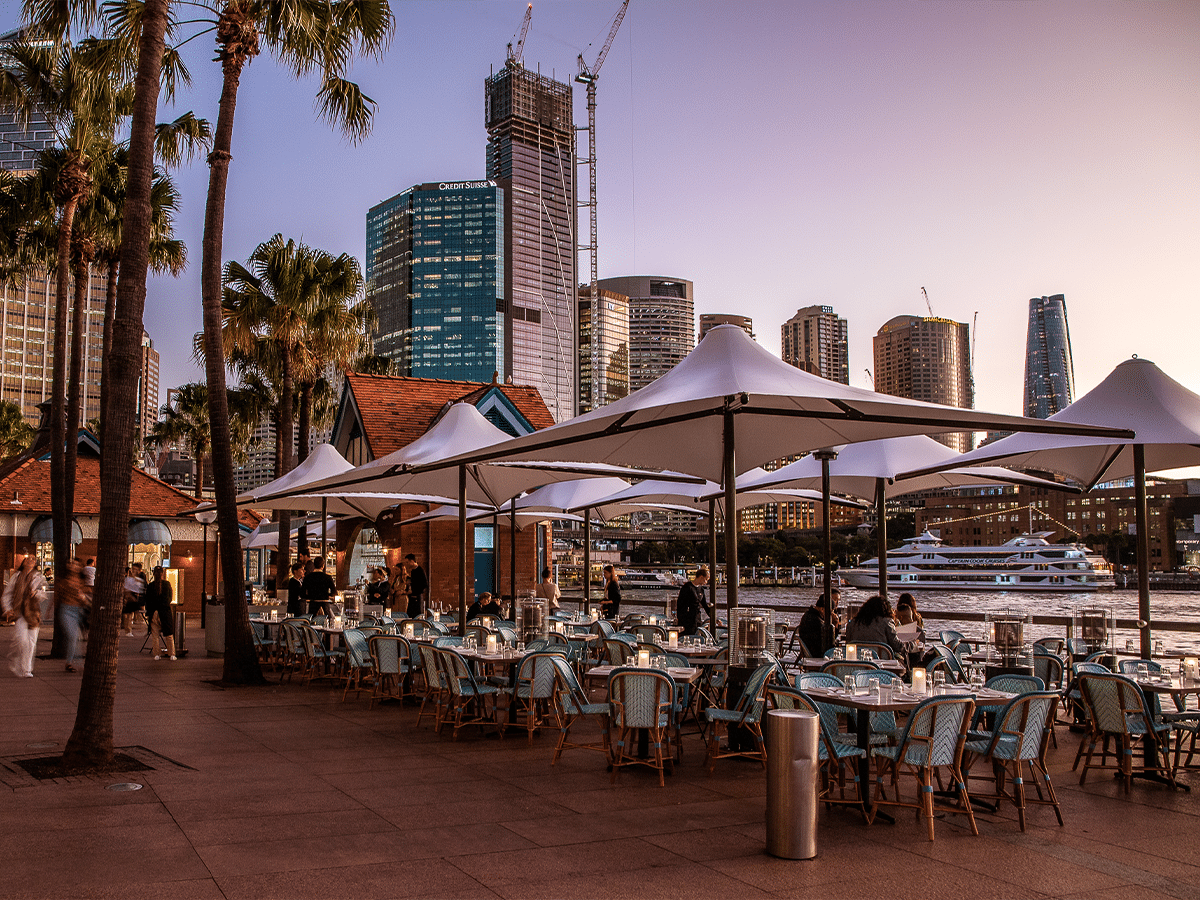 16. Whalebridge
The site of Whalebridge might look familiar, however, the elegance and atmosphere are fresh, and vibrant, and speaks to the return of Circular Quay dining like no other. Directed by Executive Chef Will Elliott – formerly of Melbourne's Cumulus Inc., ST JOHN, London, and most recently Restaurant Hubert in Sydney, this new venture from Sydney Collective is making a splash. This Circular Quay restaurant boasts a deliciously French-inspired menu where guests should expect to find traditional takes on fresh local seafood, including bouillabaisse de Marseille and lobster thermidor. Mains like stuffed zucchini, duck confit and steak or mussel frittes will have you salivating from the moment you walk in.
Address: 8 & 10 East, NSW 2000
Hours: Mon-Thurs 12-3pm & 5-9pm, Fri-Sun 12-9:30pm
Phone: (02) 9240 2255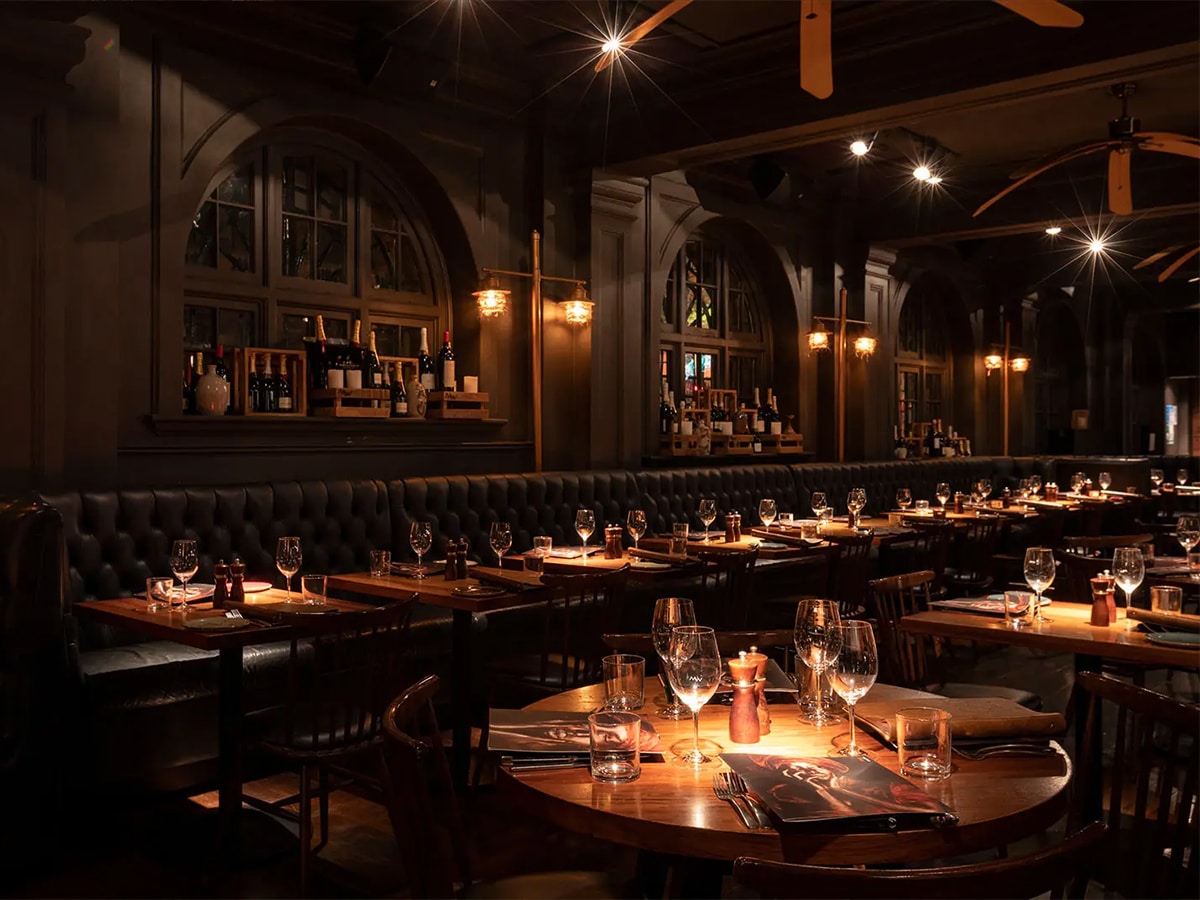 17. The Meat & Wine Co Circular Quay
The Meat & Wine Co Circular Quay is found in the InterContinental Hotel and it's one spot you don't want to miss. Wood, leather and a misty ambience don't begin to describe the experience you'll have here. It's self-proclaimed 'Afro-centric' dining, paired with being described as having 'Sydney's favourite steak', this Circular Quay restaurant gives you everything a meat-lover needs. Sophisticated presentation, flavour and an innovative wine list are what you can expect. The atmosphere is dark and mysterious with affordable, high-quality food. What more could you want? Their extensive menu caters for a range of eaters, and they provide every cut of Australian-farmed steak.
Located in: InterContinental Sydney, an IHG Hotel
Address: Shop 12, InterContinental Sydney, 117 Macquarie St, Sydney NSW 2000
Hours: Tues-Sat 12-10pm
Phone: (02) 9252 7888
Visit The Meat & Wine Co Circular Quay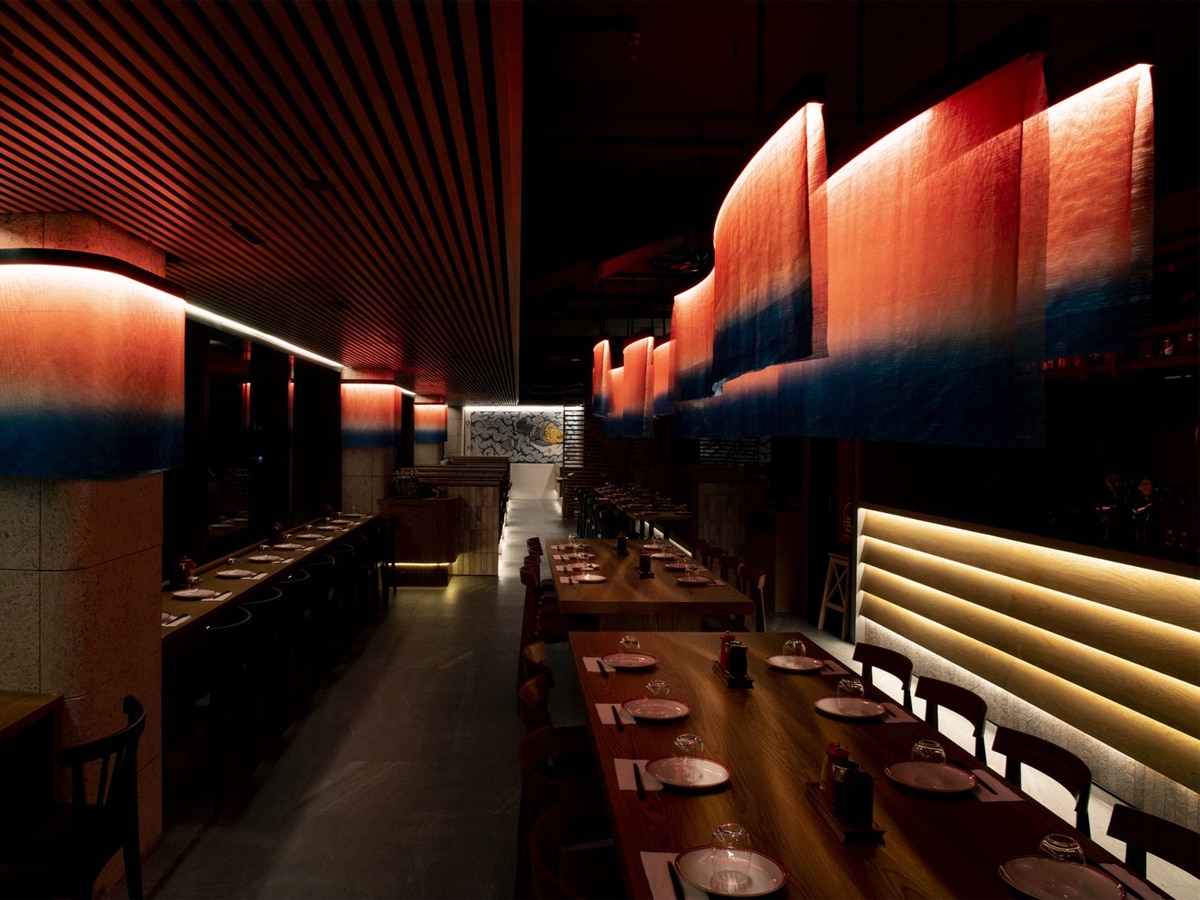 18. IPPUDO
IPPUDO has become a staple of the Sydney food scene, and if you're looking for the best Ramen near Circular Quay, look no further. We'd go as far as to say this has become the global standard of Tonkotsu Ramen, and while we wouldn't go as far to say it's the best in the city, the combination of creamy tonkotsu broth, signature secret dashi, thin straight noodles, pork loin chashu, bean sprouts, flavoured black fungus, and spring onions just hits the spot. Of course, a few Pulled Pork Buns are a great alternative to ramen.
Address: Shop 3, Level 1/71/79 Macquarie St, Sydney NSW 2000
Hours: Mon-Fri 12-2:30pm & 5:30-8:30pm, Sat-Sun 12-2:30pm & 5-8pm
Phone: (02) 9241 2436
How Man of Many Chose the Best Circular Quay Restaurants
Our list of the best restaurants near Circular Quay offers some of the most picturesque dining locations in Sydney. Home to the Sydney Opera House, these restaurants offer unspoilt views of the Sydney Harbour Bridge, and Kirribilli, and is a melting pot for some of the best restaurants in Sydney. We've been lucky enough to sample food (and special menus) from all of the restaurants on this list, often thanks to our friends in the industry. And while our round-up includes some fine-dining options that'll blow you away in both flavours and price-point, we've also done our best to include some value-for-money options for date night.
Alternatives to Circular Quay Restaurants
Sometimes finding a great restaurant that suits your taste buds can be a challenge, that's why we suggest you also check out our list of the best restaurants in Barangaroo which is just around the corner from Circular Quay. If you're looking for a drink, our team of drinks experts have rounded up the best bars in Circular Quay for a fun night out. And finally, if you're in the Circular Quay area for Vivid, we highly recommend checking out our guide on all the best events and displays during the festival of light.
For even more inspiration and places to visit in Sydney, check out some of our favourite articles below:
Best Places to Eat Your Favourite Food in Sydney
Best Vegan & Vegetarian Restaurants
Best Places For a Spot of Tea & Coffee
Best Speciality Bars in Sydney
You'll also like:
Circular Quay Restaurant FAQs
What's the easiest way of getting to Circular Quay?
Depending on where you are coming from determines the easiest way to get to Circular Quay. The most common way is via Central Station by catching a City Circle train to Circular Quay. You can also catch a train through Museum which also goes to Circular Quay.
What is the best restaurant in Circular Quay?
Quay Restaurant, Bennelong Restaurant and Bar, ARIA and Opera Bar just to name a few.
Are there any hatted restaurants in Circular Quay?
Yes, Quay Restaurant and ARIA are both hatted.