18 Best Korean BBQ Spots in Sydney
When you're looking for the best Korean BBQ in Sydney, it's hard to go past Dae Jang Kum, Woo Wol, and Seoul Ria Restaurant. However, all the restaurants chosen on our list below are flourishing with 'cook your own' premium meats. Choose your favourite sides, Soju drinks, and fall in love with this succulent, flavoursome cuisine with a dining experience perfect for groups. It's the closest thing you'll find to the DIY steaks down at the pub from yesteryear!
Best KBBQ in Sydney at a glance
Our list of best Korean BBQs in Sydney goes like this.
Now we've rounded up our favourites, let's check out the complete list.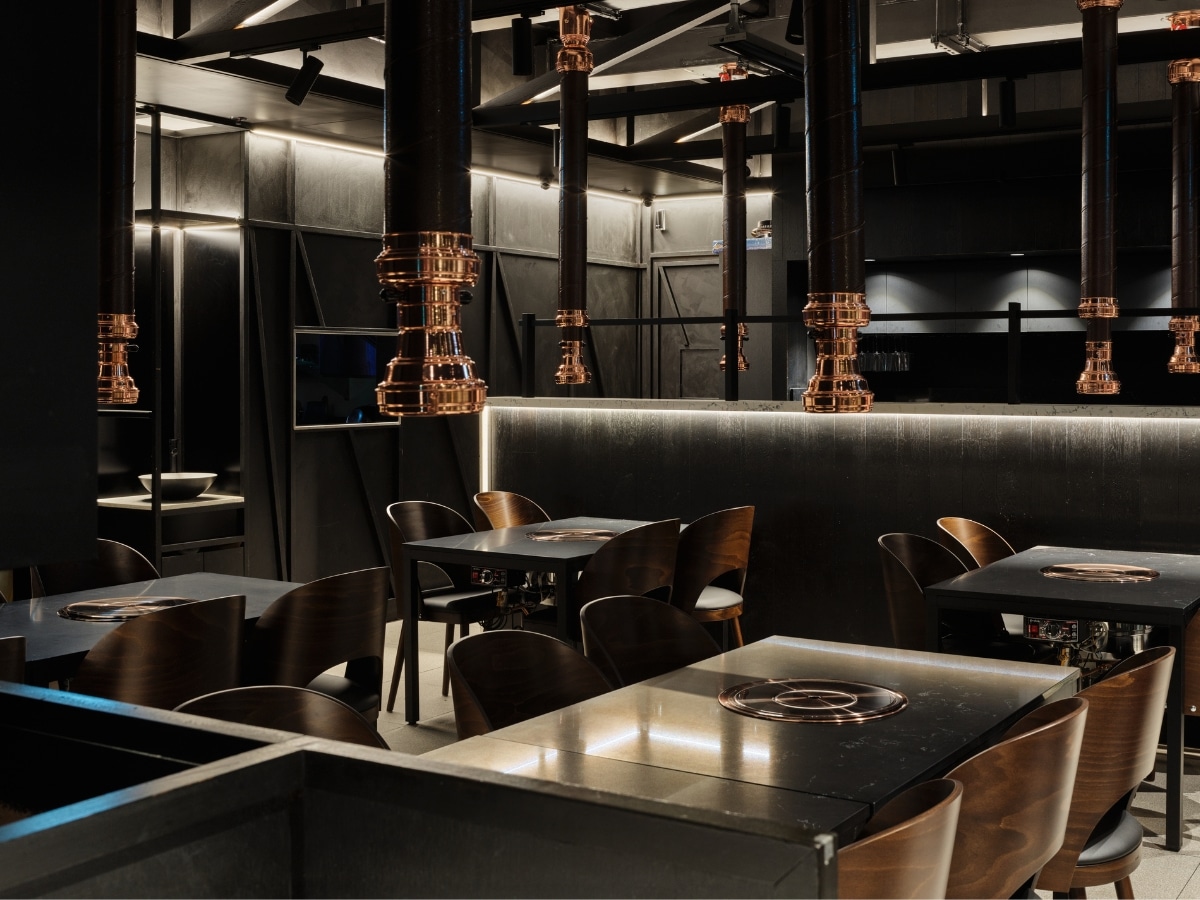 1. Woo Wol
One of Sydney's newest KBBQ spots is also one of its best, with a fine-dining-style menu that offers some of the best meats, sides, and drinks on this list. You'll come for the BBQ platters that range from $100/ 2 person, but you'll come back for the Wagyu Omakase set menu that includes everything from tartare to sashimi and spanner crab. Would-be food influencers have to check out the Wagyu Cake, it's one of the best-presented meat selections we've ever laid our eyes on.
In terms of drinks, expect Charmisul Soju amongst a selection of Korean wine and soft drinks. The wine menu has an Australian focus with a few French numbers thrown in for good measure.
Address: Shop 7/6 Central Park Ave, Chippendale NSW 2008
Hours: Mon-Sun 12-4pm & 5-10pm
Phone: 0413 814 806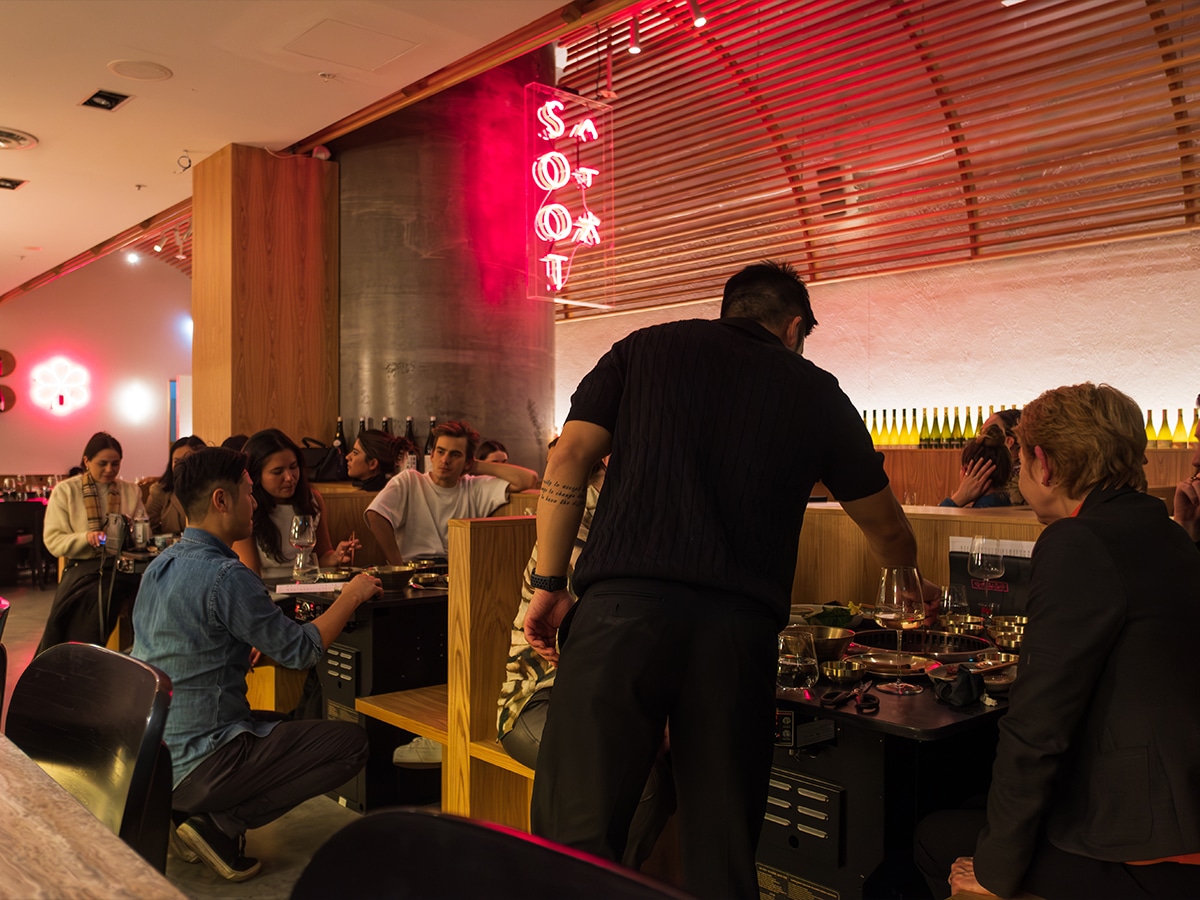 2. Soot BBQ
One of Sydney's newest Korean BBQ spots is also one of the best. If you're like us, you'll love this modern take on KBBQ traditions with Australian cuts of meat, oysters, and a mix of Korean liquor cocktails. The latest venue from Kolture, Sydney's new Korean-focused hospitality group led by David Bae, the experience is slowed down for longer dinners with friends and work colleagues while retaining that fun DIY attitude. Another great spot for first-timers, the staff is particularly helpful with recommendations for meats, sides, and drinks. Best of all? There's no overwhelming smell of smoke with smokeless and odourless DIY charcoal grills on every table.
---
Featured Video from Man of Many
---
Address: Shop T1/05/100 Barangaroo Ave, Barangaroo NSW 2000
Phone: 0413 794 027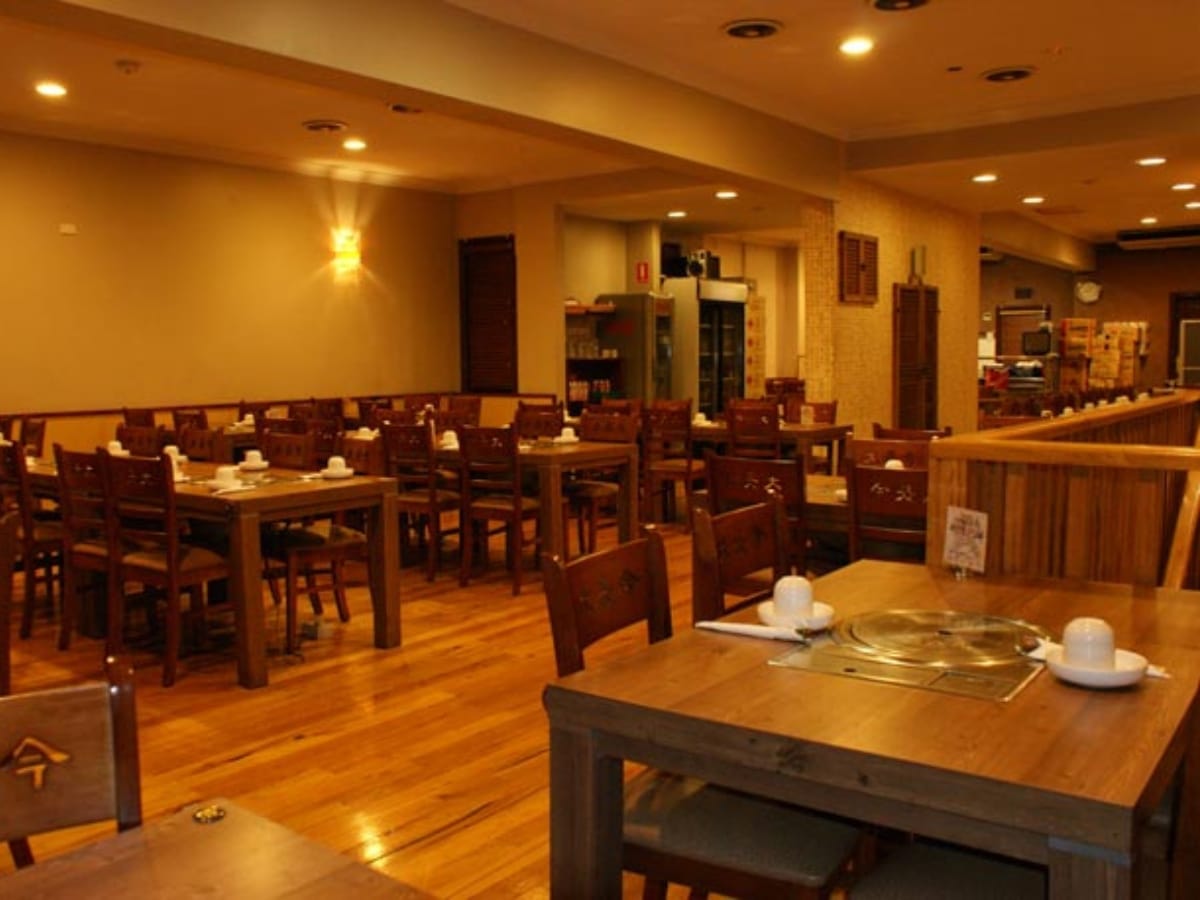 3. Dae Jang Kum
With mains that include five side dishes and rice, value for money is the aim of the game at Dae Jang Kum. That's not to say they don't have a range of premium meats on offer, but they have a focus on a select handful of dishes that deliver big flavours. Some of our favourites include beef ribs, stir-fried pork, and Fried Kimchi and beef in a hot stone bowl. If you're looking for the best Korean BBQ spot in Sydney for a late-night feed, you're in luck. Dae Jang Kum keeps the door open until midnight.
Address: 35 Goulburn St, Haymarket NSW 2000
Hours: Mon-Sun 12pm-12am
Phone: (02) 9211 0890
Visit Dae Jang Kum Dae Jang Kum Menu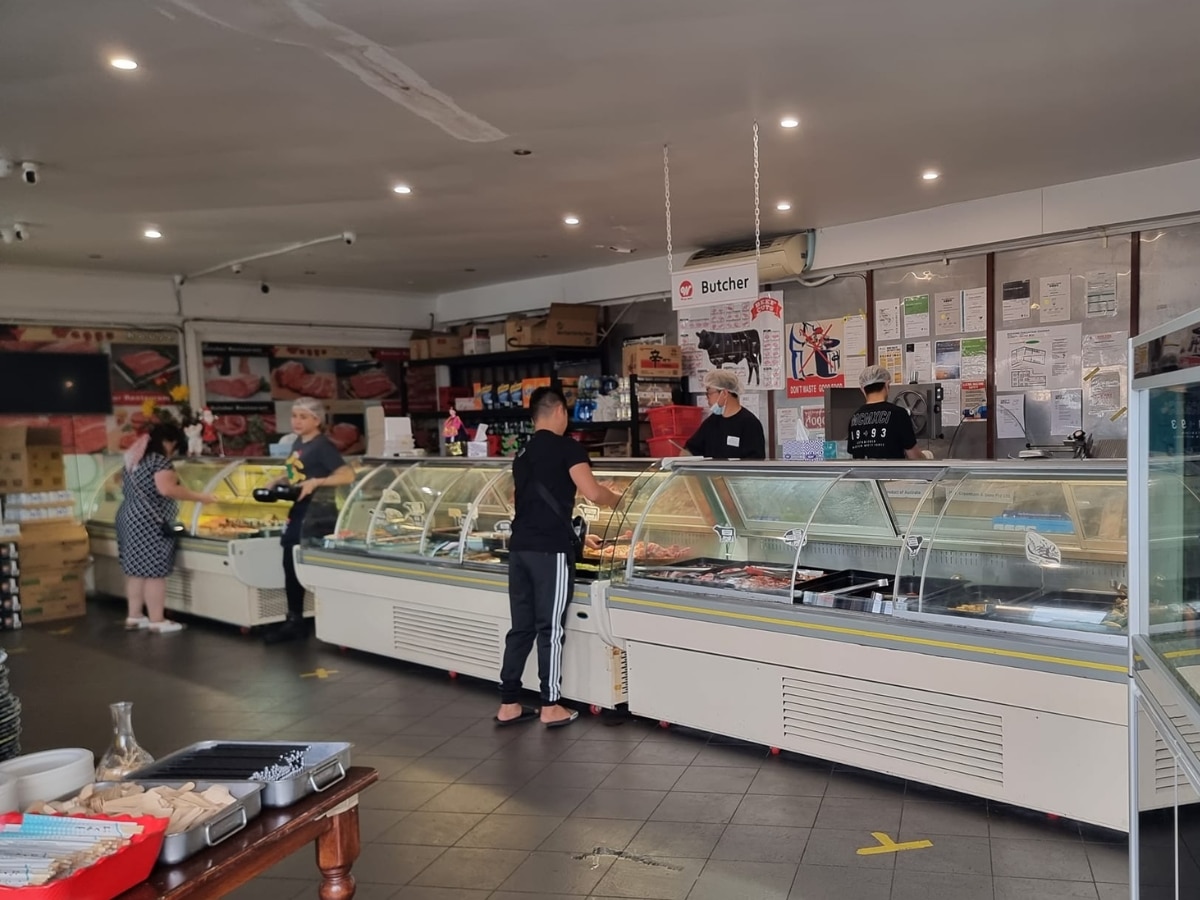 4. Wagyu House Croydon
It's as simple as this, pay around $40pp and enjoy some of the best wagyu beef in Sydney, unlimited. Need we say anymore? Ok, there are plenty of options for vegetarians (it's not all Wagyu) and the sauces, sushi, unlimited meat and seafood are just the start with a range of cold dishes on offer too. If we were going to poke our finger at anything, it's the popularity – which says a lot. Expect to wait if you're visiting on any night of the week. We'd recommend heading in for a Sunday launch, and paying close attention to the Facebook page listed below for any last minute changes.
Address: 668-670 Parramatta Rd, Croydon NSW 2132
Hours: Monday & Wed-Sat 4-10pm, Sun 12-10pm
Phone: 0437 711 774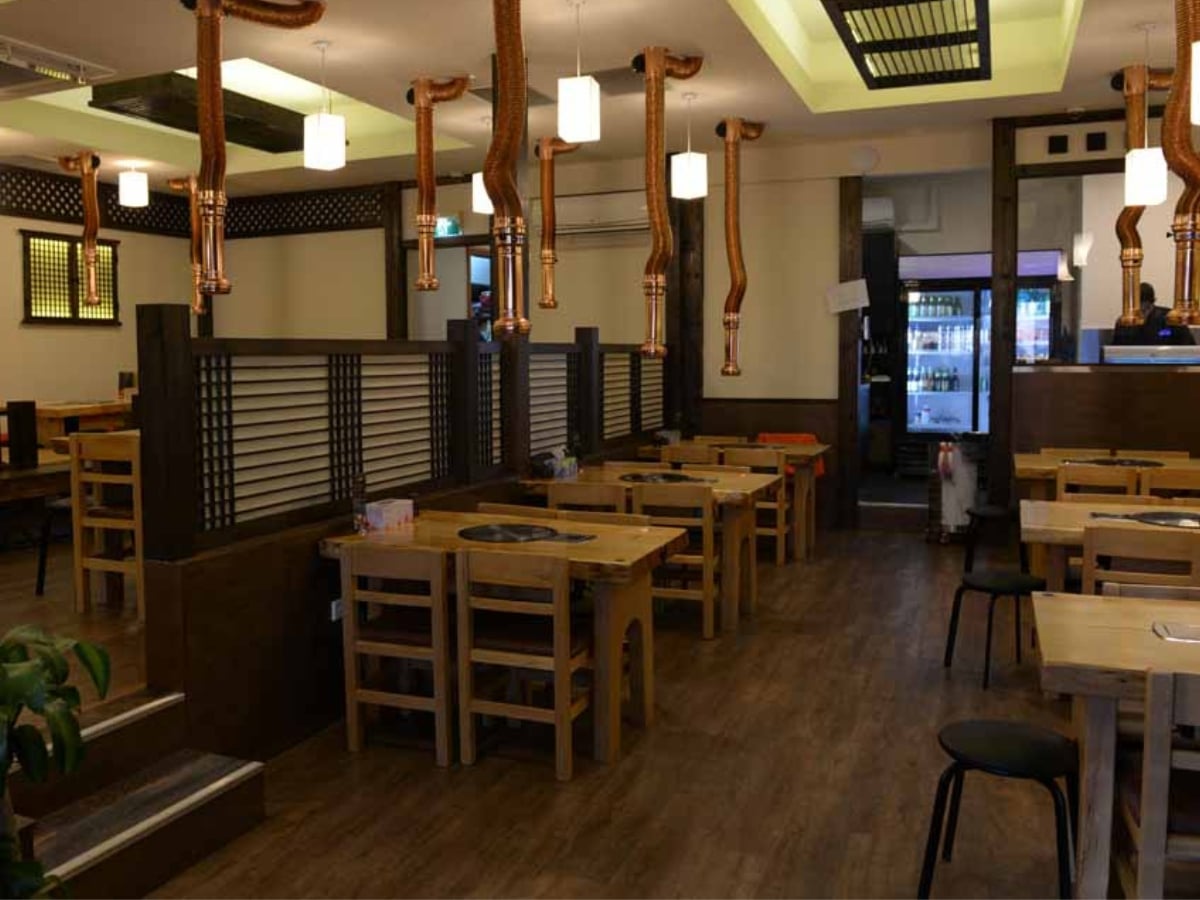 5. Jang Ta Bal
Ta bal in Korean means 'to slowly walk a long distance' and the staff at Jang Ta Bal will go the distance to ensure you have a great experience every time you set foot inside their doors. Cook yourself some fresh cuts of meat and indulge in a huge range of healthy and delicious sides, our favourite being the classic squid and shallot pancake. Equipped with traditional charcoal grills, you can find Korean BBQ in Strathfield and the CBD which is open late for a nighttime snack. Out of all the options on our list, this is our recommendation for a 'fine dining' fair.
Address: 16 Lyons St, Strathfield NSW 2135
Hours: Mon-Sun 5-11pm
Phone: 0414 799 007
Visit Jang Ta Bal Jang Ta Bal Menu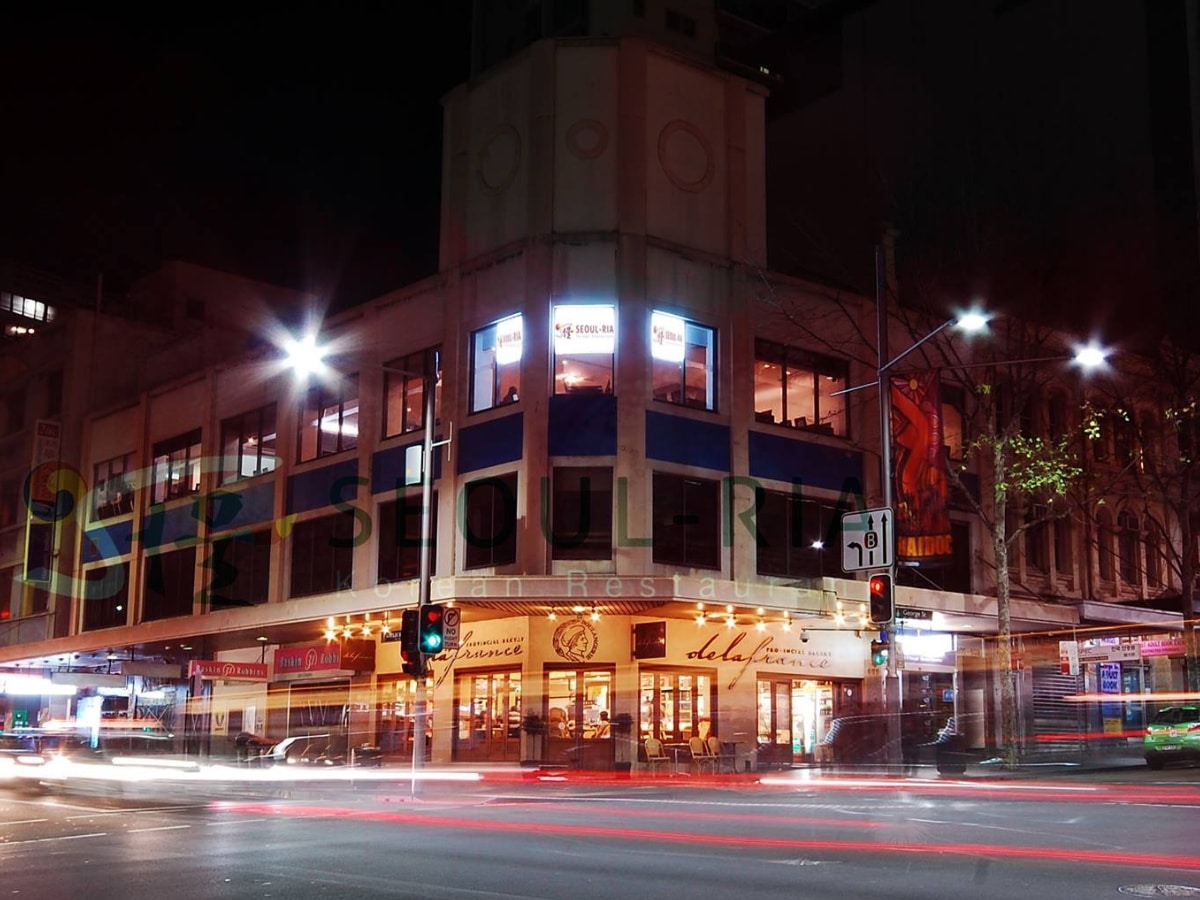 6. Seoul Ria Restaurant
Few meals in Sydney live up to the hype, but we're here to tell you what the 'SpuiPork' Bulgogi special from Seoul Ria does. Outside of the usual offerings, we can't help ourselves when it comes to the Katsu, the JokBal, and of course, the range of cold noodles. All your favourite Soju brands are here, including Charmisul, and there's a range of Korean beers and Raspberry wine.
Address: Level 2/605-609 George St, Sydney NSW 2000
Hours: Mon-Sun 12-10pm
Phone: (02) 9269 0222
Visit Seoul Ria Restaurant Seoul Ria Restaurant Menu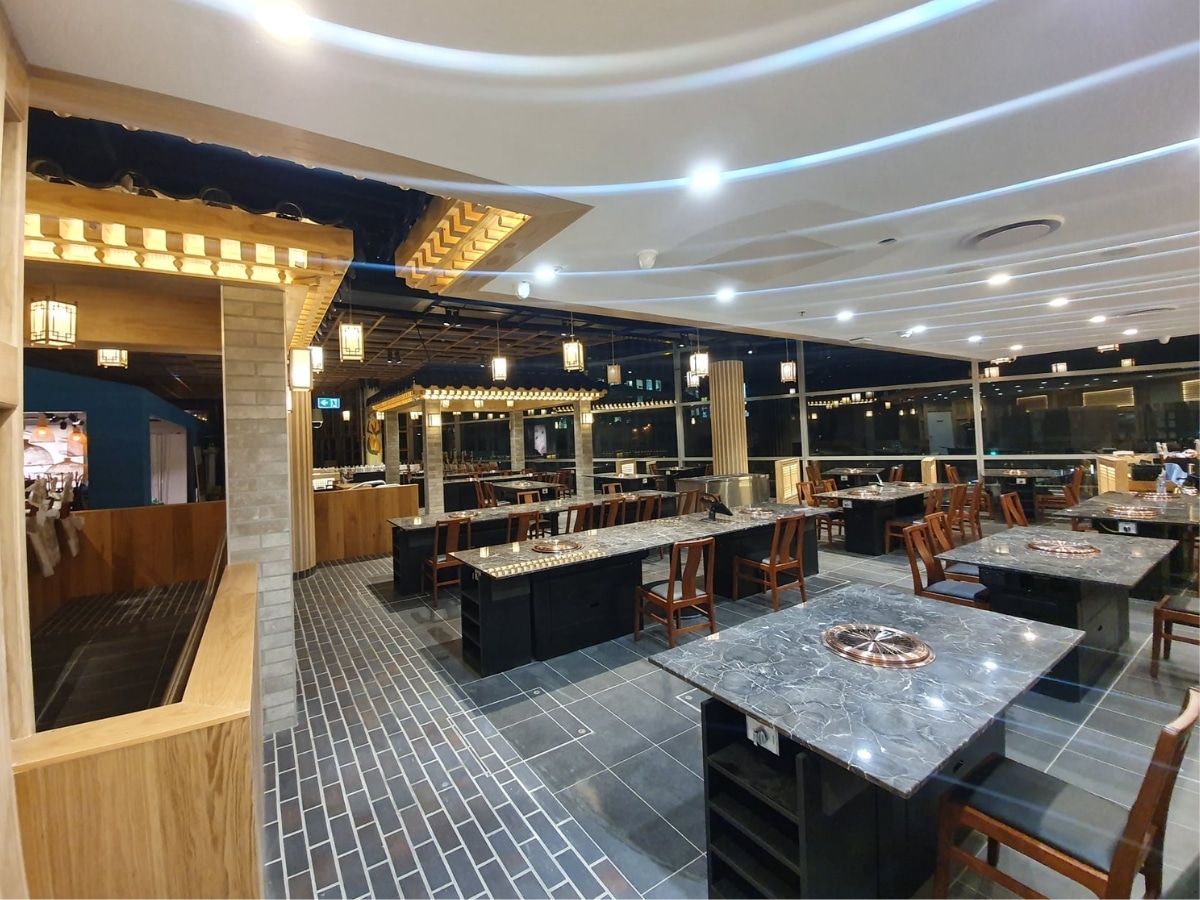 7. Myung jang and Obaltan restaurant
Boasting what we would call one of the best Gae Ran Jjim in Sydney, Obaltan restaurant offers a range of Bok Gi, Salads, and Gui. Don't understand what any of those dishes are? Don't worry, this Korean BBQ spot in Sydney still has something for all with a range of mixed combos ready for the grille. We'd recommend picking Mix Combo 1 with beef, tenderloin, rib, pork belly, and more.
Address: 363A Pitt St, Sydney NSW 2000
Hours: Mon-Thur & Sun 11:30 am-10 pm, Fri-Sat 11:30 am-3 pm, 4:30-10:30 pm
Phone: (02) 9269 0299
Visit Myung jang Myung jang Menu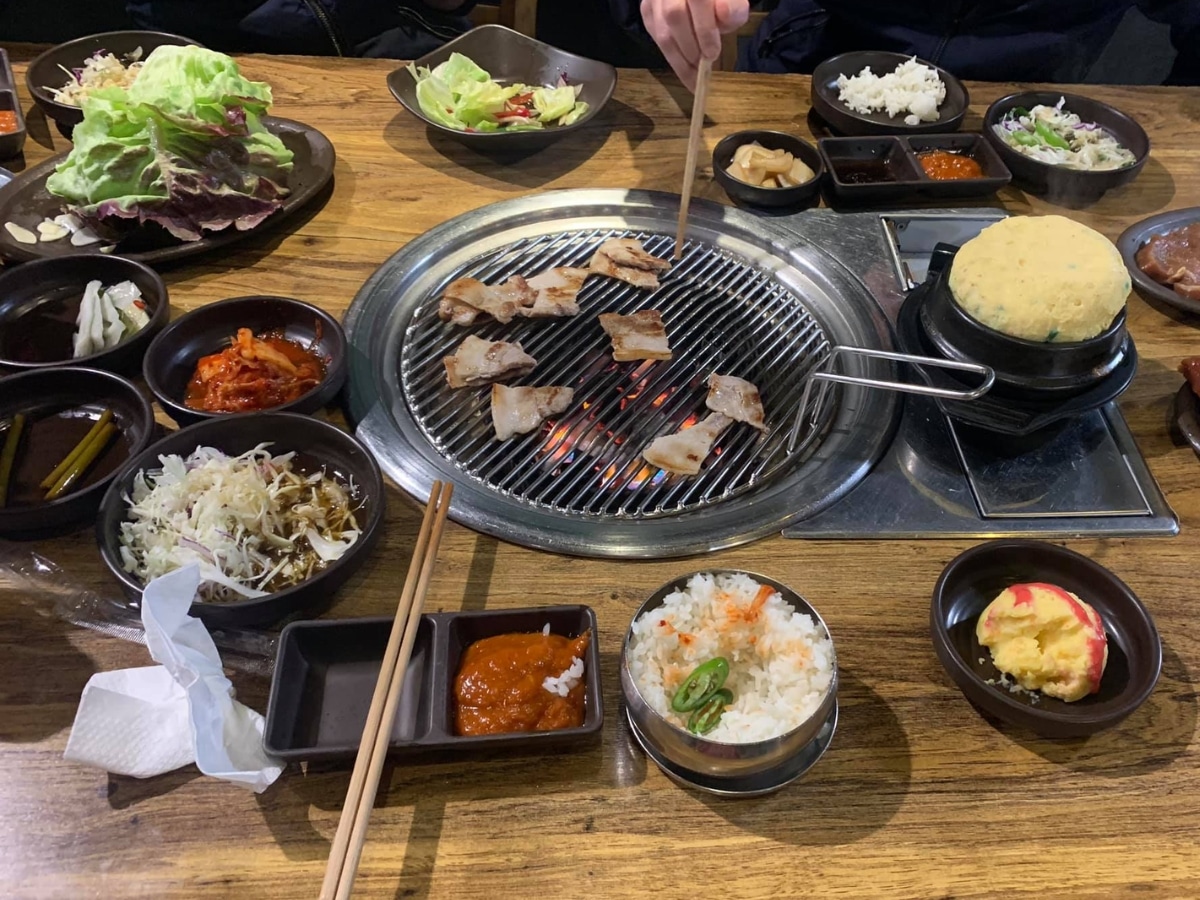 8. Yang San Park
You might get some K-Pop vibes from this Korean BBQ in Sydney. The waiters dress like band members, and rightly so, it's a great look! You don't have to be an expert chef to BBQ at this establishment, the waiters will help you along the way, flipping your ribeye and finishing the pork to perfection. This is one of the busiest spots in Sydney, and for good reason, it's delicious. A word of warning, however, there's no Korean Fried Chicken here.
Address: Shop 21/1 Dixon St, Sydney NSW 2000
Hours: Mon-Fri 4-10:30 pm, Sat-Sun 12-10:30 pm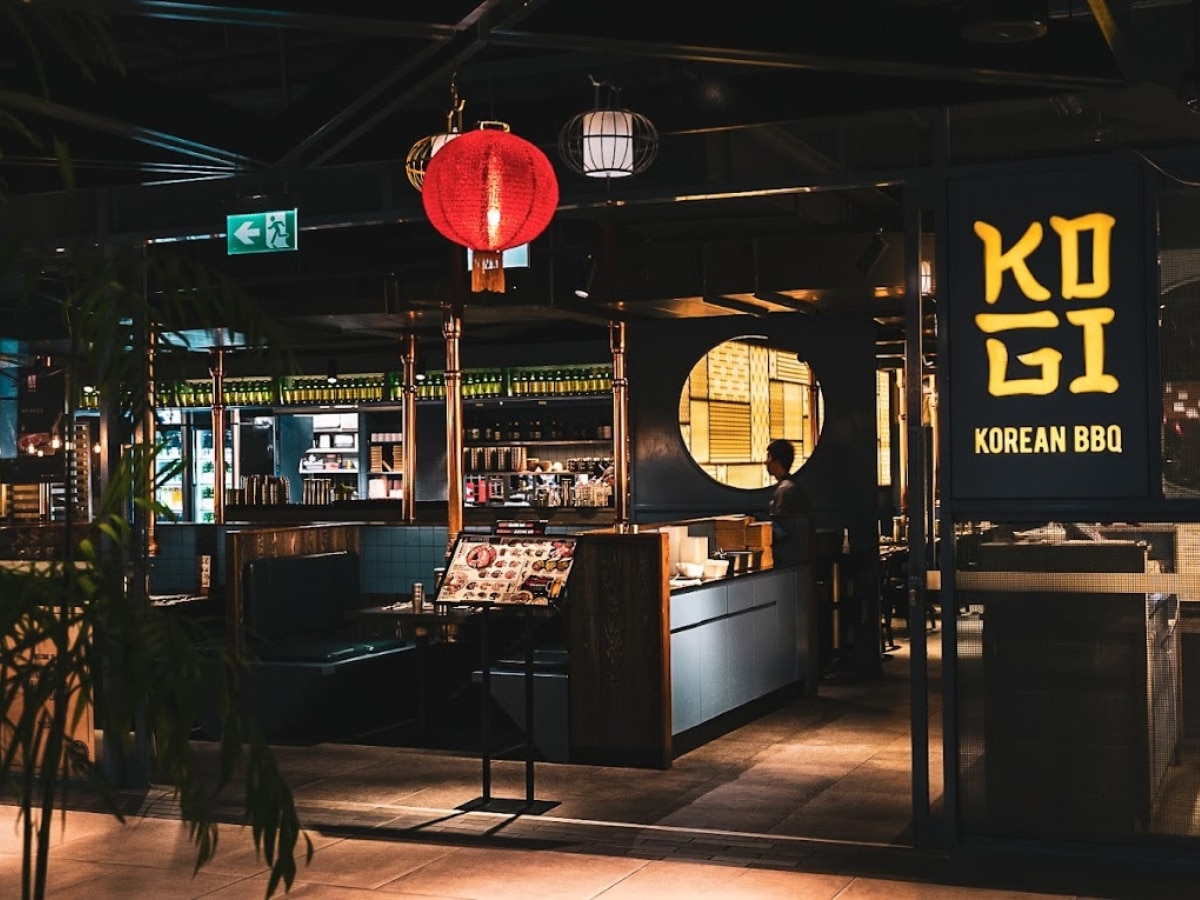 9. KOGI Korean BBQ
The generous serving sizes are just the start of what makes Kogi one of the best Korean BBQ Sydney has to offer. The highlight dishes – marinated pork and beef ribs with steamed egg – are too good to share. The side dishes often change, giving you a different experience every time you go. With the cosy atmosphere and friendly staff, you'll definitely be wanting to come back for more.
Located in: Market City
Address: Level 3 Market City, 9/13 Hay St, Haymarket NSW 2000
Hours: Tue-Thur 5-10pm, Fri-Sun 12-3pm & 5-11pm
Phone: 0412 054 339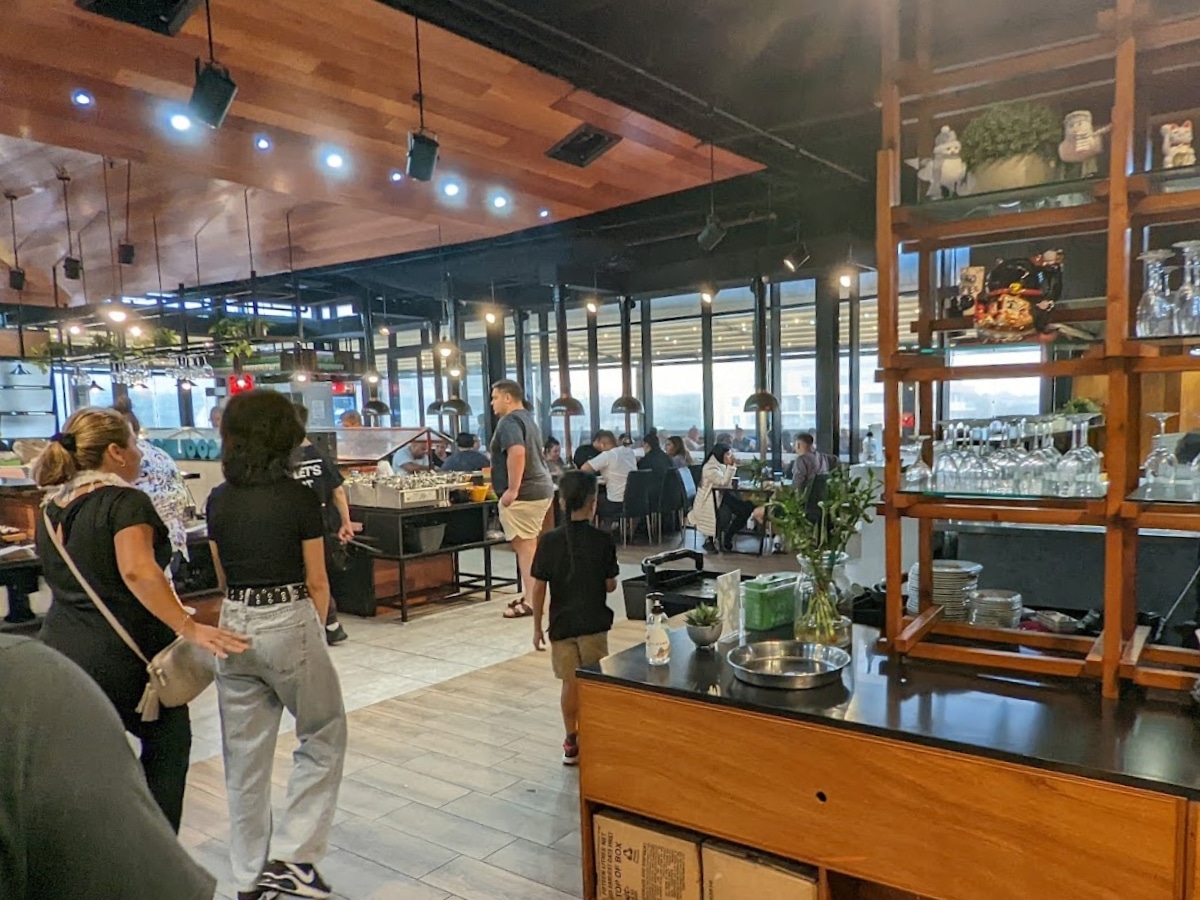 10. BBQ City Buffet
With a mixture of traditional Korean and modern interior design, BBQ City is a family restaurant that seats a whopping 300 patrons. The buffet dining removes the guesswork from the equation with over 40 dishes to sample at your own pace. Found in Bankstown, out of the west of Sydney, BBQ City if perfect for those who can't be fussed making the trek into the city.
Located in: Little Saigon Plaza Bankstown
Address: Little Saigon Plaza, Level 5/462 Chapel Rd, Bankstown NSW 2200
Hours: Mon-Sun 11am-3pm, & 4:30-10pm
Phone: (02) 8739 1697
Visit BBQ City Buffet BBQ City Buffet Menu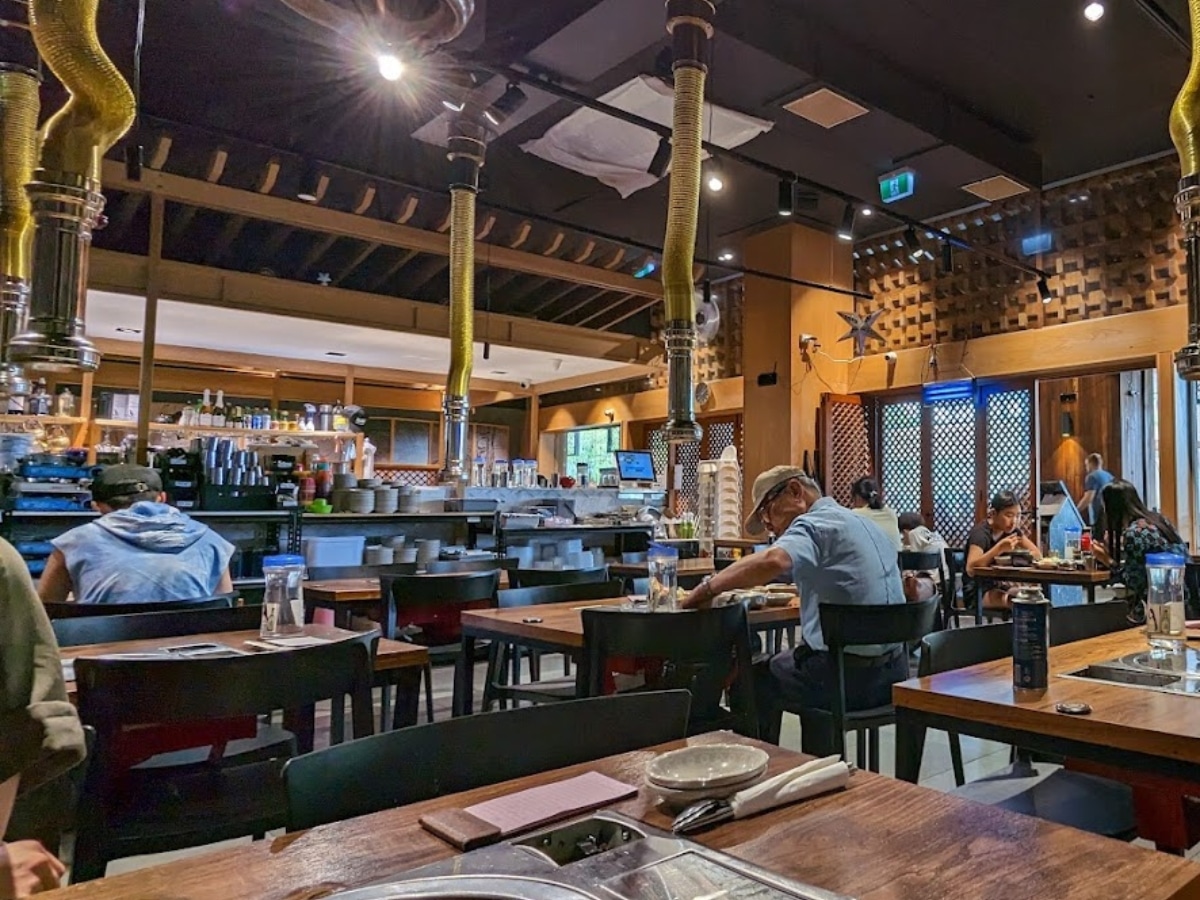 11. Kangnam BBQ Hornsby
Kangnam loves serving various side dishes to match their delicious mains. When you order you'll notice that little side dishes are also served, these are called BANCHAN which are complimentary, and you'll find 10 different side dishes freshly made every morning. Including Kimchi, lettuce salad, and mashed potatoes. What isn't to like about free dishes?!
Located in: Westfield Hornsby
Address: Shop R2/236 Pacific Hwy, Hornsby NSW 2077
Hours: Mon-Sun 11am-10pm
Phone: (02) 9482 8818

Visit Kangnam BBQ Kangnam BBQ Menu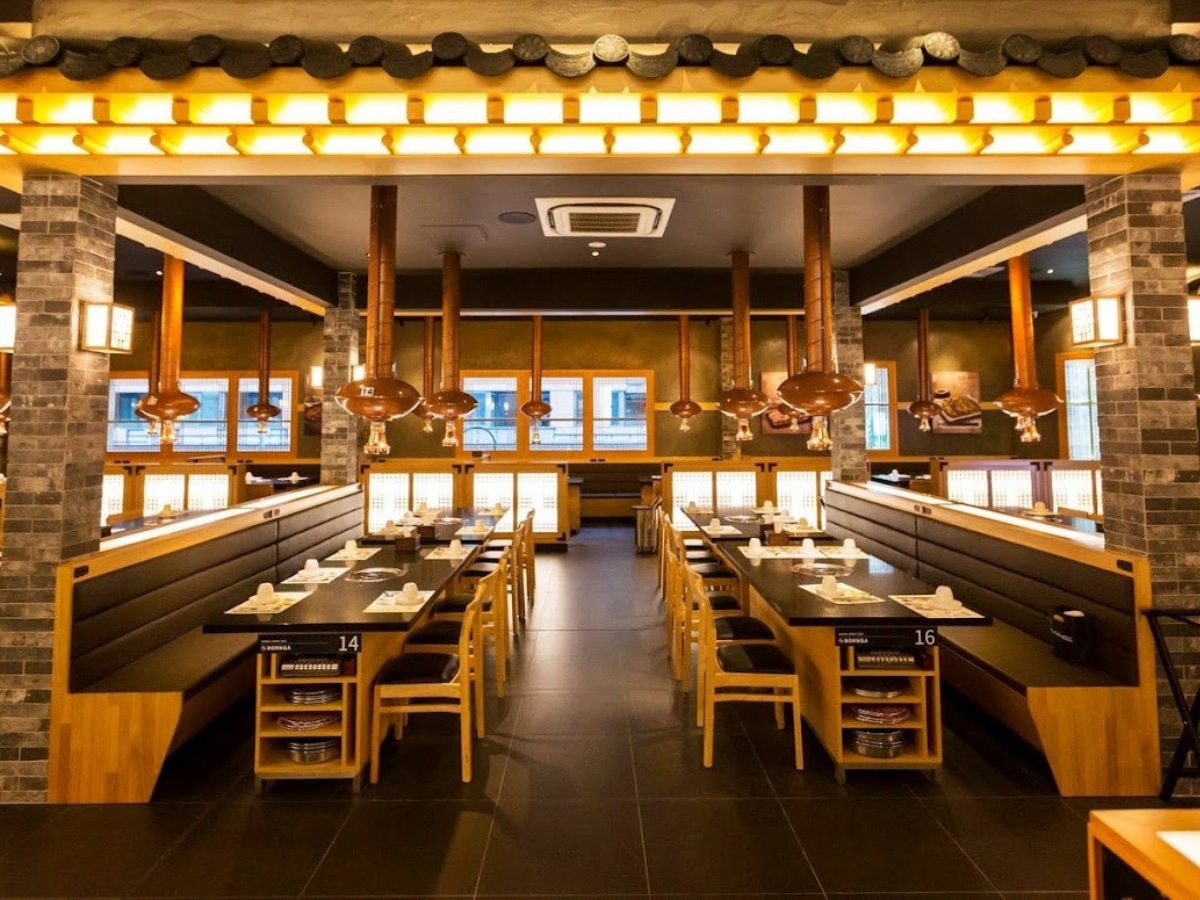 12. Bornga Korean BBQ Restaurant
Located on Harbour street in Haymarket is this busy and loud Korean BBQ restaurant. The space is filled with spaced-out booths which surround the cooktops. The Woo Samgyeop beef is the signature dish and is a must-try item on the menu. Tasty as ever, the paper-thin beef crisps up like sliced bacon. Seriously delicious.
Address: Level 1/78 Harbour St, Haymarket NSW 2000
Hours: Mon-Thur 4:30-10:30pm, Fri-Sun 11:30am-3pm & 4:30-11pm
Phone: 0417 054 555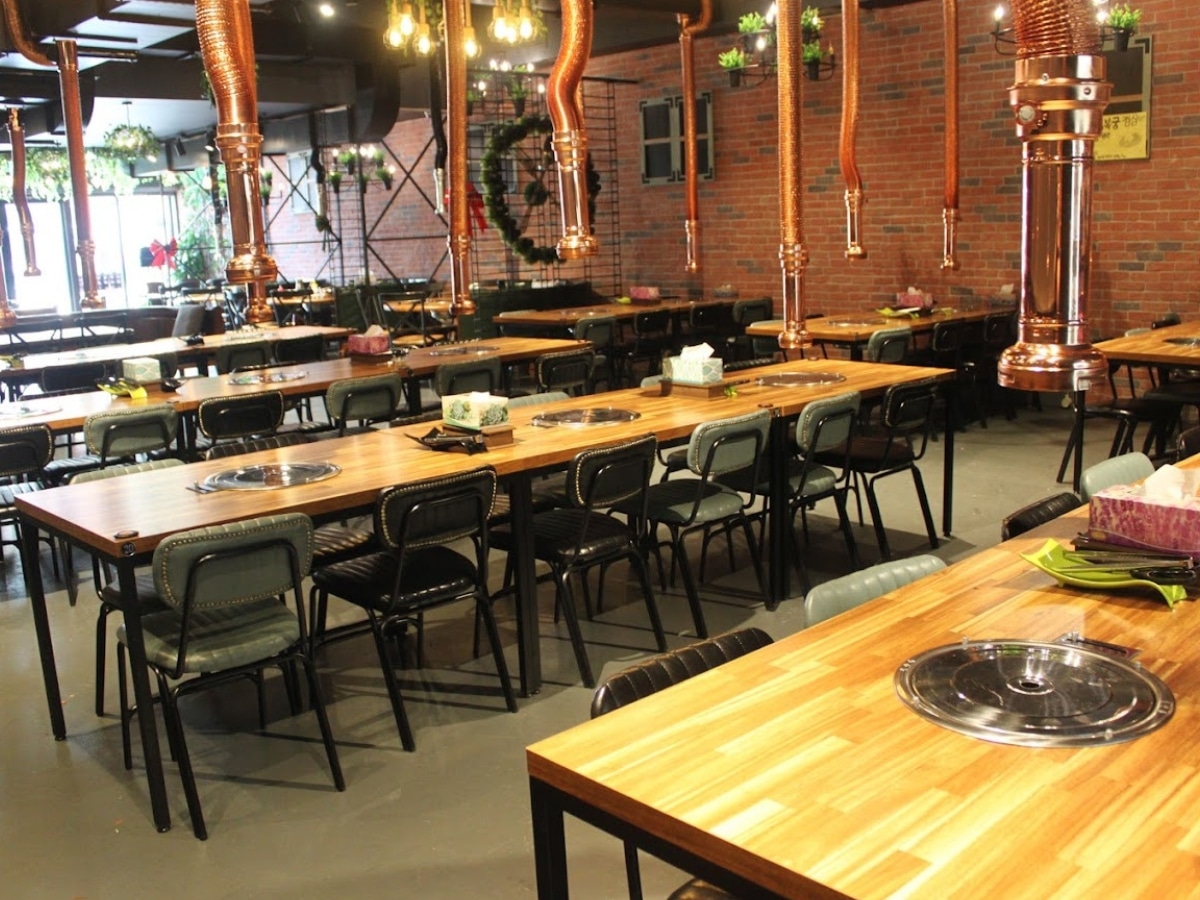 13. GBG Korean BBQ Buffet West Ryde
This Korean restaurant in Sydney loves to fill your table, and that's exactly what we love to see from a KBBQ. There are a total of 12 Banchan to choose from, including potatoes and cucumber dishes. We recommend trying the banquet lunch that starts with a sizzling plate and ends with the classic toasted rice soup. When we're looking for a Korean Barbeque near me, this place is sure to fill your stomach.
Address: 1031 Victoria Rd, West Ryde NSW 2114
Hours: Mon-Sun 5:30-10pm
Phone: 0456 989 888
Visit GBG Korean BBQ GBG Korean BBQ Instagram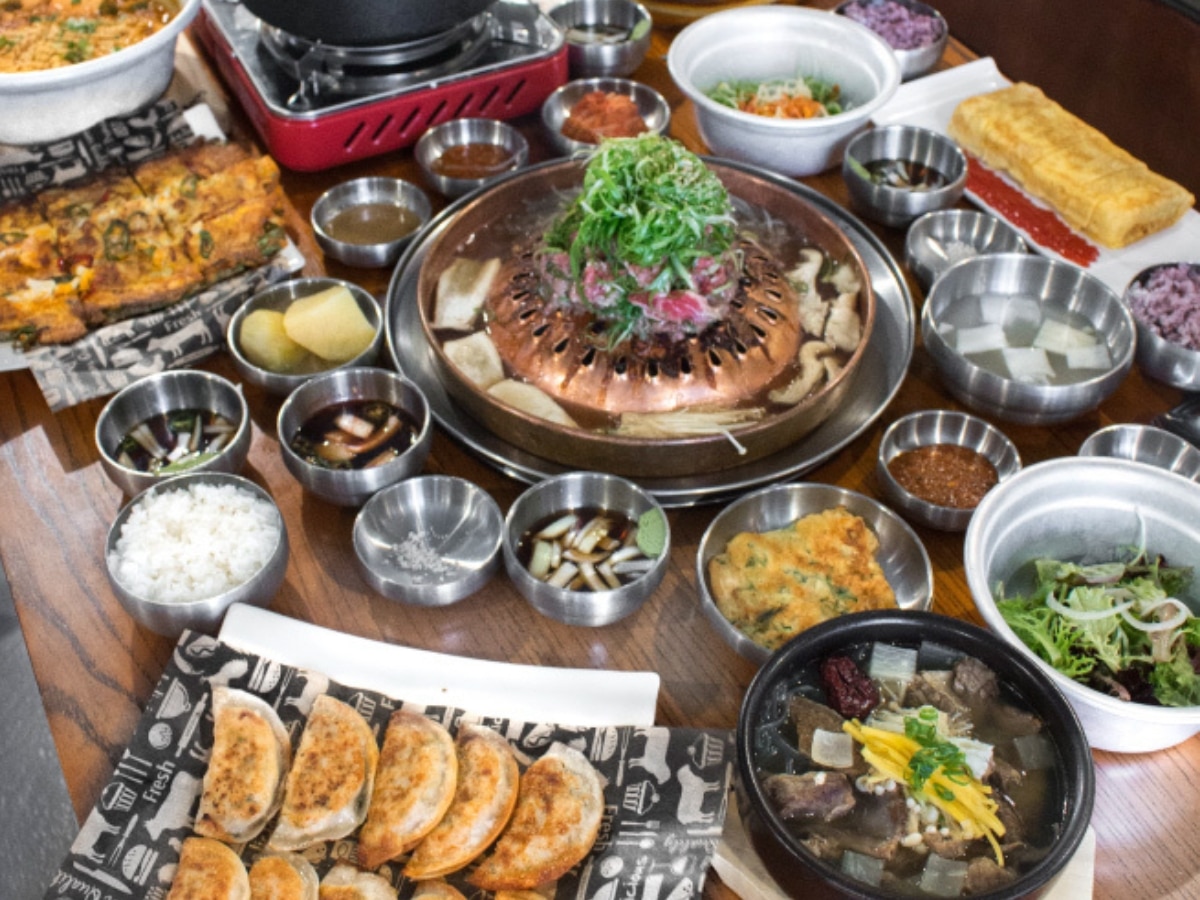 14. 678 Sydney
The chefs at 678 Sydney want to share the exquisite flavours of Korea with the world and help people experience the culture embedded within their food. The menu features premium beef, pork, assorted vegetables, soup and a variety of liquors. The vibrant atmosphere and intoxicating aromas of this Korean restaurant in Sydney's CBD and now in Eastwood will leave you filled with passion, energy and of course an intensely satisfied stomach.
Located in: The Miramar Apartments
Address: Level 1/396 Pitt St, Haymarket NSW 2000
Hours: Mon-Thur 12-11pm, Fri 12pm-12am, Sat 11am-12am, Sun 11am-11pm
Address: 14 Glen St, Eastwood NSW 2122
Hours: Mon-Fri 11am-3pm & 5-10pm, Sat 11am-11pm, Sun 11am-10pm
Phone: (02) 8959 9599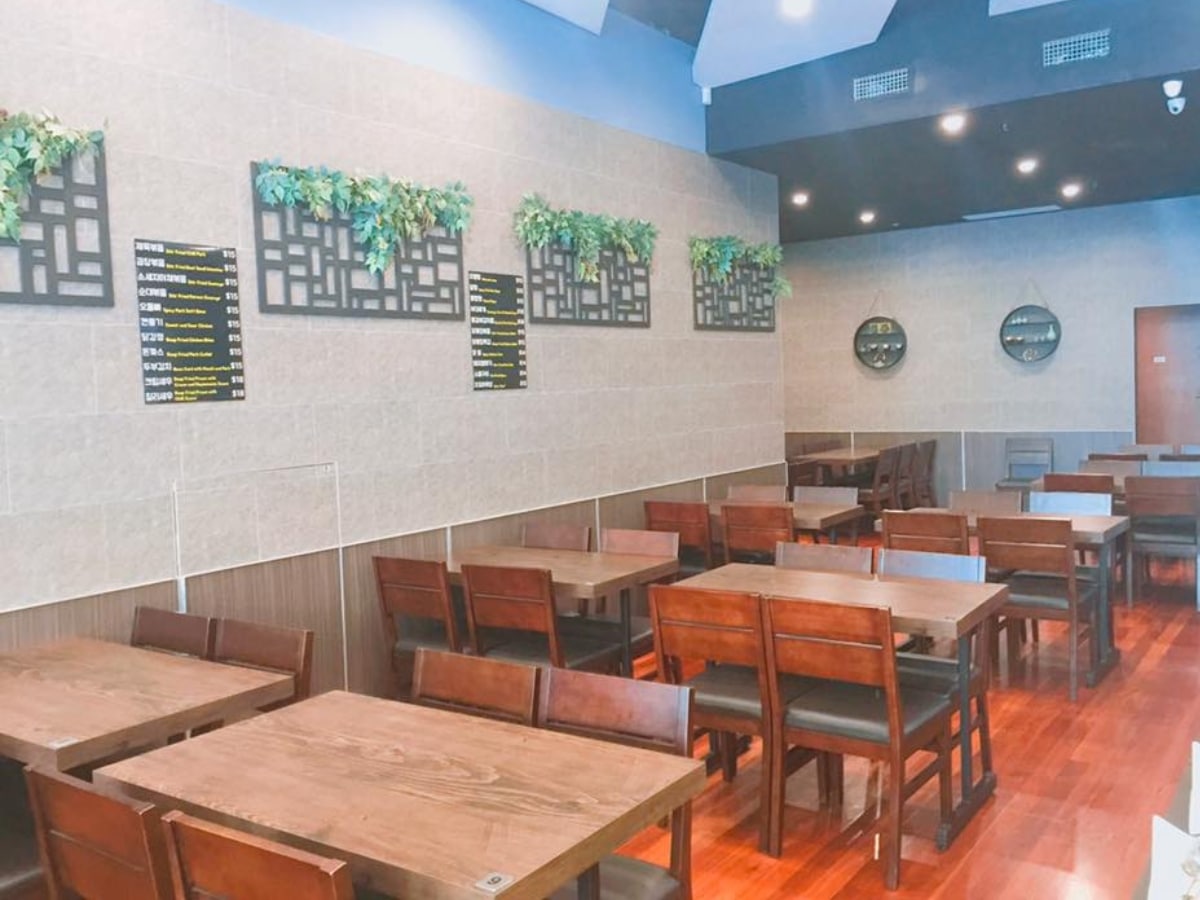 15. Se Jong Korean BBQ
Ideal for group and family dinners, Se Jong Korean BBQ Buffet has exceptional food at affordable prices. There's often a long line out the front so be sure to book in advance to avoid disappointment. There's a vast range of authentic Korean BBQ dishes to choose from to ensure every person on the table finds a dish (or ten) of their choice.
Address: 821 Pennant Hills Rd, Carlingford NSW 2118
Hours: Mon-Sun 5-10pm
Phone: (02) 9872 8868
Address: 8 London St, Campsie NSW 2194
Hours: Mon-Sun 5-10pm
Phone: (02) 9787 7126
Visit Se Jong Se Jong Instagram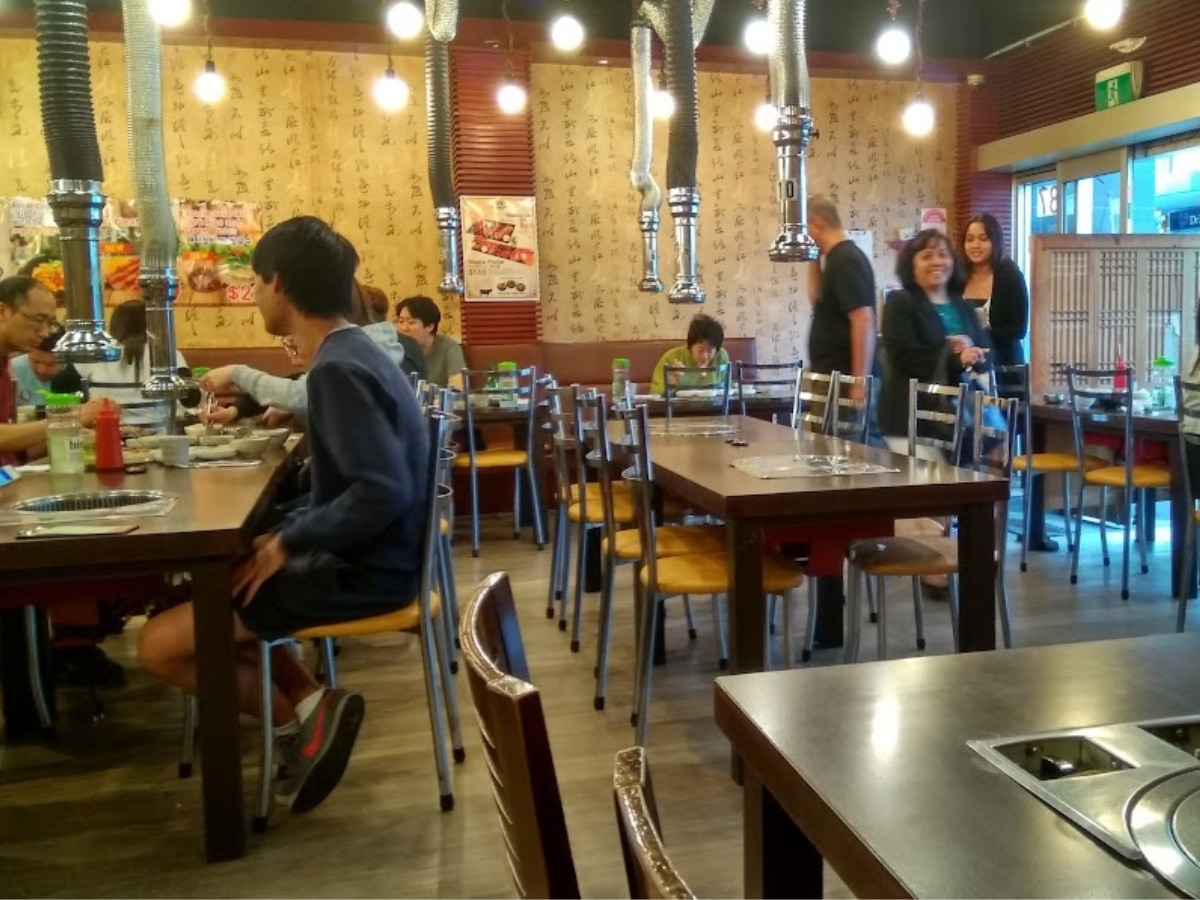 16. Jonga Jip Eastwood
Taste a little bit of everything at Jonga Jip with its host of delicious and quirky sides. If you don't know what to order, the accommodating staff will be sure to steer you in the right direction. From the common kimchi to dumplings, Korean sauna eggs and an assortment of green beans, there's something at this Sydney KBBQ restaurant to suit everyone. And the best part? The sides are unlimited, replenished by your waiter when you need more.
Address: 87 Rowe St, Eastwood NSW 2122
Hours: Mon-Tue & Thur-Sun 11am-11pm, Wed 4-11pm
Phone: (02) 9858 5160
Visit Jonga Jip Jonga Jip Menu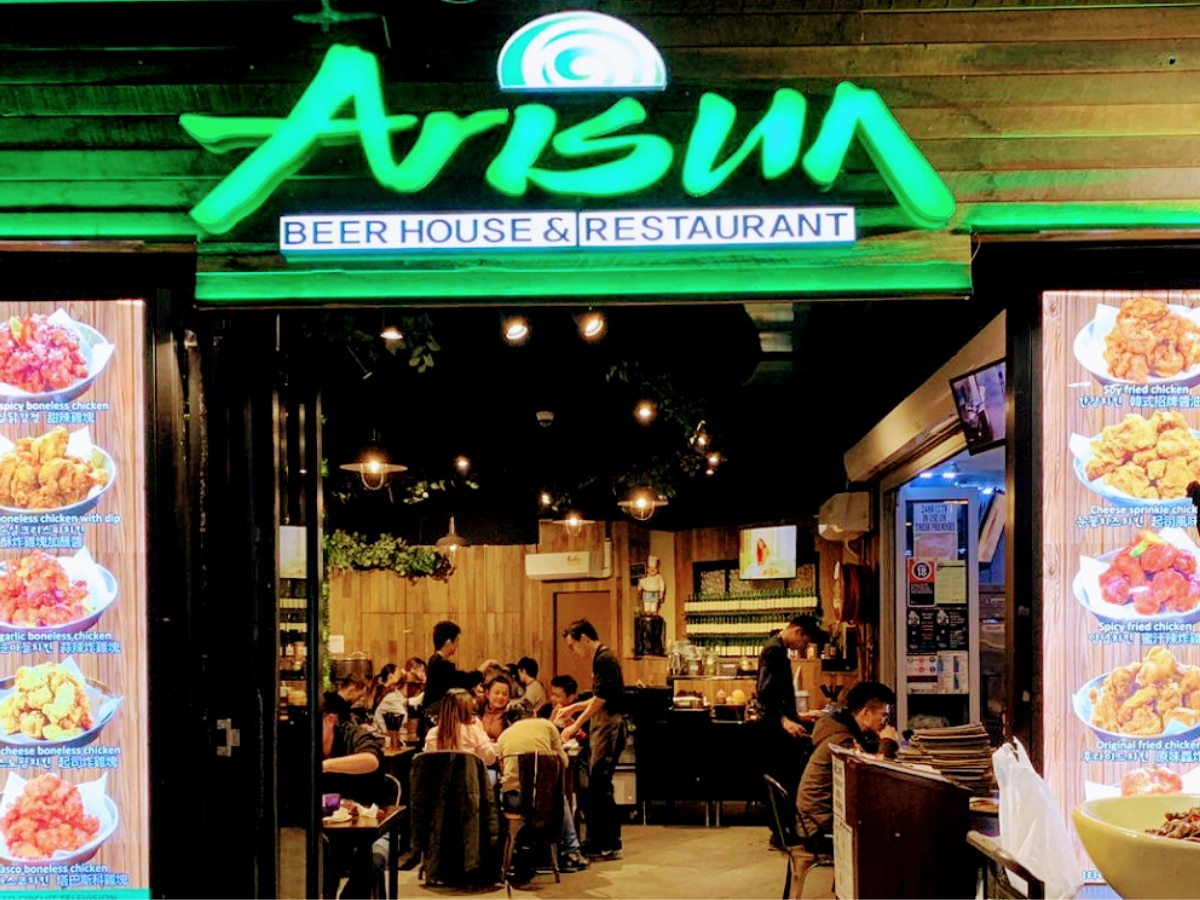 17. Arisun
The loyal regulars and positive press of Arisun are not only attributed to the initial vision of efficient service. This Korean BBQ in Strathfield also serves homely decor and hit music. It is first and foremost on account of the great-tasting meats with Chinese and Japanese influences. This restaurant has now expanded to three locations and is famous for its Korean fried chicken (KFC), smoked grilled meats and signature black bean noodles. The menu may change every now and then, but these dishes are staples.
Located in: Number One Dixon Shopping Centre
Address: Shop 35/1 Dixon St, Haymarket NSW 2000
Hours: Mon-Thur & Sun 12-10:30pm, Fri-Sat 12pm-1:30am
Phone: (02) 9264 1588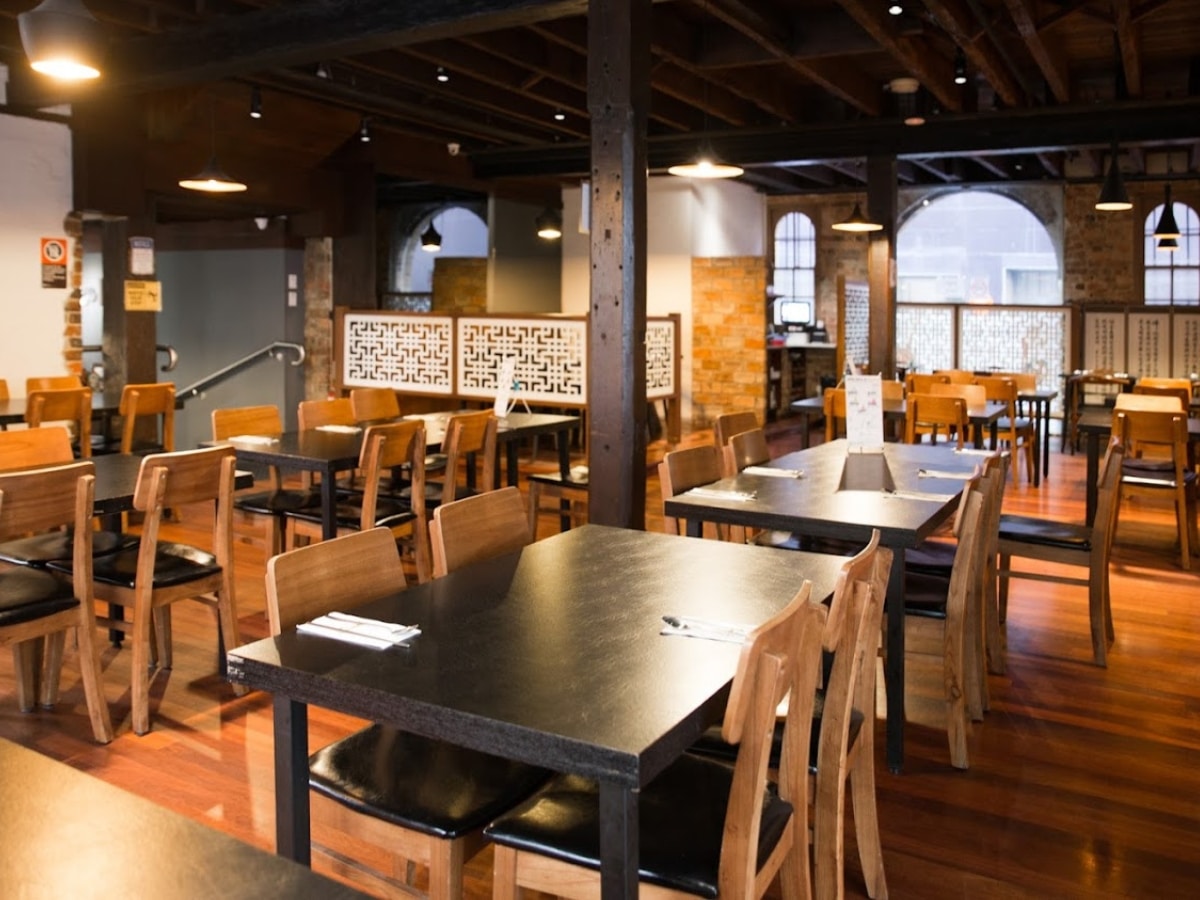 18. Danjee Korean Restaurant
For seriously authentic KBBQ, you can't go past Danjee. This fine dining precinct goes all out in terms of presentation and quality of meat cuts. For reference, a danjee is the container in which fermented food is made, representing their commitment to traditional cooking. The restaurant also offers fusion dishes to ensure every palate will be satisfied. The menu is full of delectable meats, soups, stews, noodles and scrumptious sides making it a must-visit on our list of the best Korean BBQ Sydney has to offer.
Address: 1-7 Albion Pl, Sydney NSW 2000
Hours: Thur-Tue 12-3pm & 5-10pm
Phone: 0432 748 907
How Man of Many Chose the Best Korean BBQ in Sydney
With an office situated right in the heart of Sydney and a team of keen foodies, the team at Man of Many has had the chance to sample the best Korean BBQ in Sydney. Where they haven't had a chance to visit, they've turned to food critics and expert reviews in compiling their list. Man of Many's editors have taken into account, price points, opening times, and food choices, while also making a concerted effort to highlight a few brunch spots outside the CBD. If there's a KBBQ spot you think we should check out, get in contact. Now, let's check out the list below.
Alternatives to KBBQ in Sydney
If you're looking for other things to do in and around Sydney, we've got you covered with some of the options listed below. You can also check out our list of fun things to do in Sydney. If you're looking for a more specific cuisine, check out our list of the best Mexican restaurants in Sydney or the best burgers in Sydney. If you're full, we can also help you with your search for the best rooftop bars in Sydney.
Korean BBQ in Sydney FAQs
What is Korean BBQ?
Korean BBQ differs from traditional backyard BBQ by serving up smaller cuts of beef, pork, chicken or seafood cooked on gas or charcoal grills built into the centre of the table. In a way, guests cook their own meats.
What should I order at Korean BBQ?
Some great starting places include grilled pork belly, ddeokbokki (spicy korean rice cakes), bibimbap (steamed rice with meat, vegetables and fried egg), kimchi (fermented cabbage), galbi (beef short ribs marinated in garlic soy sauce) and Korean seafood pancake.
What is Bibimbap?
A Korean dish served as a bowl of warm white rice topped with seasoned vegetables, chilli paste, soy sauce, a raw or fried egg and sliced meat. The hot dish is stirred together thoroughly just before eating.
You'll also like:
---
Featured Video from Man of Many