13 Best French Restaurants in Sydney
It's no surprise the best French restaurants in Sydney offer food experiences that take us on a culinary journey. French cuisine is regarded as one of the most sophisticated in the world, sought after for its flavour combinations, cooking traditions and practices. We're taking you on the full experience, breaking down the different types before delving into the best French restaurants Sydney has to offer.
Related: Looking for a quick glass of wine before your dinner? These are our favourite wine bars.
How Man of Many Chose the Best French Restaurants in Sydney
When it comes to choosing our list of the best French restaurants in Sydney, we had to do the hard yards to narrow down a list to just a few options. We had to eat so many quality steaks, confit ducks, and steak frites that we're still attempting to work off our food baby as we write this very sentence. Our list takes into account a variety of price points (let's not forget French cuisine is one of the most expensive) while introducing a few fine dining options into the mix as well. The list contains stand-alone restaurants and a few located inside some of the best pubs in Sydney. A glass of wine before dinner? No one's going to argue with that.
Best French Restaurants in Sydney
Our list of best French Restaurants in Sydney goes like this.
Now we've rounded up our favourites, let's check out the full list.
1. Restaurant Hubert
Restaurant Hubert transports its diners back to post-war France with its amazing French-style bistro. The restaurant is home to seven rooms and two bars that you can hand out before your table is ready. One of our absolute favourite dishes here is the Chicken Fricassée, steamed until tender and juicy, then fried to achieve a golden crisp skin, before being served over a rich bread sauce. Fun fact, Restaurant Hubert is home to the largest miniature spirit collection in the Southern Hemisphere totalling 4,000 bottles purchased from a private collection.
Address: 15 Bligh St, Sydney NSW 2000
Hours: Mon-Wed 5pm-12am, Thur & Sun 12pm-12am, Fri-Sat 12pm-12:30am
Phone: (02) 9232 0881
2. Métisse Restaurant
Metisse is a French fine dining restaurant located in the heart of Potts Point, founded in 2019 by Chef Opel Khan and his wife Julie. The latest in a line of famous restaurants to be outfitted in heritage 'Barcelona' building, Metisse have succeeded in their goal to offer a premium yet approachable degustation experience rivalling any in Sydney. The menu is comprised of Australian-influenced French cuisine. Our favourites include the Duck à l'Orange, Mosaïque (Yellowfin Tuna), and Fruits du Monde. And while their menu updates regularly, we recently took 'The Voyage' and you can read our experience right here; Metisse Restaurant Review: 'The Voyage'.
Address: 5/9 Roslyn St, Potts Point NSW 2011
Hours: Tues-Sun 5:30pm-11:30pm
Phone: (02) 8590 7698
3. Felix
Well known for its French luxury and extravagant menu, Felix is home to some of our favourite French food in Sydney. Inside you'll be surrounded by shelves of French, Australian and New Zealand wines under the glow of French-imported chandeliers. Select your meal from the iced-up fresh seafood bar that serves as the main attraction, or venture through time with a host of French classics that include Tartare de boeuf,  Terrine maison, and Poisson cru. A great choice for those looking for a luxurious dining experience in Sydney, the menu features two choices of caviar and plenty of Burgundy wine.
Address: 2 Ash St, Sydney NSW 2000
Hours: Mon-Fri 12-10:30pm, Sat 5:30-10:30pm
Phone: (02) 9114 7303
4. The Strand Hotel
We were lucky enough to spend a night at the newly renovated Strand Hotel just off William Street in Darlinghurst. And while we were impressed enough by the rooftop bar, we found ourselves blown away by the traditional French Bistro offerings downstairs. We tried everything from the Sourdough baguette to the classic French onion soup (it's good enough to impress any grandfather) and walked away particularly impressed by the Grilled fish fillet and Duck leg pie. If you're looking to try some of the best value-for-money French food in Sydney, you can't go past The Strand Bistro.
Address: 99 William St, Darlinghurst NSW 2010
Hours: Mon-Sun 10am-12am
Phone: (02) 9068 8527
5. Bistro Rex
Bistro Rex prides itself in offering the best of France here in Sydney. The interior is a reinvention of a classic Parisian bistro and this is reflected in the amazing menu on offer here. With Exec Chef Jo Ward being a butchery specialist, their cuts are amazing and their steak frites are some of the best in town especially when they use some of the best local Aussie produce. The amazing menu is full of French classics like confit chicken, the leg is done in a light, almost spicy broth or try the steamed market fish with smoked oysters and kohlrabi; a gruyere soufflé; and steak frites with café de Paris-style mash.
Address: Shop 1, 50/58 Macleay St, Potts Point NSW 2011
Hours: Mon-Wed 5:30-10:30pm, Thur-Sat 12-3pm and 5:30-10pm, Sun 12-3pm and 5:30-9pm
Phone: (02) 9332 2100
6. The Charles Grand Brasserie & Bar
If you're looking for the best French restaurant in Sydney for steak, allow us to introduce The Charles Grand Brasserie & Bar to your menu. Classically French-trained executive chef, Billy Hannigan (Loulou Bistro; The Ledbury) describes the menu as European with a generous helping of French technique. However, we can't take our eyes off the house specialty steaks, of which there are two. First, a Black Opal Wagyu rump cap MBS9+ and second, the French classic 'Canard à la Presse' (in this case a whole dry-aged Maremma roasted and pressed duck). How would we describe it? Simply mouthwatering.
Address: 66 King St, Sydney NSW 2000
Hours: Mon-Sat 12-10pm
Phone: (02) 9145 8066
7. Bistro Moncur
Bistro Moncur recently announced the hiring of a new Head Chef, Tom Deadman, alongside a new menu that brings an elevated view of authentic French cuisine to the Eastern Suburbs. It's been a dining institution for almost three decades, however, the new menu takes things to new heights with favourites of ours including the pan-roasted snapper, grilled sirloin, and Hunter Vallery duck breast. Bistro Moncur is great for weeknights and is one of the most affordable options on our list with mains ranging from $40-60. We highly recommend taking advantage of the lunch special with 2 courses and a glass of wine for $87, Thursday to Saturday 12-3pm.
Address: 116A Queen St, Woollahra NSW 2025
Hours: Tues-Wed 5:30-9pm, Thur-Sat 12-3pm & 5:30-9pm, Sun 12-3pm & 5:30-8pm
Phone: (02) 9327 9713
8. Porcine
Porcine is the French word for "pig-like", so you might guess that pork is the main attraction at this bistro. The Amazing menu revolves around a whole Berkshire pig, which is ordered every fortnight from Hungerford Meat. Every single part of it is used to create ham, pork spreads, pork chops and more. But that's not all, this is one of our favourite French restaurants in Sydney for vegetarians, with a dish of seasonal vegetables in a bay-leaf vinaigrette, a Jerusalem artichoke vol-au-vent with garlic hollandaise, and a salad of endive in grilled orange vinegar.
Address: 268 Oxford St, Paddington NSW 2021
Hours: Thur-Sat 6-11pm, Sun 12-5pm
Phone: 0423 015 032
9. Bellevue Cottage by Antonie
Bellevue Cottage by Antoine Moscovitz is a French café and restaurant that's housed in a restored heritage building along the Glebe foreshore. With an all-day breakfast menu available as well as a lunch and a poultry-heavy dinner menu you'll be spoiled for choice. Our favourite menu items include classics like le pecheur (cold-smoked salmon, poached eggs, fondant of silverbeet and leek with a tangy hollandaise) or le boucher (grilled pork loin with folded eggs, caramelised-apple black pudding and spicy merguez sausage) it's to die for.
Located in: Blackwattle Bay Park
Address: 55 Leichhardt St, Glebe NSW 2037
Hours: Fri-Sat 6-10pm
Phone: (02) 9552 6493
10. Bistro Papillon
Bistro Papillon is the love child of Ludo and Xavier who met in the UK. The story goes that they frequented a French bistro in Bath called Papillion, and they loved the place so much that they recreated it here in Sydney. Bistro Papillon sources its ingredients from France as well as the markets and butchers of Sydney. The menu here is filled with simple classics and our favourite items follow suit with duck confit, beef bourguignon, escargot and French onion soup with Gruyère cheese croutons. The wine list is extensive with drops from your favourite local and French producers, including plenty of Burgundy and Beaujolais.
Address: 98 Clarence St, Sydney NSW 2000
Hours: Tue-Fri 12-3pm & 6-10pm, Sat 6-10pm
Phone: (02) 9262 2402
11. Gavroche
Bistrot Gavroche is a French restaurant hidden amongst Chippendale's fine-dining venues. The menu is packed with big-hitting classics, our favourite of which include the baked pork terrine pies, steak frites with Béarnaise sauce, pike fish quenelle, parsley- and garlic-butter Burgundy snails, and Colin's grandpa's French onion soup. One of the best options if you're looking for larger portion sizes, the pork confit, bowls of muscles and whopping 450g chateaubriand are available.
Located in: The Old Rum Store
Address: Level 1/2-10 Kensington St, Chippendale NSW 2008
Hours: Wen 5-10pm, Thur-Sun 12-10pm
Phone: (02) 9281 6668
12. Bistro Cocotte
Bistro Cocotte is a haven of French cuisine where traditional dishes are executed with flair and focus on the complex flavours of France. Owner and head chef Jay travelled and studied the gastronomic art of French cuisine and brought home to Haberfield, where this local haunt offers a range of traditional Gallic cuisine. Favourite dishes of ours include the Croque monsieur, steak tartare w/ pommes frites, ratatouille and fresh baguettes. But that's not all, the tuna crêpe, the twice-baked spinach and the camembert soufflé are also a must-try here. Of course, a range of French and local wine is available and prices range from $40-50 for mains.
Address: 78 Ramsay St, Haberfield NSW 2045
Hours: Wed-Thur 12-2:30pm & 6-10:30pm, Fri-Sat 12-2:30pm & 5:30-11pm, Sun 12-2:30pm & 6-10pm
Phone: (02) 8964 1301
13. Bistrot 916
Bistrot 916 is not your everyday neighbourhood French restaurant. It's a slice of France smack bang in Potts Point. This place is heavy on specialities with almost everything from escargot and lambs brain. The menu is also filled with other classics like lobster frites, juicy duck frites with crisp shoestring chips and even classic tartare of beef with a riot of minced eschallots, gherkins, capers and radiant egg yolk. The wine list here is packed with offerings from the Burgundy, Champagne and Châteauneuf-du-Pape regions with some stellar homegrown drops thrown in too.
Address: 22 Challis Ave, Potts Point NSW 2011
Hours: Mon-Thur 5-10:30pm, Fri-Sat 12-3pm & 5pm-12am, Sun 12-3pm & 5-10pm
Phone: (02) 9167 6667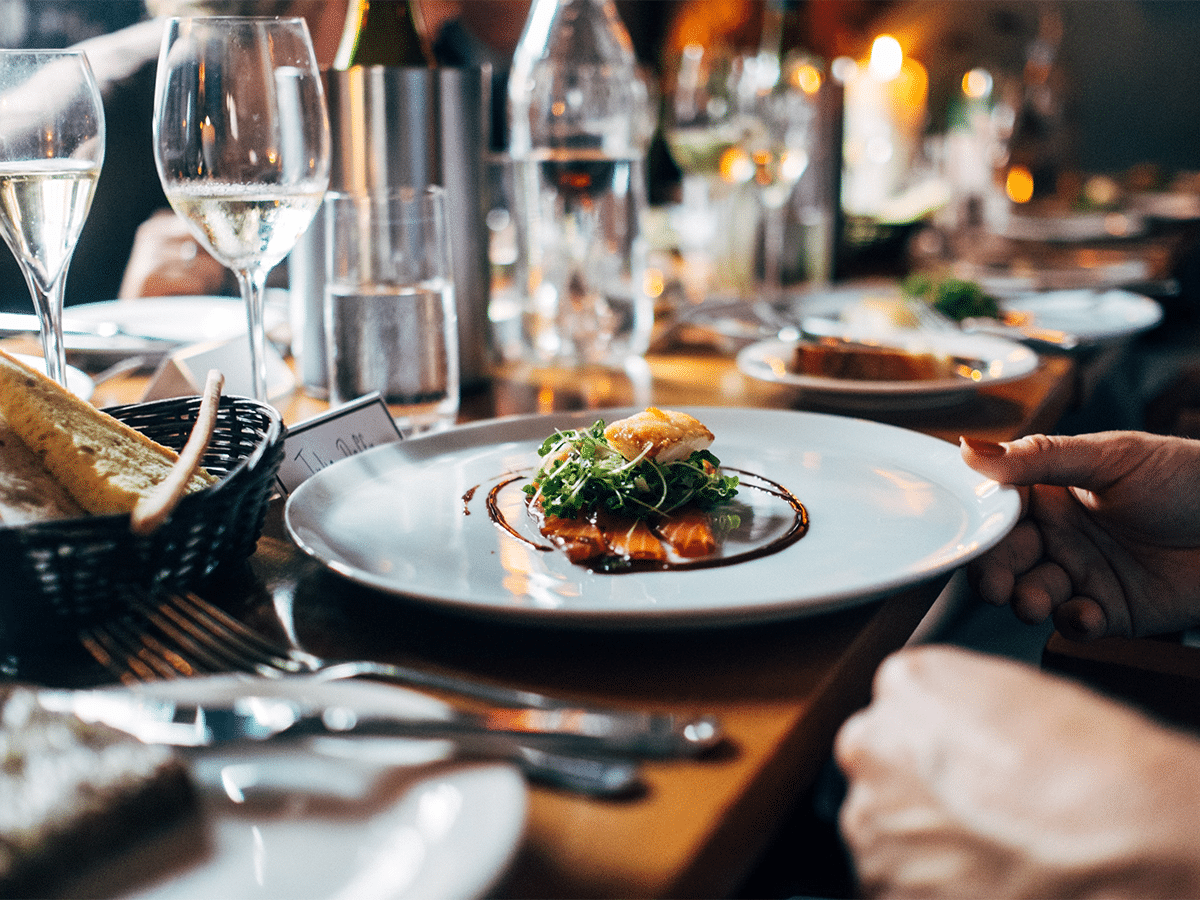 Different Types of Restaurants in France
You stumble across these words all the time, but what's the difference between a Bistro and a Brasserie? We're breaking down the type of restaurants in France before taking you on a culinary journey through the best French restaurants in Sydney. From Bouchon to Auberge, there's a wide variety of styles to choose from with different price ranges and atmospheres.
Bistro
Bistros are perfect for a quick meal. Most of the time you'll miss out on the white tablecloths and extreme levels of service, but you'll gain a warm casual atmosphere. You'll find this style of restaurant in neighbourhoods usually run by families and foodies. The experience is typically highlighted by some of the best wines, coffees, food, tobacco, lottery tickets and even scratch-off games.
Brasserie
In the Aussie language, we'd refer to these as 'Pubs'. Although in reality, they're a little more upmarket than your typical Australian watering hole. These types of French restaurants feature everything from traditional cuisine to coffee and alcohol at moderate prices (less than restaurants). You'll find a wider variety of food choices on offer than in Bistro, and they're typically open from early morning until night.
Bouchon
Traditionally found in Lyon, you'll stumble across these throughout your journeys around the city. Serving foundation French specialties, they tend to be fairly meat-heavy, so expect a serving or two of Duck à l'Orange and steak tartare. A mix between a brasserie and fully-fledged fine dining be prepared to experience a class or two of Burgundy's best Grand Cru or maybe a Côtes-du-Rhône.
Auberge
These types of restaurants in France are attached to bed and breakfasts, usually family-owned and operated. If you've ever stayed in France, there's a good chance you have experienced a good home-cooked meal at one of these.
French Restaurant FAQs
What is the best French restaurant in Sydney?
There are many great French restaurants in Sydney but according to the most recent Google reviews, the top-rated is Restaurant Hubert.
What are some traditional French foods?
There are many traditional French foods, but tartare and frites are ones that pop up a lot, whether they be beef, chicken or even lobster.
Where can you find French food in Manly?
As one of the state's most interesting and developed culinary spots, manly is home to some fantastic French restaurants. Among them, you'll find Hemingway's, Chez Maurice and Linda, and Bistro Manly.
You'll also like:
Best Rooftop Bars in Sydney
Best Restaurants in Parramatta
Best All-You-Can-Eat Restaurants in Sydney