19 Best Steak Restaurants in Sydney
As the best steak restaurants in Sydney can surely attest, there are few things in life more straightforward and satisfying than biting into a perfectly cooked, high-grade cut of meat. Just the mere thought of a sizzling steak can bring a touch of saliva to the corner of one's mouth. And being that Aussies, are no strangers to the grill (or barbie if you will), some of Sydney's best steakhouses could not only compete for the best steak in Sydney but, arguably contend for the top spot on the world stage.
We're not trying to brag or anything, rather drive home the point that Australians like their meat and know how to cook it. Throw a tasty Manhattan or glass of Cab into the mix, and you're nearing euphoric levels of contentment. Don't make a misteak when choosing your restaurant, here are the 19 Best Steak Restaurants in Sydney. Leave no bite behind.
You'll also like:
40+ Best Rooftop Bars in Sydney
30 Best Burgers in Sydney: A Greasy Guide
15 Best Whisky Bars in Sydney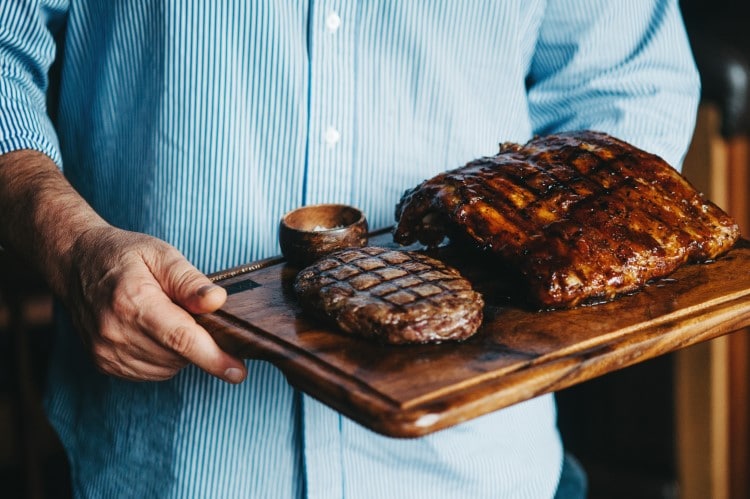 1. The Meat & Wine Co.
The Meat & Wine Co. brings South African flavour and technique to Sydney. Long story short, our taste buds couldn't be happier. This popular Sydney steak restaurant has Kangaroo on the menu for those who like to work those mouth muscles, however, you're better off getting the scrumptious premium steak. Like any good steak restaurant Meat and Wine Co. source their steaks local via Monte meats.
Located in: One International Tower
Address: Ground level, 100 Barangaroo Ave, Barangaroo NSW 2000
Phone: (02) 8629 8888
Hours: Wed-Sun 12-10pm
Address: Shop 12, Lobby InterContinental Sydney 117 Macquarie Street corner of Bridge Street &, Phillip St, Sydney NSW 2000
Phone: (02) 9252 7888
Hours: Tue-Thur 12-10pm, Fri-Sat 12-11pm
Address: Shop 6 & 7/330 Church St, Parramatta NSW 2150
Phone: (02) 8629 8808
Hours: Tue-Wed 5-9:30pm, Thur & Sun 12-9:30pm, Fri-Sat 12-10pm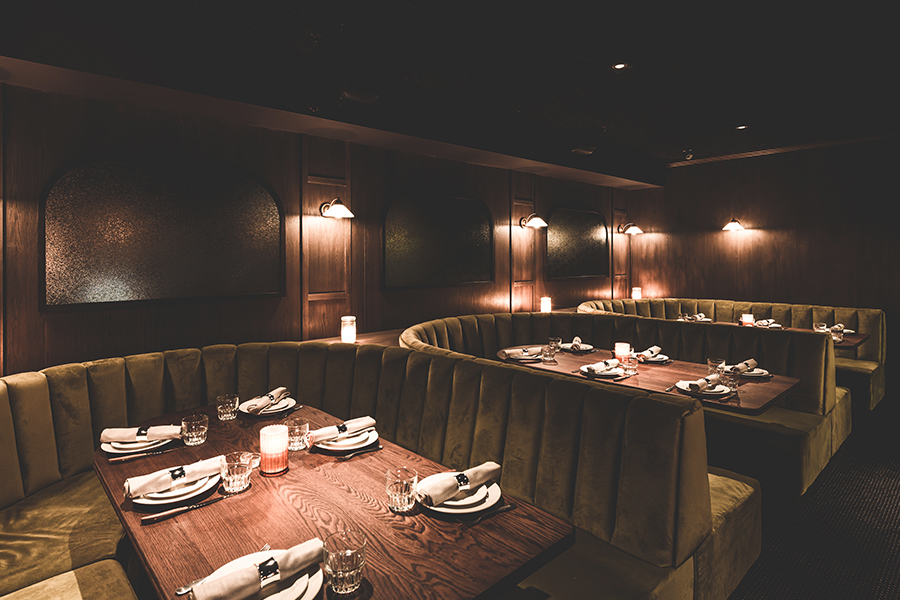 2. The Gidley
The Gidley is hidden away in a basement on King Street making it that extra bit special from the moment you arrive. Brought to you by the Liquid & Larder Group (The Wild Rover, Grandma's & Bistecca), the restaurant opened in November 2019. This steak restaurant in Sydney is the perfect combination of old-school atmosphere and new world charm. Once you've made your way down dimly lit stairs, you are welcomed by a one of a kind bar & lounge room where you can have a pre-dinner drink before heading into the beautifully furnished dining room. The menu showcases Australia's exceptional Riverine Black Angus rib-eye and can be ordered in three different ways; A classic chargrilled rib-eye on the bone, prime rib roast (that can be served as a massive 700-gram cut or 300 grams of thinly sliced pieces) or as a spinalis steak (the most succulent cut when removed from the cap). The Gidley is one of the only restaurants in Australia that serve spinalis steaks and that alone is reason enough to make The Gidley your next dining destination.
Address: Basement/161 King St, Sydney NSW 2000
Phone: (02) 9169 6898
Hours: Lounge: Tues-Sat from 5pm; Fridays from 12pm. Dinner: Tues-Sat from 5:30pm-late. Lunch: Friday 12pm-3pm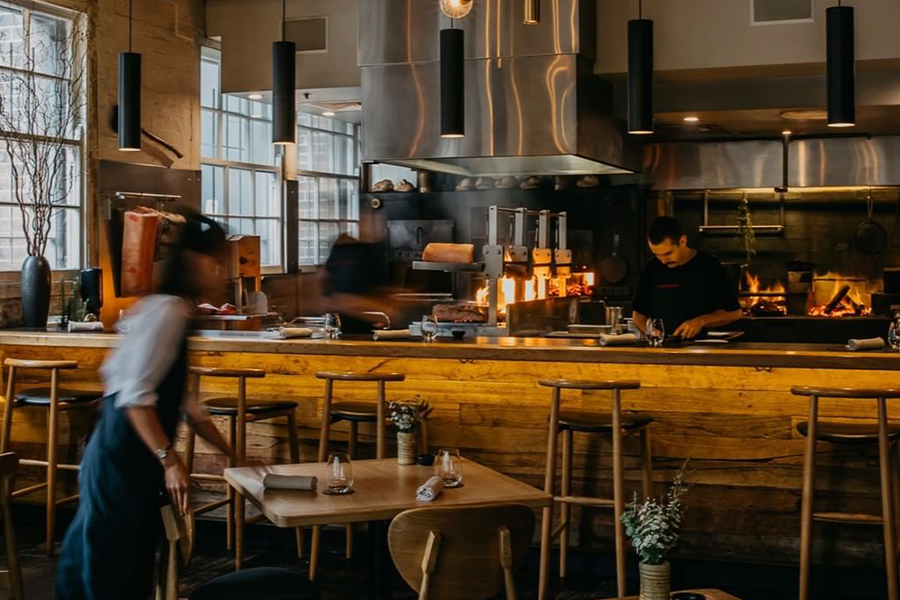 3. Firedoor Restaurant
From the legendary chef, Lennox Hastie comes Firedoor in Surry Hills. This insanely popular restaurant takes an artisanal approach to wood, using no less than a dozen different types to imbue every dish on the seasonal menu with singular, sensational flavour. Far more than one of the best steakhouses Sydney can offer, Firedoor is equally adept when it comes to seafood or anything else Hastie gets his hands-on for the day. Expect an unforgettable experience, assuming you can score a table in the first place.
Address: 23-33 Mary St, Surry Hills NSW 2010
Phone: (02) 8204 0800
Hours: Wed-Sat 5:30-9pm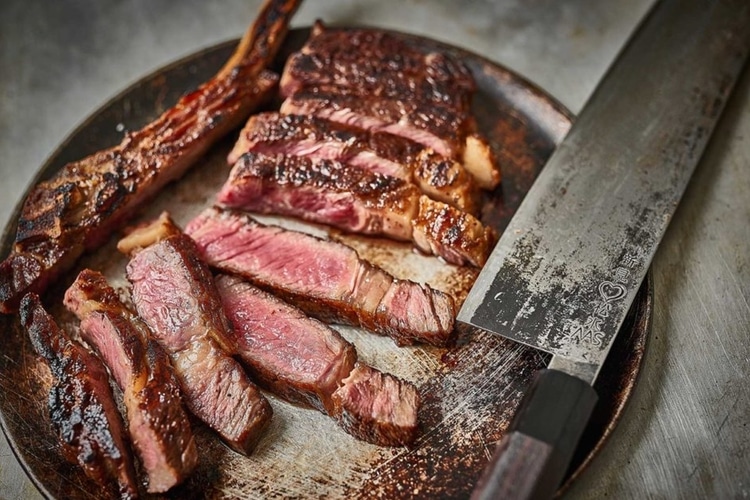 4. Rockpool Bar & Grill
Widely touted as the best steak restaurant in Sydney, Rockpool Bar & Grill represents the dining experience executed to perfection. From the art deco ambience to the formidable wine list, to the impeccable service. The food itself feels woven together to yield maximum sensory results. This right here is why people love eating out.
Address: 66 Hunter St, Sydney NSW 2000
Phone: (02) 8099 7077
Hours: Mon-Thur 12pm-2:30pm & 6pm-10pm, Fri 12pm-3pm & 6pm-11pm, Sat 5:30-11pm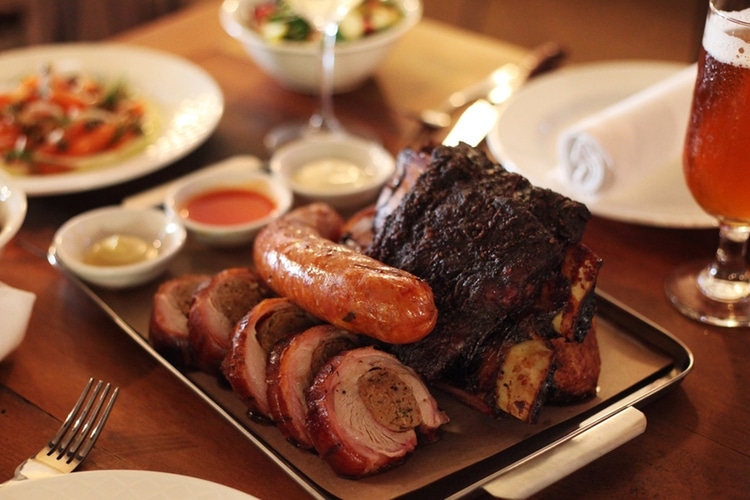 5. LP's Quality Meats
The name is LP's Quality Meats and the taste duly abides. Take a seat inside a spacious, relaxed environment and celebrate mouth-watering meat in all its glory and potential. When compiling a list of best Sydney Steakhouses, it is impossible to go past this jewel in Chippendale.
Address: 16/12 Chippen St, Chippendale NSW 2008
Phone: (02) 8399 0929
Hours: Fri 5-10pm, Sat 10am-10pm, Sun 10am-6pm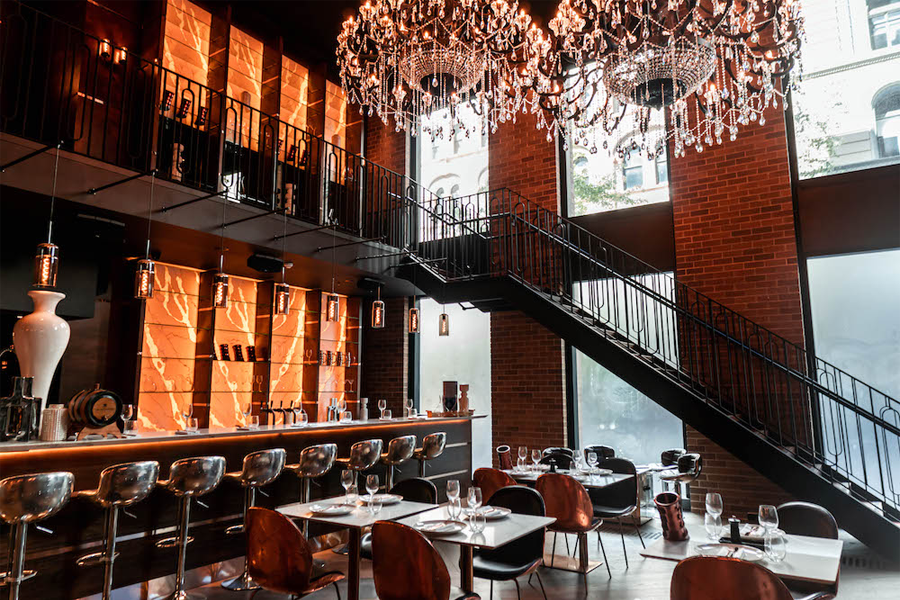 6. Fire Grill Sydney
Fire Grill Sydney is a one-stop meat lovers dream. The experience on offer isn't short of amazing, the restaurant offers destination dining with an emphasis on classic timeless comfort and quality. The backbone of every great restaurant is a great restauranteur and the Fire Grill offerings are curated by restaurateur Dah Lee. He offers a handpicked experience in an atmosphere that is luxurious yet fun. Take one step in the front door and you're greeted with a beautiful kitchen, the smell of meat and décor that incorporates dark timbers, quartz, leather and many three-metre tall chandeliers.
Located in: Barrack Place – 151 Clarence St | Investa Property Group
Address: 151 Clarence St, Sydney NSW 2000
Phone: (02) 9169 7870
Hours: Wed-Fri 11:30am-11pm, Sat 5:30-11pm
7. BISTECCA
Bistecca is unashamedly Italian. This steak restaurant in Sydney is also an outstanding classic cocktail bar with a restaurant that is dedicated to Tuscany's highly revered cuts of steak, bistecca alla Fiorentina. This is a great restaurant for those who like to enjoy a delicious glass of the Italian grape variety alongside their steak. Spanning three distinct spaces in a heritage-fronted building on Bridge Street, this Sydney restaurant is easily accessed via Dalley Street at the rear.
Address: 3 Dalley St, Sydney NSW 2000
Phone: (02) 8067 0450
Hours: Mon-Sat 12pm-12am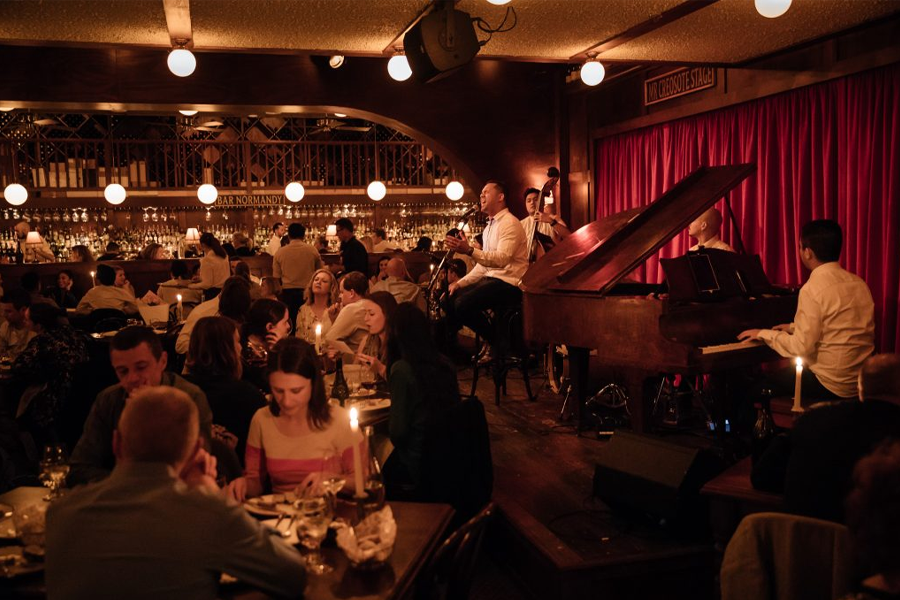 8. Restaurant Hubert
Hubert is a French restaurant located in the heart of downtown Sydney. This steak restaurant stands out from the rest, with live jazz playing from Monday to Thursday to partner your high-grade cut. Restaurant Hubert believes that a fine restaurant is as much about the ambience, good conversation and laughter, as it is the quality of the wine and food. They showcase this to the tenth degree, the space is warm, the lighting is soft and the Champagne is more than abundant.
Address: 15 Bligh St, Sydney NSW 2000
Phone: (02) 9232 0881
Hours: Mon-Fri 12pm-1am, Sat 5pm-1am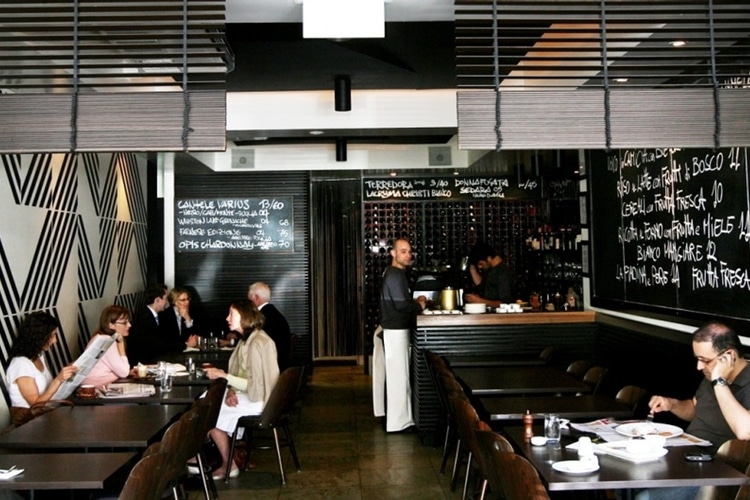 9. Fratelli Paradiso
Known for its classic Italian cooking using only the freshest ingredients, Fratelli Paradiso is a guaranteed palate pleaser. To eat here is to feel like part of a giant family, complete with incessant clamour during the busier hours. And while the flank steak or veal cutlet remains second to none, you're just as well off getting the risotto or calamari.
Address: 12-16 Challis Ave, Potts Point NSW 2011
Phone: (02) 9063 8180
Hours: Tue-Thur 5-10pm, Fri-Sat 11:30am-11pm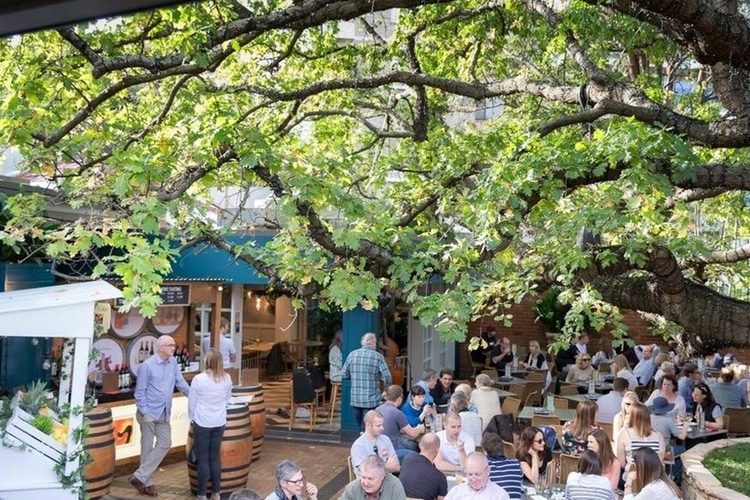 10. The Oaks Hotel
Since 1885, the Oaks Hotel in Neutral Bay has been bringing folks together one cold pint or hot meal at a time. Their beer garden remains the stuff of legend, while the layout, in general, has never looked so impressive as it does now. It's true that you can bring your own steak and fire it up on the patio grill, but that doesn't sound anywhere near as relaxing as ordering a choice cut from the kitchen instead. Included among the bevy of selections is the famous tomahawk ribeye, weighing between 1.6-1.9 kg – a real contender for the best steak in Sydney.
Address: 118 Military Rd, Neutral Bay NSW 2089
Phone: (02) 9953 5515
Hours: Mon-Tue 11:30am-12am, Wed-Thur 11:30am-10pm, Fri-Sat 11:30am-1:30pm, Sun 11am-12am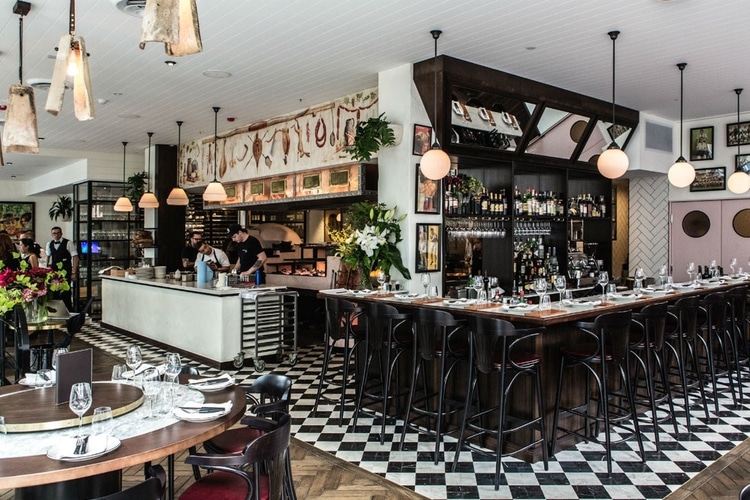 11. Porteno
Since its initial launch and subsequent re-opening, Porteno has come to epitomise meat-centric dining with the feverish popularity to show for it. Indeed, to call this Surry Hills hotspot one of the best steak restaurants in Sydney feels practically redundant. Between the splayed roasting pigs and painstakingly tender wagyu skirt steaks, you come here to satiate your every carnivorous desire.
Address: 50 Holt St, Surry Hills NSW 2010
Phone: (02) 8399 1440
Hours: Tue-Sat 6pm-11pm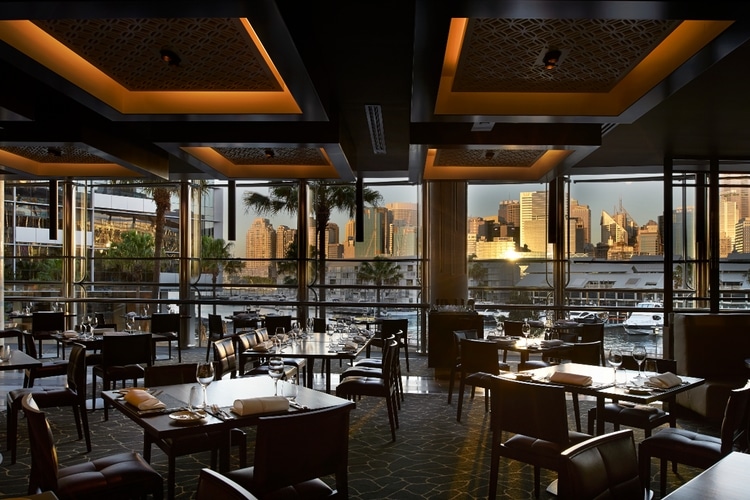 12. BLACK Bar & Grill
Sleek, glamorous and delicious, BLACK Bar & Grill holds court in the Star Casino and represents everything one might ask for in a modern, elegant steakhouse. Thankfully, the flavours and views are as epic as the prices.
Located in: The Star Sydney
Address: Harbourside, The Star, Level G/80 Pyrmont St, Pyrmont NSW 2009
Phone: 1800 700 700
Hours: Wed-Sun 5:30-10pm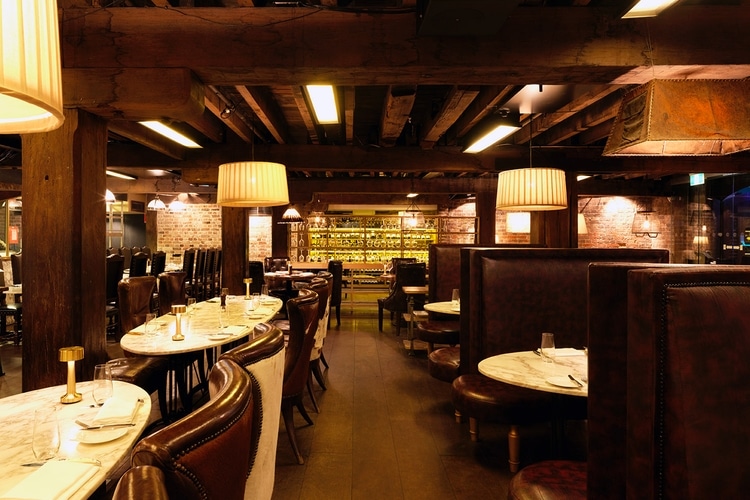 13. The Cut Bar & Grill
Picture dim lighting, tall booths, juicy slabs of steak and mostly traditional sides, and you pretty much get the idea behind The Cut Bar & Grill at The Rocks. If responsible sourcing, straightforward plating and classic digs are how you like your steakhouse, look no further.
Address: 16 Argyle St, The Rocks NSW 2000
Phone: (02) 9259 5695
Hours: Tues- Thur 12-3pm & 6-9:30pm, Fri 12-3pm & 6-10:30pm, Sat 6-10:30pm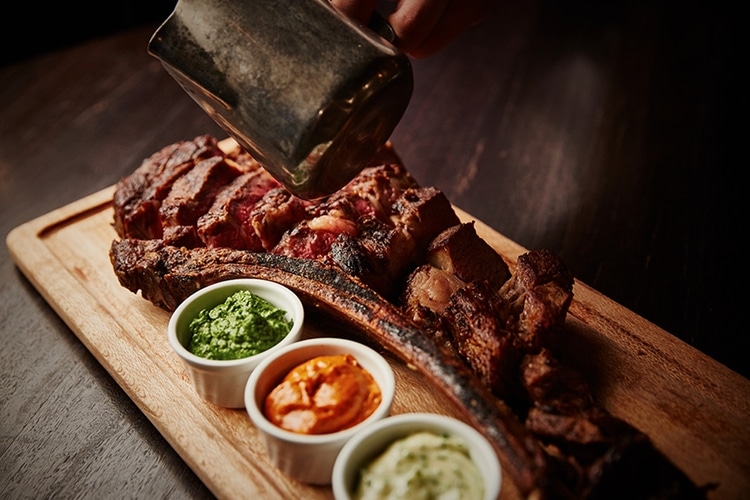 14. Chophouse Sydney
Unfettered in both name and principle, The Chophouse delivers succulent meat and chummy service in a modern setting. This top Sydney steakhouse goes by the appropriately direct slogan: "Fire. Meat. Wine". We couldn't put it better ourselves. The Chophouse is a crowd-favourite and is widely regarded as a worthy candidate for the best Sydney steakhouse title.
Address: 25 Bligh St, Sydney NSW 2000
Phone: (02) 9231 5516
Hours: Tue-Fri 12-3:30pm & 6-9:30pm, Sat 6pm-9:30pm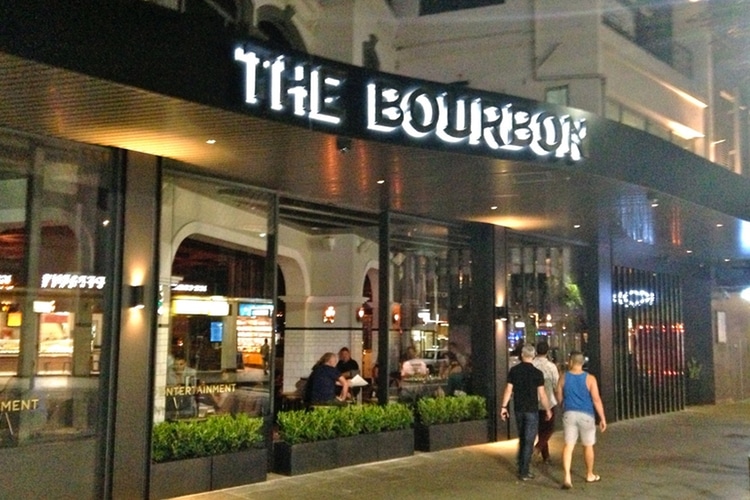 15. The Bourbon Hotel
Inspired by the spirit of New Orleans, The Bourbon Hotel is a vivacious locale for people from all walks of life to get together, eat great food and forget about their troubles for a while. An infamous Sydney Steakhouse and an icon of Kings Cross, The Bourbon is widely recognised as arguably the best steak restaurant in Sydney. If only more steak restaurants were as unpretentious and fun-loving as this favourite Darlinghurst darling.
Address: 22 Darlinghurst Rd, Sydney NSW 2011
Phone: (02) 9035 8888
Hours: Mon-Thu 10am-9pm, Fri-Sun 11:30am-10pm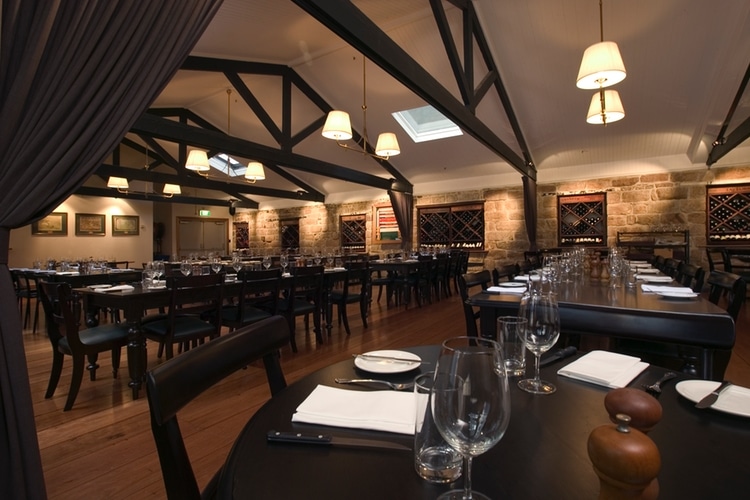 16. Kingsleys Australian Steakhouse
Sprawled between two levels inside what was once a candle factory is one of the best steak restaurants in Sydney. Kingsleys in the CBD is wildly popular for basically one reason: because they cook a downright incredible steak. Pair that with a side or two and a glass of red wine and eat like the king you are.
Address: 29a King St, Sydney NSW 2000
Phone: (02) 9295 5080
Hours: Tue 11:30am-3pm, Wed-Fri 11:30am-3pm & 5:30-9pm, Sat 5:30-9pm

Kingsleys Australian Steakhouse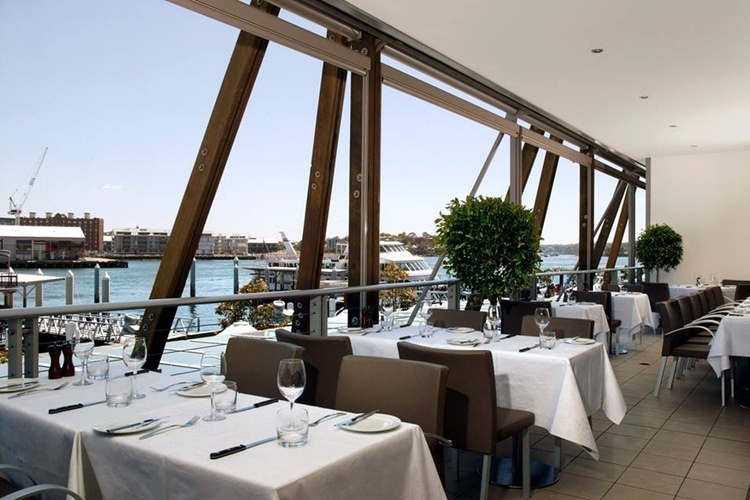 17. Steersons Steakhouse
Superb cuisine and spectacular panoramic water views on Sydney Harbour sound good? Steersons Steakhouse has them both in spades. If you are desiring steak, Steersons promise an unprecedented steak experience that is second to none in quality, taste, and texture. An impressive and extensive wine list is also on offer featuring both Australian and imported wines. Bring your friends or family to this roomy Sydney steak restaurant on the King Street Wharf to kill a few hours in savoury style.
Located in: Darling Harbour
Address: 17 Lime St, Sydney NSW 2000
Phone: (02) 9295 5060
Hours: Mon & Sun 11:30am-3pm, Tue-Fri 11:30am-3pm & 5:30pm-9pm, Sat 5:30-9pm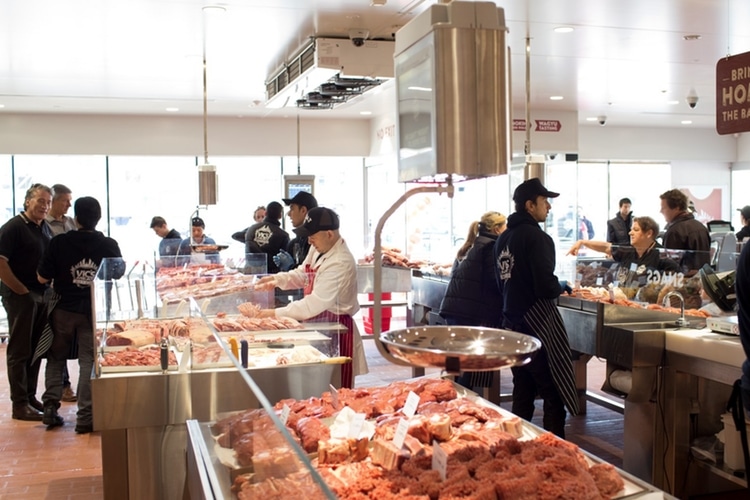 18. Vic's Meat Market
Part butcher shop, part steak and sandwich bar, Vic's Meat Market is even greater than the sum of its parts. To find it in the Fish Market is to uncover some of the choicest meats your eyes and stomach will ever come across. Order a pasture-fed T-Bone to go, or stick around and chow down on a double-smoked wagyu cheeseburger with a side of chips. This is meat-eating at its finest.
Address: Sydney Fish Market, 50-60 Bank St, Pyrmont NSW 2009
Phone: (02) 8570 8570
Hours: Mon-Sun 7am-4pm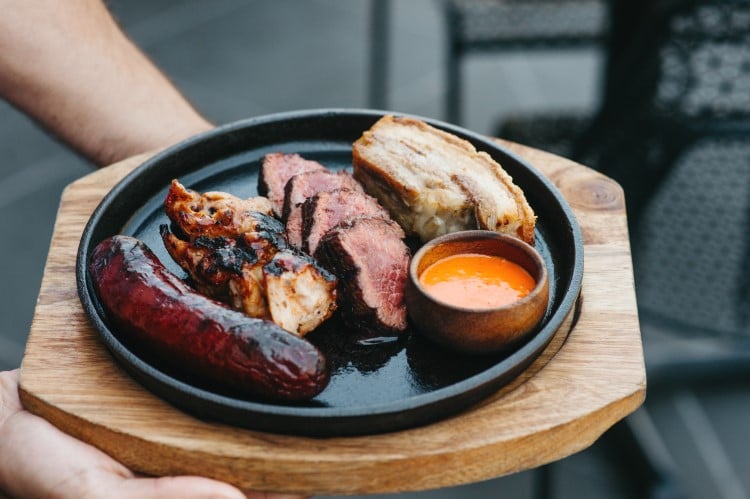 19. Hunter & Barrel
Hunter & Barrel is all about the simple art of cooking meat on the fire, and doing a damn good job of it, too. With a casual but professional vibe, great drinks offering and a menu that will sate even the pickiest of carnivores, this is where you go when you want a steak for entree, main and dessert, but also has a great focus on other cuts, so you can expand your culinary horizons without coming into contact with anything even remotely resembling a vegetable.
Address: Cockle Bay Wharf, Tenancy, 303 Wheat Rd, Sydney NSW 2000
Phone: (02) 9264 9888
Trading hours: Sun-Thu 12pm-10pm, Fri-Sat 12pm-10:30pm

General FAQ
Where is the best steak restaurant in Sydney?
The Porteno Restaurant have one of the best steaks in Sydney.
Where can I find an affordable steak in Sydney?
BLACK by ezard have affordable and tasty steaks in Sydney.
Is steak bad for you?
Steak is a great source of protein, and a lean cut of steak can even improve your cholesterol, when consumed in moderation.
You'll also like:
40+ Best Rooftop Bars in Sydney
30 Best Burgers in Sydney: A Greasy Guide
15 Best Whisky Bars in Sydney