Los Angeles, aka the City of Angels and entertainment capital of the world, is a hub of diversity and individuality that is ever-evolving. In a city made up of more than 30 culturally rich neighbourhoods each with 4 main pillars (including culinary, culture, sports/outdoors and entertainment), it's no surprise that this coastal destination has become the thriving paradise it is today.
On a recent trip to Los Angeles with United Airlines and Discover LA, we were treated to the most thrilling 4 days experiencing every one of these 4 pillars to the greatest extent. What's more, we were taken to undiscovered gems. You know, all those spots that don't necessarily make the cut on the typical LA visit. With up and coming suburbs to family-owned restaurants and even a couple off-the-beaten-track excursions, we did it all.
From Hollywood and Silver Lake to Koreatown and Downtown Los Angeles, we've put together the ultimate guide to undiscovered Los Angeles below.
We can guarantee that all of these spots are tried, tested and come with the Man of Many tick of approval for the most unforgettable LA experience.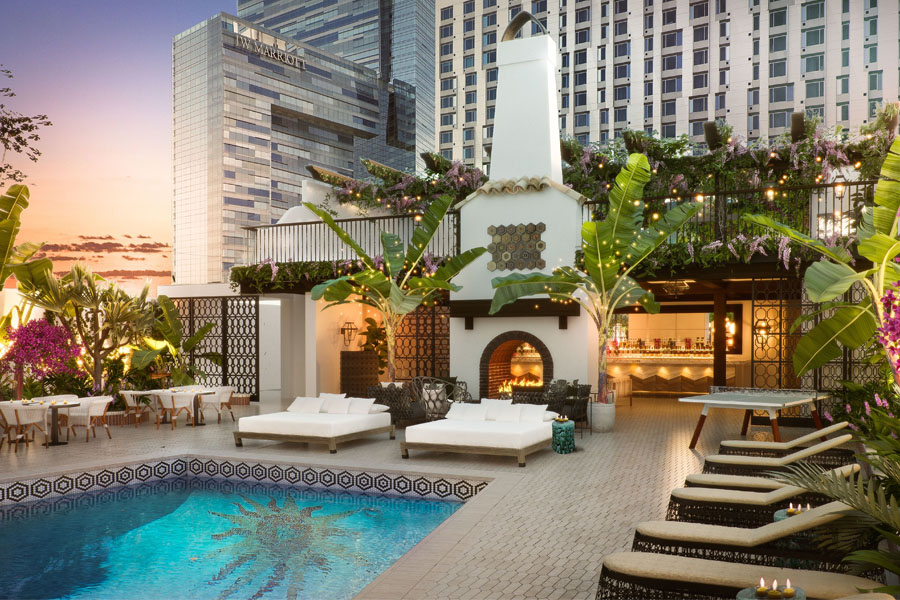 Stay
Hotel Figueroa (Downtown Los Angeles)
This boutique hotel, situated in Downtown Los Angeles, ticks all the boxes and more. And when we say more, we really mean more. Just to mention one – having a Tesla Model X SUV on-call to chauffeur you around Downtown LA for free; is that not one of the best hotel perks you've ever heard of?
Of course, the hotel is much more than just their complimentary Tesla rides. The lush Spanish colonial style of the hotel can be felt from the reception, through to every room, the bar, restaurant and even the pool. The hotel has a lot of history too. It first opened in 1924 by a liberal woman to serve as a safe haven for solo female travellers and attracted counter-culture "cool" people even back then.
In terms of the food and beverage offering, well, hotel restaurants and bars really don't get much better than this. With a new American style restaurant on the ground floor and a Mexican restaurant outside by the pool area, there's always a vibe. Not to mention Rick's Bar on the opposite side of the pool that is supposedly one of Downtown LA's most popular hangouts from Fridays through Sundays.
---
Featured Video from Man of Many
---
The hotel has a lot more to offer though like a speakeasy-style bar (that opens by pulling the right book from a bookshelf) to a coffin-shaped pool. But instead of spoiling all the good stuff, we'll just finish with this – Hotel Figueroa is the perfect mix of boutique, cool, elegant and fun. A must for young professionals.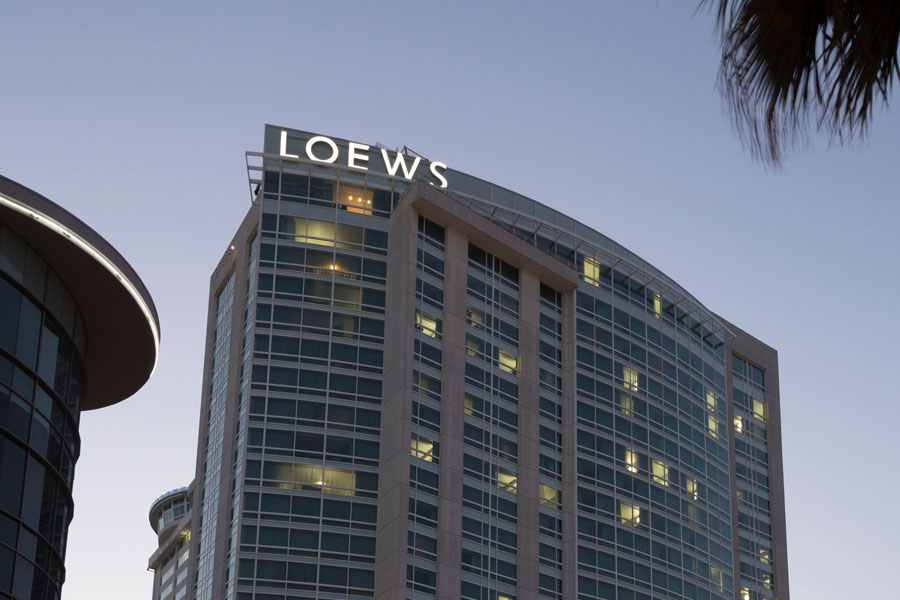 Loews Hotel (Hollywood)
Your first thought about staying at a big hotel chain like Loews might be very meh (for a lack of a better word), and I'm not going to lie, my initial perception was the same. But then I walked into Loews Hollywood. Here, it's obvious from the second you arrive that everyone at Loews feels like a family, a family that welcomes you home. From the bellhop to the general manager, they all have your best interest at heart.
The hotel itself is also situated at an impeccable location just off Hollywood Boulevard and walking distance to many great restaurants, bars, museums and movie premieres, because well, you're in Hollywood. While we stayed, there were 2 movie premieres (Ford vs Ferrari and Frozen if you were wondering) practically right next to the hotel. Furthermore, the hotel is conveniently located right next to the subway that can easily connect you with LA's other suburbs. Our room also overlooked the Hollywood Sign which felt completely surreal.
Even more surreal though, is the fact that the hotel is often frequented by movie stars, film crews and A-list conferences and has been used in multiple movies, tv-series and music video sets. It's also the home of the post Academy Awards press interviews as it's connected to the Dolby Theatre via a single door that is only opened once a year on Oscar night.  I mean, it doesn't get more Hollywood than this.
Another few stand out features to highlight include the cheaper Universal Studio tickets for hotel guests, a VIP manager that can help to organize just about any obscure request you have and a $35 breakfast buffet with all you can eat and drink on Mimosas & Bloody Marys.  Oh, and how can we forget, it's fully dog-friendly.
Eat & Drink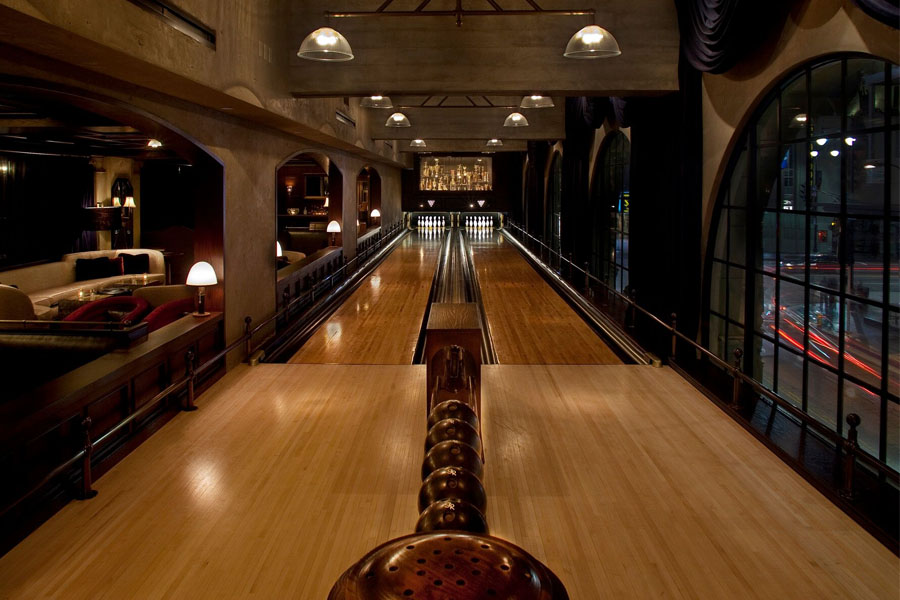 The Spare Room at the Roosevelt Hotel (Hollywood)
It's all fun and games at The Spare Room where old Hollywood glamour meets elegant game parlor/cocktail lounge. Situated at the famous Roosevelt Hotel, it's easily some of the most fun you can have on a night out in LA. Equipped with two beautiful polished wooden old-timey bowling lanes, you can drink either classic or extravagant cocktails whilst trying your best hand at a strike.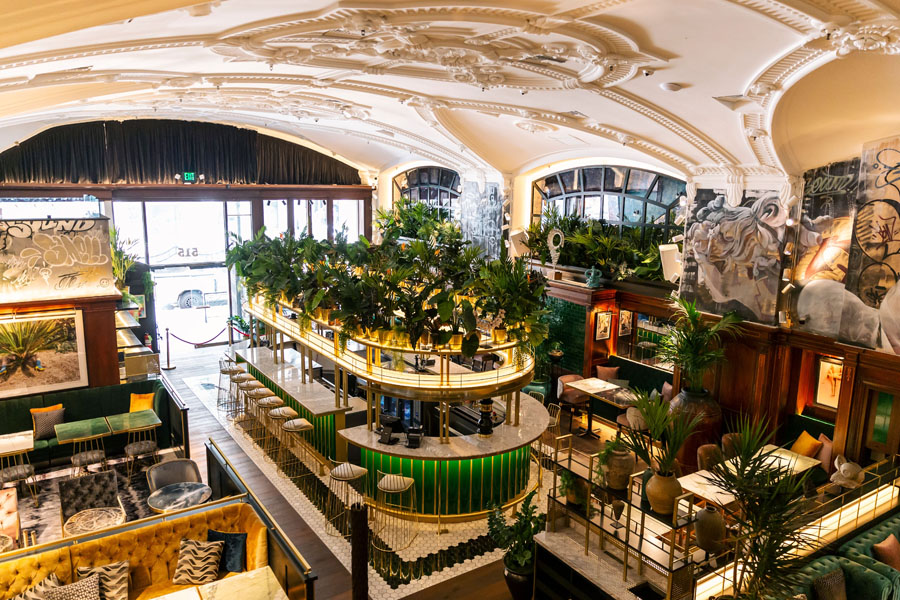 V DTLA (Downtown Los Angeles)
Set in a converted 1920's jewellery store, this elegant yet fun lounge-style restaurant and bar is the perfect stop for post-dinner drinks. The name "V", stems from the Roman numeral for "five" with the aim of inviting guests to explore all five of their senses.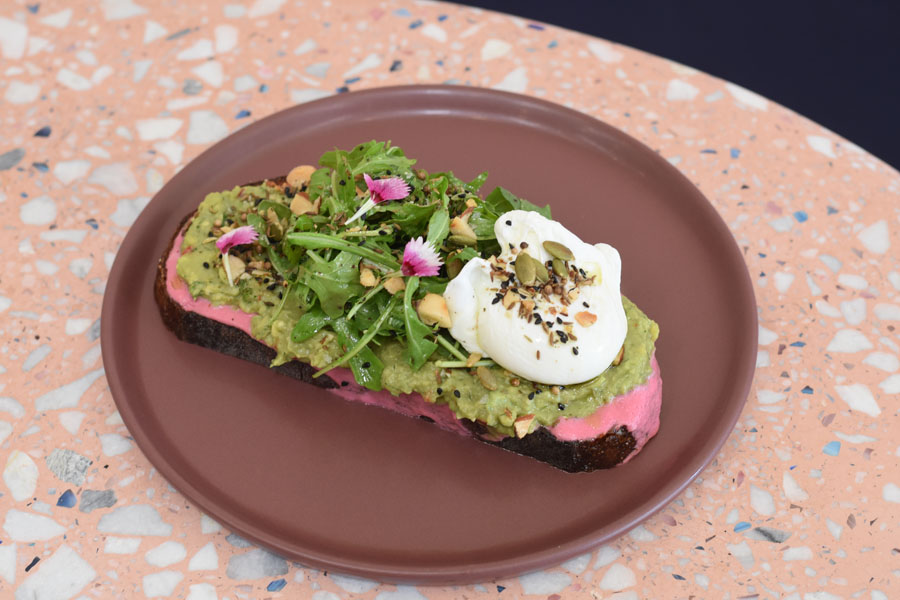 Roo Coffee (Silver Lake) – Breakfast
Roo Coffee is a little Aussie cafe that opened up shop in the trendy Silver Lake area at Sunset Triangle Plaza. Owned by three Australians, they stand true to the down under breaky traditions by serving up dishes like delicious smashed avo on toast and even fairy bread which the LA locals learned to love. Their most famous dish is perhaps their Morning Bun Pastry that was actually already sold out when we arrived for breakfast at 9:30 am. I guess that attests to the popularity of it and the old adage, "the early bird catches the worm". A great reason to go back next time we're in LA.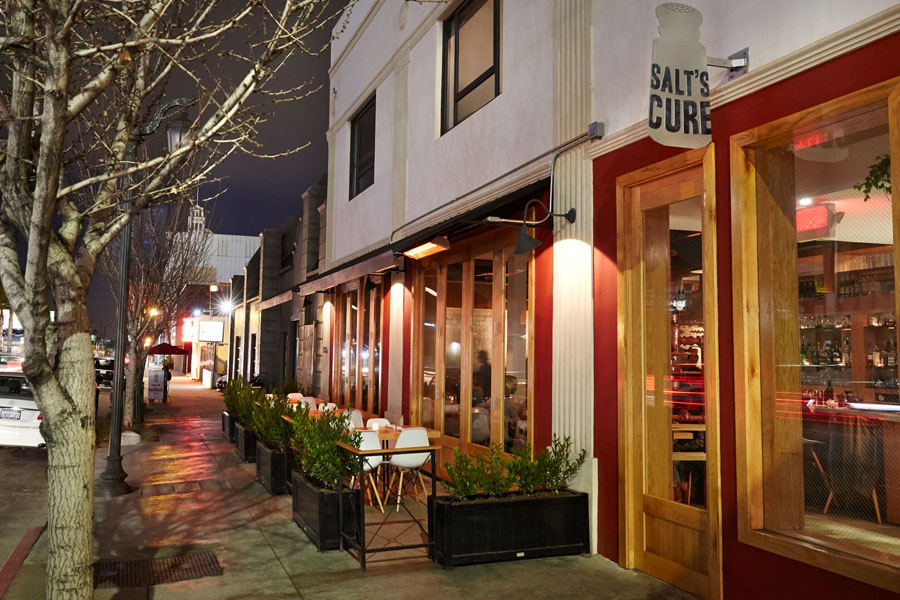 Salts Cure (Hollywood) – Breakfast/Lunch/Dinner
Delicious breakfast spot by day, great dinner spot by night. Not a lot of venues can successfully pull off an all day restaurant, but rest assured, we found one in LA. With a big focus on locally sourced and sustainable practices, you can expect only the freshest food come breakfast lunch or dinner.
And after a big night out at Hotel Roosevelt's Spare Room bar and gaming parlor, we can attest that Salts Cure is a phenomenal breakfast place for anyone that's hungover. Start with a freshly squeezed beetroot and carrot juice or a bloody mary to get yourself into gear for the day ahead. Follow with a breaky sausage sandwich and you're good to go.

Grand Central Market (Downtown LA) – Breakfast/Lunch/Dinner
By no means is this just a breakfast spot, it's just where we had our first meal of the day. In fact, they are open every day from 8 am to 10 pm with a mix of vendor and food stalls that sell everything from fresh produce to artisan coffees (if you can stomach paying USD $7 for an almond latte) and takeaway food. Grand Central Market has been in operation for over 100 years and originally started out as a department store. Nowadays, it's more of a big open space warehouse-style vibe with lots of neon signs and hipsters. It's situated in Downtown LA across from the landmark Angels Flight on the one side, and the beautiful Bradbury building on the other.
You'll be spoilt for choice when it comes to food. Personally, we only had eyes for Eggslut. If you've never heard of it, well it is our absolute pleasure to introduce it to you. Eggslut is an institution that serves up the best egg sandwiches we've ever had,  More specifically, we're referring to the Fairfax sandwich that's made of the softest scrambled eggs, chives, cheddar cheese, caramelised onions and Sriracha mayo all nestled in between a heavenly brioche bun.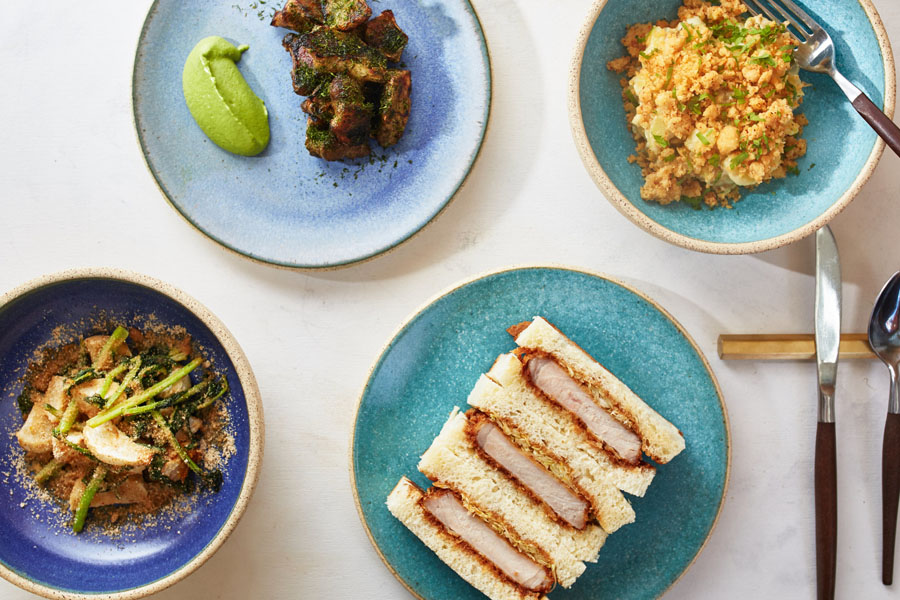 Konbi (Echo Park) – Lunch
A little hole in the wall daytime restaurant/destination in Echo Park (yet another trendy area) serving up quality Japanese egg salad and Katsu sandwiches. That is all. A delicious sandwich that's worth the wait.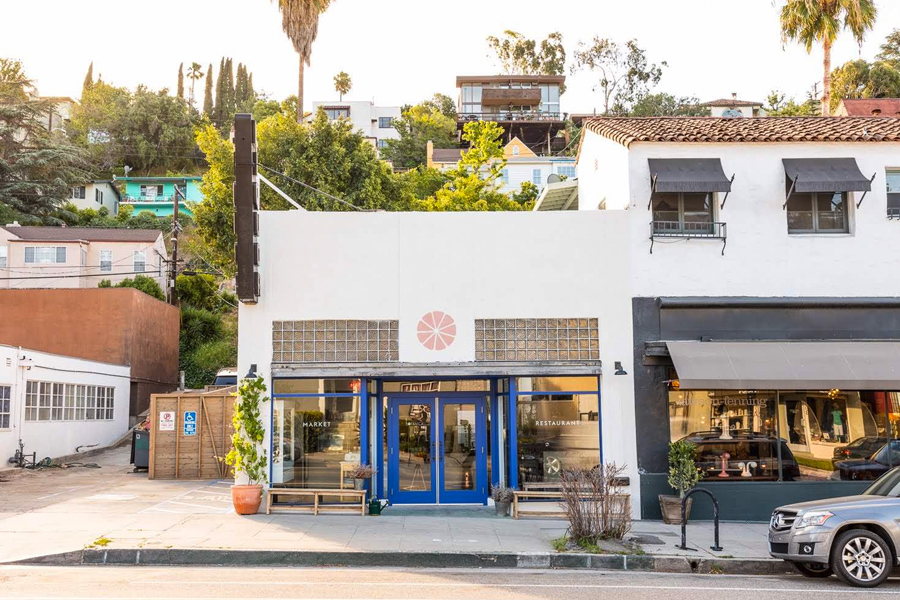 Botanica (Silver Lake) – Lunch/Dinner
Exquisite natural wine and a selection of delicious healthy food dishes are the order of the day at Botanica. Situated in Silver Lake, the restaurant has a divine outdoor patio that will go down a treat for a weekend brunch. Try the burrata salad and pair with an Orange Skin Contact wine.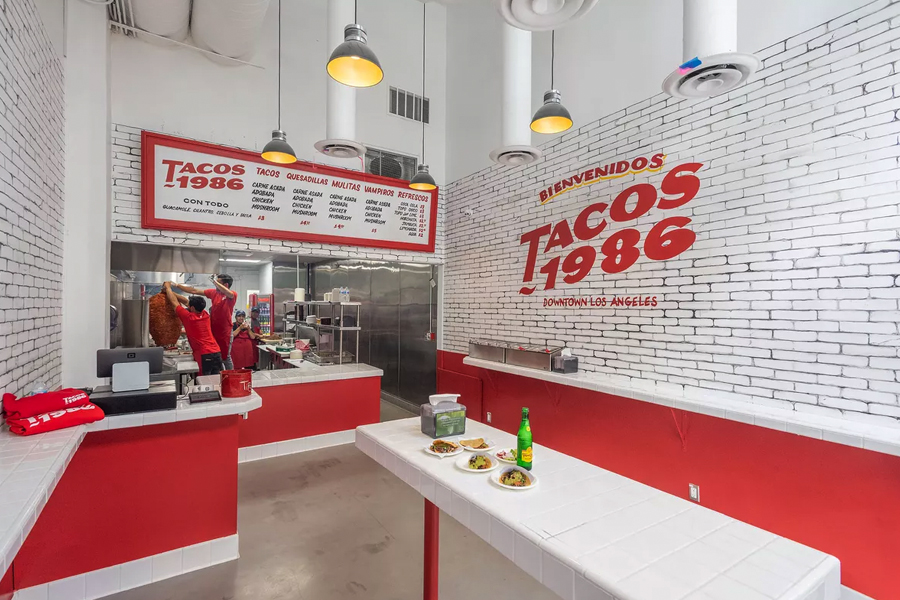 Tacos 1986 (Downtown LA) – Lunch
What used to be a popular little taco place popping up all over LA, has now finally found a permanent home on Spring Street in Downtown LA. They're serious about tacos here and it's quite apparent in every meal. The pork tacos were our favourite. Another favourite was the fact that there are no seats available. You simply come in, order your tacos, eat it at a standing counter, then leave. It's effective and it's delicious.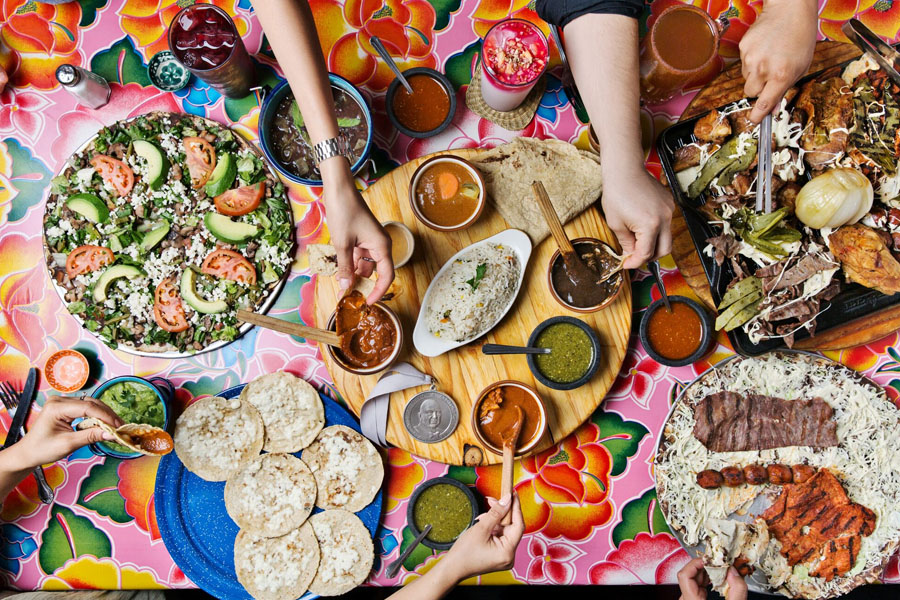 Gueletaguetza Wahakan Restaurant (Koreatown) – Lunch/Dinner
In the first-ever building that made up Koreatown, you will find this gem of a restaurant that is equally as Instagrammable as it is tasty. Known as the place for delicious and authentic Mexican food from the Mexican state of Wahaka (or Oaxaca, the actual name of the state that is just pronounced Wahaka). In fact, we'd go as far as to say that it is the most authentic Mexican food we've ever had. With a mantra of celebrating life through food whilst still maintaining those strong indigenous roots and the continuation of family recipes that have been passed down through generations, that does make a lot of sense. They are also the first restaurant in LA to bring in Mezcal.
They are most famous for their mole, a traditional sauce served with Mexican cuisine. It makes for a great starter with some corn chips or tortillas. Some other recommendations include the Nopal Zapoteco, (grilled cactus topped with your choice of meat, onions, bell peppers, tomato and melted Oaxaca cheese, served with black beans) and their traditional chicken dish. We even tried grasshoppers here for the first time. Packed with protein, a lot of crunch and a salty spicy aftertaste, it was actually much better than anticipated.
Decorated with colourful walls, murals and surrounded by cactuses, you'll be transported to Oaxaca, Mexico for a little while. Given the strong Mexican influence in LA, this restaurant should be a no-brainer on your LA to-do list.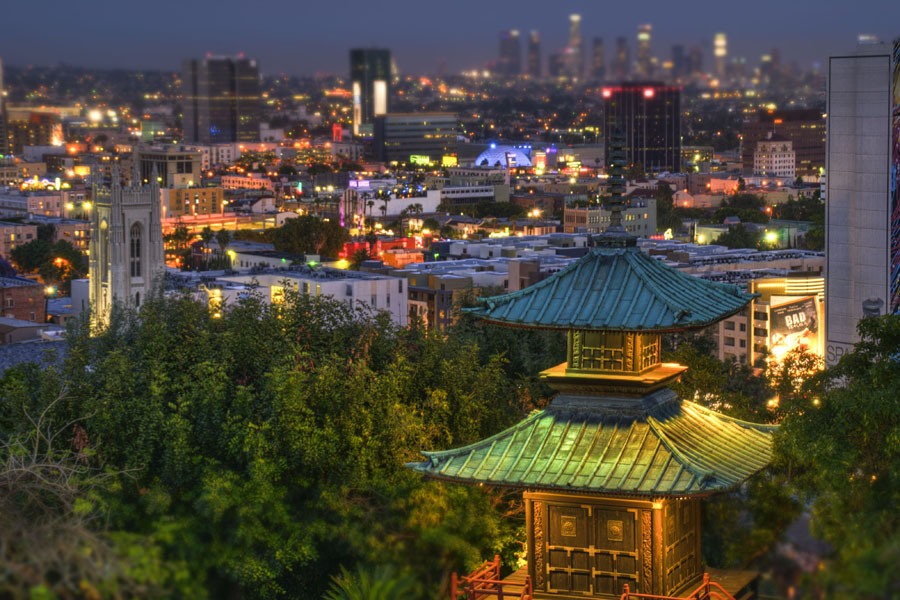 Yamashiro (Hollywood) – Dinner
Completed in 1914 in the Hollywood Hills, a dining experience at Yamashiro is one of those bucket-list things to do. Said to have been a replica of a palace located in the mountains of Yamashiro province near Kyoto, the mansion has been converted into one of Hollywood's finest restaurants. With everything made from scratch and in-house, the food offering is truly exceptional. The epic views of the Hollywood city lights also don't hurt.
We'd recommend trying a few dishes to share with the crab hand rolls an absolute must. Made of yuzu and snow crab, wrapped in soy paper and served with roasted garlic butter, this is a delicious melt in the mouth moment that will be remembered forever. Lastly, would it really be a Hollywood location without famous movies being shot there? Yamashiro has previously been the film set of movies like Kill Bill, Memoirs of a Geisha and Gone in 60 seconds.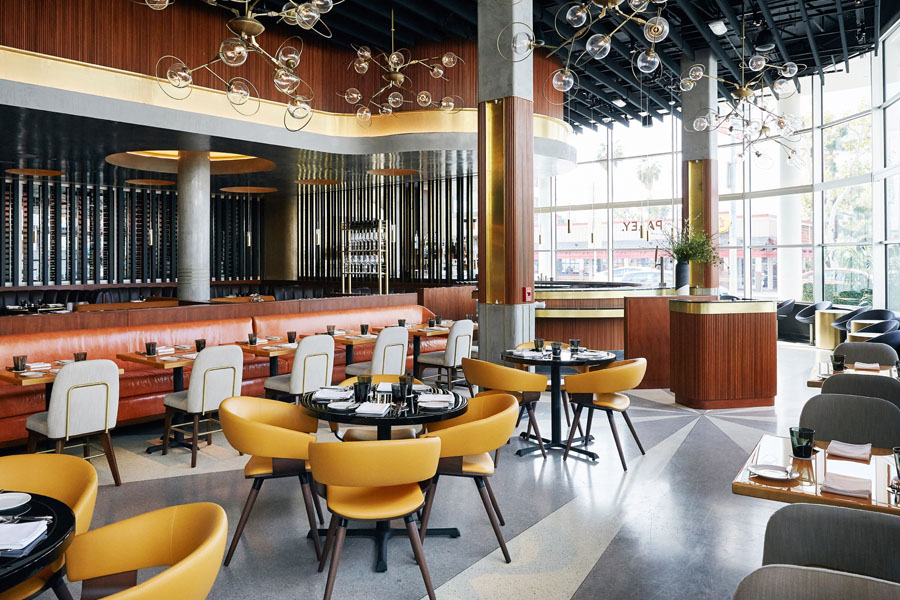 Paley (Hollywood) – Dinner
Situated in Columbia Square (aka the birthplace of the Golden Age of Hollywood), Paley is a swanky mid-century style dining experience that serves up classic dishes with a modern twist. Some dishes that stood out for us include the lobster mac & cheese, the flank fillet, the tuna tartare and the charred brussels sprouts. They also have a selection of mouth-watering cocktails, which, just like the food, are classics with a modern 'Paley' twist. Back in its heyday, before it was reborn as Paley, it was the home to many celebrities and executives from the area.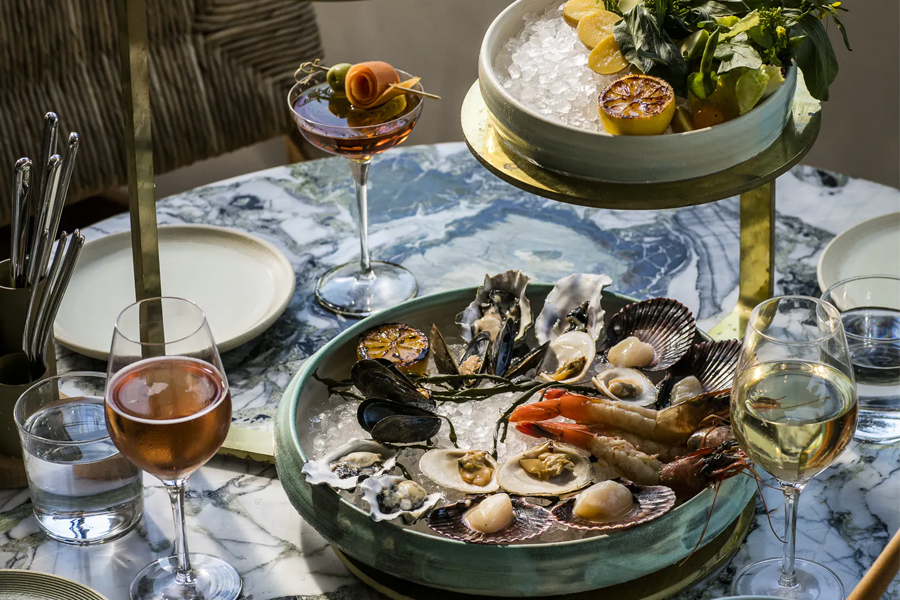 Pilot @ The Hoxton (Downtown LA)
Set on an idyllic rooftop atop The Hoxton in Downtown LA, Pilot is a bar and restaurant inspired by the Mediterranean coast. With an interactive dining experience, live-fire cooking, fresh locally sourced seafood and veggies, a great natural wine selection and table side meal preparation for selected dishes, you sure are in for a treat. Their signature dish is the Grand Aioli, which is a platter of your choice of veggies and raw bar selections paired with an insanely delicious aioli that's prepared table side.
Explore & Play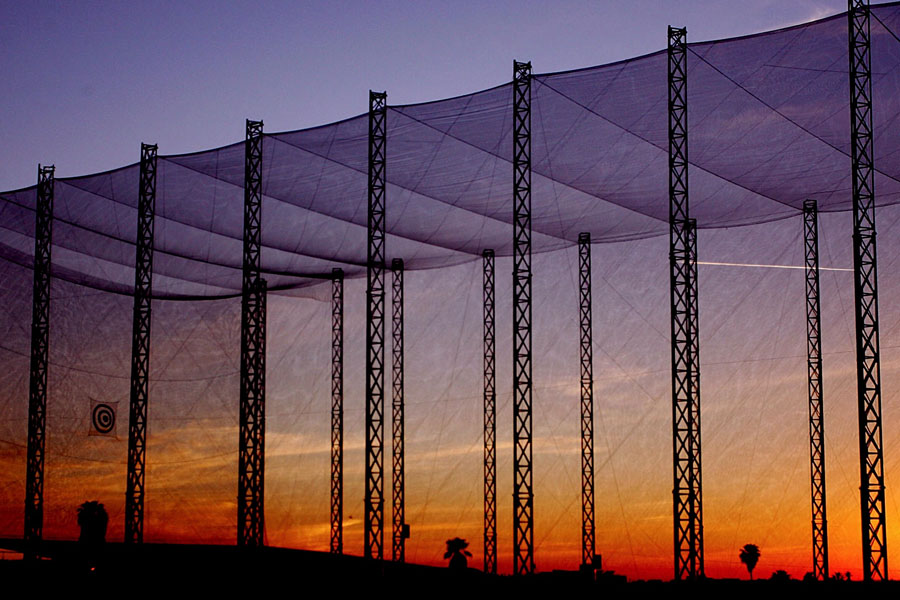 Driving Range at Koreatown's Aroma Spa and Sports
Not that we're experts on all things LA, but we'd go out on a limb and say this is one of the most unique and overlooked activities LA has to offer. Located in the trendy Koreatown, the driving range at Aroma Spa and sports is one helluva good time. The facilities are upscale and feature a 4 level, 150 yard (137m) driving range right in the middle of the city and at affordable prices we might add. Our recommendation would be to go over sunset and try to get a spot on the 4th level for the most breathtaking twilight views of LA. They're also open till 11pm, so you can swing away late into the night.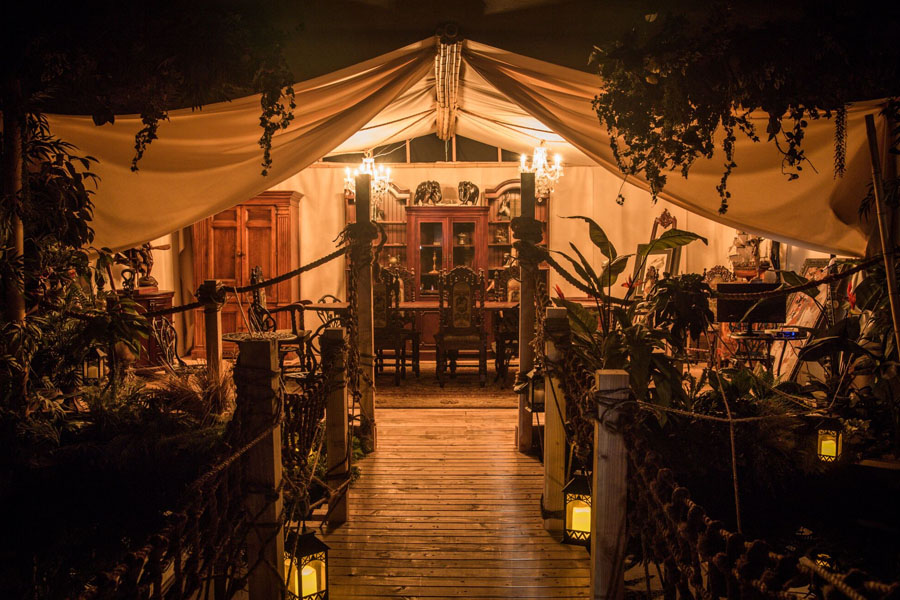 Lost Spirits Distillery Tour (Arts District, Downtown LA)
Yes. There's more. On the very same trip, we were lucky enough to visit the Lost Spirits Distillery and get a tour from the founder himself, Bryan Davis. Famous for being the Willy Wonka of Distillery tours and having won "Best Distillery Tour in the World" for 2 consecutive years, it's safe to say that we were pretty damn excited.
So why is this tour so great?
Well firstly, if you've never heard of Lost Spirits before, let us give you a quick rundown; The Lost Spirits founders have invented a way to speed up the ageing process of spirits such as Whisky and Rum from years to merely days. In fact, their Aisla Bay style Peated Malt (not allowed to be called a whisky for obvious reasons), is aged for ONLY 6 days in ex Jack Daniels barrels with the whole process from start to finish taking just 2 weeks.
Yep, we were pretty skeptical at first too. But honestly, the only way to really convince you otherwise is to go out and try it for yourself. This is partly why this tour is so good, you get to try their whole range and the entire disruptive "whisky" making methods are explained (and in quite a theatrical way I might add).
So back to the tour. Without giving too much away, you'll embark on an adventure in what we've dubbed 'a playground for adults". You'll wander through a jungle maze, take a boat ride down a tiny river, be transported in a moving submarine, come across talking birds, visit their "fermentation jungle" and get to see the science behind all the madness.
With multiple awards under their belt (including being featured in Jimy Murray's Whisky Bible twice) without having a master distiller employed (only engineers and doctors work here), you can see why this is easily one of the most unusual yet phenomenal experiences out there.
If you find yourself in LA, you simply must do this tour. If that's not on the cards for you anytime soon, consider getting yourself a bottle of their Abomination Peated Malt or Navy Rum. It will change the way you look at these spirits forever.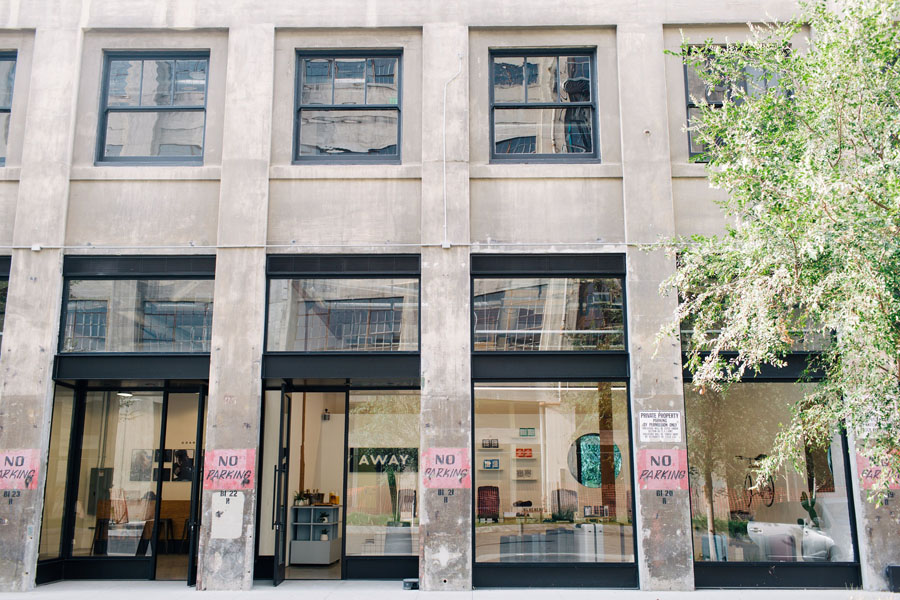 ROW (Downtown Los Angeles)
ROW is where the arts district meets the industrial district. It's made up of a mix of creative spaces, trendy retail shops and must-visit restaurants and cafes, including PCPLA – the Aussie owned Paramount Coffee Project. They offer free shuttles to main stops in LA making it easy to get to and accessible for everyone. An absolute must-visit in ROW is Bodega, a speakeasy clothing store hidden behind a fresh produce market entrance. Selling only the coolest clothing, Bodega has become a cult for streetwear fanatics. Whether you're into streetwear or not, the experience itself is worth going. ROW also hosts the weekly Sunday market Smorgasburg LA.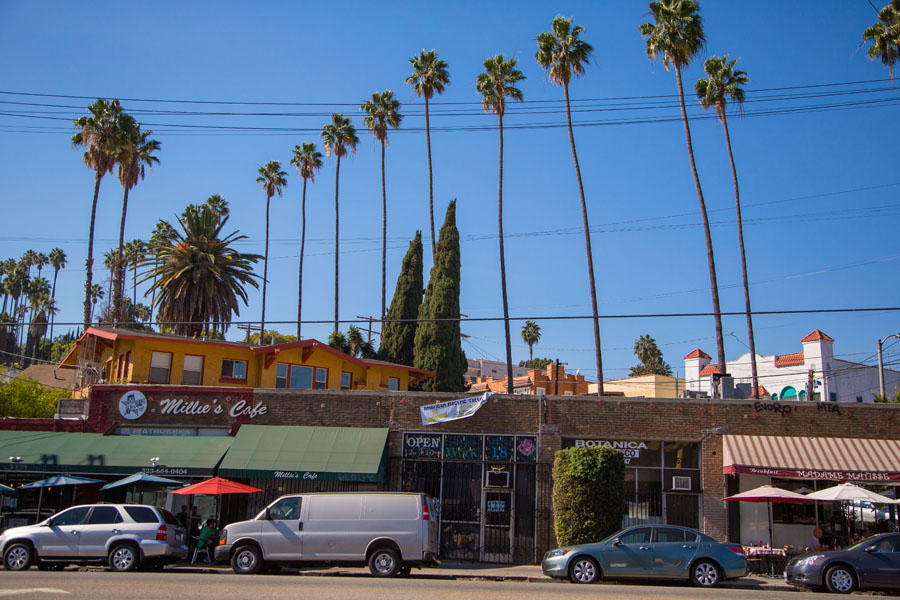 Silver Lake
Silver Lake is a trendy up and coming area where you can find the best vintage shopping, great coffee and beautiful street art spots like the hidden painted stairways the area is famously known for. Whilst exploring, we stumbled upon a great little store called Dust Muffin that has exceptional vintage and new finds including LA souvenirs you'd actually want to take home. Another notable area to explore is Sunset Junction, which is Silver Lake's central hub located at the Santa Monica and Sunset Boulevard intersection.
Hollywood Hills/Griffith Park Hike
With all the hills in and around LA, it truly makes the City of Angels a hiker's paradise. We went for a guided hike up to Mount Hollywood where you'll no doubt experience the best views of all of LA. We'd highly recommend doing the hike with a guide, as they know the perfect spots to stop to get amazing photos (including one with the Hollywood sign) and they share the most interesting history of the area and Griffith Park in particular. They're also great at pointing out notable film locations along the hike up until the end of the hike that concludes at the insanely beautiful Griffith Observatory (we went with the Bikes & Hikes company).
Just as an FIY, some movies filmed here include The Terminator, Jurassic Park, La La Land, Charlie's Angels: Full Throttle and Transformers. Even if you're not a hiker, definitely try and at least visit the Griffith Observatory.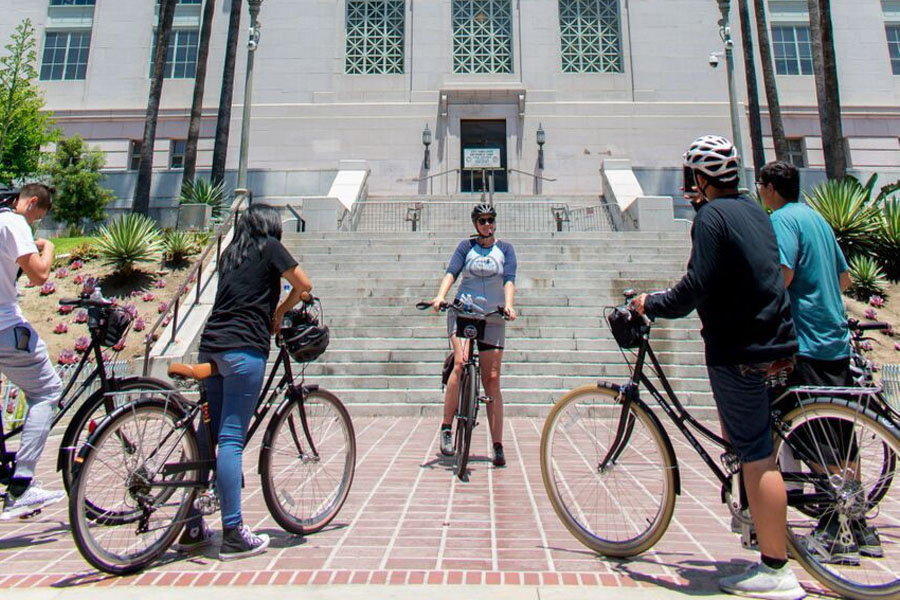 DTLA Handlebike Tour
There's no better way to explore LA than on a bicycle with a guided Downtown LA bike tour. We would highly recommend doing this tour on the first day you arrive in Downtown LA, as it's a great way to get acquainted with the area, learn some interesting history and facts and probably come across some film sets. The guides are also great at pointing out good food spots and nightlife recommendations.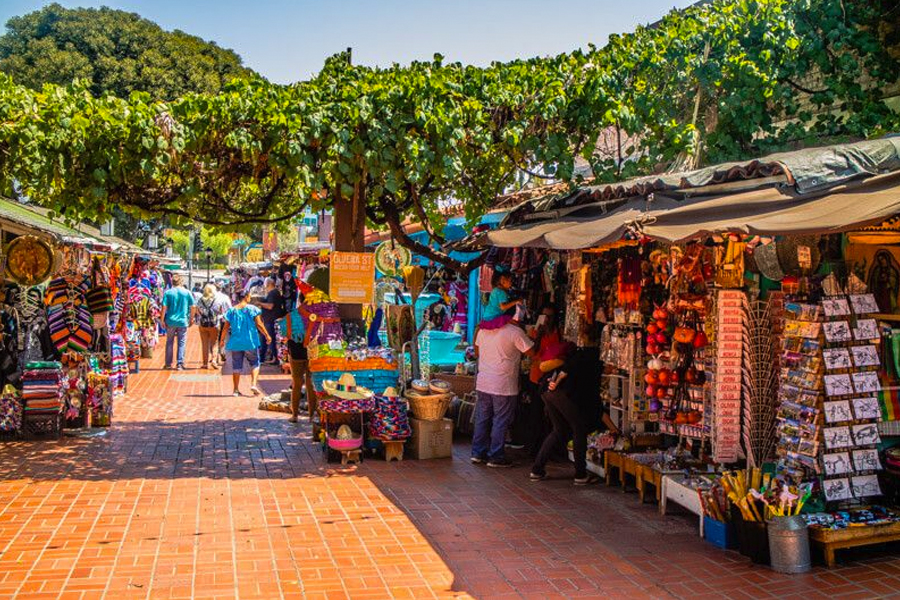 Olvera Street Market (Downtown LA)
The Olvera Street market is an authentic and colourful market close to Union Station created back in the 1930's to celebrate the local Mexican community. Also known as the birthplace of LA, this is a great spot to pick up some los muertos style LA souvenirs, Mexican style blankets and ponchos, handmade woven and leather goods or simply get lost in the beautiful designs.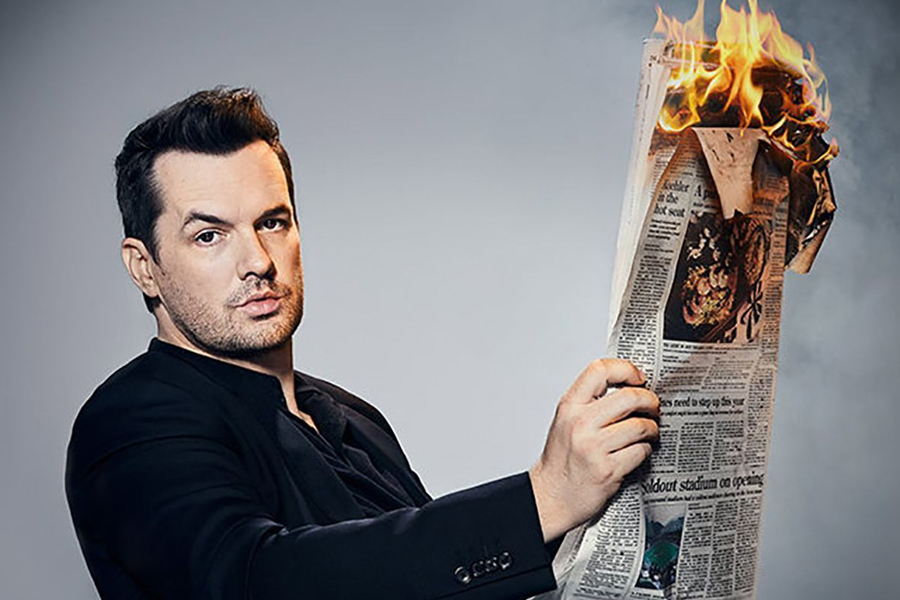 Live Show Recording (Hollywood)
When in Hollywood, why wouldn't you want to go see the live taping of a talk show? We were lucky enough to catch a live taping of Aussie comedian Jim Jefferies at the Sunset Las Palmas Studios in Hollywood for "The Jim Jefferies Show" and surprisingly, it's much easier (and FREE) to do this. Although the Jim Jefferies show has now finished up, there are tons of shows to choose from. All you have to do is go to the On Camera Audiences website, browse the shows, select whichever one tickles your fancy and sign up. It really is that easy.
And that folks, is our LA roundup. For all things cool on what to do, see and experience in this incredibly diverse city, visit discoverlosangeles.com.
*Man of Many travelled to LA as a host of United Airlines & Discover Los Angeles.
---
Featured Video from Man of Many