21 Vinyl Record Storage Solutions: Racks, Stands, Cabinets
Any vinyl music lover will know that when it comes to storing records, it's almost as important as the actual record player! Whether it's a rack, a stand, or a cabinet dedicated to your precious presses, vinyl record storage is a design statement in itself. While looking good is a top priority, so is the functionality of the storage solution. These vinyl record storage solutions may provide some inspiration to find the perfect option for you.
Best Vinyl Record Storage Solutions
With that in mind, it's time to start sorted. Whether it's Bowie, Bee Gees or Behemoth, your records will be safe and secure in any of these racks, shelves or crates. Here are the best vinyl record storage solutions you can buy.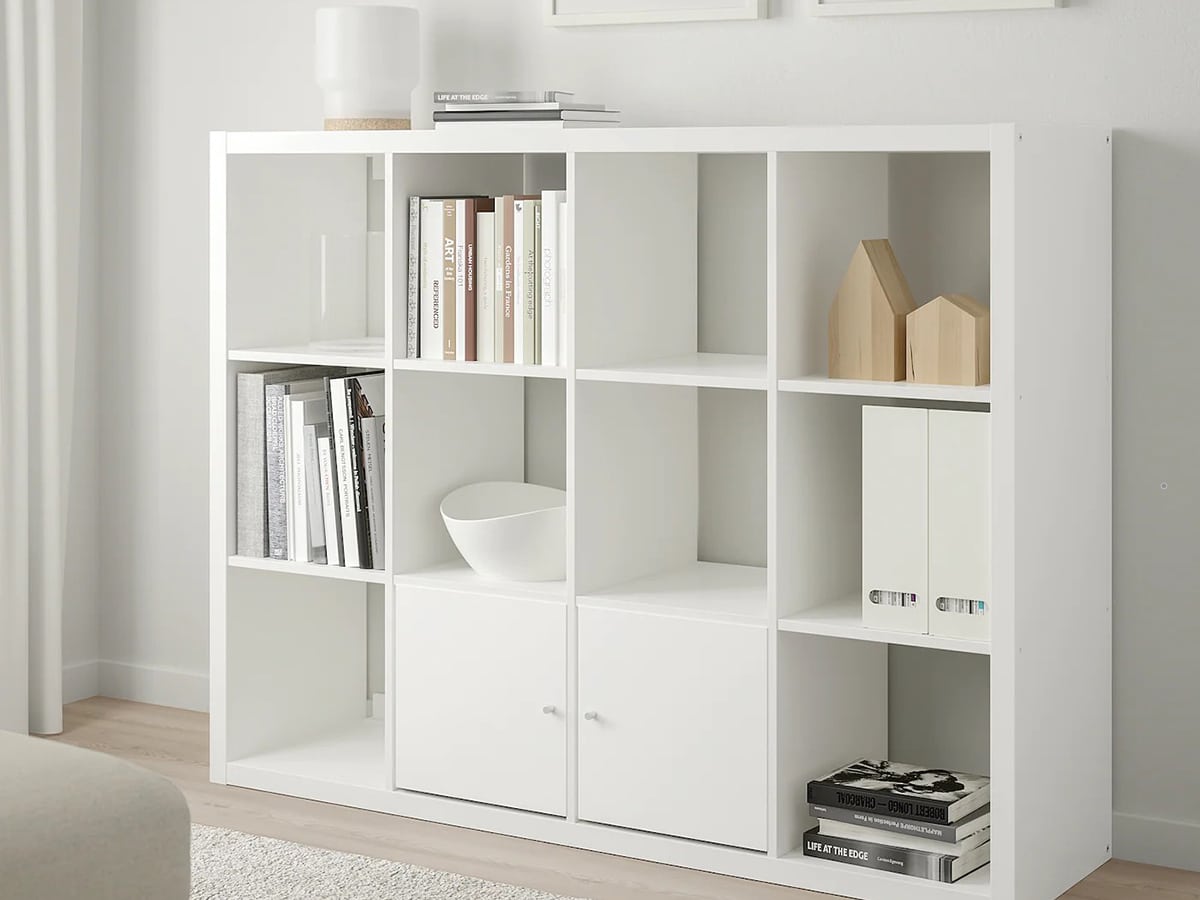 1. IKEA Kallax
Perhaps the most iconic of all vinyl storage solutions is the IKEA Kallax. The cabinet is a stylish and straightforward storage shelving that is available in different sizes and colours. It is definitely not the most original shelving unit out there, but it does win points with functionality.
Type: Cabinet
Material: Fibreboard
Price: $119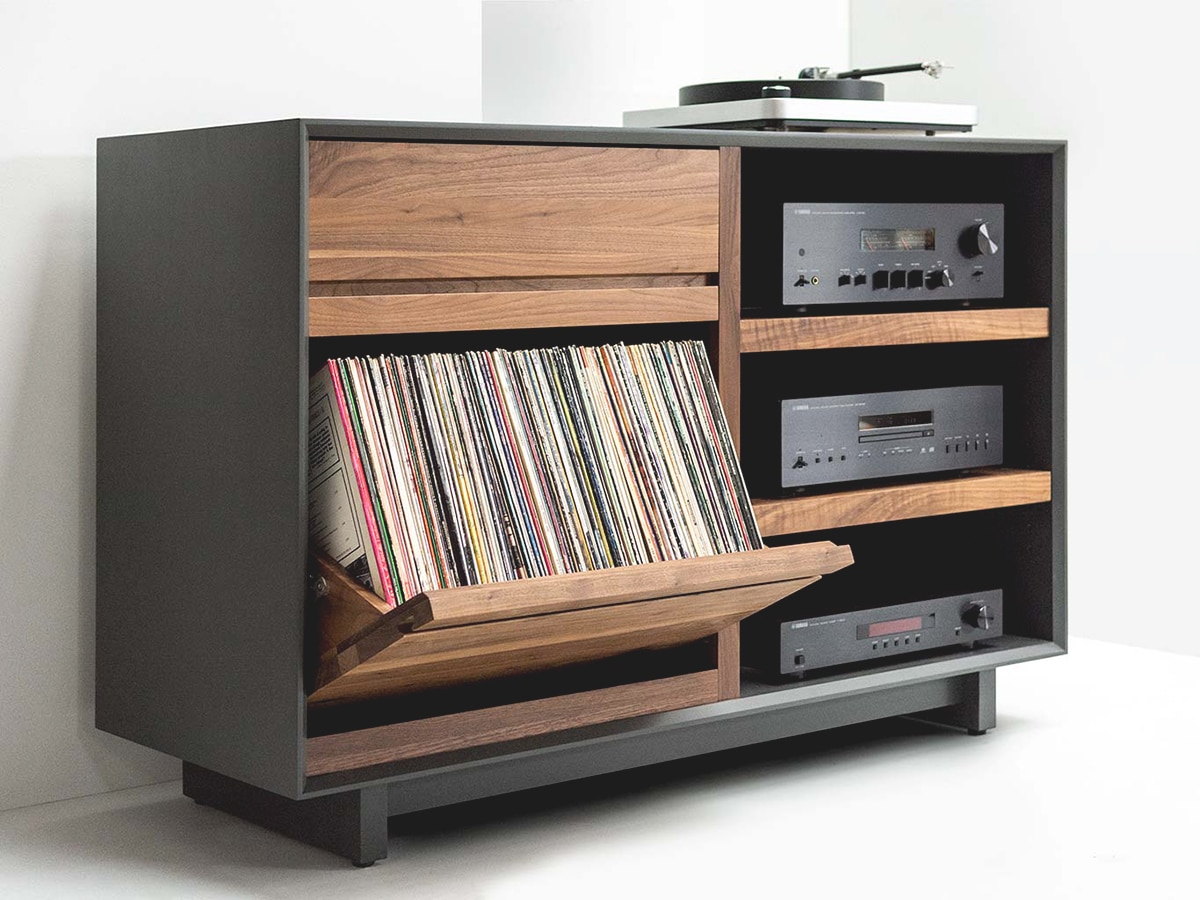 2. Symbol Aero Cabinet Program
A beautifully designed and targeted vinyl record storage solution for all the bouge record lovers out there, the Aero Cabinet Program hits the spot. The cabinet is hand-built to order and has thousands of configuration options. This means it is more on the pricey side, but it's worth it!
Type: Cabinet
Material: Wood
Price: $1,895
---
Featured Video from Man of Many
---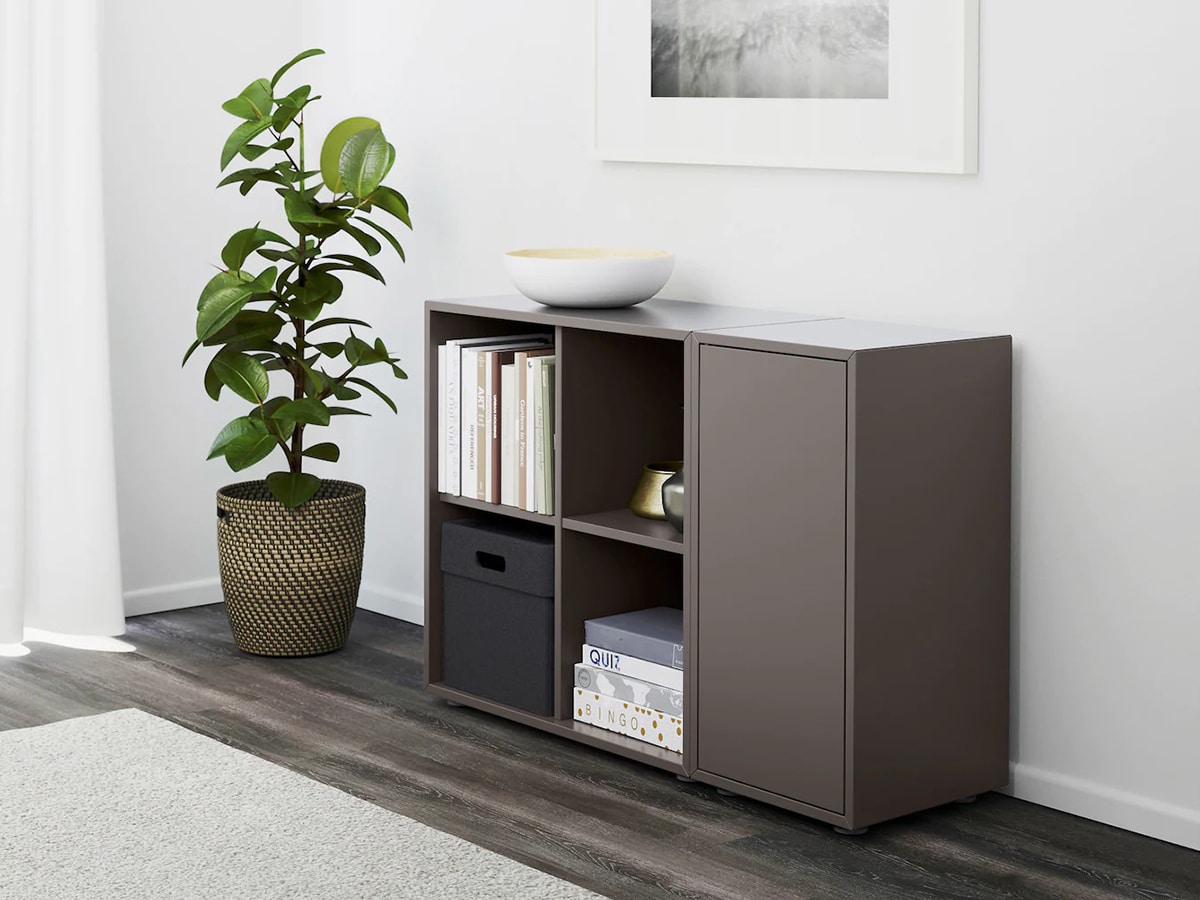 3. IKEA Eket
The IKEA Eket series is another example of the sleek, simple, versatile design IKEA is known for. The series of modular storage cabinets come in various colours that can be stacked, hung and combined endlessly. This is a great option if you're looking to store your records with something simple and affordable.
Type: Cabinet
Material: Fibreboard
Price: $160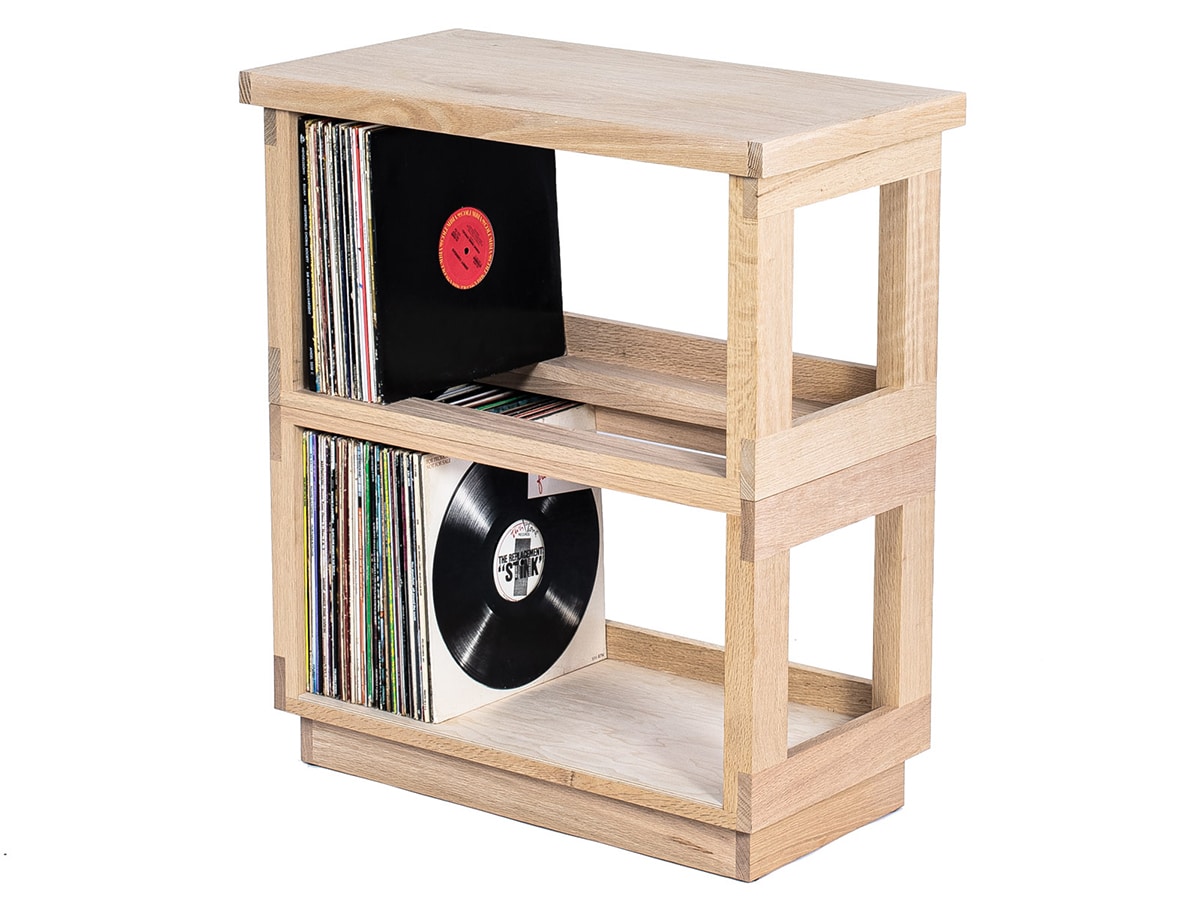 4. Mapleshade LP Shelf
If you're after a more rustic look, the LP Shelf from Mapleshade is the way to go. The shelving unit includes two shelves for albums with a fitted top and toe kick base. You can easily personalise this shelf by choosing either Unfinished, Walnut Stained, or Satin Black Overlays.
Type: Rack
Material: Oak
Capacity: 300 records
Price: $399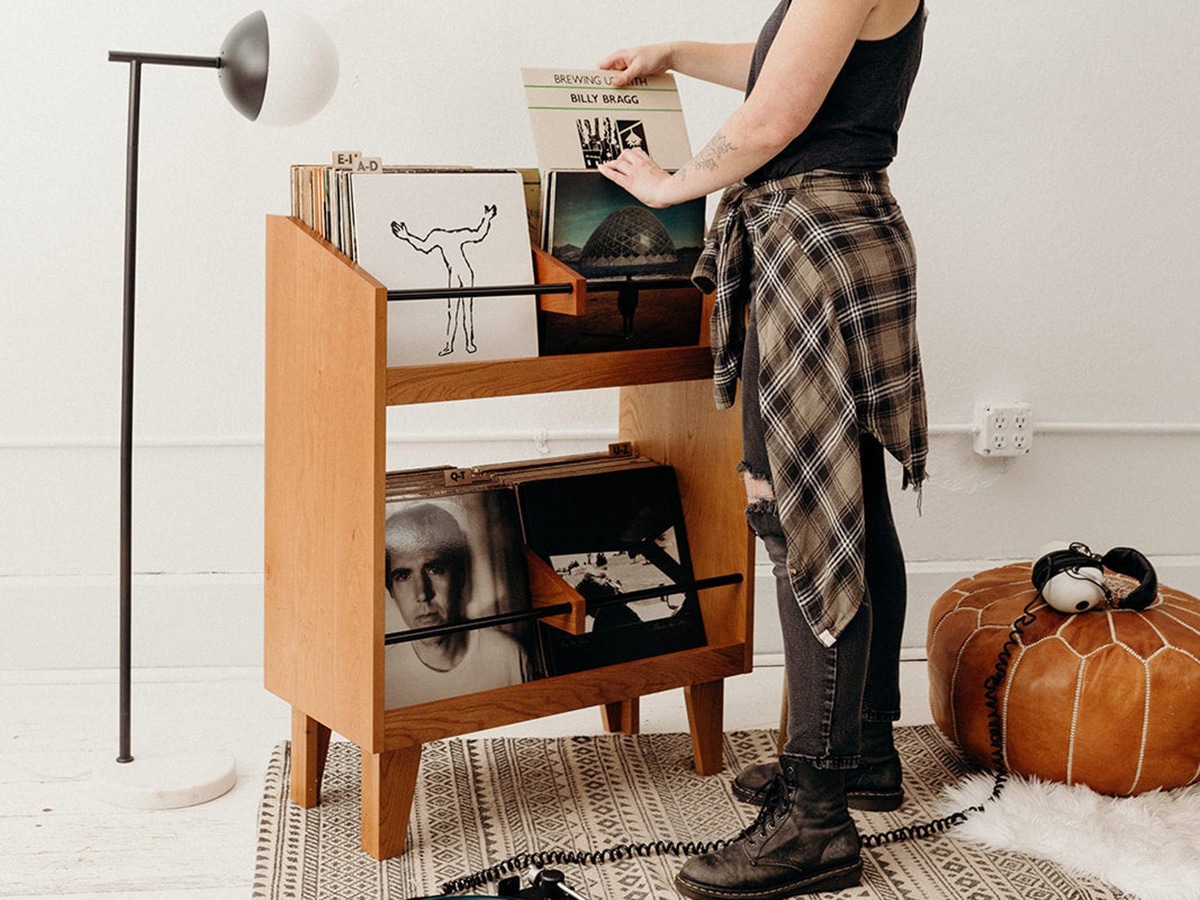 5. Divider Records Bedford v2 unit
The Divider Records Bedford v2 unit is a visually striking record unit that is bound to brighten up any space. The unit is hand-built with solid wood and is perfect for displaying your records for the world to see. You can choose whichever hardwood you prefer, and you can even select the style of crossbar; galvanised, copper or black.
Type: Cabinet
Material: Wood
Capacity: 300 records
Price: $795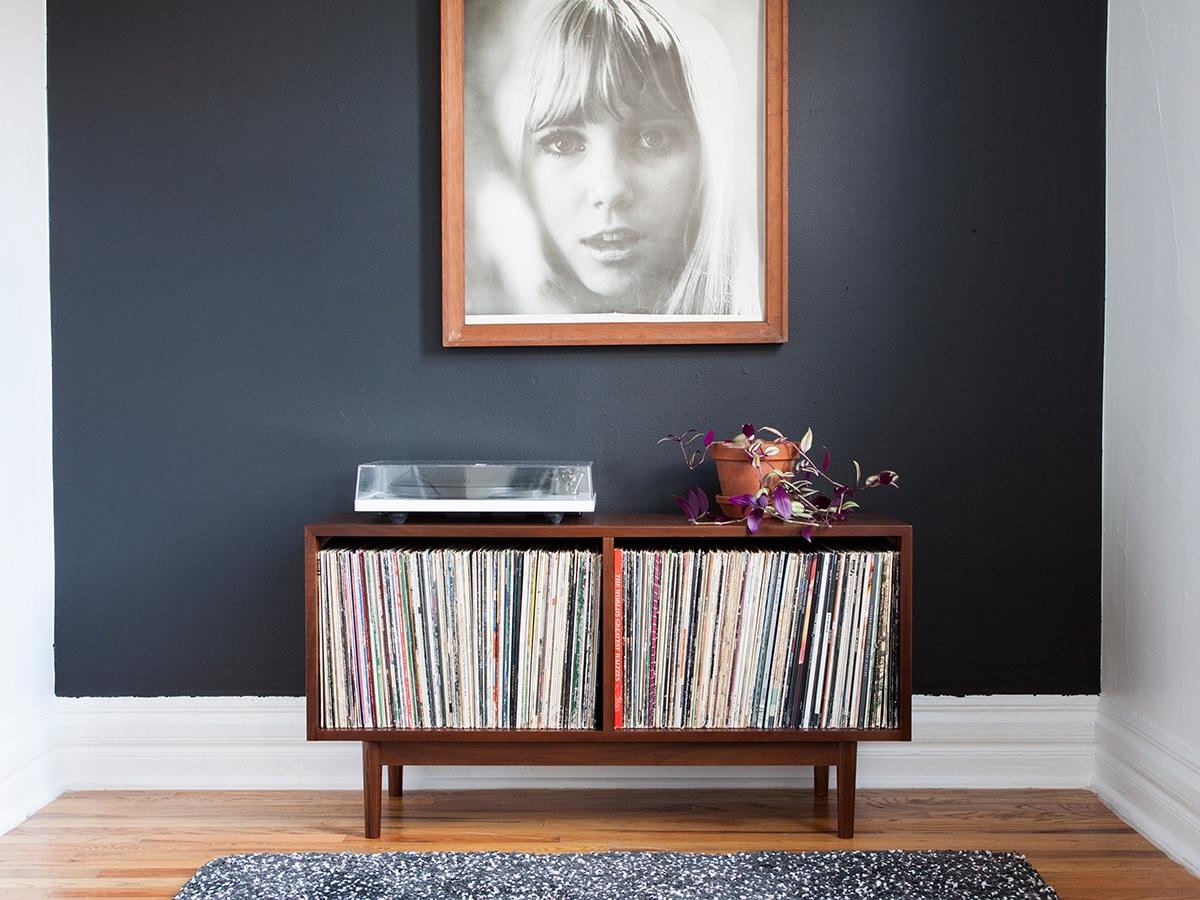 6. Department Chicago Medium Record Storage Cabinet
Built to order and inspired by classic mid-century American design is this sleek record unit by Department Chigaco. Made with a stunning walnut veneer, the unit displays your records in a way that makes it easy to pick and choose. The sliding door is the perfect extra touch, providing the option for a more minimalistic look when the desire strikes.
Type: Cabinet
Material: Wood
Capacity: 150-200 records
Price: $895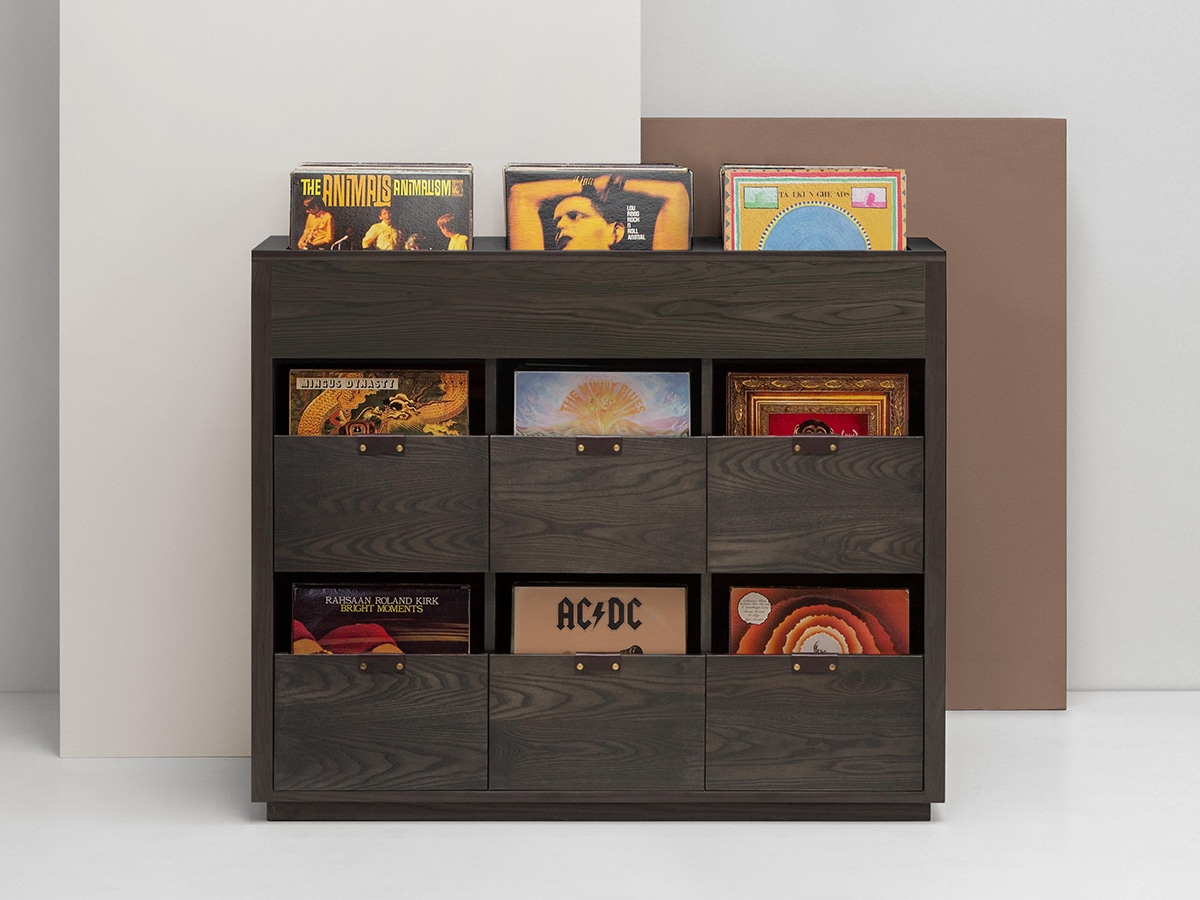 7. Symbol Dovetail Vinyl Storage Cabinet
Symbol are known for their stunning range of high-end audio furniture, and their Dovetail Vinyl Storage Cabinet is no exception. You can configure the cabinet how you like, with options of undermount drawer boxes which provide a unique and practical look. The vegetable-tanned leather handles are also the perfect extra touch of class.
Type: Cabinet
Material: Wood
Price: $1.745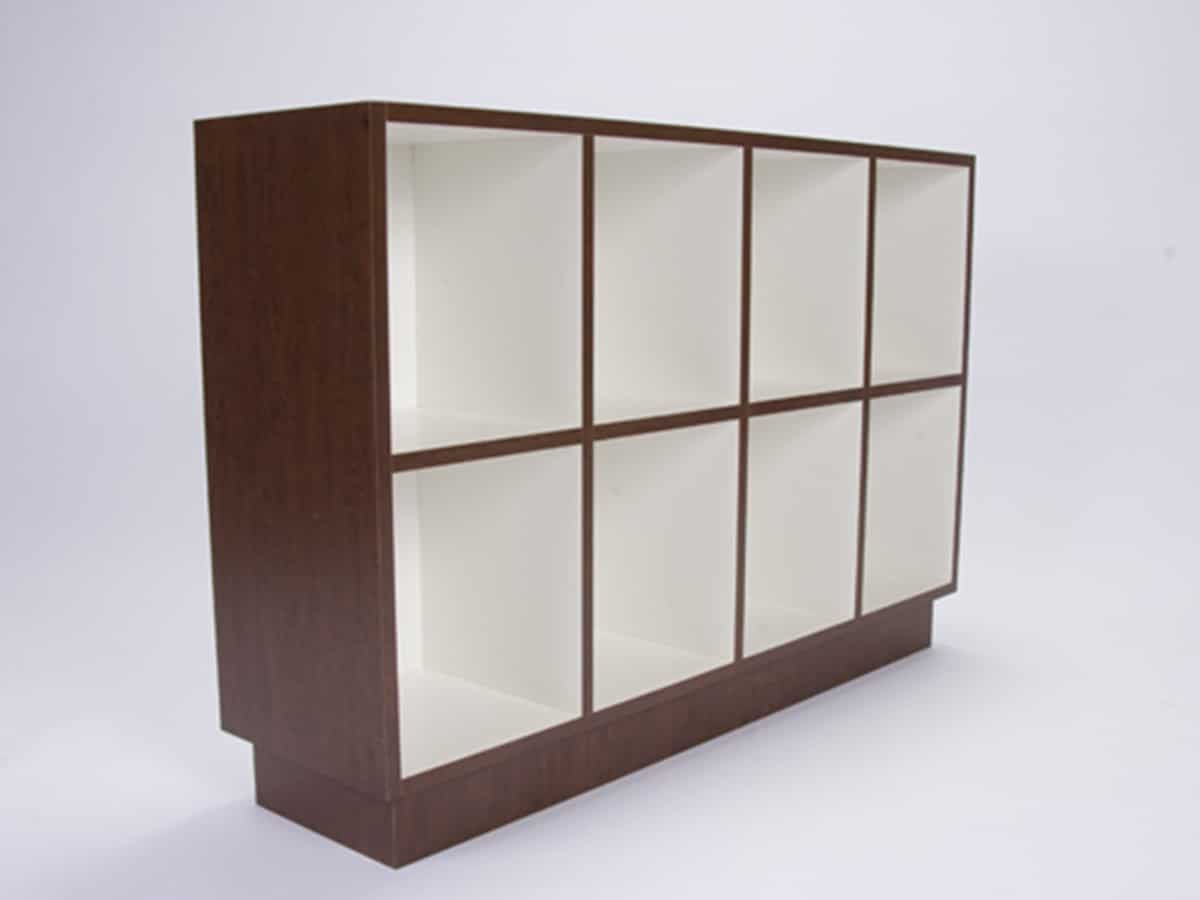 8. Dual Structural and Style Portland
Known for their DJ consoles, Dual is stepping up their game with their record storage units, just like their Portland vinyl storage unit. We love the Portland because it is versatile and easily customisable, coming in 9 different colours. It is simple and can store the biggest of record collections!
Type: Cabinet
Material: Wood
Capacity: 600 records
Price: $1,149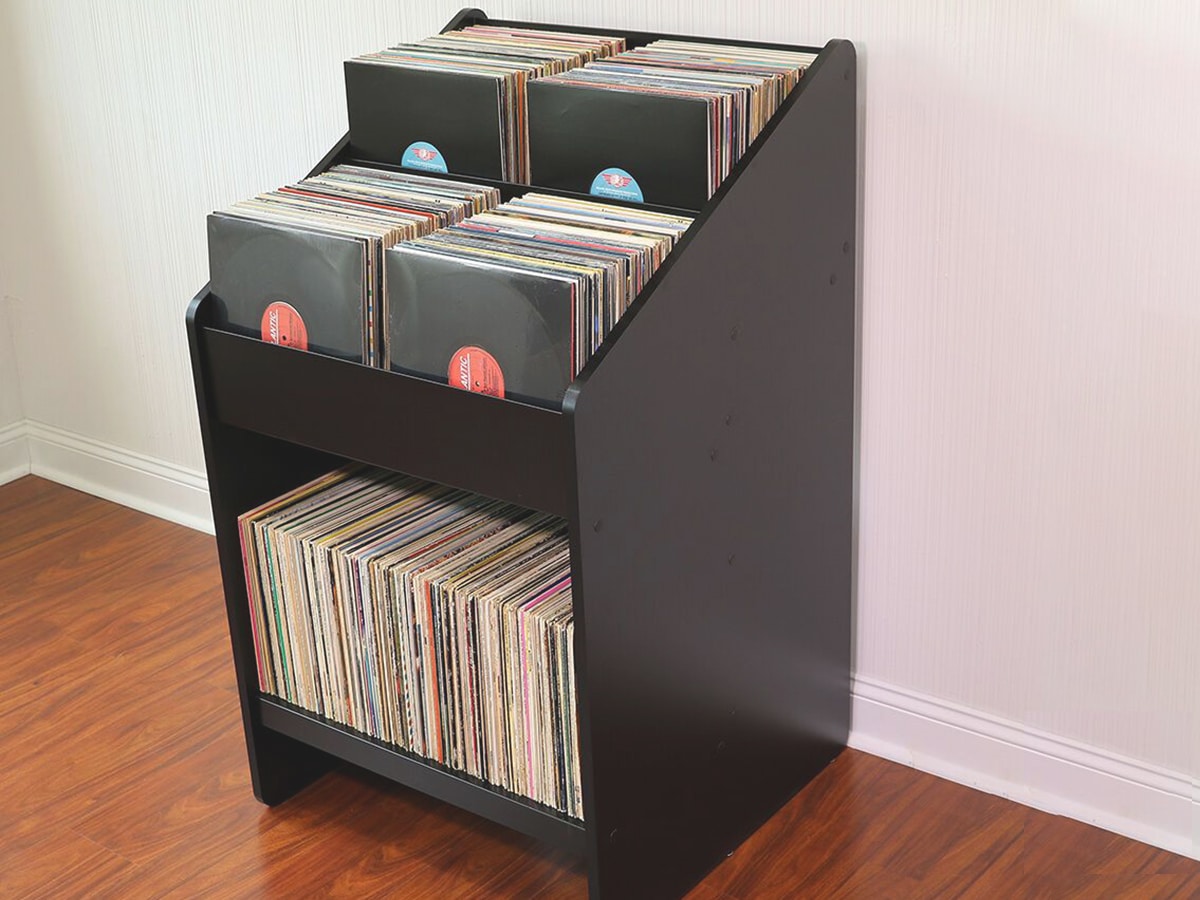 9. LPBIN2 Vinyl record Storage Cabinet
If you're looking for something on the more affordable side for your vinyl record storage, check out the LPBIN2. The vinyl record storage cabinet has black powder-coated steel shelves with durable black, industrial, long-grain particle board sides. It is also one of the more functional units- the raised back bin will make it easy to browse and select your LP's.
Type: Cabinet
Material: Steel
Capacity: 560 records
Price: $329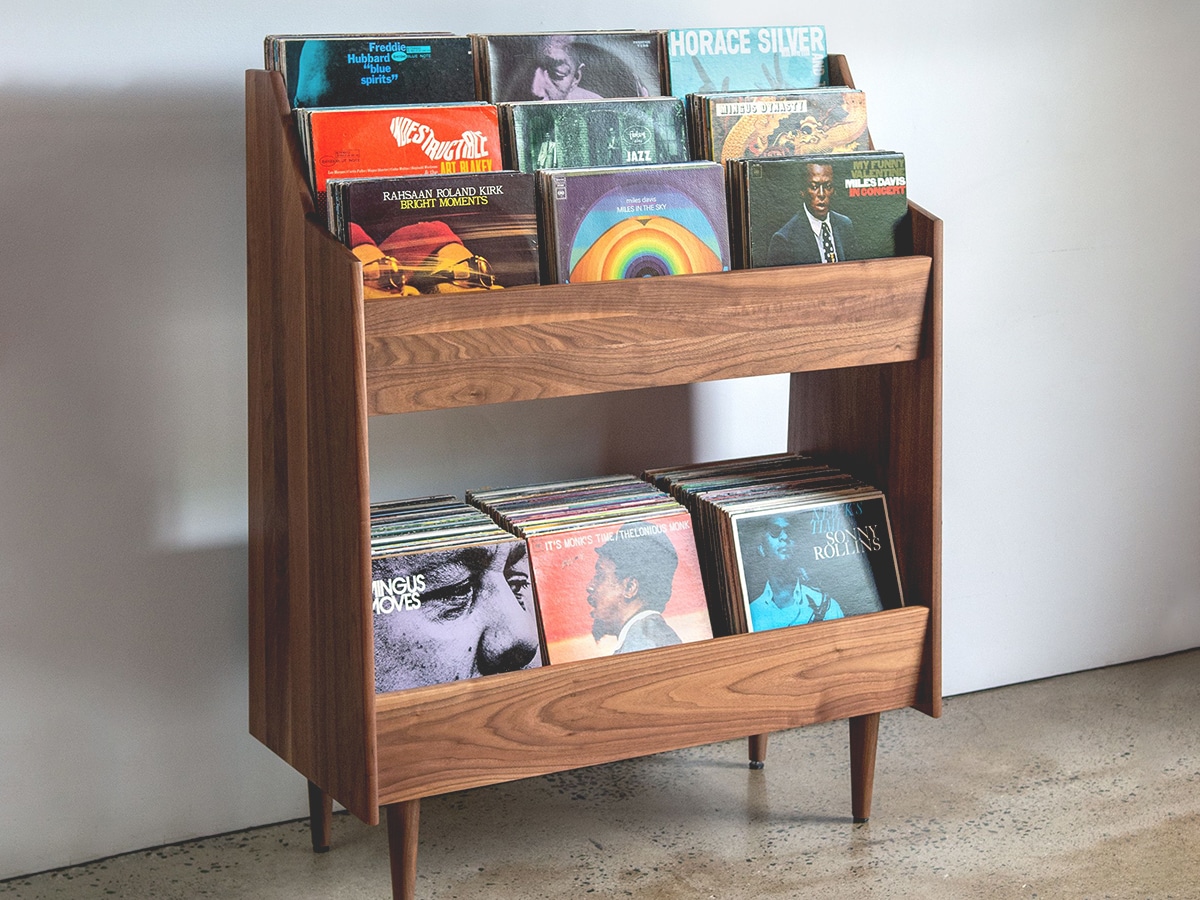 10. Symbol Luxe Record Stand
Symbol has done it again with their Luxe Record Stand. The stand features a gallery-style art display, so you can display your favourite records loud and proud for all to see. It is made from solid wood and is hand-built to order to be ready in 18 weeks- but it's well worth the wait!
Type: Stand
Material: Wood
Capacity: 700 records
Price: $1,195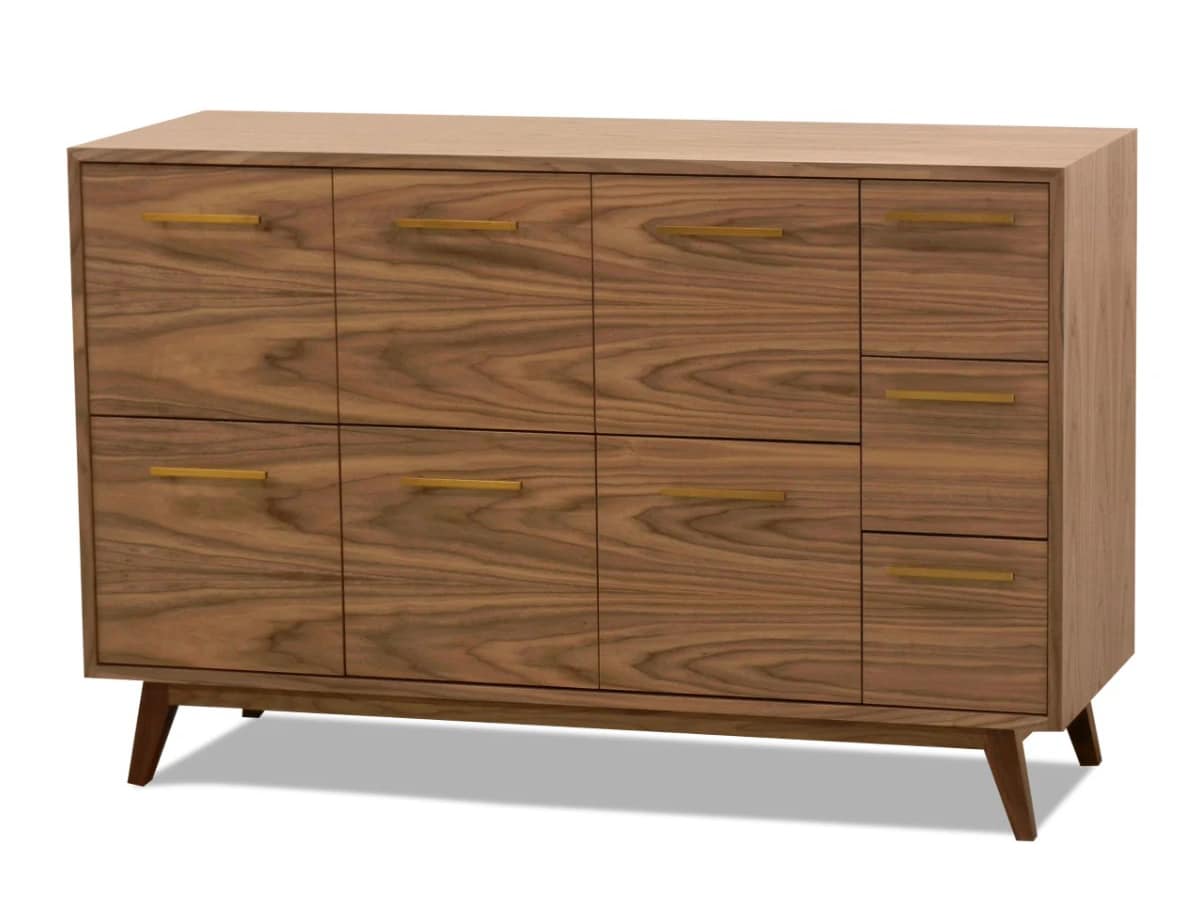 11. Atocha Design Record Cabinet
A seamless combination of beautiful design and superior functionality, the Atocha Design Record Cabinet is one of the top picks in the market. It is sturdy yet sleek, featuring soft-closing doors and enough space for all your records to be stored upright for easy browsing. This storage cabinet can easily be the main feature of any room.
Type: Cabinet
Material: Wood
Capacity: 95 records per drawer
Price: $8,300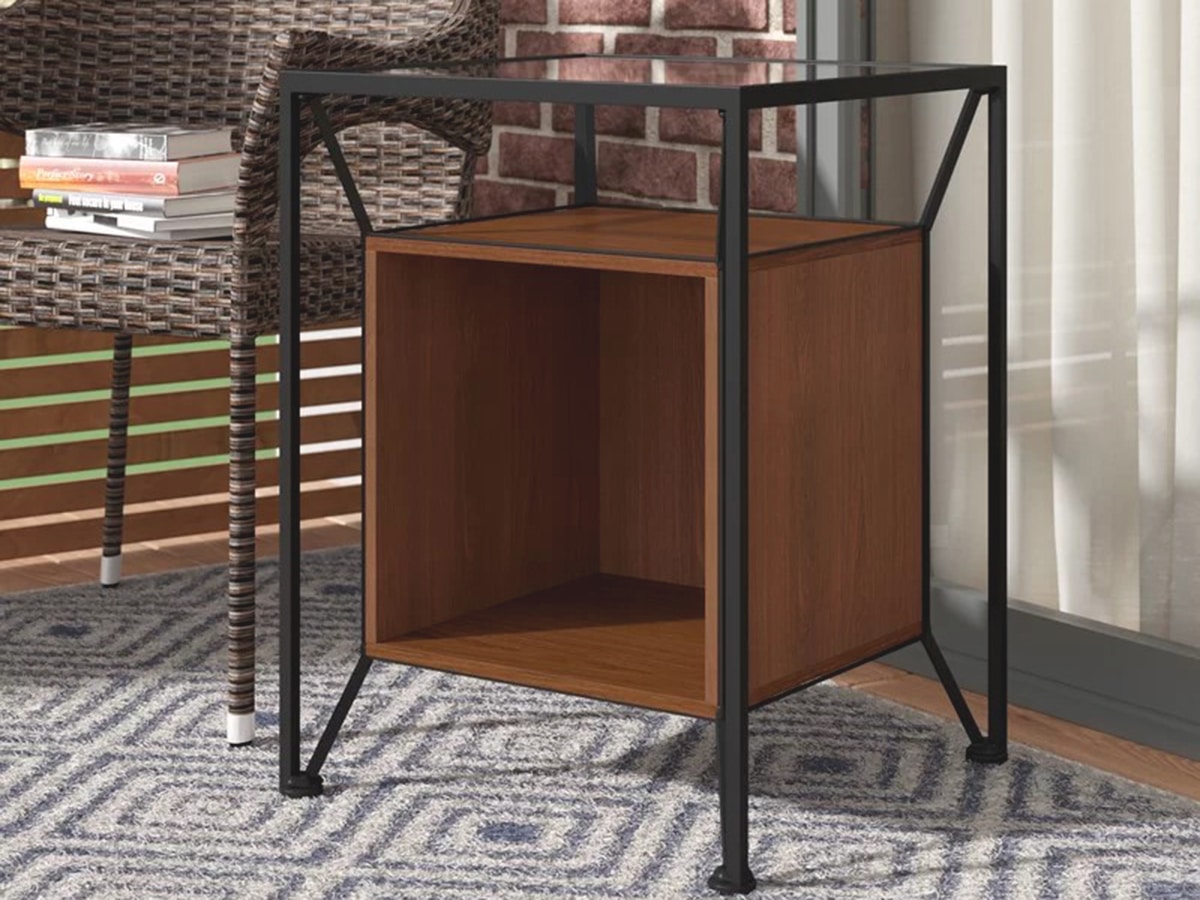 12. Havenly Goodspeed Record Storage End Table
The Goodspeed Record Storage End Table is the perfect vinyl record storage solution for those who want something understated but stylish. It is small and discrete enough to double as a side table – two in one! Effortlessly bring modern style into your home and display some of your favourite records at the same time.
Type: Stand
Material: Glass, metal, wood
Price: $196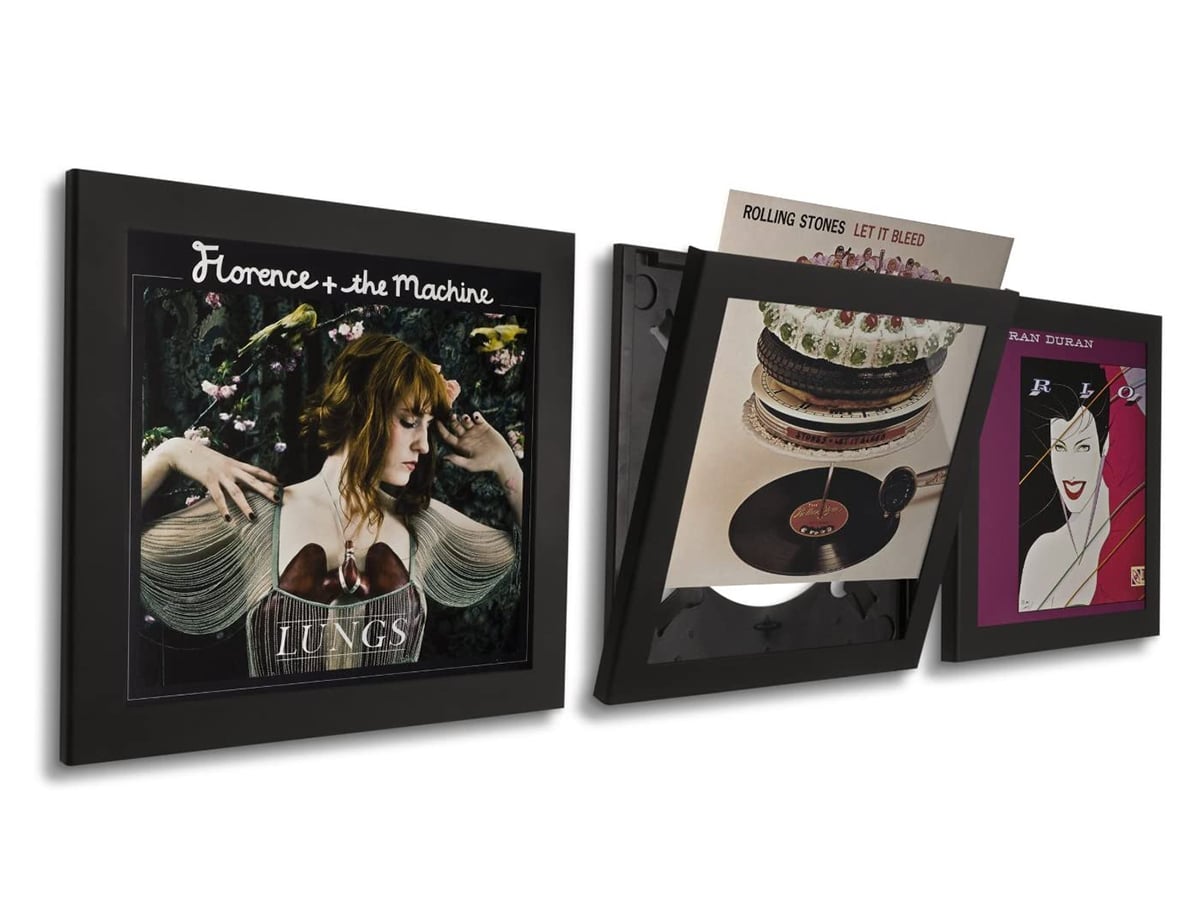 13. Play & Display Vinyl Flip Frame
Got a favourite record you want to display? This vinyl flip frame has got you sorted. The frame is scratch resistant and blocks 99% of UV light. Apart from being highly functional, the frame looks great in any space and on any wall.
Type: Frame
Material: Acrylic glass
Capacity: 1 record
Price: $49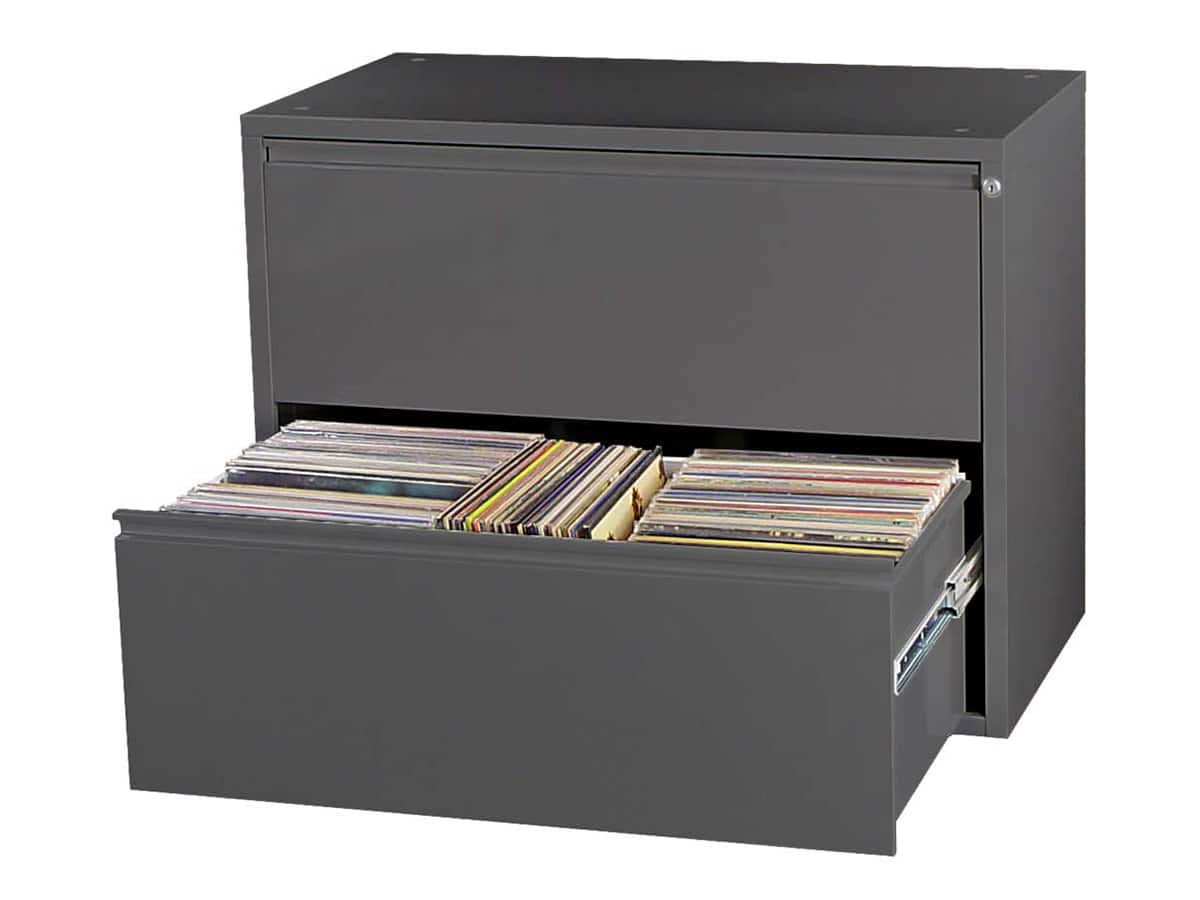 14. Can-Am Vinyl LP Storage Cabinets
You could easily mistake these for a classic filing cabinet at first, but that's the Can-Am signature look we love. There are plenty of different sizes and styles, coming in up to 18 different colours, so you'll be able to find the perfect match to suit your home. They are eco-friendly too!
Type: Cabinet
Material: Vinyl
Price: $750-$995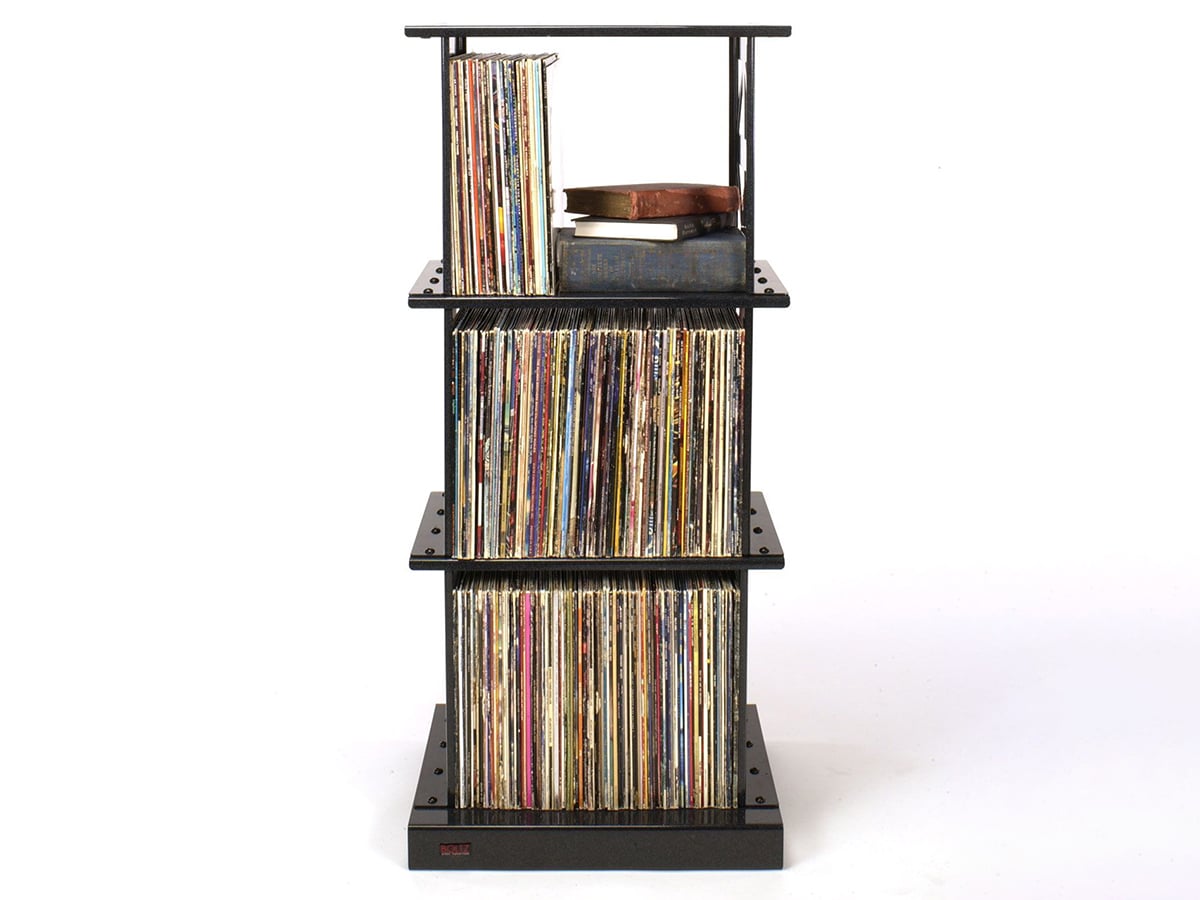 15. Boltz LP Storage Rack
A classic steel rack with an industrial edge, this storage solution from Bolt is one of our favourites. The unit has three shelves and is a great idea if you have limited space but plenty of records to store! It has the added feature of adding additional shelves, which can be purchased separately and easily added on at a later date.
Type: Rack
Material: Steel
Capacity: 90 records per shelf
Price: $569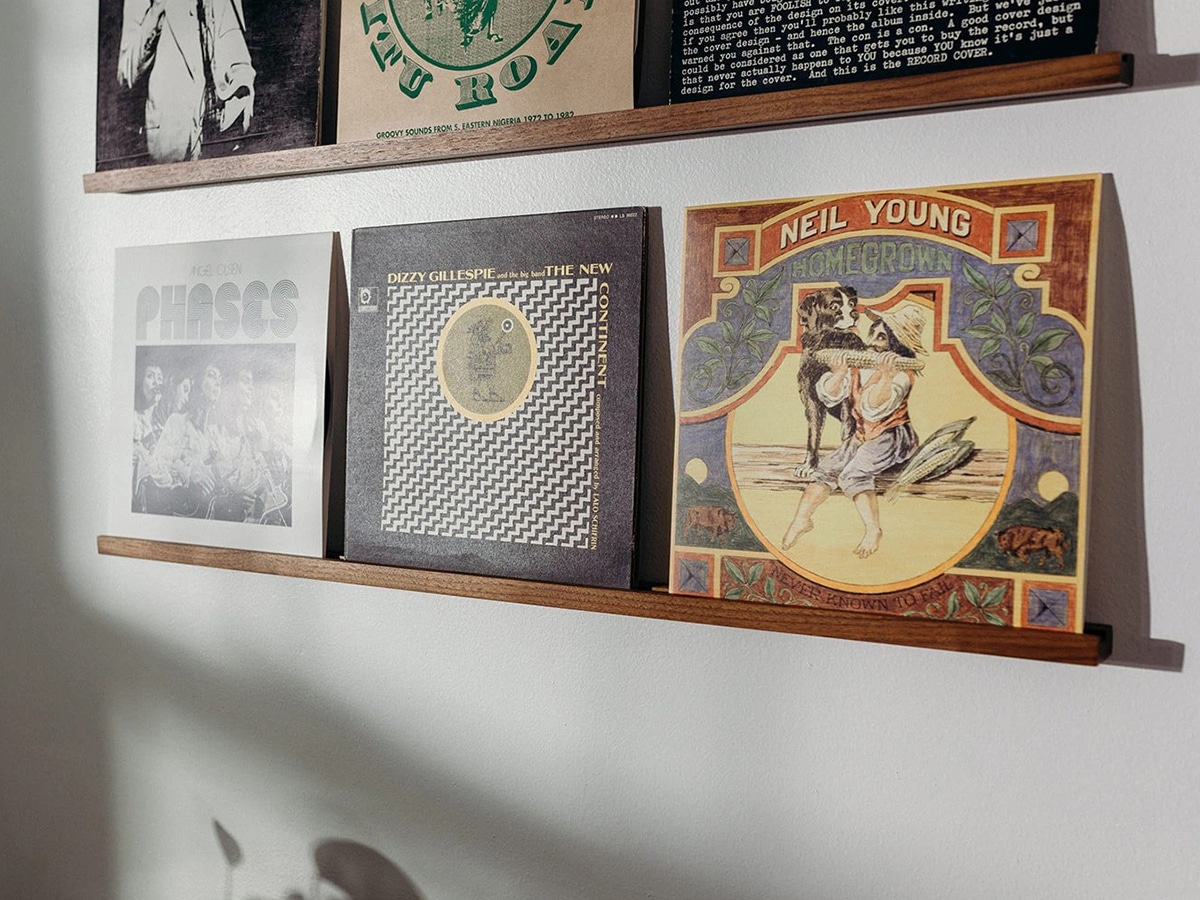 16. Divider Record triple record ledge
A ledge is a great way to store your records if you like them on show and have limited space. The Divider Record Triple Record Ledge is a sleek design that will seamlessly blend into your home decor. The ledge hangs with two routed keyholes on the back of the ledge for an invisible, floating effect.
Type: Ledge
Material: Wood
Capacity: 3 records
Price: $47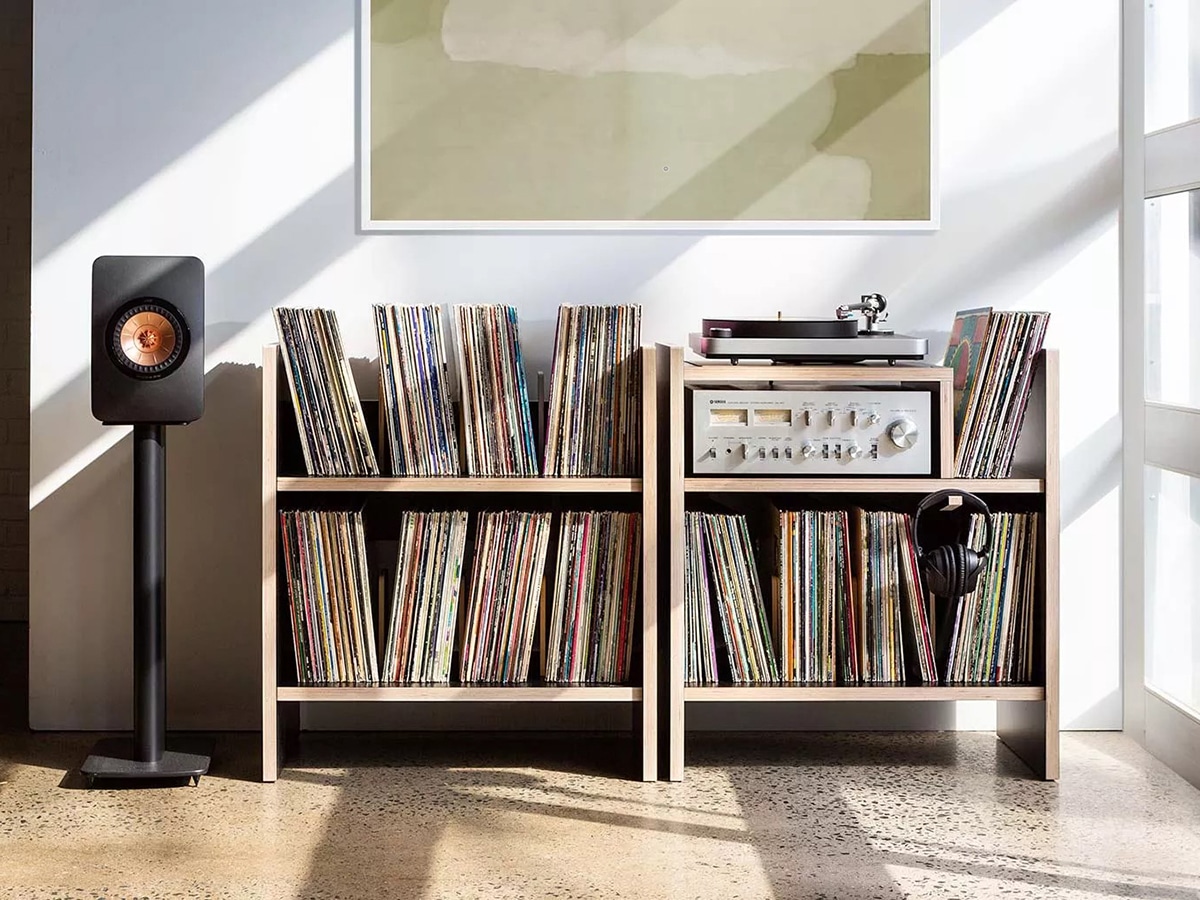 17. Symbol Max Record Stand
The Max Record Stand by Symbol wins for functionality. It is designed with removable record dividers and adjustable feet, allowing you to adjust the stand to suit your vision as it changes. The finished product is ingeniously engineered and thoughtfully designed for the lover of high-quality, well-built products.
Type: Stand
Material: Wood
Capacity: 350 records
Price: $675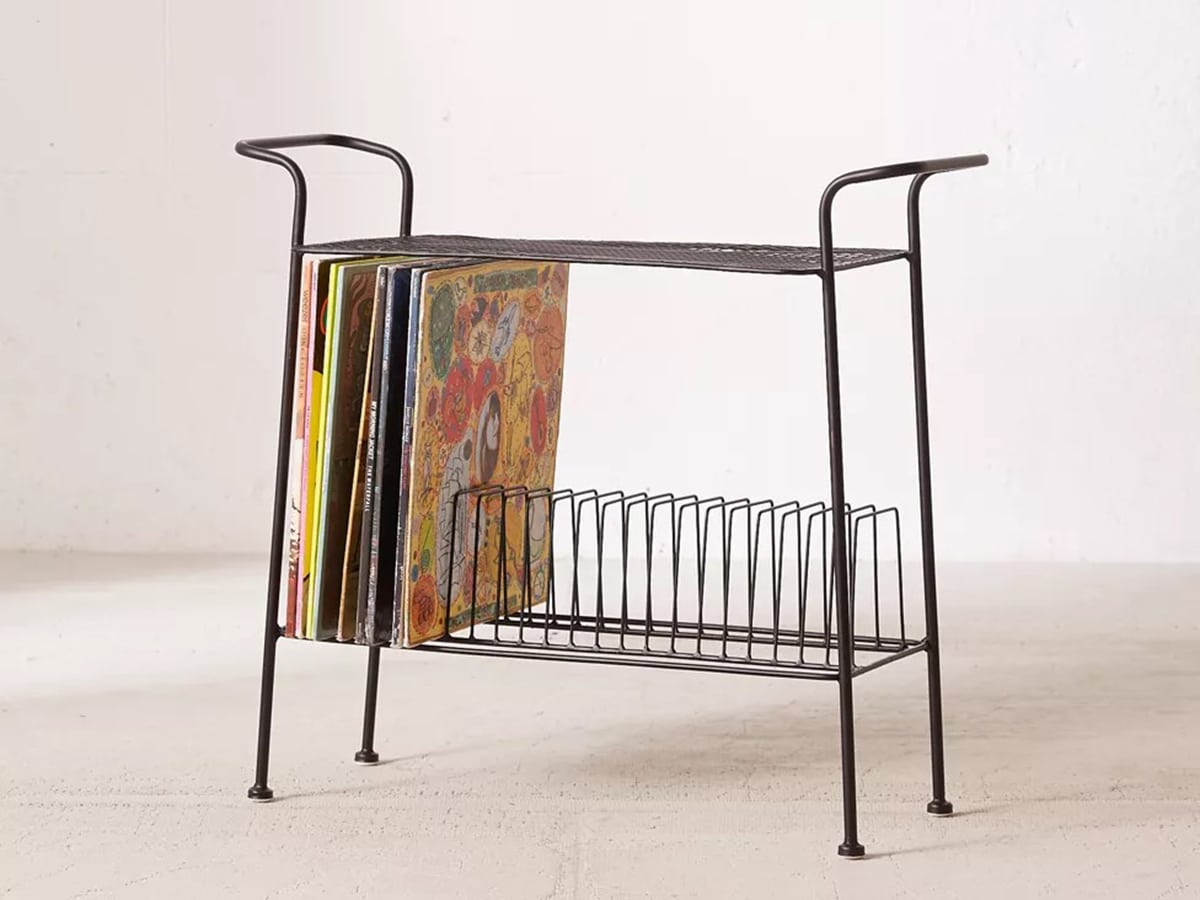 18. Fluxe Larisa Vinyl Storage
Simple, sleek and practical – the basis of design behind the Larissa vinyl record storage stand by Flux. You can easily store your records on the shelf space and pop your record player on top! The stand is small enough to fit well in any space, and its durable metal foundation means it will last for the long run.
Type: Stand
Material: Metal
Price: $69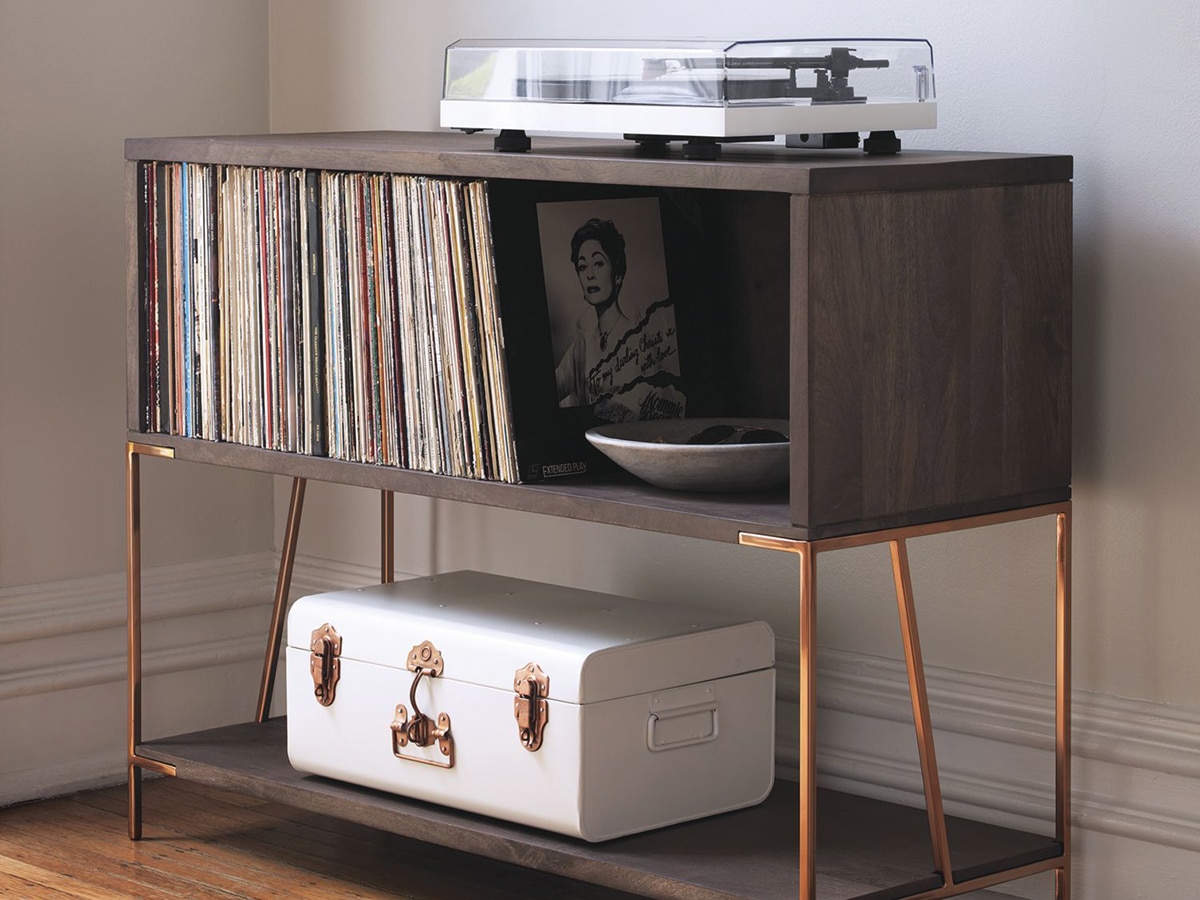 19. CB2 Dean Record Cabinet-Console
The CB2 Record cabinet is yet another sleek design with function at the forefront of the design process. The dark wood finish combined with copper legs casts an edgy, industrial look that is versatile enough to match most home decor. Store your record player on top for maximum storage.
Type: Cabinet
Material: Wood, copper
Price: $649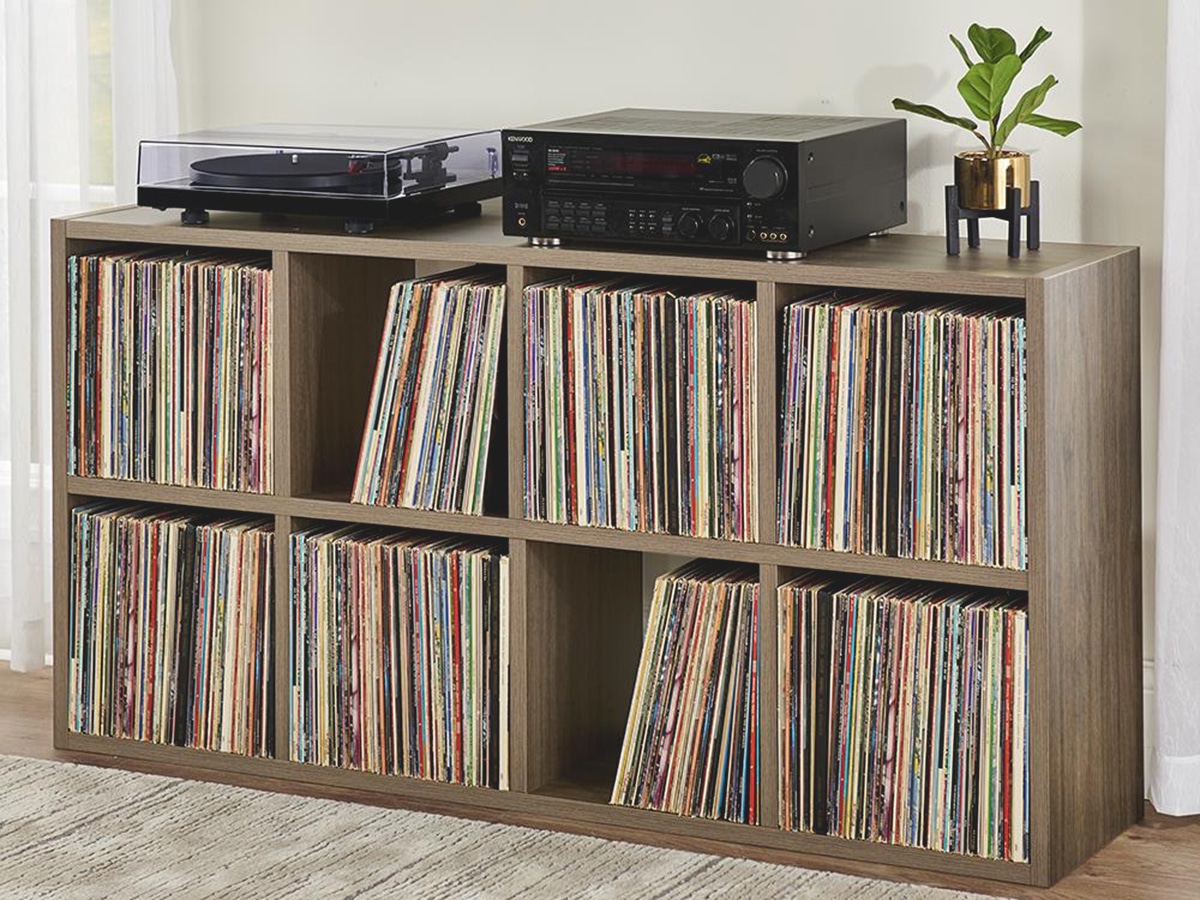 20. Hammacher Schlemmer The Aficionado's 800 LP Organizer
Hammer Schlemmer's media storage unit is the ideal solution for storing your vinyl record collection. It has a versatile design that allows it to sit horizontally like a console table or vertically like a bookshelf. The stylish cabinet is made from engineered wood with wood veneers and comes in black or walnut.
Type: Cabinet
Material: Wood
Capacity: 800 records
Price: $249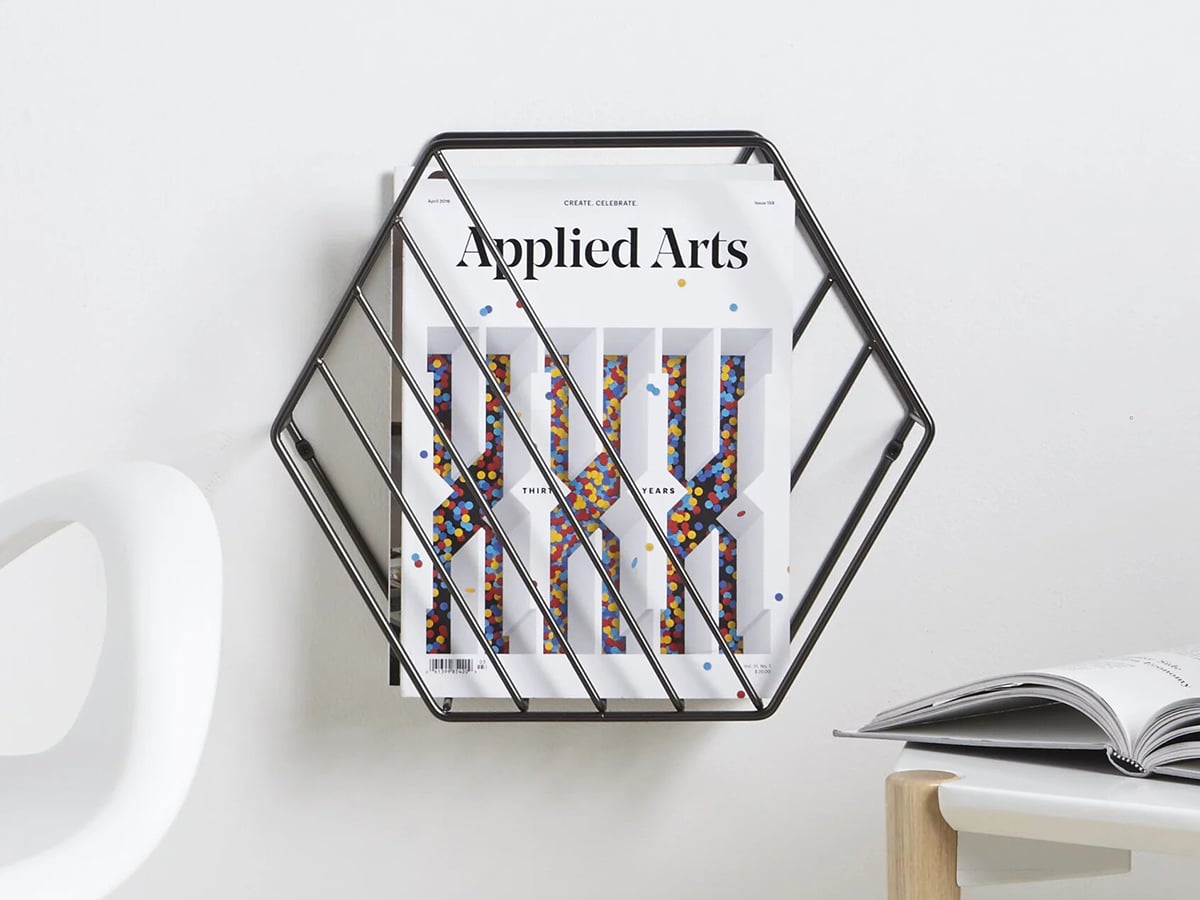 21. Umbra Zina Stora Rack
If you're looking for a sleek design that doubles as both a magazine rack or a rack to store your vinyls, look no further than the Zina Stora Rack by Umbra. The rack is designed with innovation and thoughtfulness, maximising storage capabilities while creating visual interest in any space.
Type: Rack
Material: Metal
Price: $30
Types of Vinyl Storage Solutions
Depending on your level of vinyl fever, there may be some caveats when it comes to buying a storage solution. Namely, how big and how expensive. Here is how to cut the mustard and pick the best option for you.
Individual Record Displays – Often seen in the form of album frames, individual record displays showcase your favourites like any other piece of art. The downside is that it's not a practical solution for albums you want to play regularly. You'll have to take the entire frame off the wall and open it up to get to the record.
Record Crates and Bins – The simplest of all record storage options, the humble milk crate works fine if you aren't fussy about looks. They can pack a lot of vinyls in and are sturdy enough to protect your records from the outside world.
Record Shelving Units and Cabinets – For the up-market record fan, these units are best for displaying your nearest and dearest albums. Generally doubling as a place to house your record player, the shelving units have all the necessary design features to get you rolling, but it does come at a price. These ones are likely to set you back a few hundred dollars.
Vinyl Storage FAQs
What is the best all-in-one vinyl storage solution?
The Aficionado's 800 LP Organizer by Hammacher Schlemmer is the best all-in-one vinyl storage solution.
What is the cheapest vinyl record storage solution?
Racks and stands are the cheapest vinyl record storage solutions, like the Zina Stora Rack by Umbra.
Who makes the best vinyl record shelf?
Mapleshade makes the best vinyl record shelf.
---
Featured Video from Man of Many