5 Best Cliff Jumping Spots in Melbourne
Cliff jumping in Melbourne is a great way to get your fix of adrenaline and immerse yourself in stunning scenery. These 5 cliff diving spots in Victoria are definite hotspots to add to your bucket list of weekend escapes.
Whether you're seeking out some natural thrills, a scenic place to enjoy a getaway or want some 'grammable weekend trips, we'll show you the best cliff jumping Melbourne has to offer. There's a whole suite of coastal cliffs or rocky river edges just a short drive outside of Melbourne waiting for you to jump off of and plunge into the cool depths below.
Keep in mind that cliff diving comes with a high risk. Always be sure to check the depths of the water before jumping in as murky water might not show the real depth and logs or rocks may have moved. And be sure to only jump at heights or do tricks that you're totally comfortable with. Man of Many takes no responsibility for any injuries that may occur. But with the necessary precautions (and respect for the natural environment) these cliff jumping spots in Victoria are a great excuse to get outside and make sure your start is still pumping.
You'll also like:
10 Best Cliff Jumping Spots in Sydney
14 Best Boxing Gyms in Melbourne
10 Best Steak Restaurants in Melbourne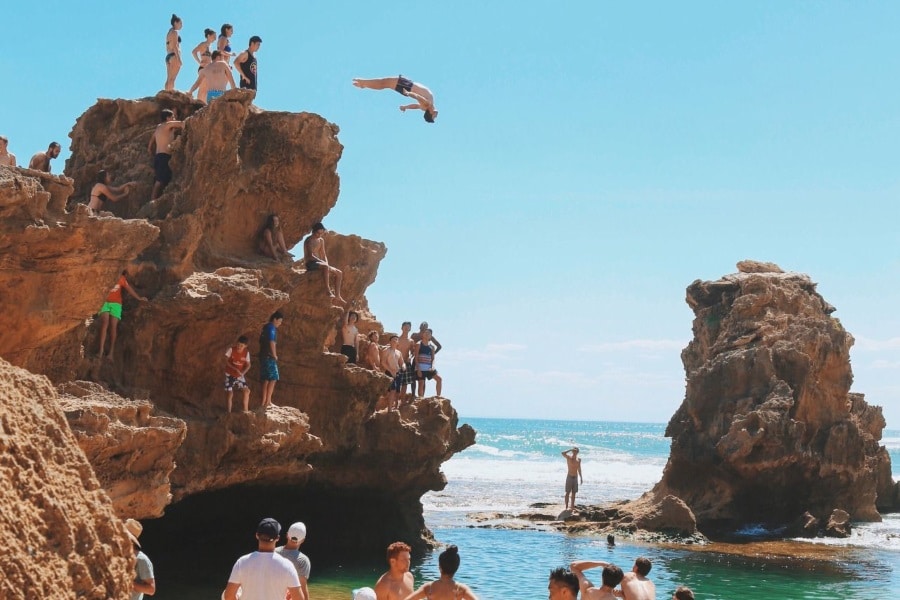 1. The Blairgowrie Jumping Rock
This natural wonder is the stuff of movies and postcards – it needs to be seen (and jumped off of) to be believed. With turquoise waters, incredible rock undulations and mesmerising background scenery you'll feel like you're on a different planet rather than just an hour and a half from Melbourne. To get to Blairgowrie Jumping Rock, the easiest way is to head towards the car park at the end of St Johns Wood Road. From there, descend the steep staircase to the beach below and keep walking straight on past the beach. In a few minutes you'll reach one of the most mesmerising cliff jumping spots in Melbourne.
Address: Blairgowrie, Mornington Peninsula
Height: from 4-8m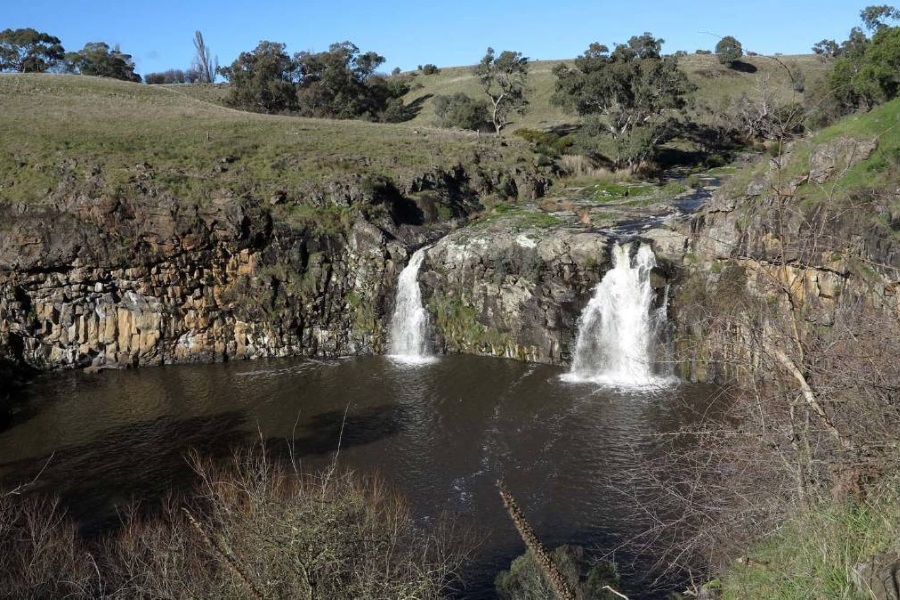 2. Turpins Falls
Not to be confused with Trentham Falls (about a 40 minute drive away), Turpins Falls is a cliff jump in Victoria for the real adrenaline junkies. With a 20 metre drop into the large rock pool, it's not for the faint-hearted. There have been a number of injuries at these falls so all areas are fenced off. If you still want to experience the cliff jump for yourself always be sure to check the depth of the water first, as it is often difficult to see with algae-filled water. The rock pool is a large billabong with a cathedral of rock on three sides, making it a great day out regardless of whether you make the jump or not. It is located on Shillidays Road in Langley about a 70 minute drive North West of Melbourne and it is dirt road at the end but still accessible for 2WD.
Address: Shillidays Road, Langley
Height: 20m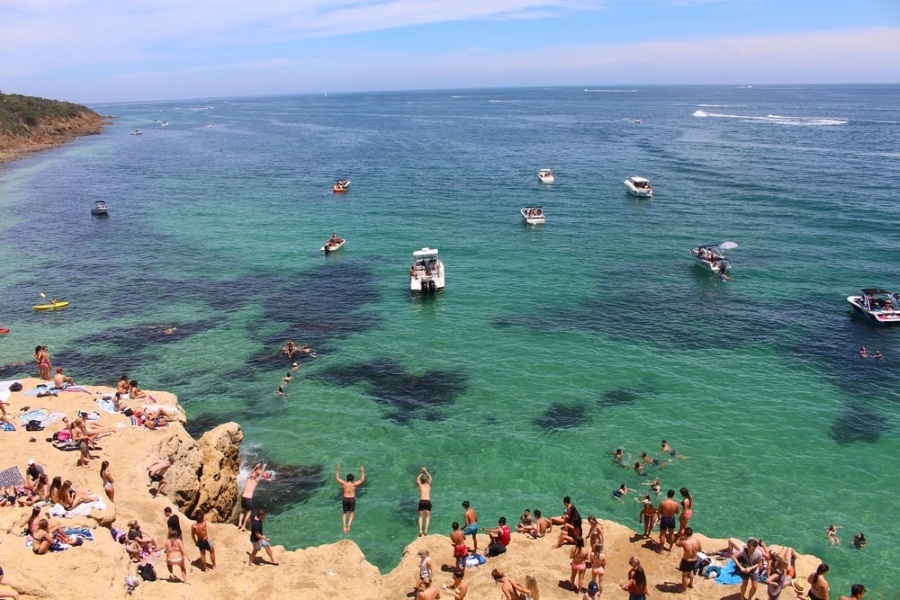 3. The Pillars at Mount Martha
The Pillars was the subject of much controversy in 2017 as it became a popular social media hotspot, causing locals to plead authorities to fence off the area. While the State Government ruled out fencing, visitors should respect the cultural heritage site by being wary of local vegetation and being sure to take all rubbish away with them. An oasis of crystal blue water and pristine cliff faces of varying heights awaits those who do. Just 45 minutes from Melbourne, access one of the most popular cliff jumping spots in Melbourne between Deakin Drive and Marguerita Avenue, on the Esplanade. Autumn is the ideal time to visit as you can avoid the Summer crowds and take in more of the serene beauty and appreciate the Aboriginal middens and artefacts.
Address: Esplanade, Mount Martha VIC 3934
Height: 5.50m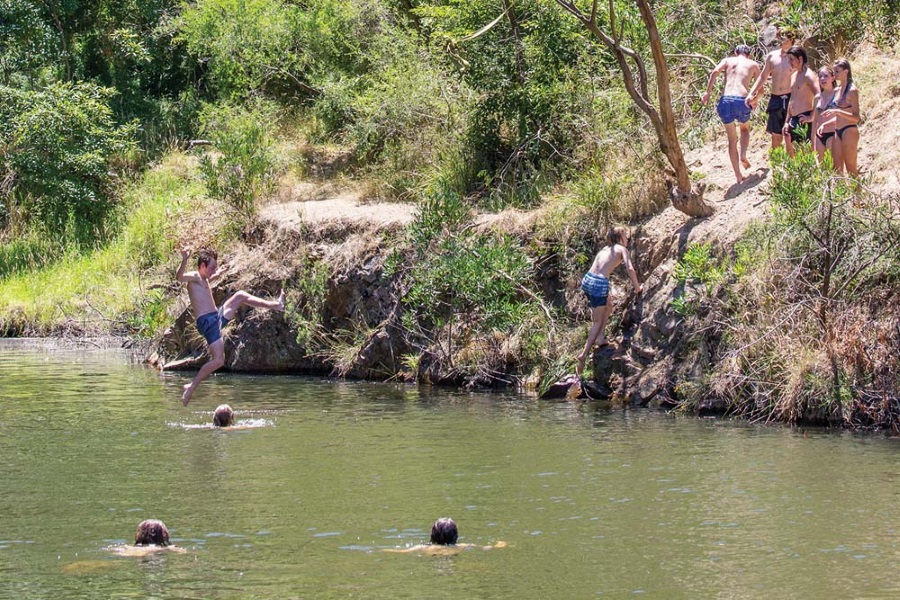 4. Moorooduc Quarry Jump
At Moorooduc Quarry Flora and Fauna Reserve you can enjoy a 1.7km circuit track with tremendous views and pristine wilderness. It is home to over 45 species of bird, including a resident Peregrine Falcon, as well as koalas and abundant wildflowers and grasses. You can challenge yourself by climbing up 200 stairs and reward your hard work by free-fall cliff diving from the rocks into the refreshing rock pool below. The walk starts from the carpark on Two Bays Road, but if you want an easier access without the steep hike, you can start from Canadian Bay Road. You can also use the sheer cliff diving rock faces for abseiling or rock climbing, but with any of it be sure to take heed of safety warning and only do what is within your limits.
Address: 106 Two Bays Road Mount Eliza Victoria 3930
Height: 20m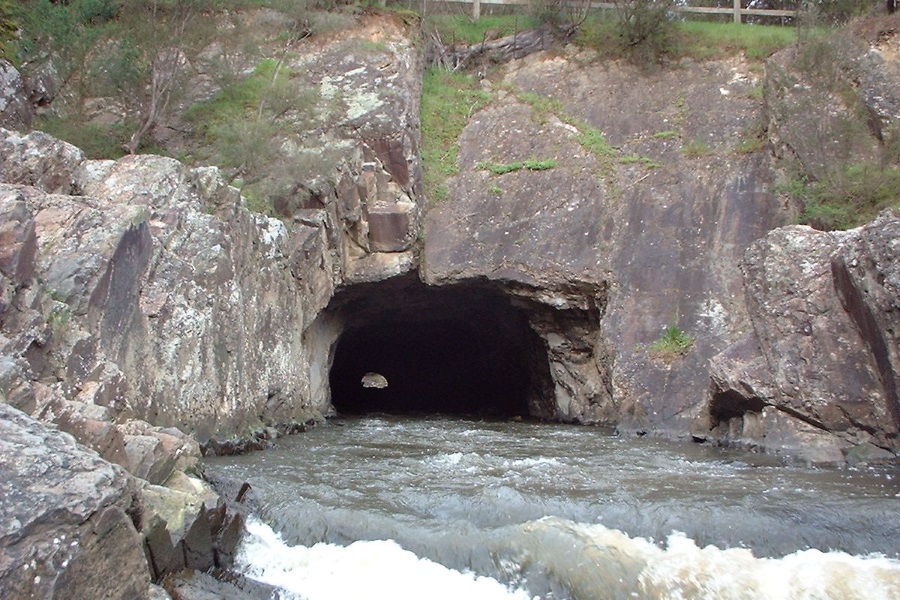 5. Pound Bend, Warrandyte
The Yarra River is an iconic stream running through Melbourne and stretching out to the wider parts of Victoria. As it runs through the historic town of Warrandyte, the Pound Bend Tunnel outlet makes way for a quaint and refreshing natural swimming hole. Lay in the sun on the rock ledge that juts out from the stream, or what you're probably more likely to do is cliff jump off the ledge into the 30 metre deep water below. This is one of the smaller cliff jumping spots in Victoria and is only a 45 minute drive North East from Melbourne, making it perfect for an easy day trip. Pound Bend offers some of the best cliff diving Melbourne has to offer.
Address: Pound Bend Road, Warrandyte State Park, Warrandyte, Manningham, Victoria
Height: 30m deep water
You'll also like:
10 Best Cliff Jumping Spots in Sydney
14 Best Boxing Gyms in Melbourne
10 Best Steak Restaurants in Melbourne