16 Best Walking Tracks in Brisbane
Need some time away from this frenzied world? Then look no further. The best walking trails Brisbane has to offer are here to help you find some peace. While the city is renowned for its warm weather, beaches and laid-back locals, the river city also boasts some amazing trails and hikes. And since walking is an easy way to enhance physical and mental wellbeing, these hiking trails will surely leave you de-stressed and refreshed.
Many of these tracks are off the beaten path, bush walks and near coastal beaches. So next time you're planning a bushing walking trip, be sure to check out these walking tracks in Brisbane.
You'll also like:
8 Best Rooftop Tents for Outdoor Adventure
Solo Skiff is the Beginning of Your Fishing Adventure
Baby Zebra with Spots instead of Stripes Spotted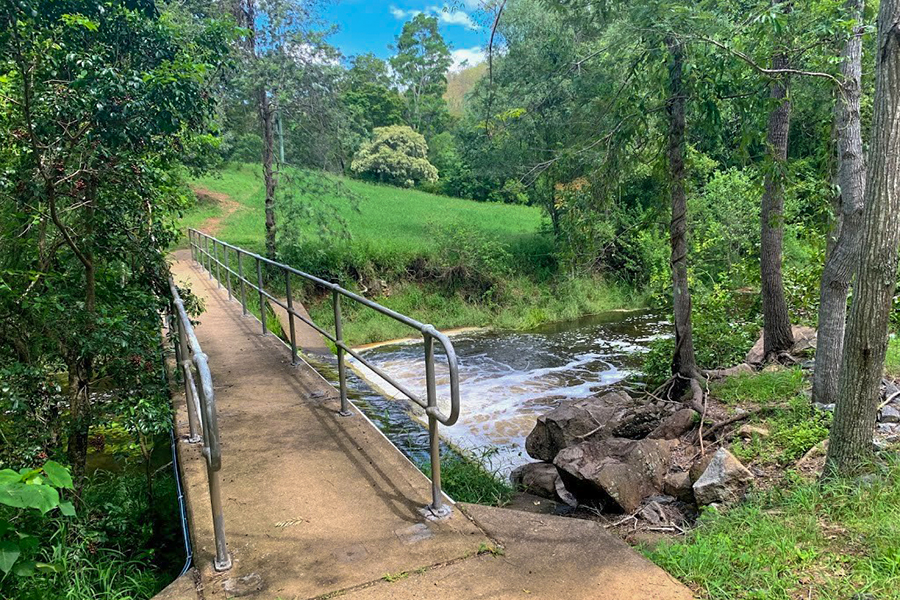 1. Gold Creek Reservoir, Upper Brookfield
Enjoy a lush lull as you walk through this hiking trail. The Gold Creek Reservoir is a scenic pool and is adjacent to the D'Aguilar National Park for those seeking more hiking adventures. At this reservoir, you can escape to a picturesque bushwalk, country views and an abundance of wildlife waiting to be discovered.
Distance: 5.5km/ 2.5 hours
Difficulty: Intermediate
Start: Gold Creek Walking Track
Address: Gold Creek Rd, Brookfield QLD 4069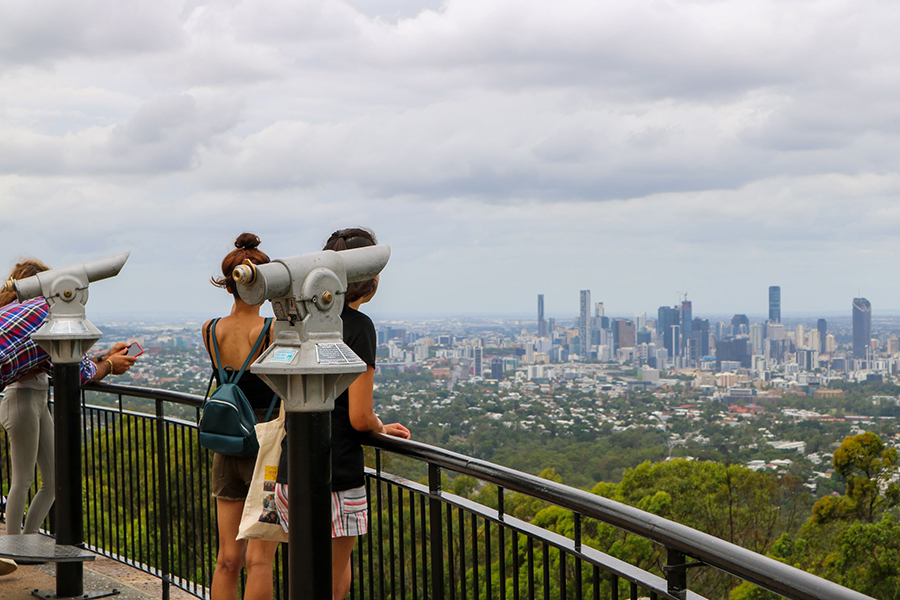 2. Summit Track, Mt Coot-tha
Mt Coot-tha is a local bushwalking gem that's only 15 minutes' drive from the Brisbane CBD. Expect to experience natural parkland and open eucalypt forest. Once at the top of the Summit, you'll meet many tourists and locals, and when you're at the bottom, you can venture through the Brisbane Botanic Gardens and Planetarium.
Distance: 1.9km/ 30 mins
Difficulty: Intermediate
Start: JC Slaughter Falls
Address: 1012 Sir Samuel Griffith Dr, Mount Coot-Tha QLD 4066
---
Featured Video from Man of Many
---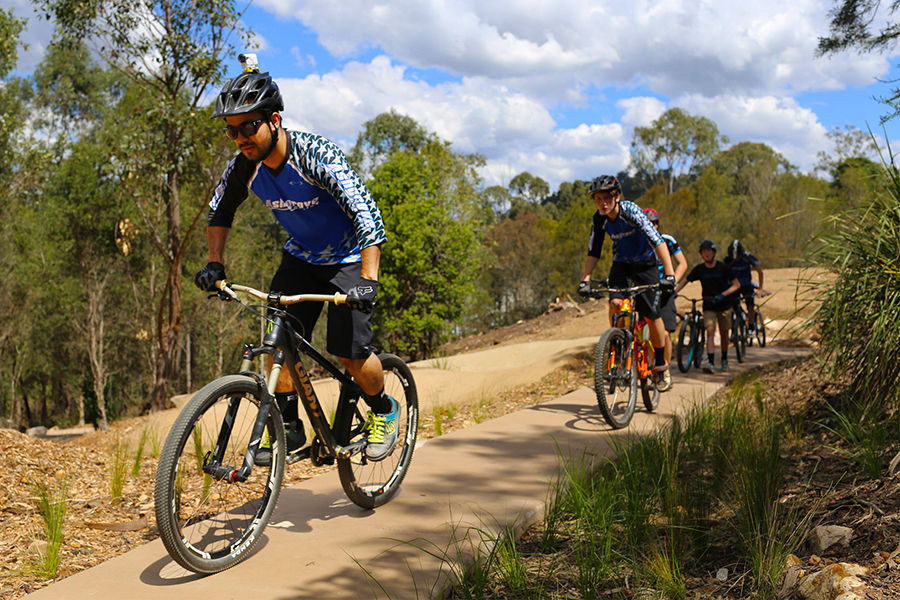 3. Holmans Break, Walkabout Creek
Holmans Break is for lovers of nature and animals. You'll encounter goannas, singing birds and reptiles basking along the dam on this trek. This scenic area also features a wildlife centre, wooded trails and a reservoir for swimming and paddling. Holmans Break has some of the most panoramic views of Mt Cootha and other mountain ranges. One of the best hidden gem walking trails Brisbane has on offer.
Distance: 14km/ 4.5 hours
Difficulty: Hard
Start: Walkabout Creek car park
Address: 60 Mount Nebo Rd, Enoggera Reservoir QLD 4520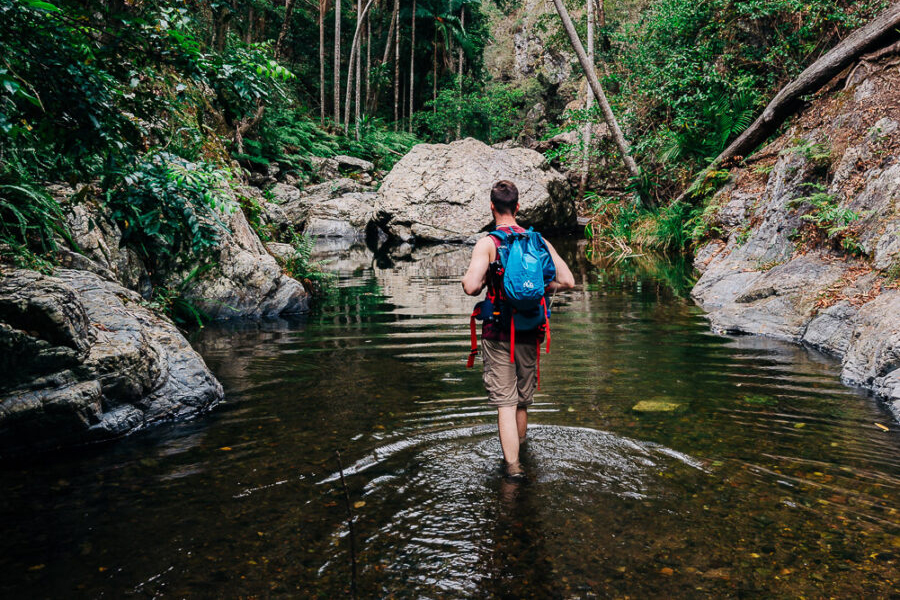 4. Northbrook Gorges, Brisbane Forest Park
The Northbrook Gorges track demands you to get your feet wet, literally, through two freshwater gorges — great in summer. It's about a 30-minute trek to the first gorge walking upstream. Don't worry, you can evade the first gorge by climbing a steep trail. But you'll have to swim through the second gorge and follow a small trail that leads to wondrous Wivenhoe Lookout. One of the best walking trails in Brisbane for those who are adventure-seekers.
Distance: 6km/ 2.75 hours
Difficulty: Intermediate
Start: Northbrook Creek trail via Northbrook Parkway
Address: Dundas QLD 4306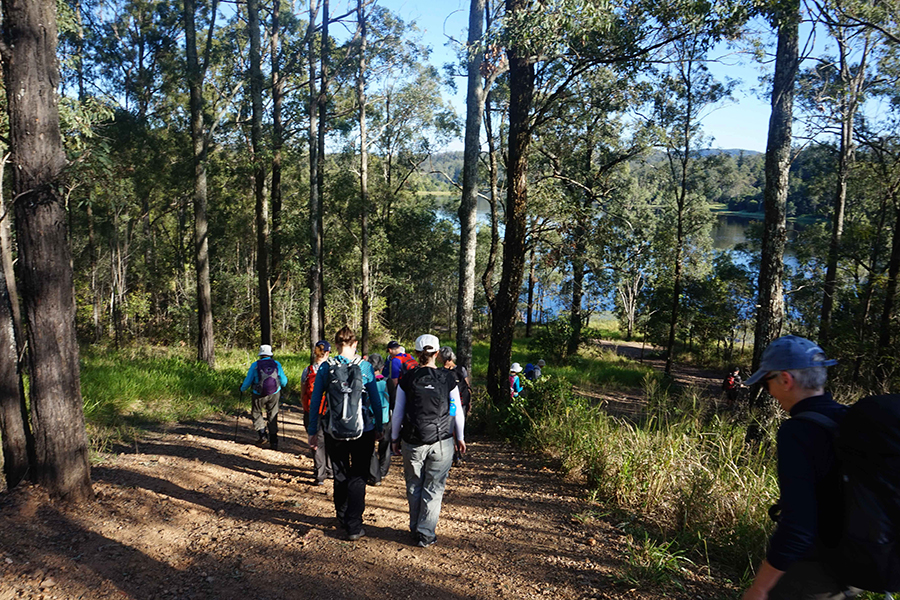 5. Araucaria Track, Brisbane Forest Park
If you're searching for a super easy walk, then look no further. The Araucaria Track is family-friendly; you'll see smiling faces walking with and past you. Be sure to bring your mobile phone to capture the flamboyant flora and fauna along the track. You'll definitely spot many bellbirds and whip birds when bushwalking.
Distance: 5km/ 2 hours
Difficulty: Easy
Start: Walkabout Creek Discovery Centre
Address: Mount Glorious Road, Mount Byron QLD 4312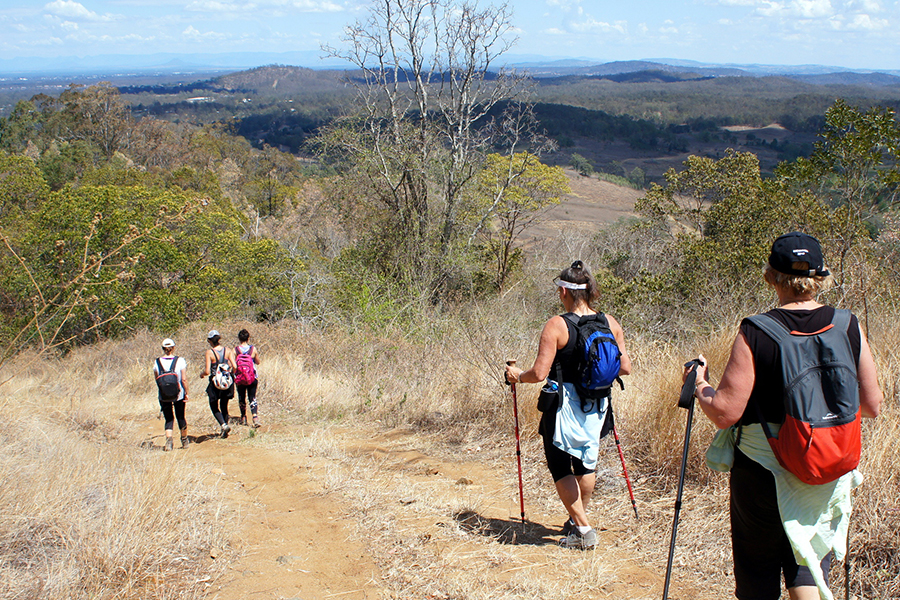 6. Mermaid Mountain, Brisbane Forest Park
Eager for a hiking challenge? Then Mermaid Mountain in South D'Aguilar National Park is the place to go. This is a little-known hiking destination in Brisbane overlooks Lake Manchester. And once you've summited the mountain, reward yourself with a comfortable break under the tree canopies, scoff down food and take in the view.
Distance: 18km/ 8.5 hours
Difficulty: Hard
Start: Mt Crosby
Address: Mermaid Mountain Break, Upper Brookfield QLD 4069<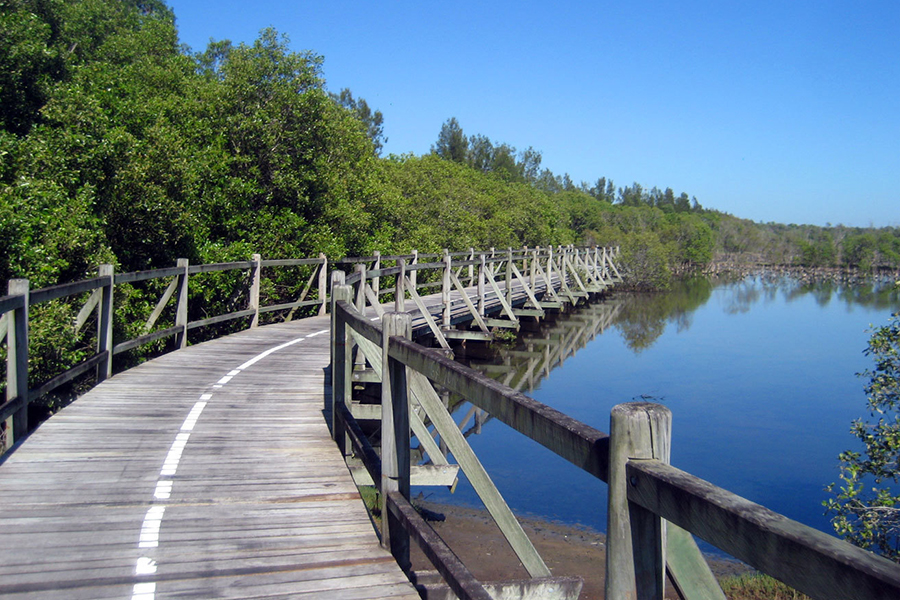 7. Boondall Wetlands Bikeway, Boondall Wetlands
The Boondall Wetland Bikeway is filled with tidal flats, mangroves, salt marshes, wetlands, grasslands and open forest — and is Brisbane's largest wetland wonderland. Go for walk or a bike ride along the tracks or mangrove boardwalks, or kayak or canoe to along the mangrove creeks. And because the wetlands are skirted by beaches, you can enjoy a much-deserved picnic at the adjacent Nudgee Beach picnic area.
Distance: 13km/ 6 hour
Difficulty: Easy
Start: Boondall Wetlands Environment Centre
Address: Moreton Bay And Islands, 31 Paperbark Dr, Boondall QLD 4034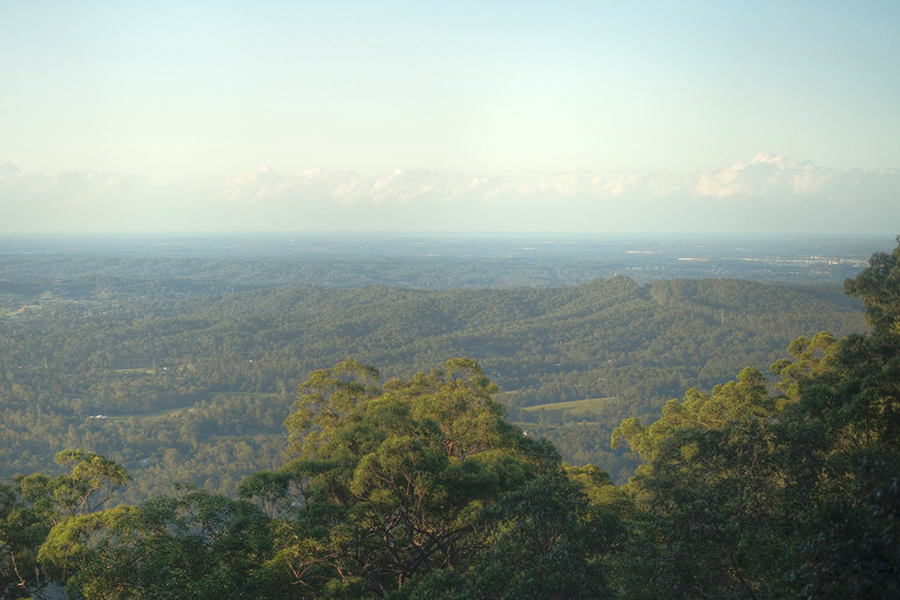 8. Crebra Circuit, Samford Regional Park
This 900m circuit is comprised of forestry & fire trails and is only 20 minutes' drive north of Brisbane. Crebra Circuit is best described as a mountains-to-mangroves corridor. It starts from Ironbark Gully up to the ridgeline, with side trails down to Lomandra and back to the car park. The circuit is perfect for those wanting to do happy laps.
Distance: 900m/ 20 mins
Difficulty: Easy
Start: Ironbark Gully picnic area
Address: Ferny Hills QLD 4055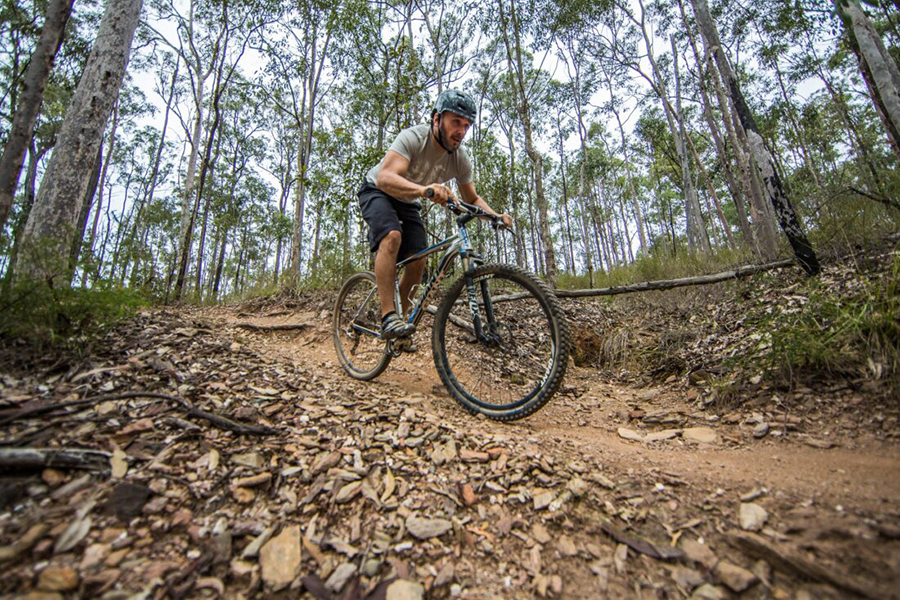 9. Bunyaville Track, Bunyaville Regional Park
Just 15km north-west of Brisbane CBD, Bunyaville Track is a top spot for hiking and biking near Brisbane. This track leads through the open eucalyptus forest to the southern end of the day-use area. You may be lucky enough to see a carpet python basking in the sun, or if you're not lucky enough, listen to the laughing kookaburras.
Distance: 1.6km/ 30 mins
Difficulty: Easy
Start: Bunyaville Conservation Park
Address: Old Northern Rd, Albany Creek QLD 4035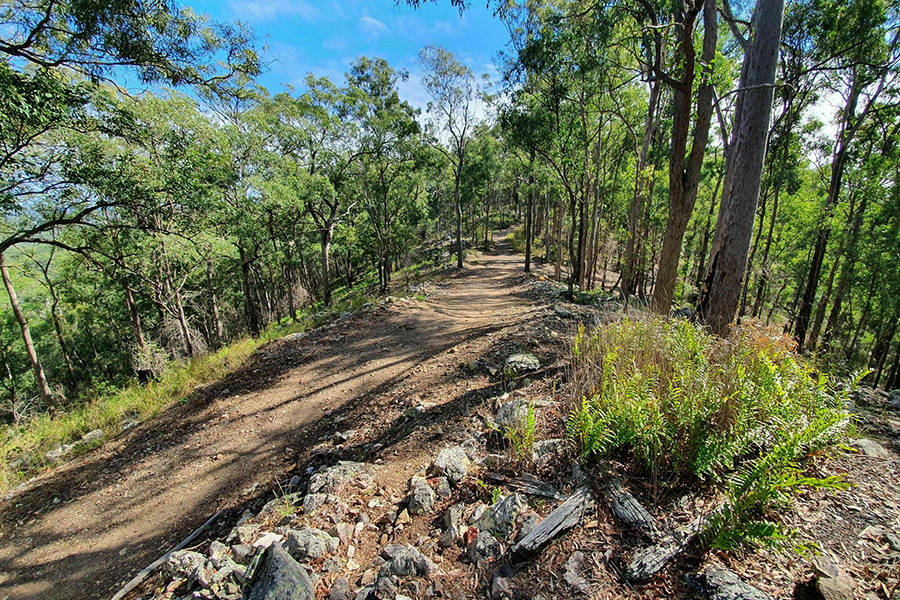 10. Devils Break Loop, Moggill Regional Park
Relax, there's nothing demonic about this track. The Devils Break Loop is a moderately trafficked trail located near Brisbane. This serves as a wildlife habitat corridor, with rocky ridges and some picturesque views of Brisbane and Ipswich. It also offers you the chance to see wildlife and is and regularly used to bird watch.
Distance: 11 km/ 4.5 hours
Difficulty: Easy
Start: Moggill Conservation Park
Address: Chalcot Rd, Anstead QLD 4070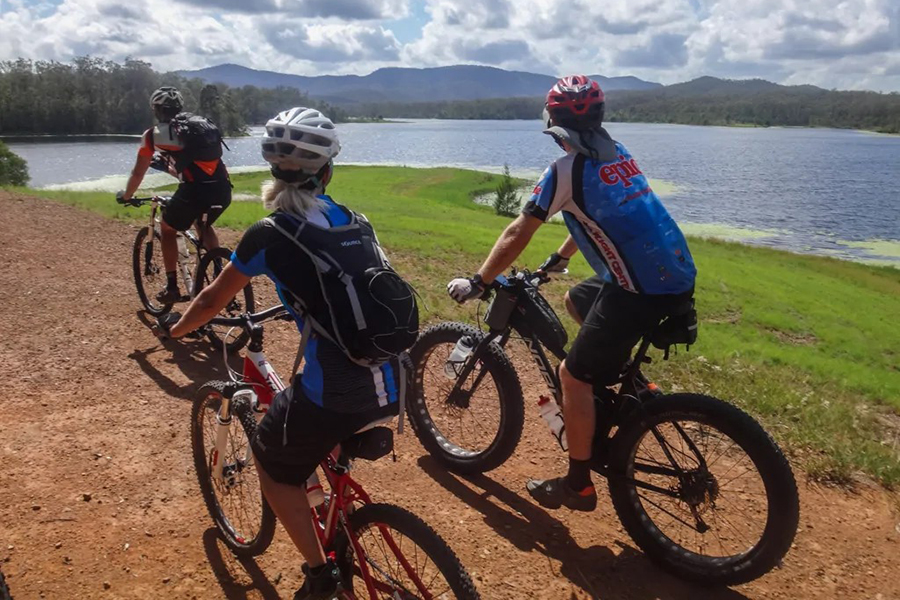 11. Lake Manchester Loop, Lake Manchester
Rule of thumb—be sure to bring plenty of water for this one. This hilly clockwise loop begins at the day-use area up past the dam wall and follows the lake edge before heading up into the hills. Lake Manchester Loop is also indicative of the swamp scene. So, expect creek crossings, flies and a slight hiking challenge.
Distance: 17km/ 7 hours
Difficulty: Intermediate
Start: Kholo Rd off Lake Manchester Rd
Address: Lake Manchester QLD 4306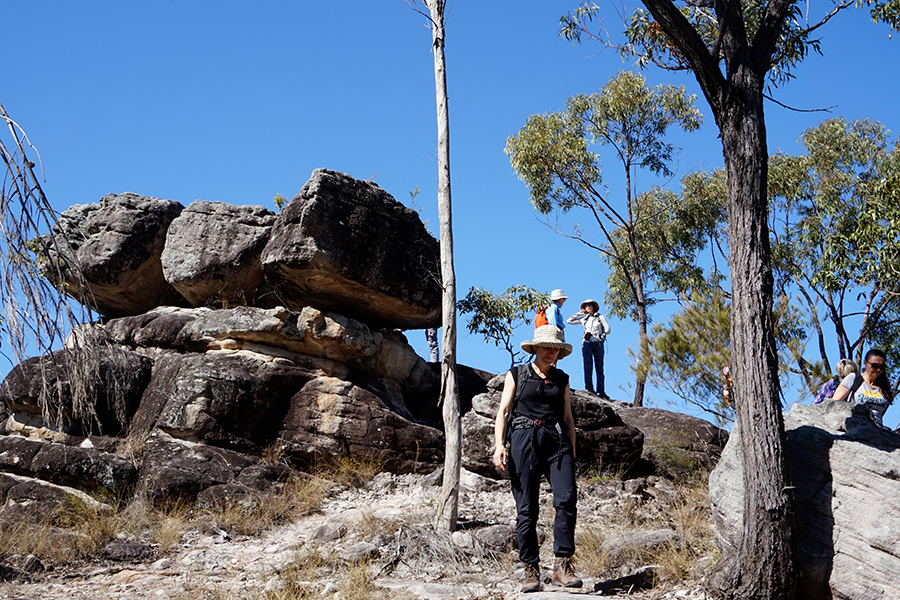 12. Poets Rock, Karawatha Forest
If you're a writer, poet or just want to escape, pack your gear and vamoose to Poets Rock. When you've completed the journey, the top of the rock is a great place to ponder and write creatively. The bushwalk itself is different from the rest: it has many grassy spots, so you can sit and run your thoughts as well as de-stress.
Distance: 4km/ 2 hours
Difficulty: Easy
Start: Karawatha via Garfield Rd
Address: Poet's Rock Karawatha QLD 4117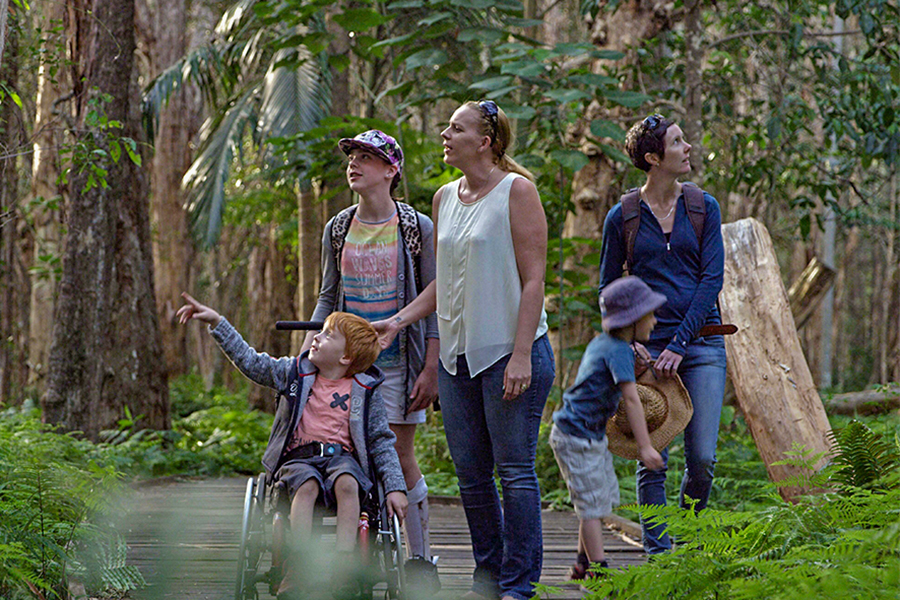 13. Buhot Creek Circuit, Daisy Hill Conservation Park
For the most part, Daisy Hill State Forest is an open eucalyptus forest. But this easy 9km walk can get confusing, so be sure to bring a map. Buhot Creek Circuit in Daisy Hill State Forest is one of the longer trails in the forest, that's ideal for an immersive experience. You can also access the creek for some swimming if you're tempted!
Distance: 9km/ 4.5 hours
Difficulty: Easy
Start: Daisy Hills Koala Centre
Address: Daisy Hill Rd, Daisy Hill QLD 4127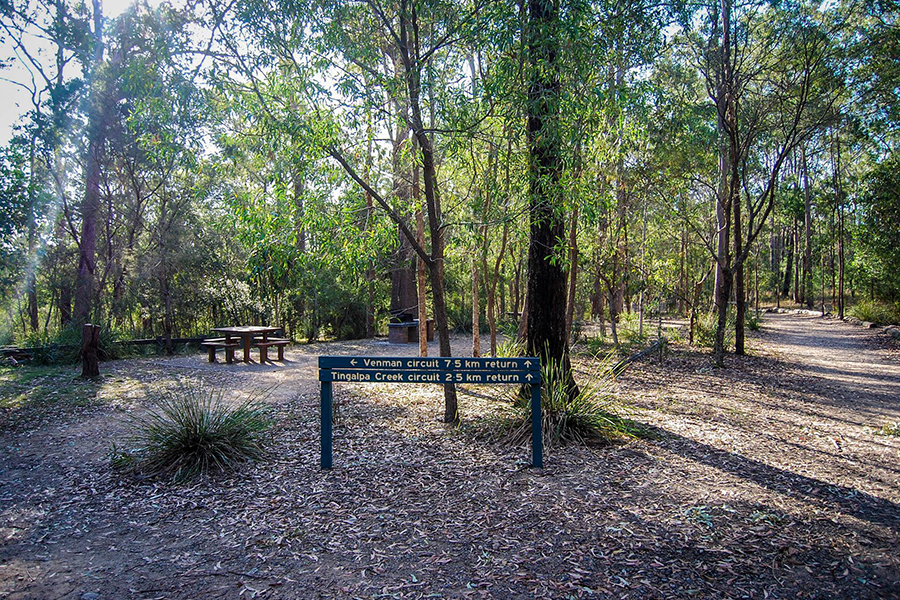 14. Venman Circuit, Venman Bushland National Park
Venman Circuit has been a popular Brisbane walkway for decades. The circuit is home to koalas, ringtail and brushtail possums, sugar gliders, greater gliders, swamp and red-necked wallabies, powerful owls and many other birds. And when passing creeks, you'll see frogs, water rats and even eastern water dragons!
Distance: 7.5km/ 4 hours
Difficulty: Easy
Start: West Mount Cotton Rd
Address: W Mount Cotton Rd, Mount Cotton QLD 4165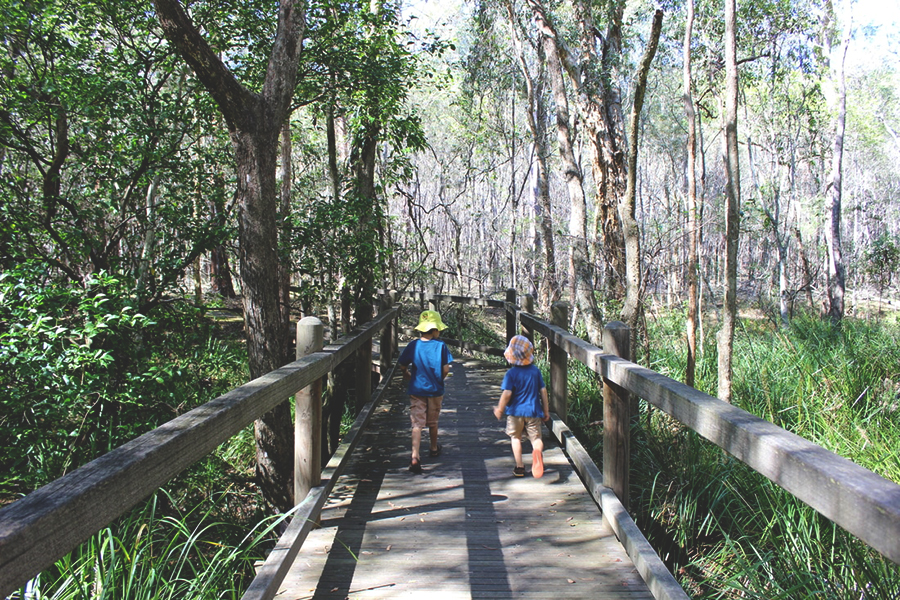 15. Stockyard Creek Walking Track, Brisbane Koala Bushlands
The boardwalk crossing is an especially lovely spot at Stockyard Creek. Listen to the singing of rosellas, rainbow lorikeets and watch for swamp wallabies. These bushlands are one home to the most koalas in Australia. And if you're lucky, you might spot a koala and its baby chewing on gumtree leaves.
Distance: 1.4km/ 45 mins
Difficulty: Easy
Start: Brisbane Koala Bushlands car park
Address: 137 Alperton Rd, Burbank QLD 4156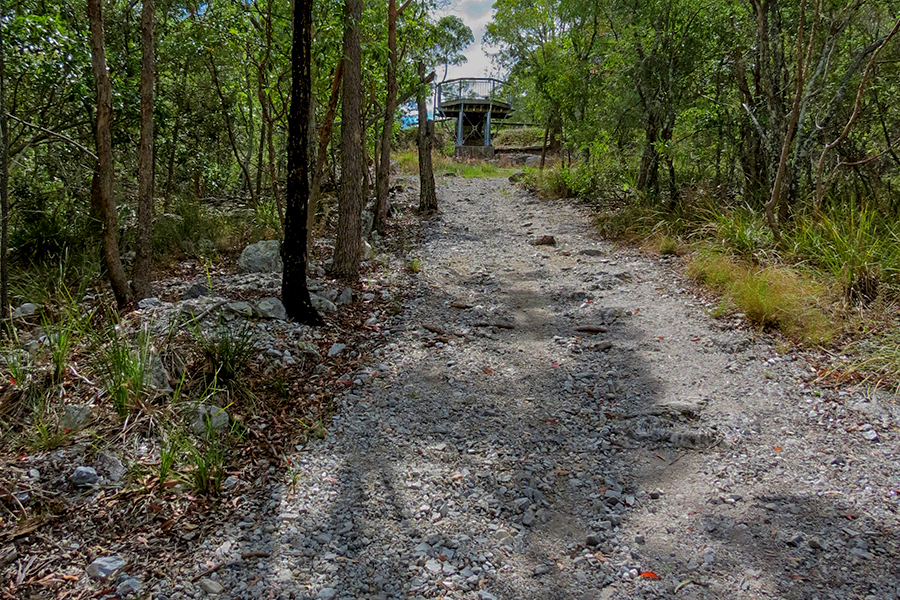 16. Summit & Federation Track, Mt Gravatt
Despite having two different tracks from the base of Mt Gravatt, the Summit and Federation Track leads to a panoramic view at the summit. There are plenty of trails with lots of loose rocks and steps and bridges. To reach the summit, you'll need to turn left onto the Azania Way track and walk the trail. Definitely worth the adventure.
Distance: 3km/ 2 hours
Difficulty: Easy
Start: Mount Gravatt car park
Address: Mount Gravatt QLD 4122
You'll also like:
8 Best Rooftop Tents for Outdoor Adventure
Buy this Keysmart CleanKey Antimicrobial Hand Tool
13 Best Free Camping Spots in Melbourne
General FAQs
Are there any good walking tracks in Brisbane?
Brisbane has many great walking tracks. Gold Creek Reservoir, Summit Track in Mt Coot-tha and Holmans Break are the most renowned tracks that have received hundreds to thousands of good reviews. So, be sure to check them out!
Where are the best day hikes near Brisbane?
Mount Coot-tha is a heritage-listed lookout and is the best spots to hike during the day in Brisbane. Other favourites include Holmans Break, Morelia walking track, Mt Nebo and Mermaid Mountain—all have picturesque features.
---
Featured Video from Man of Many