13 Best Free Camping Spots Near Melbourne
If you're looking to escape the rush of your daily Melbourne life, there are plenty of free camping spots scattered around Victoria that will help you disconnect and recharge. The fact that this priceless time away is just that- completely priceless, makes it even better!
With plenty of beach camping, countless stops along the stunning Great Ocean Road, as well as free camping spots just a stone's throw away from Melbourne, here is a list to get you started planning your next free camping trip.
RELATED: These are the best camping spots in Victoria right now.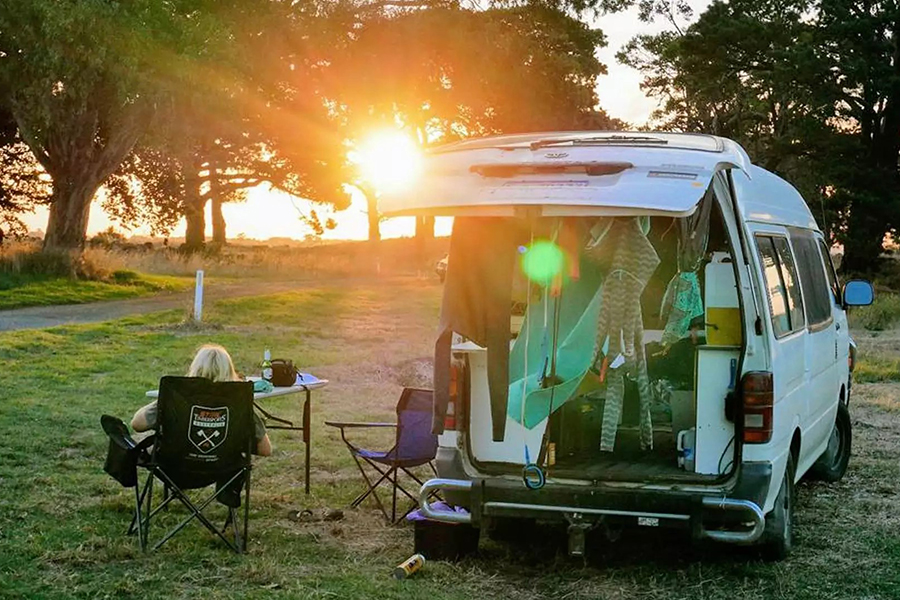 1. Meredith Park, Lake Colac
Meredith Park in Lake Colac is a huge campground and conveniently sits right next to a glorious lake. This means there are endless opportunities for priceless sunsets, fishing and easy access, slightly freezing bathing options. The free campsite is complete with wood-fire BBQs, toilets and drinking water.
Location: 175 Meredith Park Road, Ondit
Distance: Two hours south west of Melbourne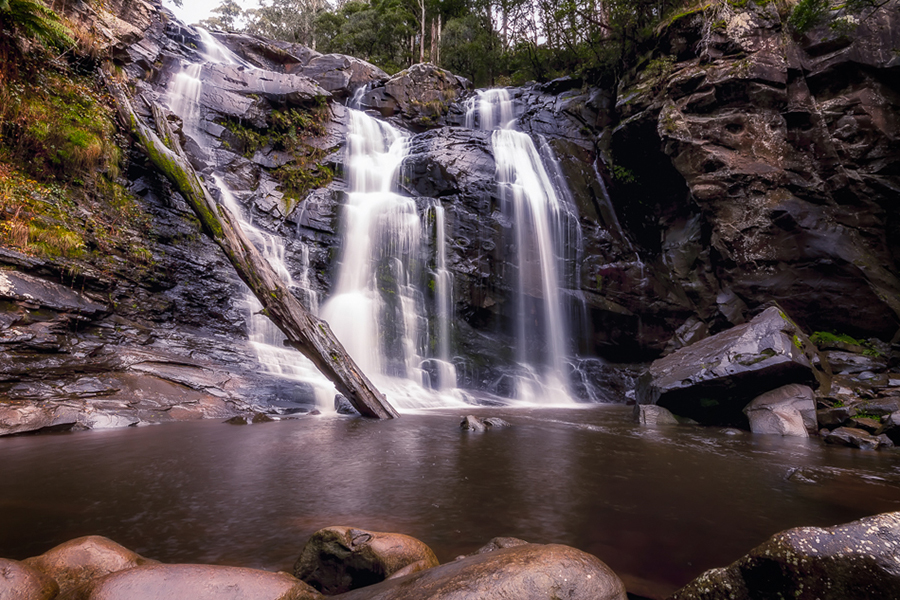 2. Stevensons Falls
A family-friendly, free camping spot nestled along the Great Ocean Road, Stevensons Falls is the perfect sheltered spot within the Great Otway Forest. There are plenty of facilities at this campsite, like picnic tables, fireplaces, toilets and caravan access. If you are looking to unwind in the great outdoors, Stevensons Falls in one pristine spot for a relaxing time out.
Location: Upper Gellibrand Road, Barramunga
Distance: Two hours southwest of Melbourne
---
Featured Video from Man of Many
---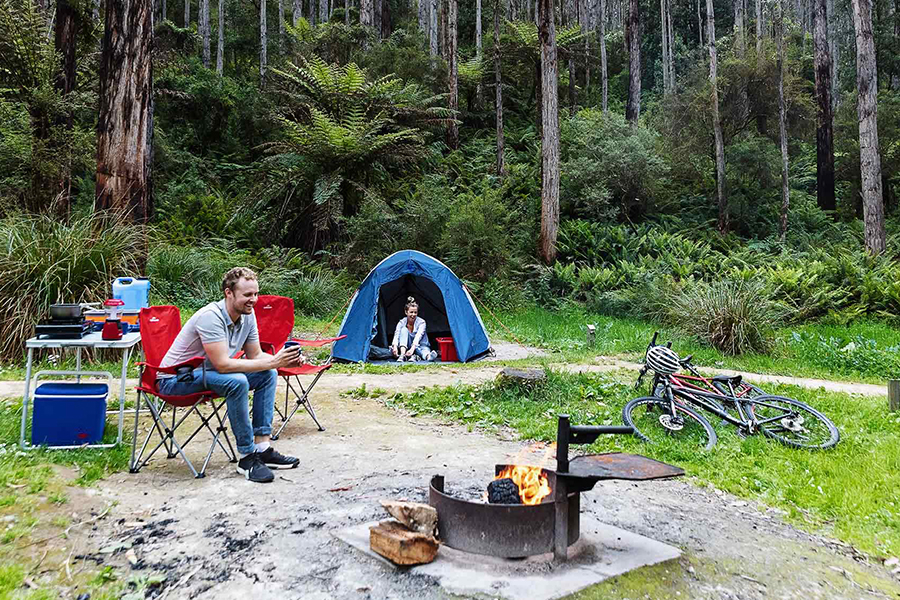 3. Aire Crossing
A serene hideaway in the Great Otway National Park, Aire Crossing campground is a peaceful spot slightly north of the waterfalls. A natural oasis free of charge, immerse yourself in the leafy native forest and the many vast waterfalls surrounding the campsite. There are plenty of interesting walks, or alternatively, sit yourself down in a nice spot and breathe in the fresh air.
Location: Halls Ridge Road, Johanna
Distance: Two and a half hours southwest of Melbourne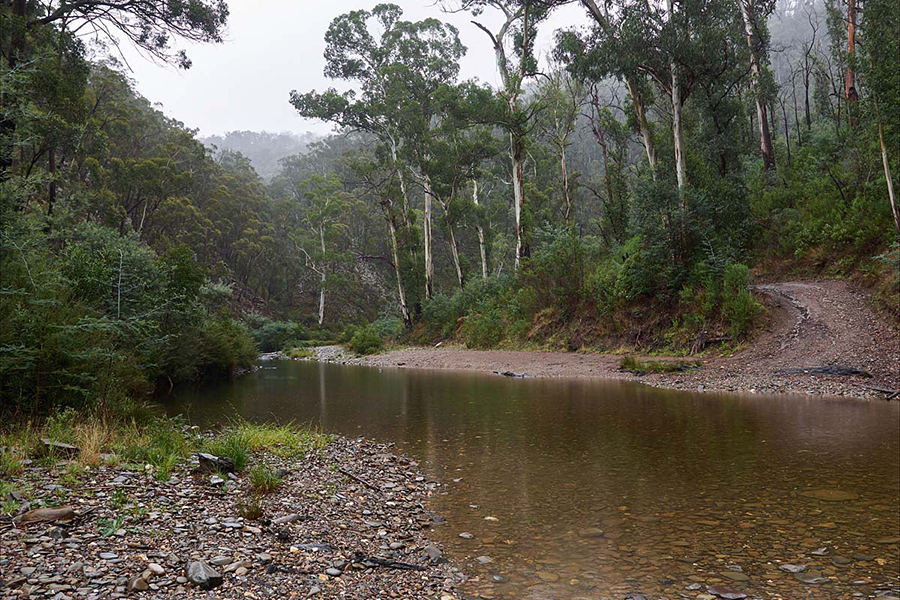 4. Aberfeldy River
A perfect location set in the idyllic Baw Baw National Park, Aberfeldy River is one of the best spots for free camping Melbourne locals can enjoy. While it has all the conveniences of living along the riverside, this site is also perfect for hiking, thanks to the pristine walk to the summit of Mount St Gwinear. The perfect city escape that isn't too far out of Melbourne but feels years away.
Location: Aberfeldy River, Baw Baw
Distance: Three hours east of Melbourne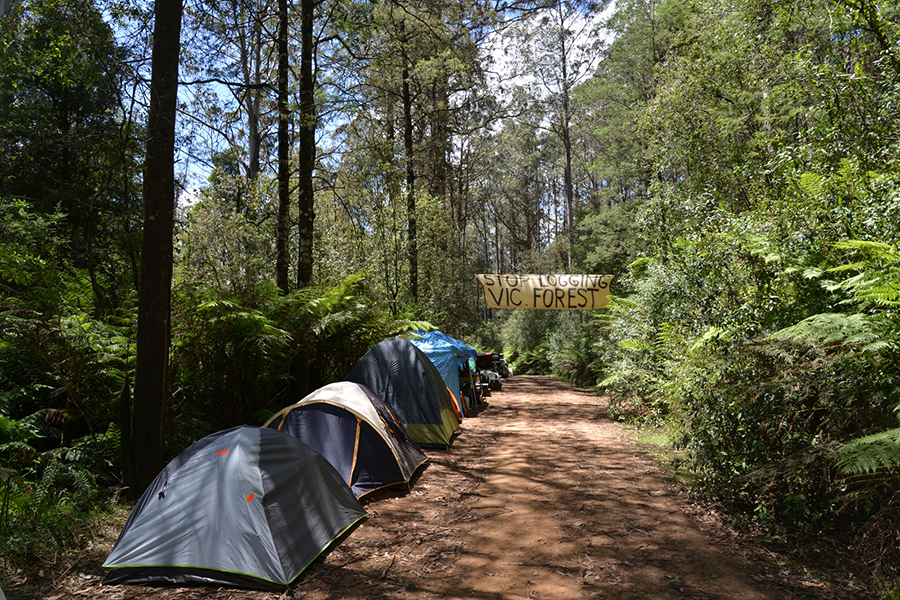 5. Toolangi Recreation Reserve
Small but full of surprises, Toolangi Recreation Reserve is a free camping spot on the banks of the Yea River. One of the best free camping spots in Victoria, it is surrounded by towering gum trees. The Tooalngi State Forest has heaps of cool spots to discover, like the Sculpture Trial. Bring your dog along, as this spot is pet-friendly.
Location: Healesville- Kinglake Road, Toolangi
Distance: One and a half hours northwest of Melbourne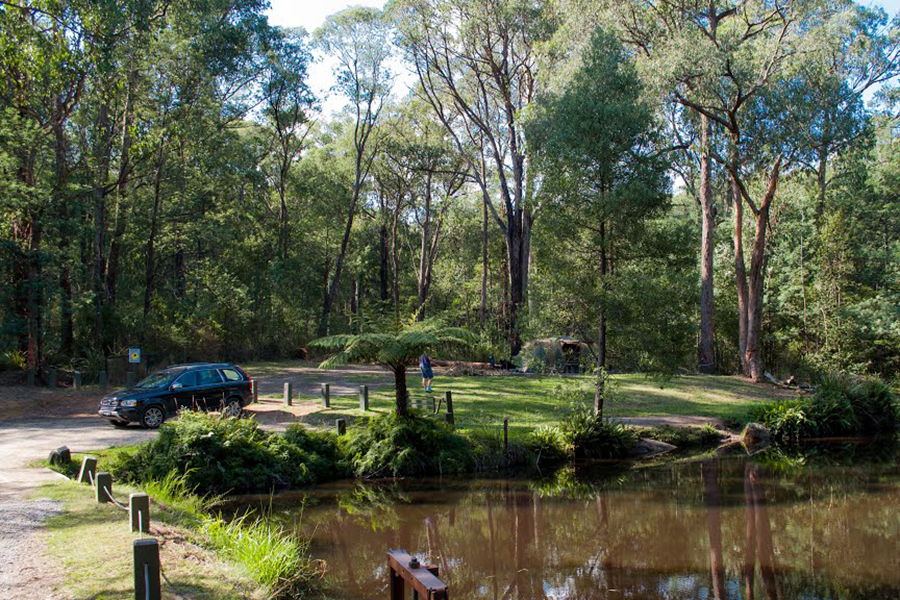 6. Kurth Kiln
Perfect for reconnecting with nature, but not too far from your doorstep, Kurth Kiln is free and dog-friendly. Prepare yourself for the fully immersive experience, as the amenities at this campground are pretty basic. There are no showers and you must provide your own firewood. There are nice walks nearby, other than that- breathe in the fresh air!
Distance: 90 minutes west of Melbourne
Location: Thornton Walk, Yellingbo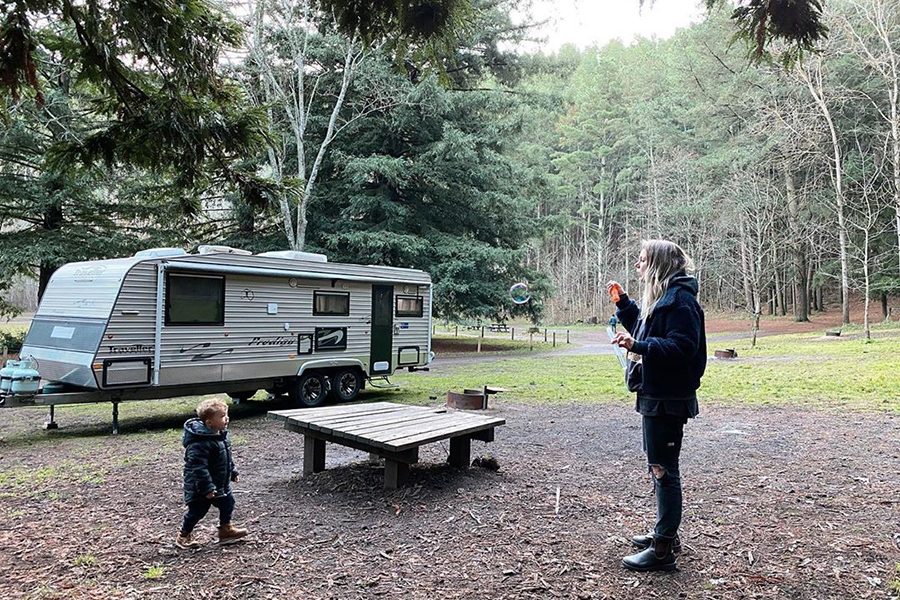 7. Mount Franklin Reserve
A volcanic crater that you can camp in, Mount Franklin Reserve certainly offers an unusual free camping experience in Victoria. Also a good option for the 'glampers' out there, Mount Franklin has a range of amenities, with toilets, fireplaces and water. While you're here, explore Daylesford, a quaint country town with plenty of cafes, pubs and eclectic stores.
Location: 4 Powells Lane, Mount Franklin
Distance: 90 minutes northwest of Melbourne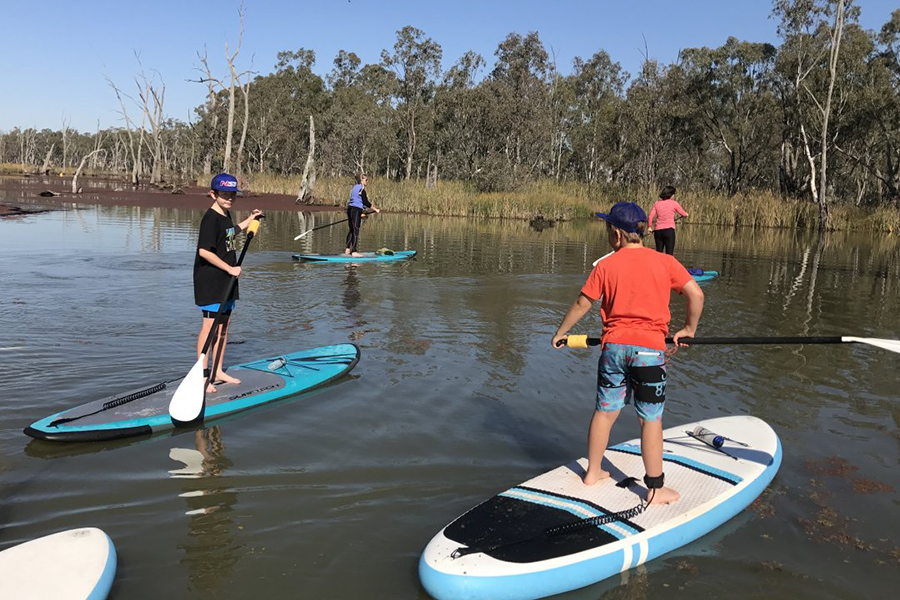 8. Gunbower Island
This free campsite is a bit of a journey out of Melbourne, but Gunbower Island is well-worth the road trip. After three hours of tunes, take a break amongst the Red River Gum Trees or have a swim in the nearby Murray River. There are no toilets or water facilities, but dogs are welcome!
Location: Island Road, Gunbower
Distance: Three hours north of Melbourne
9. Johanna Beach
Johanna Beach camping is the quintessential beach camping paradise! If you're embarking on the beautiful journey along the Great Ocean Road, this is an ideal place to stop. Ocean views for days, Johanna Beach is a free campsite that has 25 sites with non-flush toilets and no showers or drinking water. Basic in amenities, outstanding in location.
Location: Red Johanna Road, Johanna
Distance: Three hours west of Melbourne
10. Andersons Garden
Don't let this free campsite's location lead you astray, located in Mount Disappointment Stare Forest, Andersons Garden is quite the opposite. One of the best things about this free camping spot is its proximity to Melbourne, only one hour away! However, this means it does get super busy. While you're here take the time to hike, fish or go on a scenic bike ride.
Location: Boundary Road, Clonbinane
Distance: One hour north of Melbourne
11. Plantation, The Grampians
A visit to The Grampians National Park is a vital Melburnian tradition and The Plantation is a free campsite that effortlessly shines a light on this stunning national park. Perfect location with easy access to beautiful spots like Halls Gap. Due to the sheer size of the Grampians, there is plenty to do- countless walks and even rock climbing for the more adventurous types.
Location: Mount Zero Road, Halls Gap
Distance: Three hours northwest of Melbourne
12. Blue Pool
Blur Pool Campground is located in the beautiful Briagolong State Forest in East Gippsland. It is known for its clear, deep blue swimming hole that sits along Freestone Creek. There are plenty of hikes that take you through the leafy, tropical forest. It's also the only campground in the forest with a toilet so get in quick, because it does get busy!
Distance: 3 hours northeast of Melbourne
Location: Freestone Creek Road, Briagolong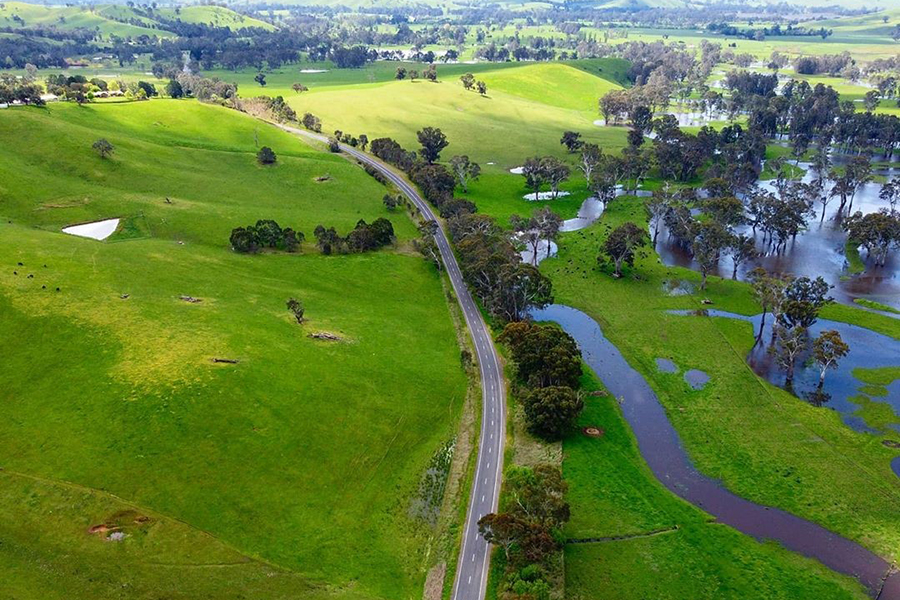 13. Acheron
Perfectly nestled along the Goulburn River, Acheron is one of the best simple pleasures that free camping spots in Victoria have to offer. This spot is surrounded by lush, shady forest, full of fern, wattle, Manna Gum and Mountain Ash. This is the perfect campsite for the avid fisher but be warned there are no spots for swimming or toilets.
Location: Maroondah Highway, St Fillans
Distance: Two hours north east of Melbourne
General FAQs
Can you camp for free in Victoria?
Yes, many campsites in Victoria are free. However, you must remember that because there's no booking process, free campsites may fill up quickly.
Where is there free camping near Melbourne?
Free camping spots are spotted throughout Victoria, with lots spread out along the Great Ocean Road and in various of Victoria's stunning national parks like The Grampians and The Great Otway National Park.
Is there free camping on the Great Ocean Road?
Free camping spots along the Great Ocean road include Stevensons Falls and Johanna Beach.
You'll also like:
---
Featured Video from Man of Many