Lampuga Inflatable Electric Surfboard
Watercraft come in a variety of shapes and sizes, with different approaches to having fun on the water. One of the more exciting versions is electric surfboards, which are essentially surfboards with an electric motor attached to them. Riders stand on the boards and are then propelled across the water by the motors.
The Lampuga Air is an electric surfboard that not only provides the thrills of a motorised surfboard, but also the convenience and transportability of an inflatable board.
The Lampuga Electric Surfboard consists of two main parts. The inflatable deck resembles an inflatable stand-up paddleboard. With a few strokes of an air pump, the deck is inflated. The difference, however, is the cut-out section at the back of the board. This section provides a slot for the motor and battery housing to slip into the board, where it is secured before fully inflating the board. Once completely inflated and assembled, the surfboard is ready to ride.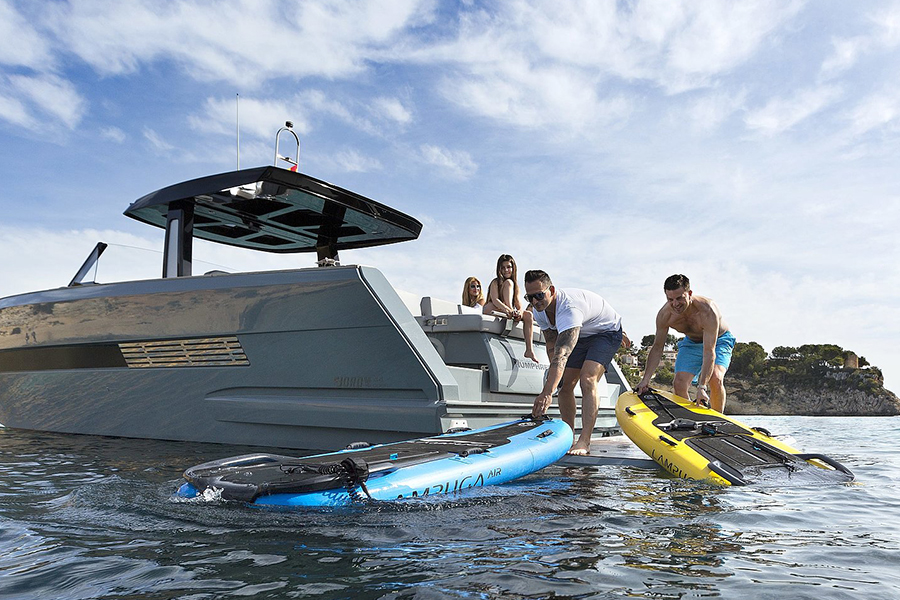 The powerbox for the board is powered by a battery with a 45-minute charge (recharging takes about 120 minutes). The battery powers a motor that has an output of 14 horsepower, which can propel the board and rider up to speeds of 50 km per hour. Riders can use a handle that connects to the board for added stability, or they can opt to go leash-free. The handle also doubles as the wireless remote control.
Fully inflated, the surfboard measures 221 cm long, 70 cm, wide, and 23 cm thick. The battery weighs about 20 kg with the engine weighing about 17 kg. With the inflatable board, the whole thing weighs about 38 kg, making it a simple affair to transport in the trunk of your car. Lampuga has made the surfboard available in seven different colours. Lampuga Air is available through a network of dealers in Europe.